I like this idea and I am asking WW members in the workshops if they choose a word for the year and many of them do! I put this question on Instagram stories and these are just a few of the great words people are using.
I've really been putting some thought into my word for the year. Choosing Gratitude and then adding Mindful really worked well for me last year.
I've been thinking about what I'd like to get out of this year and I now have my word.
"Create"
I'd like to I am going to (ya see what I did there?) create spaces for relaxing, create routines for activity and bedtime, create art, create activities to do with the family and create boundaries in several different areas of my life.
This feels really good to think through. If you haven't done it, go ahead and give it a try if you think it might help you to make 2020 the best it can be for you!
Do you already have a word?
Okay, so yesterday I got the coolest Facebook message from someone I went to Highschool with. I don't think the two of us have seen each other since high school graduation. She sent me a friend request and a message telling me about two of her friends and how they were talking about their WW Coach. I don't wanna brag but it was a really nice conversation to learn of. Long story short, my name came up as the WW Coach, she found me on Facebook and she is having a Vision Board Party exactly like the one I just went to several days ago. She invited me! She also asked if I had a word for the year because we will be discussing it. I got goosebumps reading the remainder of her message to me and I'm feeling all warm and fuzzy inside while also feeling like I'm exactly where I'm meant to be. What a great way to start the year and I can't wait to share this Vision Board party with you all next week!
Yoga
On Monday I went to my very first Yoga Sculpt (Fast Yoga with weights) class.
I almost died.
I'm going back for more on Friday.
Don't be afraid to step outside of your box. You just might amaze yourself!
Here are a few simple things we've been chowing on.
This bag of potatoes and onions (Trader Joe's) gets dumped into a dry skillet and ya just stir em. That's it. In a separate skillet I diced up some chicken sausages. I eventually combined the two and added in some cooked rotisserie chicken breast and a sliced zucchini. Nothing fancy here, just good and easy food. Drizzle with aioli? I added a little Ghee for extra flavor.
I ran in to Costco for Coffee and Trash bags and left with a huge haul. The Salmon, Shrimp and Mahi-Mahi are all great freezer items and I decided to stock up! These thaw quick and can be fixed in the skillet with Olive Oil and S&P. Again, keep it easy on those days when you're in a hurry.
Have a Trader Joe's? This is a great side dish to go with one of those quick proteins. Again, you put this in a dry skillet to start, then add a little Olive Oil and season. Stir until cooked through.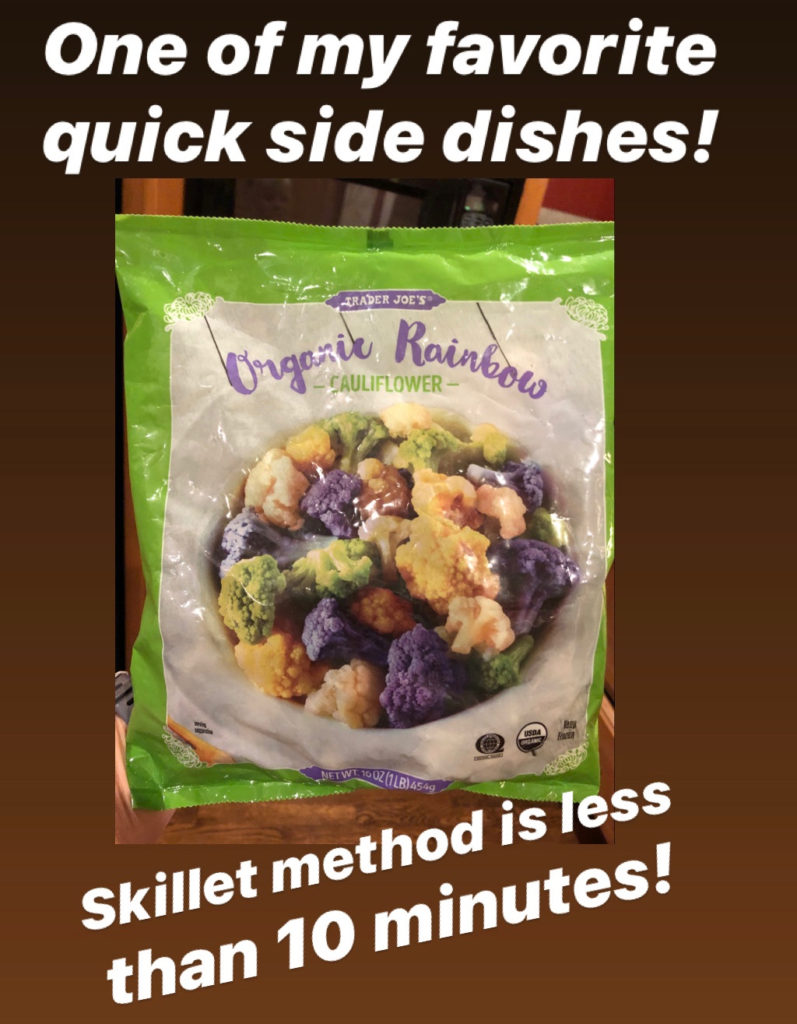 Below is another easy favorite. I would say on most days I have frozen cooked turkey taco meat in my freezer. Whenever I make taco meat, I pretty much triple what I am making so I have extra to freeze.
I made a frozen bag of caulirice and a frozen bag of peppers, onions, corn and beans. I combined the two and added taco seasoning. Topped with my taco meat and avocado. Like….easy peasy.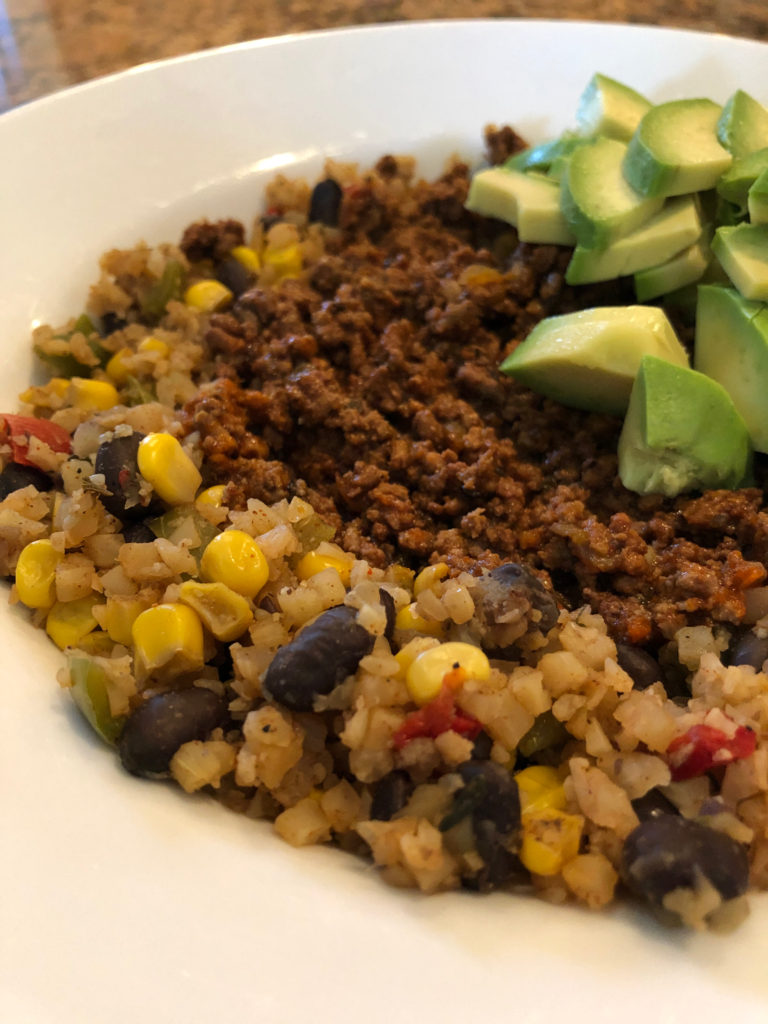 Choose your favorite Pancake recipe (this is Burch Benders Paleo Mix) and top with blueberries and 1 tsp of your favorite Nut Butter. These are Wild Frozen Blueberries that I put in the microwave for one minute. I also had an egg. This is total comfort food breakfast for me that doesn't leave me feeling bloated or too full.
And always, Eggs and Avocado should marry. I'm currently adding Unsweetend Almond Milk to my coffee. I like to switch things up and this is working for me right now when I don't want to drink it black.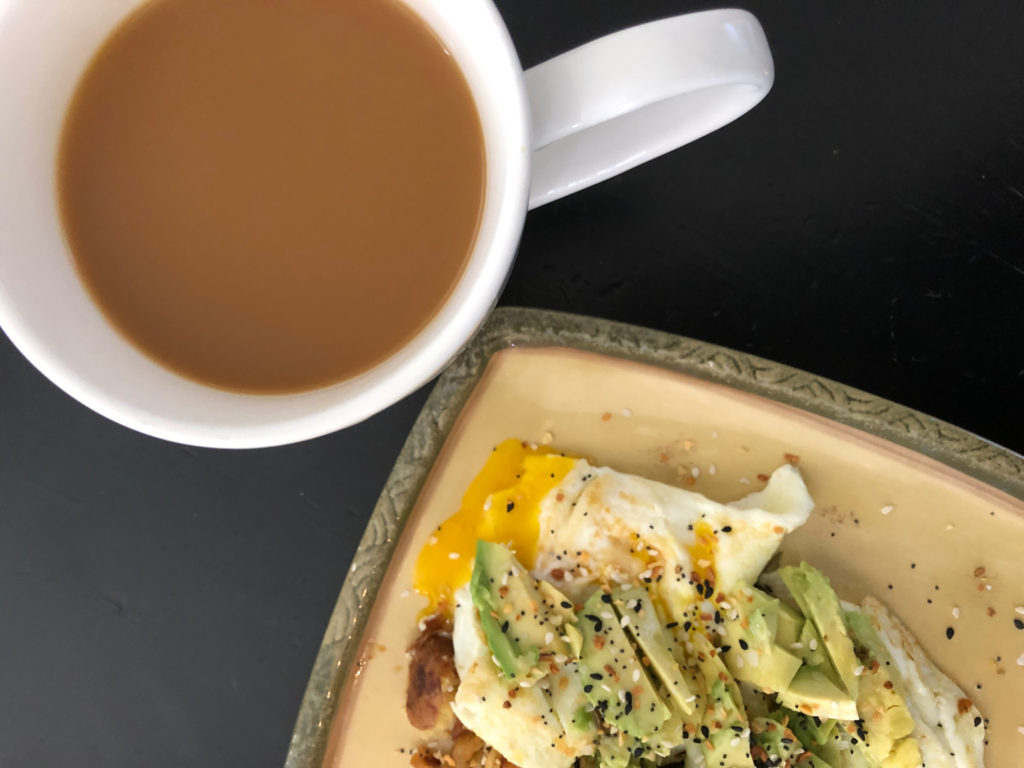 Well it was fun catching up! I hope 2020 is off to a great start!
"love the life you live, live the life you love"