Such a great weekend!
Tess and Manuel came in from Dallas on Wednesday night for a long weekend. They spend every other Thanksgiving with us and this is the year they will spend with his family, so we enjoyed a nice long weekend together.
They are hosting their first Thanksgiving this year as husband and wife in their new house, so I'm super excited for them!
They made mashed potatoes for our whole family this weekend as a practice run. They were perfectly mashed and apparently it takes two to peel 10 pounds of potatoes!
My birthday was Friday and the whole day was just perfect. My morning started with Mike bringing me coffee in bed, which he has started doing fairly regularly lately and I gotta say, I absolutely love it! What a great way to start the day, basically someone telling you how much you are loved by them.
I had some early morning Happy Birthday messages when I picked up my phone and it was nice having my girl here in town to give me a Happy Birthday hug before I headed off to work.
Friday afternoon one of my girlfriends hosted a Happy Hour for me and I got to see some of my favorite people. It was so fun to have Tess here with me!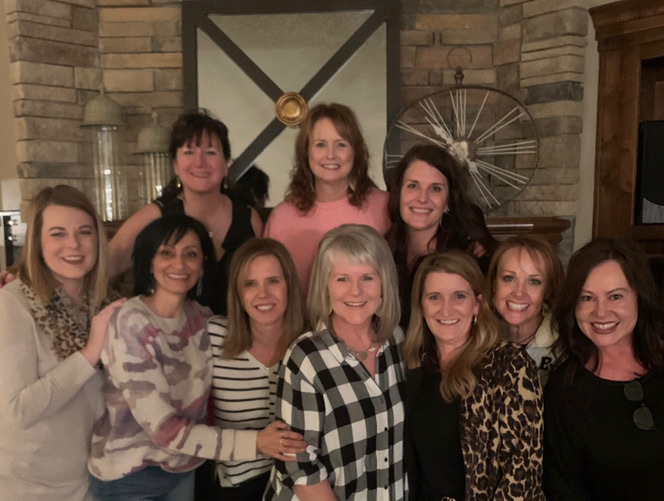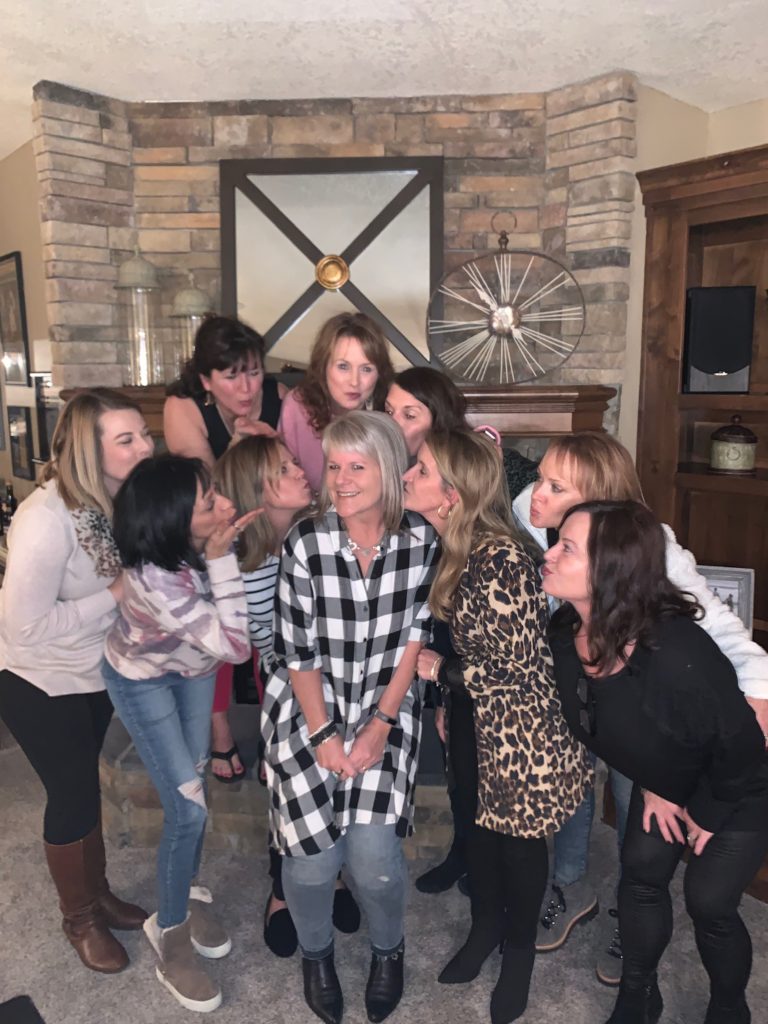 After Happy Hour Tess and Manuel and Mike and I went out for dinner downtown then to a jazz bar called The Green Lady Lounge. It's in an old downtown building in Kansas City with three different jazz groups playing in different rooms. It was really dark throughout, only lit with red lights, super cool and I wanna go back!
It was a great birthday!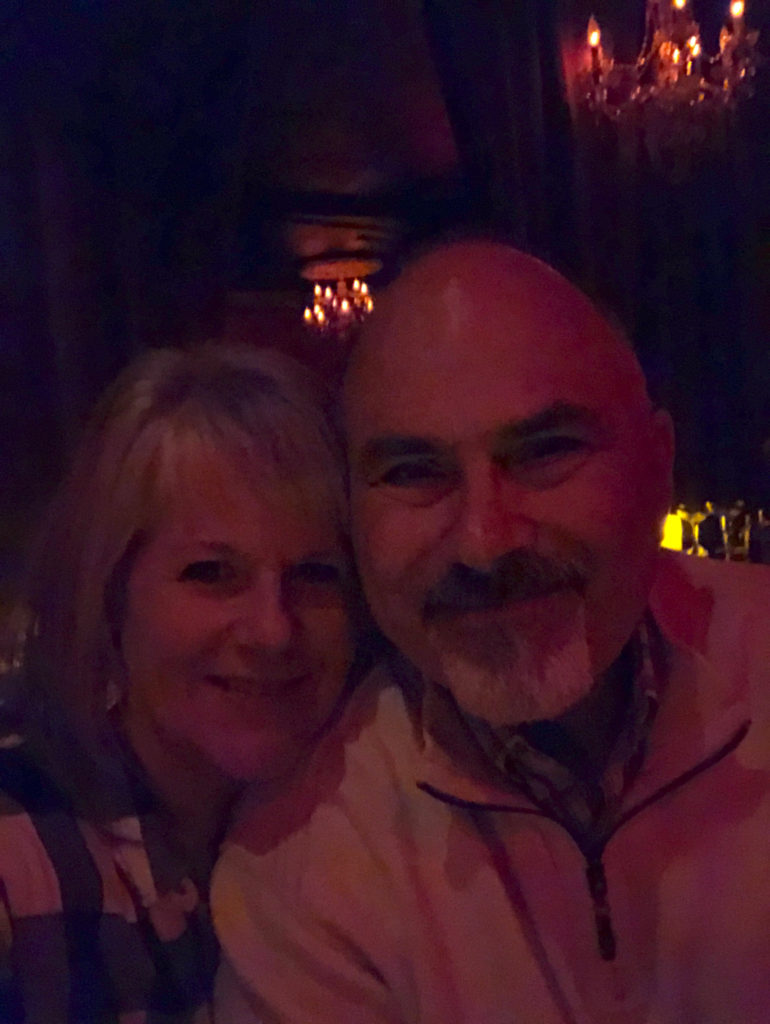 Saturday, the whole family came over to hang out and have dinner. The menu was Chicken and Noodles, Mashed Potatoes, Corn and Rolls. Yep. We had a big white carb meal followed with a variety of store bought Sugar Cookies. Lets just say the eight grandkids were all bouncing off the walls after dinner, as were most of us adults. Ooops.
We do have some very happy and exciting news!
We are expecting Grand baby number NINE! Anne and Cortney are expecting baby number four for them in April and it's a girl! We are so excited! So much fun watching the family grow and add to the crazy.
Jake got some great pics on Saturday of the grandkids…..and me!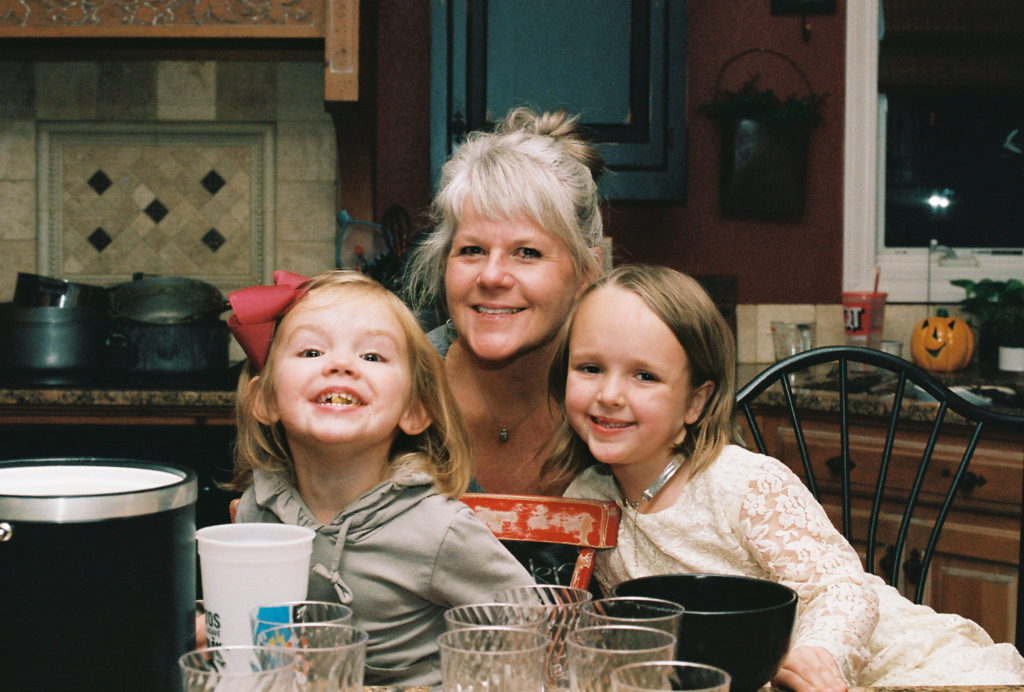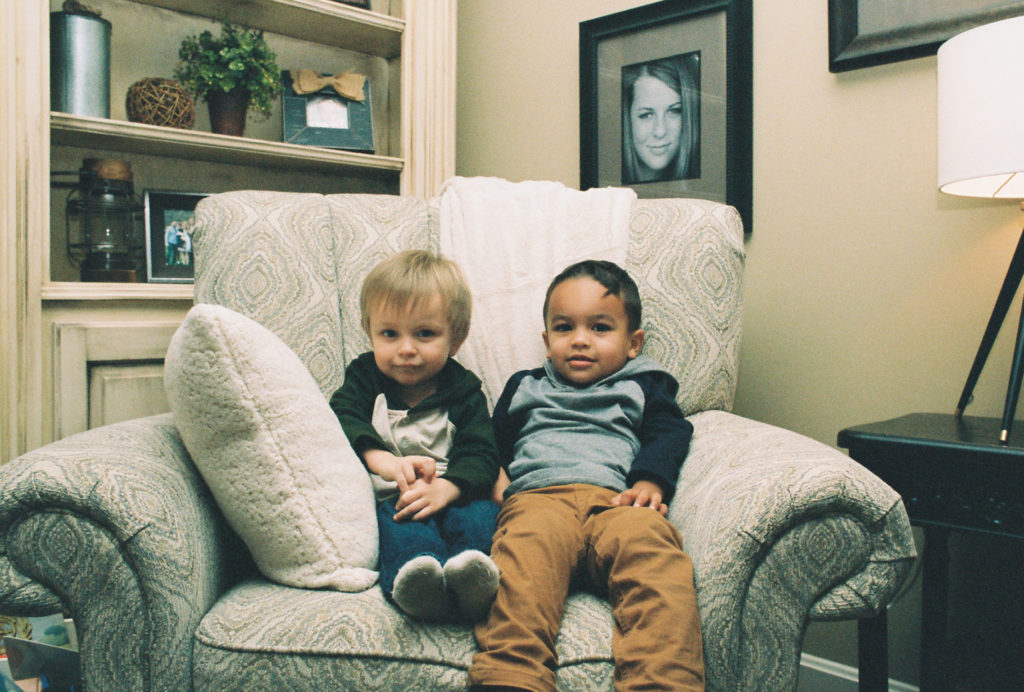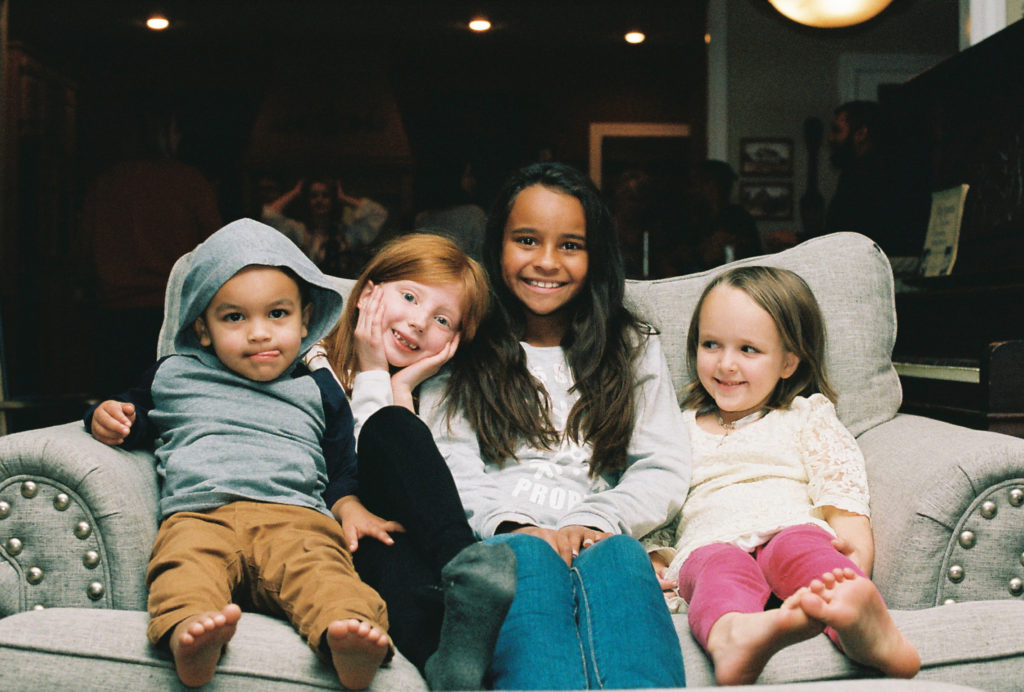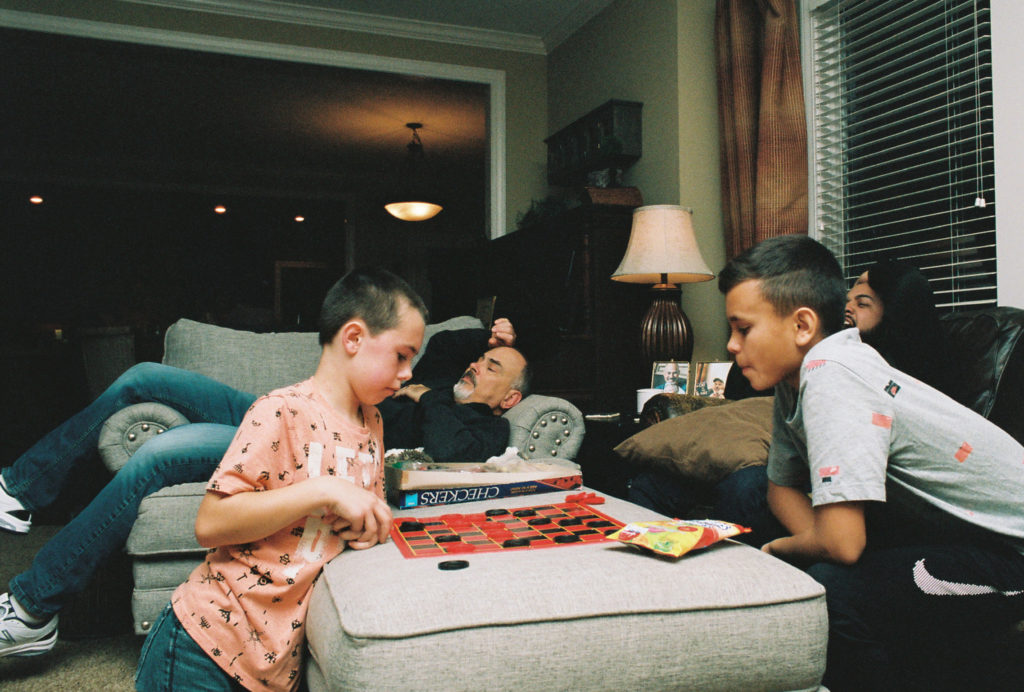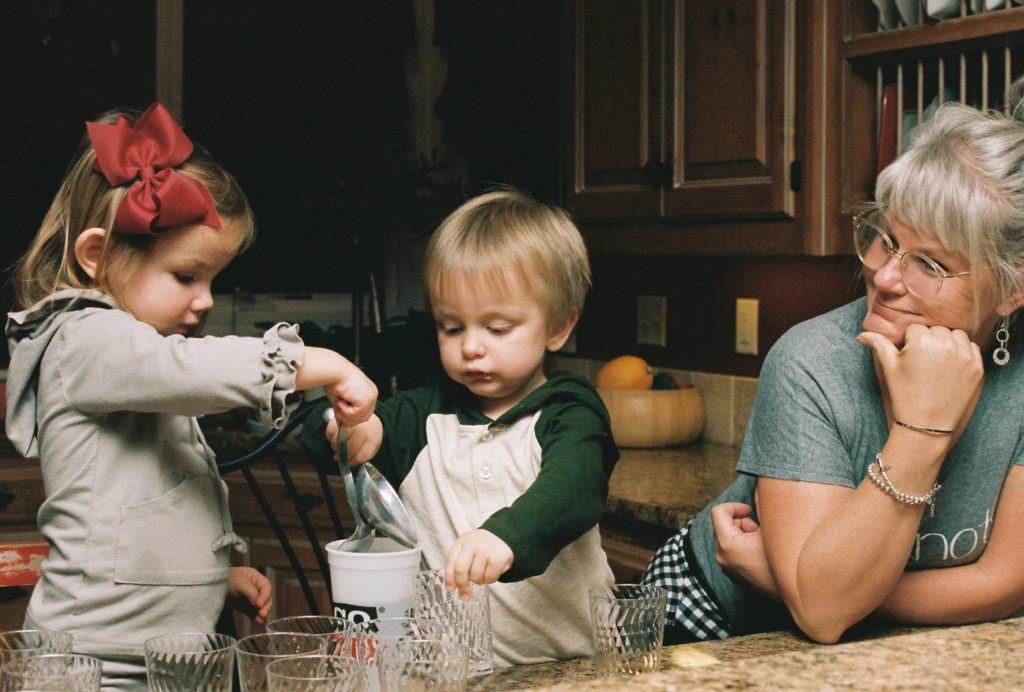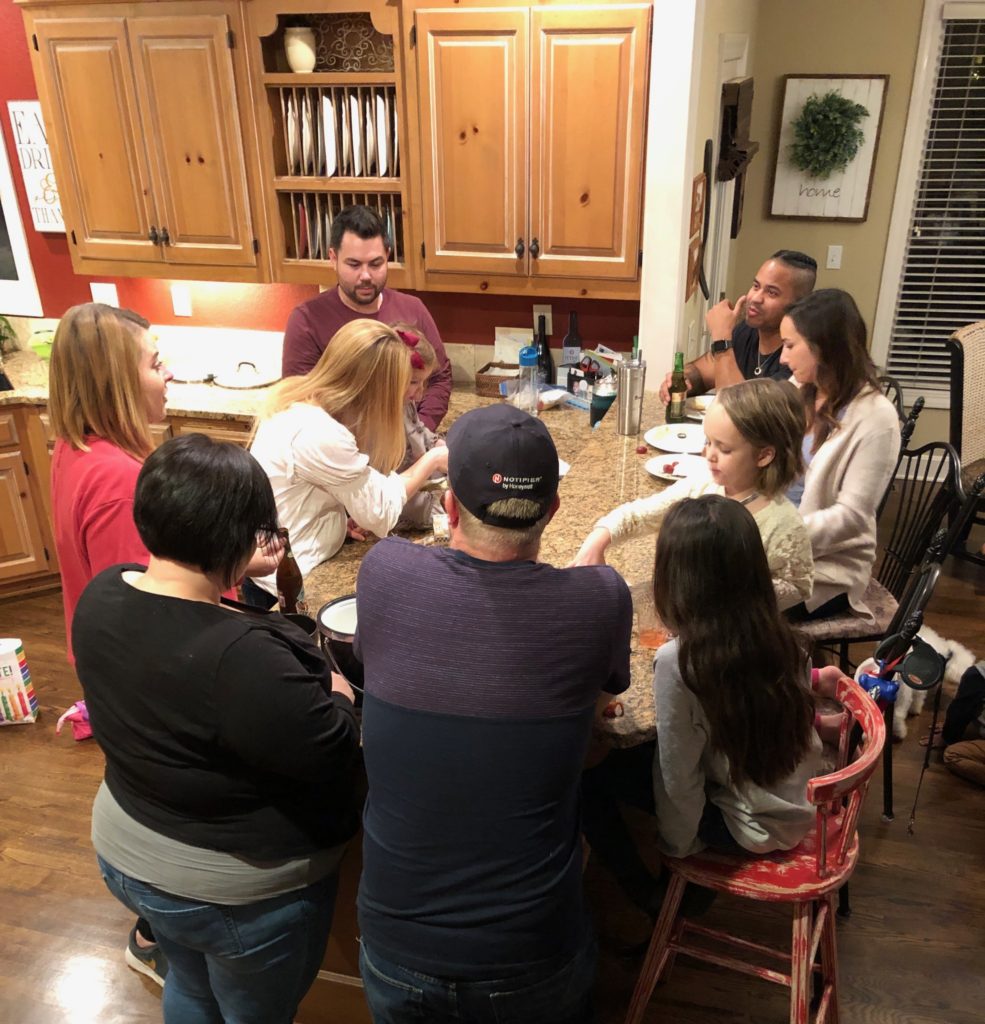 Okay, a little food talk.
Mike picked up Tess and Manuel at the airport on Wednesday evening and I had dinner ready when they got here. I wanted to have something fairly simple that would make enough dinner for Thursday night too.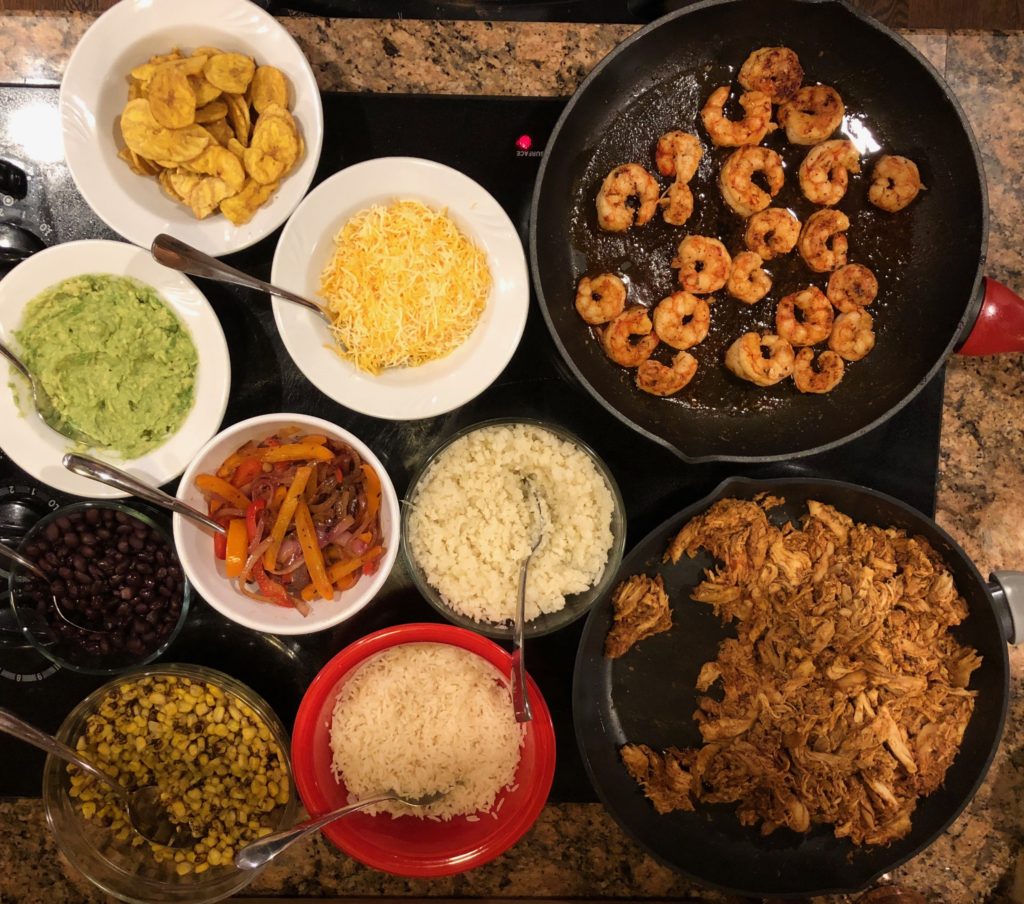 Shrimp, Chicken, Basmati Rice, Cauliflower Rice, Black Beans, Corn, Cheese, Smashed Avocado, Peppers and Onions and Roasted Plantains. I also had a variety of tortillas. I made myself a big bowl with the Cauliflower Rice as my base and dinner was super satisfying with plenty of leftovers for the following night.
I am loving the Purple Plan on #myww. I like the idea of sweet potatoes and oatmeal being zero Smartpoints. I'm being very mindful of my portions as to not overdue and I like the variety of foods that I'm eating.
Sweet Potato Toast topped with Eggs, Smashed Avocado and EBTB Seasoning from Trader Joe's. I like to cook a sweet potato in the microwave until just fork tender, then slice it and put what I want to eat in the skillet to make it a tad crispy. I save the remainder for another meal.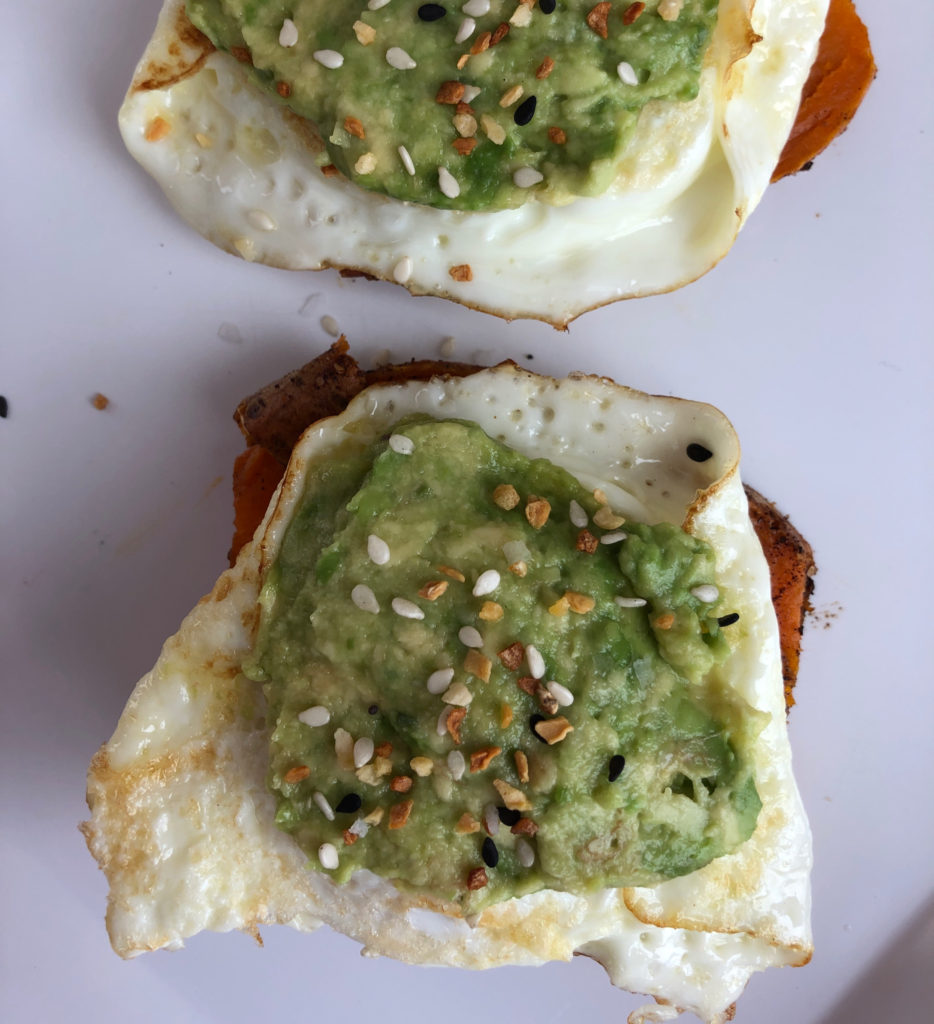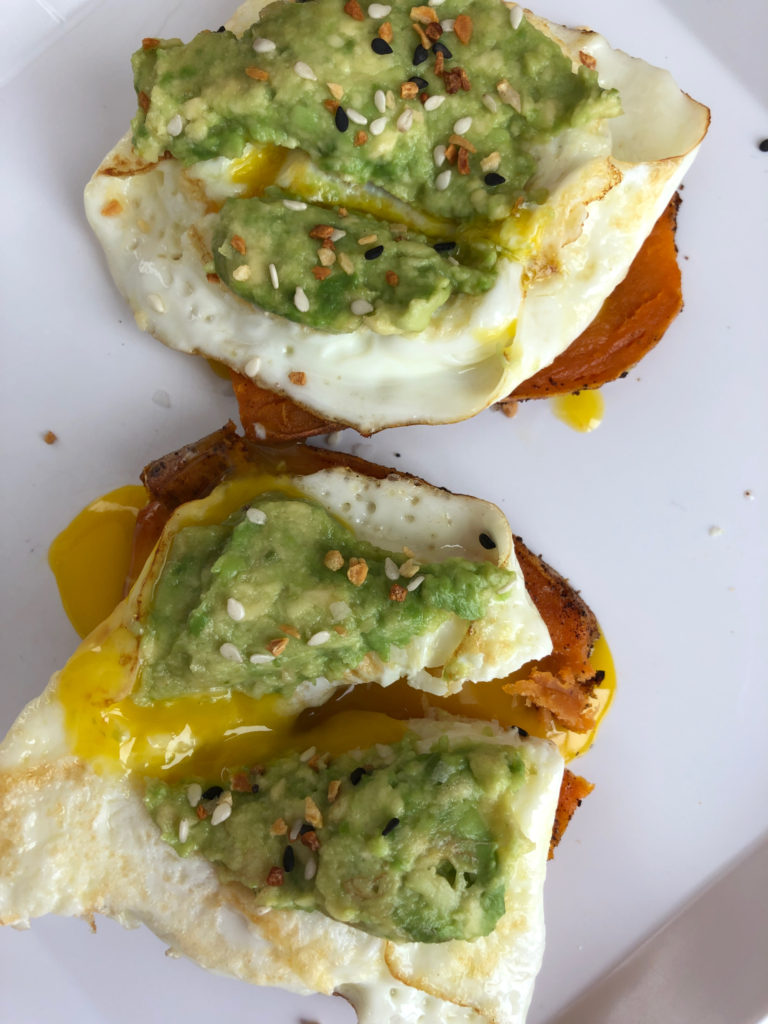 I loved this bowl of Steel Cut Oats topped with fresh Blueberries and Almond Butter. I like to put fresh berries in the microwave for 1 minute. They burst into this amazing juicy topping for so many tasty treats! The only Smartpoints here are the 3 for my Tablespoon of Almond Butter.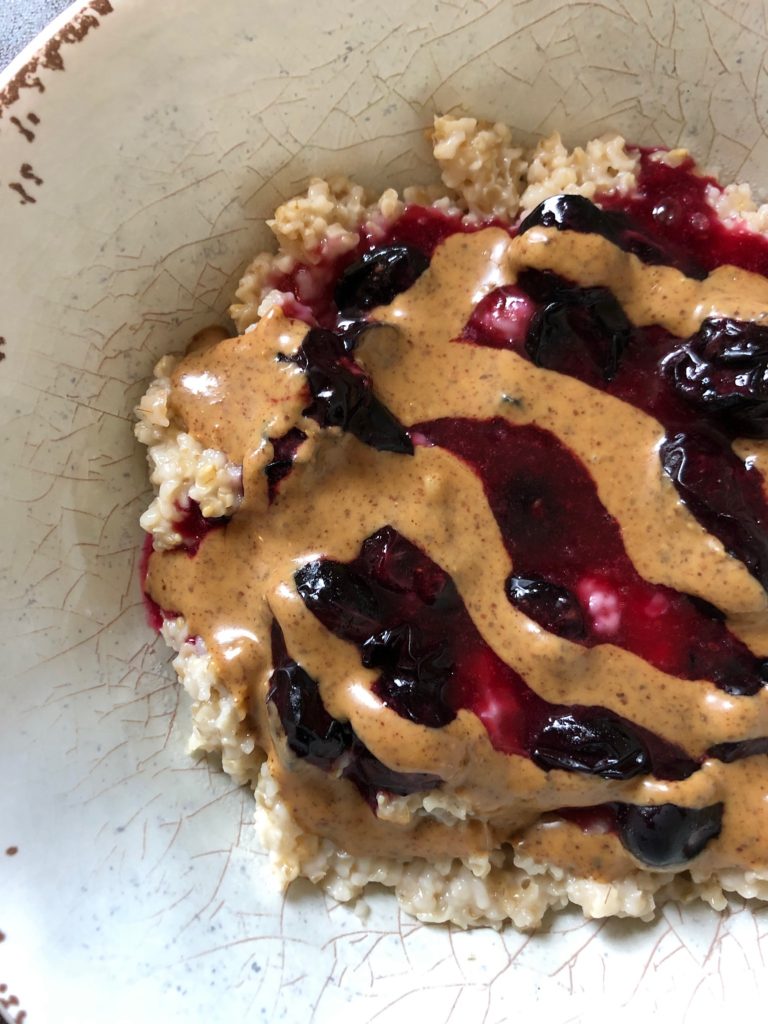 I'm loving this new Trader Joe's find. 2 SmartPoints Per Serving on Purple.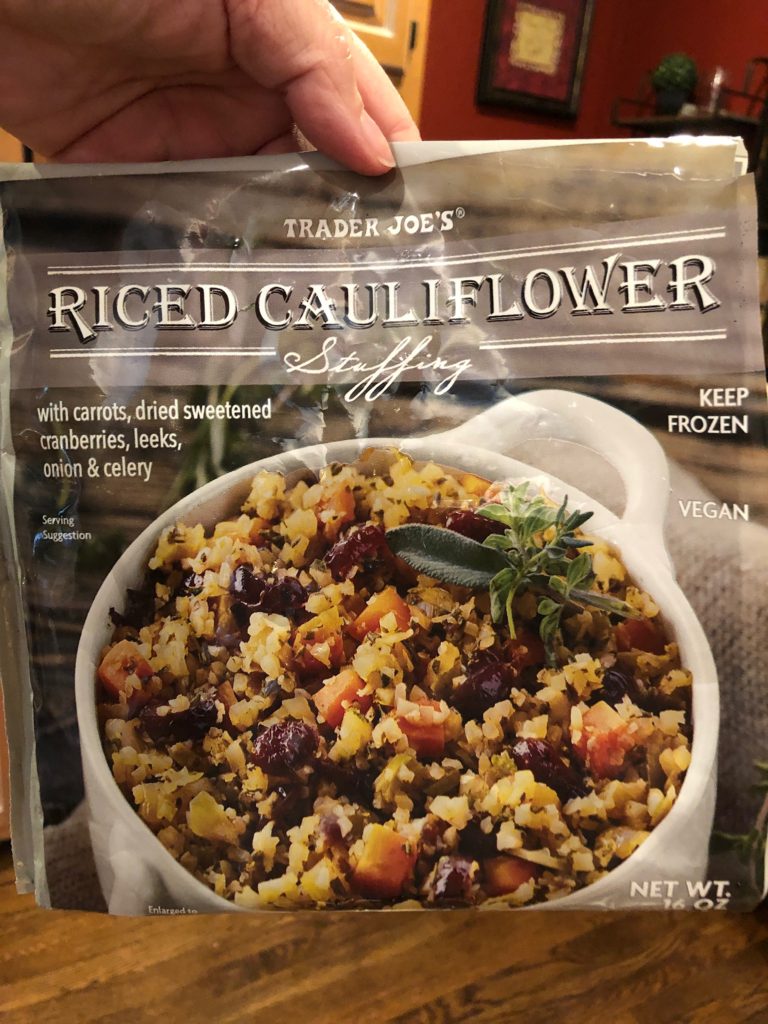 Today for lunch I added a little diced White Sweet Potato. This particular Sweet Potato has purple skin with a white flesh. Love these!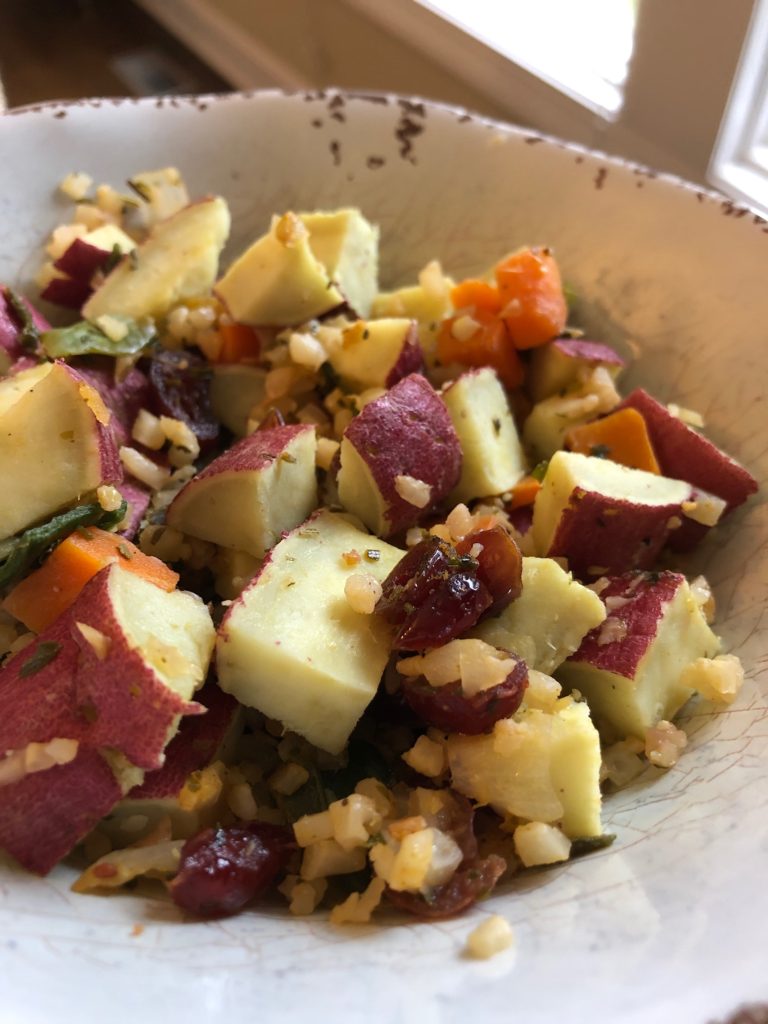 I'm really excited to be hosting Thanksgiving this year. We are going to have a houseful. We will have 28 for dinner this year. We bought folding tables and borrowed folding chairs from Mike's folks. I cleared out the living room and I think it's going to work just fine. The house is clean, the tables are set and all I really need to do is cook the two 15 lb turkeys that I bought. I bought them from Trader Joe's this year. They are already brined and ready for the oven. I've only hosted a handful of times and typically I order a smoked cooked turkey. Well, I missed the deadline for that this year so it looks like I'm cooking birds.
I'm making a few other simple things and everyone else is doing the big stuff and bringing all of the traditional foods. I'm so ready for some of those yummy traditional foods!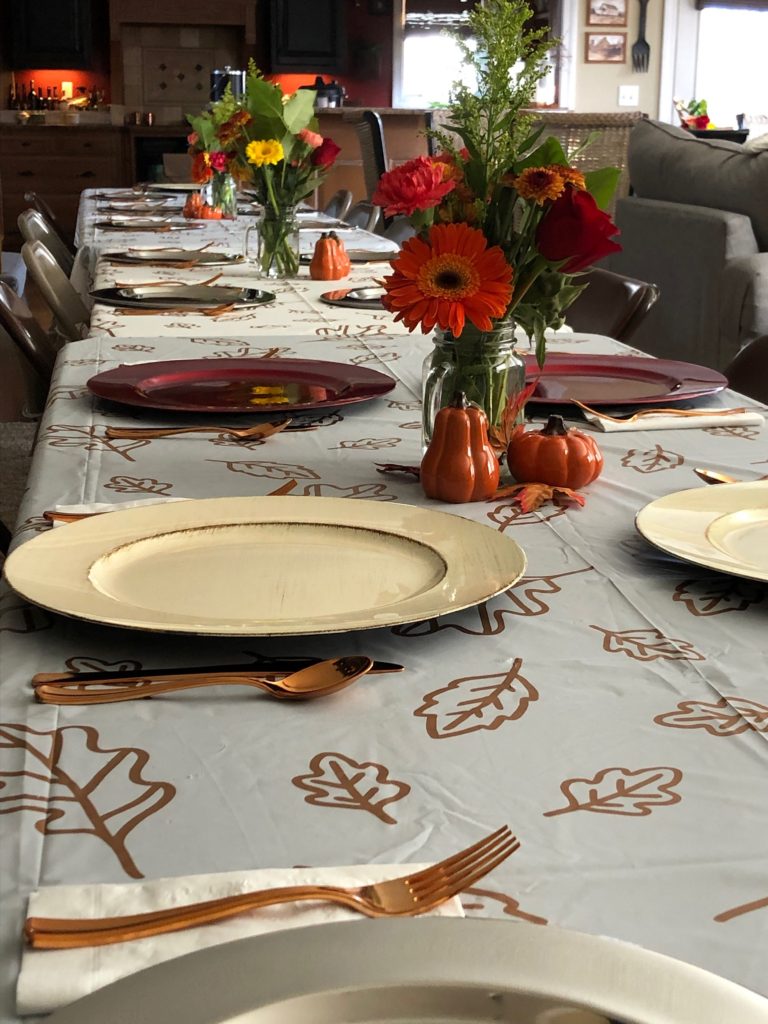 So I'll end with this. I haven't been to a Yoga Studio since before breast cancer. My breast cancer diagnosis was just over two years ago. Between the breast surgeries and then the knee surgery, I have yet to step back into a Yoga Studio. I didn't feel like I was strong enough so I kept my practice at home.
Last Tuesday I did it. I went to a studio. I was surprised at what I was able to do. I was so happy. When I was regularly practicing Yoga, the studio was the place that I always felt a deep appreciation for what my body could do. I felt strong. I didn't think I'd be able to keep up but I did!
I bought a membership. I've been three times. I'm so damn happy.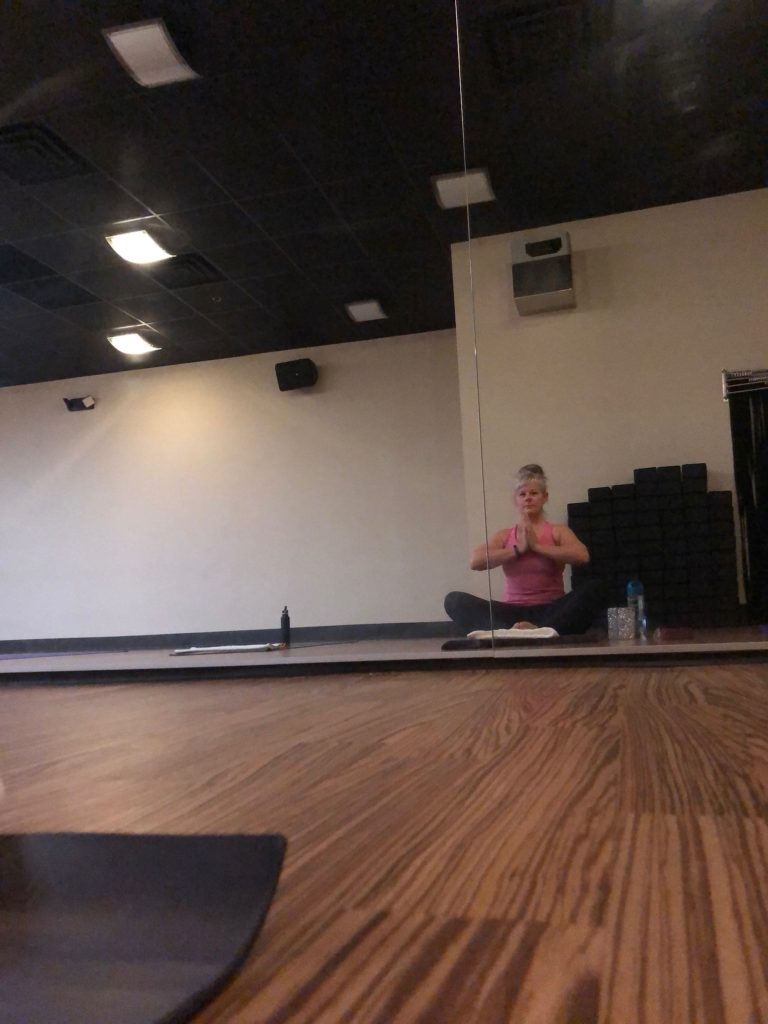 I hope you all have a Very Happy Thanksgiving! Enjoy your family and friends. Be grateful. I have so many things to be thankful and grateful for. I'm forever grateful for my little space here and all that it allows me to do for myself and grateful for the people I have met here whether we have met in person or simply exchanged emails or comments here.
Hugs to all of you!
"love the life you live, live the life you love"