Having the opportunity to be a WW Ambassador has been such a great experience. I really lucked out with this gig! The company treats us so well and the interaction from the entire social media team is great. They've set up awesome communication for all of us when we have questions, and they continue to come up with fun things for us to participate in and promote the company. I'm loving it!
Friday night I had the opportunity to host a WW Friendsgiving and it was such a fun way to start the holiday season. WW sent a huge box of goodies for hosting a Friendsgiving. Flatware, napkins, table runner, even gifts for the guest!
Oh, I'm working on changing up the look of the blog and moving things around a bit, but I'll still continue to blog during construction, so pardon the mess while I figure it all out. I'd like to include Breast Cancer links and organize better and offer more information. It's a process for sure. Thanks for sticking with me!
I kept the menu simple so I could focus on the friends. Nothing better than sharing an evening of yummy food and fun with these ladies!
I had so much fun setting the table. Do this several days in advance if you can. Saves worrying about it on the day of your party!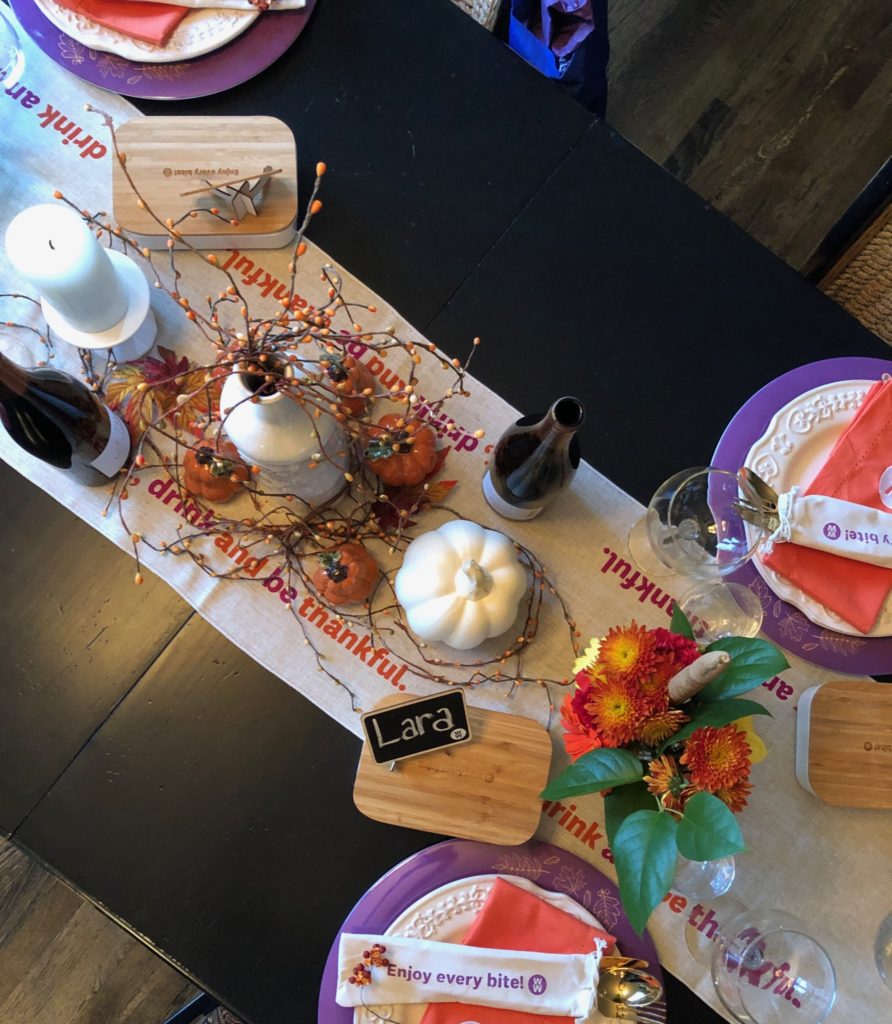 I think the gold flatware in the little bag was my favorite part!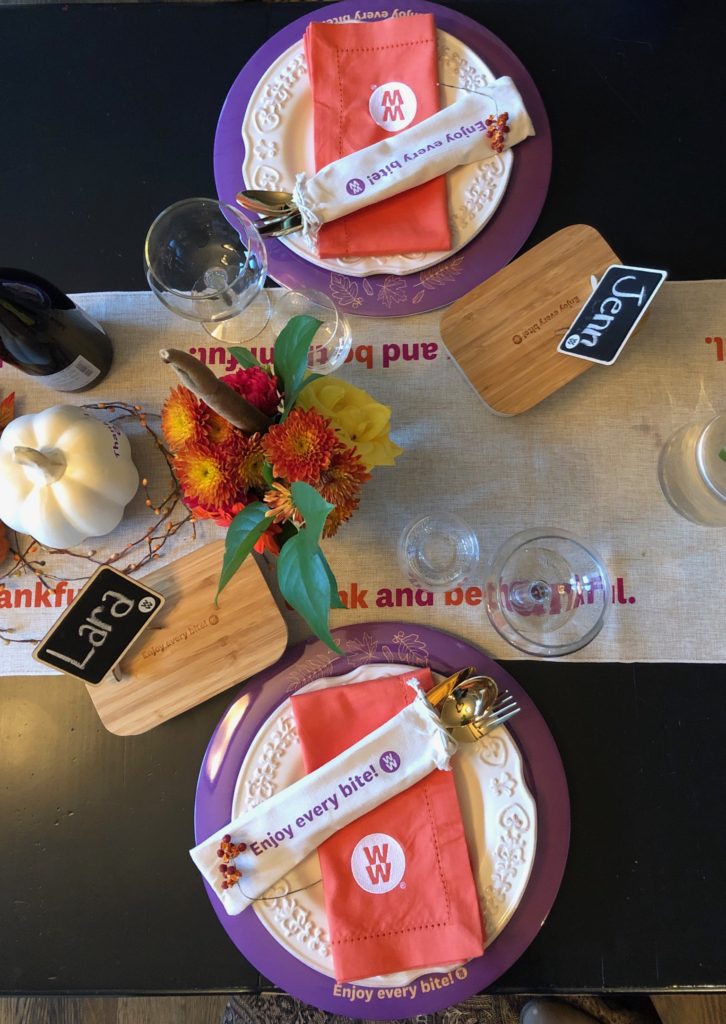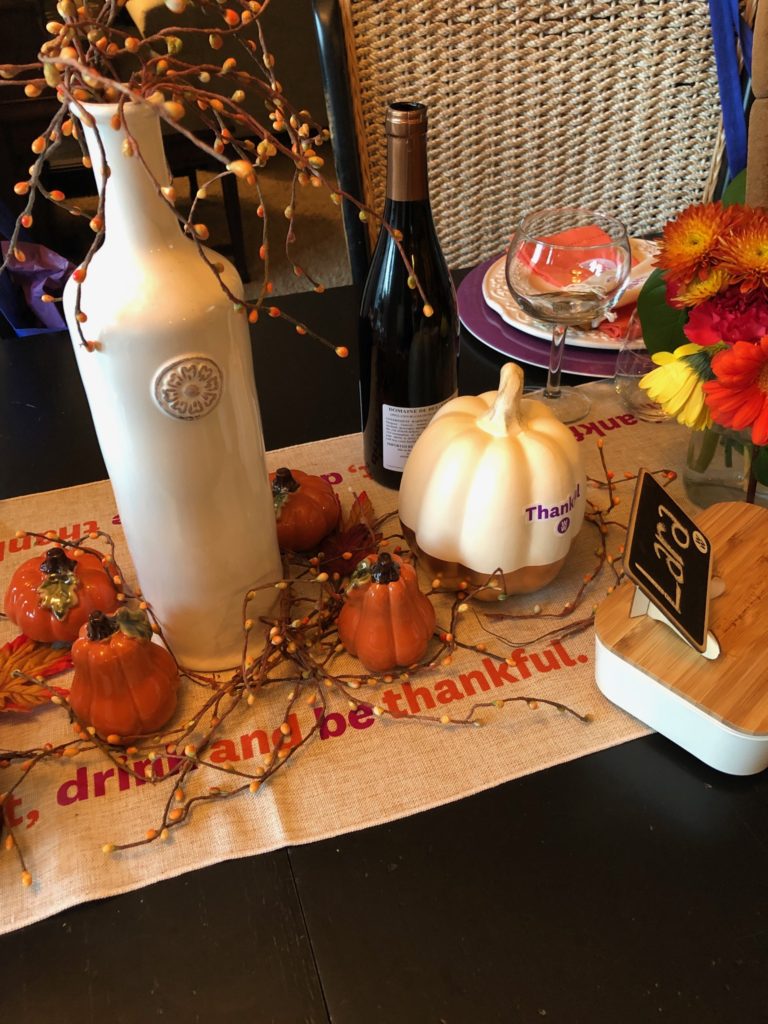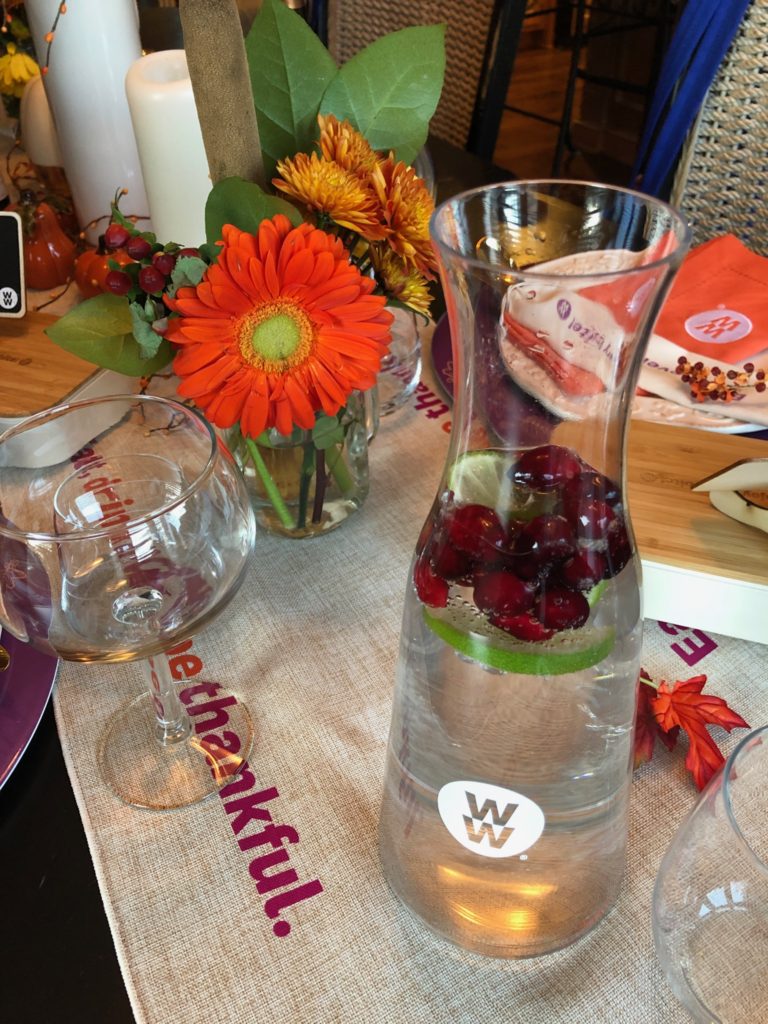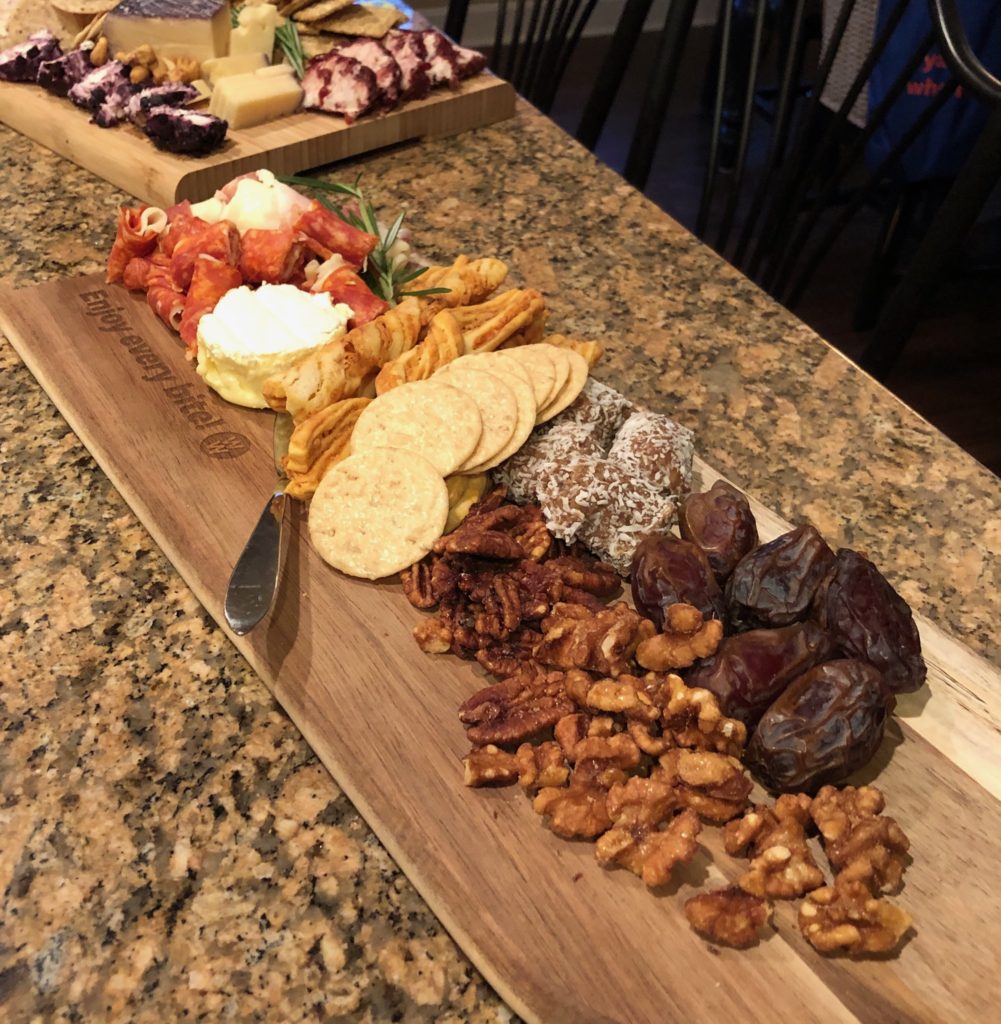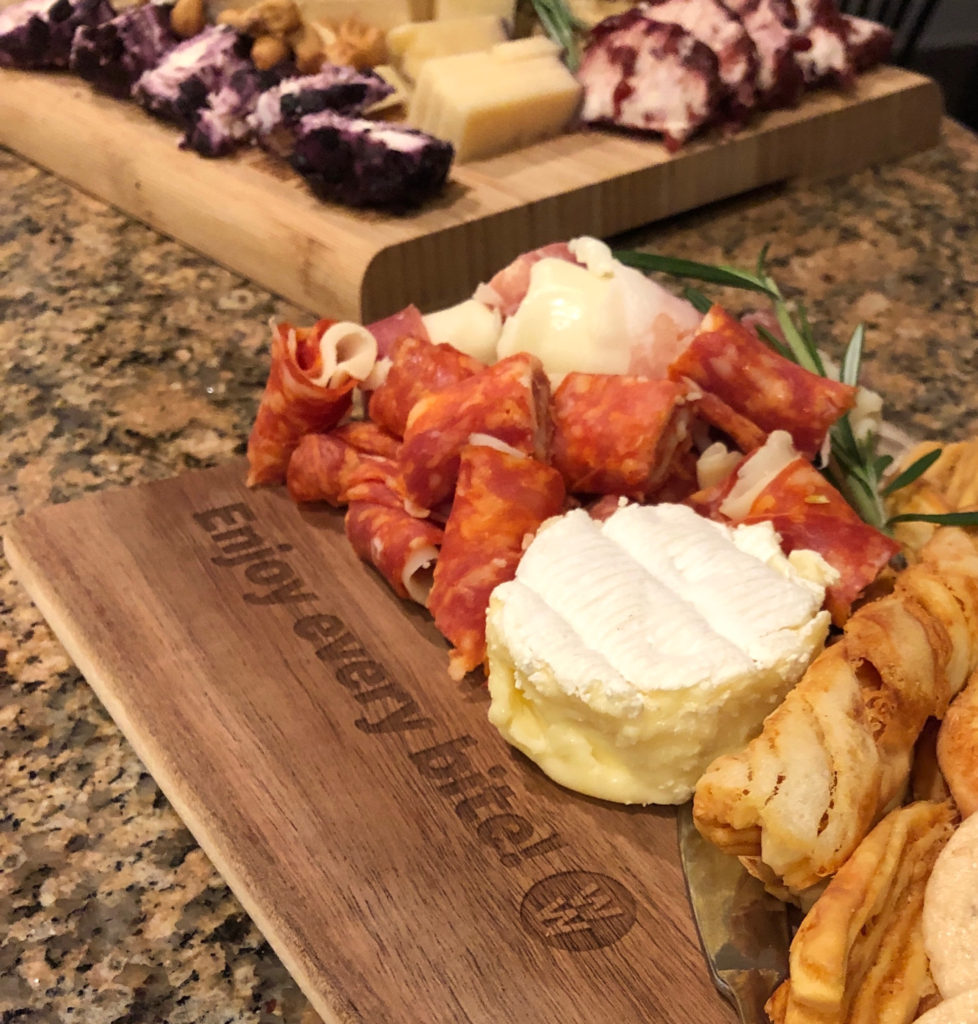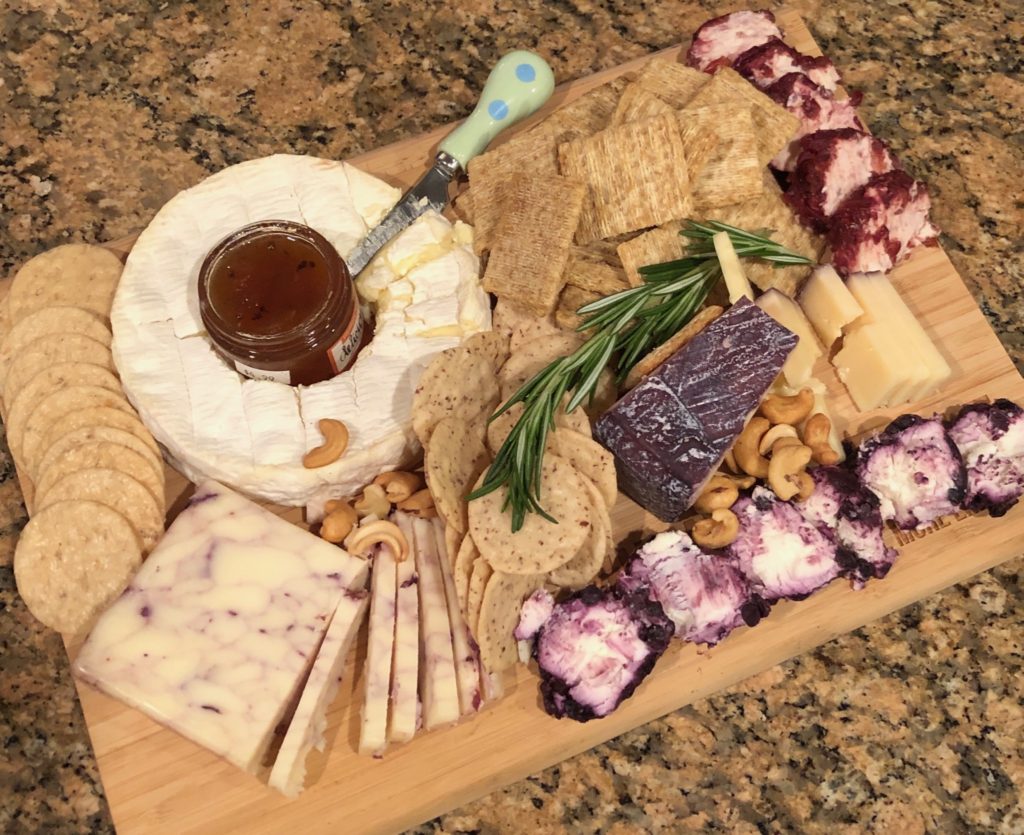 I recently read a few tips for hosting from Ina Garten (Barefoot Contessa) and she suggest preparing one item in the oven, one on the stovetop and one prepared ahead of time. So I took that advice and I'm so glad that I did.
Cheesy Cauliflower Gratin with Panko Breadcrumbs
Butternut Stuffed Turkey Tenderloin with Cranberries and Pecans
Skillet Brussels Sprouts
I first made the WW Cheesy Cauliflower Gratin since I knew it would stay hot in this big ceramic pot for quite a while. These tasty Stuffed Turkey Tenderloins start on the stove but finish in the oven. While they baked in the oven, I made Skillet Brussels Sprouts on the stovetop. I'll remember this the next time I host a dinner party.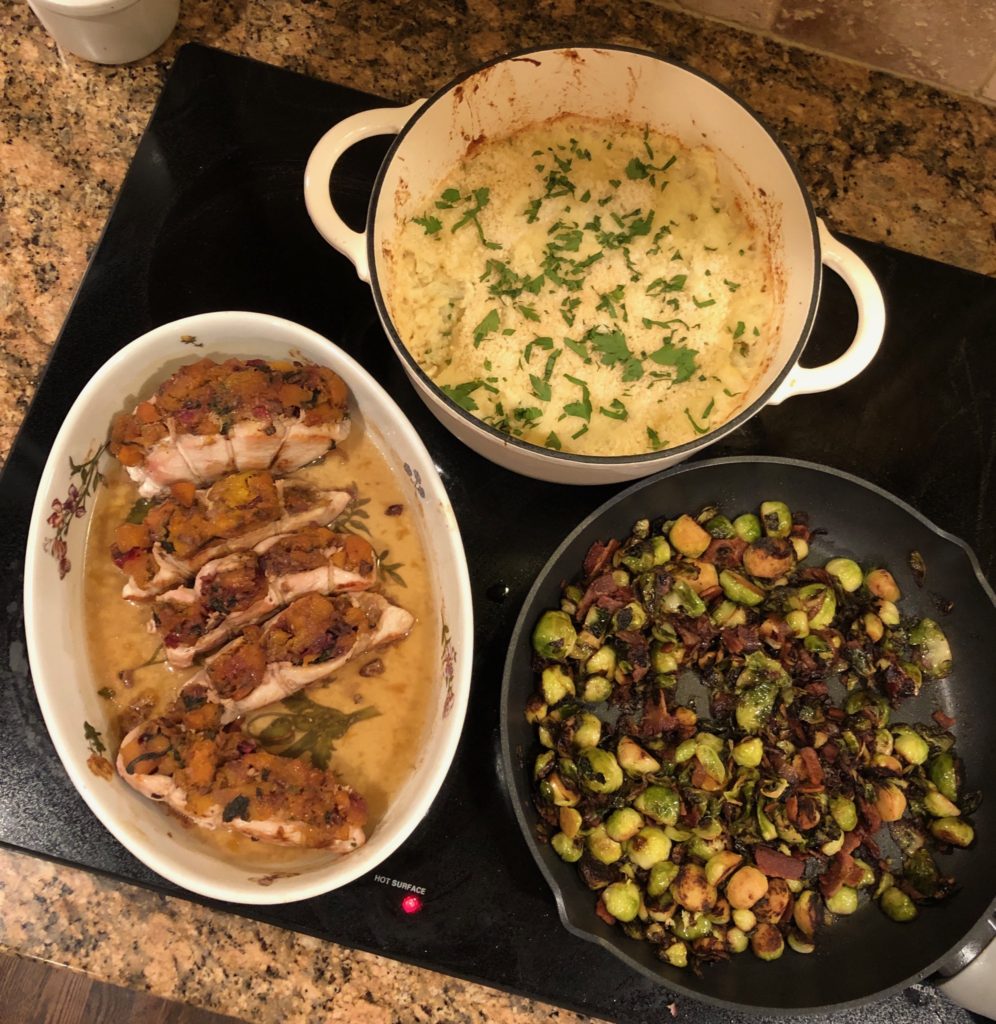 I recently had the opportunity for a group call with the WW Ambassadors and the WW recipe creator. So much fun listening to her thought process on her recipe ideas. This Cheesy Cauliflower Gratin came up as a favorite and since then several of the Ambassadors have made and liked it so I had to give it a try. Easy and a hit with the girls! It's in your WW App or click on the link above.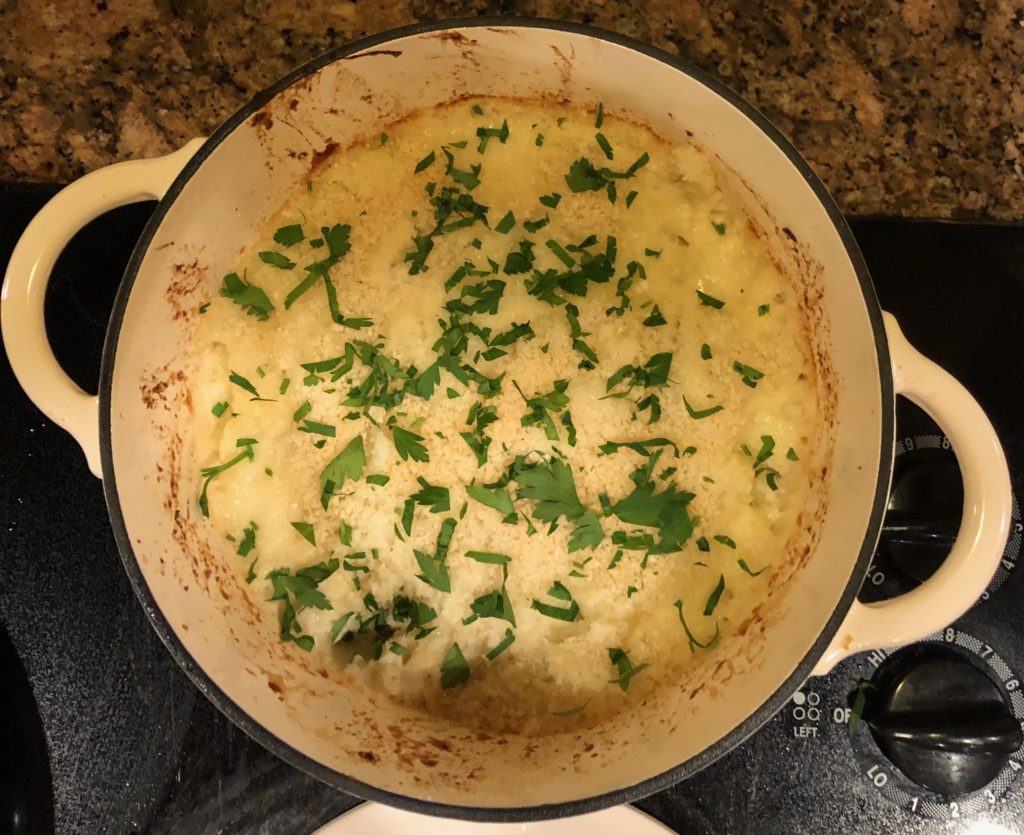 For the main dish, Skinnytaste Stuffed Turkey Tenderloin. A little work, but totally worth it.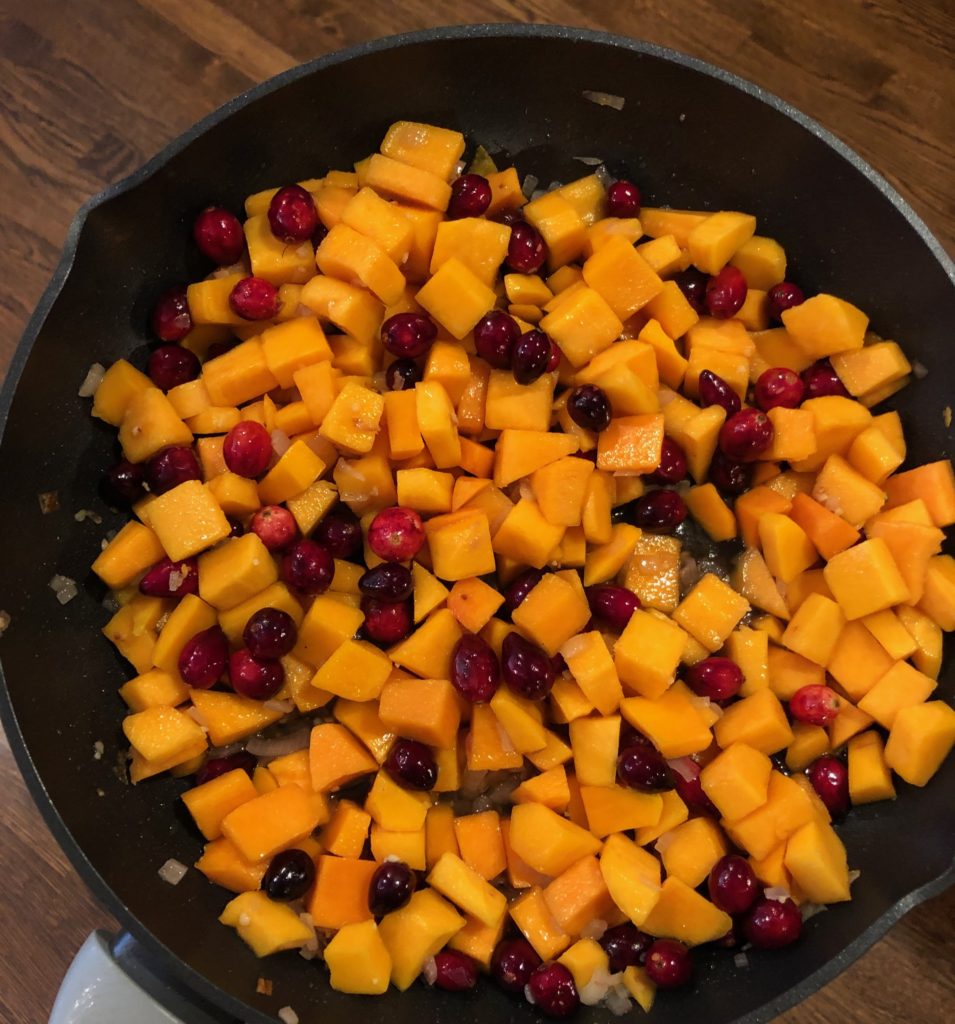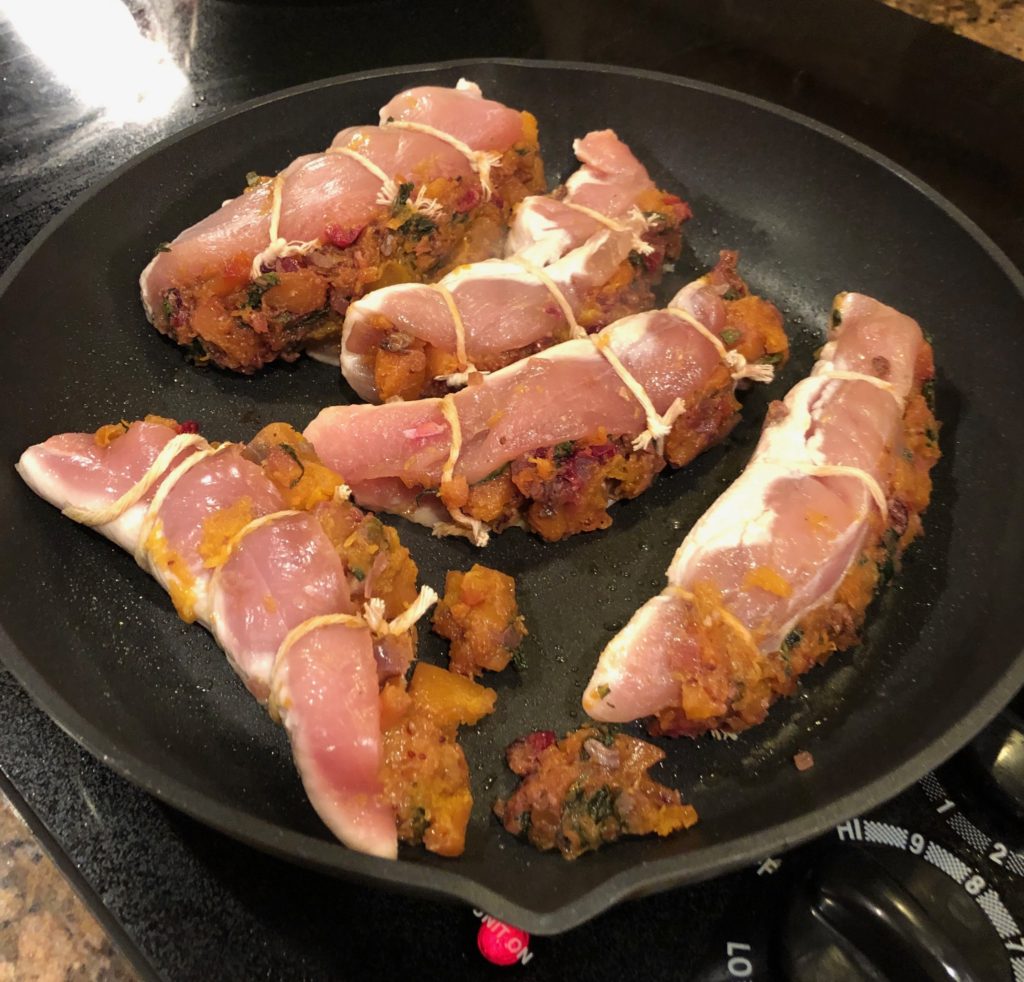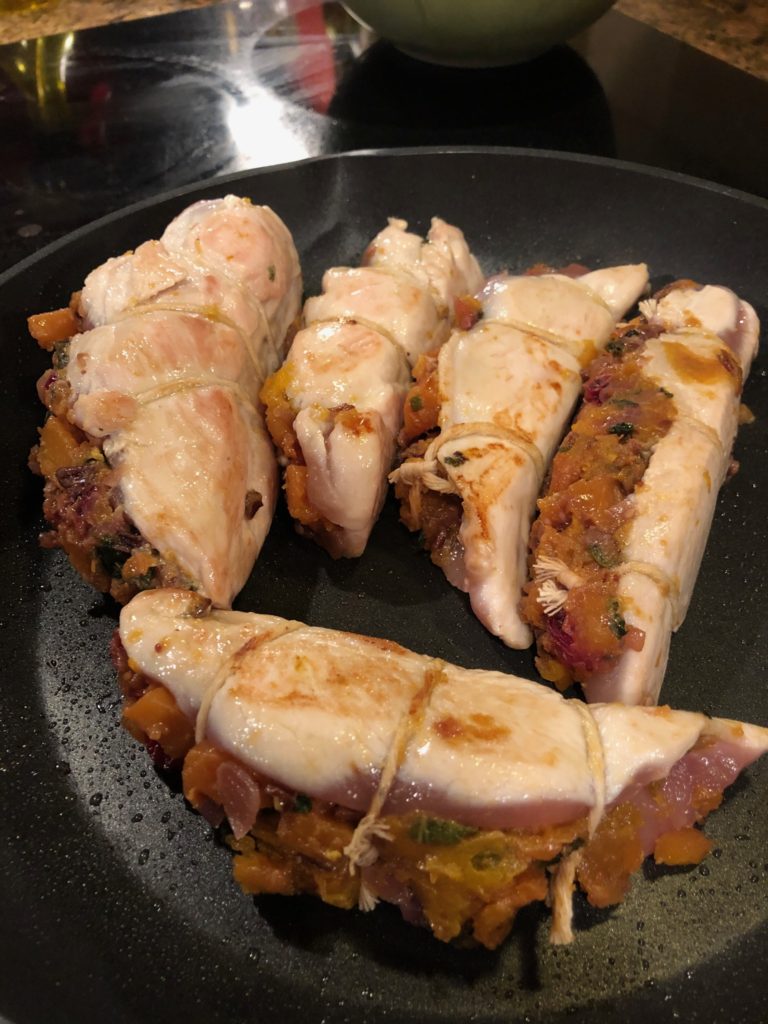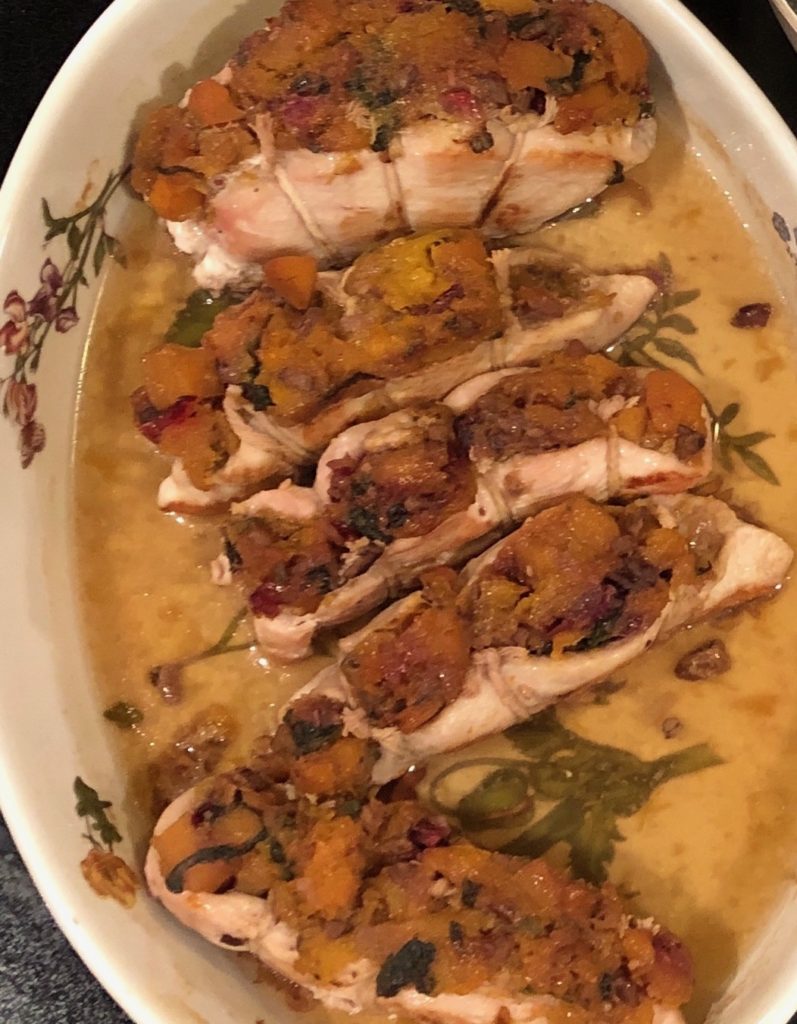 For dessert I had a few pre-made items for those that don't love Pumpkin, but actually everyone was totally on board with these WW Mini Pumpkin Cheesecakes. I think I'll make these again for Thanksgiving. They were so simple.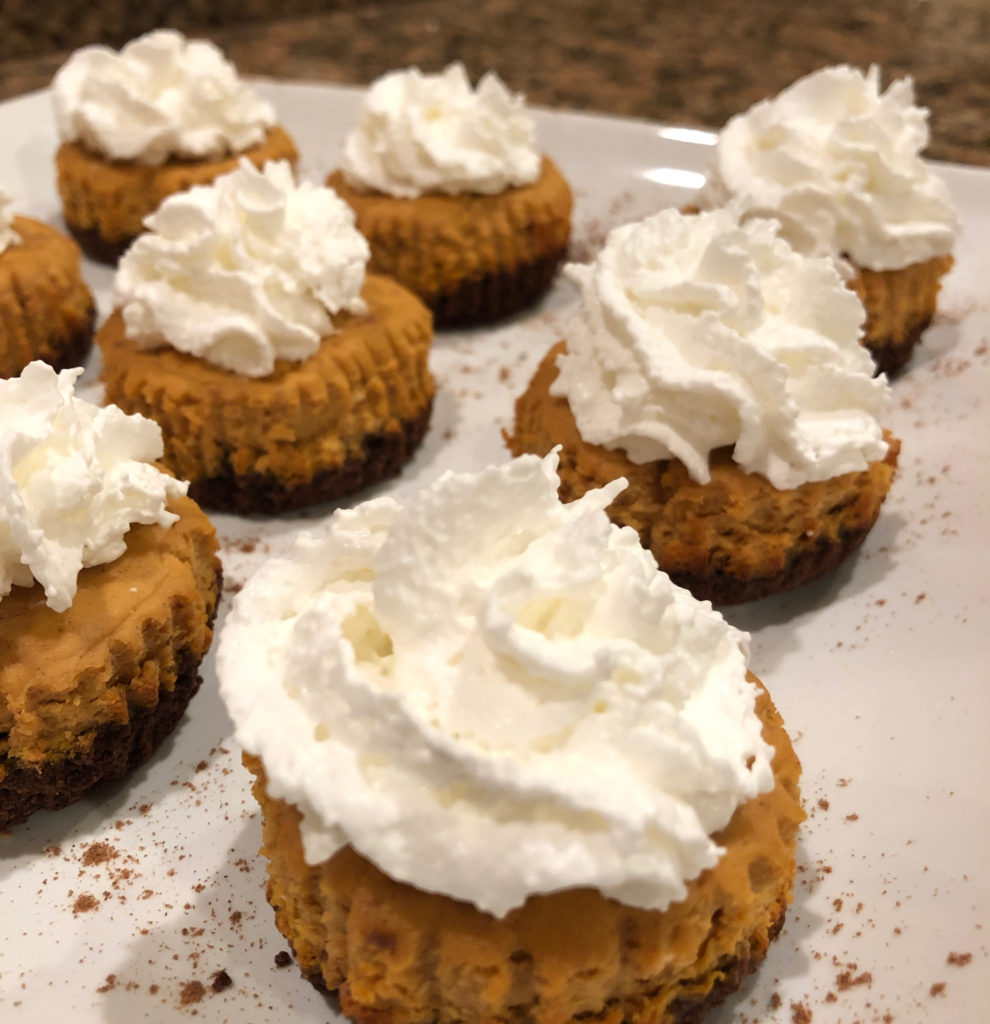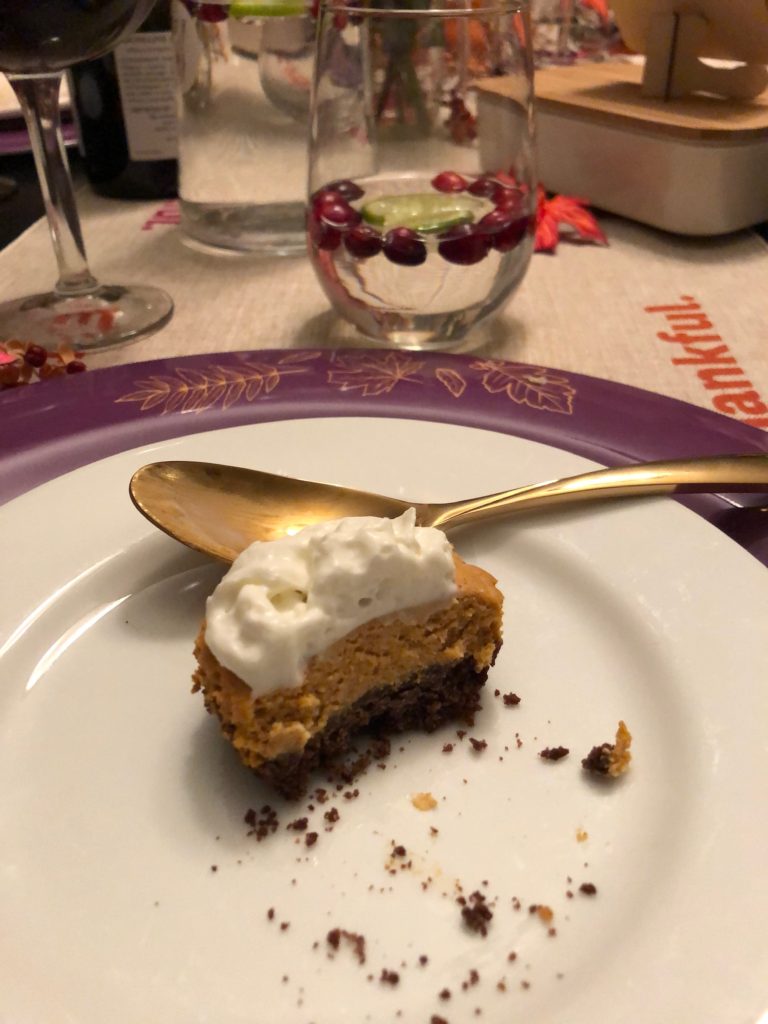 A few random items from Trader Joe's. The little Pumpkins have chocolate mousse inside them. Uh, yummy! Likely not point friendly, but tasty!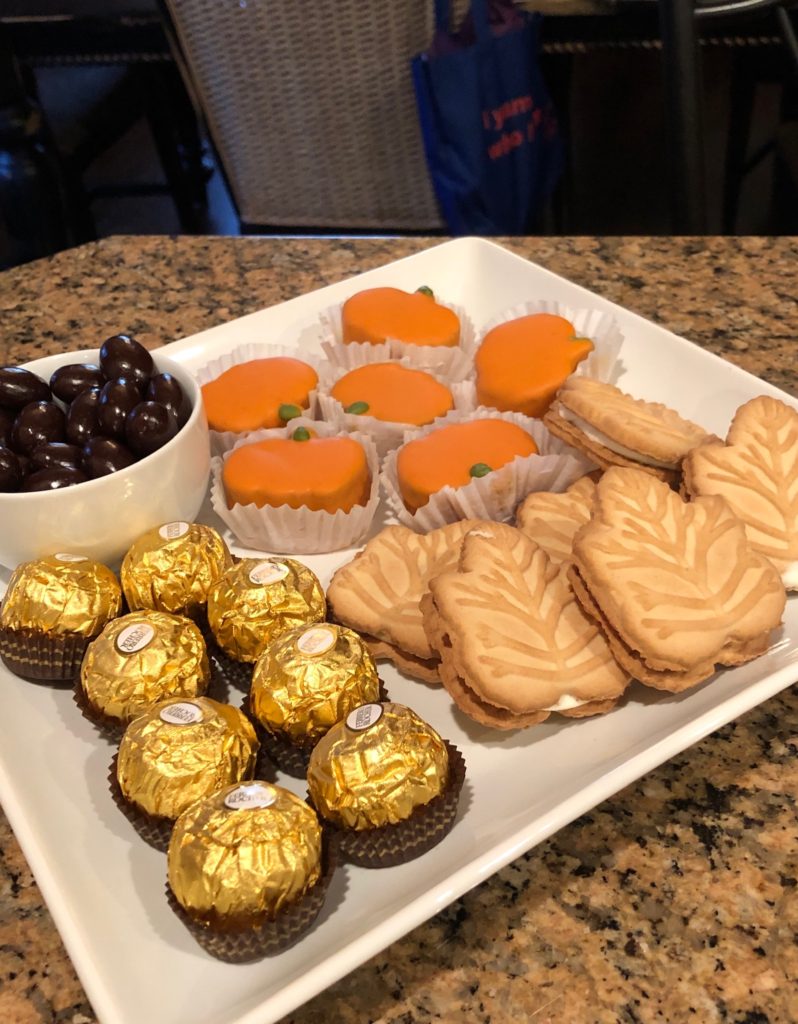 Please never let Pumpkin Season be over!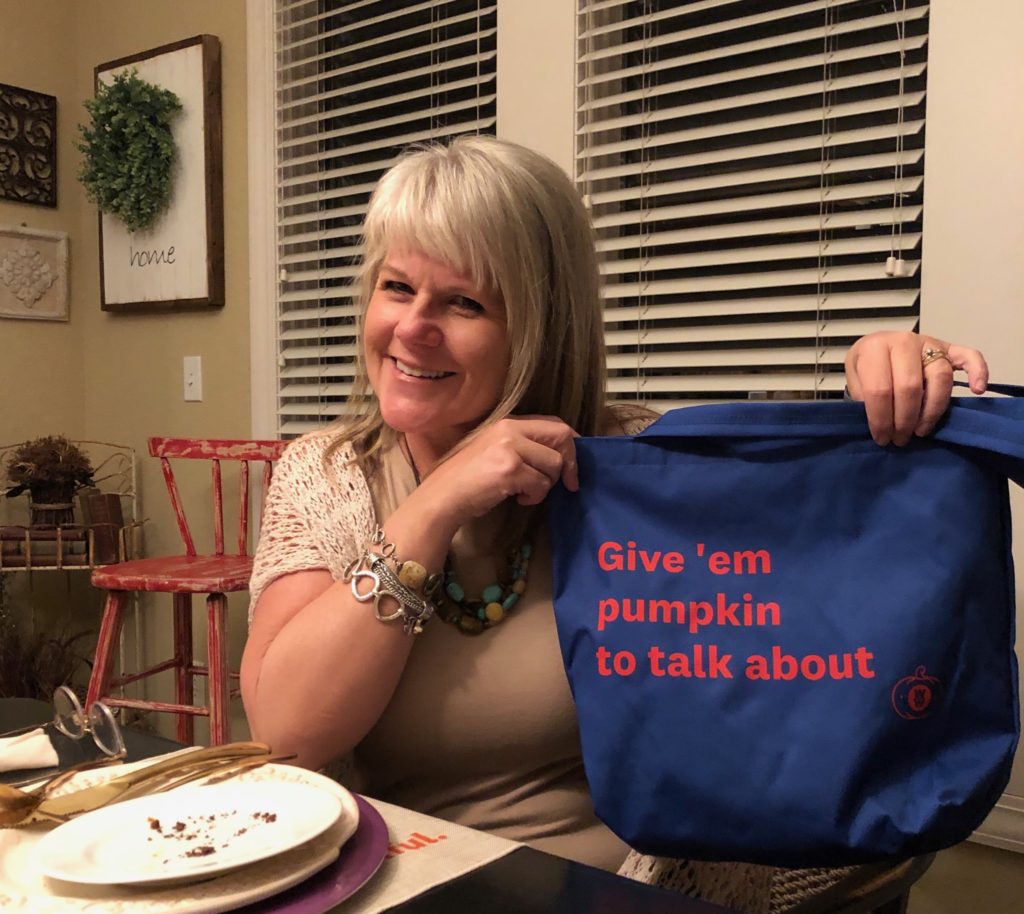 I'm having fun searching through the WW App for seasonal recipes. I've tried a few so I thought I'd share a few more with you if you're feeling all the Fall feels like I am. You can search for them in your WW App or you can click on the links here in this post.
This Acorn Squash Apple Pie made a great breakfast one Saturday morning.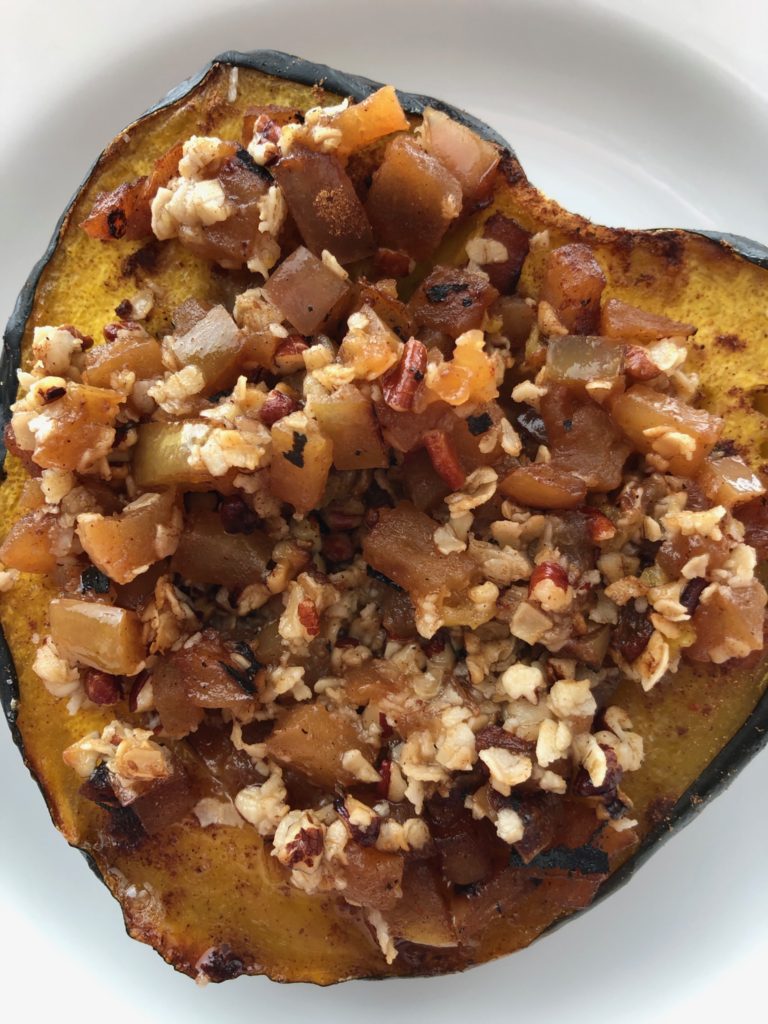 I made this Baked Apples with Oats and Cinnamon for Mike and I yesterday afternoon for a Sunday Football treat and it basically felt like we were eating Apple Pie. I topped this with Redi Whip since I just happen to have some in the fridge! #worthit!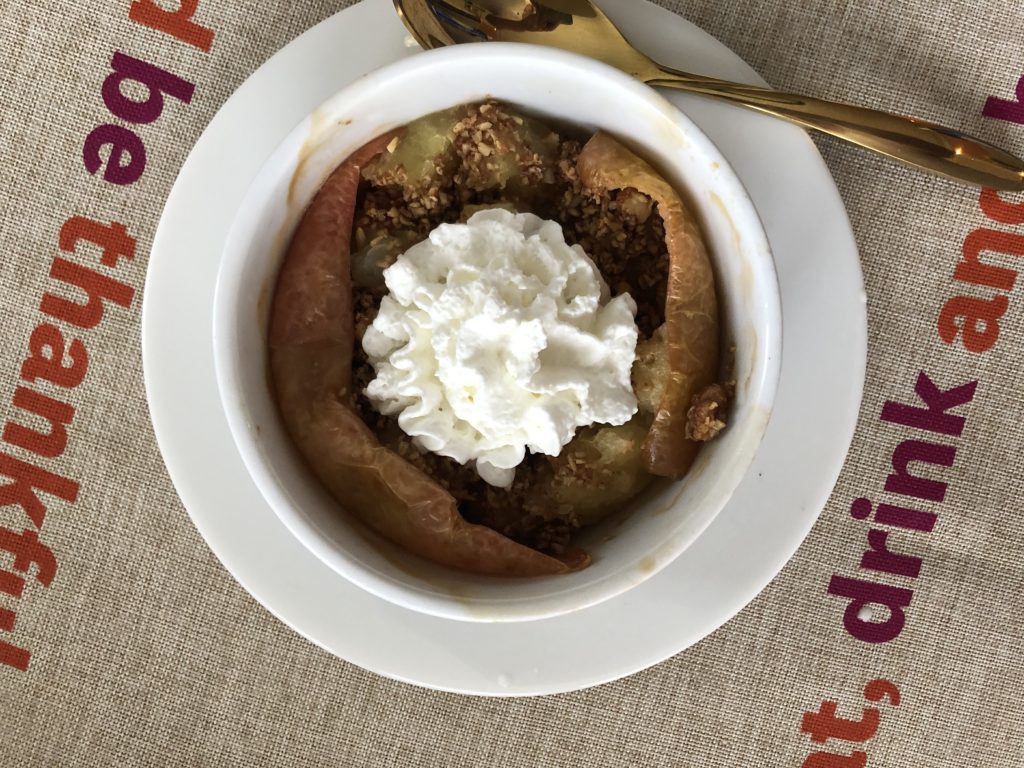 Mini Crustless Turkey Bacon and Onion Quiche
Breakfast yesterday morning was a simple little Mini Crustless Quiche that I found in the WW App. I didn't have turkey bacon, so I used some Chicken Breakfast Sausage that I recently bought at Aldi and these turned out great!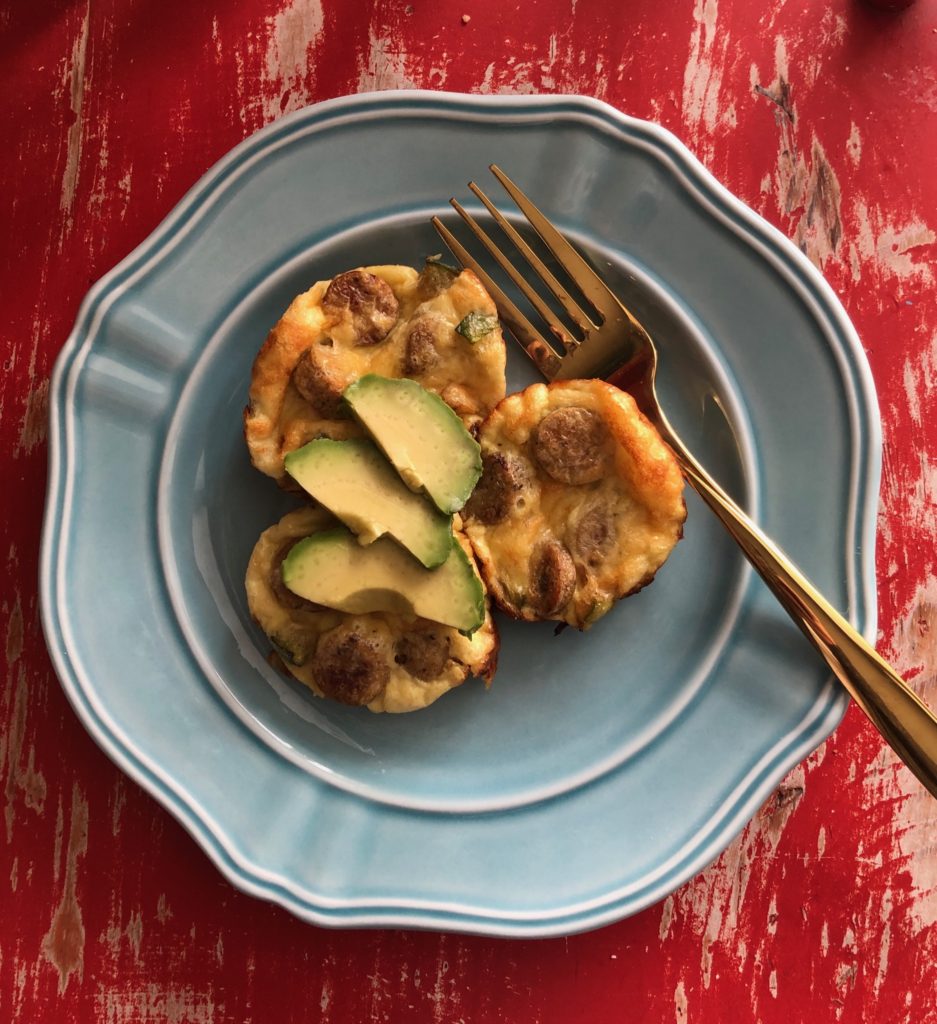 Since I'm in a complete Thanksgiving mood (we are hosting 30 people this year!) we had a mini version of all the flavors last night for dinner.
I baked my first ever Turkey Breast. DRY!! Need some practice there. I'm thinking of baking a couple of those in addition to the turkey I'll be baking. I had plenty of left over Cheesy Cauliflower Gratin so we finished that off and then I added this new Cauliflower find from Trader Joe's. Yes, we had a lot of cauliflower for dinner!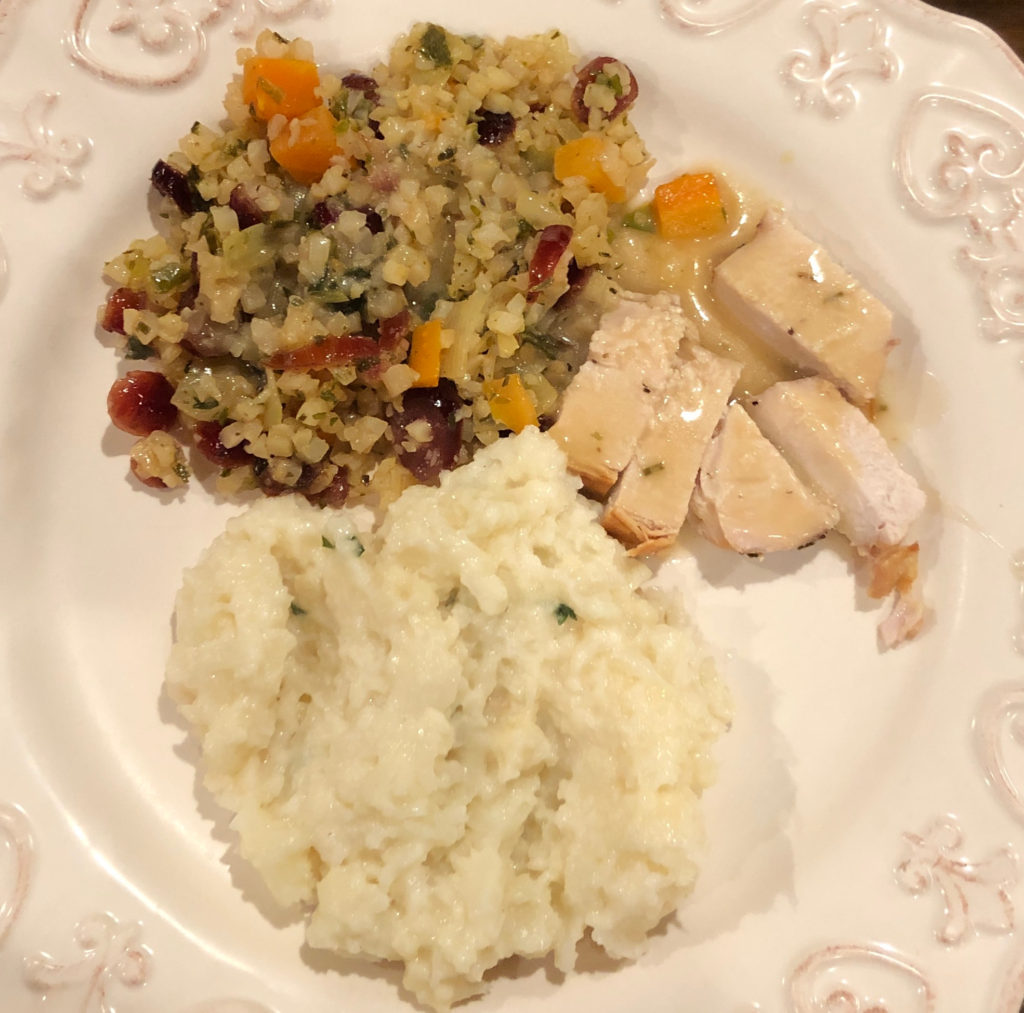 My recent Trader Joe's find.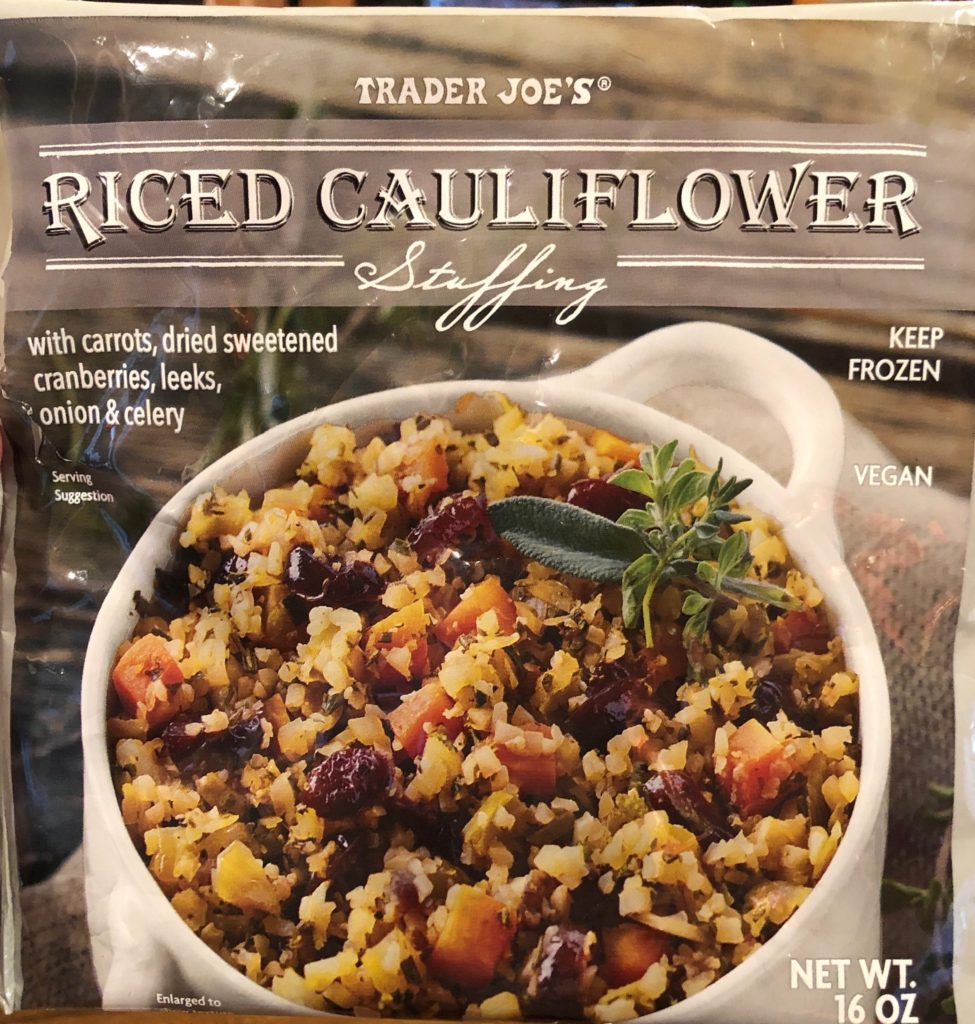 I think you're all updated on the food part of life now.
In other news……I have been super busy working on projects around the house and it feels good to be getting things knocked out!
I'm loving my office in the basement! I even have a huge window!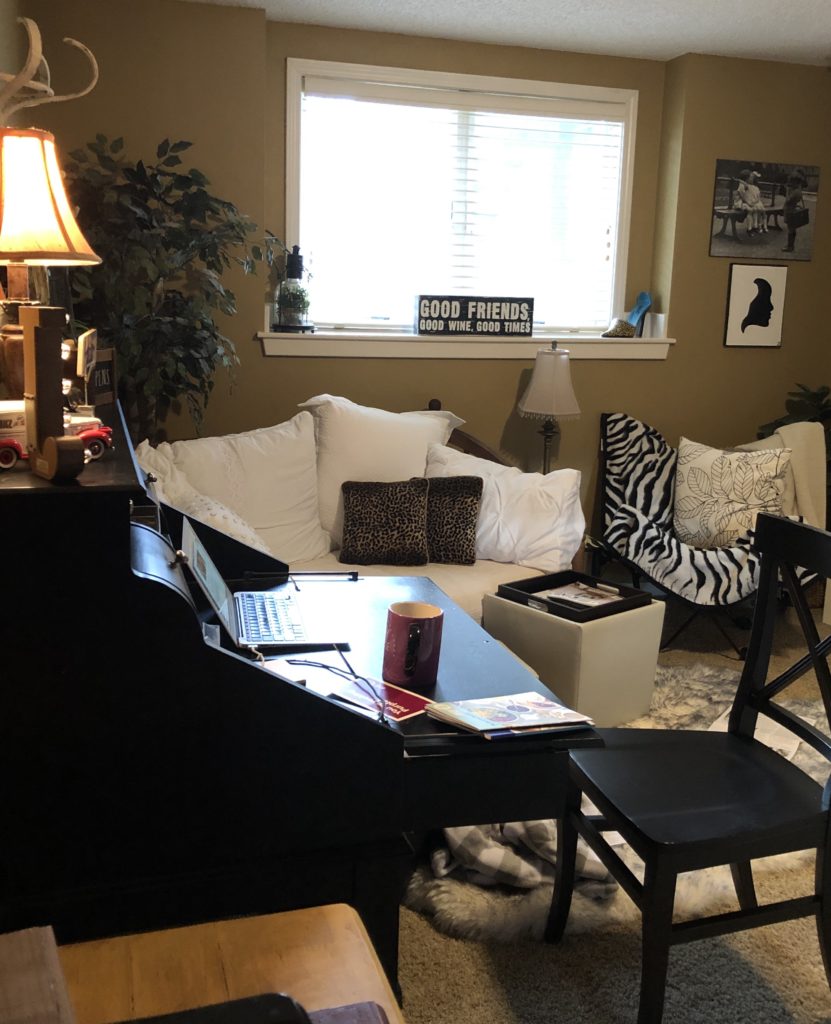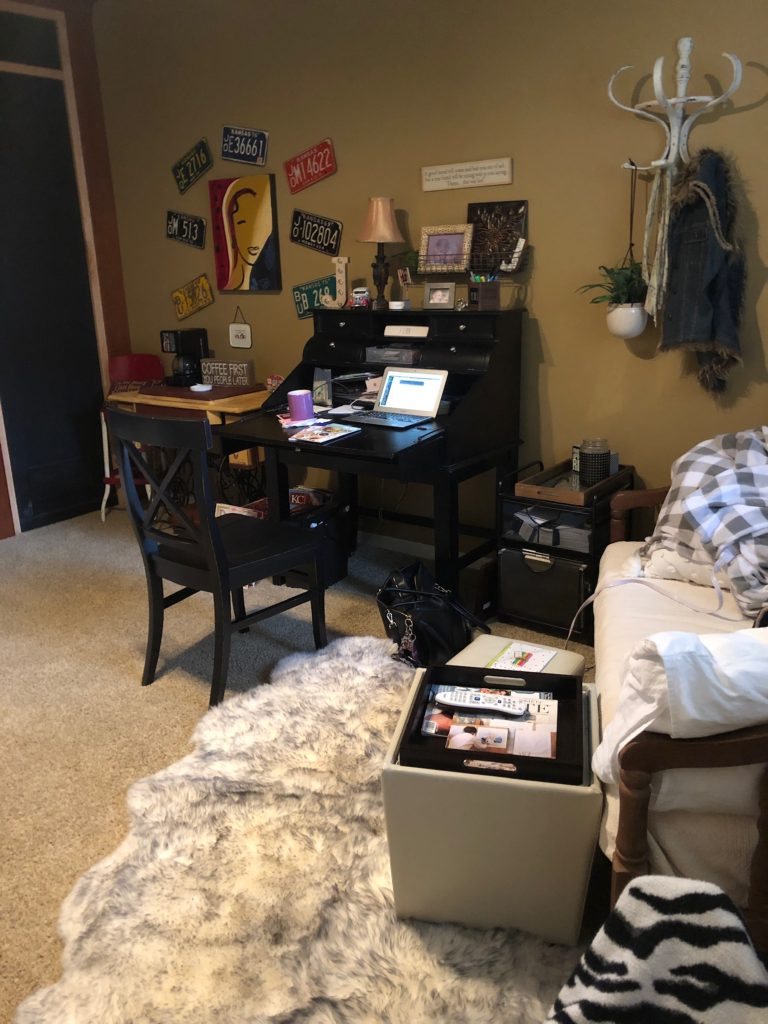 It feels good to have my own work space where I can leave things out and not feel like I need to gather it all up from the dining room table each time I work. This space wasn't being used and it feels so nice to utilize it!
My old desk spot is now a great space for shoes and backpacks when the kids and grandkids come over!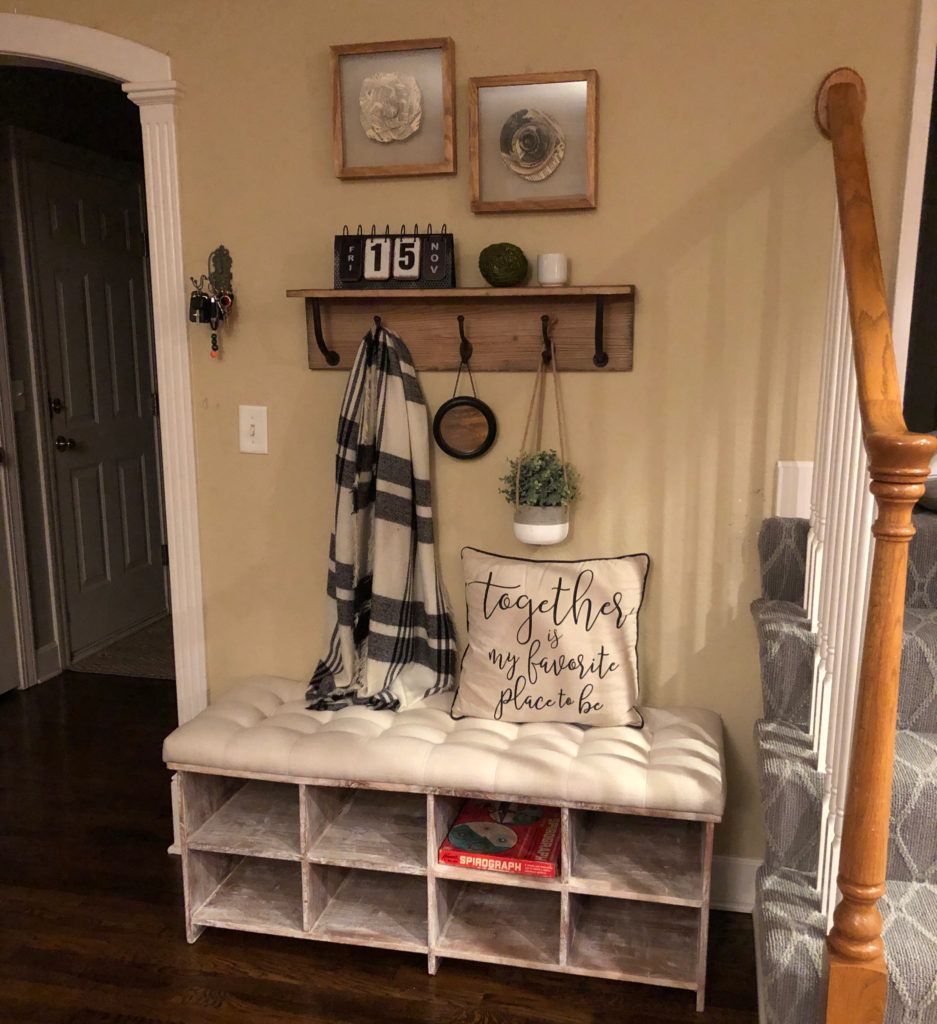 I've been wanting to paint the "Red" bathroom in the upstairs hallway for a really long time. I painted it red over ten years ago. I also applied tissue paper to the walls and I was undecided if to leave it up or not. I honestly didn't want to have to go to the work of taking it off and I liked the idea of texture on the walls. We have painted so much gray now and I am loving it but I know I don't want the entire house to have gray walls. After pondering a bit, I decided to leave the tissue paper on the walls (really because it was easier, duh) and I painted the two large walls white and the two smaller walls a very pale yellow. I am in love. How much time can you spend just hanging out in your hallway bathroom? A lot! I can't stop looking at it. You ever do that? Change things around just enough that you just can't stop looking at it? That's just me??
This red was cozy but it was time for a change.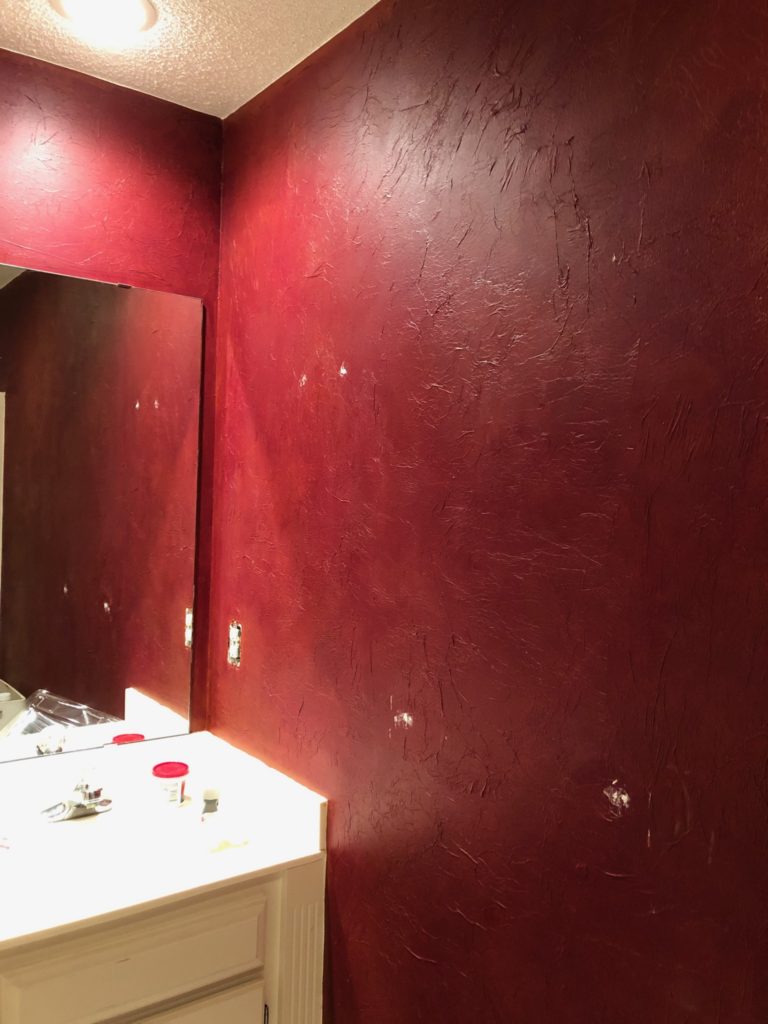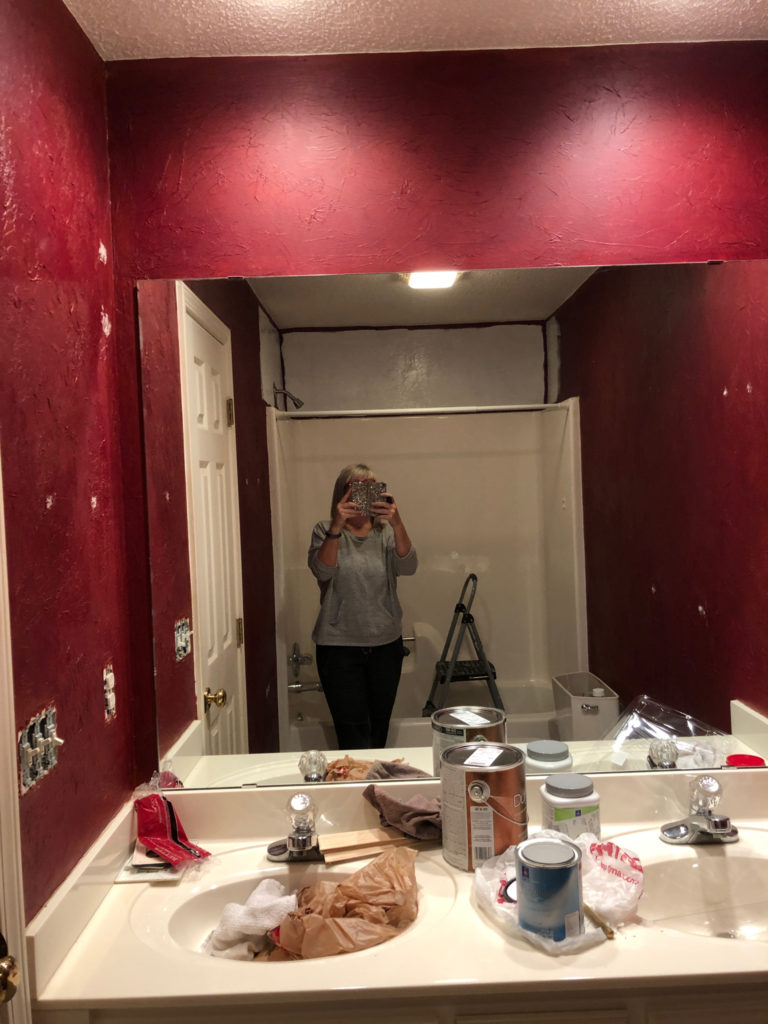 I really do love it.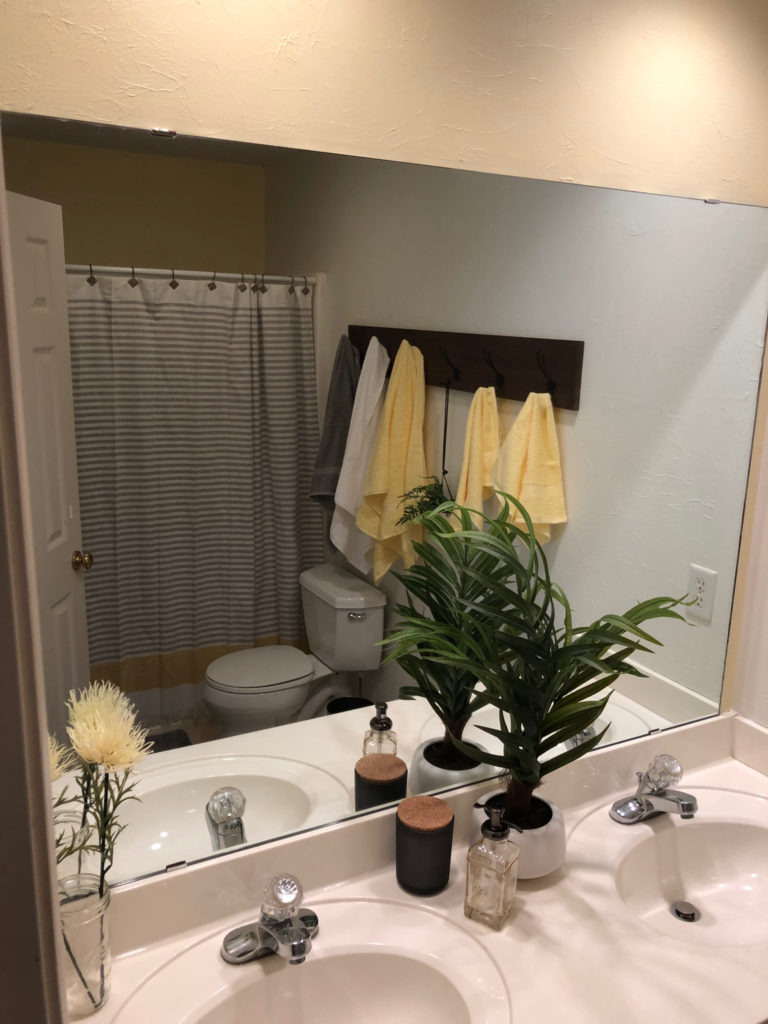 I brought in just a little gray with towels and the shower curtain.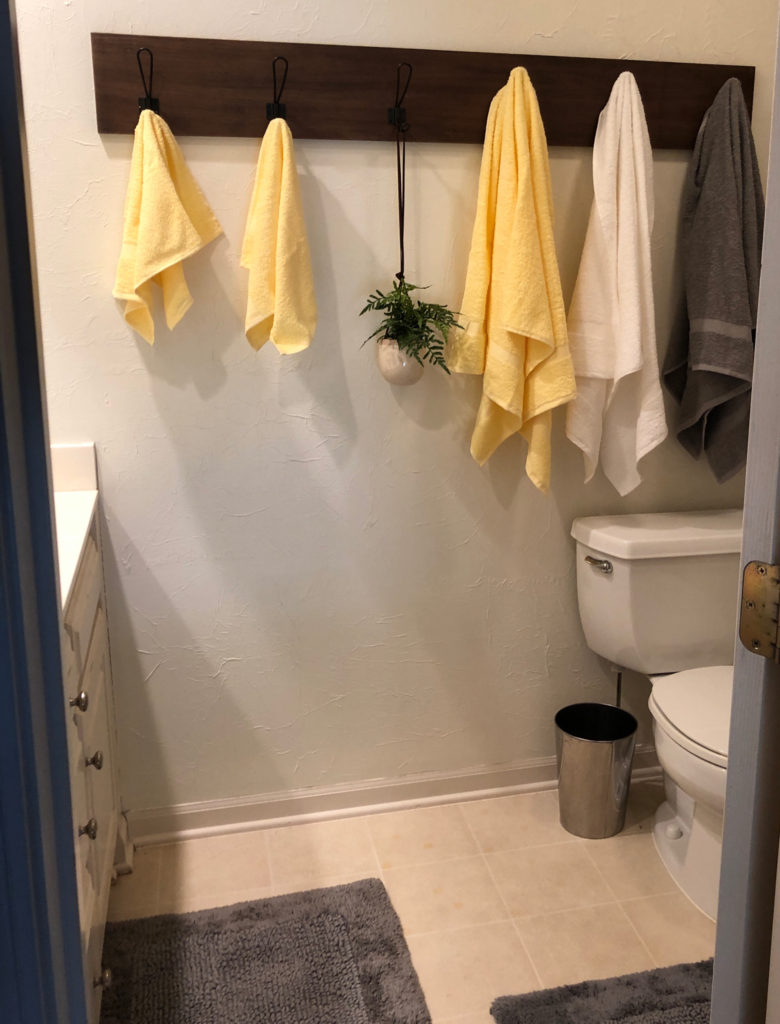 I love finding my favorite quote! Had to have this!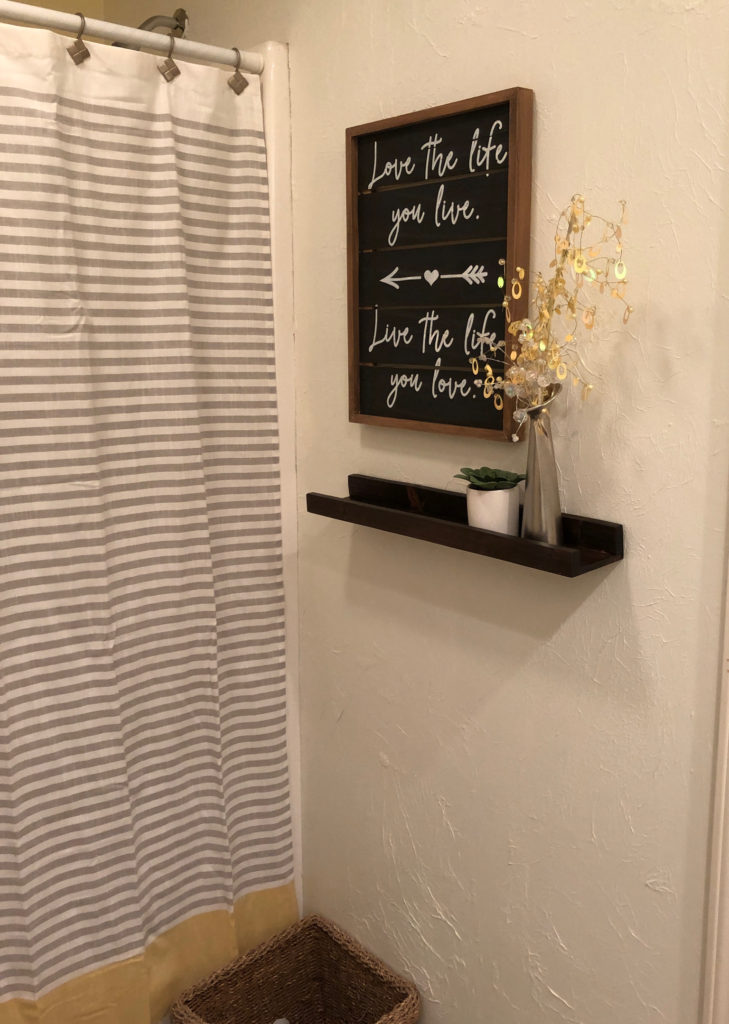 So now you're updated on projects. Well, completed projects. We've been talking about a screened in deck for years. We built our house just over 20 years ago and I'm half afraid to have more than two people on our deck. It needs to be replaced something terrible. As our family grows and we continue to have everyone over, it would be great to have one more space for everyone to hang out. We've decided to replace the deck, extend it in size just a tad, add a fireplace and have it screened in. Demo should begin by next week. I'm ecstatic as I love hanging out outside and I can't wait to have a fireplace outside where we can curl up to watch football on Sunday's, movies on Saturday nights, drink my morning coffee and have some additional space when the family all comes over. Super excited!
Okay, if you're still reading…..
I'm happily maintaining 172. My body has been comfortable there for some time and I feel healthy. I feel strong. I am happy. My dang knees however have really been giving me a hard time and I'm trying to pretend everything is absolutely fine! Ugh. Over the last three weeks I received the series of gel injections in both knees. Doc is hoping it will give me some relief and put off knee replacement for another 6-12 months. A huge part of me just wants to have surgery now and get it all over with so I can 100% move on! Another part of me is enjoying camping and working on projects and having the family over often and working, so……I'm giving these shots a try and continuing to physically do all the things.
I really enjoy my little exercise room that I made here at the house. I use the treadmill. I have the TRX bands that are super versatile and I love doing Yoga either on my own or while watching Yoga with Adrienne on Youtube. I have not been in a Yoga studio since before my diagnosis and my first surgery. My body feels different for certain now and with my knees, there are certain poses that I simply can not do, however, I feel like I need to challenge myself and get back to the studio.
I'm meeting a friend tomorrow at a Studio for a Hot Yoga class and I'm excited and nervous all at the same time.
I had to put a blanket on Effie yesterday. So sad. I'm still hoping to get her out though this winter. If we have some decent temps over the weekends, I'll get her back out for sure!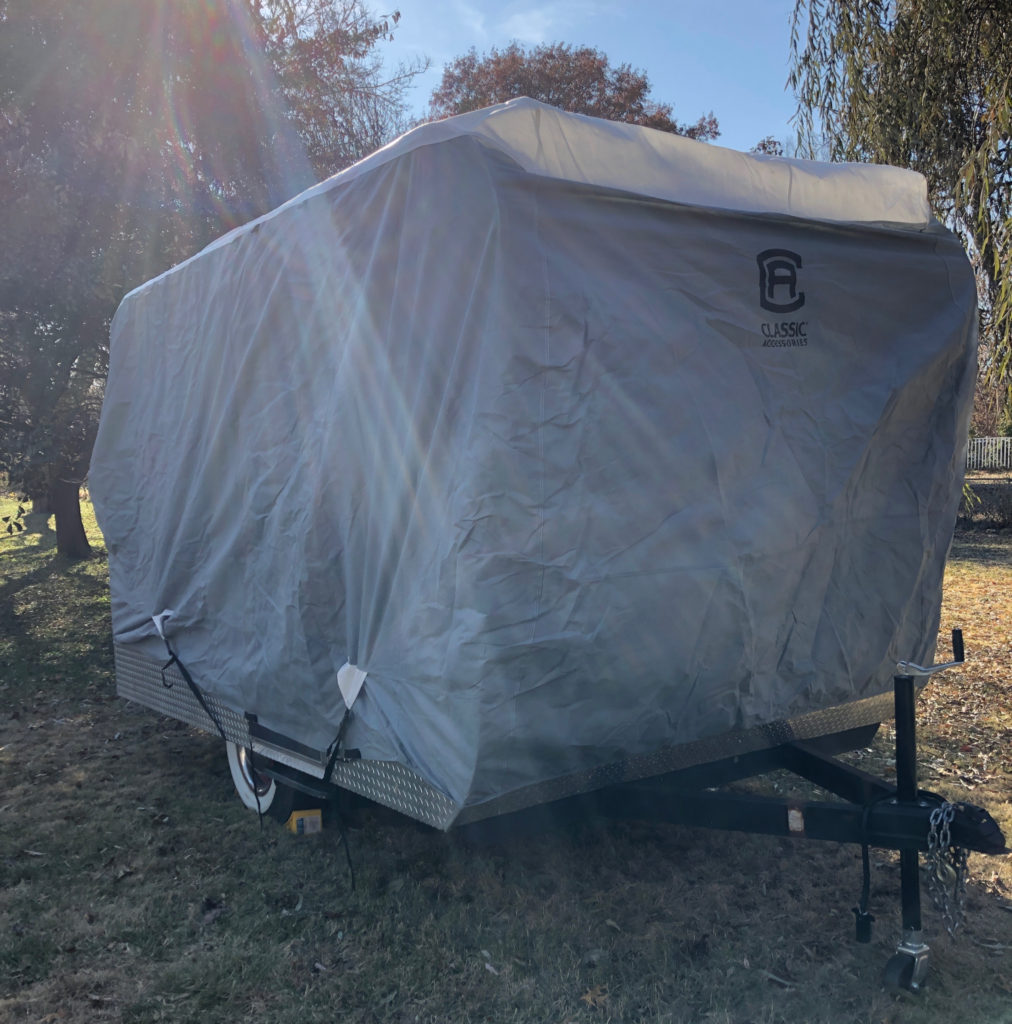 Okay, I've got to get a cup of coffee and plan for my week!
Are you hosting Thanksgiving? What is your favorite side dish? Do you make the traditional foods or do you like to switch it up?
I hope you all have many things to be Thankful for!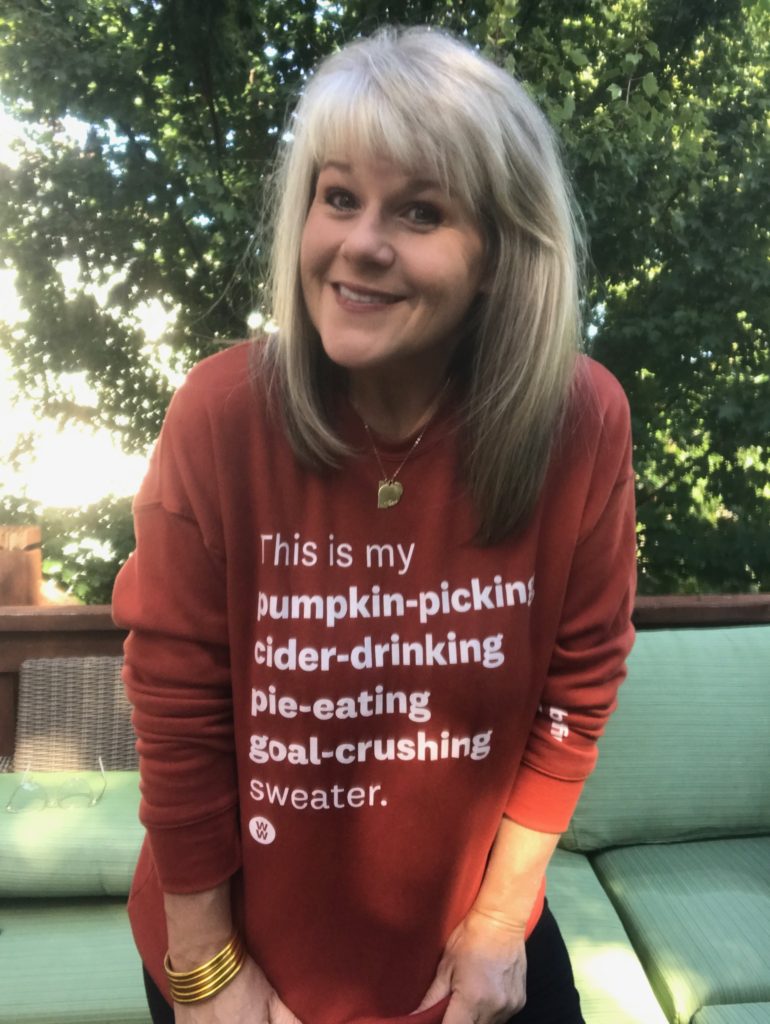 Hugs!
"love the life you live, live the life you love"