If you're tired of looking at pictures of Vintage Travel Trailers, sorry. I can't help it. We're just having too much fun!
This however is not a travel trailer, but a Vintage Truck and Camper! It's a little different than what me and my pops have.
This 1966 Chevy Truck/Camper belongs to my brother. You would not believe all that is in this little guy. Full oven, stove, sink, fridge, heater, a/c, potty closet, TV, DVR, stereo, full sized bed over the cab and a table that comfortably seats four. 
My brother bought this 15 years ago in the Kansas City area from the original owners son. The son made my brother promise that he would never separate the camper from the truck. My brother knew he was serious but also had no intention of separating the two. Last week my brother took three full days to drive to KC from Ft Lauderdale where he now lives.
My dad and stepmom, my brother and I all went to a camping rally together this past weekend. My dad was in heaven. He had dreams of the three of us traveling together with our vintage campers, but we weren't sure it would all ever really happen.
The weekend was perfect. Rain and all, we made great memories and I hope that we will be able to do that again next year.
My dad also has a 1966 Chevy truck and his trailer is a 1966. Sadly the truck wasn't running great so dad had to pull his trailer to the campground with his modern truck, but we had fun taking pictures at his house.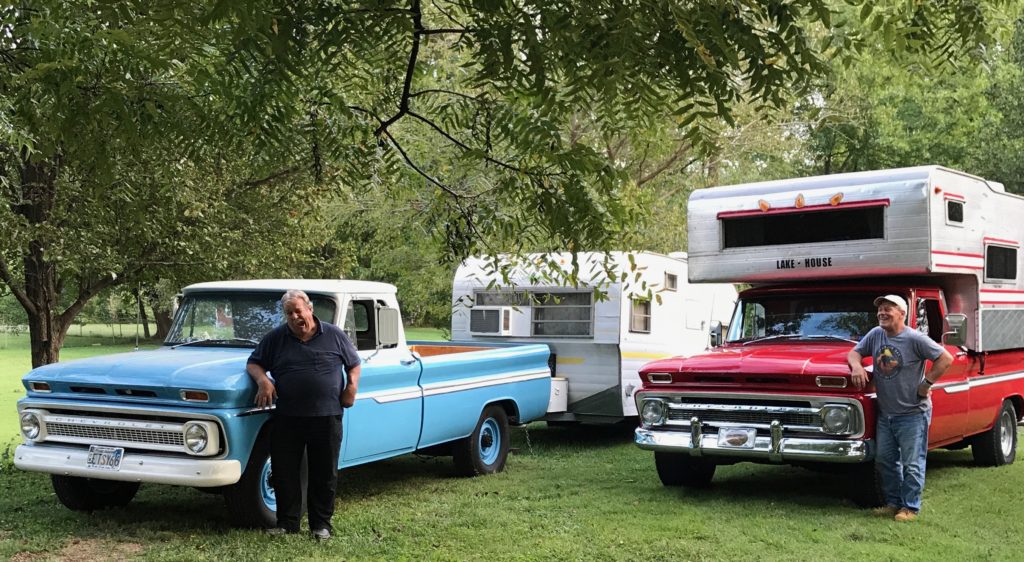 My dad LOVES to make toys. Aren't these the cutest little miniatures of their trucks and campers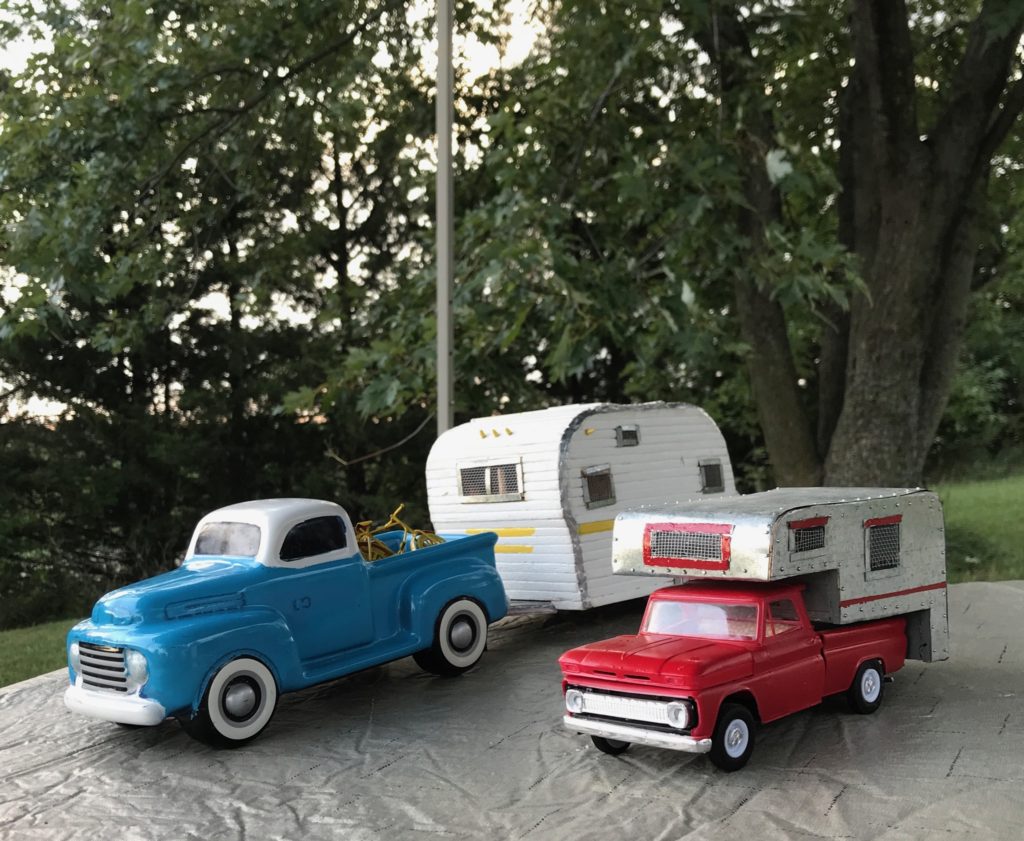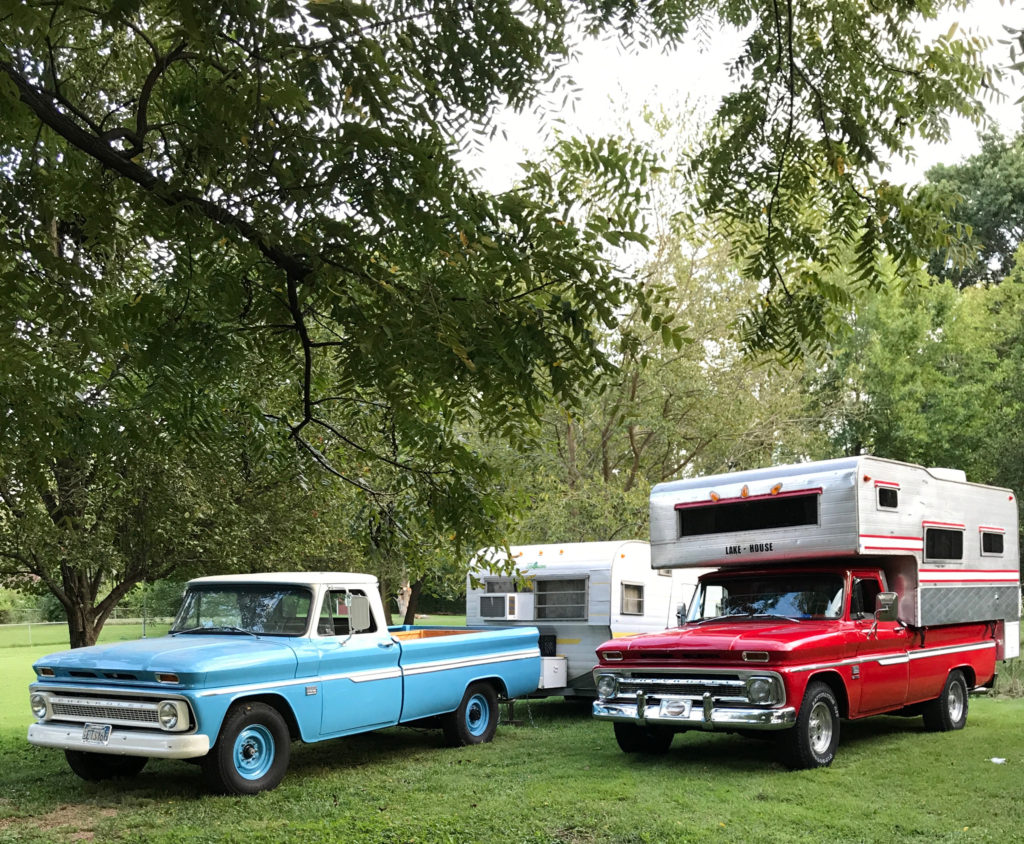 Now they think I need an old truck to pull my trailer with! I told them if I wanted to stay married, I would have to pass on that. lol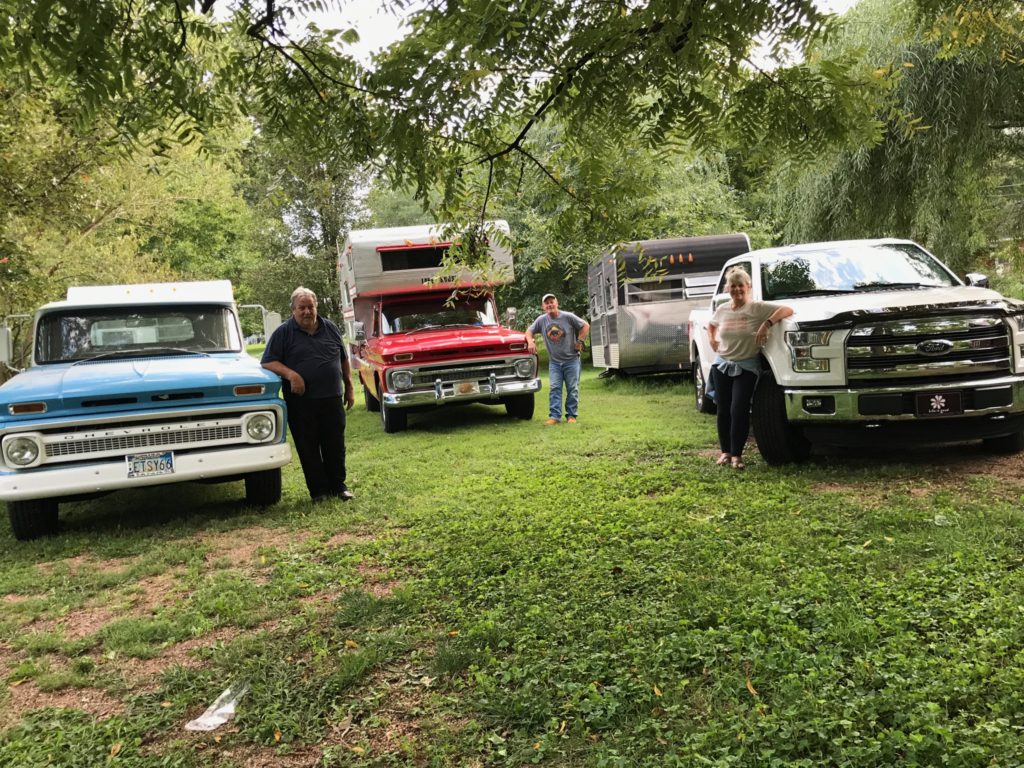 I think they all look so cute together!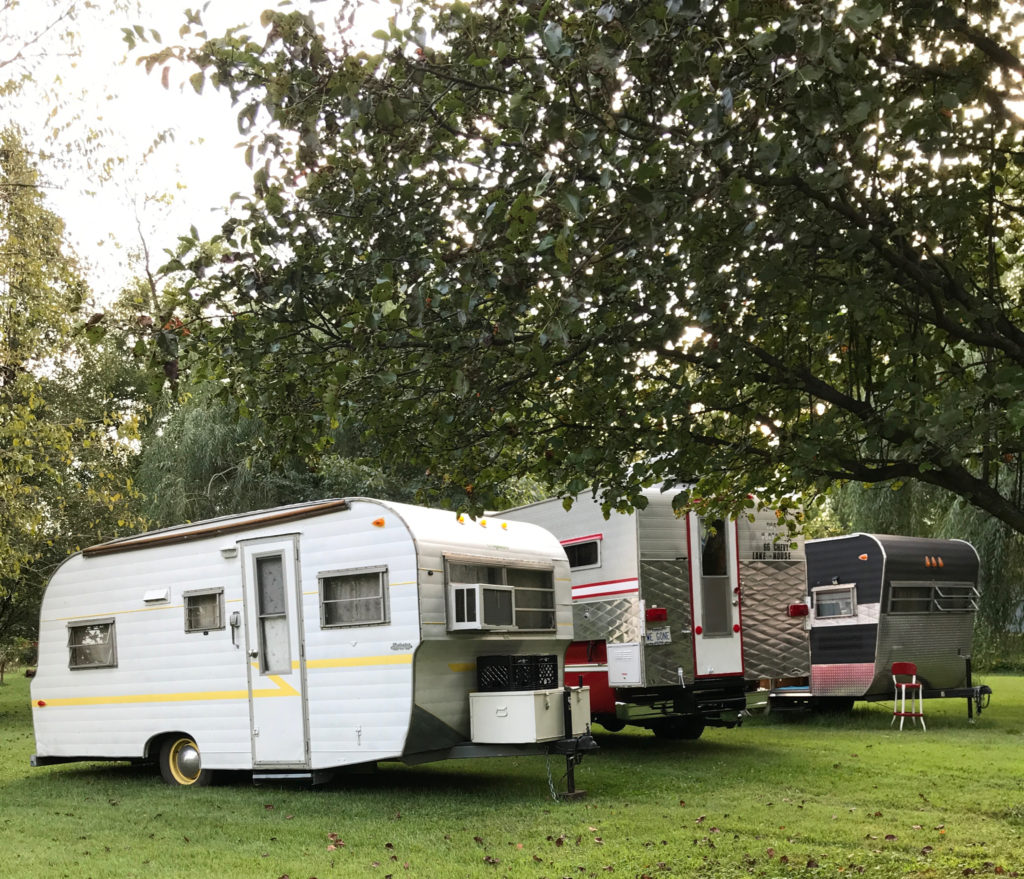 All set up at the campsite.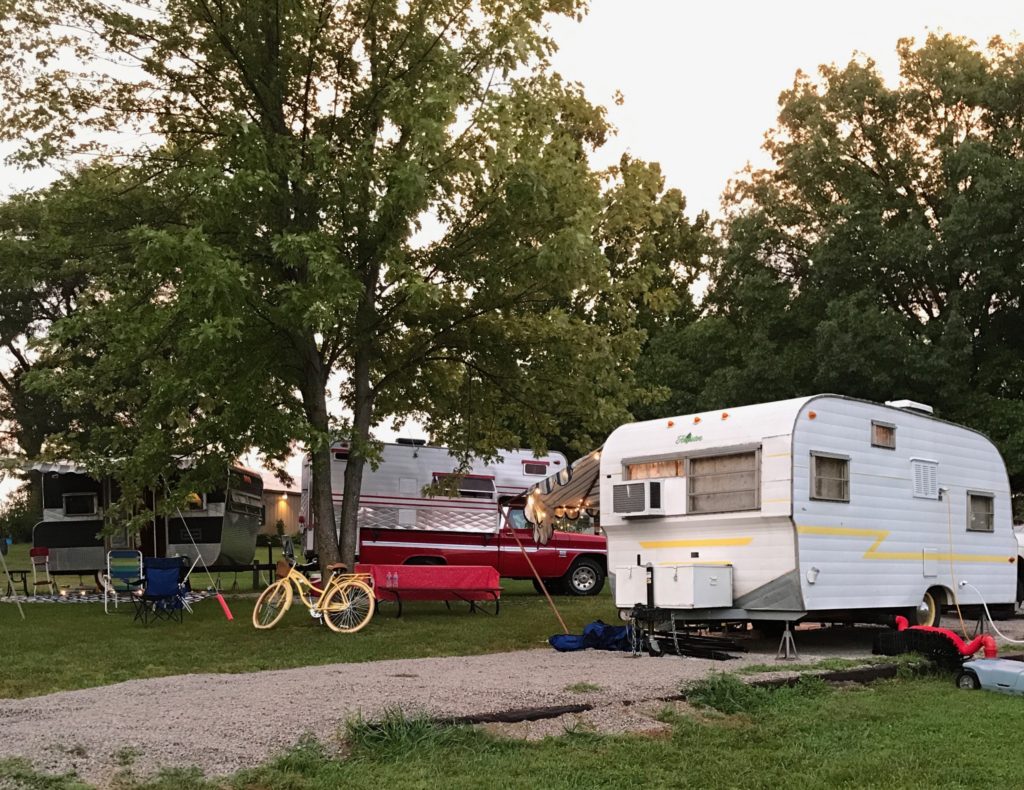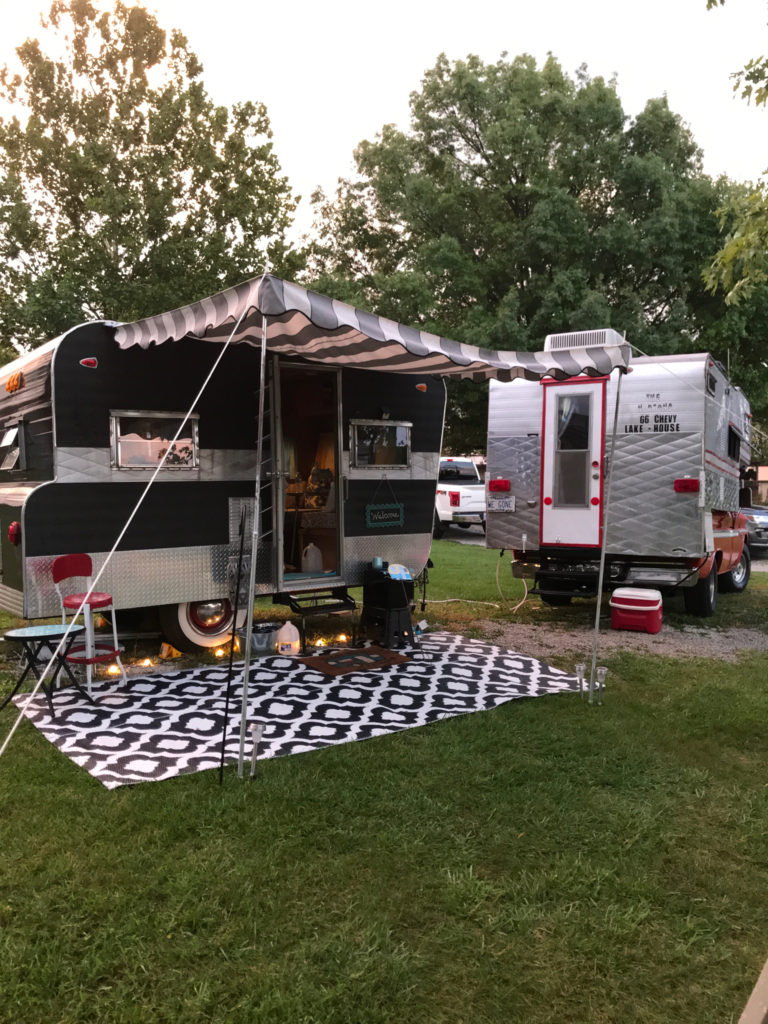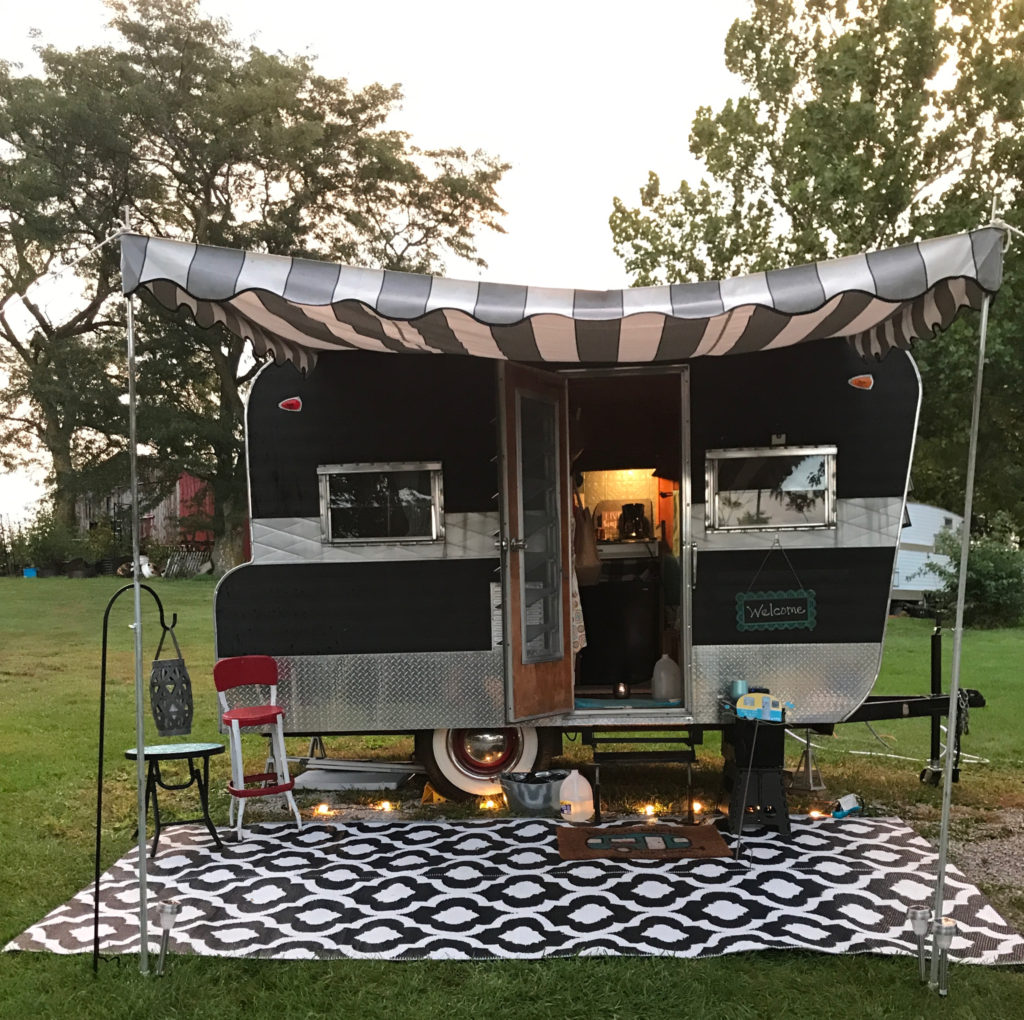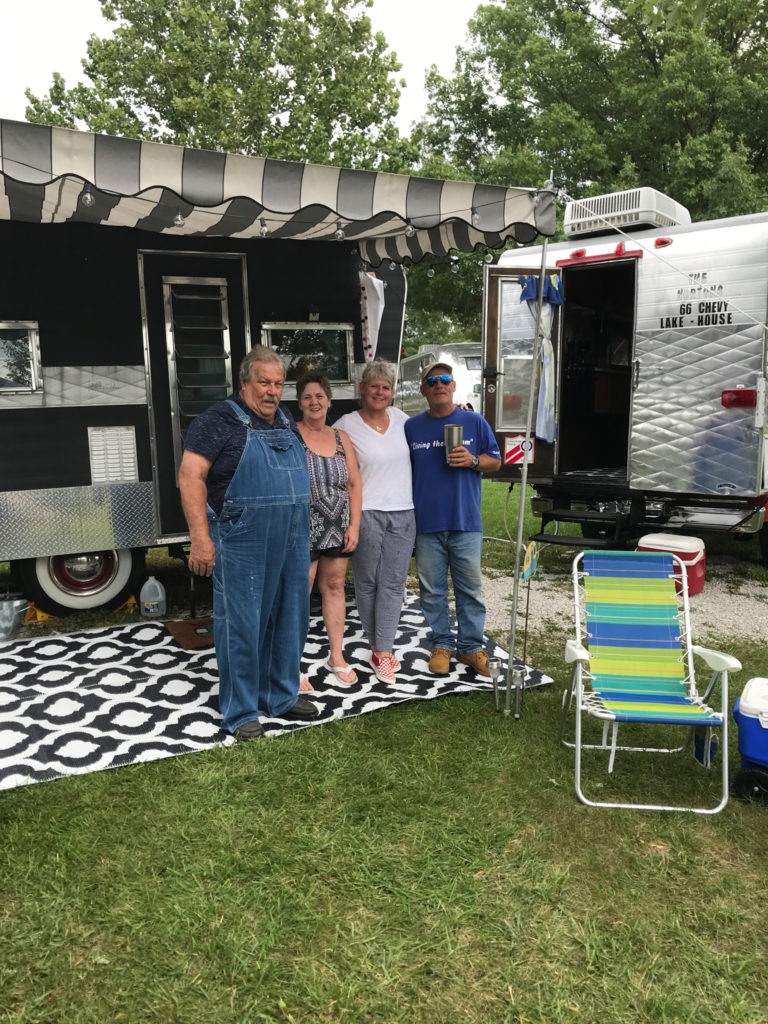 My first attempt at cooking outside while my brother cooks up something yummy for us inside his camper. It totally felt like we were playing house.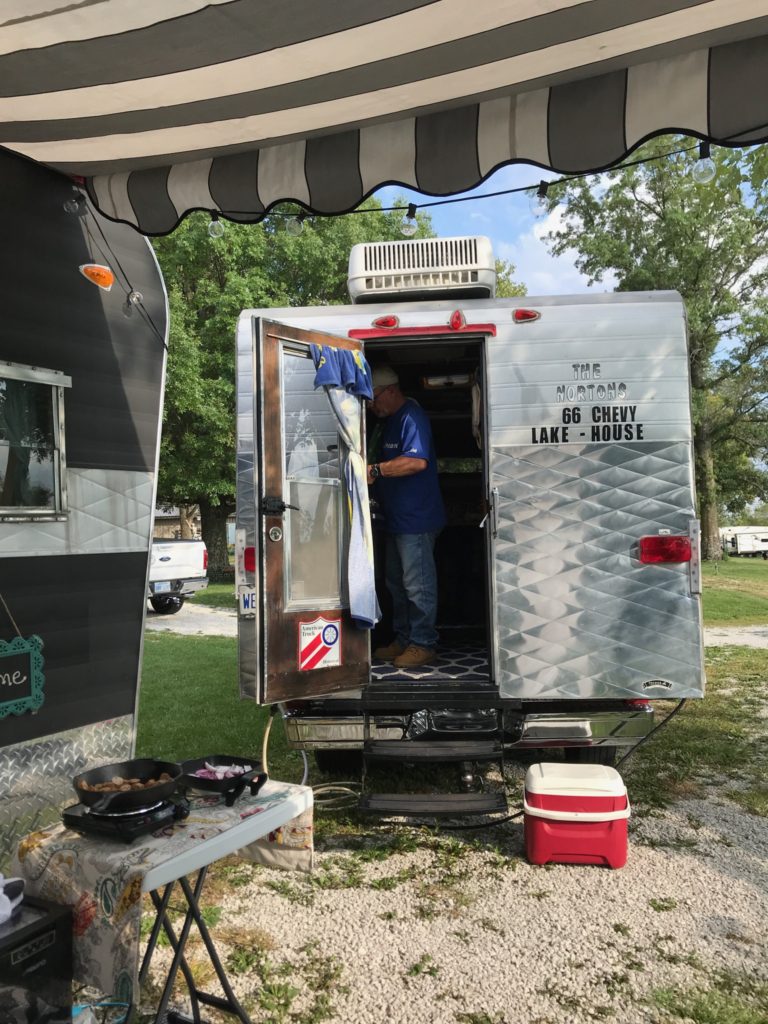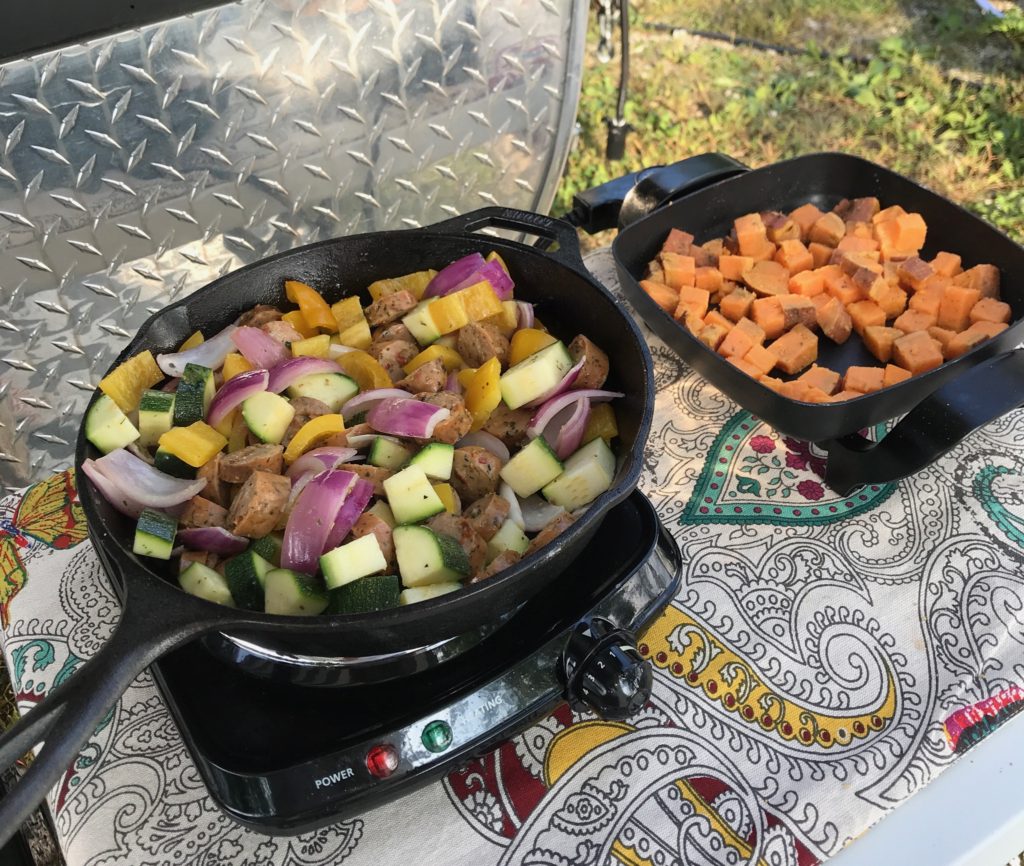 We made a feast of Taco Fixin's and anything I could toss in the skillet, and topped with an egg, of course.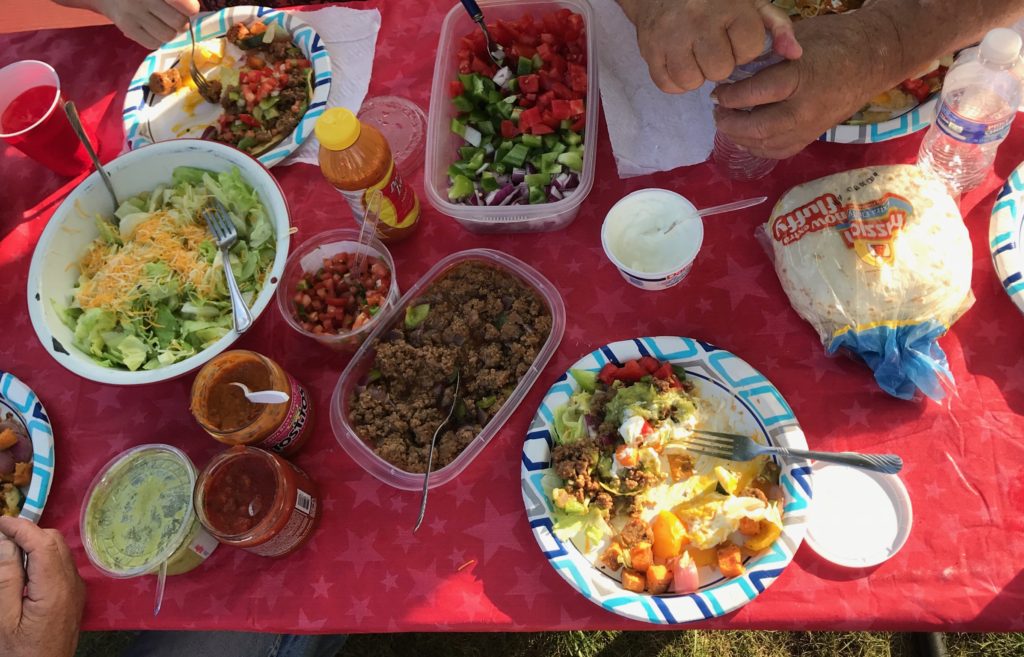 I tried out my little electric kettle for some oatmeal one morning. Perfect. It was super rainy on this morning so hot coffee and oatmeal made a perfect Fall breakfast at the campsite.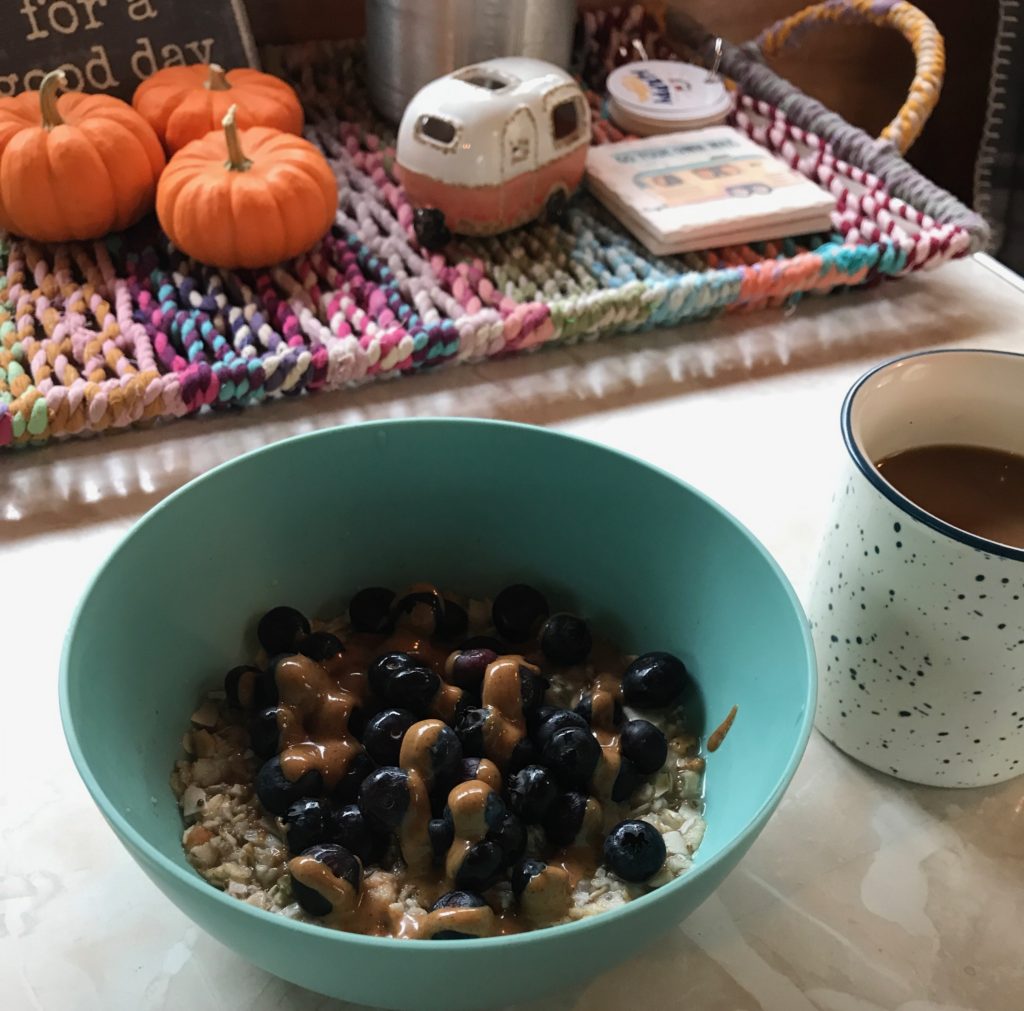 One morning my brother baked cinnamon rolls (he has a working oven Ya'll!) and brought them over to share.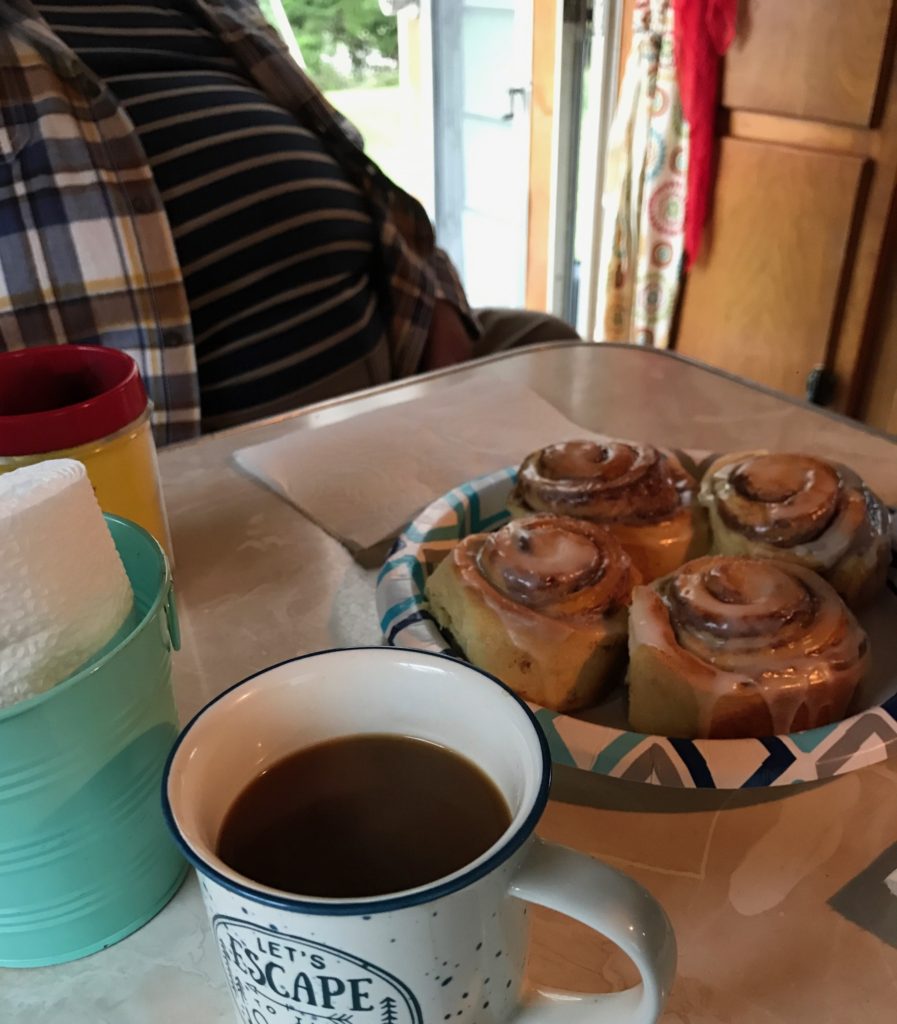 I absolutely LOVE having everyone gathered in Effie. Warms my heart.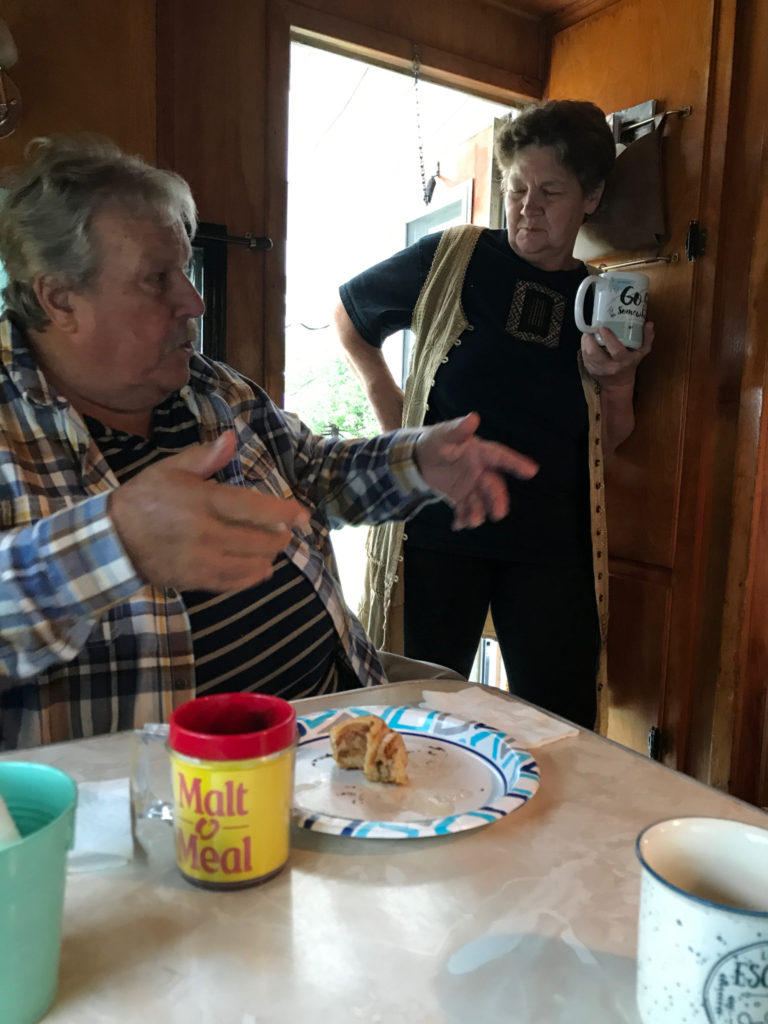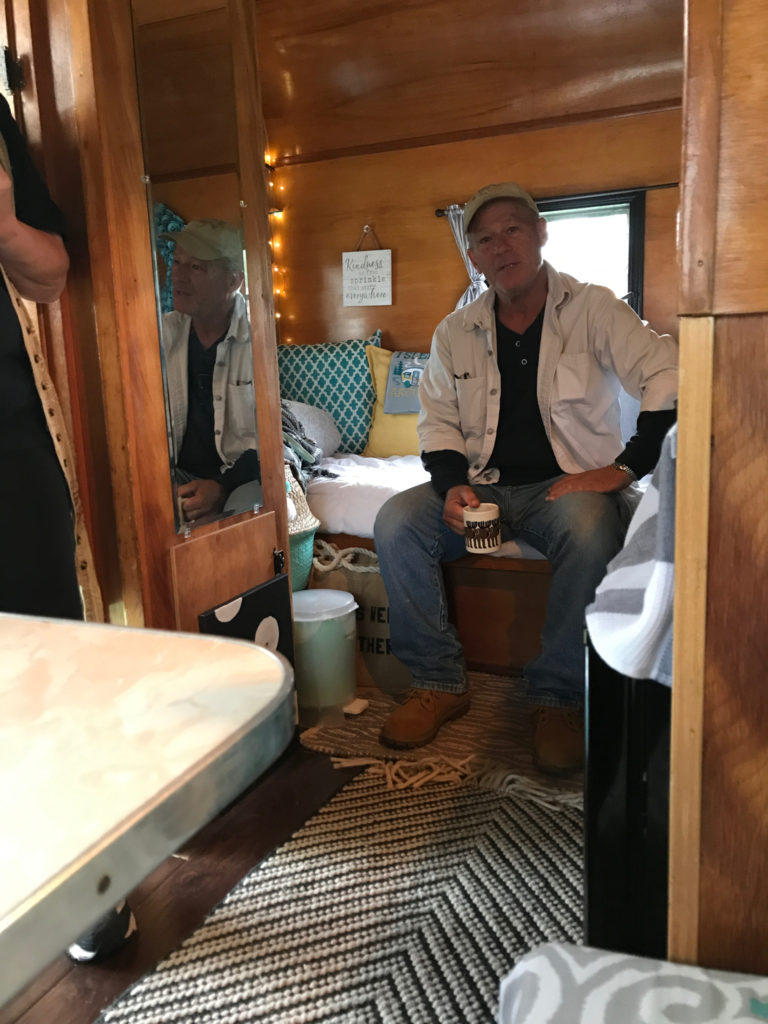 Friday night entertainment? A campfire and roasting marshmellows.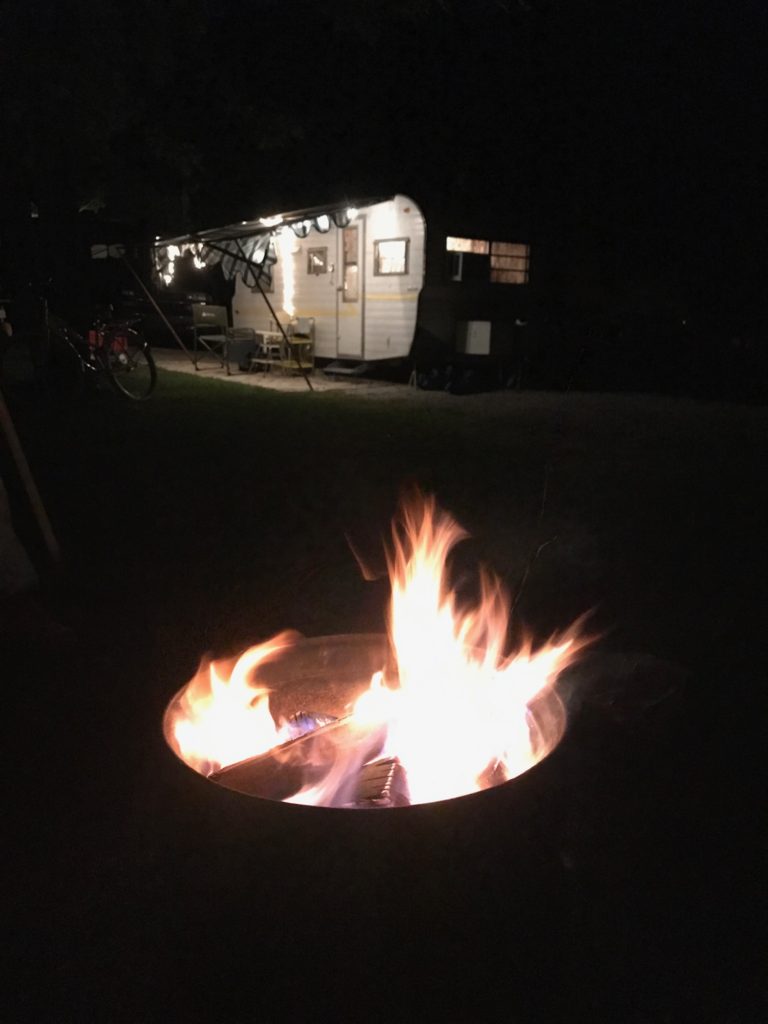 Great minds think alike as I also had taco's on the brain. I brought cooked taco meat from home and heated it up in my little crock pot for lunch one day.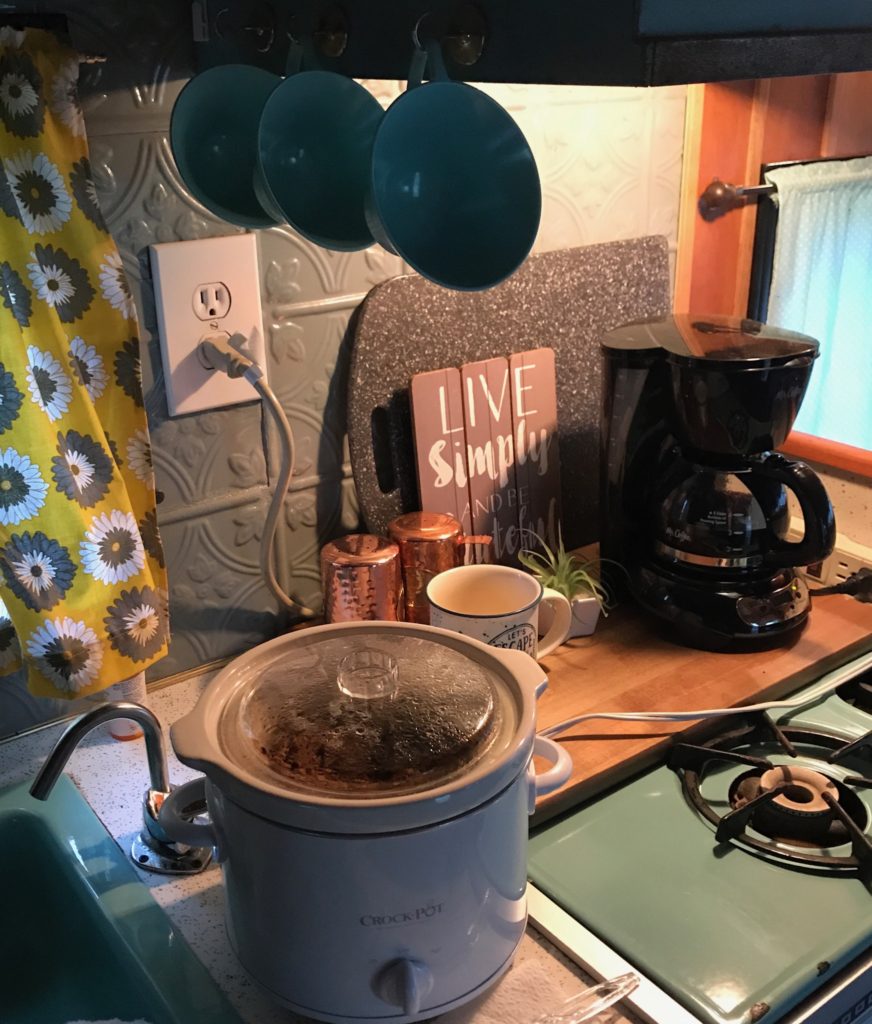 We camped Thursday night through Sunday morning. Late Saturday afternoon the rain began. It never did stop after that.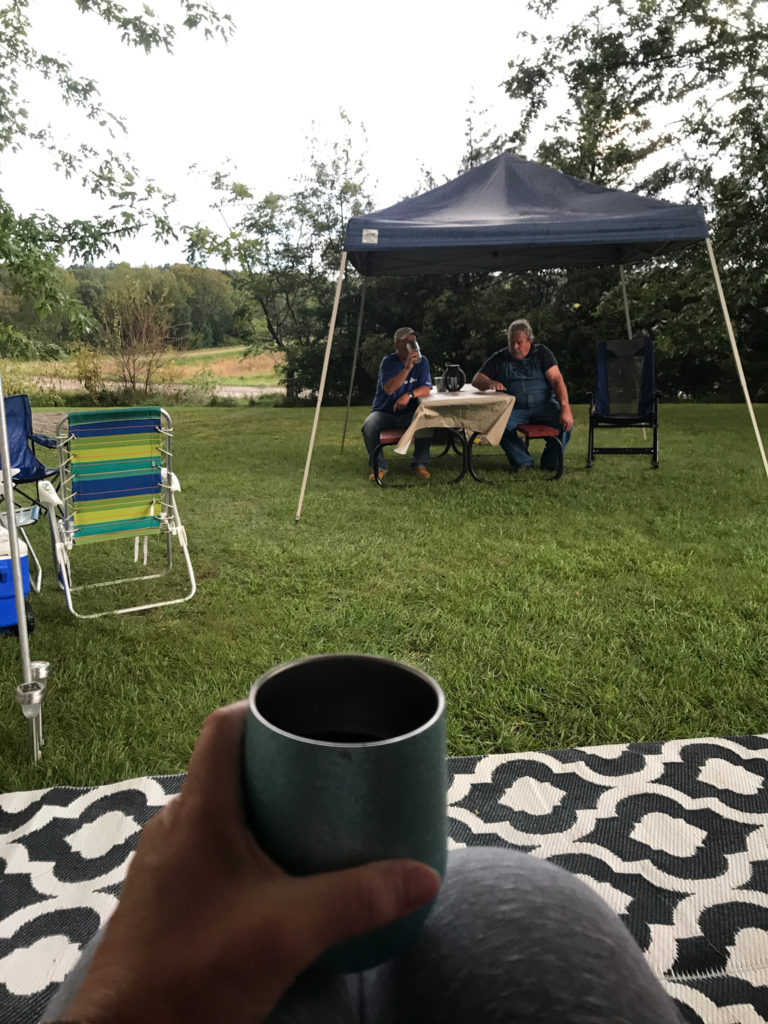 Rainy nights make for good inside conversations.
We also played Chinese Checkers in my dad and stepmoms trailer the last night. We were playing on my Grandmas old board. I forgot to take a picture! My brother said that he remembers playing on it with my grandma when he was little. Sometime in the early 70's. So sweet and so happy dad brought it.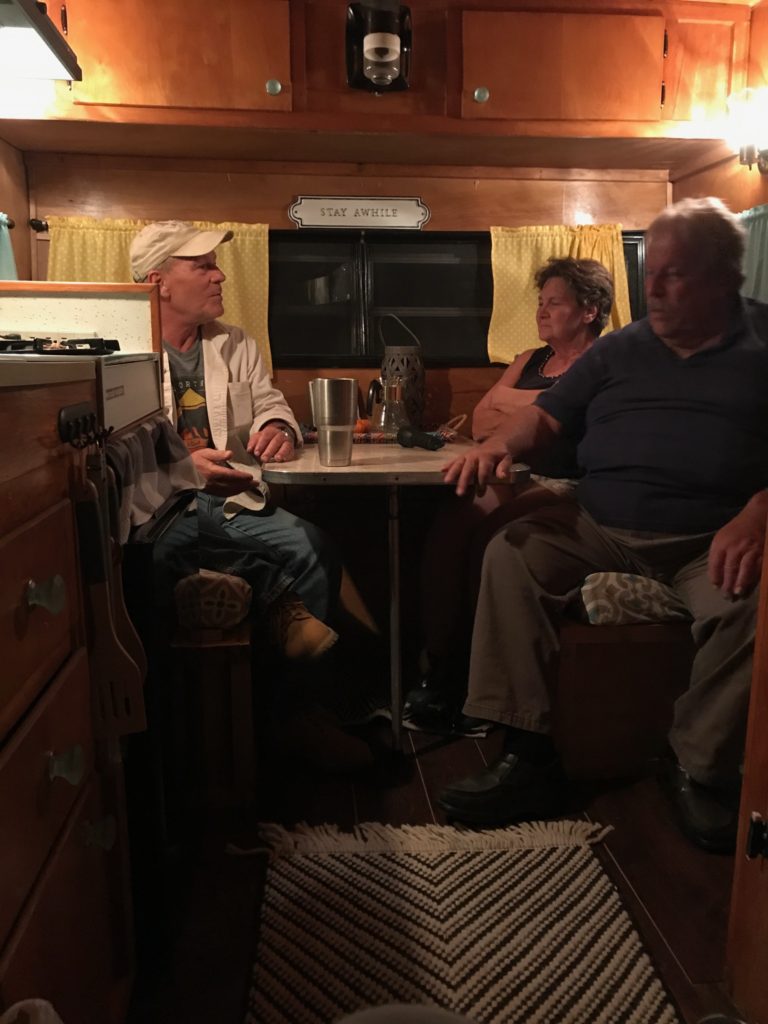 I enjoyed cool mornings (in the 50's one morning!) sipping coffee and journaling.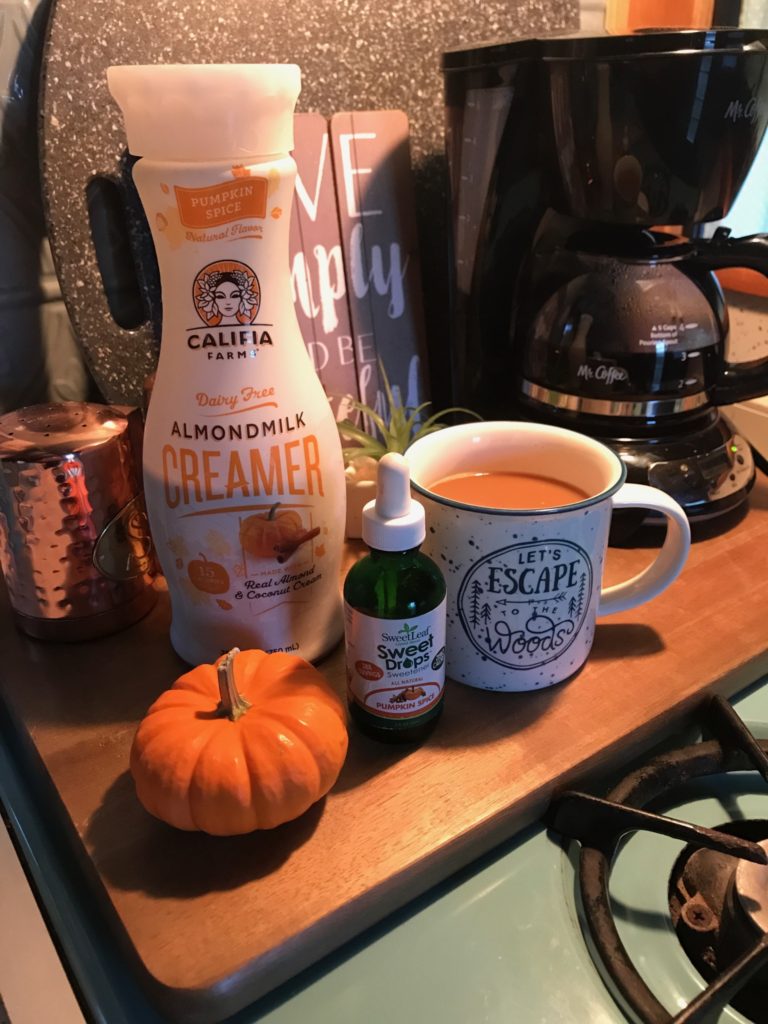 Happy Place.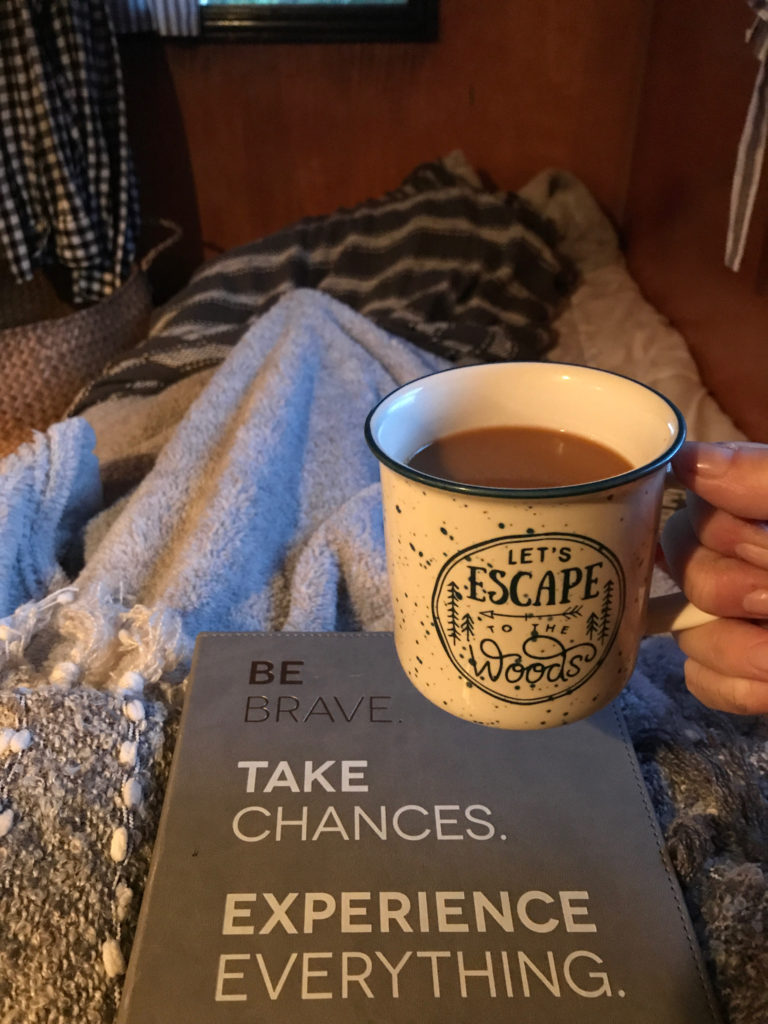 There were so many cute vintage trailers there and we met so many nice people and saw other friends that we've made this year while camping. We were a little selfish however with our family time and we didn't mingle nearly as much as we probably should have, but I was really enjoying just hanging out at our campsite.
Here are just a few pictures though that I did get of the others that were there.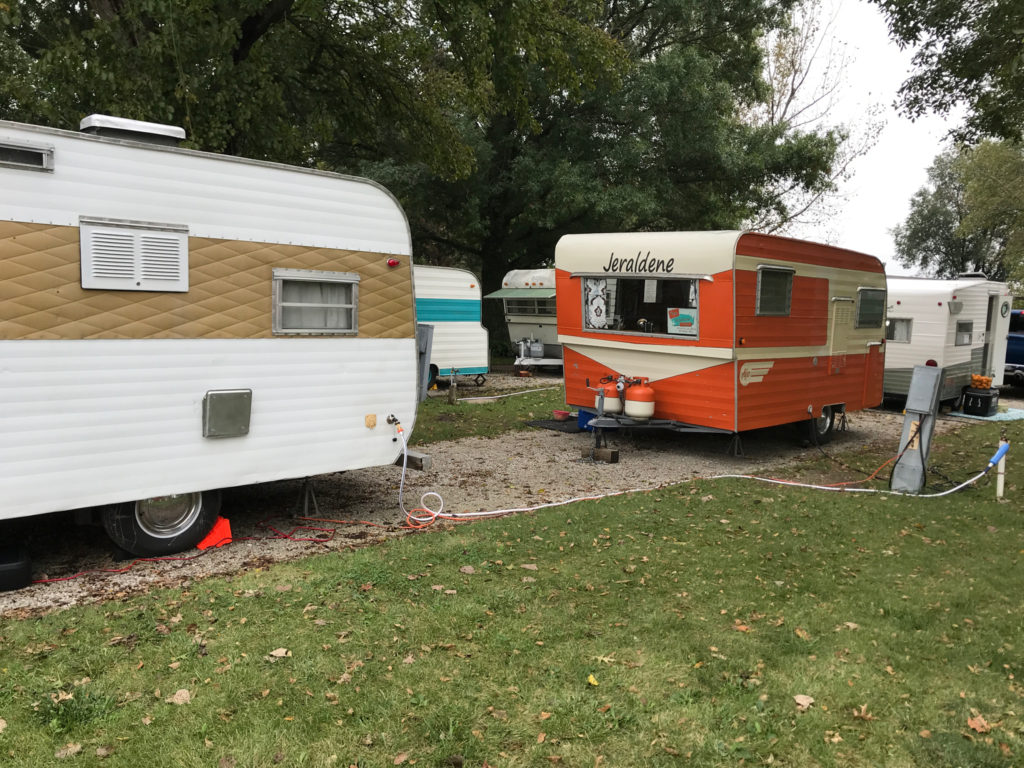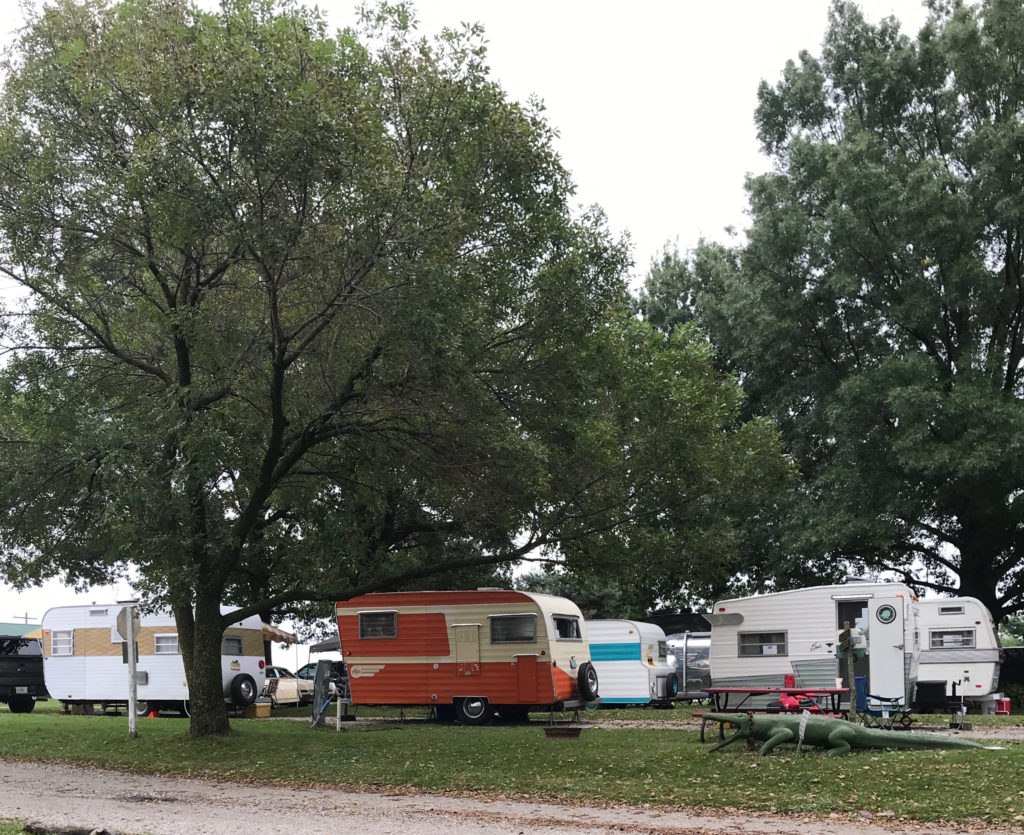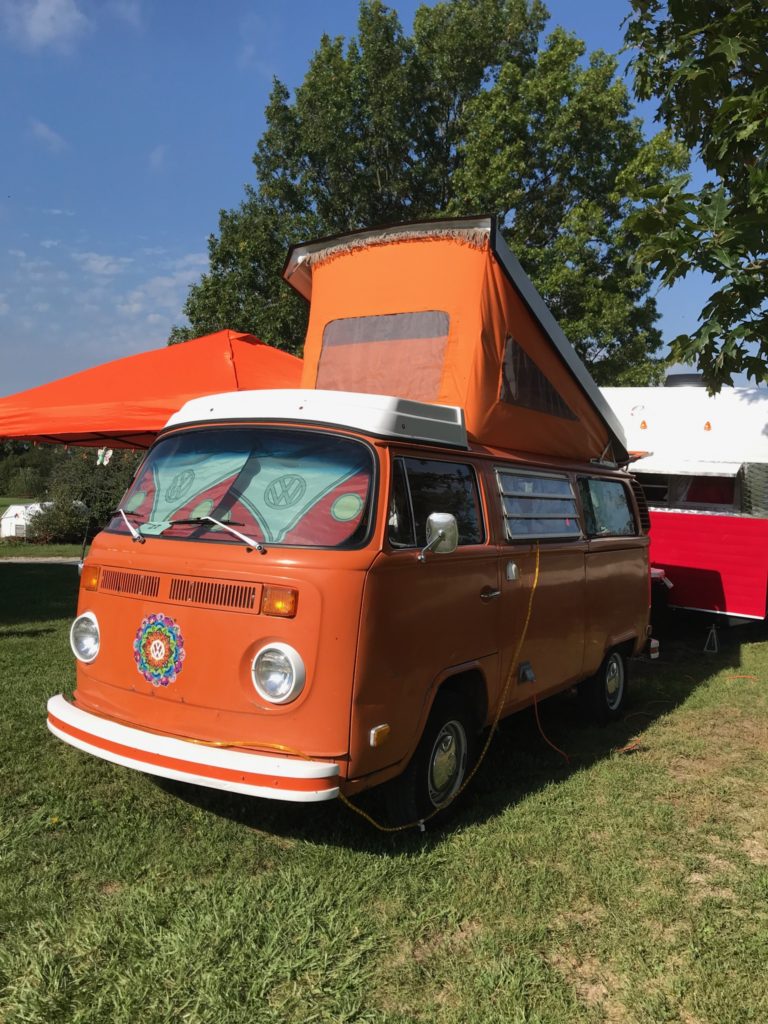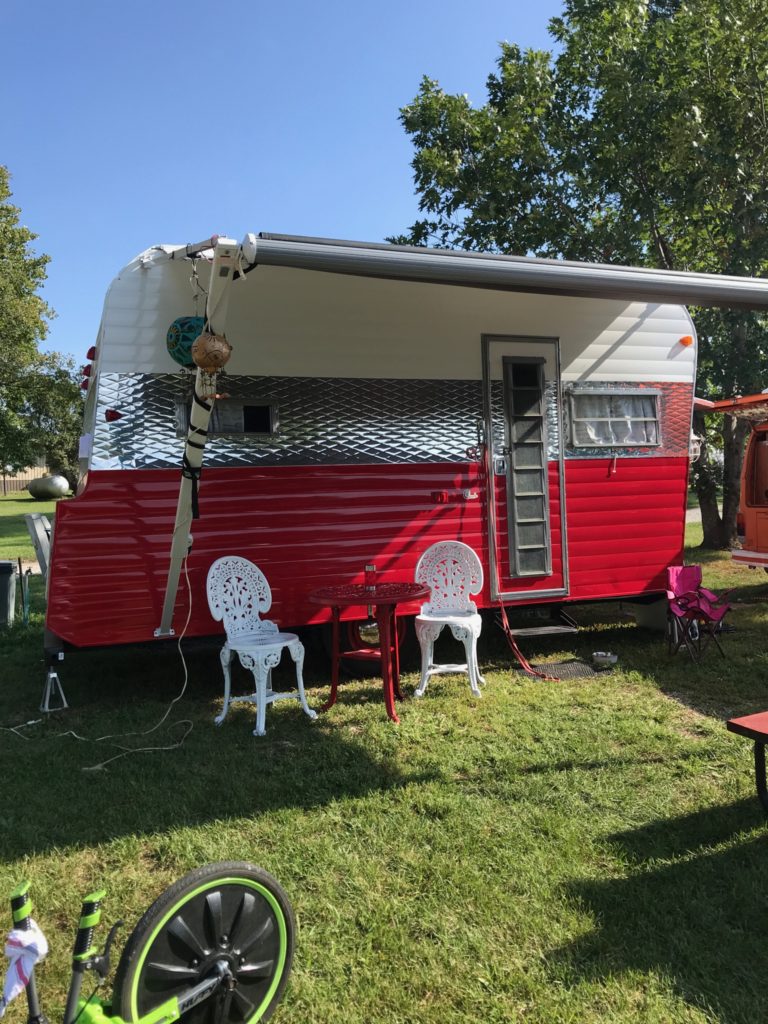 This was the last morning. We ended up tearing down camp in the nonstop rain.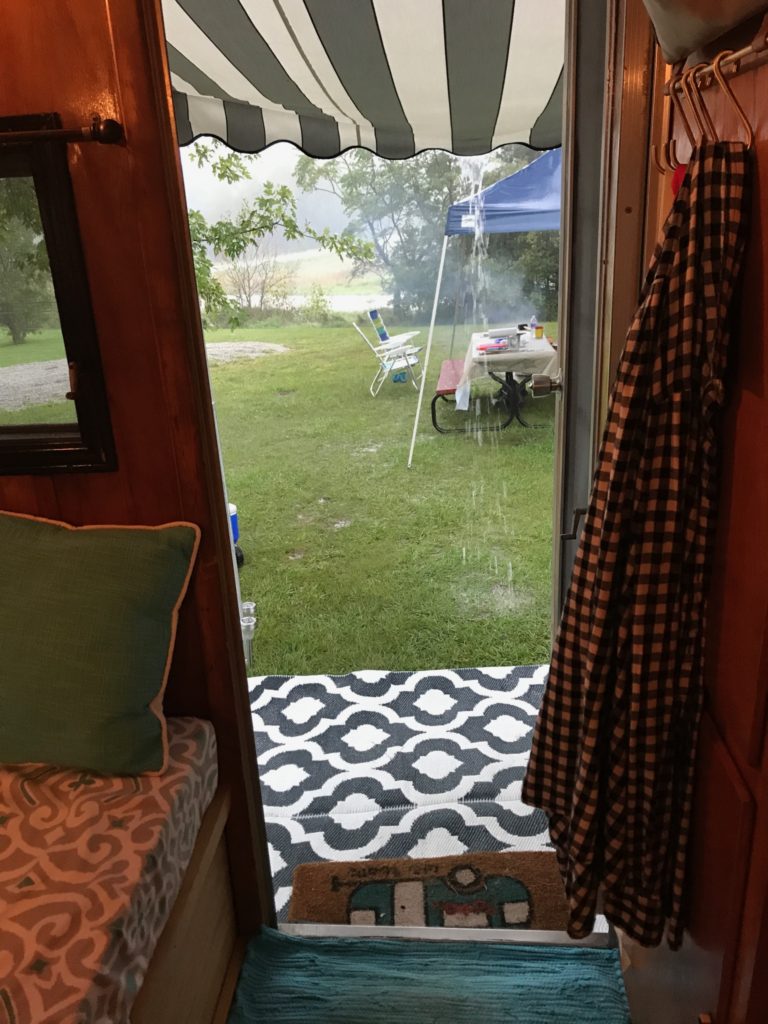 Needless to say, we were all soaking wet. Like, not a stitch of dry clothing on my body. My dad wasn't going to be able to get his trailer out of his campsite without four wheel drive, which he doesn't have. So….I got to hook up my truck and pull him out to where he could hook up. I was feeling all kinda Wonder Woman! Ha!
I had both windows down so I could hear them guiding me through the obstacle course of mud and water and electric hook ups, the rain was coming in my truck cab like crazy, my hair was completely wet, and when I pulled his trailer out of his campsite, all I could do was smile.
As we pulled out of the campsite, dad led us to a little breakfast spot where we all grabbed dry clothes out of our campers and enjoyed a big hot breakfast and lots and lots of coffee.
It was a great trip and I look forward to our next one together.
In other news….
Happy Fall
WW sent all Ambassadors this adorable Fall Sweater! I slept in it the first night I received it. It is soooo soft.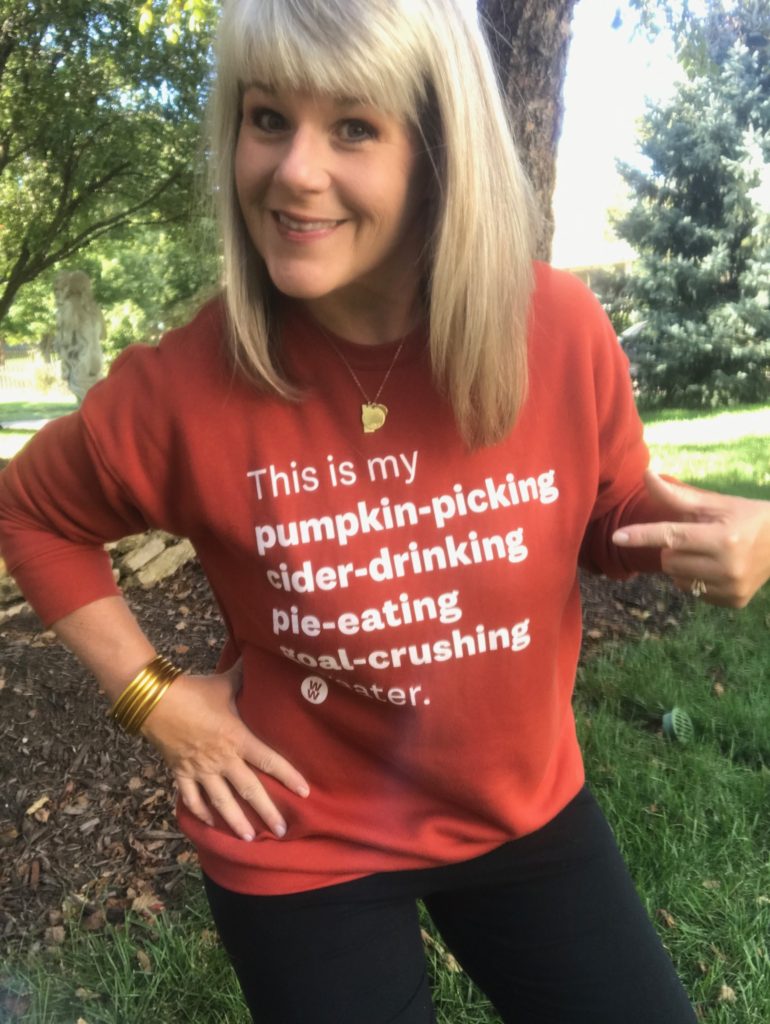 Are you ready to crush some Fall goals?
What goals have you set for yourself?
I climbed up on a ladder and brought my bike down from the garage ceiling. That alone was a Yoga/Strength building/Test in balance experience!
I filled up the tires and off I went! I wanted to add something to my walking/yoga routine for Fall, and the bike was calling me.
I'm ready for some Fall clothes and apparently so are my co-workers! Meet Jamie and Tara. Two of the amazing ladies I have the pleasure of working with! We were feeling a little sassy.
I am now Coaching 7 Workshops each week and every week, I am happier and happier at my job.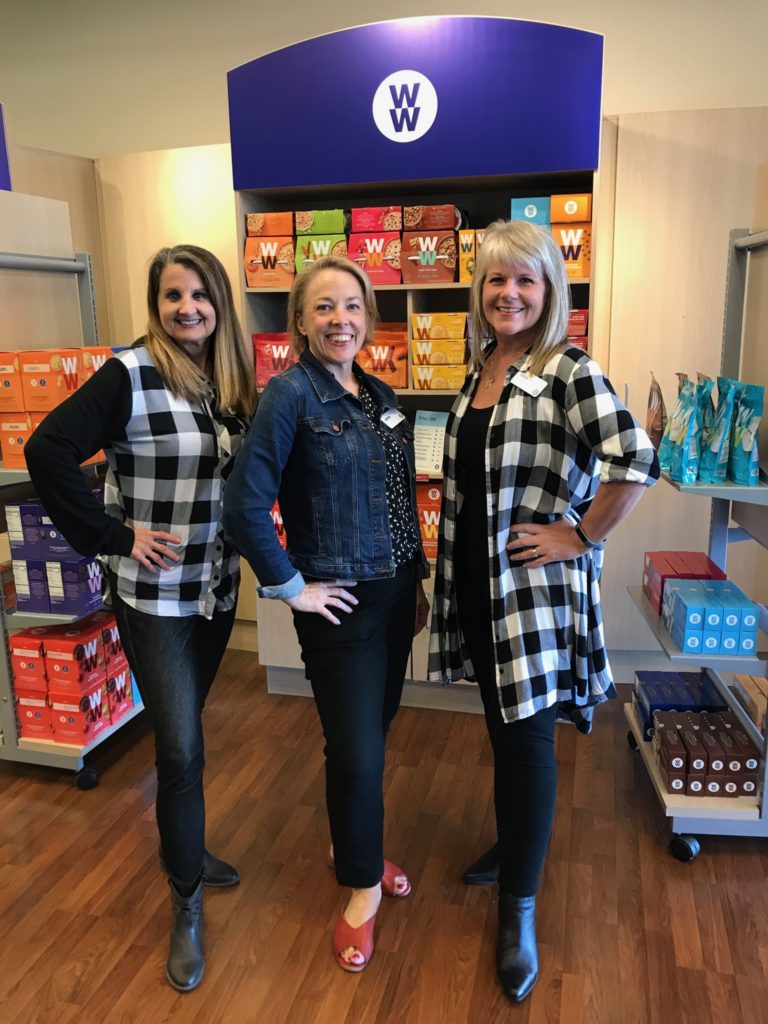 October is Breast Cancer Awareness Month.
It is my hope that you are all taking time EVERY month to do a self breast exam. This message is for men also! Please know your body. Please be your own advocate. Please take advantage of the screenings that are available to you. Please share this message. Please do not be afraid. Early detection may not save your breast but it could save your life.
Check your breast and armpits for any unusual bumps, lumps, dimples or changes in skin color. If you feel something unusual, have it checked out with your doctor. Go with your gut. Knowing your body and doing a monthly self breast exam will help you in recognizing anything unusual. 1 in 8 women will be diagnosed with breast cancer. Use the information that you have and put it to use.
Hugs to all of you going through cancer now and Hugs to the survivors.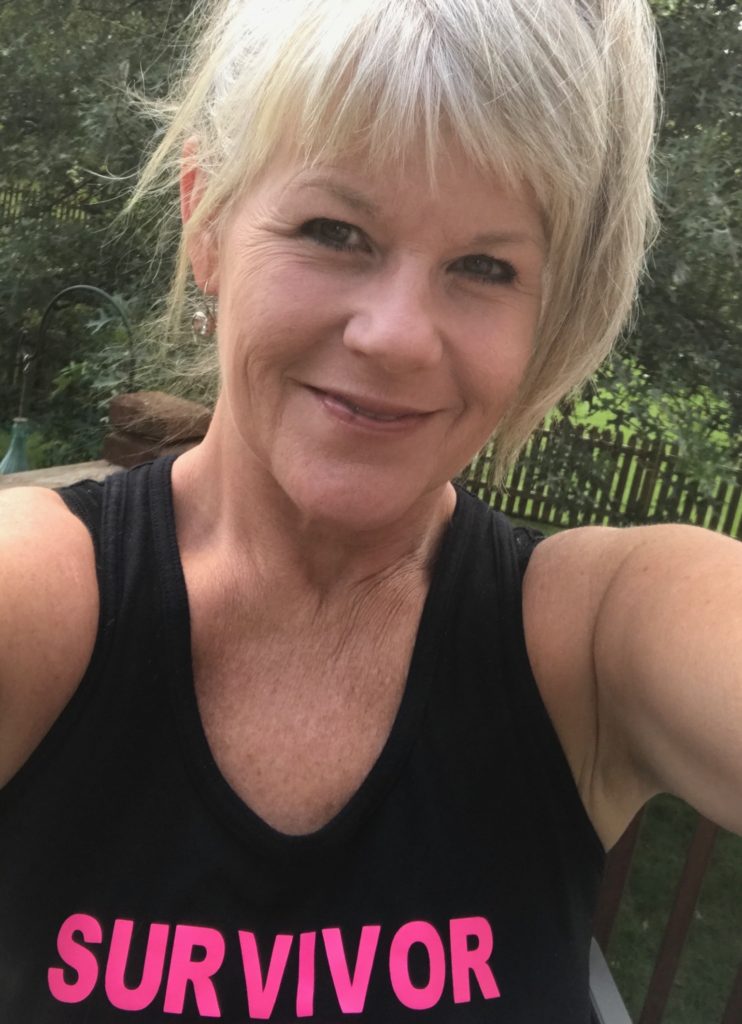 "love the life you live, live the life you love"