September has been packed full of fun and adventure and even food!
While I've been busy on the weekends going here and there I've also been working my way back into the kitchen during the week.
I'll fill this post with mostly pictures and let the pictures do the talking. 
I'm currently curled up on the couch with coffee, in my KC Chiefs flannel PJ pants, game on and enjoying doing not much of anything. It's a perfect Sunday. Fall? I welcome you with open arms.
My last camping trip was with my dad and stepmom and 60+ other Vintage trailer owners to Branson, Missouri at the KOA. After a wrong turn somewhere along the route and almost 90 minutes of unexpected sharp turns and hills on a two lane road, we arrived. Pulling a trailer, following a trailer on a two lane winding road for 90 minutes mentally drained me. It was almost 5:00 pm on a Thursday when we arrived and it was in the upper 90's. I do not have AC in my trailer and setting up camp in the heat after a tense 90 minute drive wasn't really my idea of vacation feels. I think I was able to sweat off about 5 pounds while setting up my camp so ya know, always finding the good in each situation. ha!
After camp was set up I fixed myself maybe one of the best Deep Eddy Lemon Vodka/Club Soda with a Lime beverages that anyone has ever had. (Before indulging, I drank a gallon of water)  I savored every sip of that drink! #worthit
I put my feet up and really enjoyed the rest of the weekend. Good family time. Fun making new friends. A little pool time reading an awesome book. Lots of fun enjoying Effie.
Nice view of me following pops before we hit the two lane winding hilly road. This particular stretch of road was so peaceful. Just. This.
Here's my dads trailer. Her name is Marigold.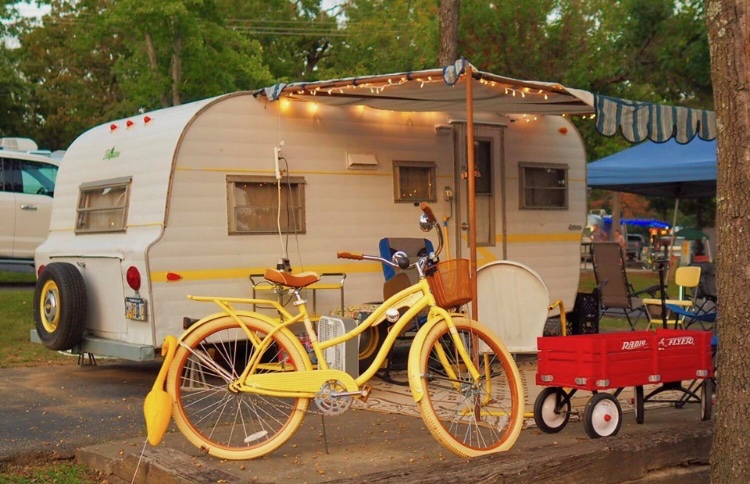 I added more outside lights to Effie!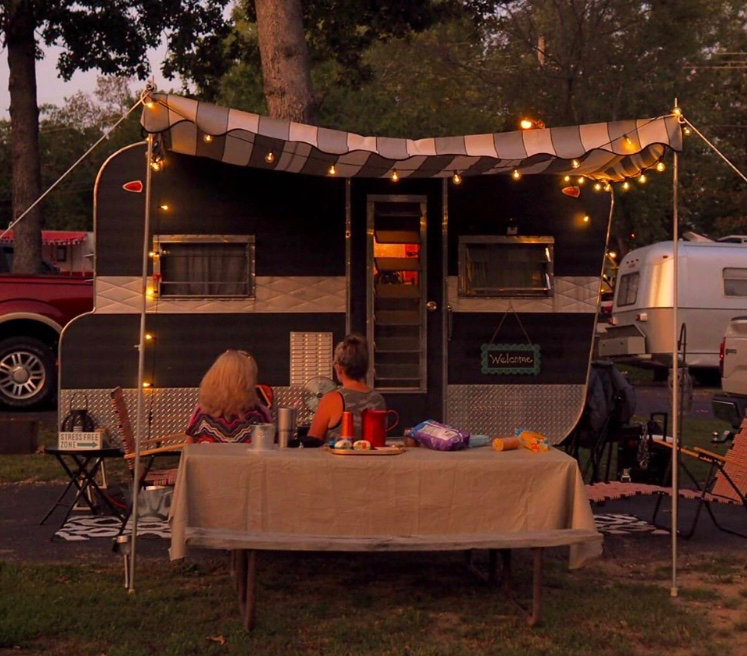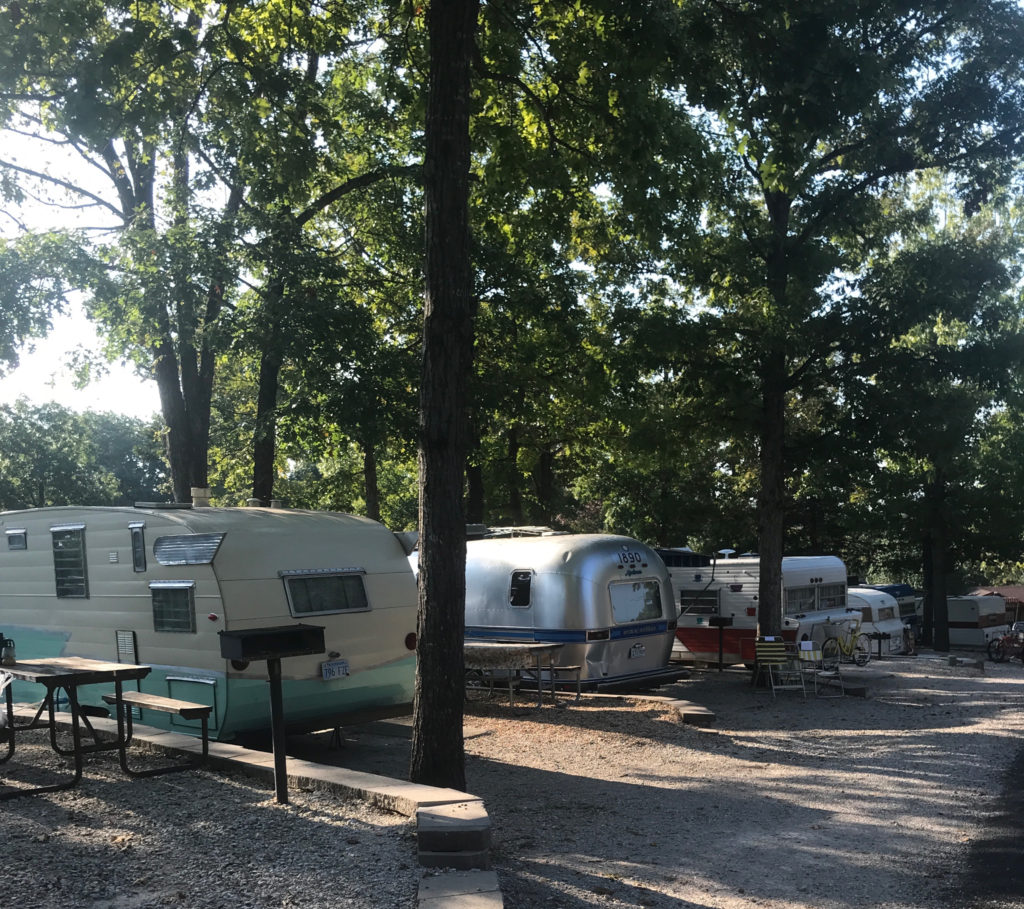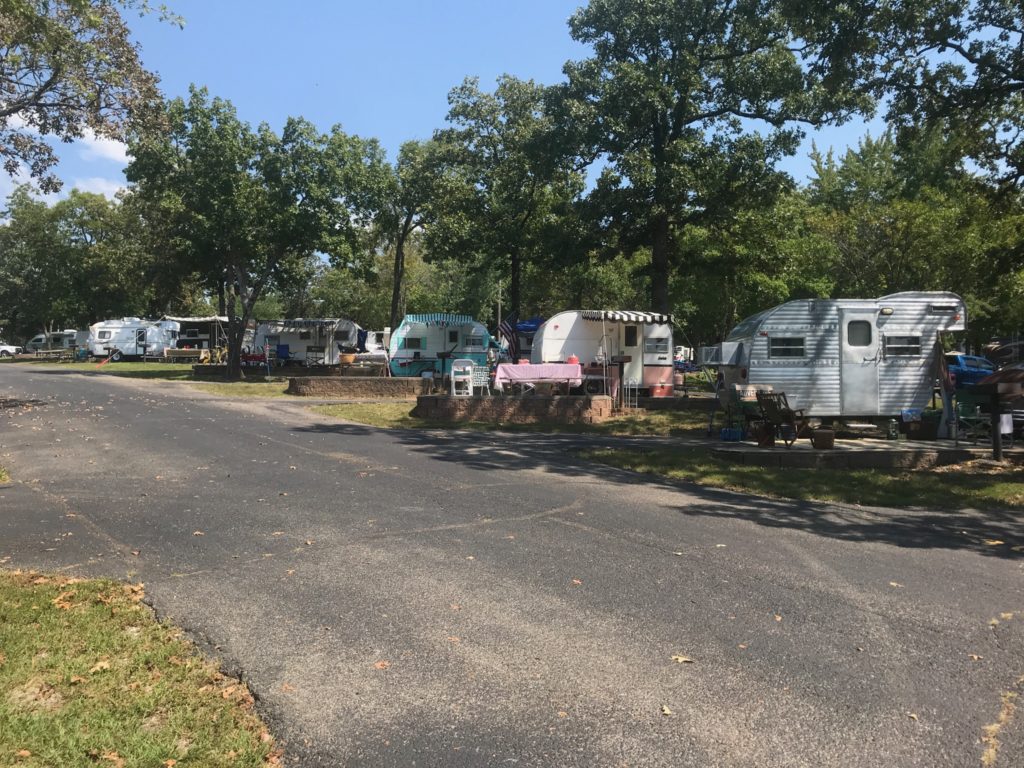 The following weekend we had a somewhat impromptu trip to Destin, Florida with our daughter Anne and her family and her in laws.
This is the only group photo I ever did get and Mike and I aren't even in it. lol. At least I tried.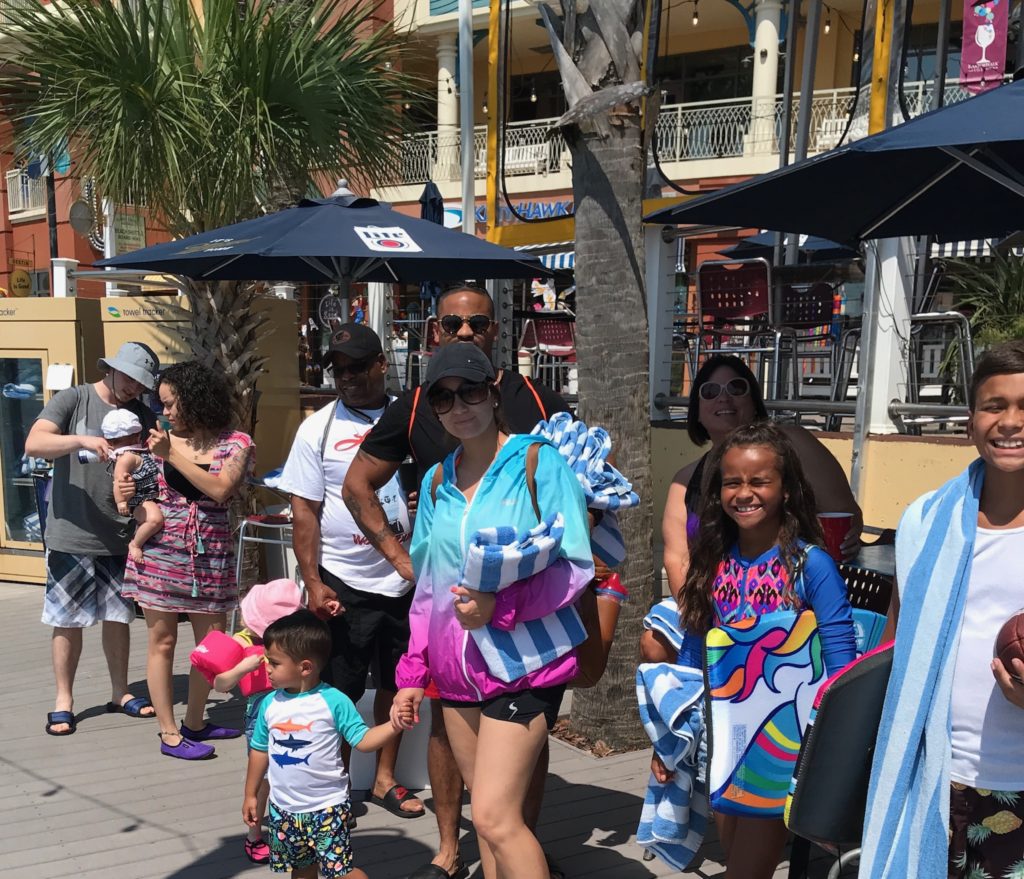 Kingston for the first time on the beach. So fun watching him feel the sand and water.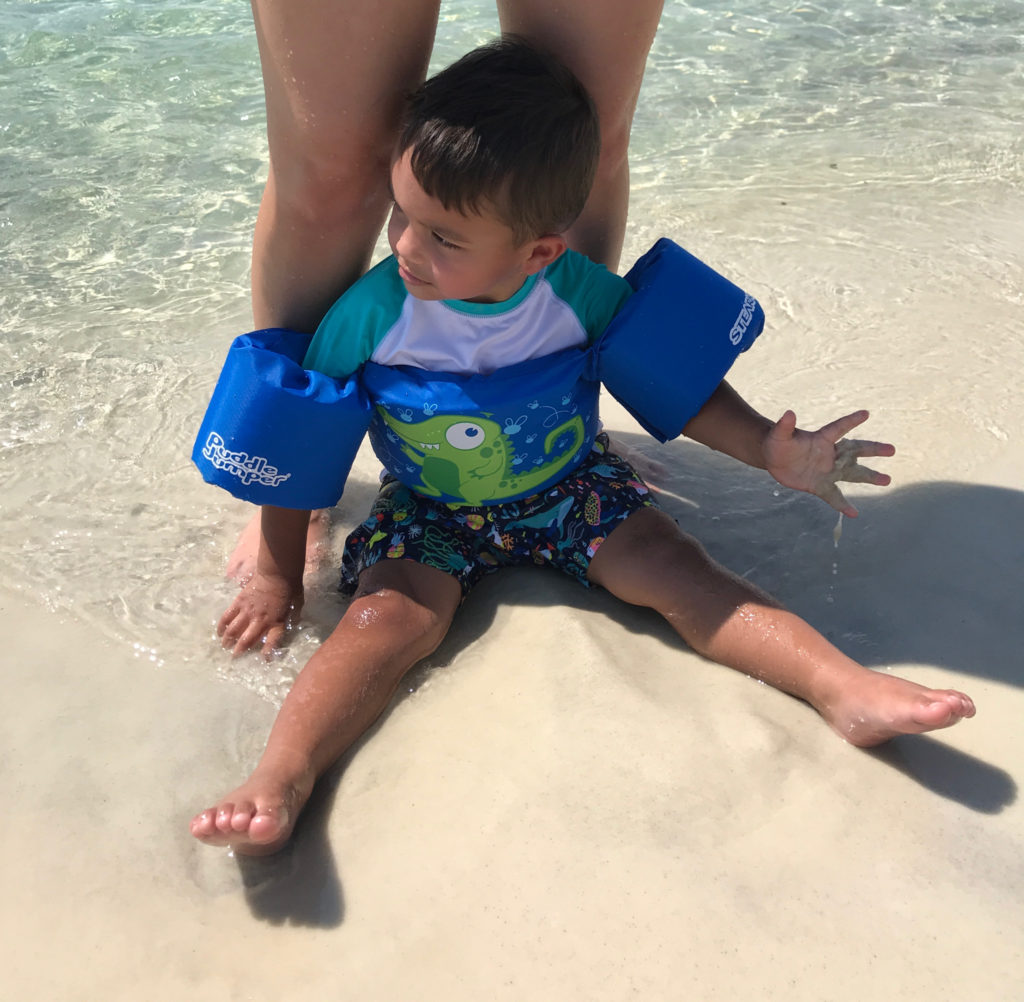 Papa Mike had fun playing in the sand with Amiyah. The sand was so fine and white.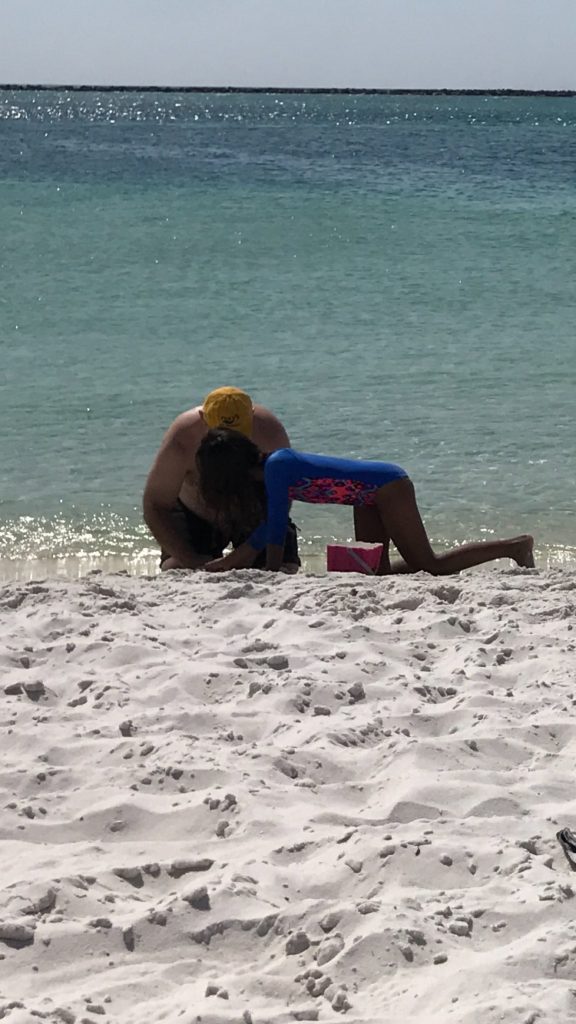 A great beach day with family.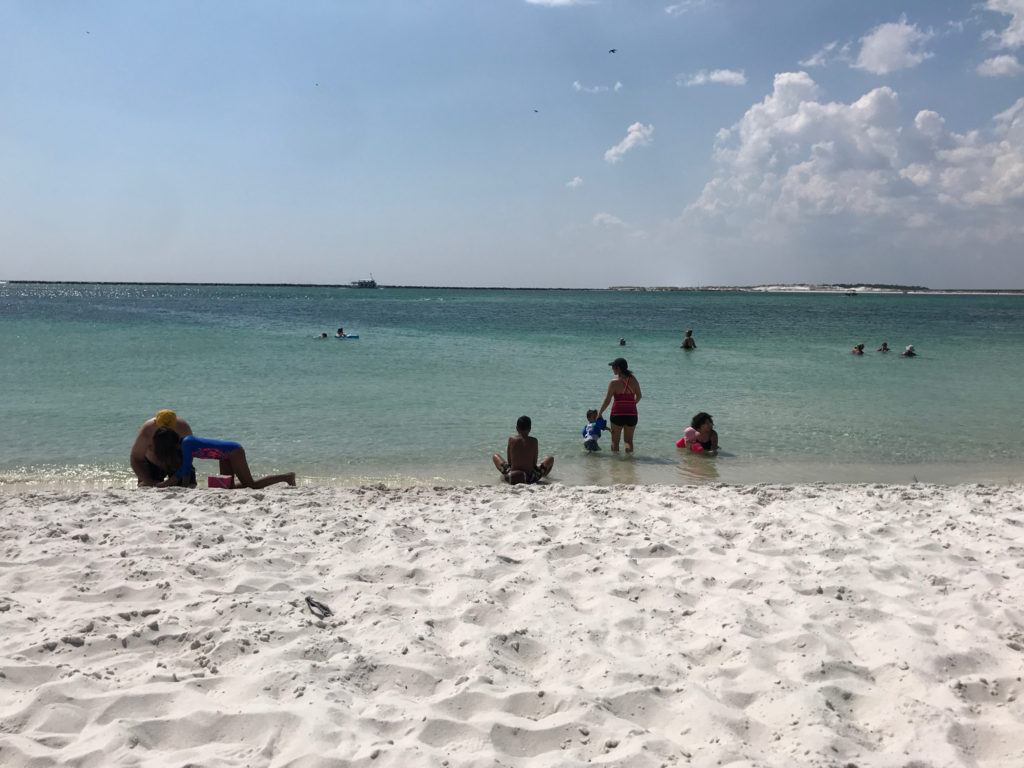 Eventually we had to get out of the water due to these little jellies. I found them fascinating.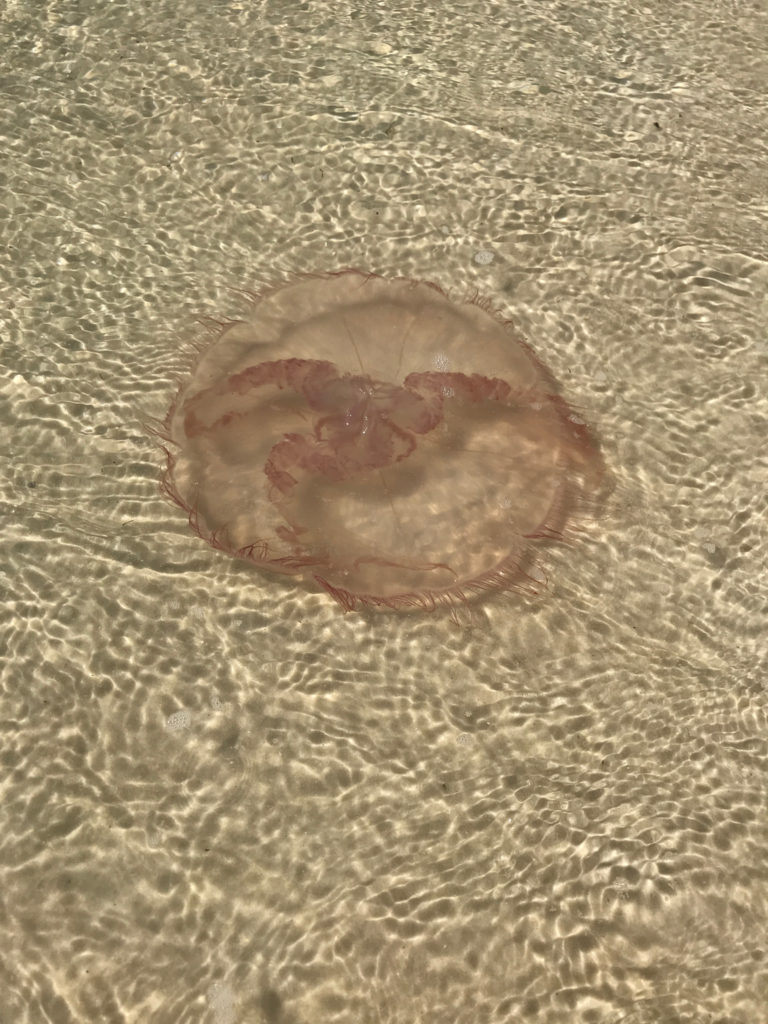 We hit the race track one afternoon! She loved this!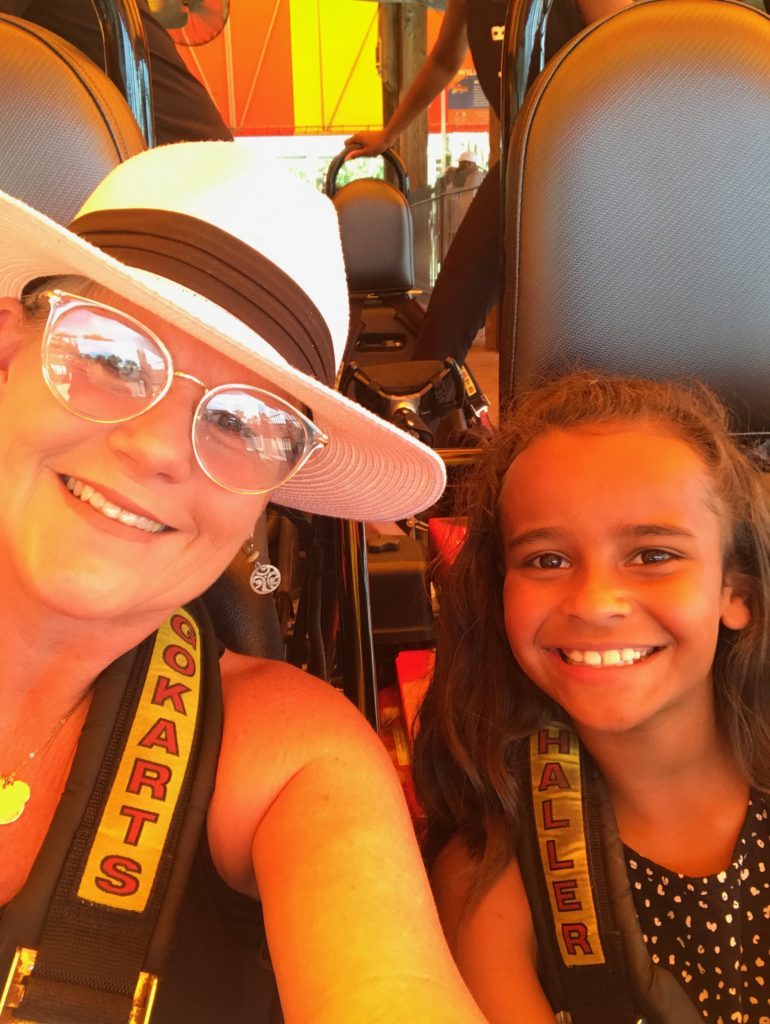 Papa Mike and Papa Vincent. Both so serious and competitive! Boys.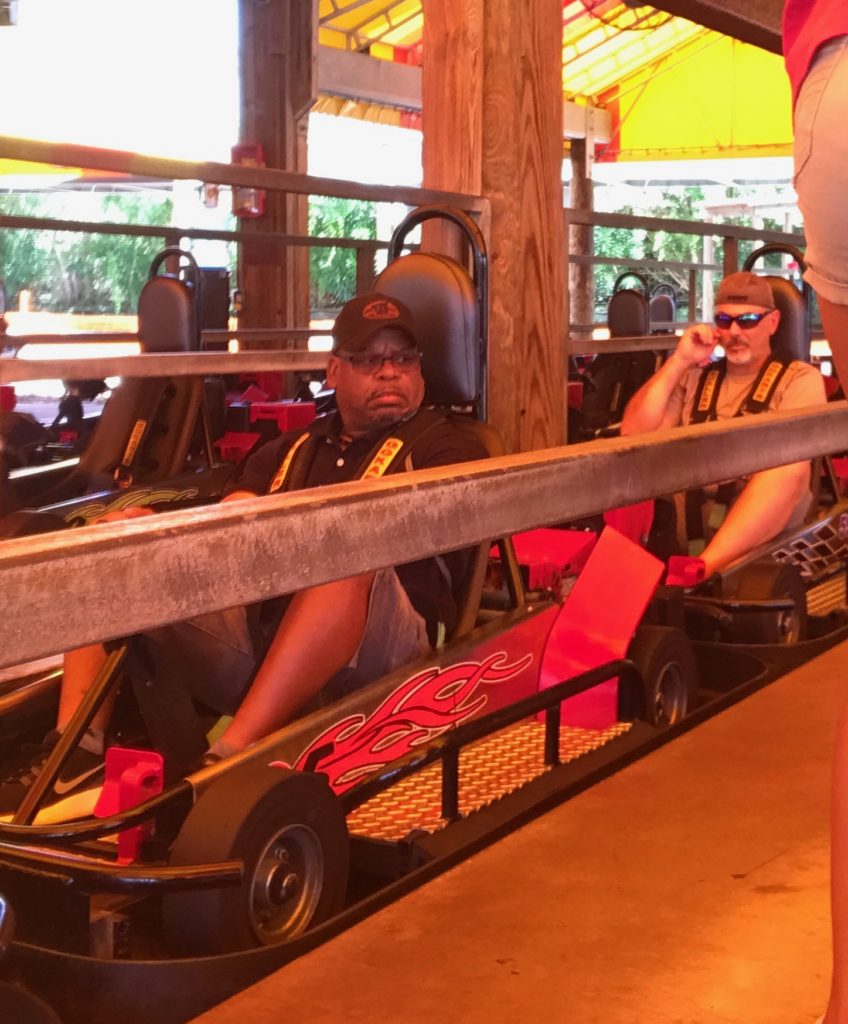 Is he just a doll?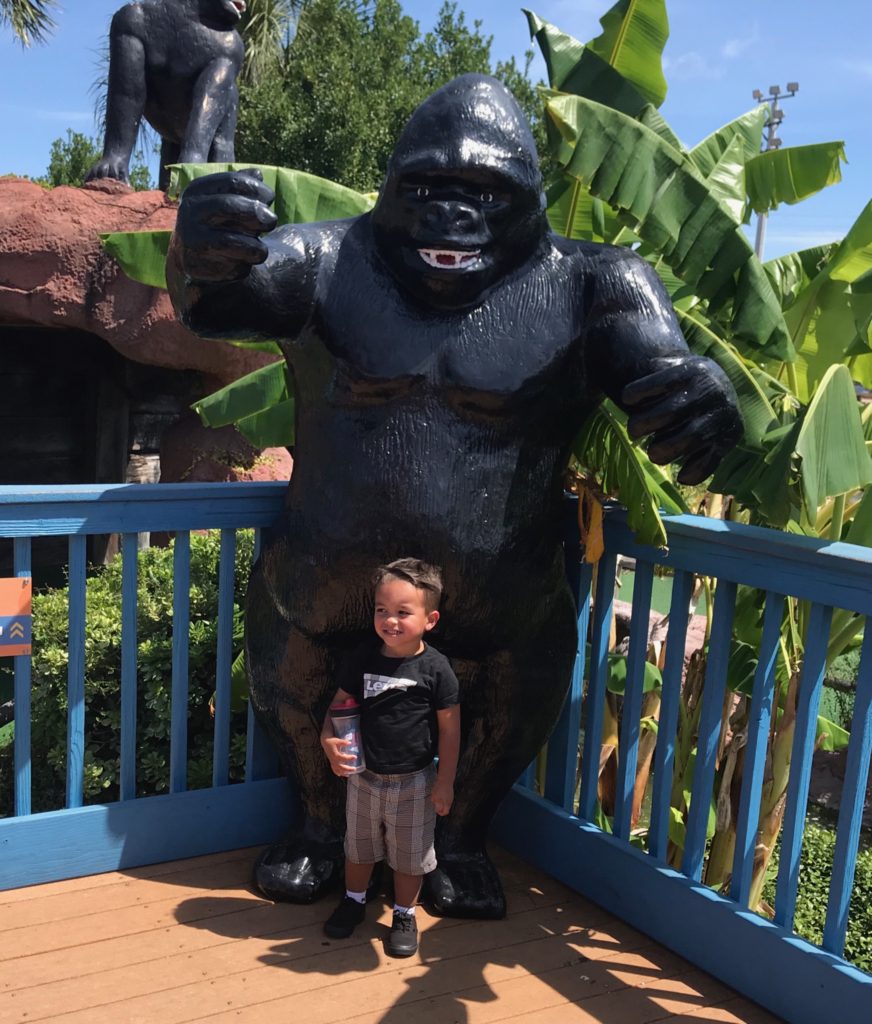 Malik getting ready to climb the wall. He made it to the top! He and Papa Mike also did the Zip Line. Brave dudes.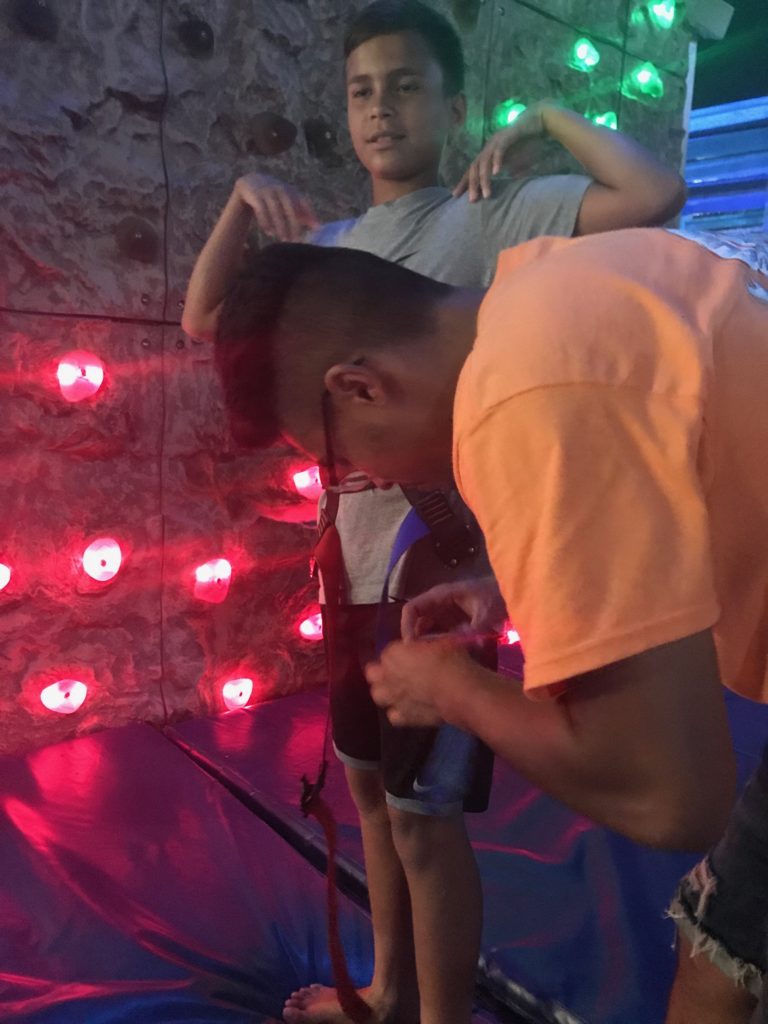 I have so much fun with these kiddos!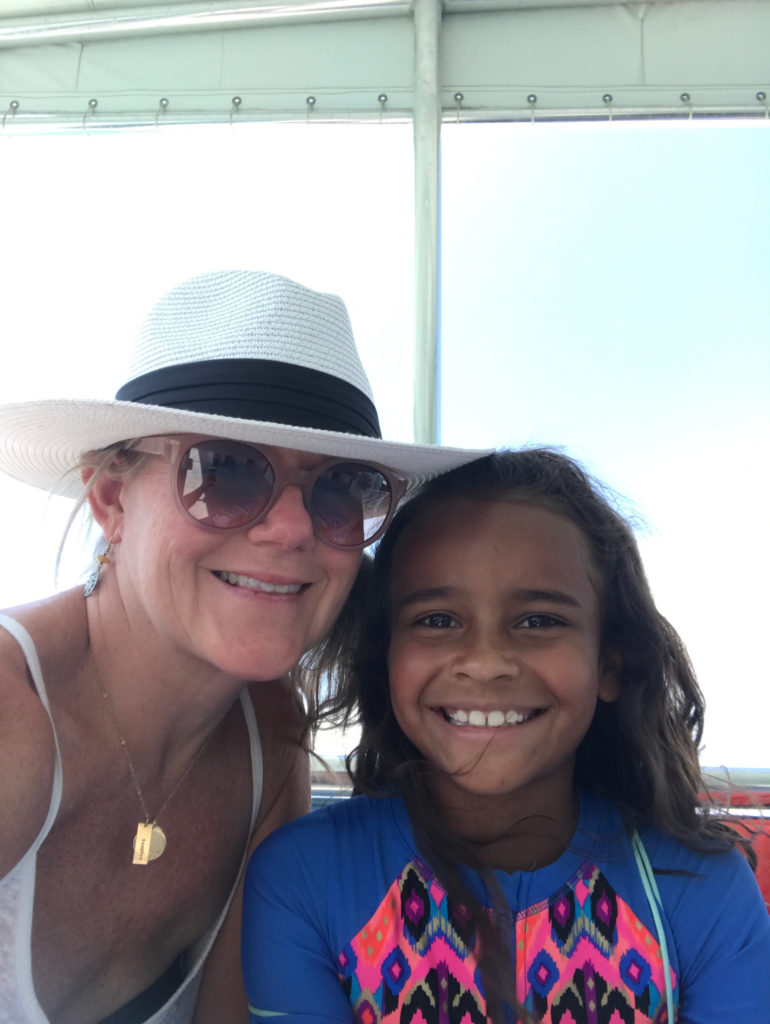 We took a drive to Seaside one afternoon. I want to go back! So cute.
Um, Vintage trailers are everywhere!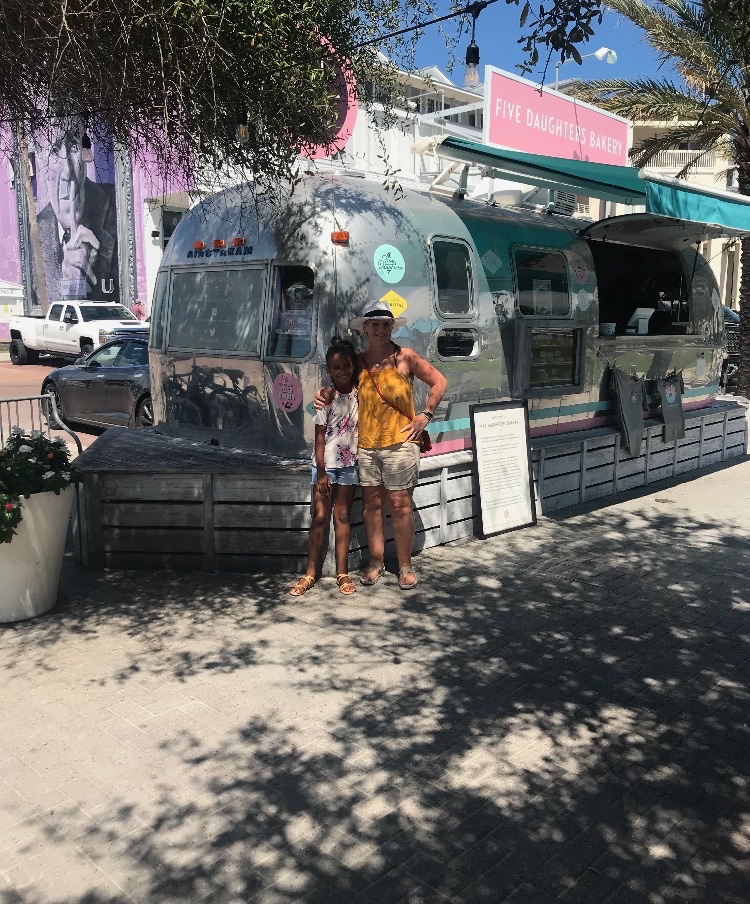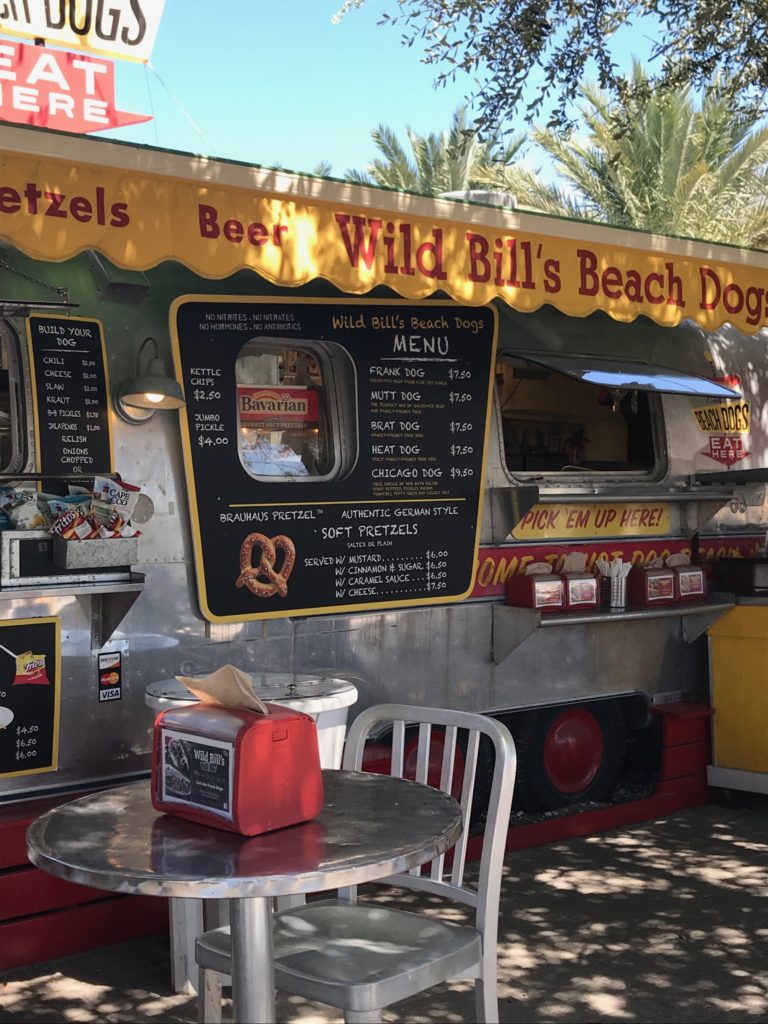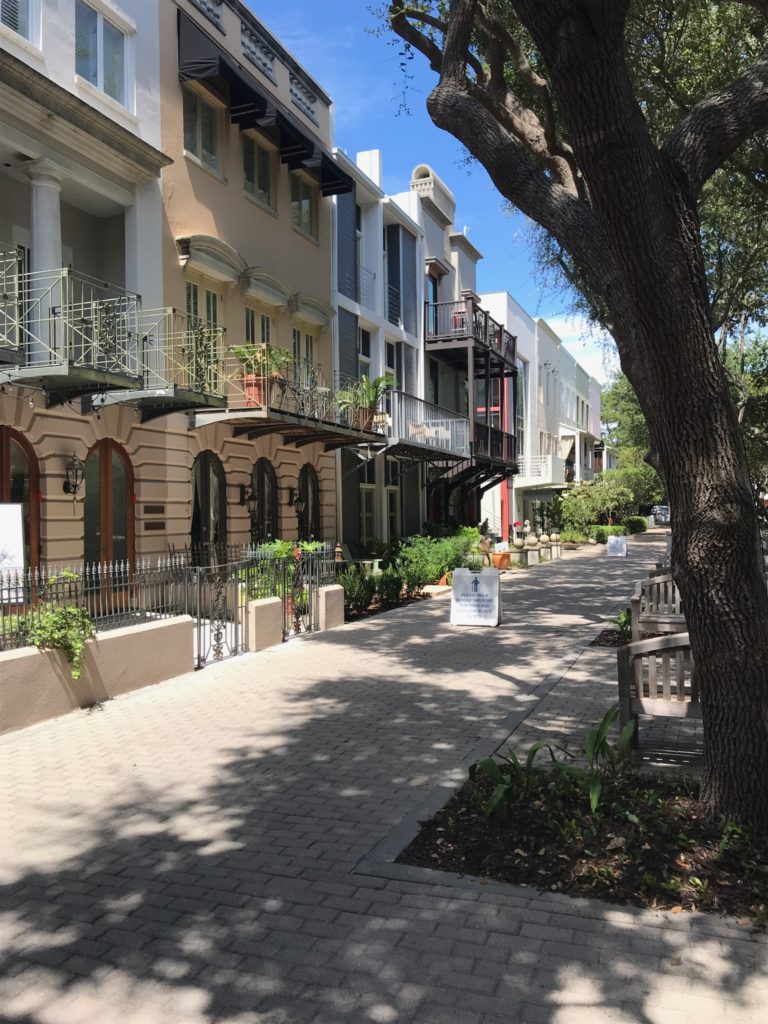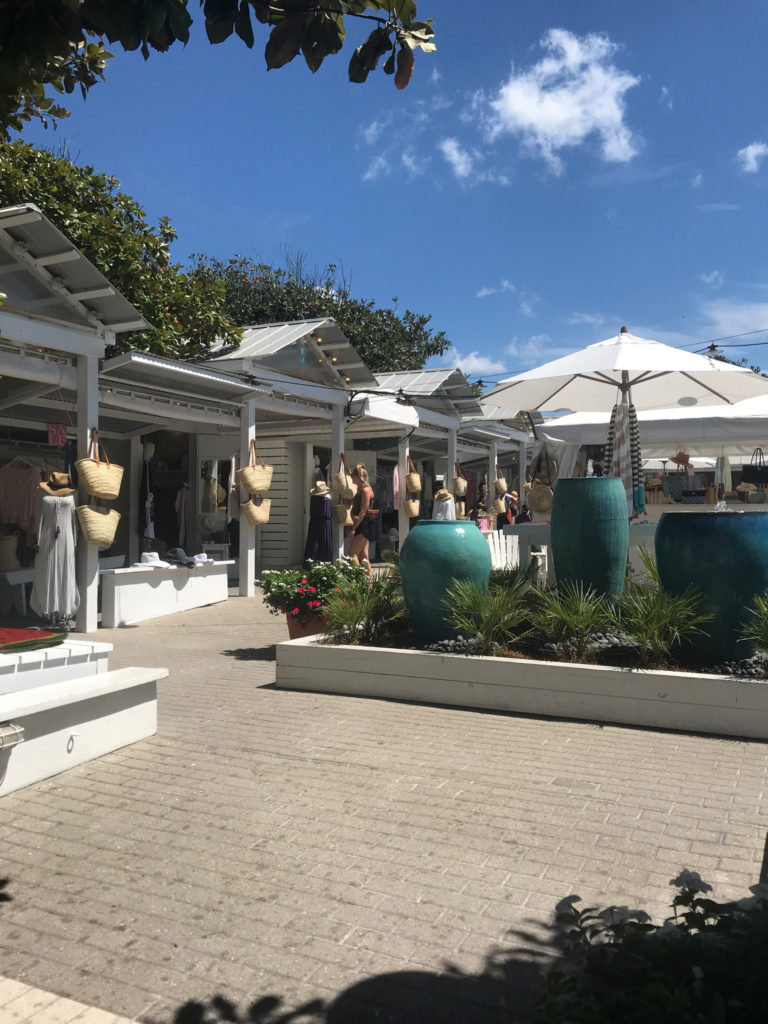 Beautiful walks (and coffee) on the beach each morning.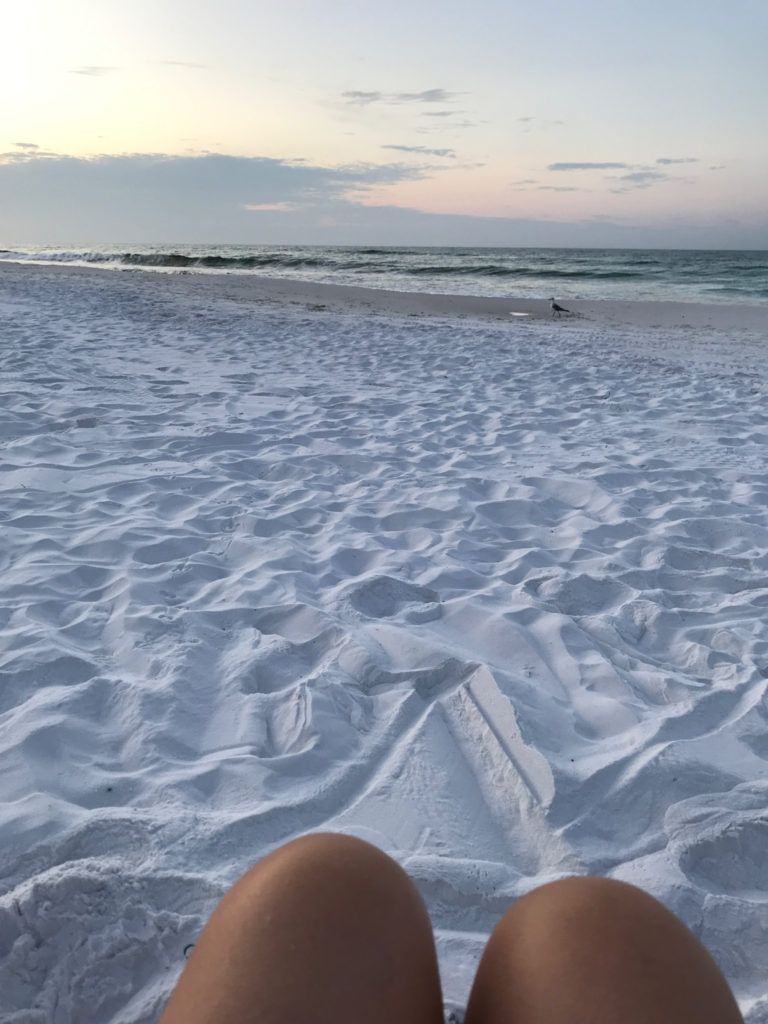 I set my alarm for 6:00 am so I could be on the beach for sunrise.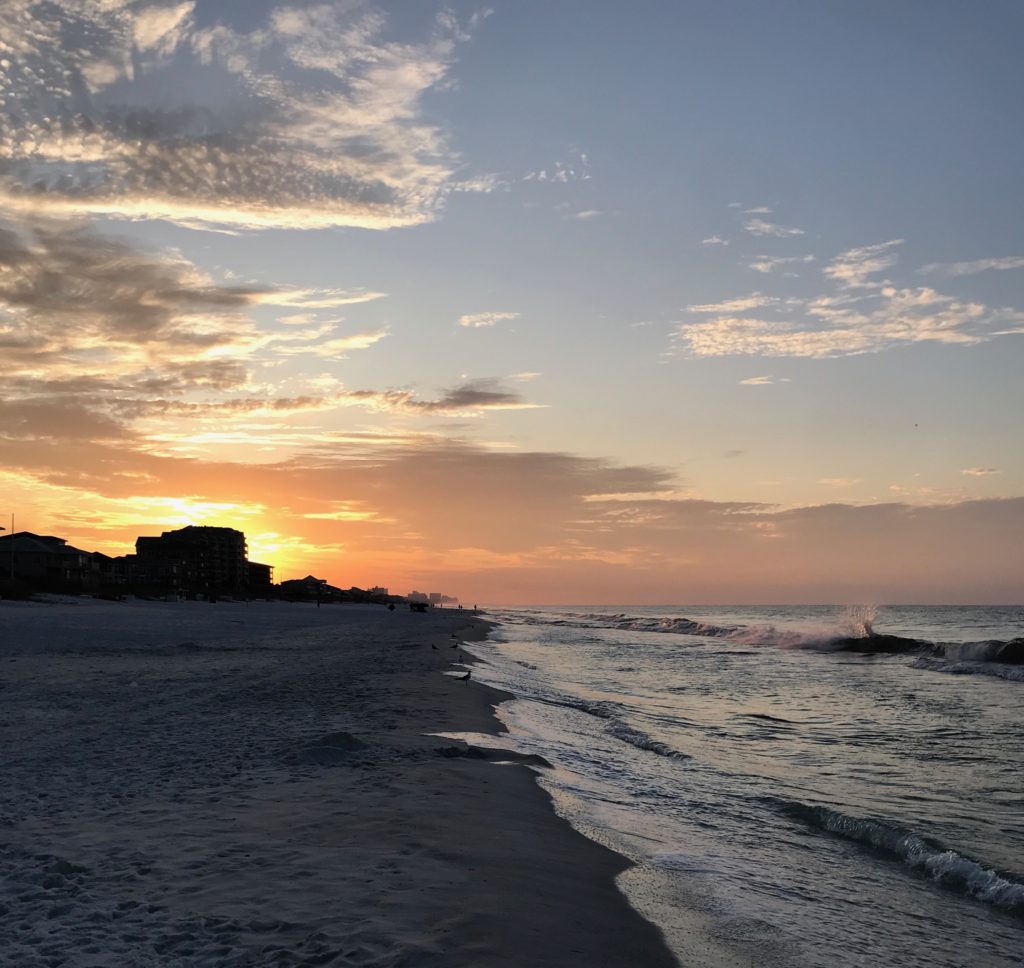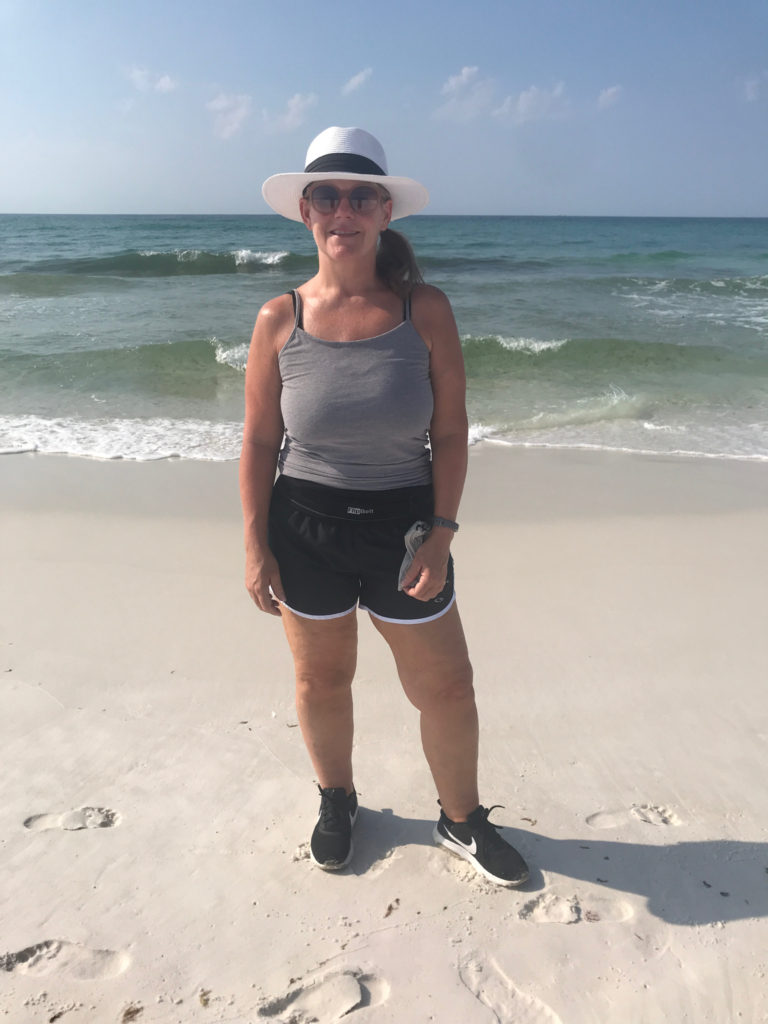 Mike and I found a little shack on the beach we loved. Great view, cold drinks, cool breeze, good people. One lady invited me to her condo across the street because I needed to potty and she heard me ask where the restroom was. There wasn't one. As I was walking with her I'm like….what the heck am I doing?
lol lol lol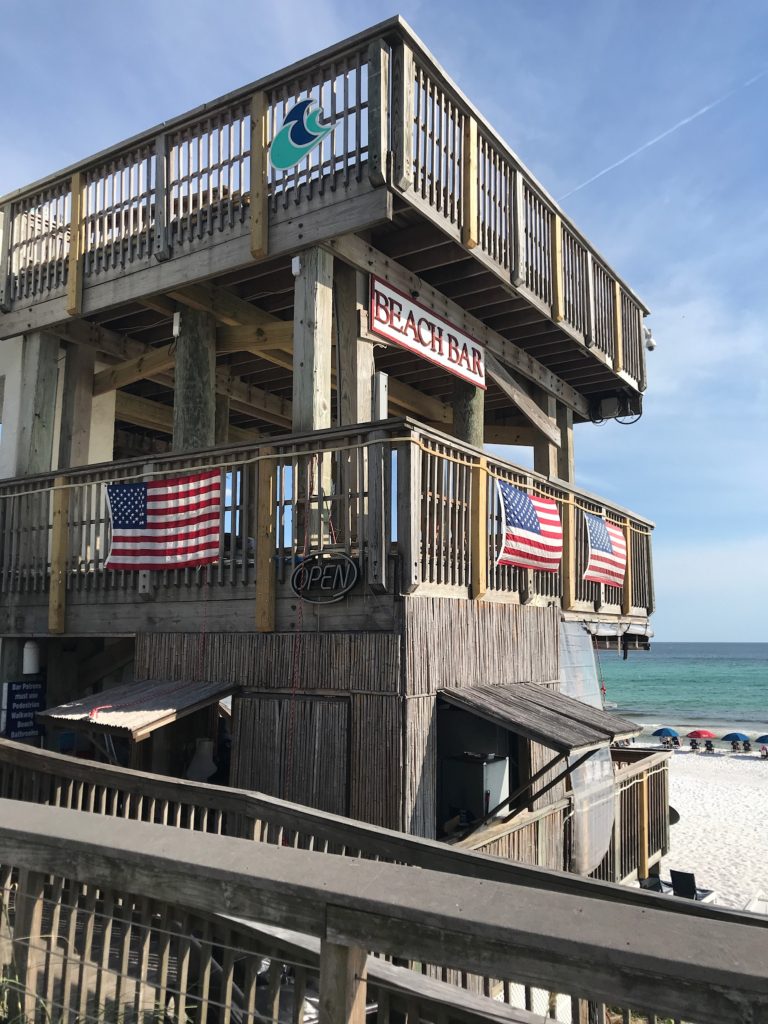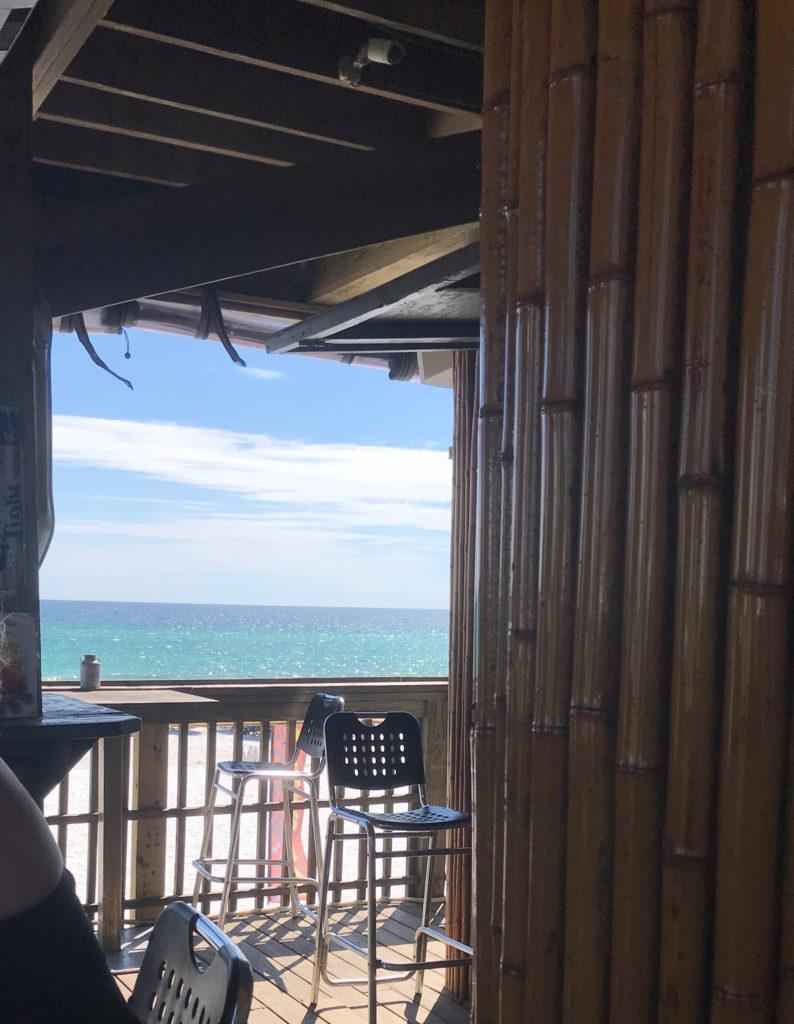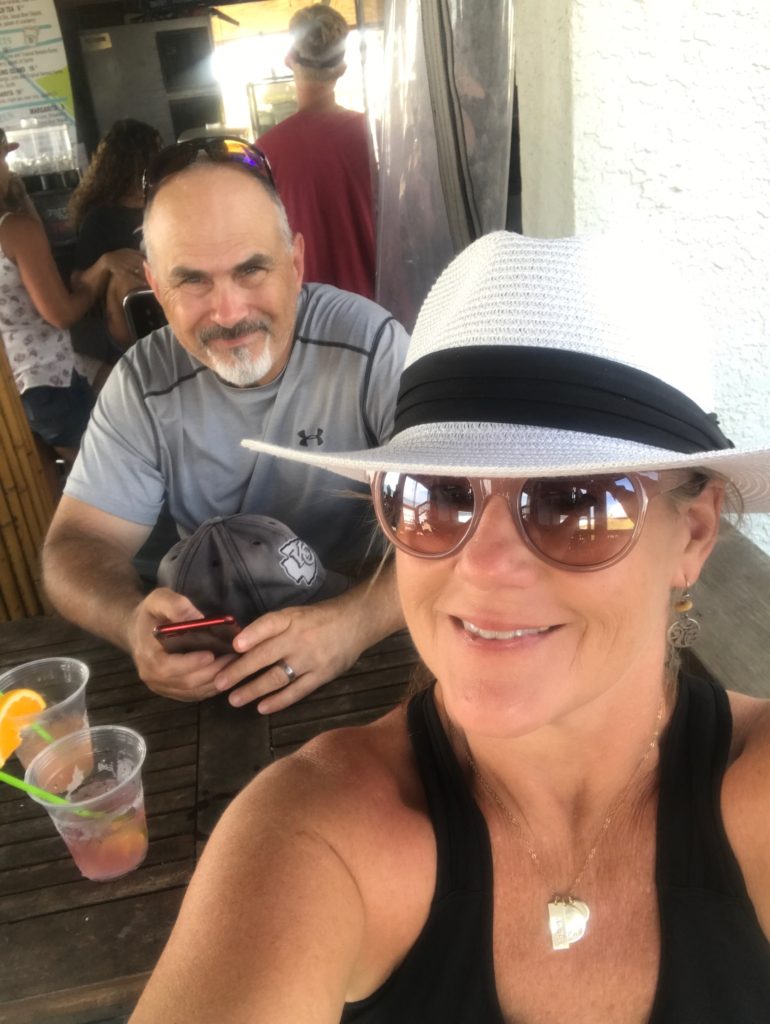 Does shrimp taste better seaside? Yes. Yes it does.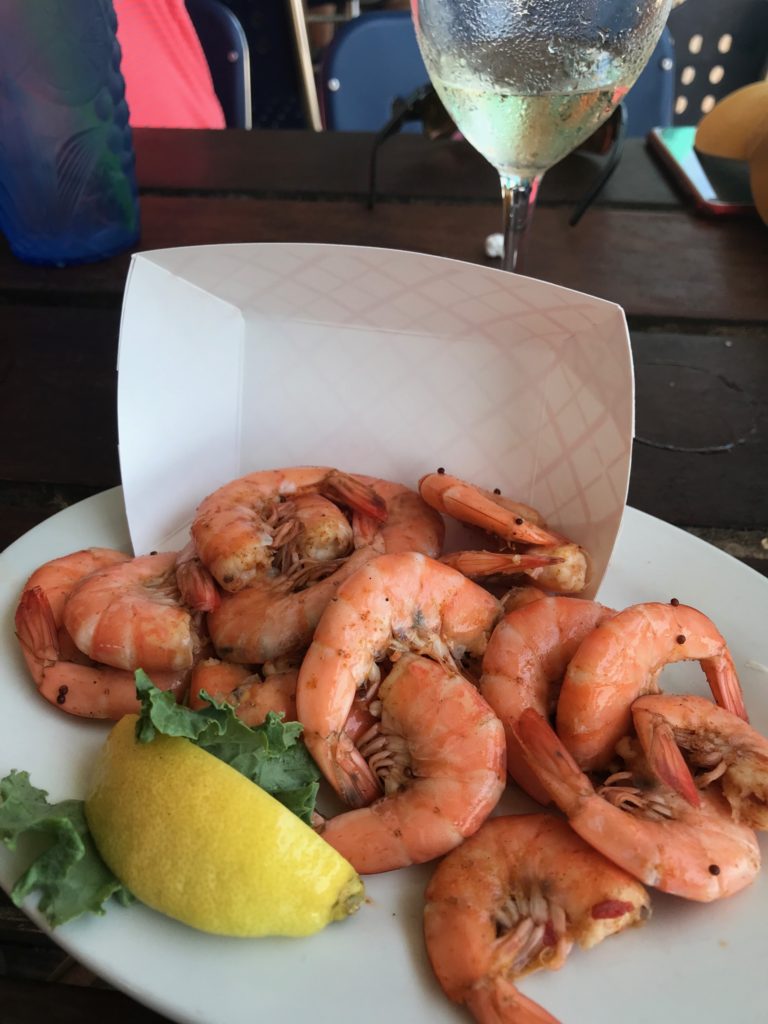 Beautiful views all around us.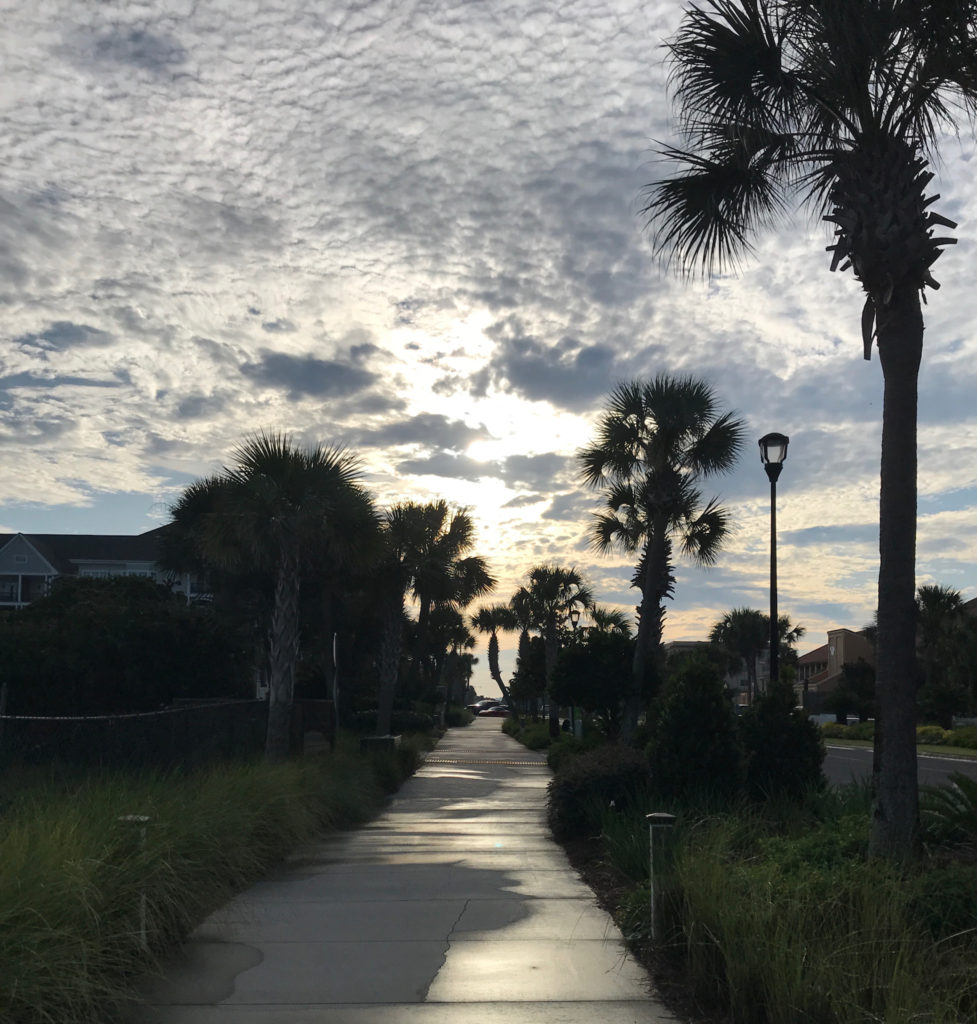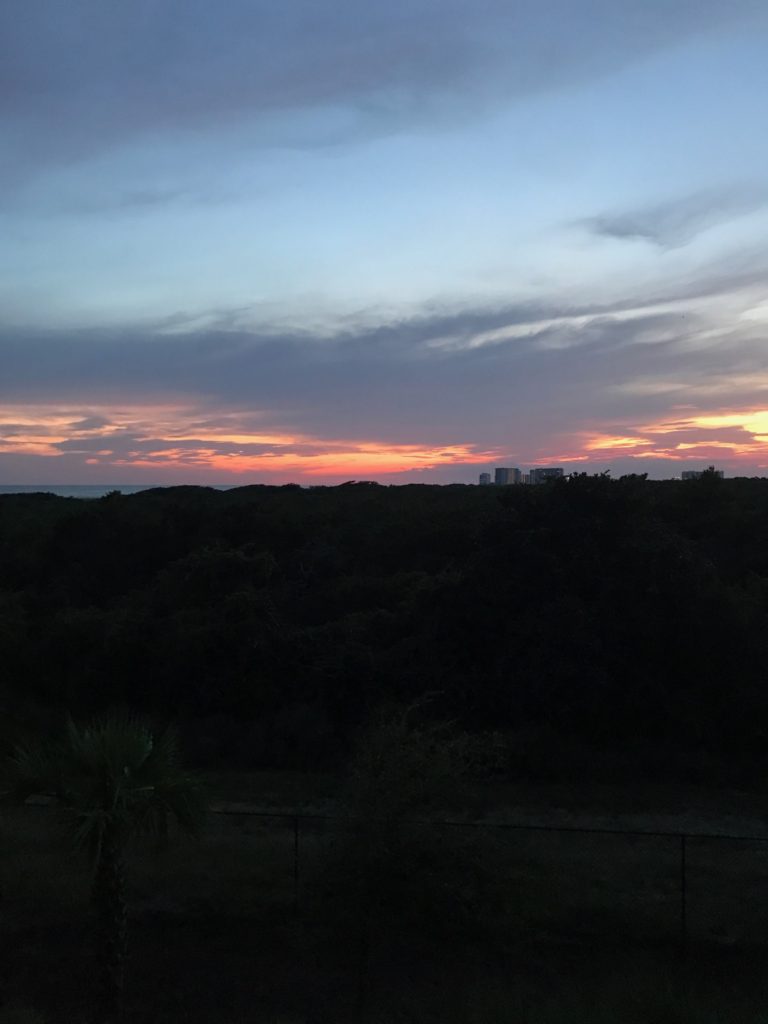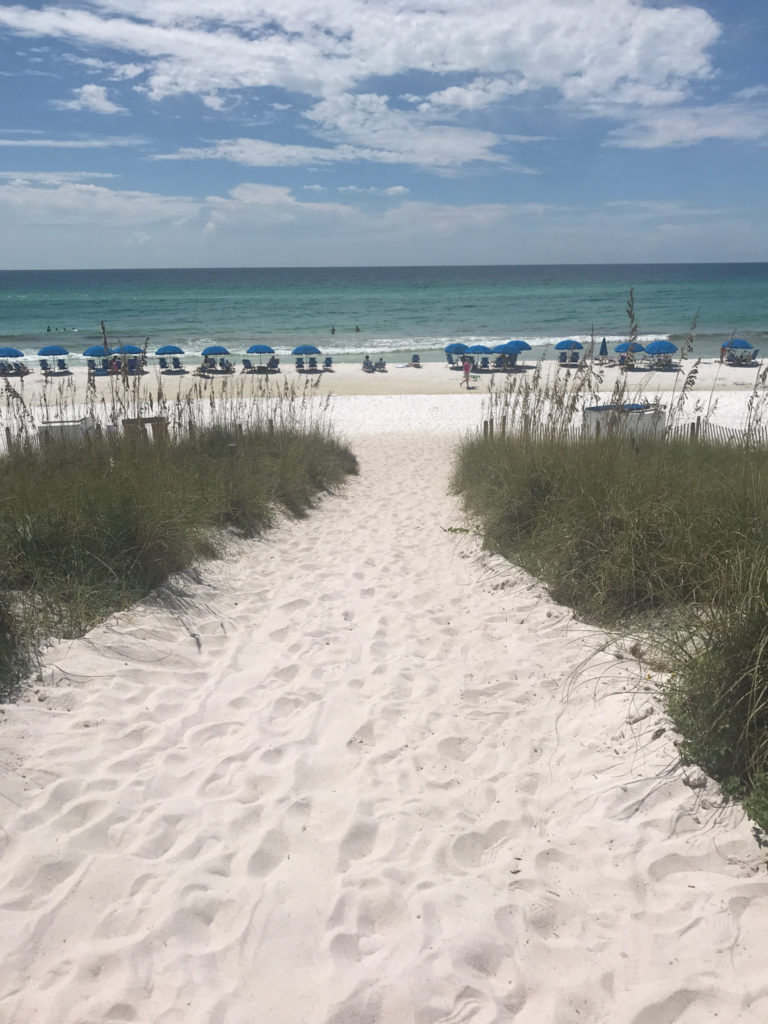 Lots of steps and feeling good and strong in my shorts.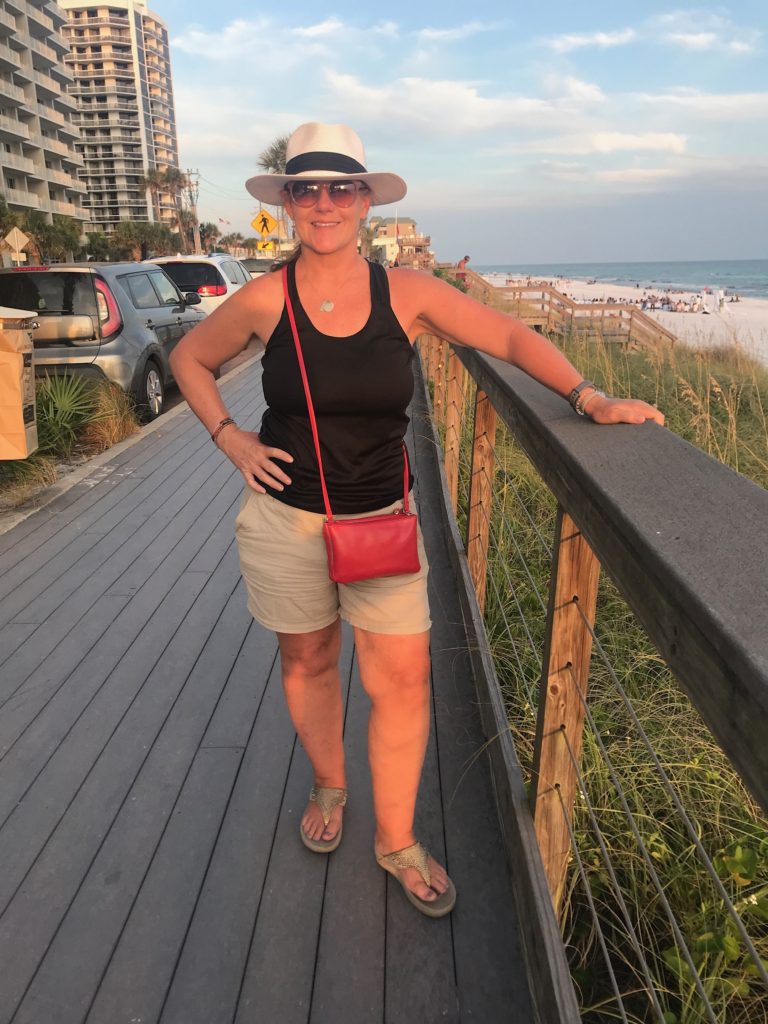 Morning walk in the sand dunes at Henderson State Park.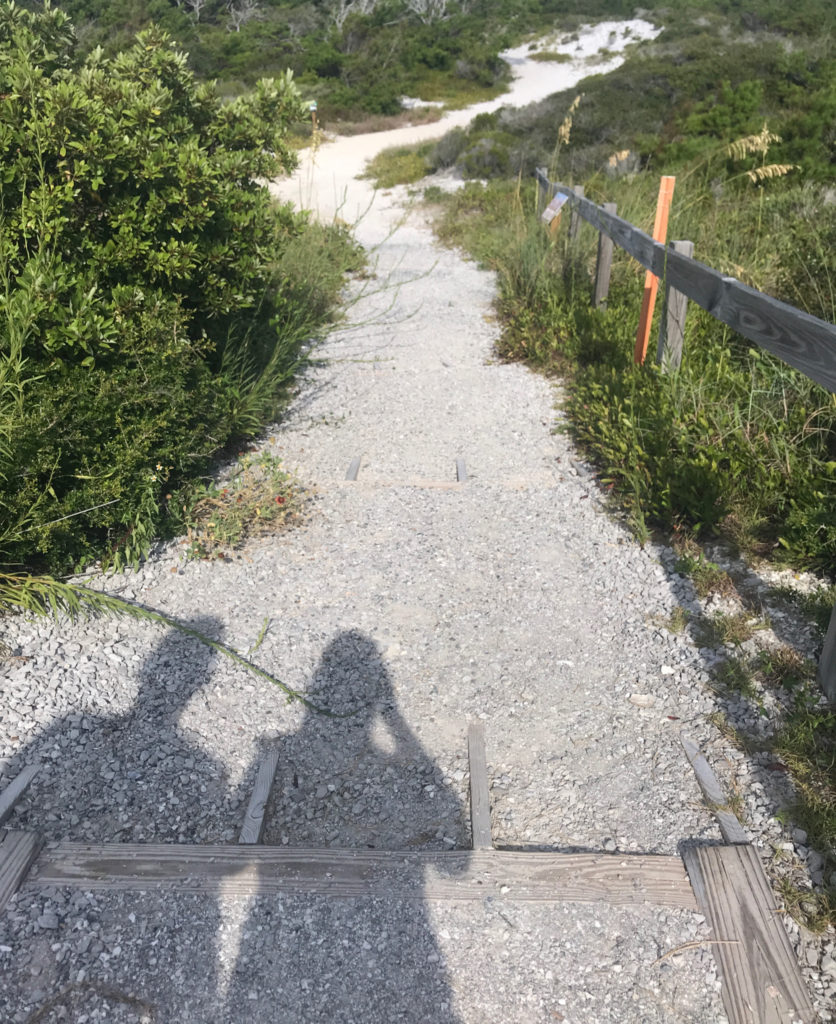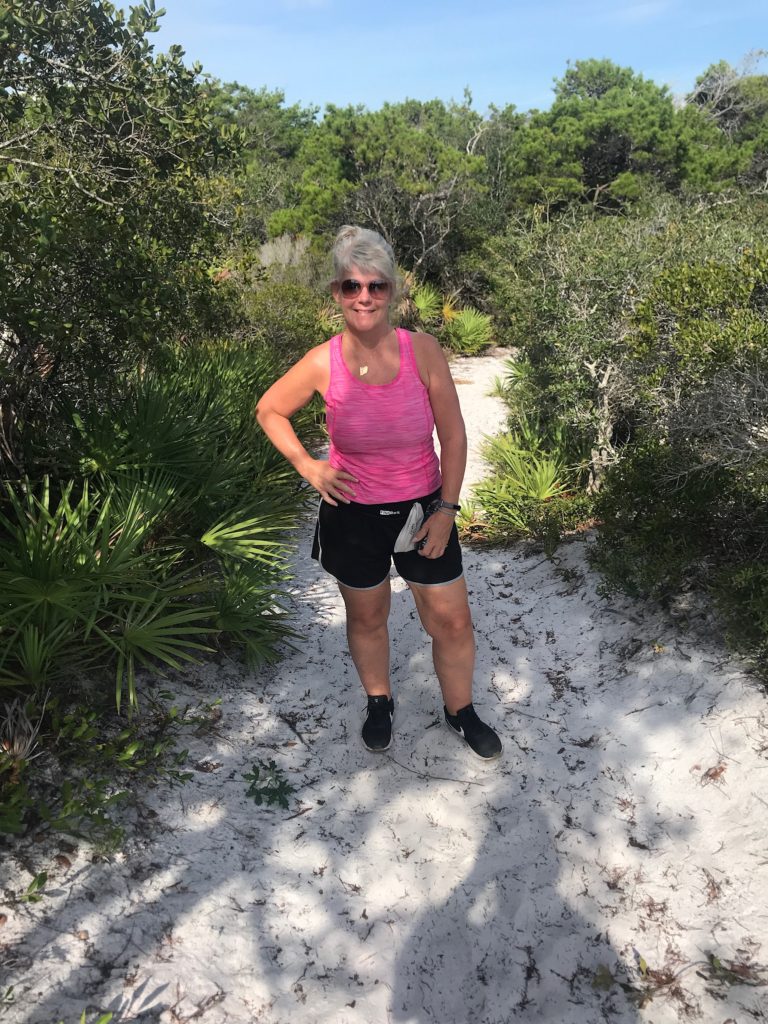 We had lots of good family time and we were able to fit in a little alone time too for such a quick four night trip. Perfect balance of everything.
Poolside.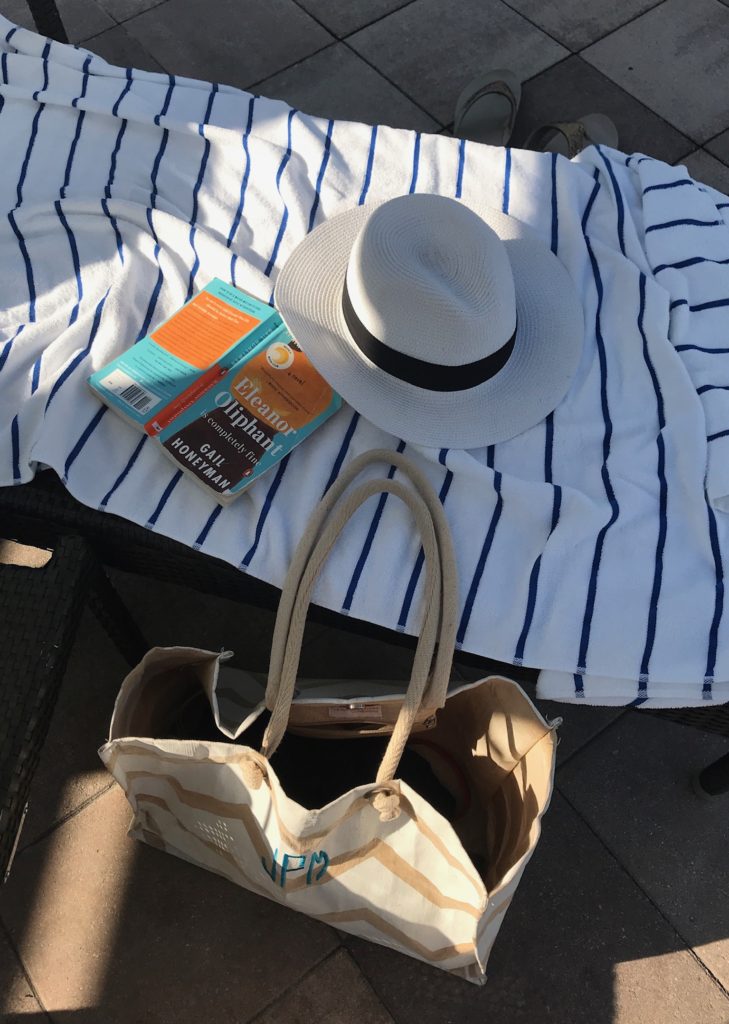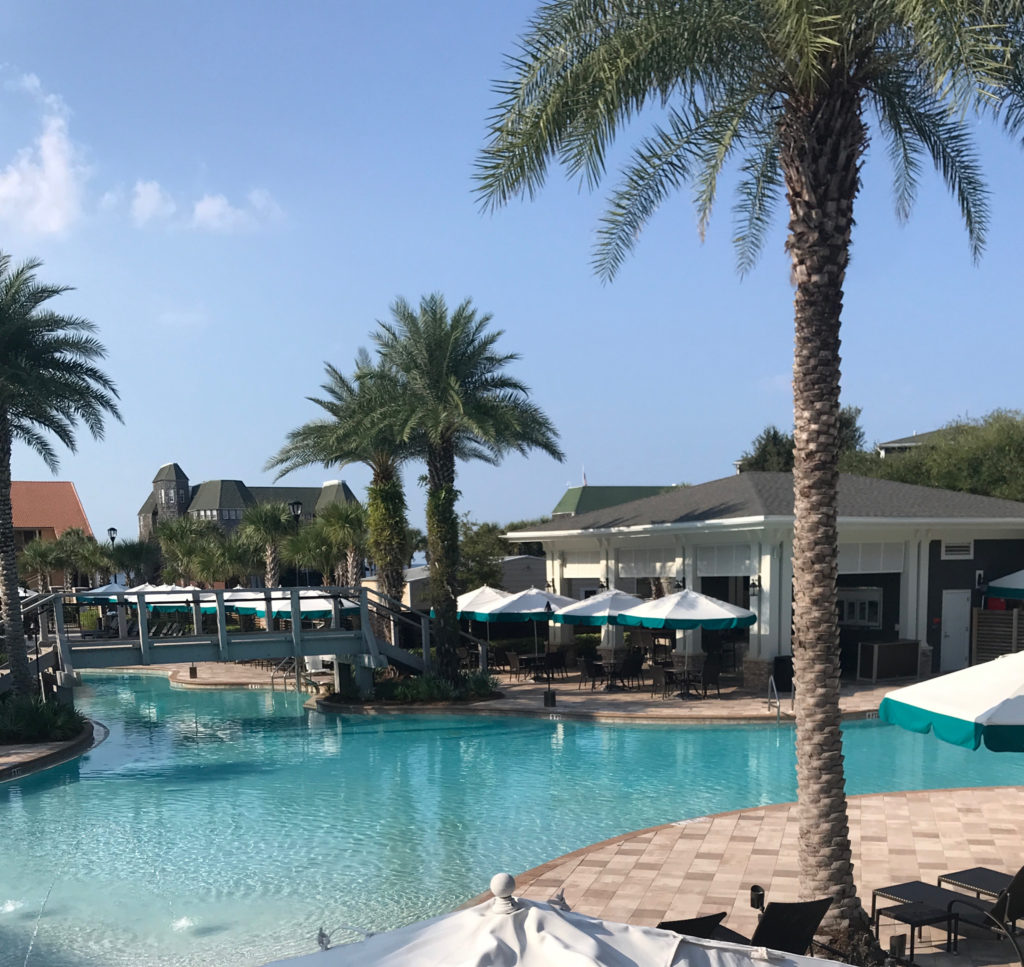 Loved this book. Haven't picked up a book I enjoyed in a really long time.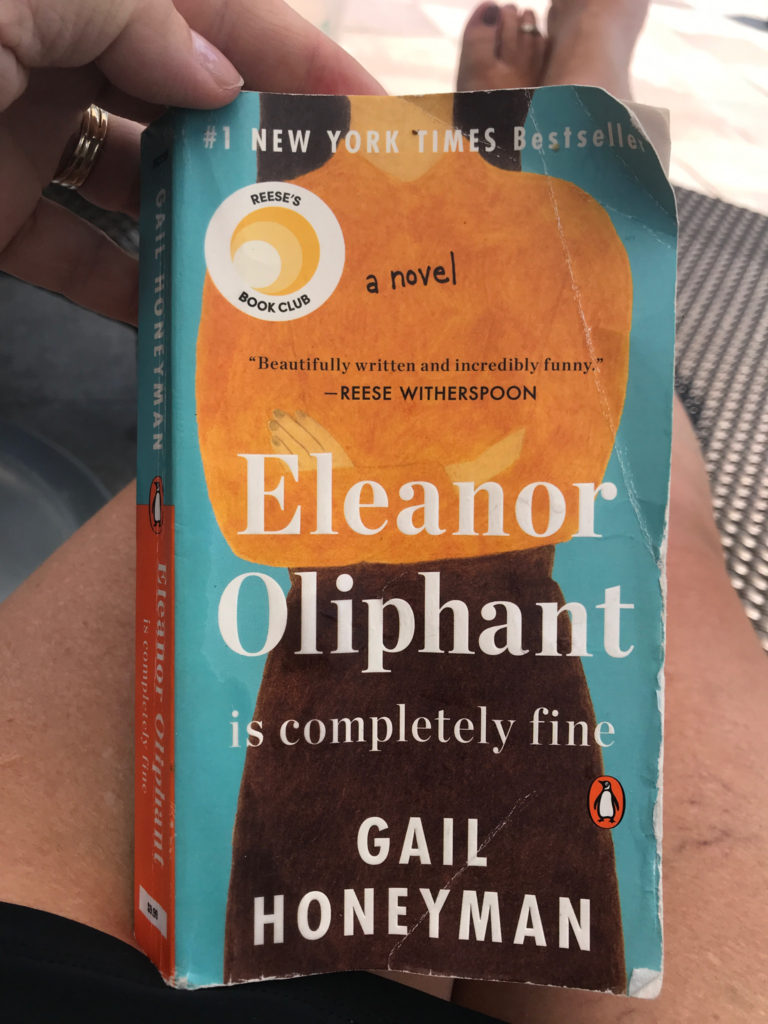 WW sent all Ambassadors a FABULOUS Fall Box filled with goodies, so I've been playing in the kitchen just a little bit.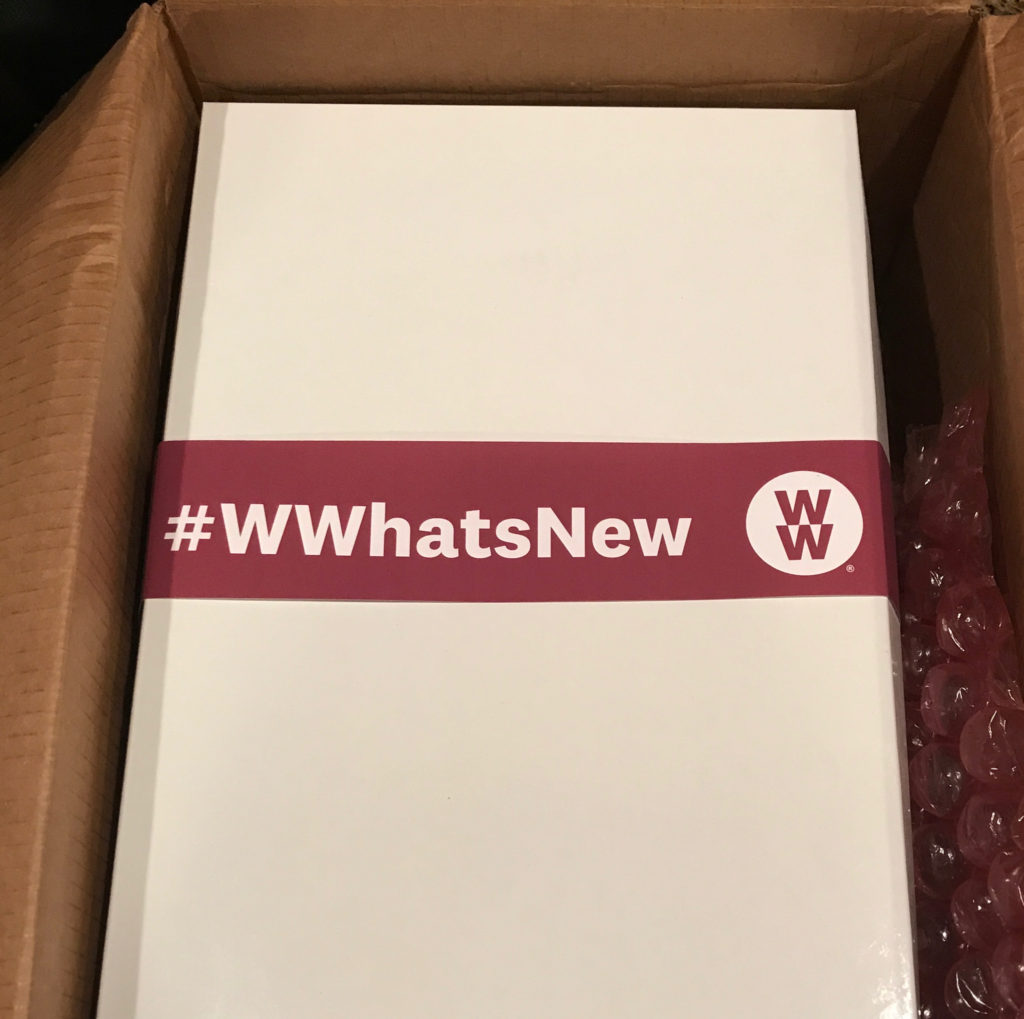 Below the awesome consumable products, they included a skillet and a steamer! So many great products for us to use and share on Social Media!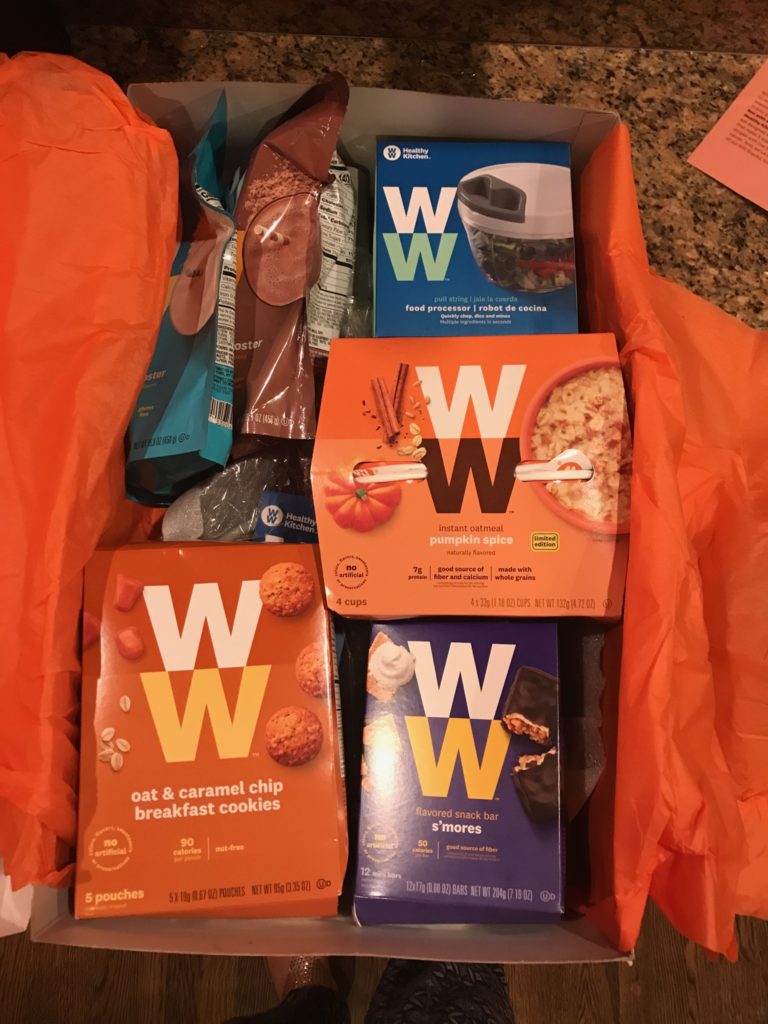 Did you know that you can go into any WW Studio and buy product? Yep!
If you're in the WW  Studios, grab yourself some WW Chocolate Protein Booster and the Recipe card that comes with it. These No-Bake Protein Bites were awesome!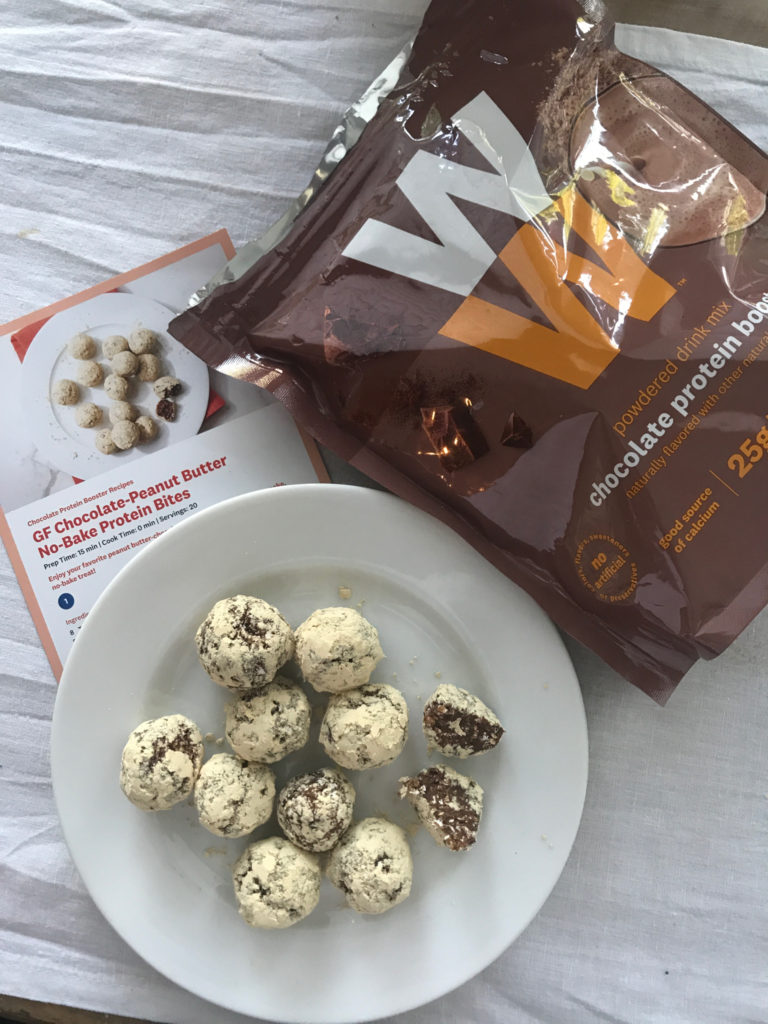 1 Smartpoint Per Bite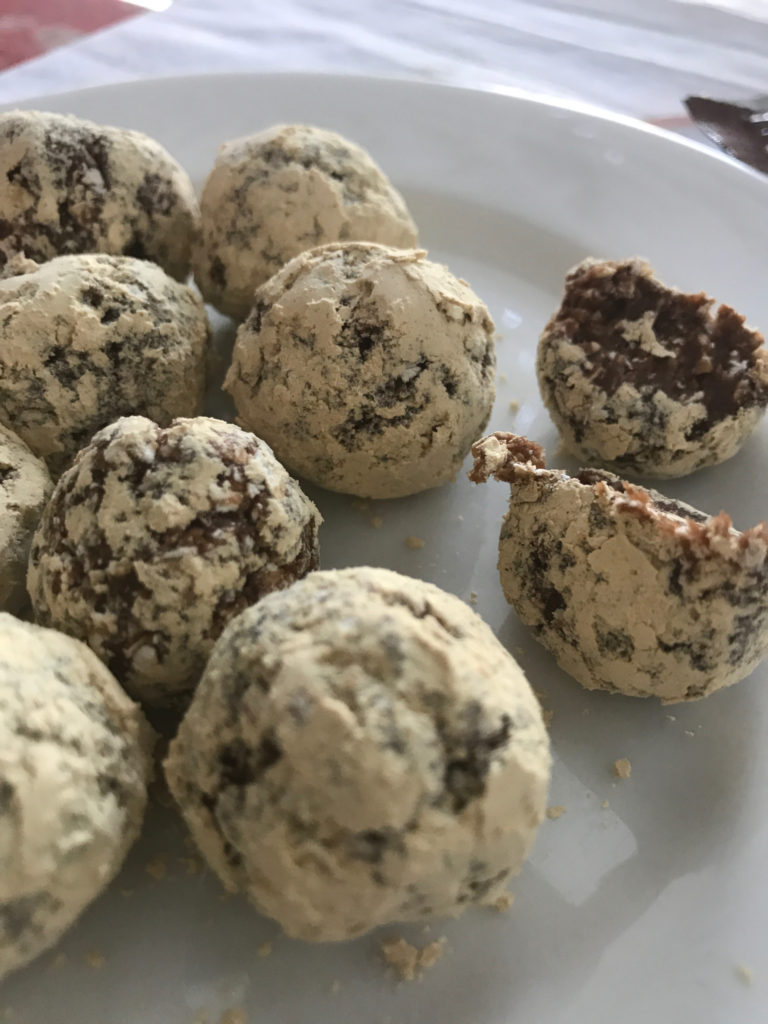 I'm feeling Pumpkinny so I decided to give a Pumpkin smoothie a try.
1 Scoop WW Protein Booster (25g protein!)
8 ounces COLD water
2 T Pure Pumpkin
1/4 tsp Pumpkin Pie Spice
3 ice cubes
Blend. Enjoy!
1 large for 2 Smartpoints or 2 Small at 1 Smartpoint each.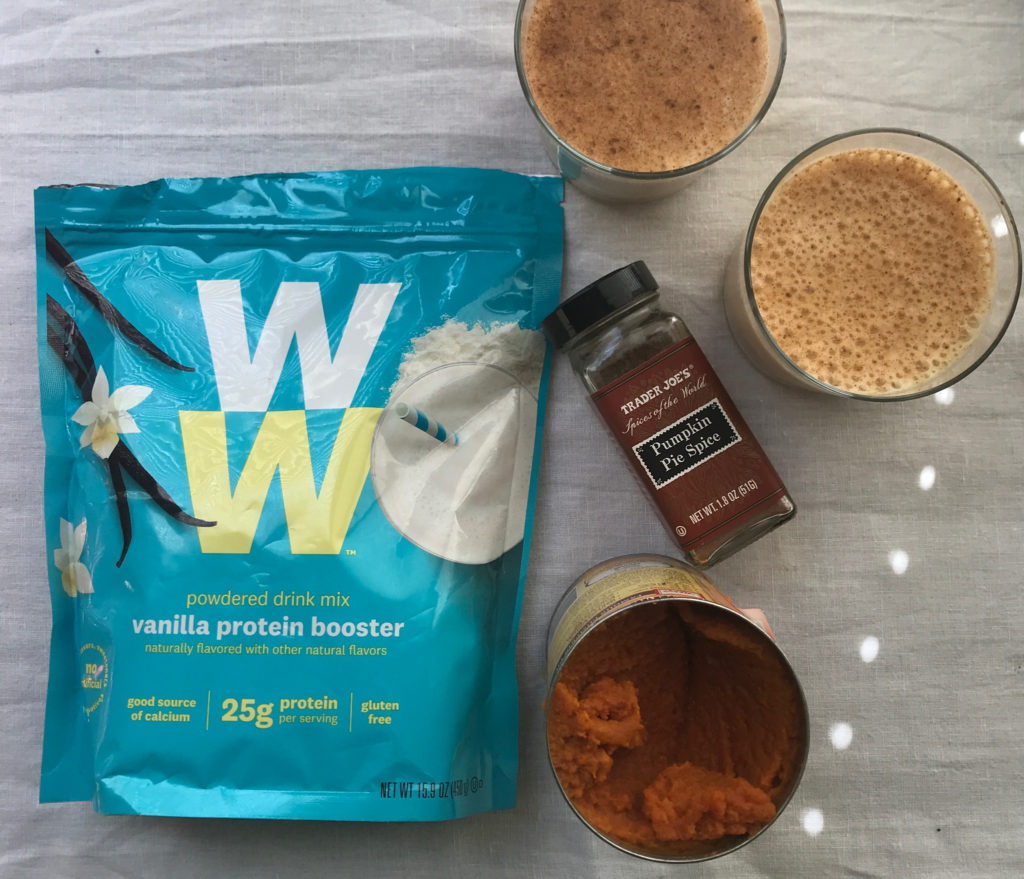 I am loving the WW Pumpkin Spice Oatmeal as an afternoon snack. Only 3 Smartpoints. I put a few thin banana slices in the skillet with a little Coconut Oil Spray until browned and this was truly delicious!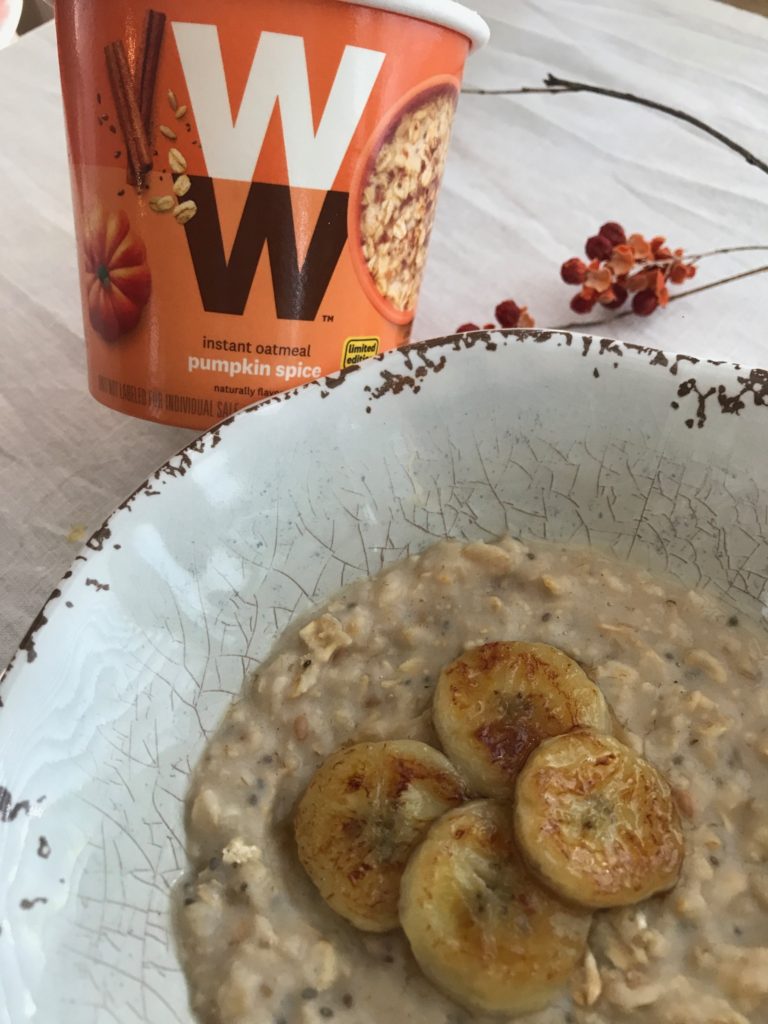 Simple here. 
1 Scoop WW Chocolate Protein Booster, 1/4 C Frozen Blueberries, 8 ounces COLD Water, Blend.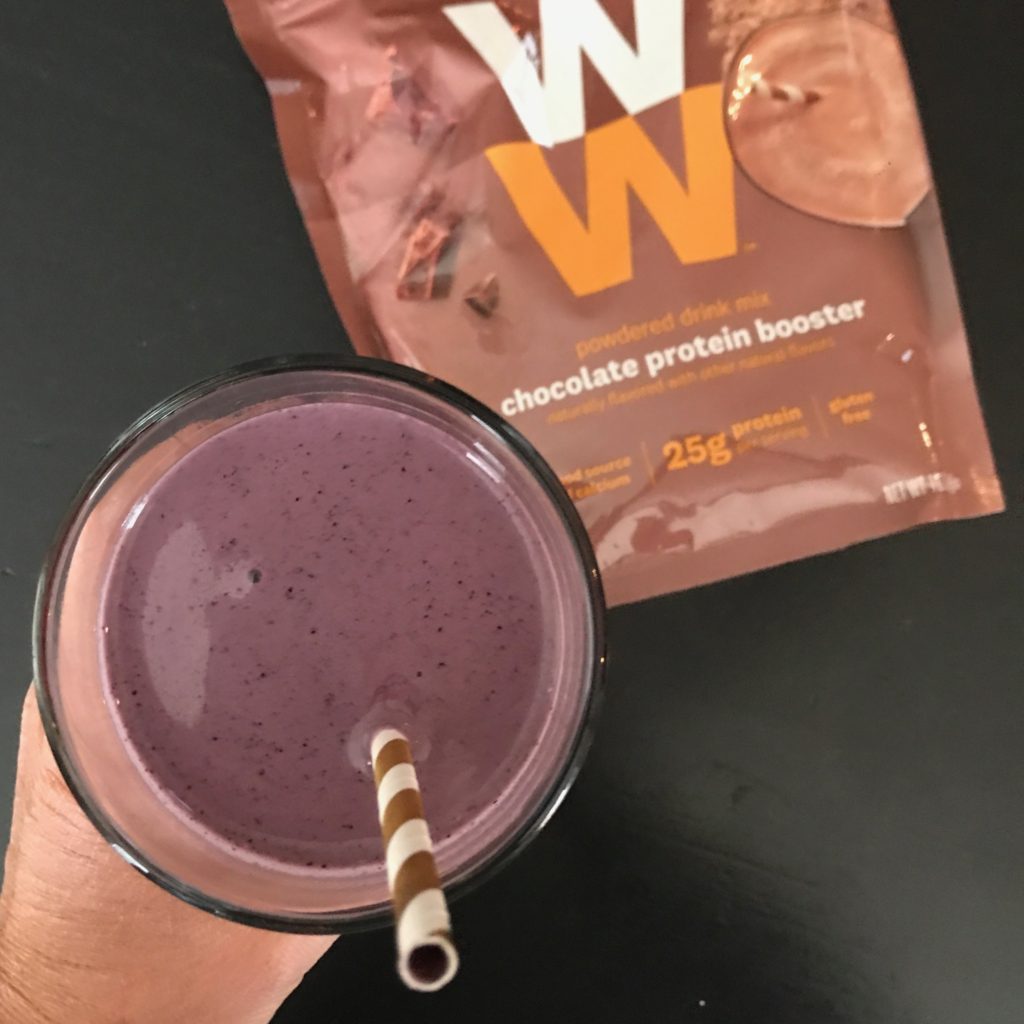 Have you tried these little cookies? I crushed one over my Vanilla Yogurt. Uh…..yum.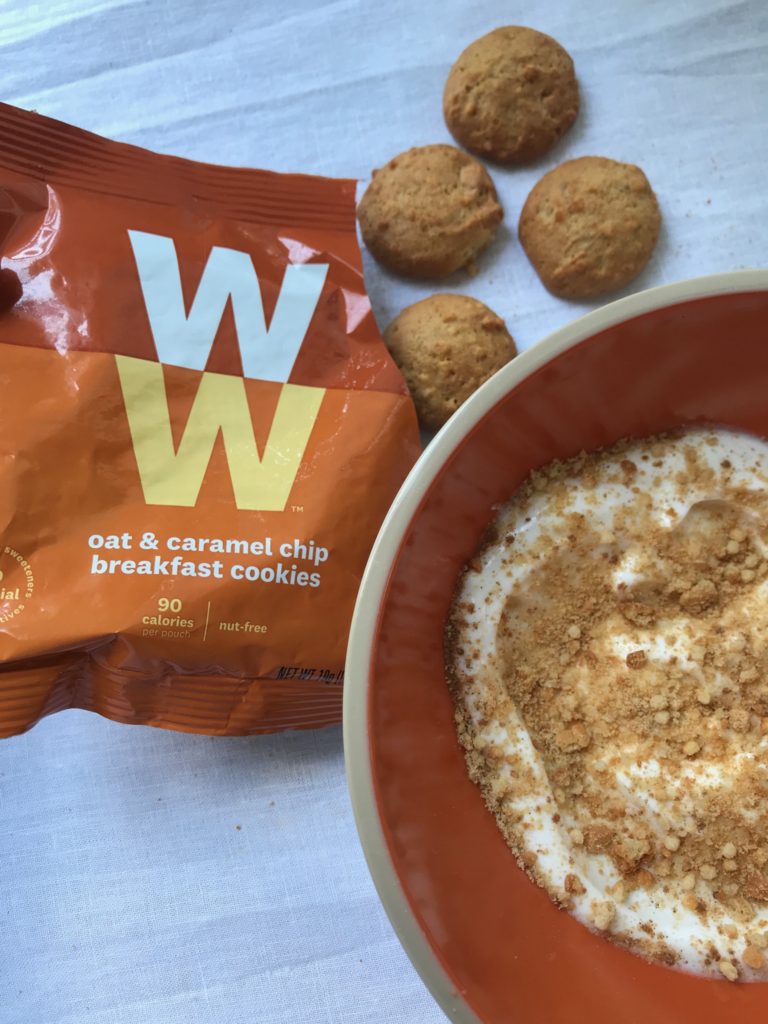 My current favorite Yogurt and Granola. I just bought more of this granola on Amazon. They also have a Maple flavor.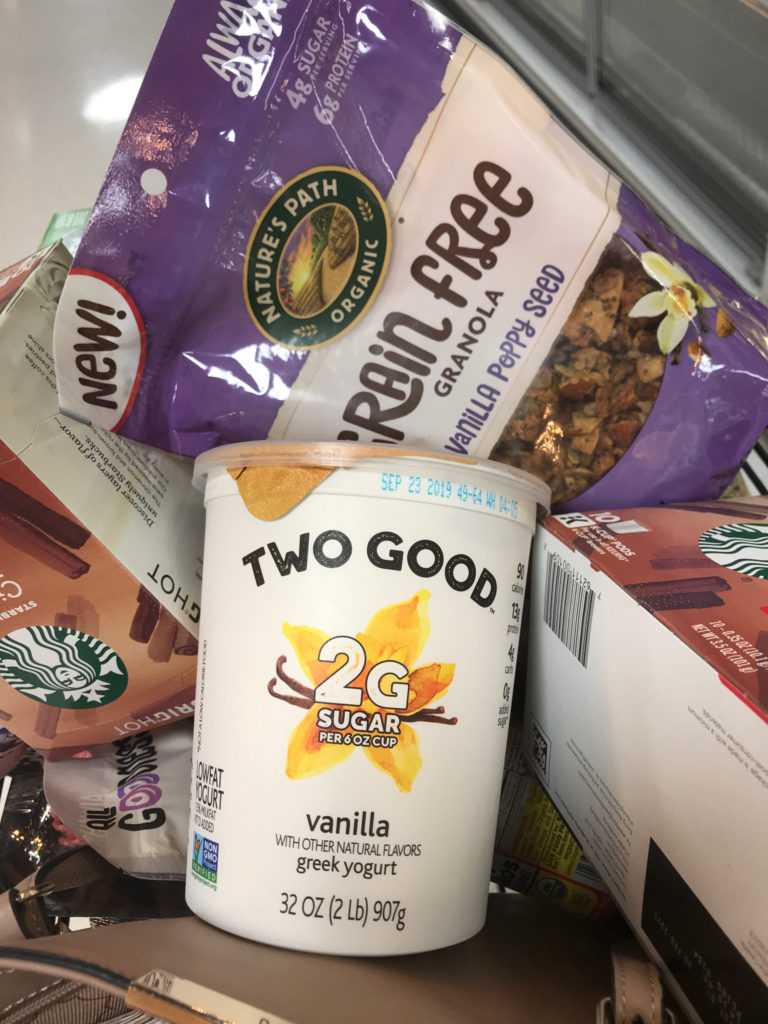 Because it is time for Pumpkin, (Who am I kidding? I eat Pumpkin all year, I just don't tell everyone.) I whipped up these One Smartpoint Pumpkin Bars from Linds over at Pound Dropper. They are very subtle and not too sweet. I'll be making them again for sure!
Have you made my Steak Soup? I'm kinda digging it.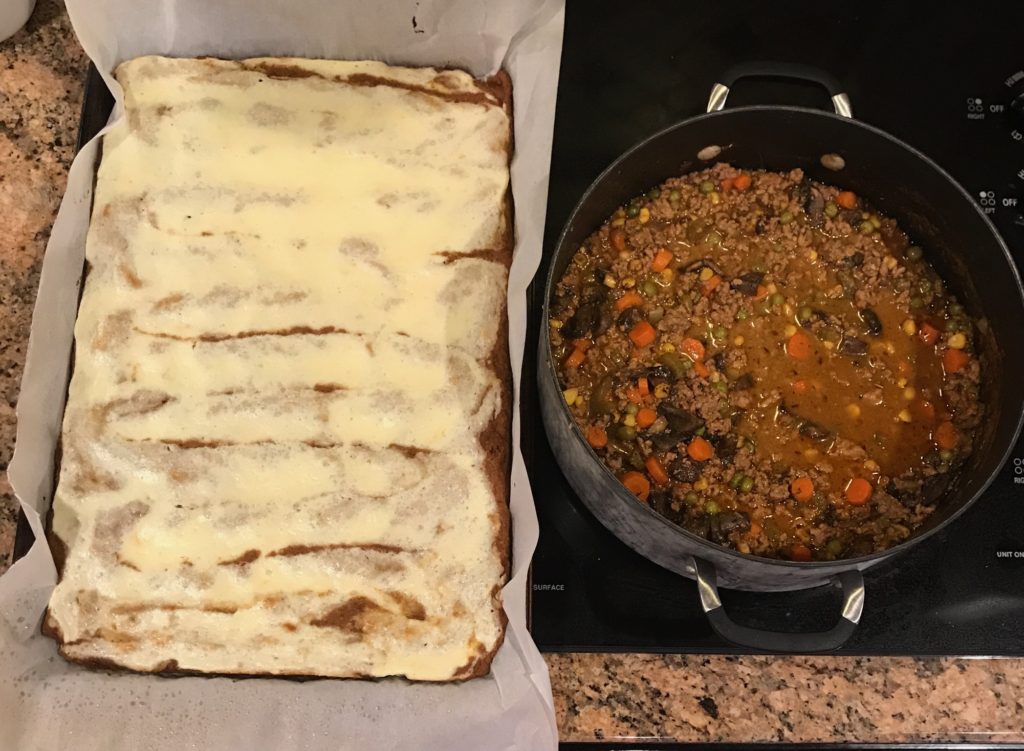 Ate some. Froze some. Took some camping and shared with my new friends.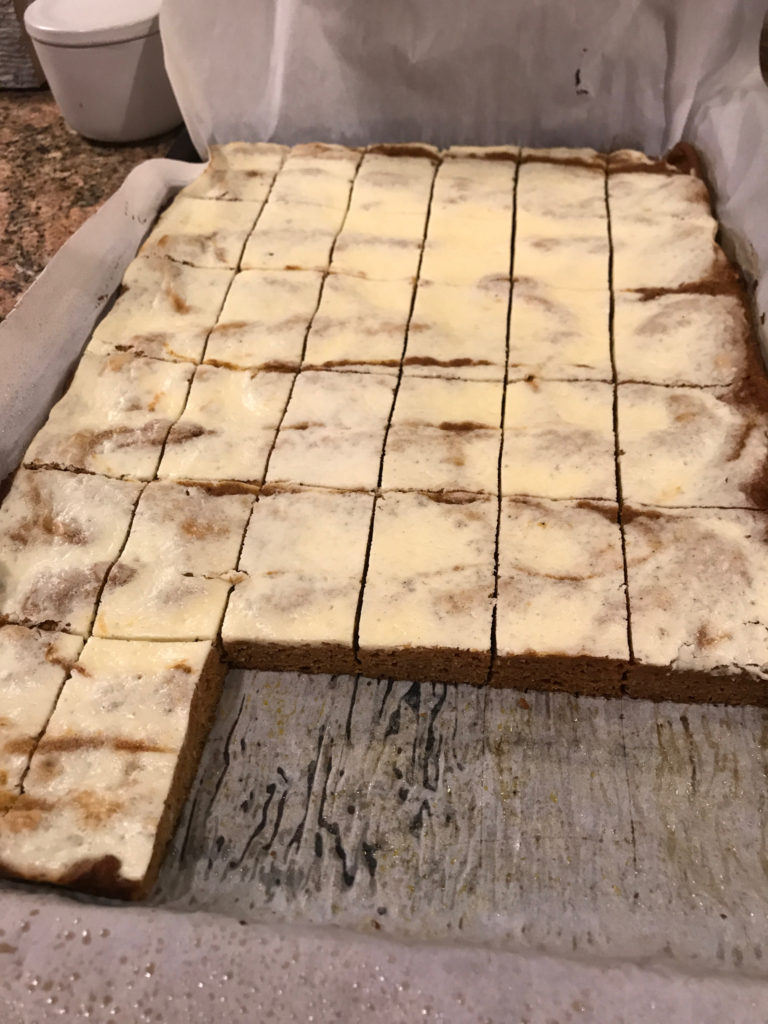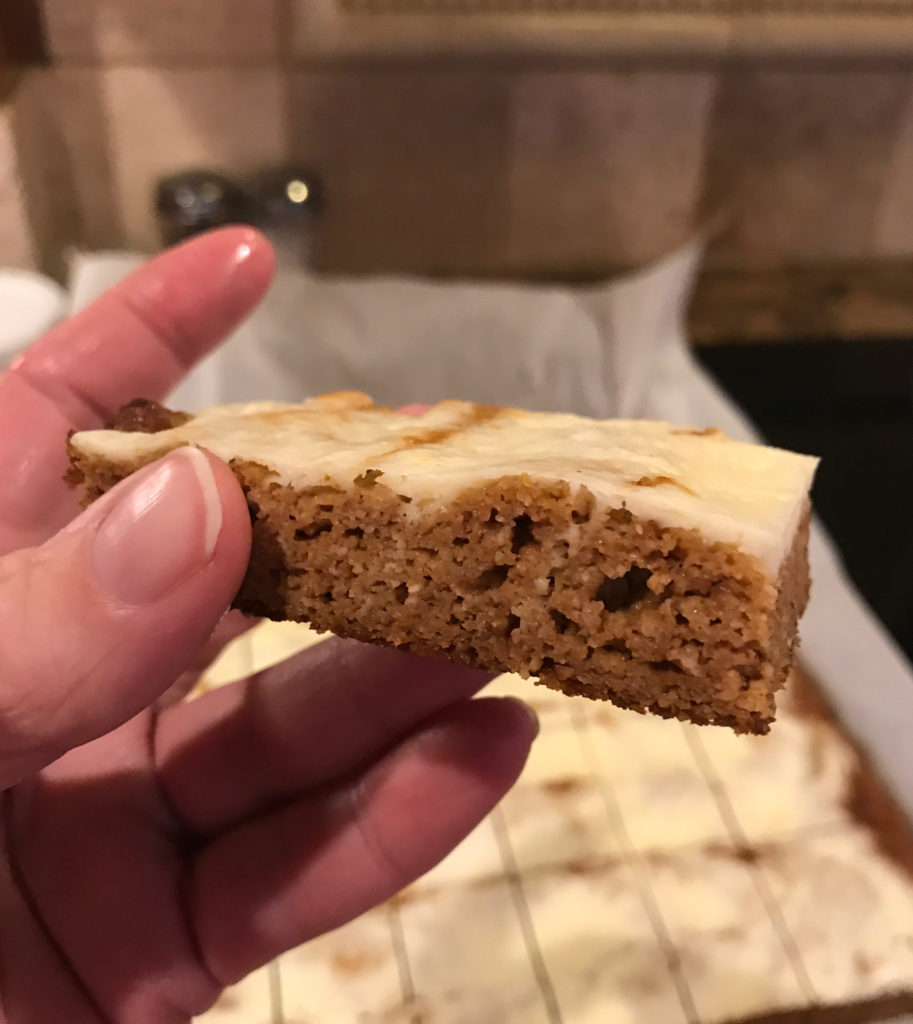 Because I will forever be in love with Eggs and Avocado and simplicity.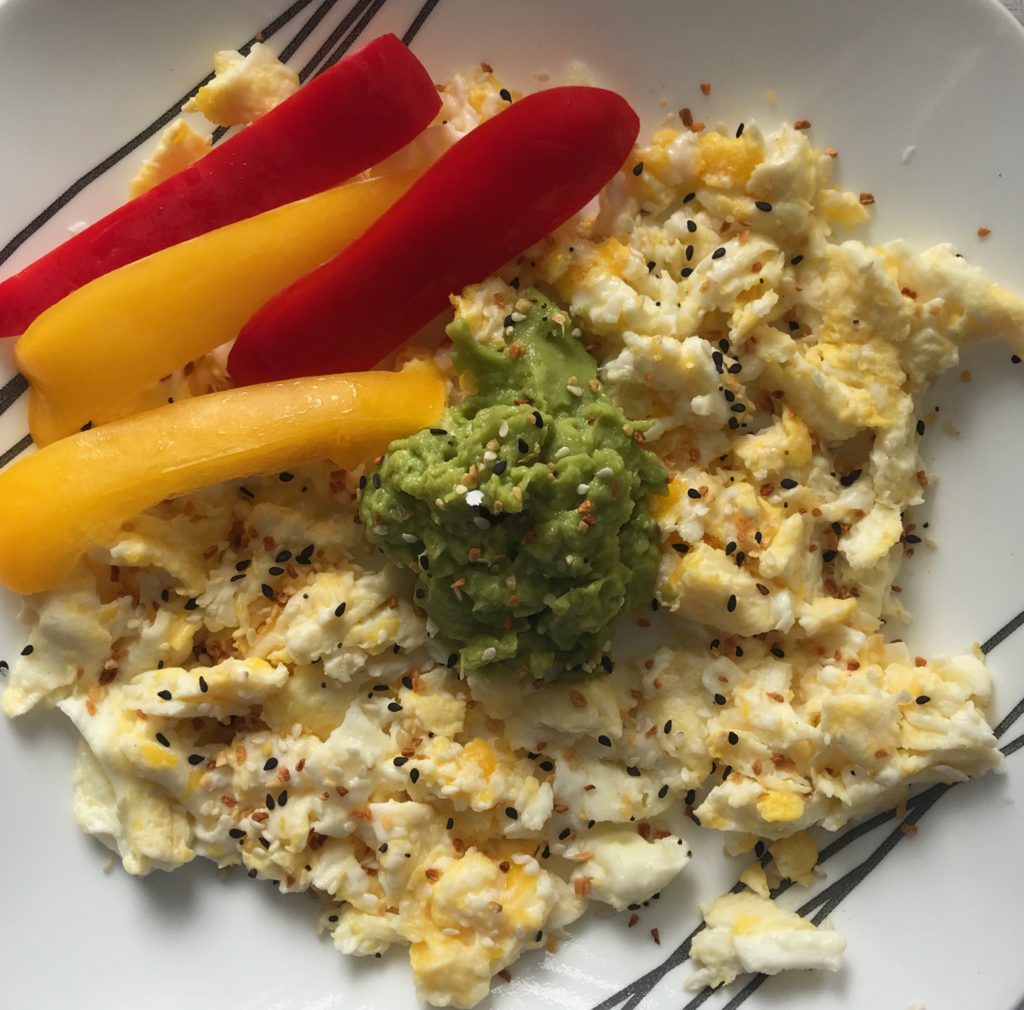 Salad Bars are my "go to" Lunch these days. I choose lots of Zero Smartpoints options then top with a drizzle of Olive Oil and Vinegar.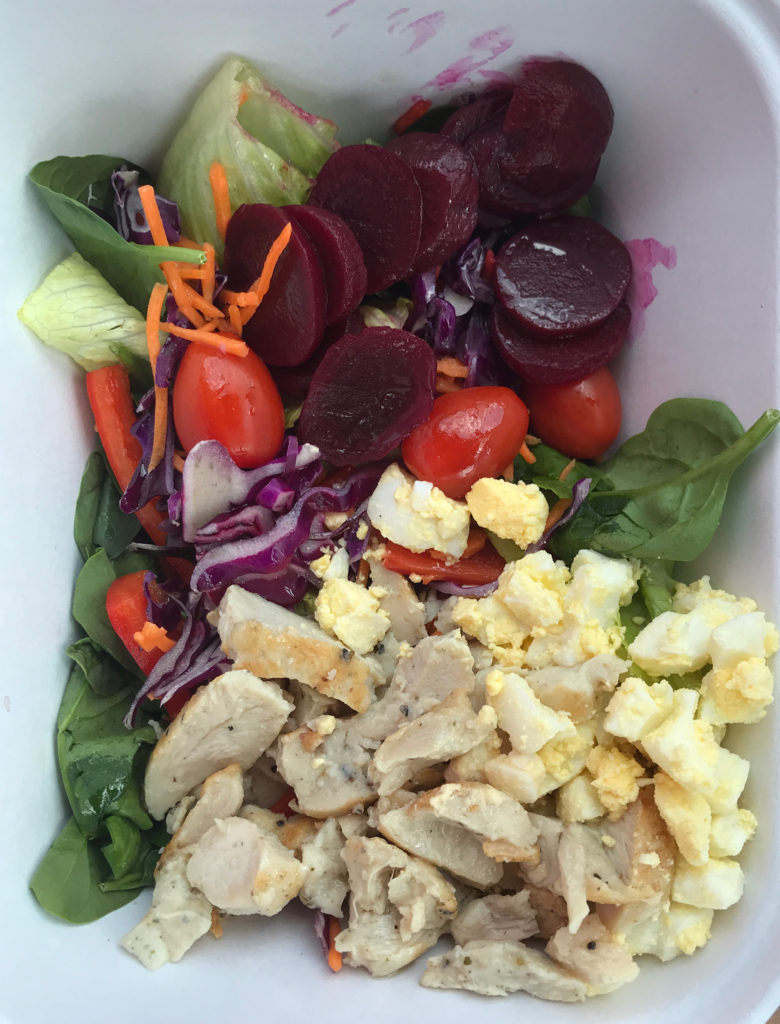 When eating out, this is always a delicious option for me.
Chicken or Shrimp Fajitas. No Beans. No Rice. Extra Peppers and Onions. Occasionally I'll have corn tortillas, but usually skip on those and spend my Smartpoints on extra Guac and a cold beer. I have my priorities.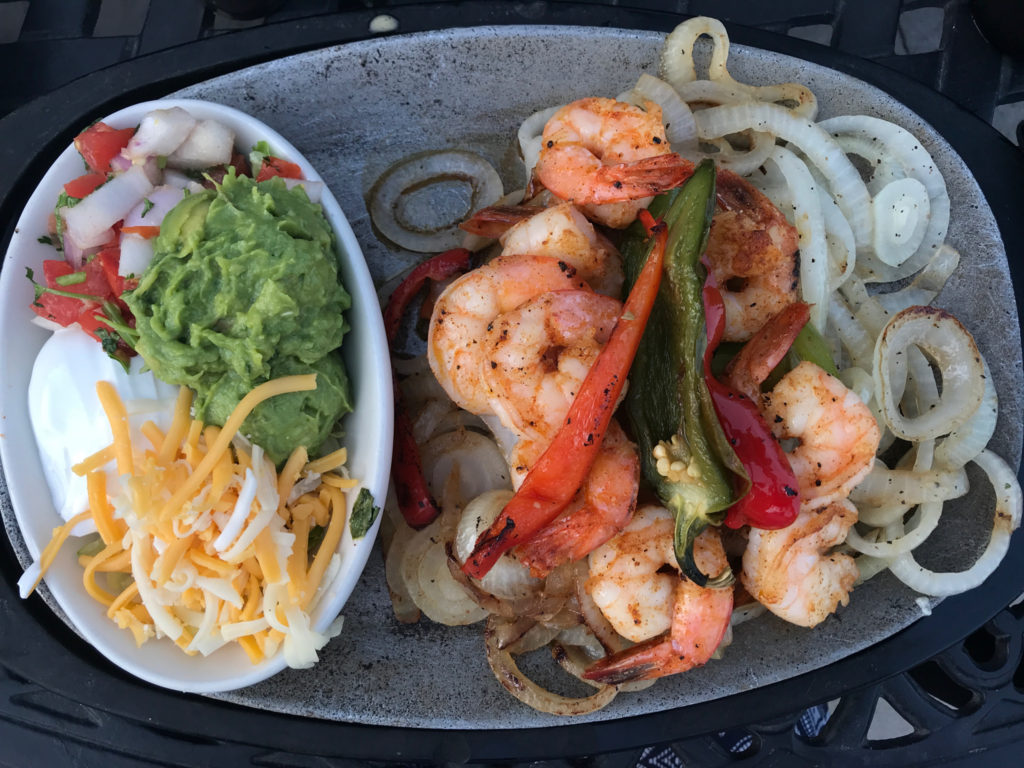 Another great option for eating out is Zoe's Kitchen. If you have one close by and you haven't tried it, GO! Zoe's is in the WW App!
This is the Shrimp Kabob with a side of Roasted Veggies and the Greek side salad. I also love the Mediterranean Chicken.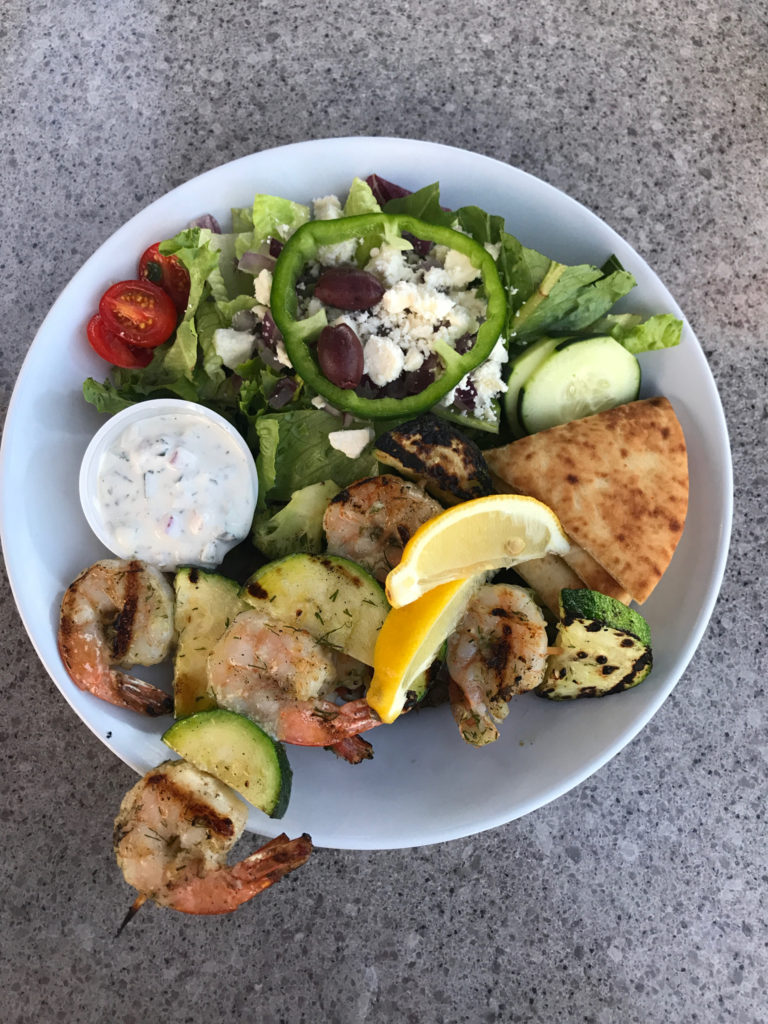 I've actually made a few things at home too. Surprise. I know.
This was as simple as simple can be.
Store bought Cauliflower Pizza Crust (so many options out there in your local grocers freezer, or go all out and make your own) with pizza sauce, Cooked shredded Chicken, Trader Joe's Roasted Corn, Cheese and then add Guac right before taking your first bite.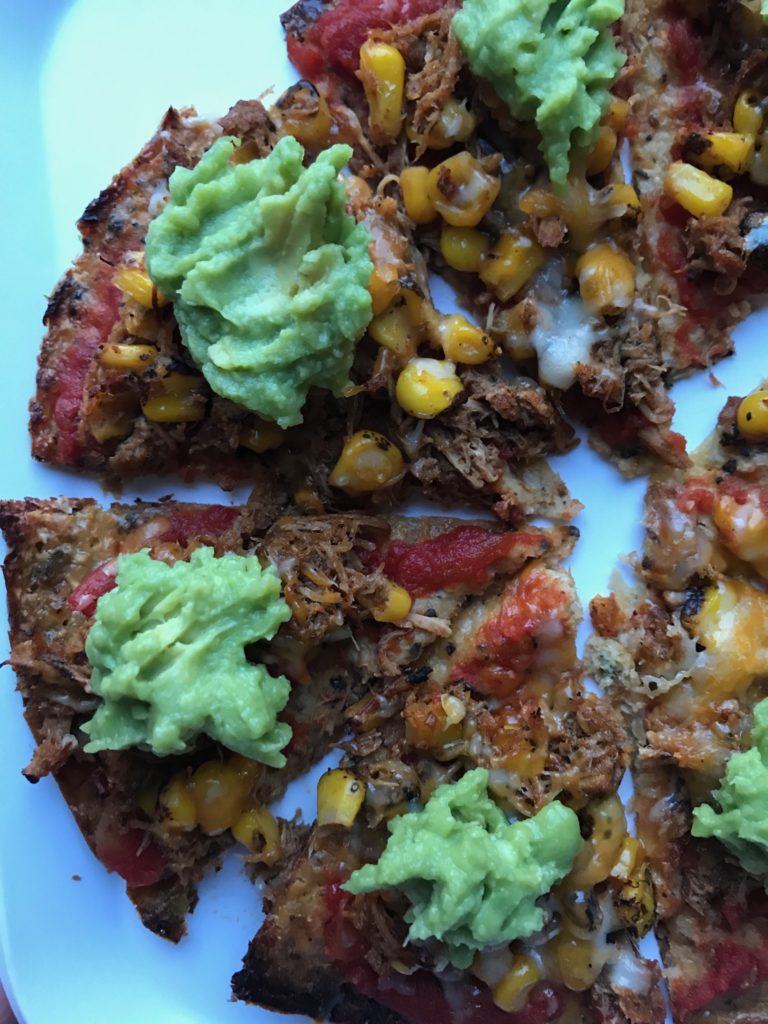 I love Roasted Spaghetti Squash and I'll put pretty much anything on top of it. Maybe not Pumpkin Oatmeal. I mean I have a little sense.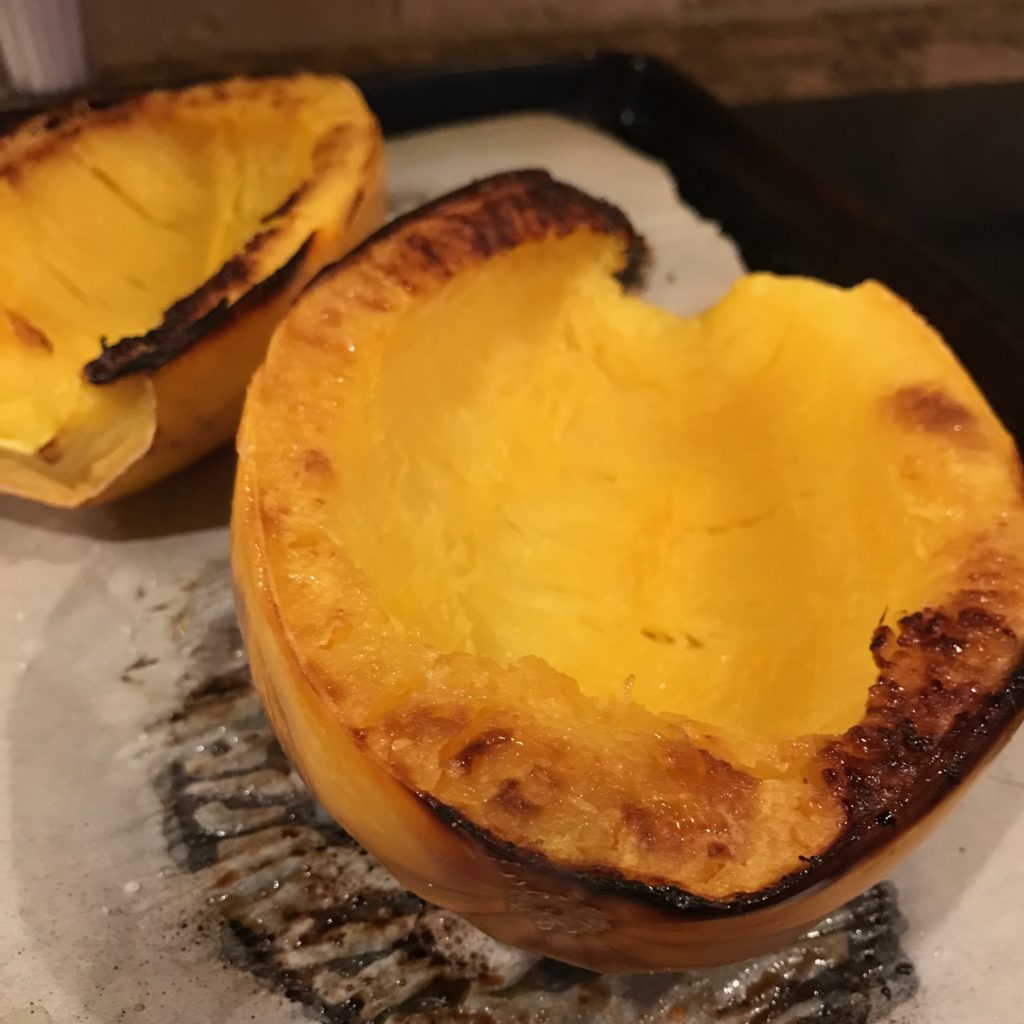 Of course, traditional Spaghetti Meat Sauce is amazeballs. Not to be confused with meatballs.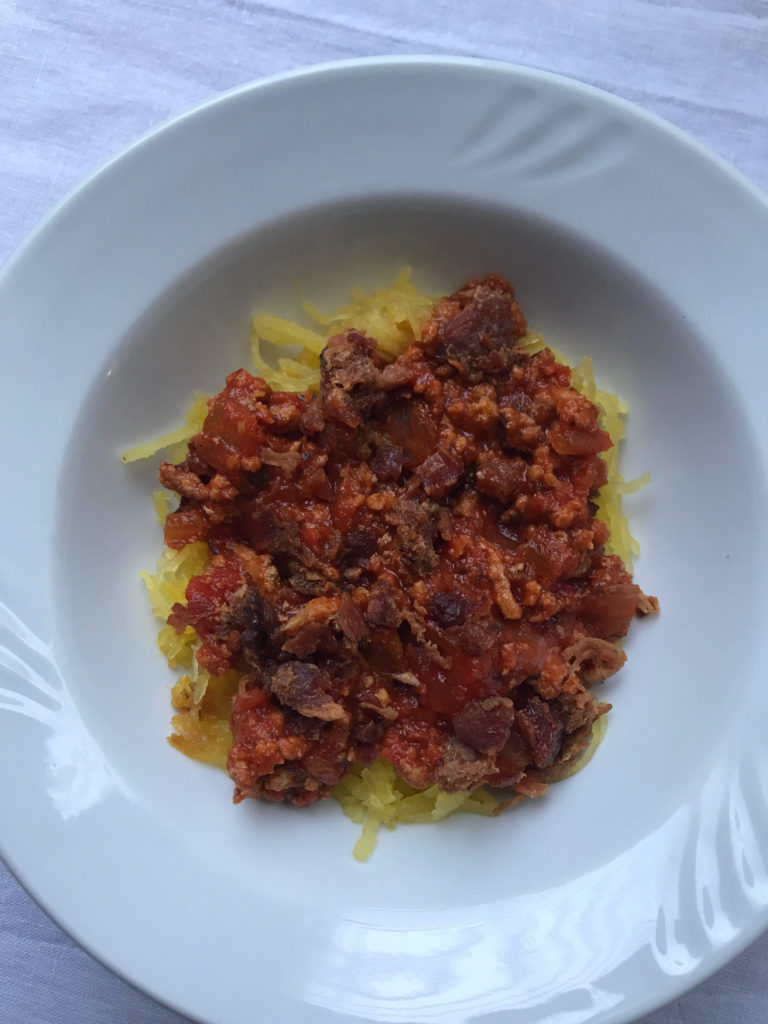 Shredded Chicken on top isn't bad either. Maybe better. Maybe. Mix thinks up a bit. Step outside of your food box.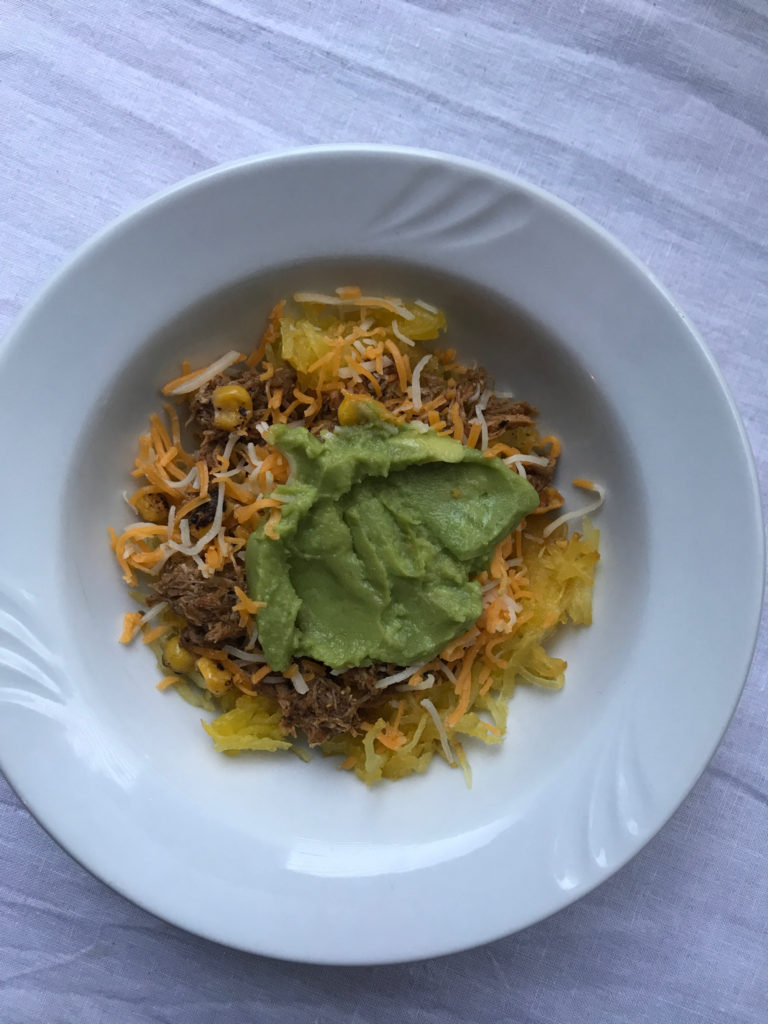 I'm on a shrimp thing here lately. Lets be real. It's Zero Smartpoints and it cooks up in minutes. Why not?
This is one of my favorite Trader Joe meals. Thaw shrimp overnight in the fridge. This Cauliflower rice needs no seasonings. Its great as is! Maybe salt.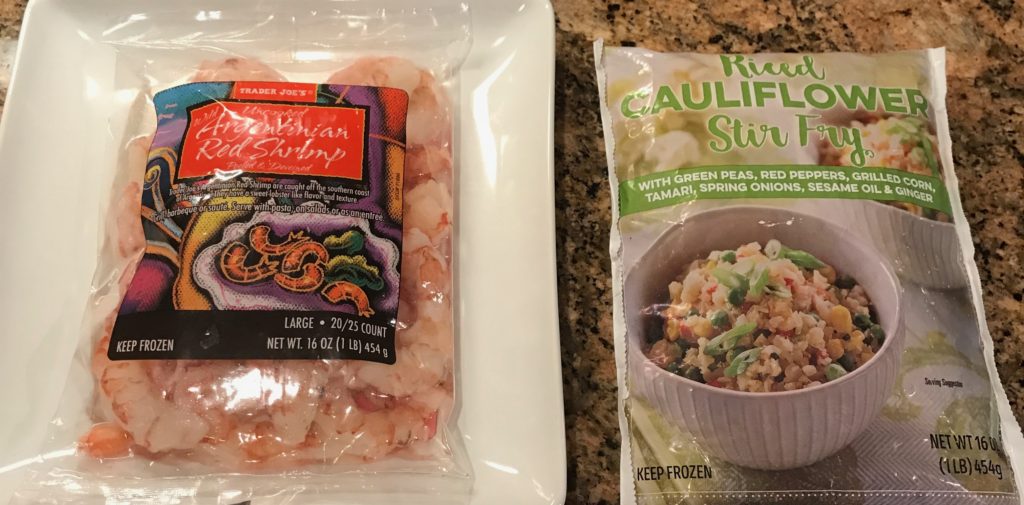 I cook the shrimp in 2 T of butter in one skillet (3 minutes per side) while cooking the Cauliflower Stir fry in another skillet in 2 T of Olive Oil.
I divide this into 3 servings.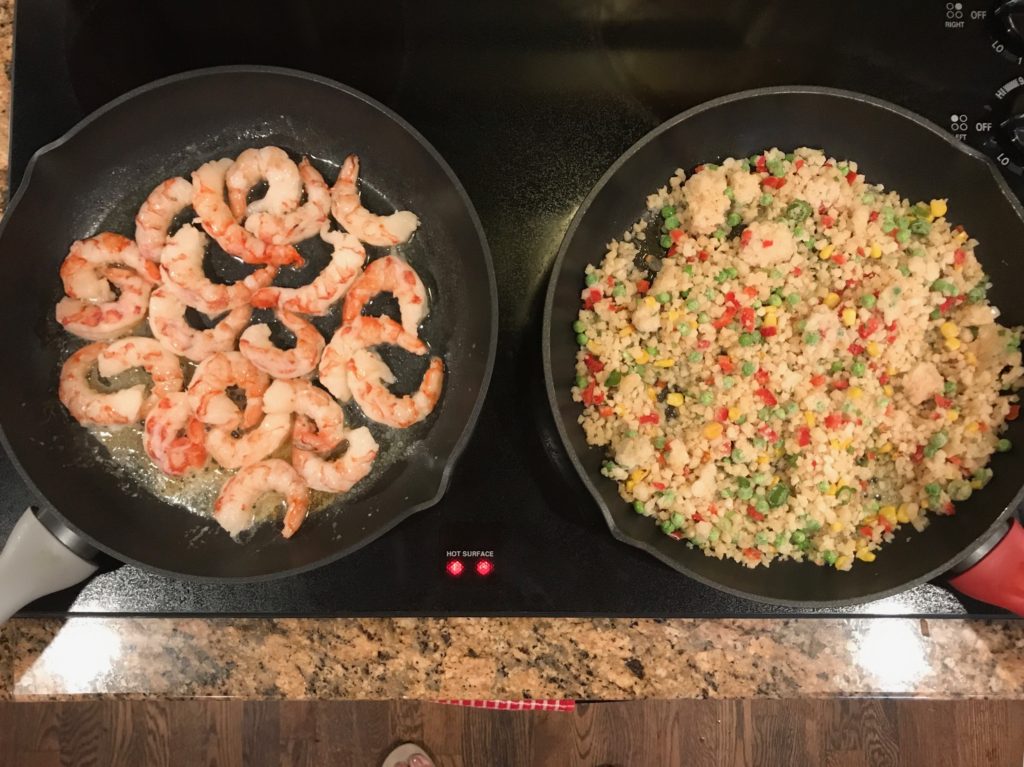 Dinner in about 10 minutes.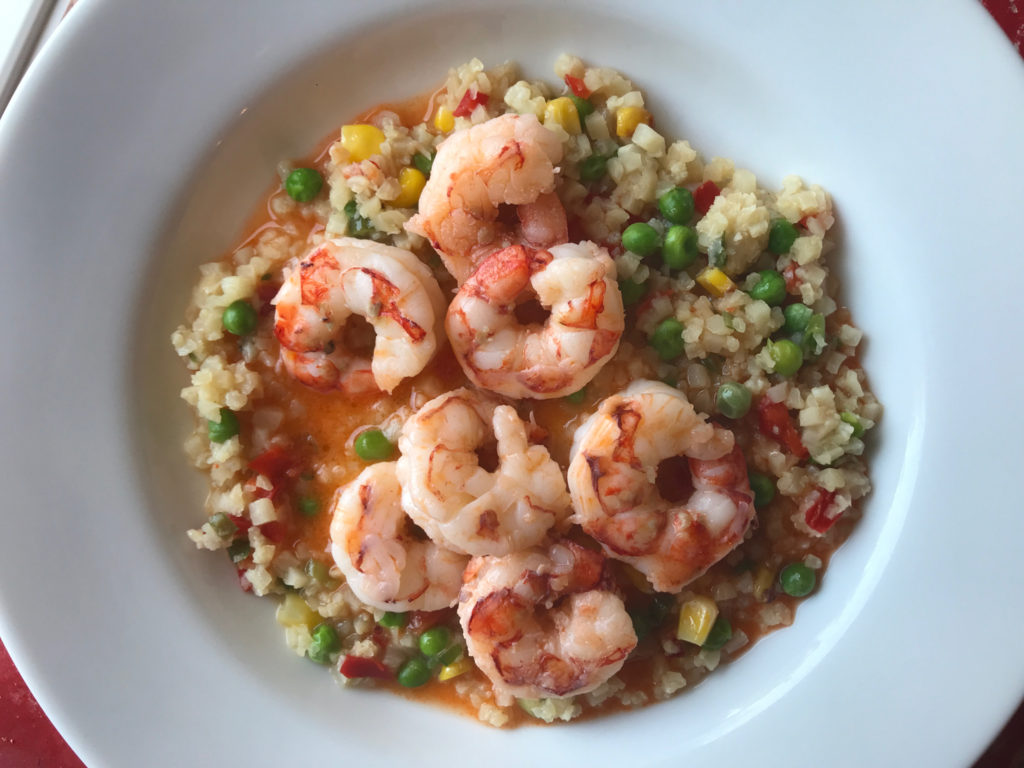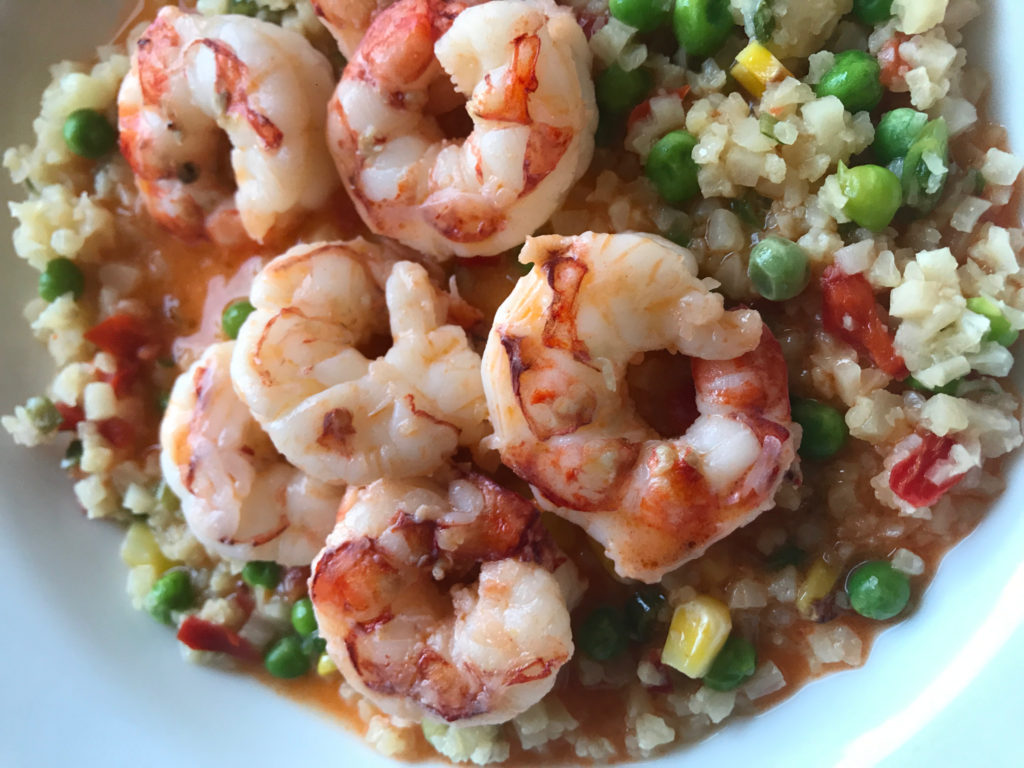 It was a perfect day for the City Market yesterday.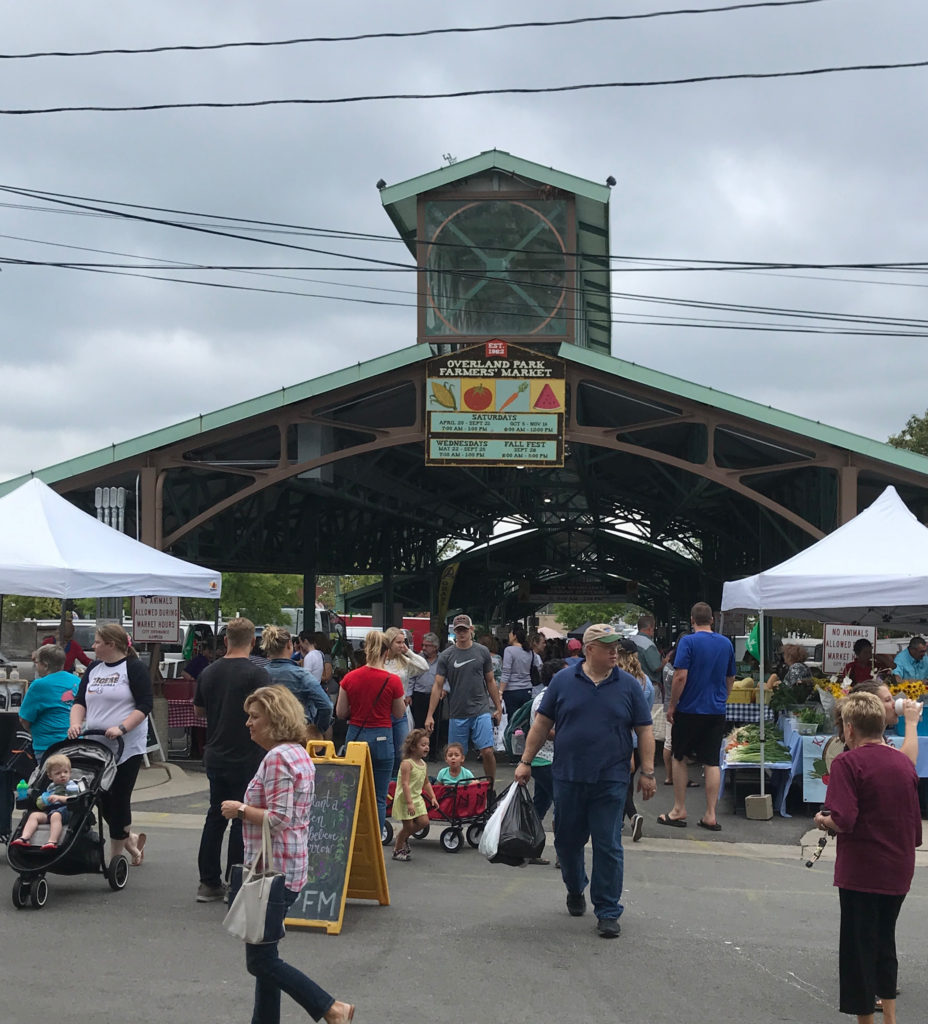 I totally dressed for Fall and it was cloudy and rainy. I was SO happy. I also did a little clothes shopping!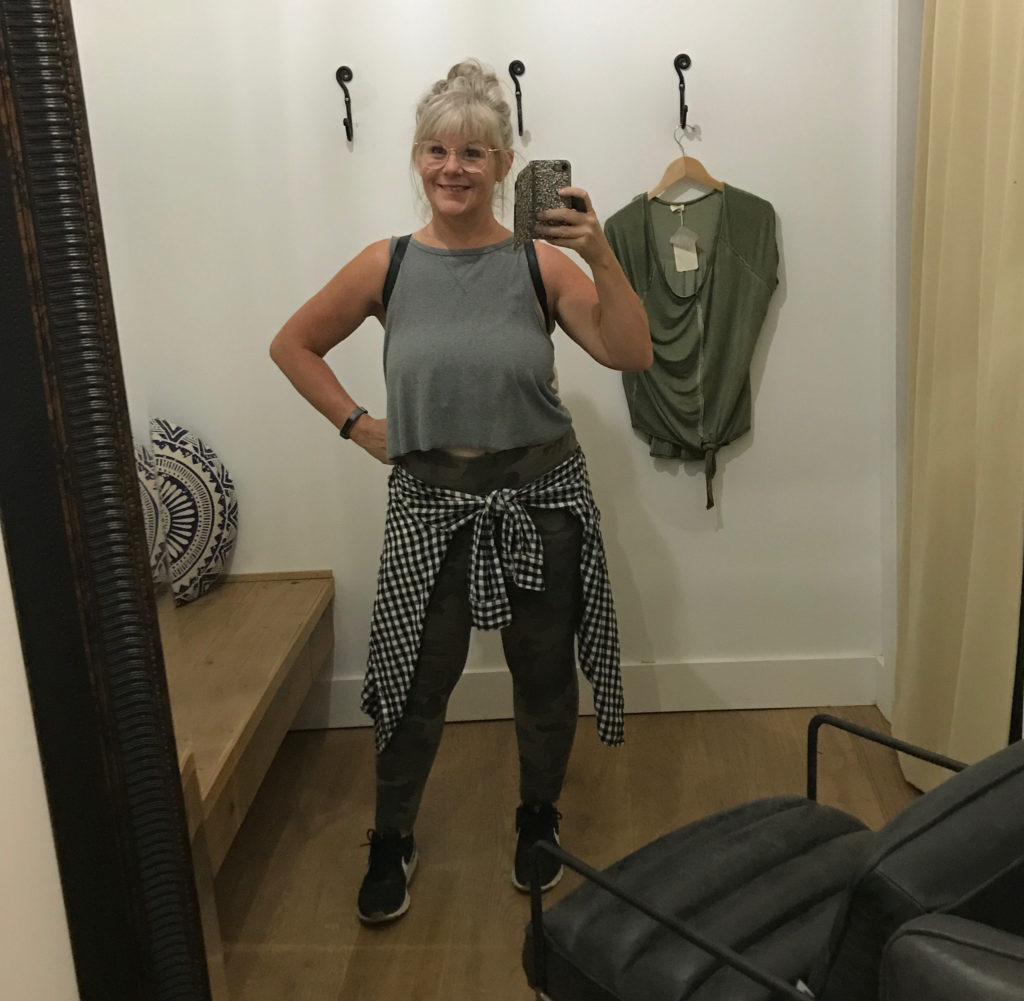 Is this adorable? All Vintage trailers are adorable.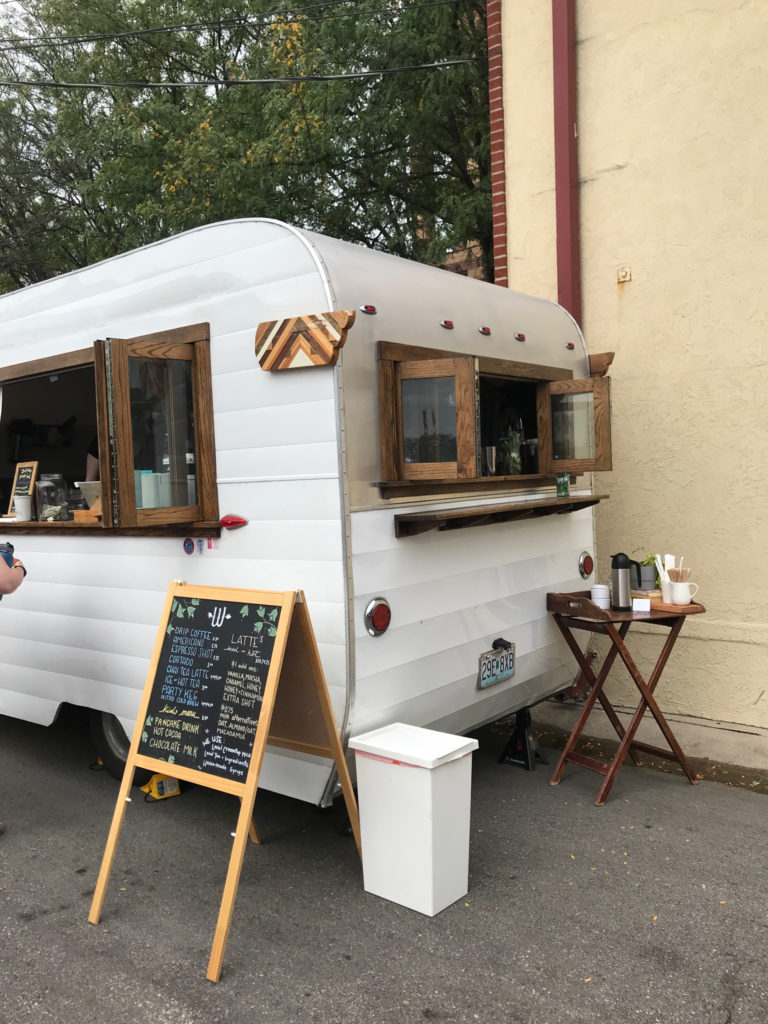 They only had whole milk, and let me just tell you, this was soooo creamy and yummy.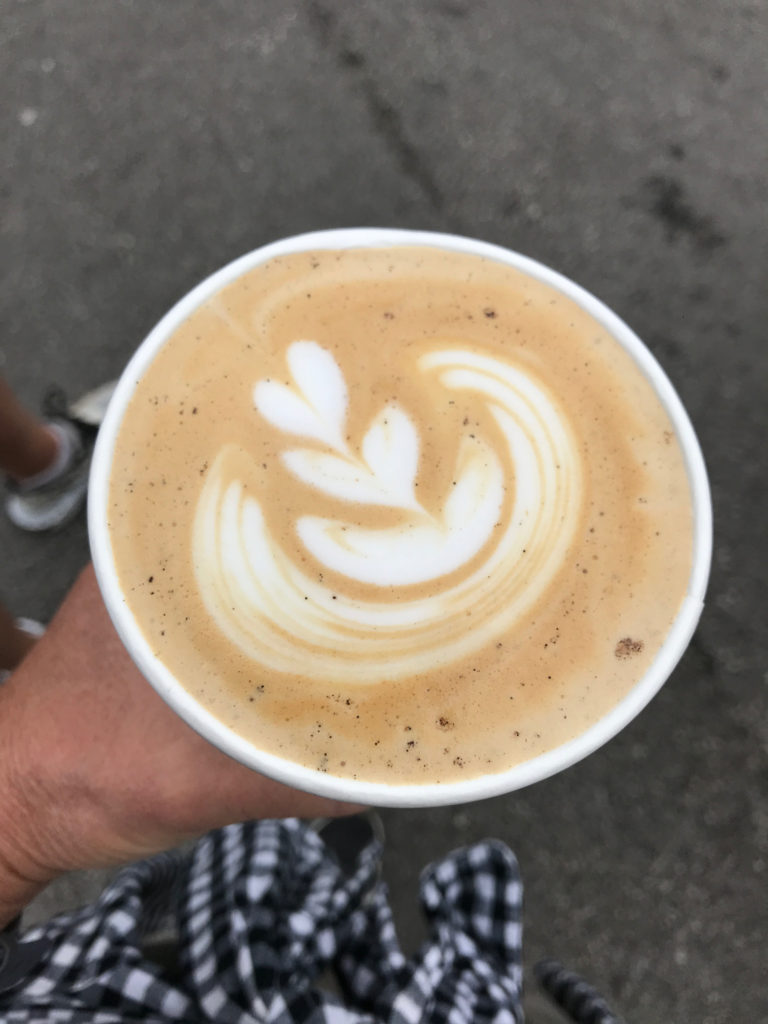 Looking forward to trying these little Pink Oyster mushrooms. The vendor said they taste like bacon!! WHAT???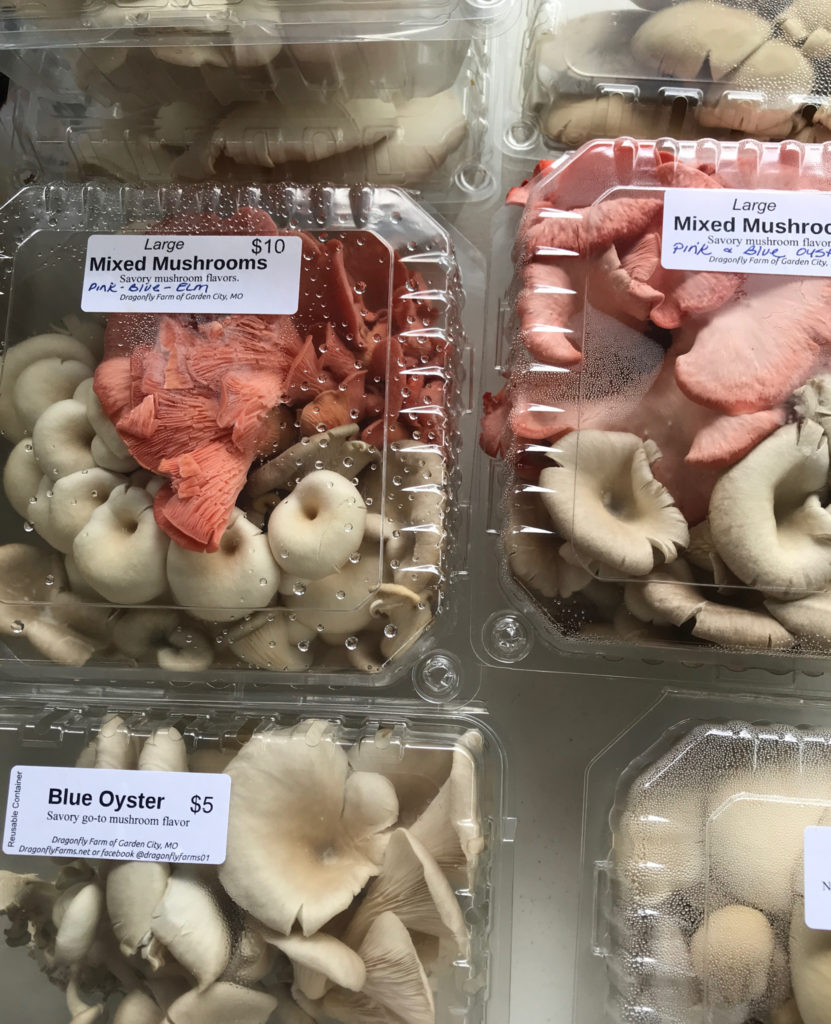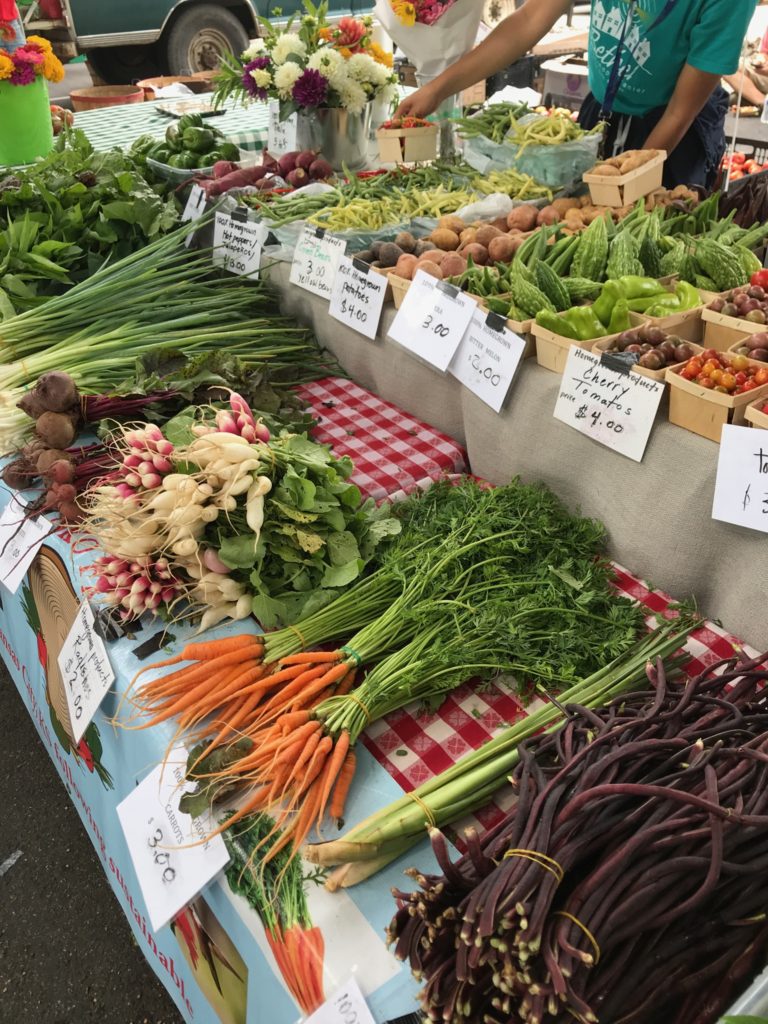 I'm sorry if you get tired of me saying I love my job.
I love my job.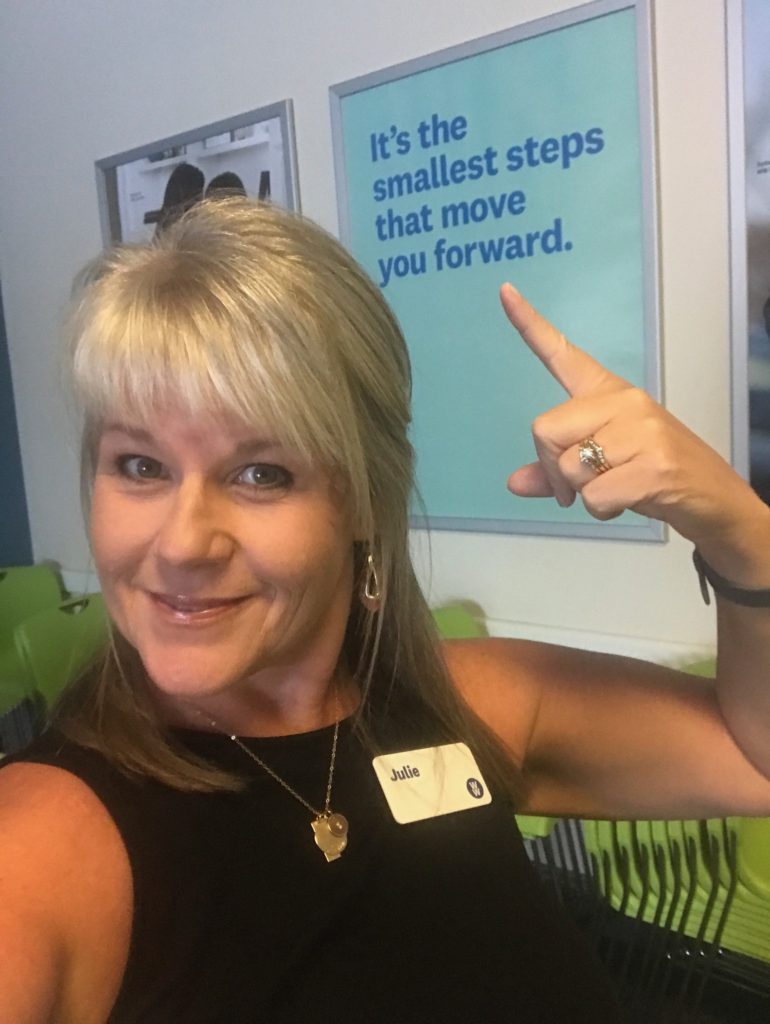 My recent Instagram Post……
Being in this room with these green chairs filled with amazing members is truly the best job I ever could have dreamed of. As a member I felt encouraged, motivated and inspired to be my best self and discovered what exactly that meant. Now having the opportunity to meet so many wonderful members is something I am truly grateful for. Every member is important to me. I try to have as many personal conversations as I can each week so I know what it is that they are needing. Sometimes it's just a hug and a reminder that they are worth it! We are all worth it! Whether you are a WW member or not, believing in yourself is a huge part of reaching your goals. One small step at a time. 💙
Wherever you are on your health journey, YOU can do it!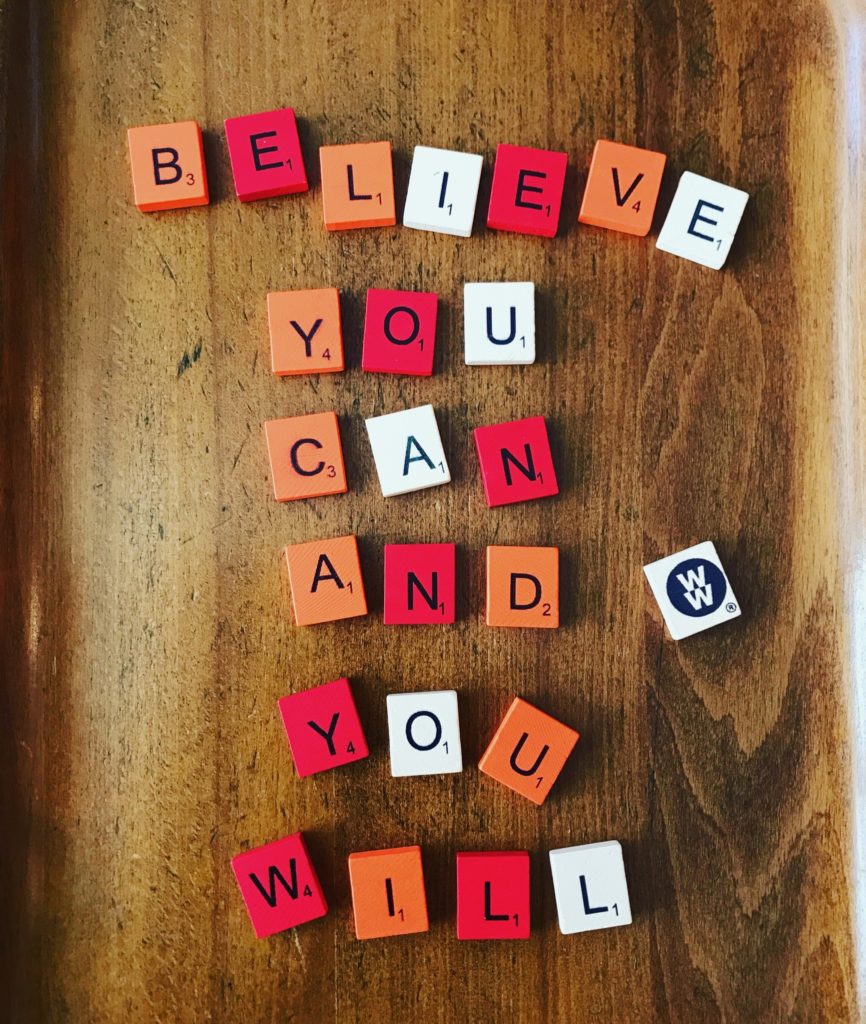 I love you all!
"love the life you live, live the life you love"