Hi Friends!
Here is my Instagram post from my most recent camping trip with my pops.
My blog and my Instagram page have taken a backseat to my…….well, my life I suppose. I'm not sure if this is a post cancer thing, or an empty nester thing, or a 52 year old thing, I'm not really sure what this is but all I know is that I am truly living Life Well right now and it feels pretty damn good. I'm spending more time with family, I'm putting my heart into my job as a WW Coach, and I'm spending free time doing things I've wanted to do for a really long time. I'm out the door to meet up with my pops and we are headed out on camping trip number two! It's gonna be a hot one!
So that Instagram post pretty much sums up life right now!
Life just feels good. Life feels different than it did just two years ago and I'm not certain that I can explain it fully.
Time with family is more precious. I'm not holding back on the things that I have been wanting to do. I'm making each day have purpose, even if that day is something simple that only matters to me. I'm appreciating the moment. I'm being present.
Two years ago today (July 21, 2017) I was diagnosed with breast cancer.
On Monday, I finally was able to close the door on the reconstruction phase of this cancer thing. In April I had nipple reconstruction and on Monday, I got my permanent areola tattoos. I'm all done! Almost exactly two years! Done!
This is Brad. Brads mom had breast cancer over 20 years ago and as a professional tattoo artist, Brad decided that everyone was doing the whole 3D Nipple Tattoo thing just plain wrong.  So, for the last 20 years while Brad has remained a tattoo artist being creative and fulfilling tattoo dreams at the tattoo parlor/shop/store? Not sure what he calls it, he is also regularly at the doctors office helping women get their bodies back in a way that feels more and more like they did before cancer.
I liked Brad.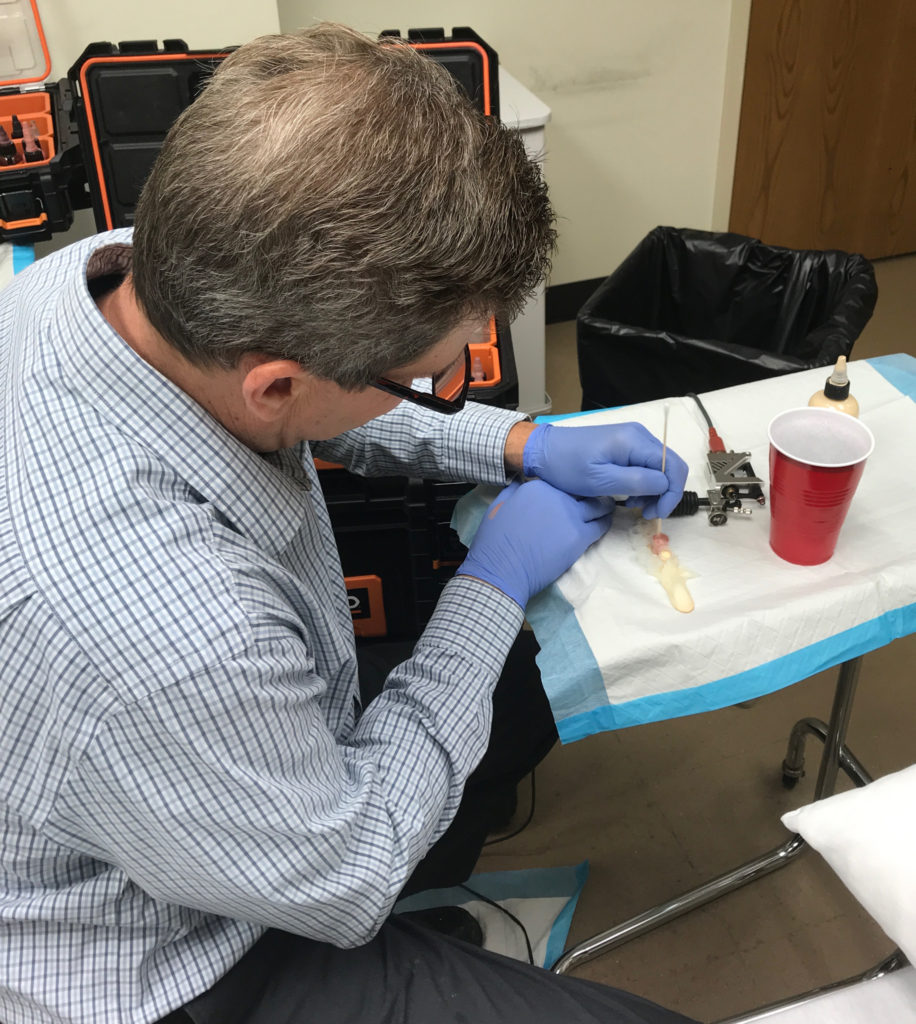 My first look. I have no idea why I got so emotional, but after I left there that day, I totally lost it.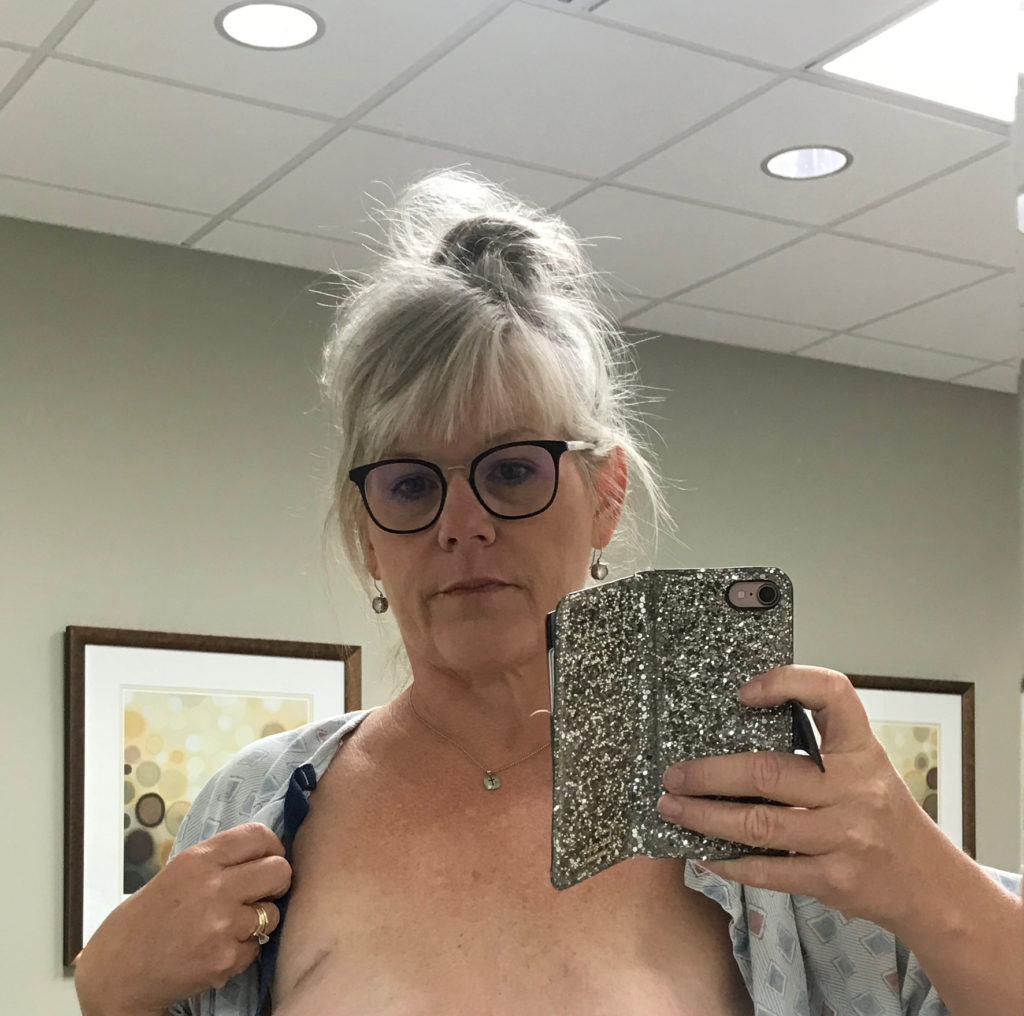 Just an hour after leaving, I had my Monday night WW Workshop to Coach. Again, the emotions. Our topic this week was body confidence and I suppose I was just having all the feels. I got choked up and seemed to have a hard time pulling myself together.
When I posted a picture of my legs in my last post, I did not realized the topic coming up was body confidence. I've come a long way in feeling more confident in what my body allows me to do and not thinking so much about what my body looks like, but that's not to say that sometimes those raw emotions don't seem to surface.
I think it was a combo of closing the chapter on reconstruction, thinking about all of the emotions two years ago when diagnosed, thinking about where I am now with my life and oh yeah, remembering my body is still going through a ton of hormonal stuff.
I have an appointment with my therapist on Thursday, and knowing that feels good.
If you've ever felt like you needed therapy but were afraid to take that step, please give it a try if you think it will help you. I went for the first time in my 20's after my parents divorced. I think the biggest thing that I take away from going to  therapy when I'm struggling with something is knowing that my thoughts and feelings are completely validated for whatever I might be going through at the time. Therapy is NOT a sign of weakness. It can be a very important part of your self care.
I'll be taking the estrogen blocker Tamoxifen for four more years, and that's kind of a bummer due to some of the side effects, but I am managing them as best as I can and I have to remind myself that taking that reduces the risk of reocuurancre for me from 12% down to 6%. 
So I'll still be talking cancer on occasion because I want ALL of my readers to be informed, have your annual physicals, do your monthly self breast exams, schedule your mammograms, get your colonoscopies, whatever screenings you have available to you, do that! Schedule them. Remind your family and friends to do them too! We have so many things that we can do to take good care of ourselves. So get on it! K? Thank you!
Now….here are a few fun things I've been up to since my last blog post.
Jake and Jordan and Wrenley came over one night to hang out. This was her first Bubble Bath in our tub, which all of the grandkids seem to love, but also her first bubble bath ever!
I had my feet in the tub and she insisted on washing them. I'm not sure who was happier!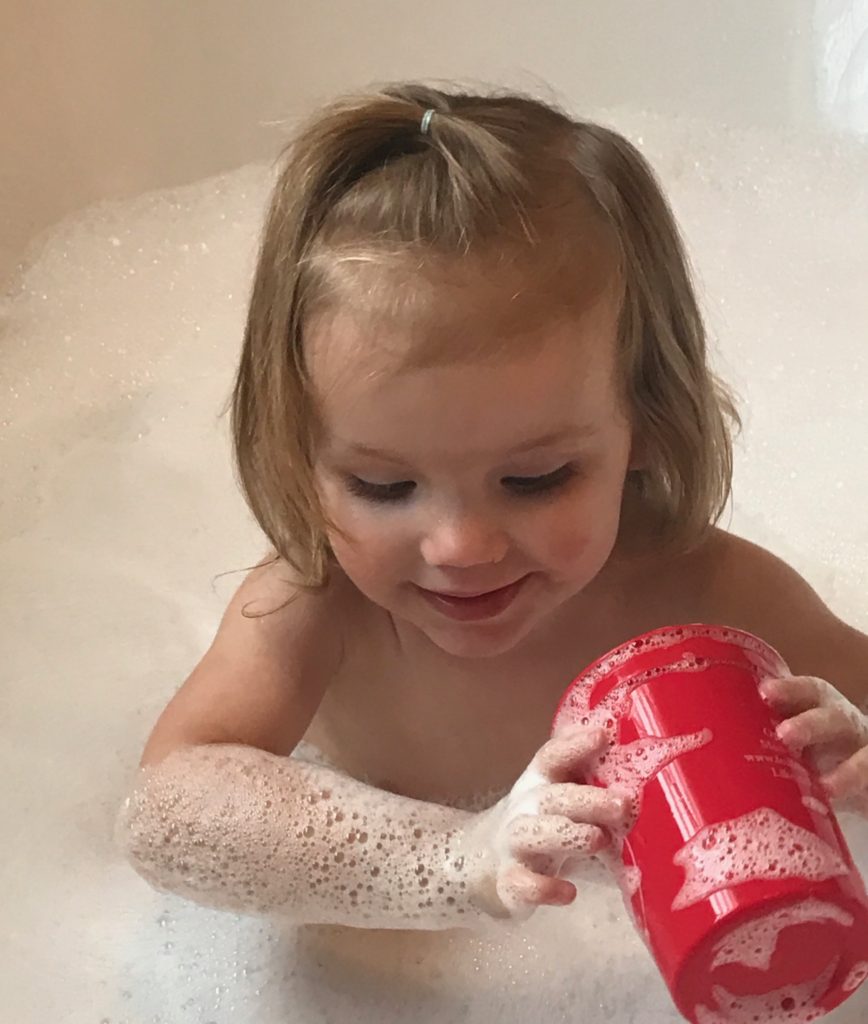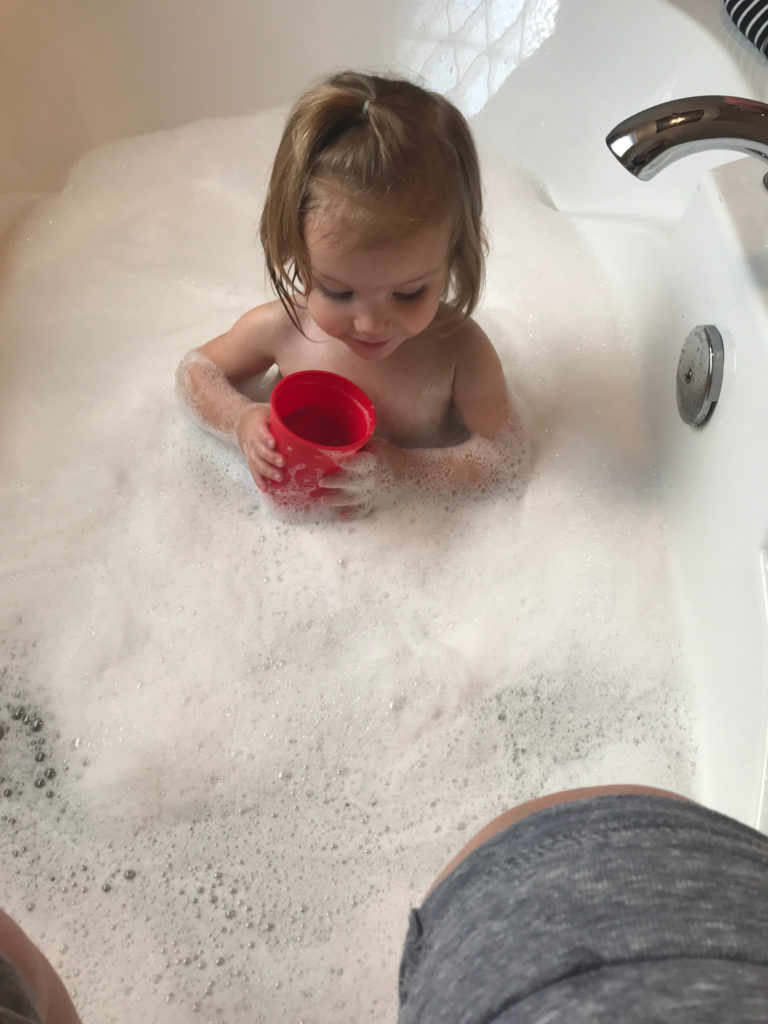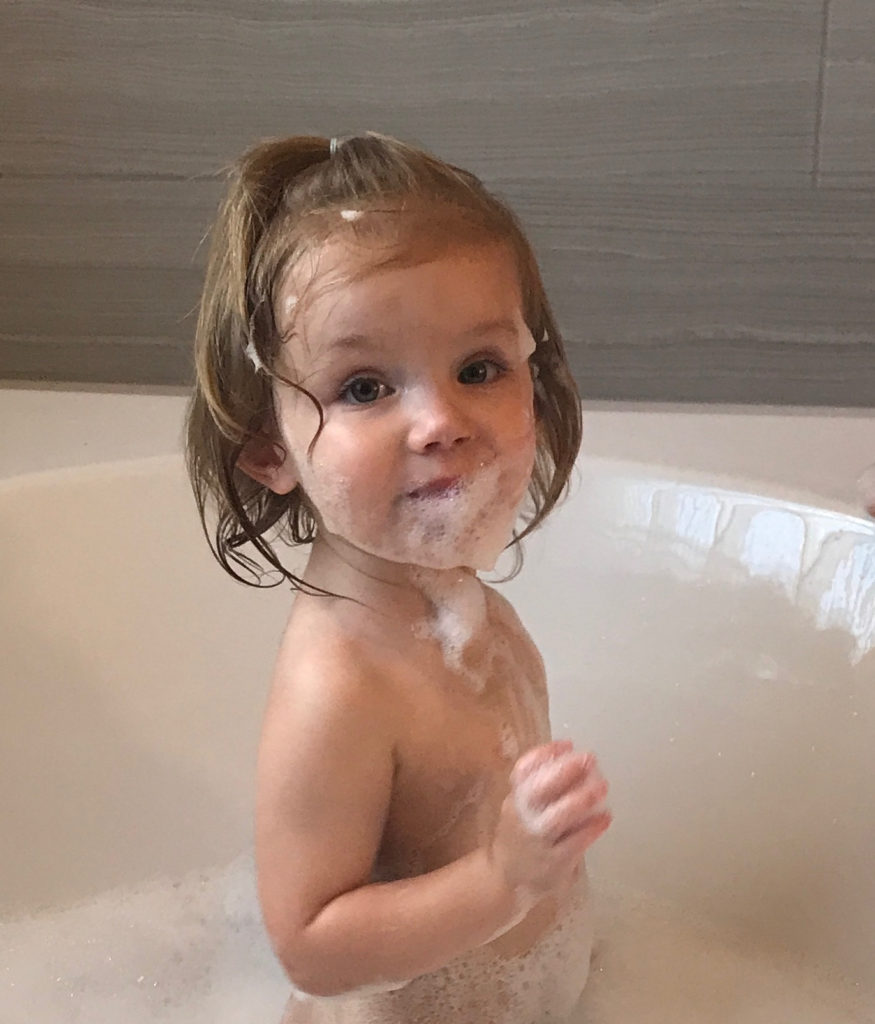 Tess and Manuel (even Tucker) came in from Dallas and we spent the 4th at our daughters (Kate) house and had a great time, even though it poured rain most of the night. This was the first time that we've seen Tess and Manuel since the wedding in March! How is that even possible??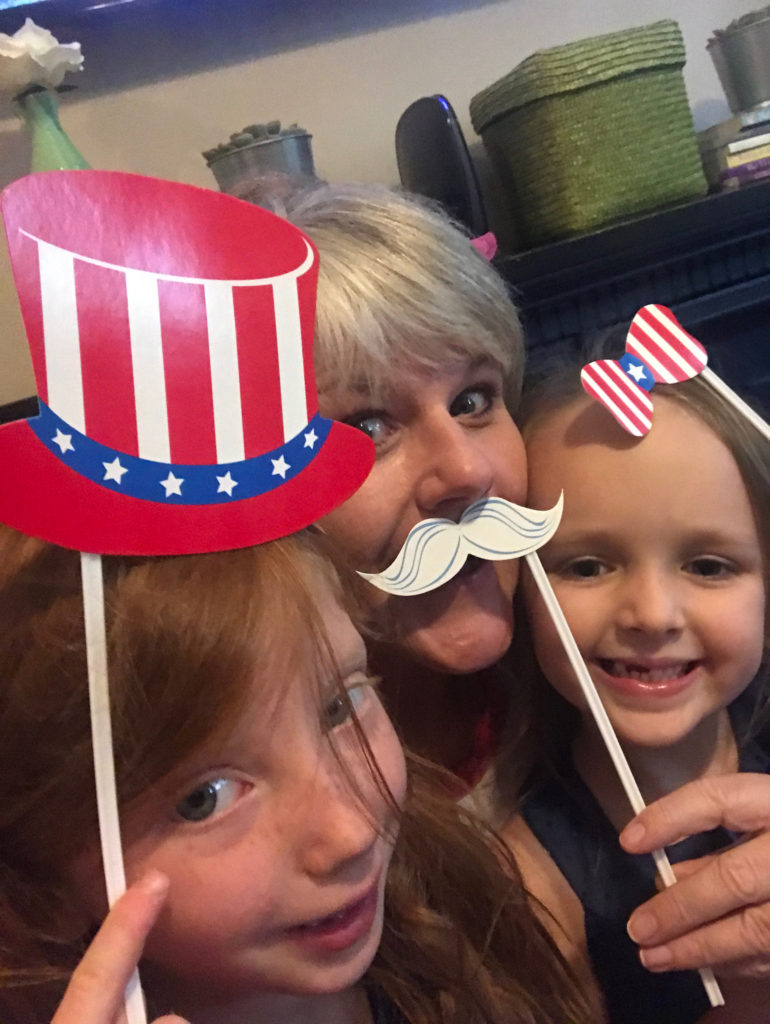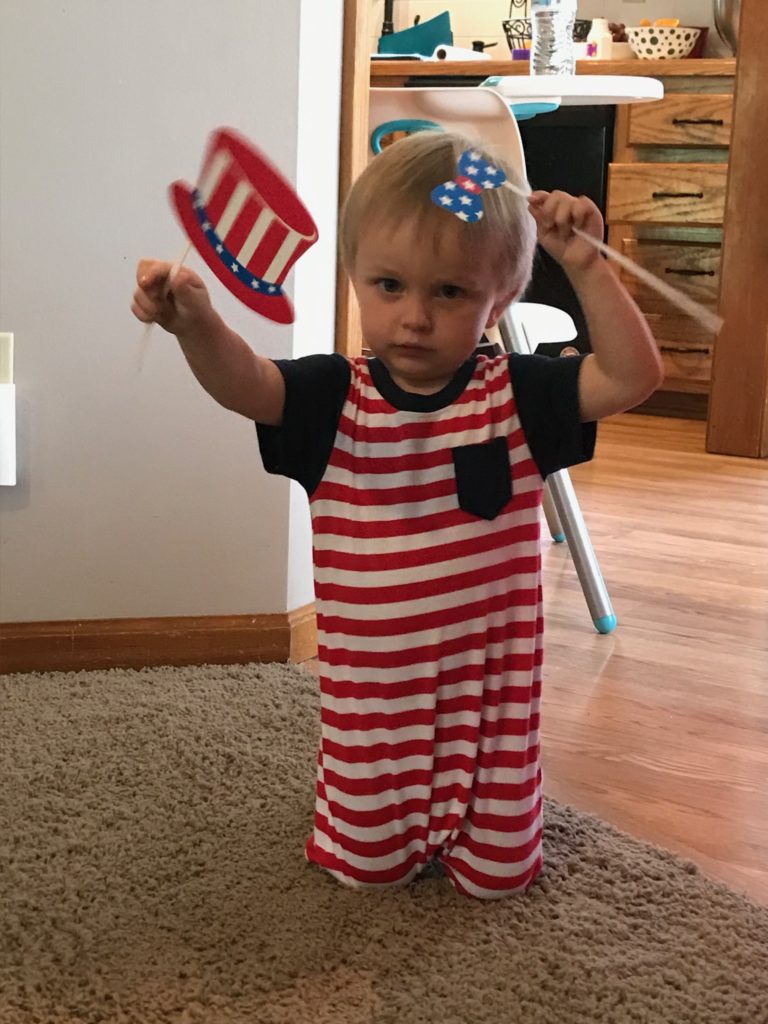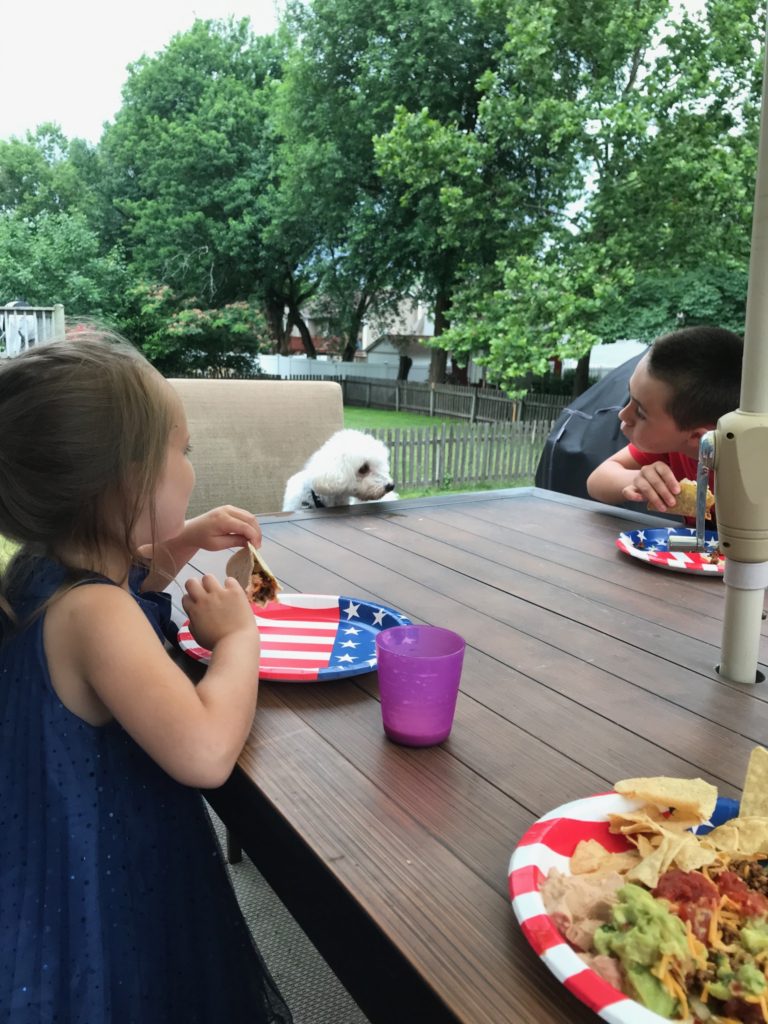 Dinner this week with our daughter Anne and her family. Look at this smile! He is going to be two next month!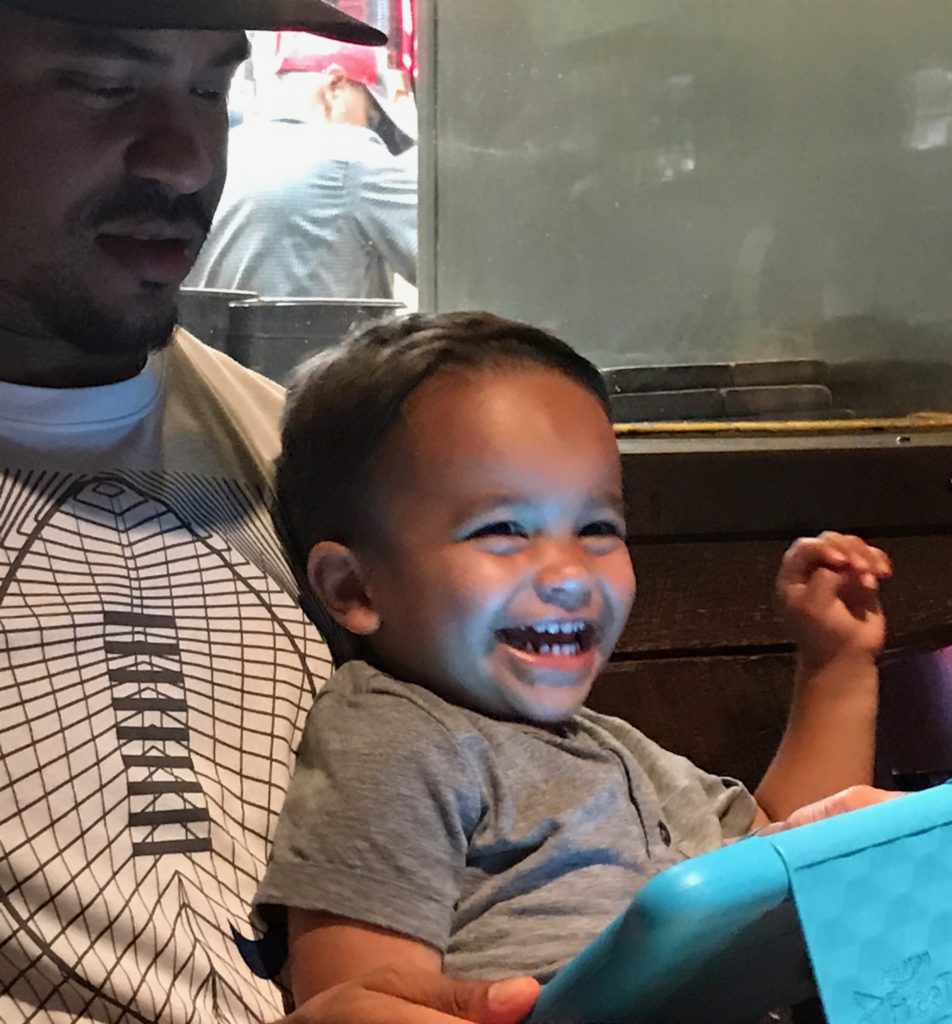 While Tess and Manuel were here, we had a Happy Hour in my little trailer, Effie. Checkers and Beer. I was ecstatic to have guest! Tess posted to Instagram. lol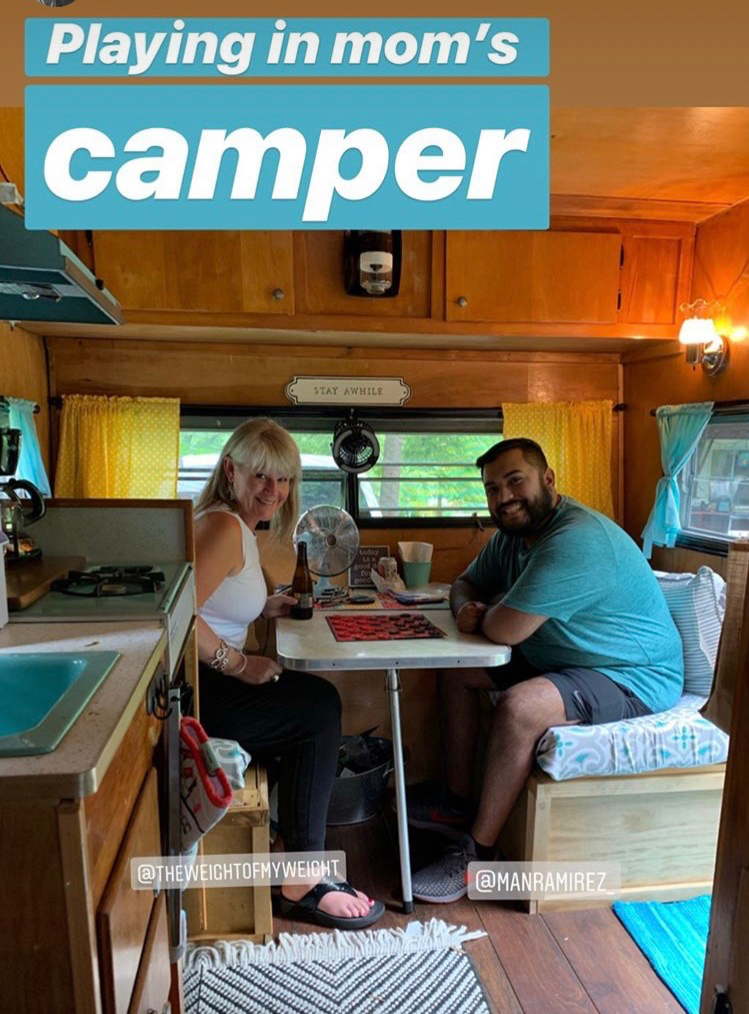 This is Madi. Tess and Madi have been friends since grade school. Madi was to be in the wedding, but this little angel was due close to the wedding date so Madi wasn't able to travel to Dallas. This was the first time that Tess got to meet her baby. Baby girl number two for Madi. So sweet to see these girls together celebrating so many years of friendship.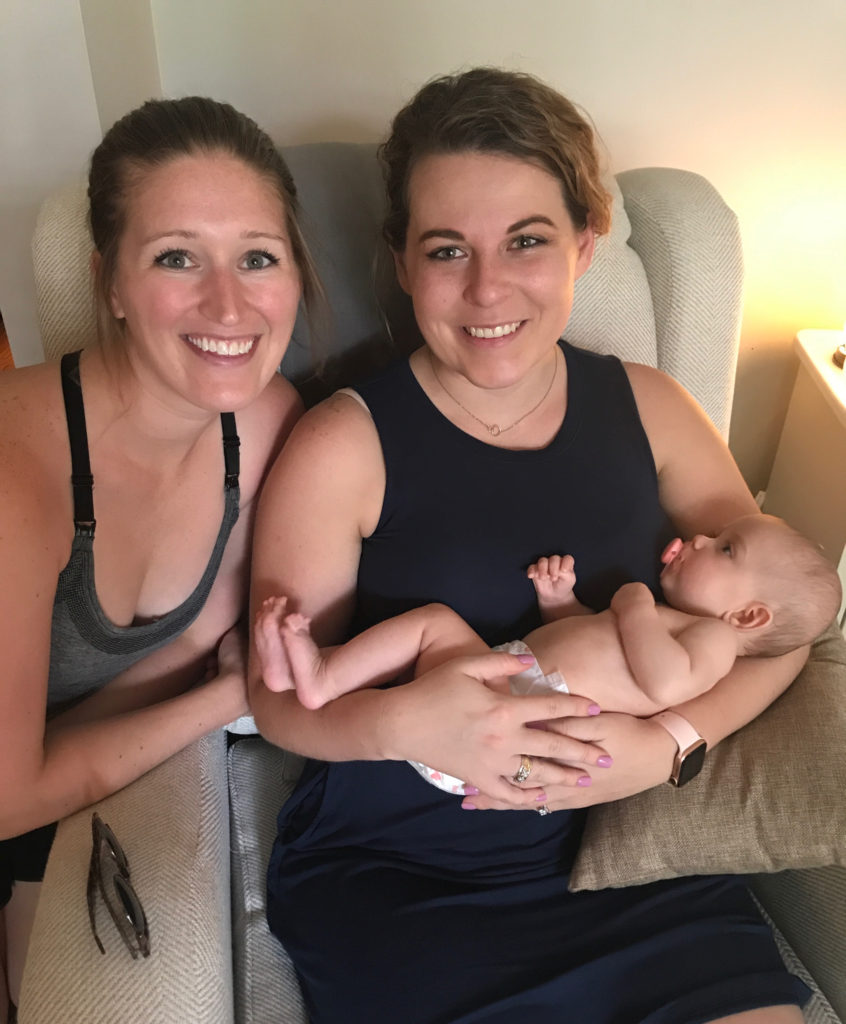 Camping trip number two was a success!
One of my favorite parts of this new hobby for me is the drive to the campsite. One of my dads favorite parts too. I grew up attending antique car shows/rallies with my pops and part of the fun was the orchestrated caravan of antique cars on the way to the get together. 
This was a beautiful drive following my dad in his vintage trailer. We even had a Airstream coincidentally in front of us for several miles.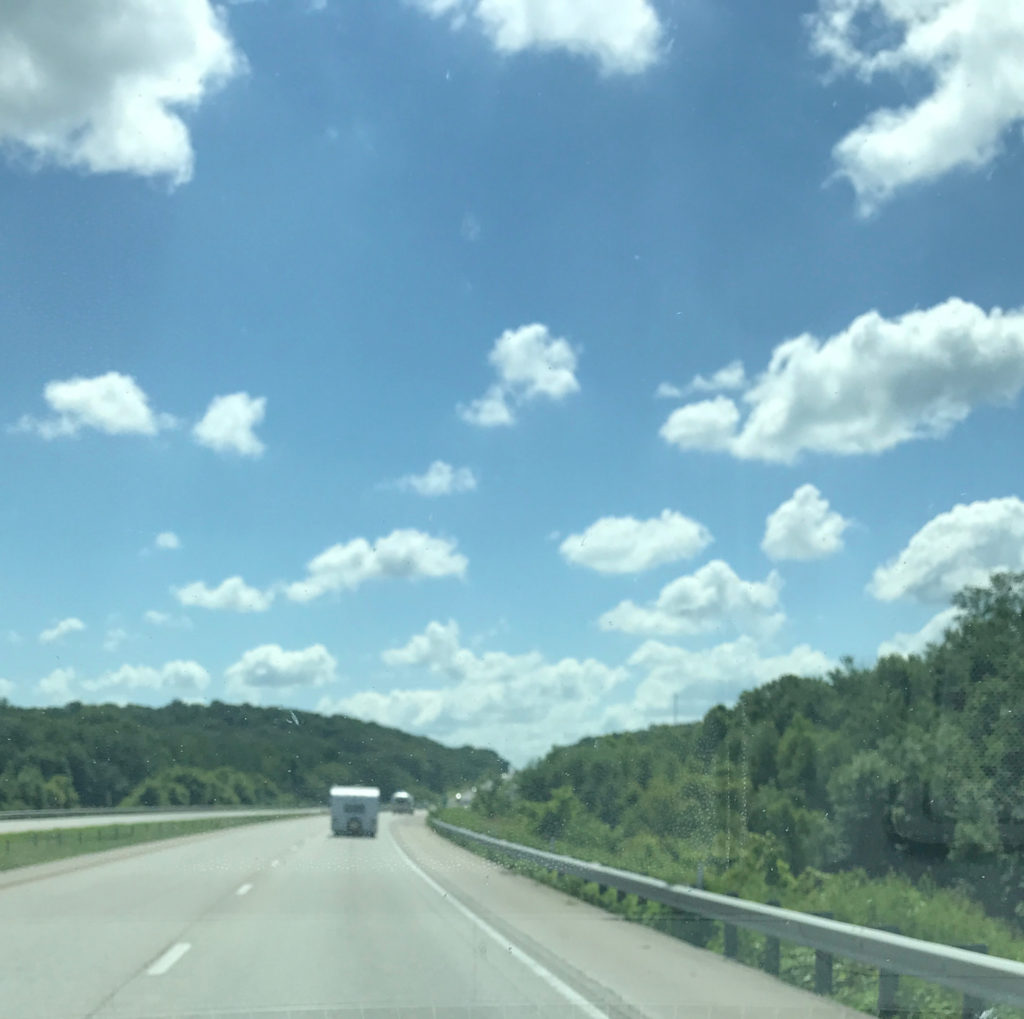 I didn't get great pictures but I'll work on that for our next trip. There were 9 vintage trailers there this past trip.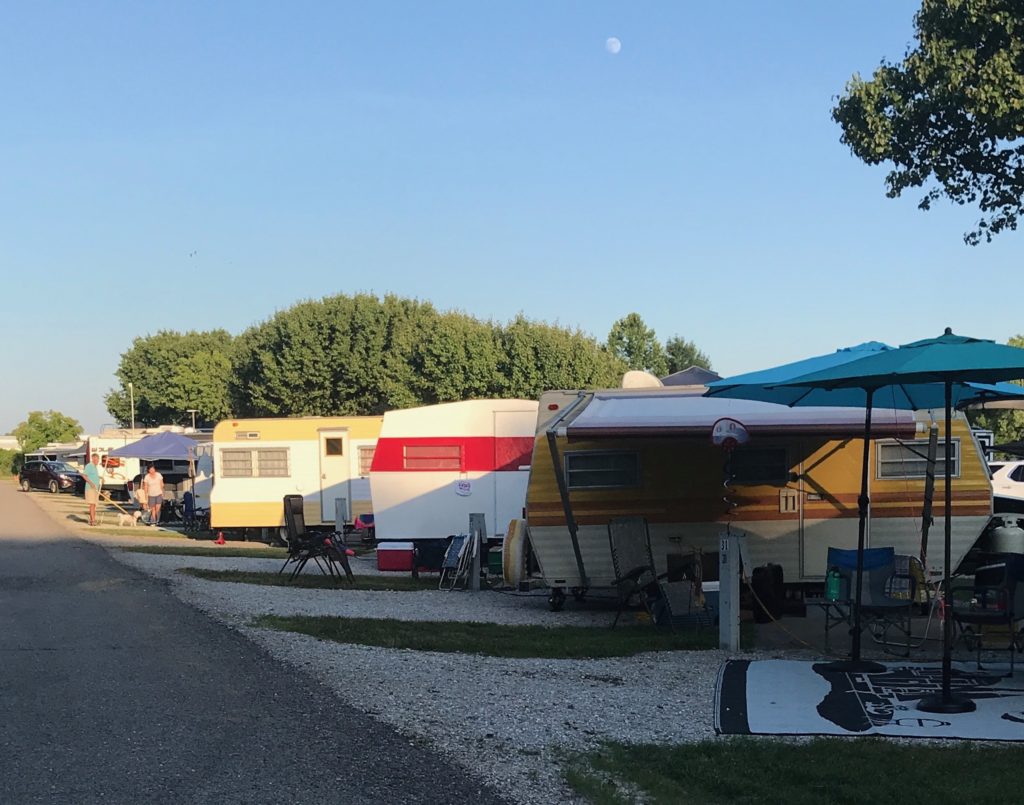 Me beside my dad. While this blue canopy came in handy ( I moved it around all day to provide shade!) my custom ordered awning came this week! I can't wait to camp with it. It is adorable! Pictures to come.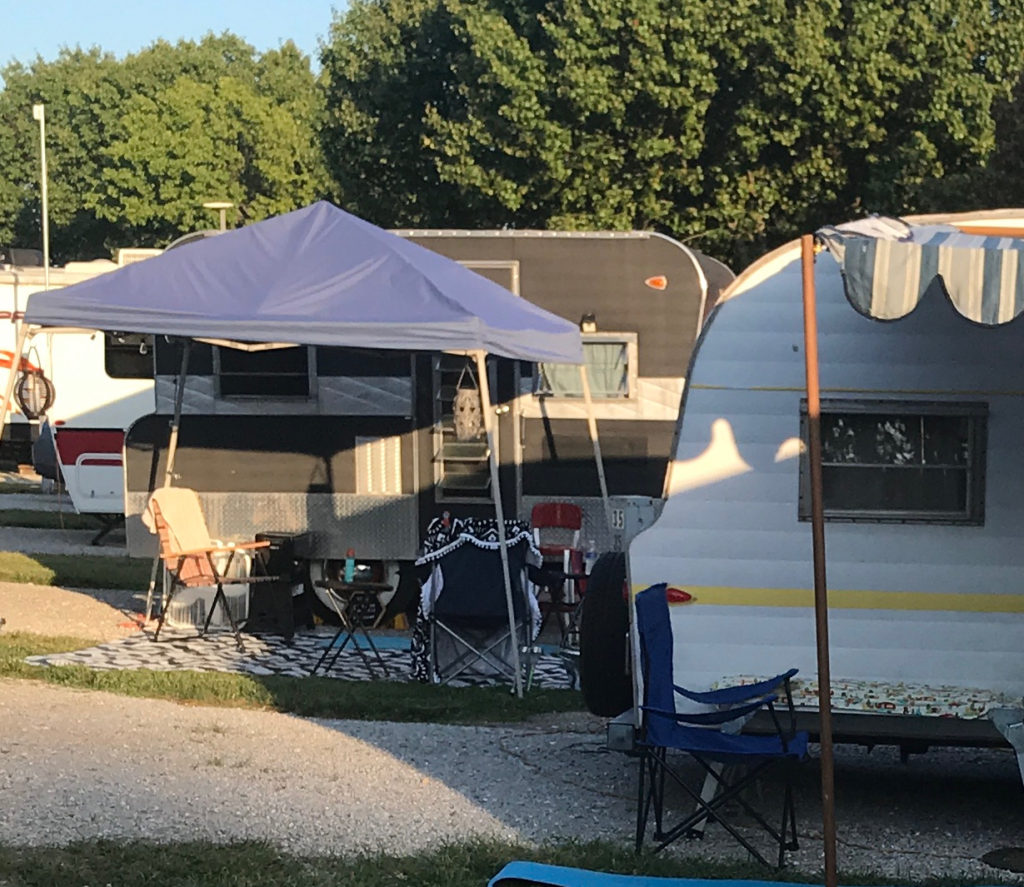 I took this picture yesterday from the inside of my trailer looking out with my new awning on. Excited to set up camp and take some cute pictures to share.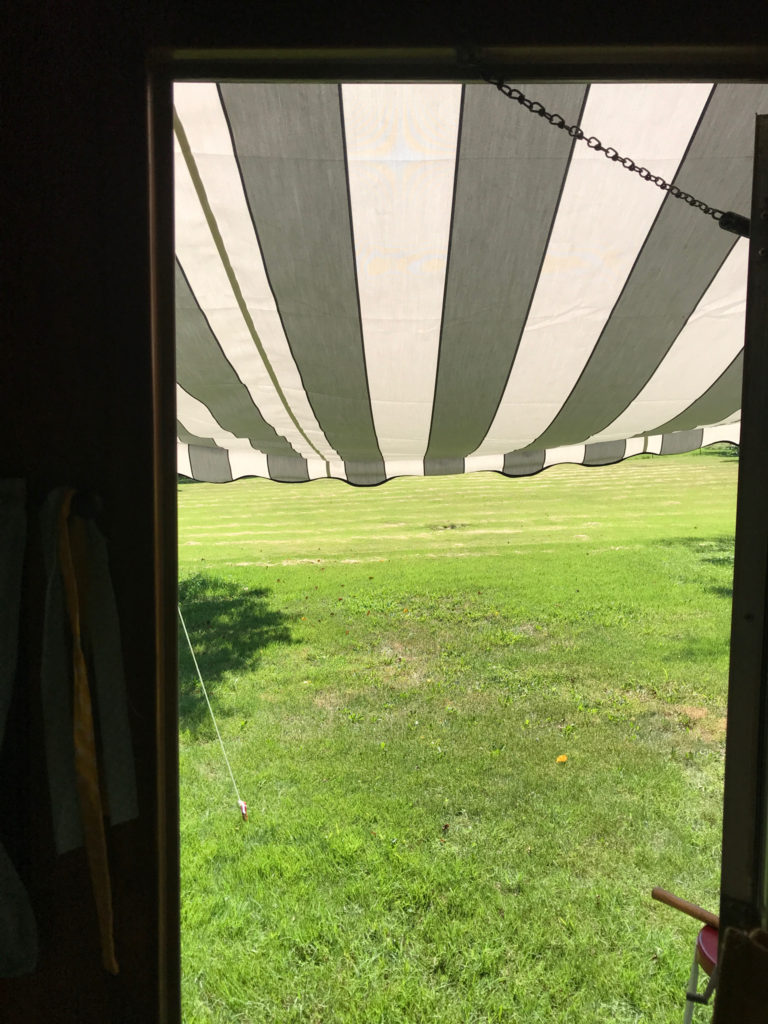 I took a short drive away from the campsite to find a walking trail on Saturday morning and found an absolutely beautiful trail! Just off of the parking lot was this beautiful bridge to cross over.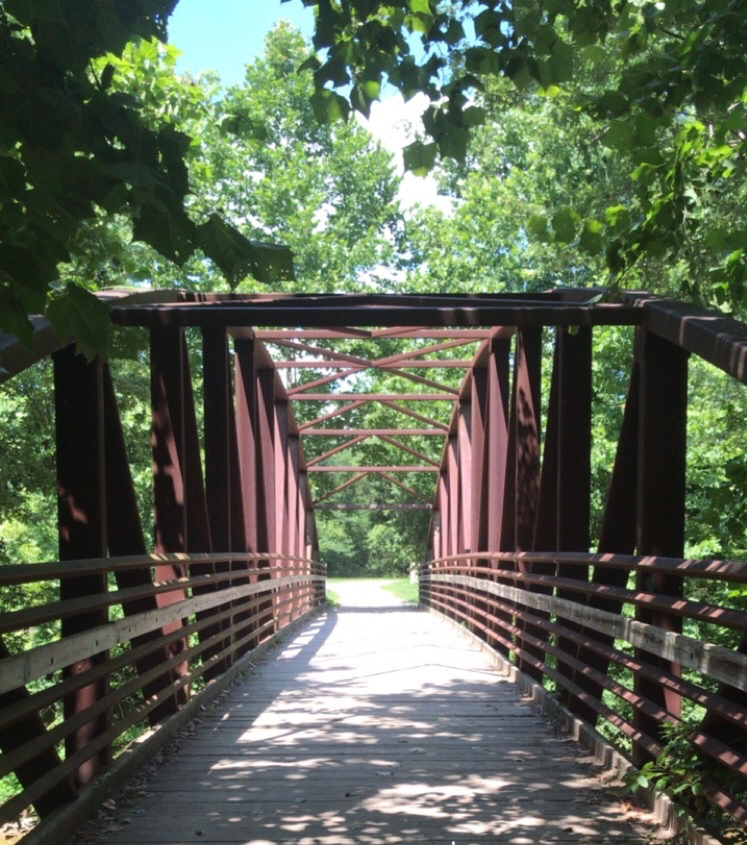 Then about 25′ down the trail a mommy and two baby deer greeted me. Precious. I knew I'd found a great trail!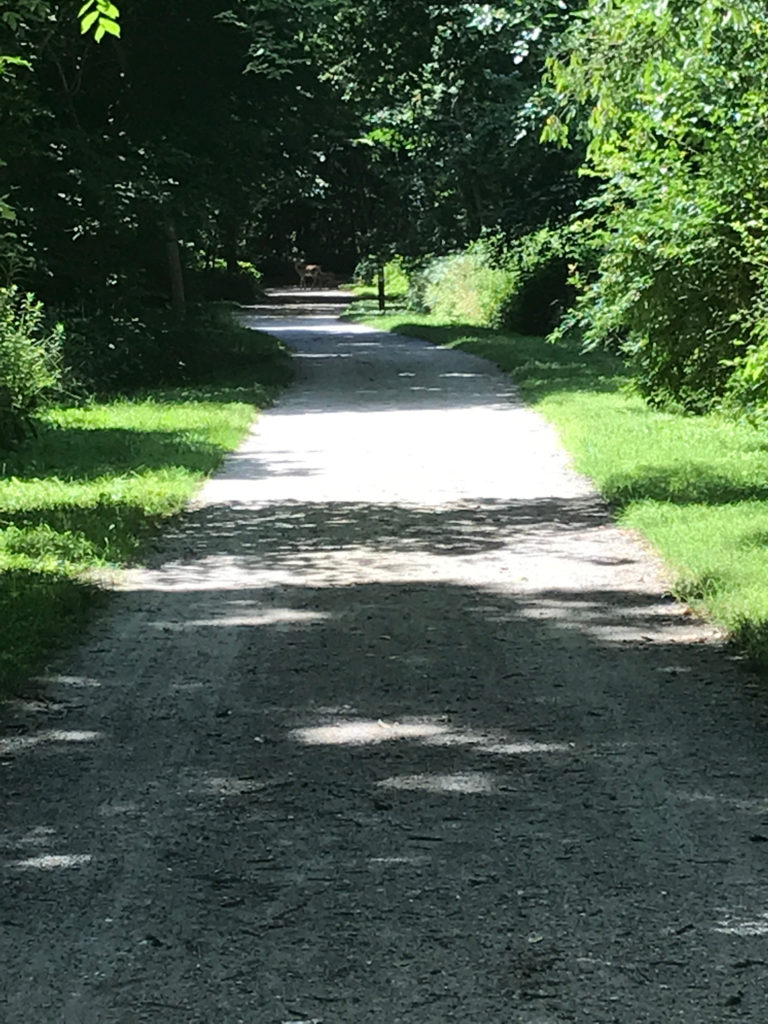 Columbia, Missouri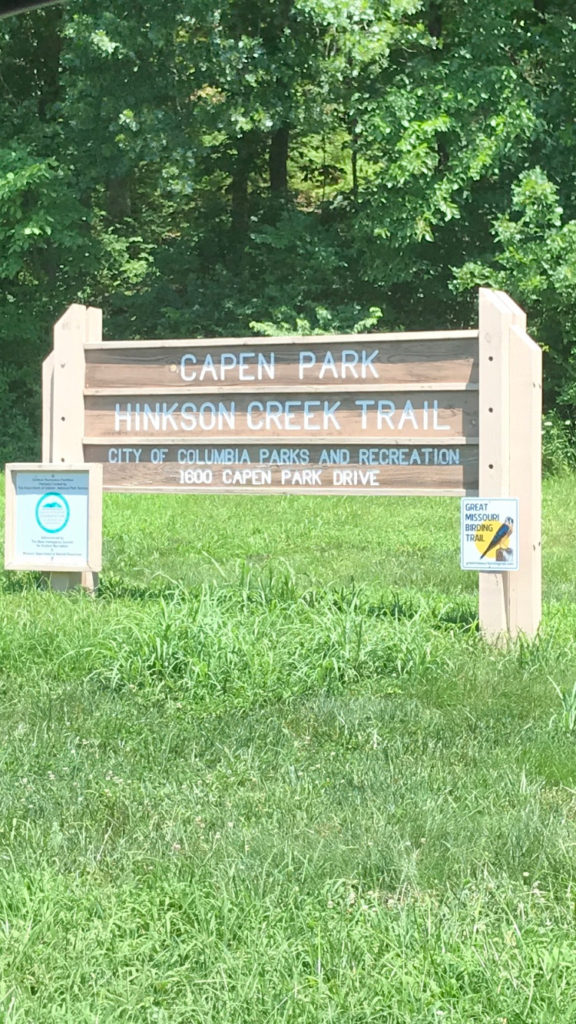 Then I started to hear voices but couldn't see anyone. Then I discovered this path of sand off of the trail.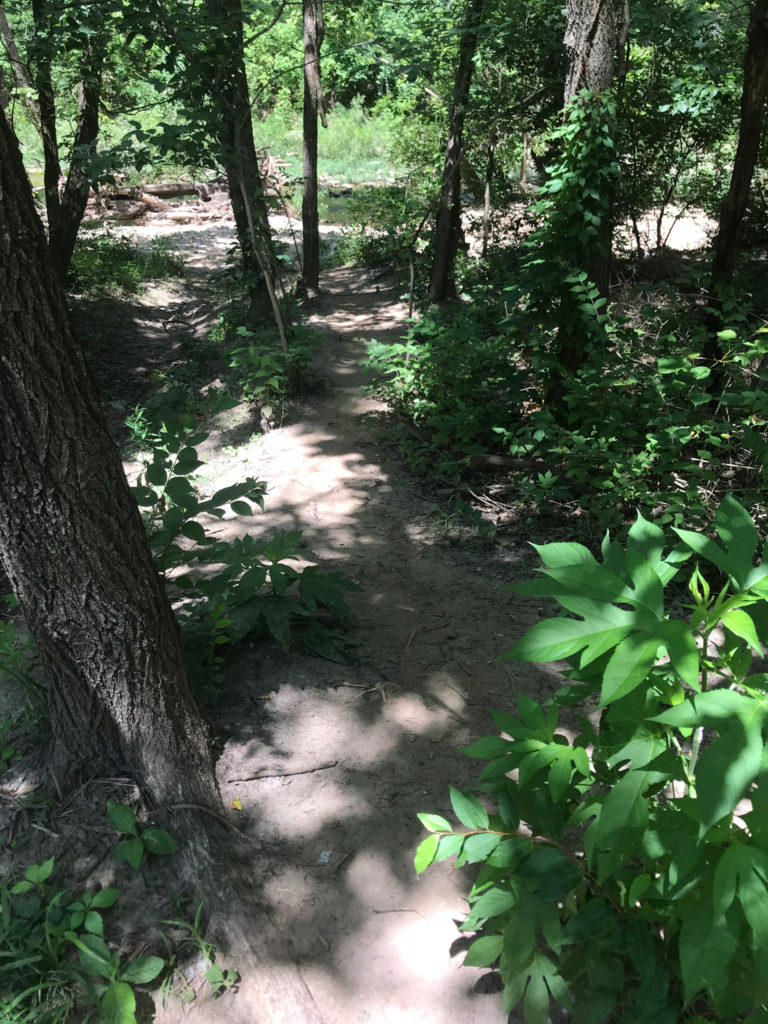 As I followed the sand path the voices grew louder until finally I was at this beautiful little stream.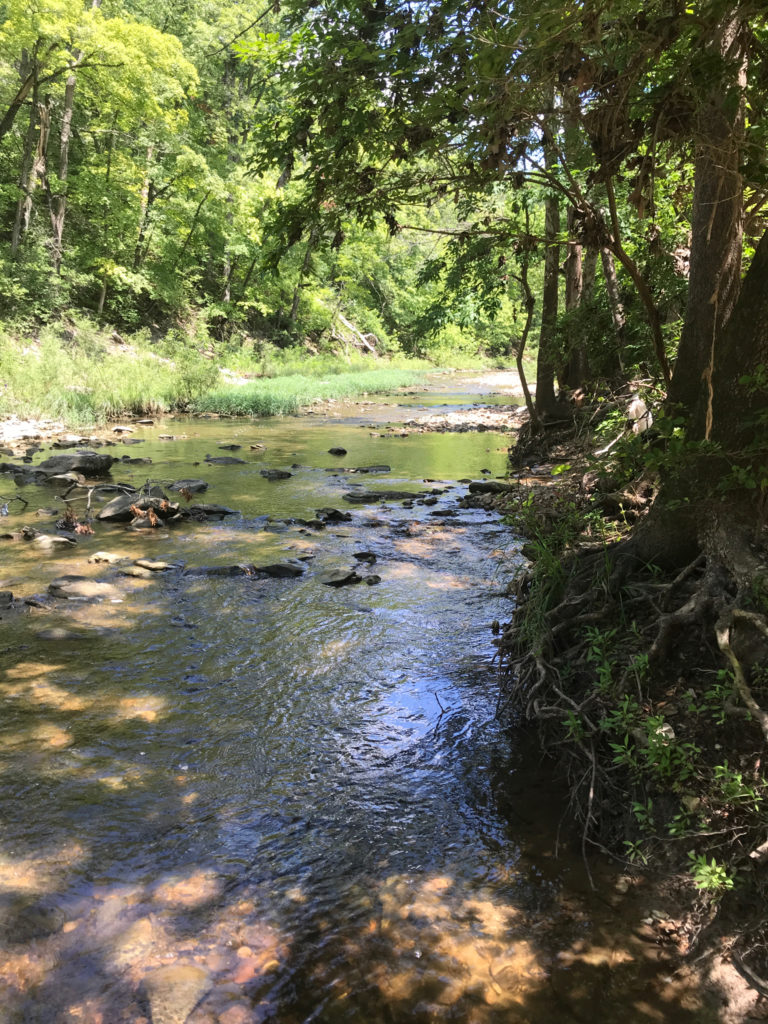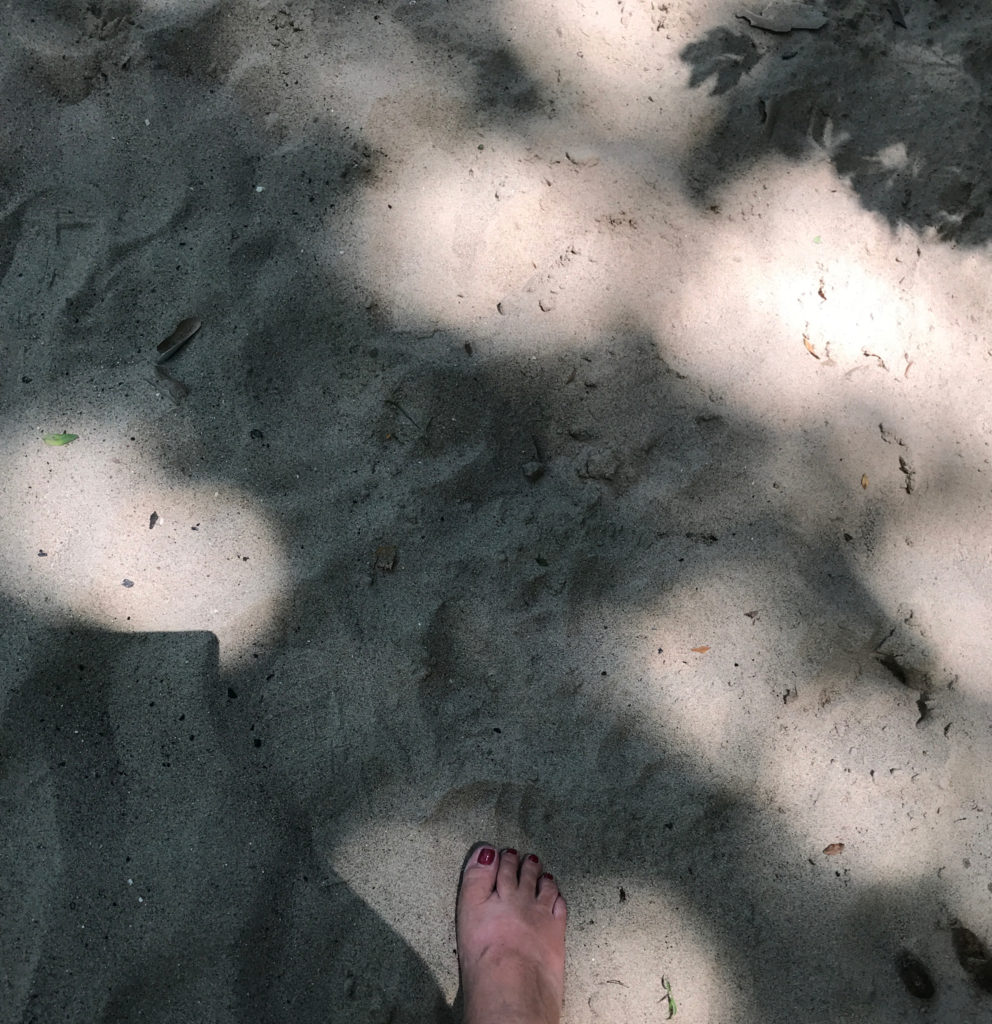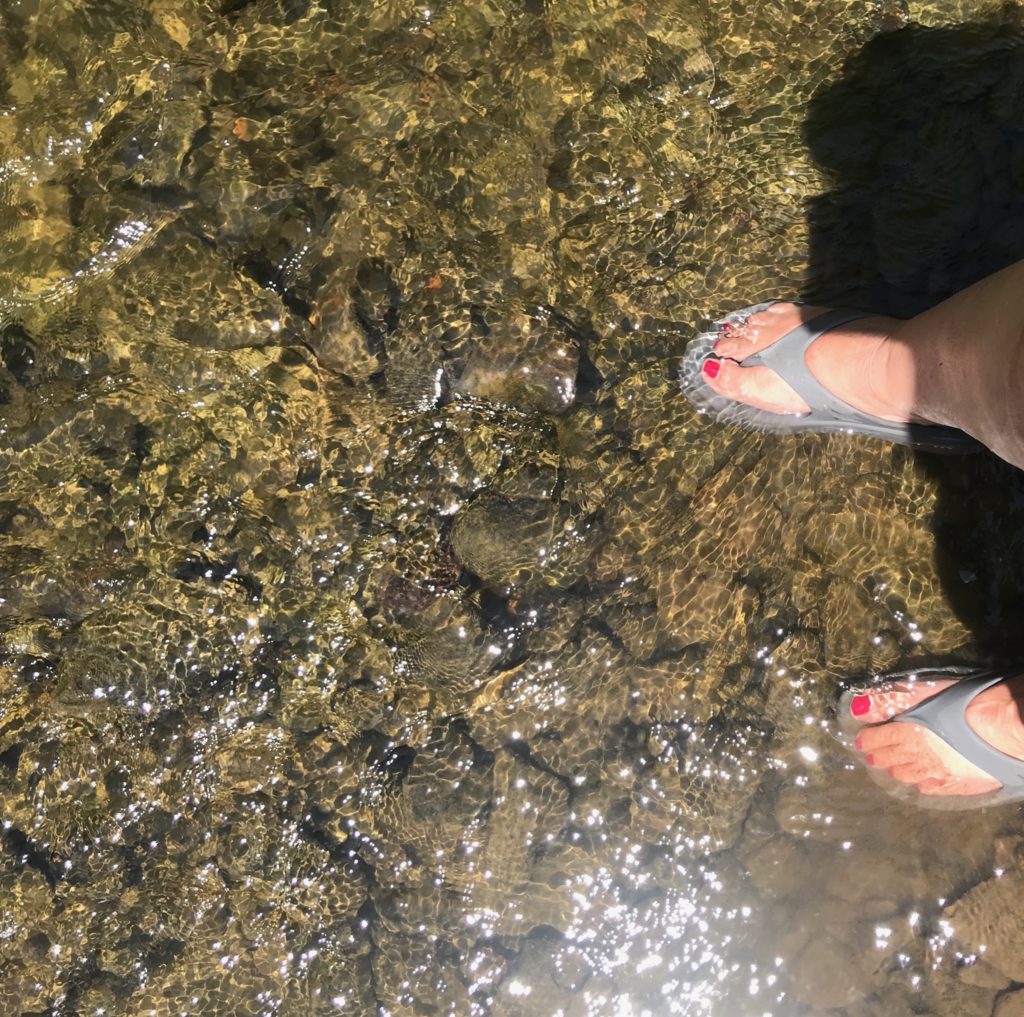 People, dogs….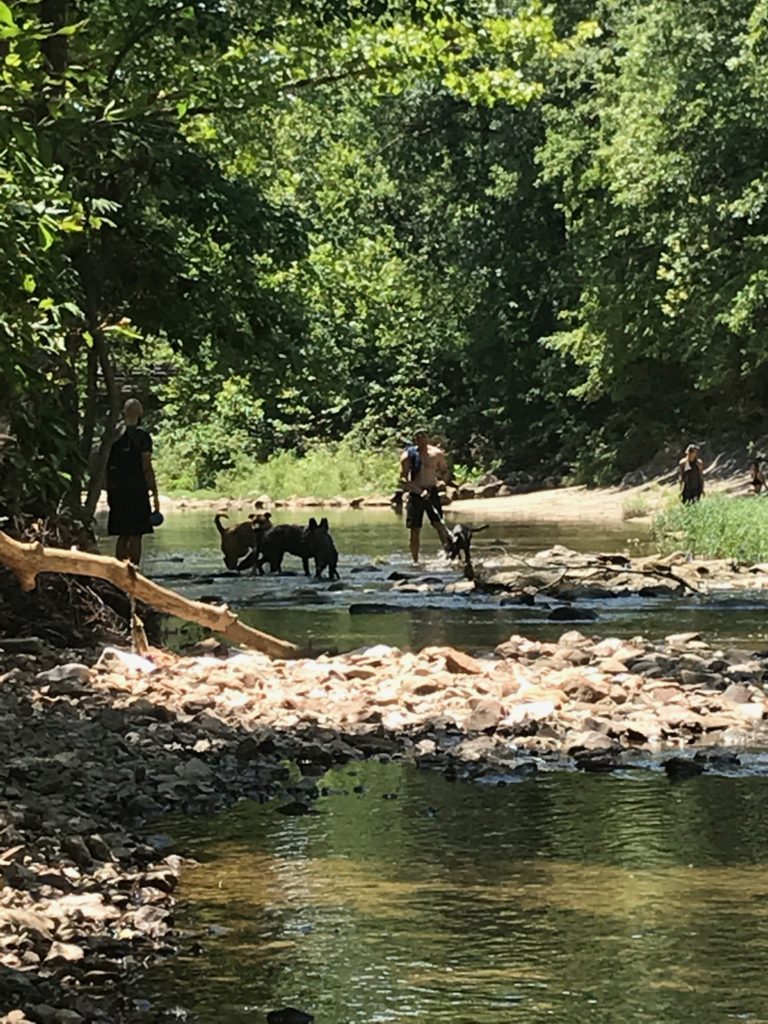 Rock climbers!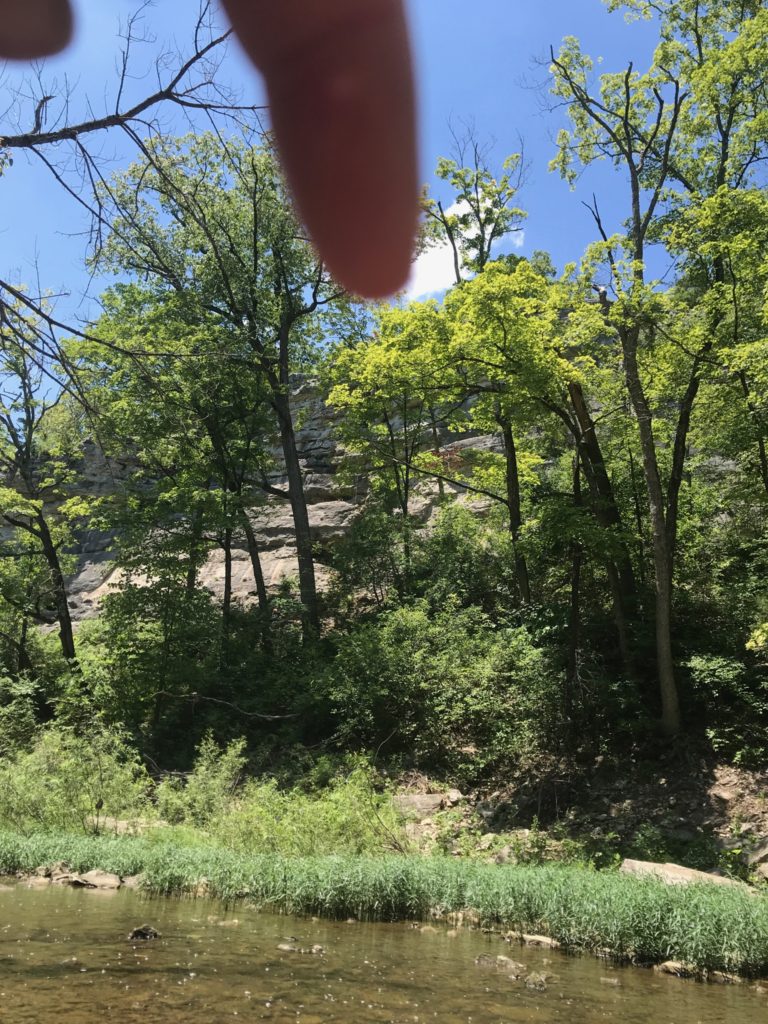 I plopped down on a big rock and just hung out there for over an hour. It was incredibly peaceful. I watched the pups play in the stream. I watched a group of people working on their rock climbing skills. I had lots of things keeping me entertained!
Back at the campsite, a quiet lunch staring at my new little toy, Effie. I'm having so much fun with her.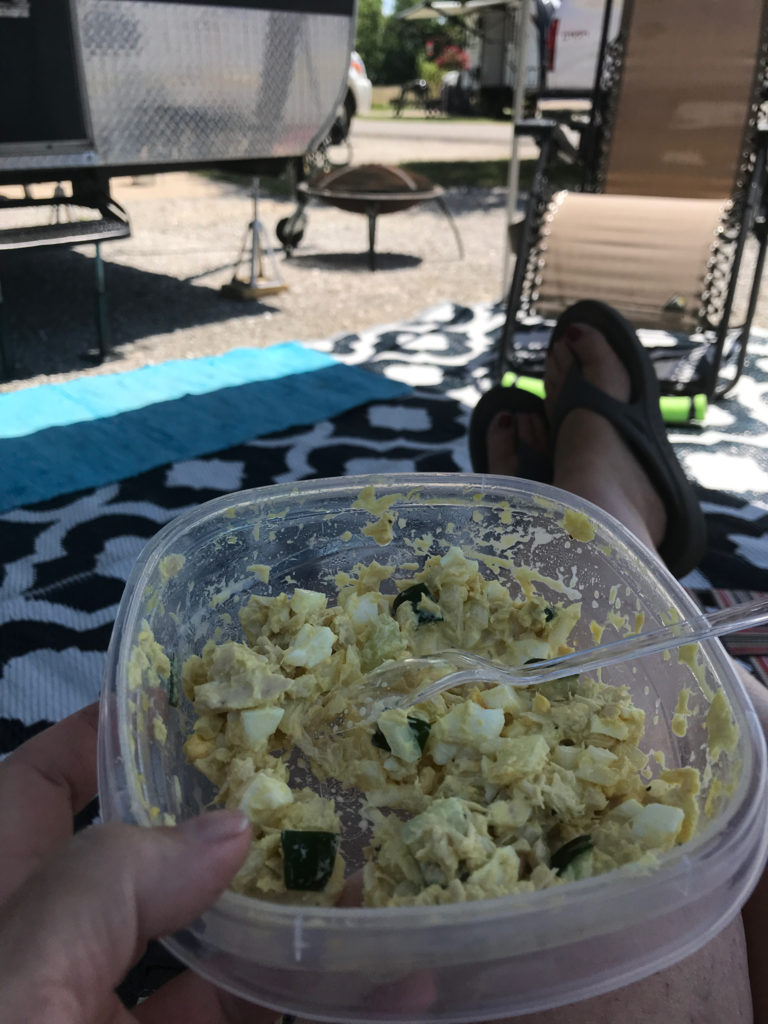 Each morning I enjoyed my coffee and wrote in my "camping journal". I loved this part of my weekend.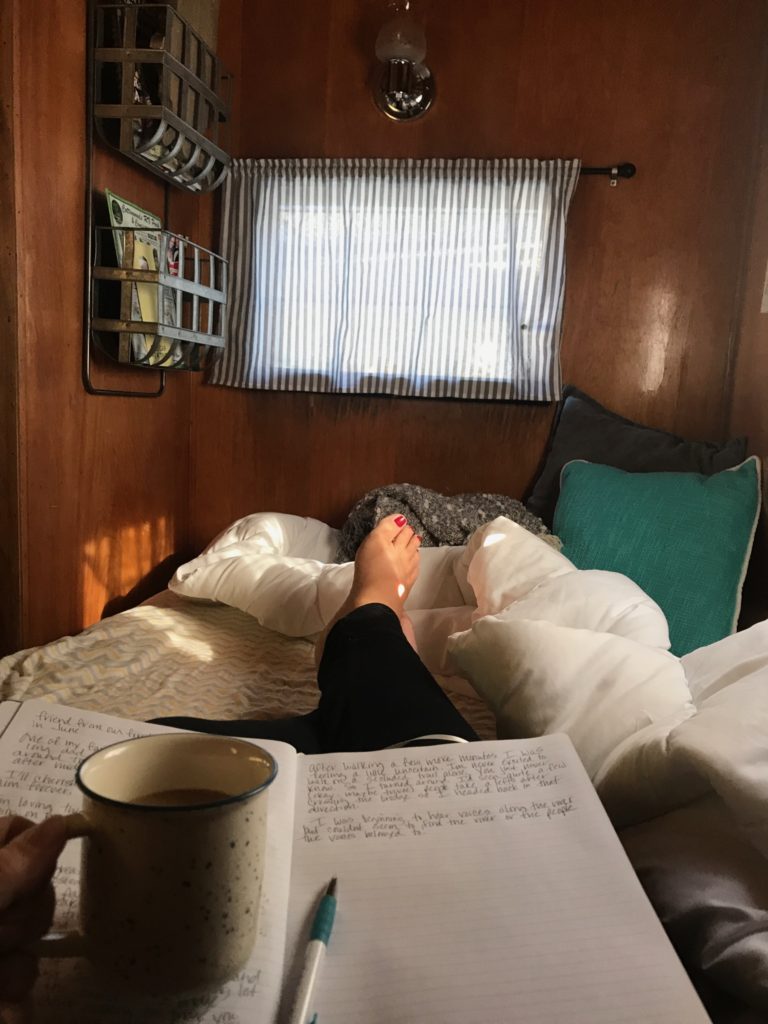 On Saturday we all had breakfast as a group at one of the sites and I took everything to make Yogurt Parfaits.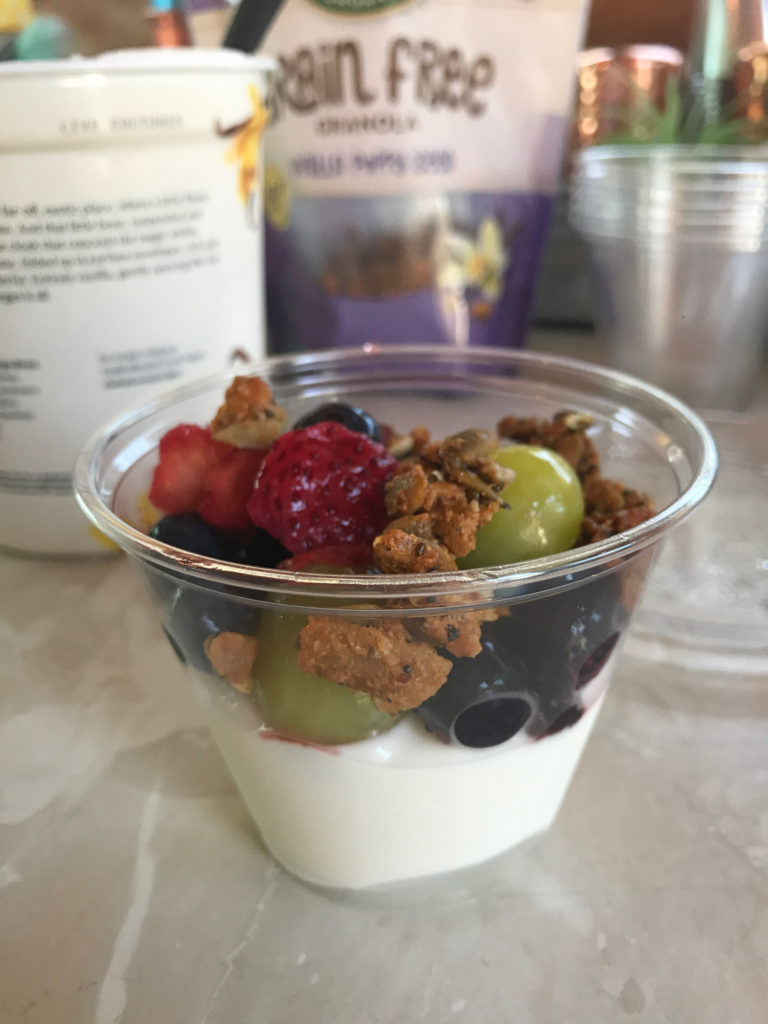 .
Saturday the campsite hosted a huge spaghetti dinner for ALL campers. They just ask that you bring a side dish. I took a caesar salad.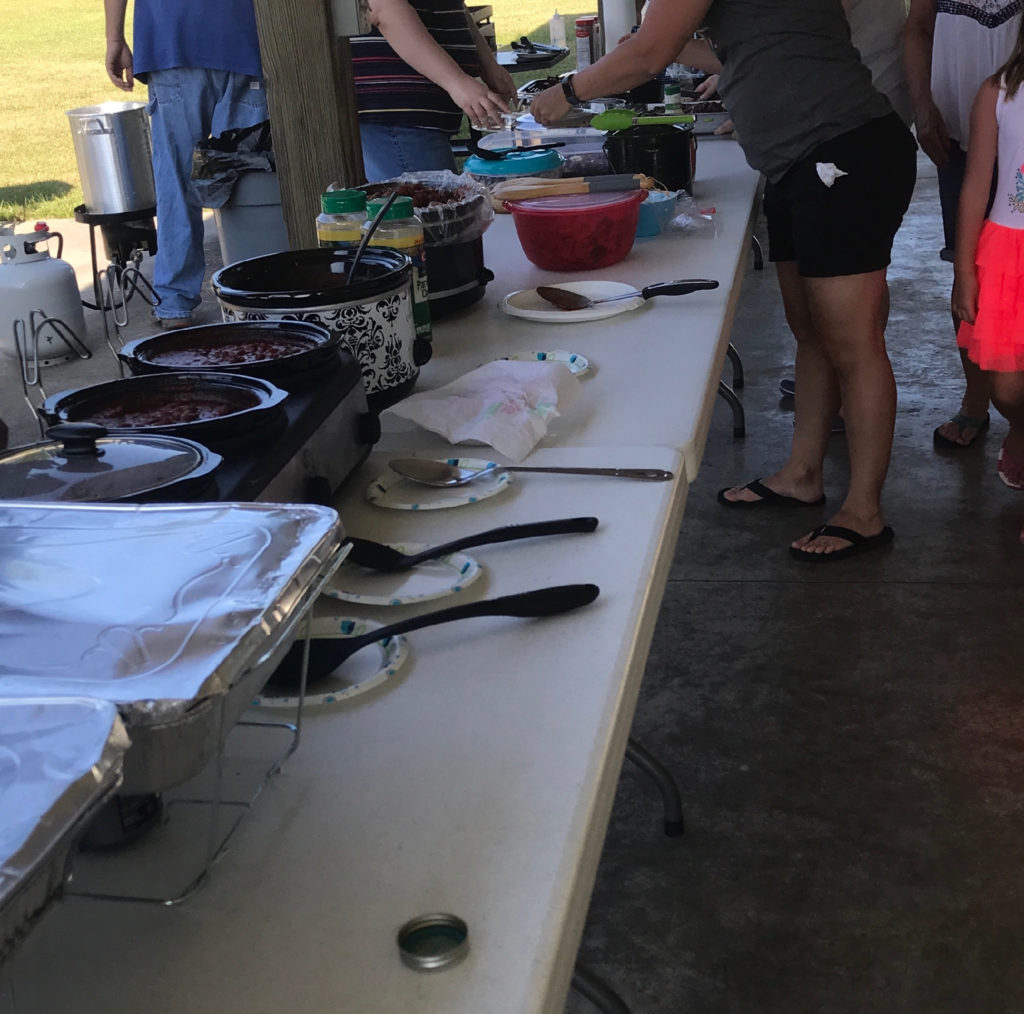 There are certainly lots of temptations at these get togethers, and while I do plan to enjoy myself, I can not let these trips be an excuse to simply eat whatever I want and as much as I want. Not gonna lie. This part is hard.
I'm drinking like GALLONS of water.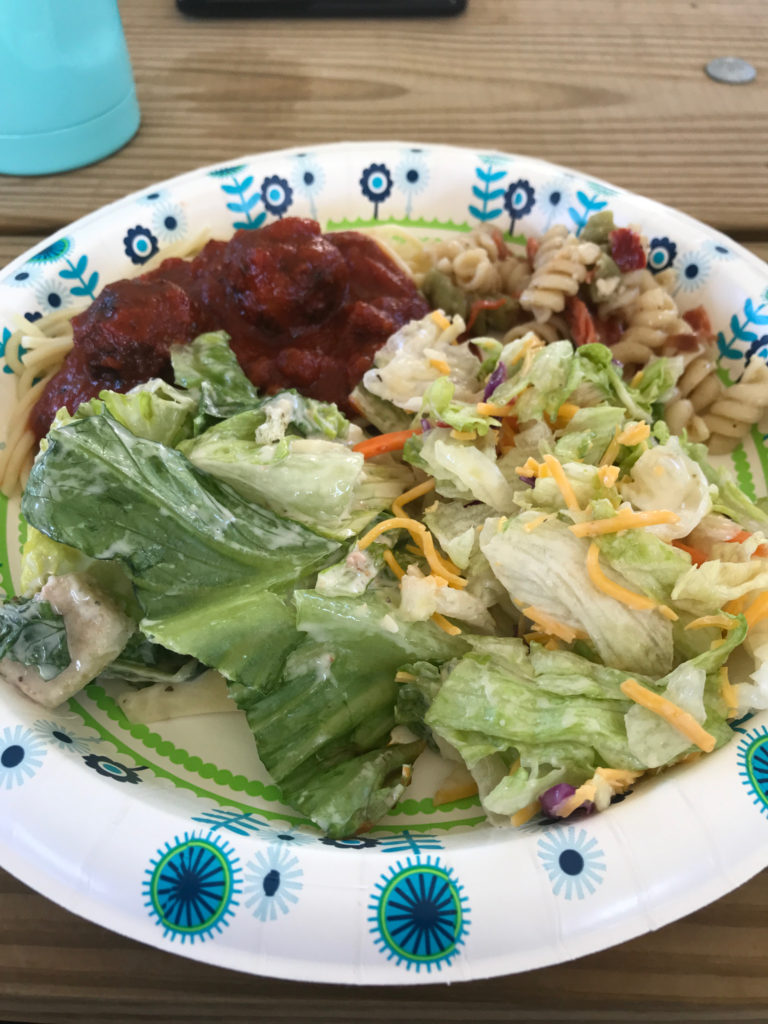 Sunday breakfast was on our own and I had fun cooking. I'm seriously playing house here and loving every minute of it!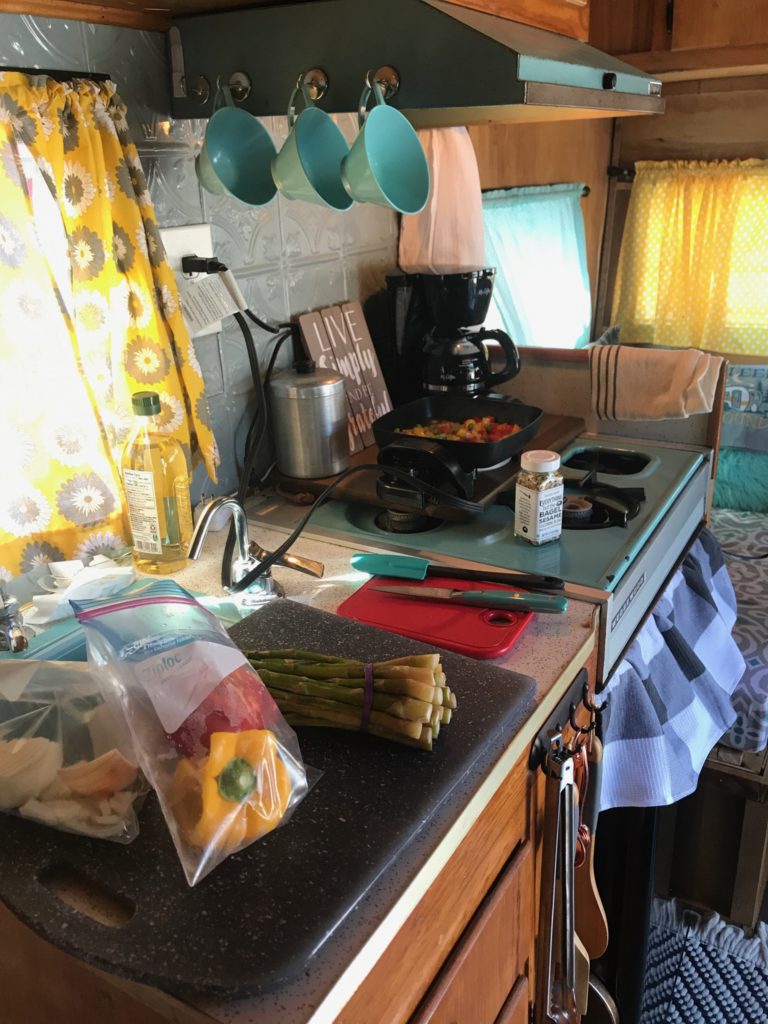 So…..this is glamping. Have you heard the term? Glamorous Camping. I have no A/C and it's in the 90's during the day and this is my bathroom.
I ask you. Is this really Glamping? Ha!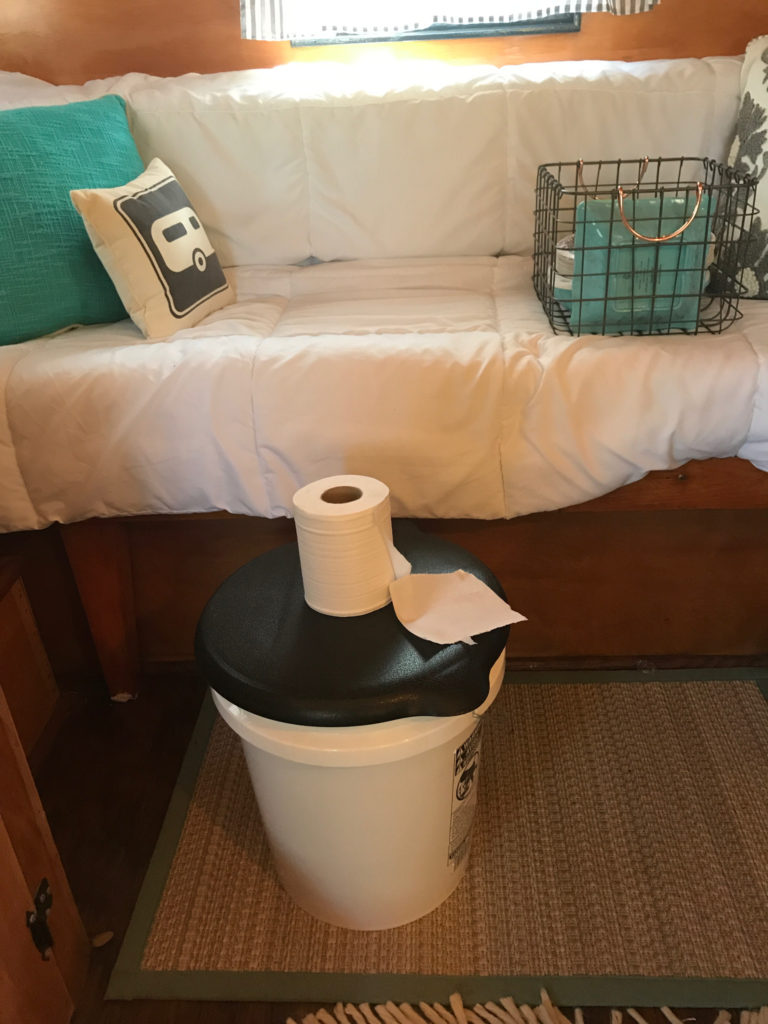 Okay, lots of salad bars and very simple meals lately.
Lunch/Snack On the Go Ideas…..
I order a grilled chicken sandwich, no mayo, no bun. Easy peasy. The protein keeps me full until my next snack or meal. Always keep nuts or fruit handy to add to it!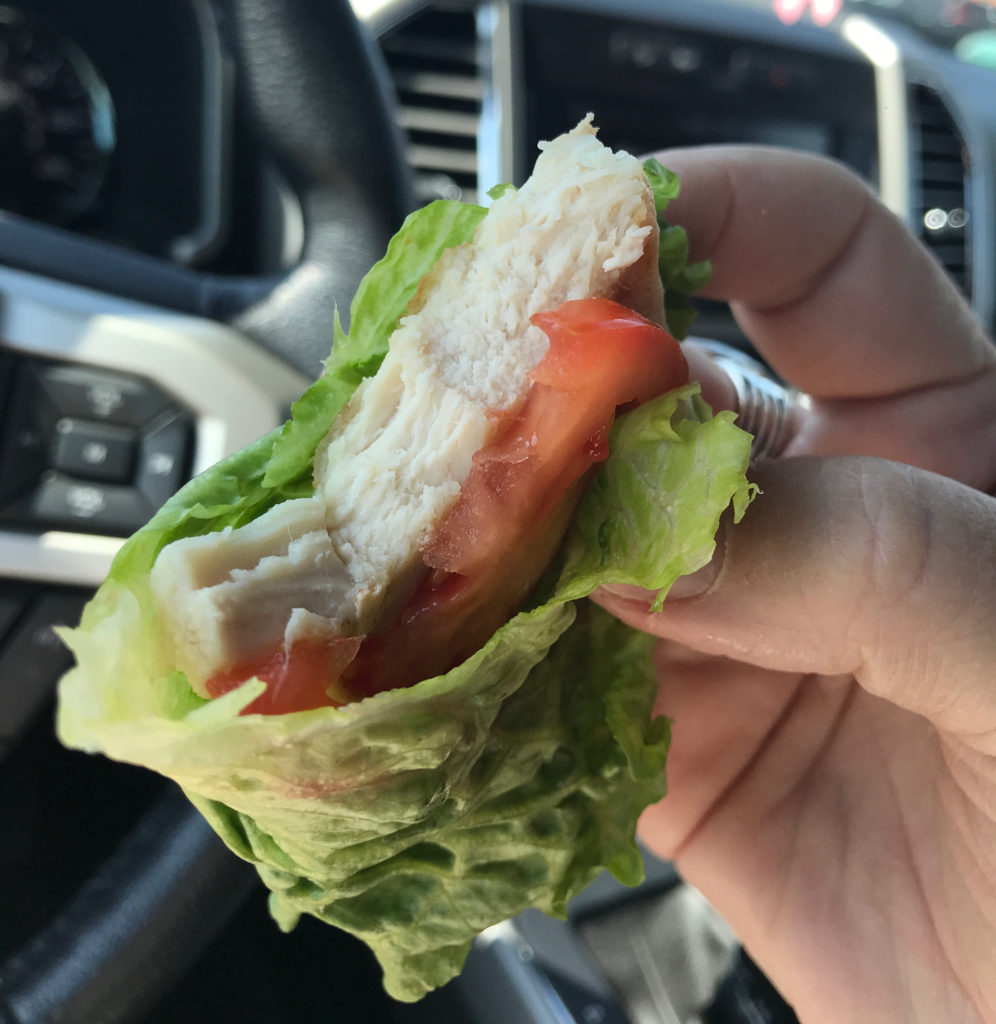 Keep a small cooler in the car for easy to go lunches. Simple Rotisserie Chicken Breast with veggies. Zero SmartPoints lunch on the go.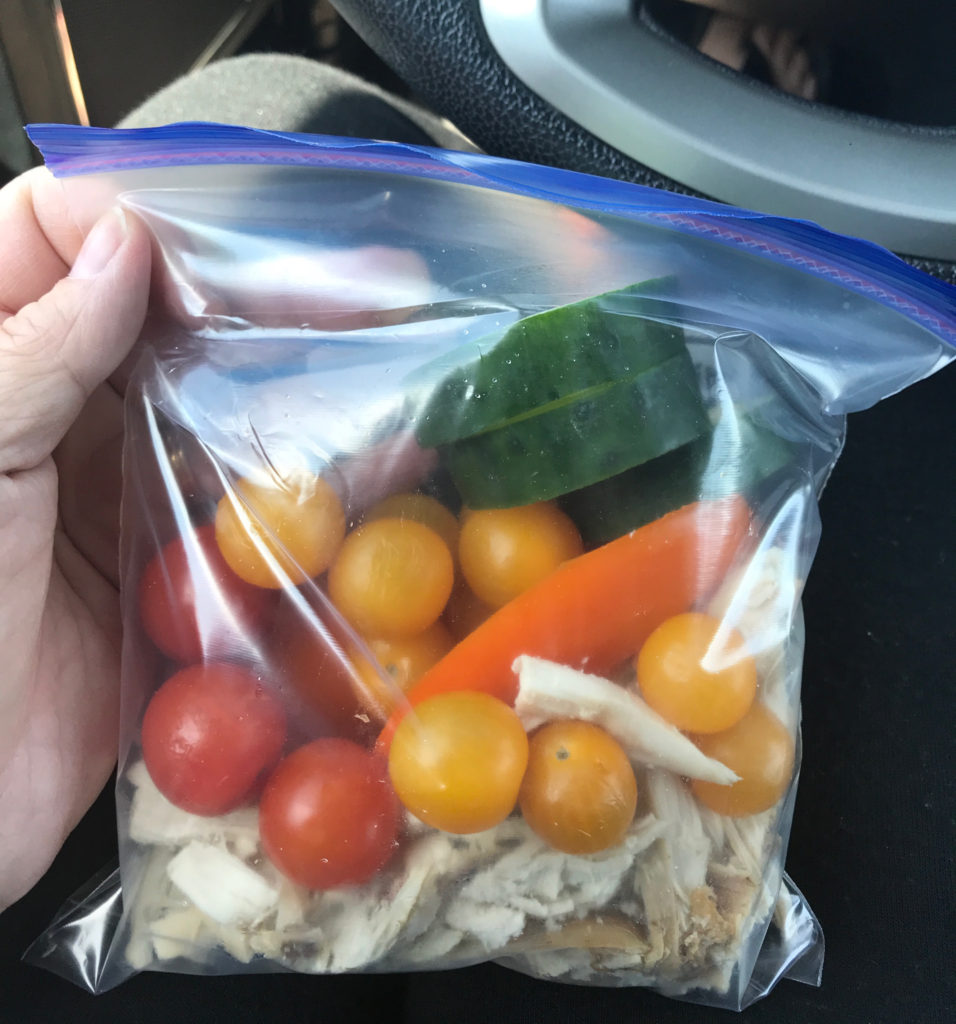 Grab a quick Salad Bar at the grocery store. The only Smartpoints on this salad are the cheese and a drizzle of Olive Oil.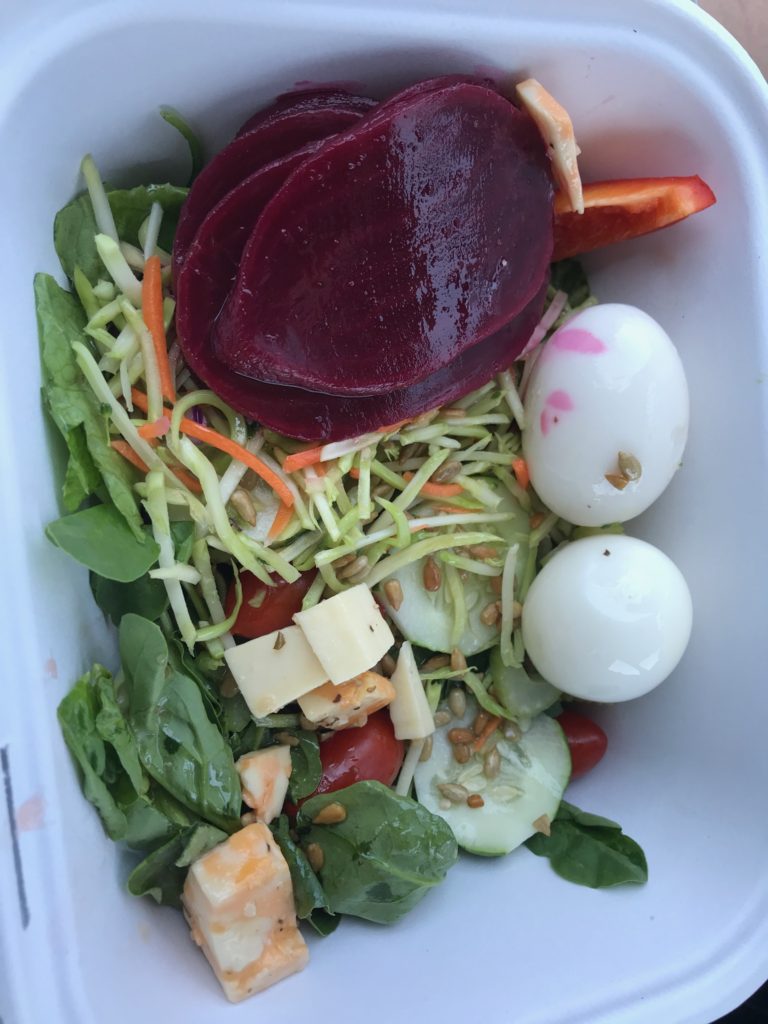 I ordered 4 grilled chicken tenders and a cup of water. I got my order and pulled away. When I finally was able to get parked to eat my lunch I opened the bag to find this!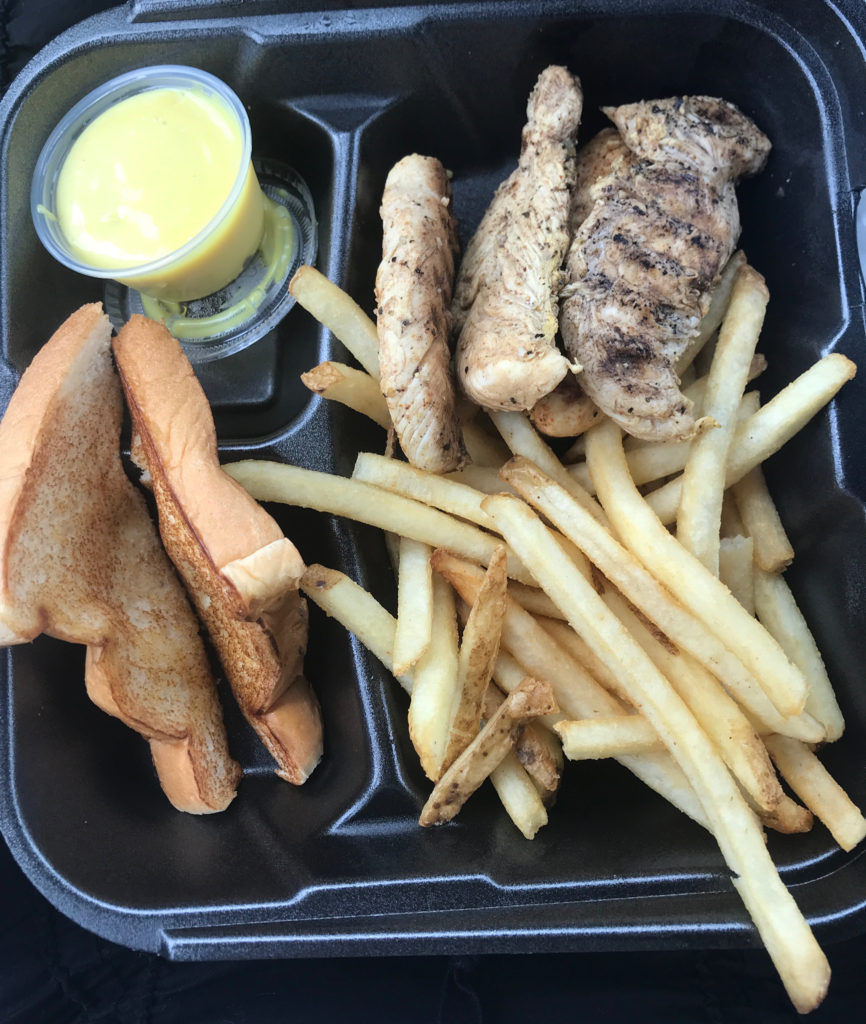 I was starving and had not planned to find bread and fries with my chicken! It smelled absolutely amazing. Bread and fires are fine but they simply were not in my plan for the day. You have no idea how fast and furious I was trying to find the closest trash can as I was eating in my car and all I could smell were those fries!
SUCESS! These sneaky little fellas ended up finding a home in the trash can.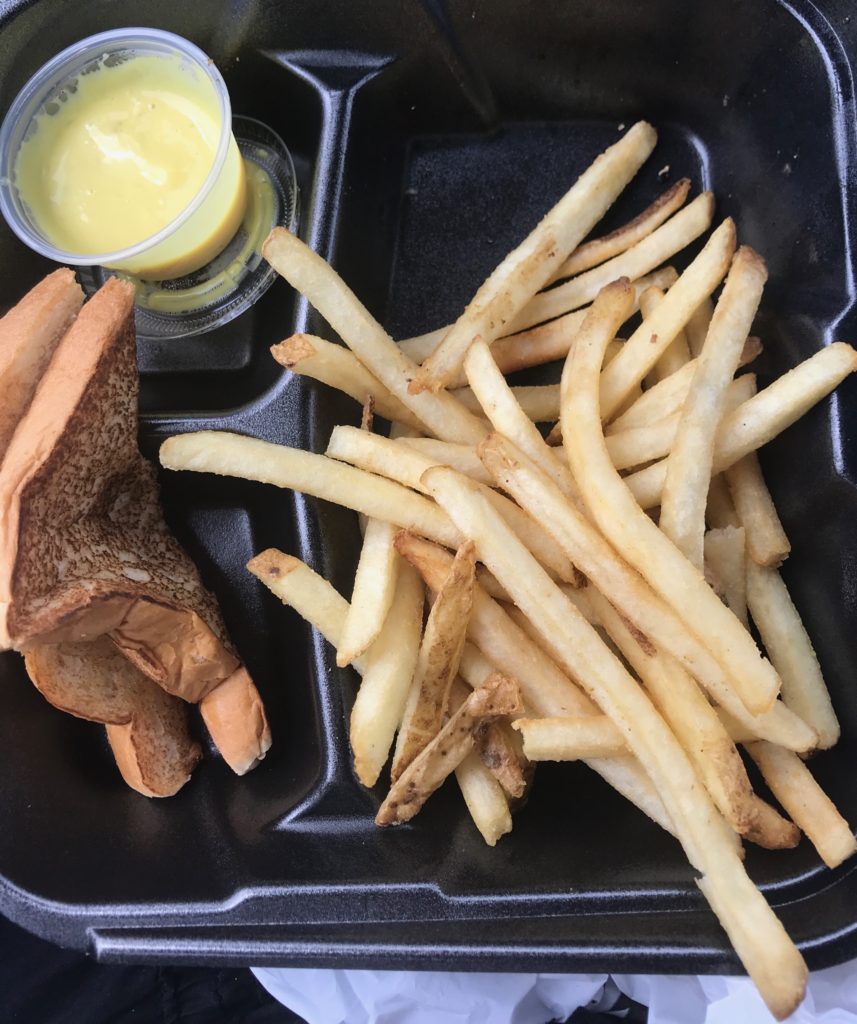 Grabbing something out?
This is Mahi Mahi Tacos ordered over a bed of greens and minus the tortillas. Delicious. Only Smartoiints are for the cheese and dressing.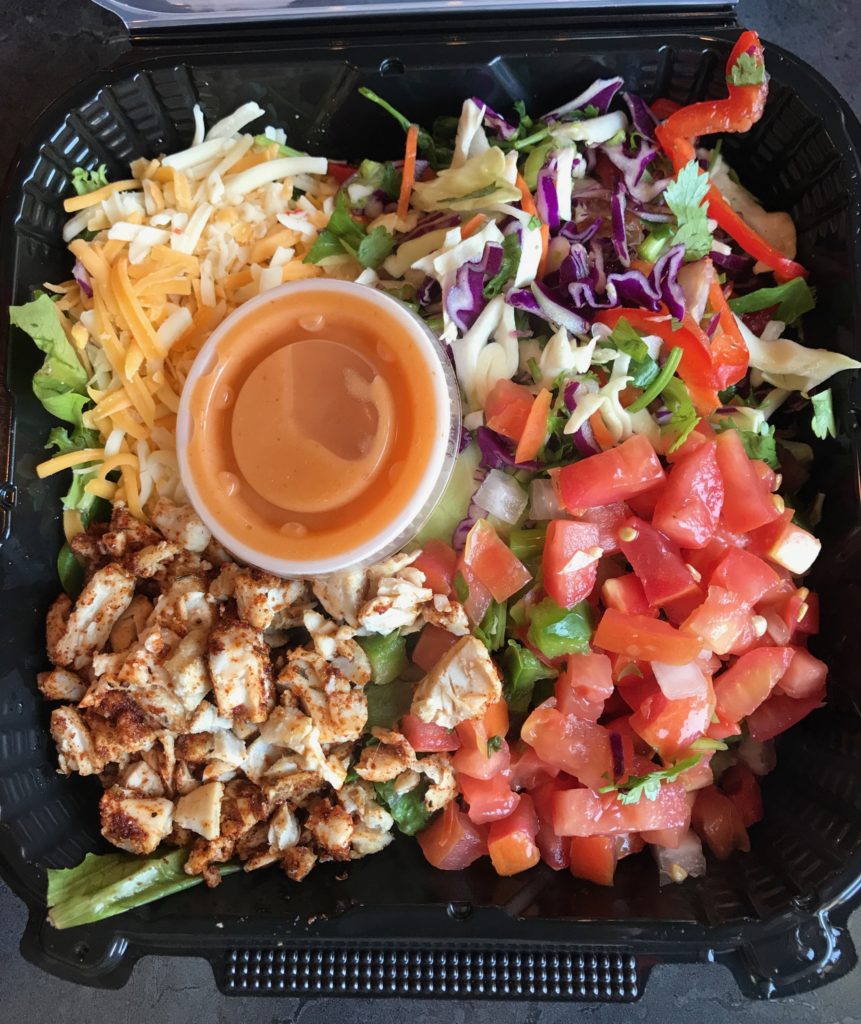 Salmon is a fav!
Lots of green veggies here and the only Smartpoints are the butter and oil. There was plenty of that too as I didn't think to order these perhaps steamed.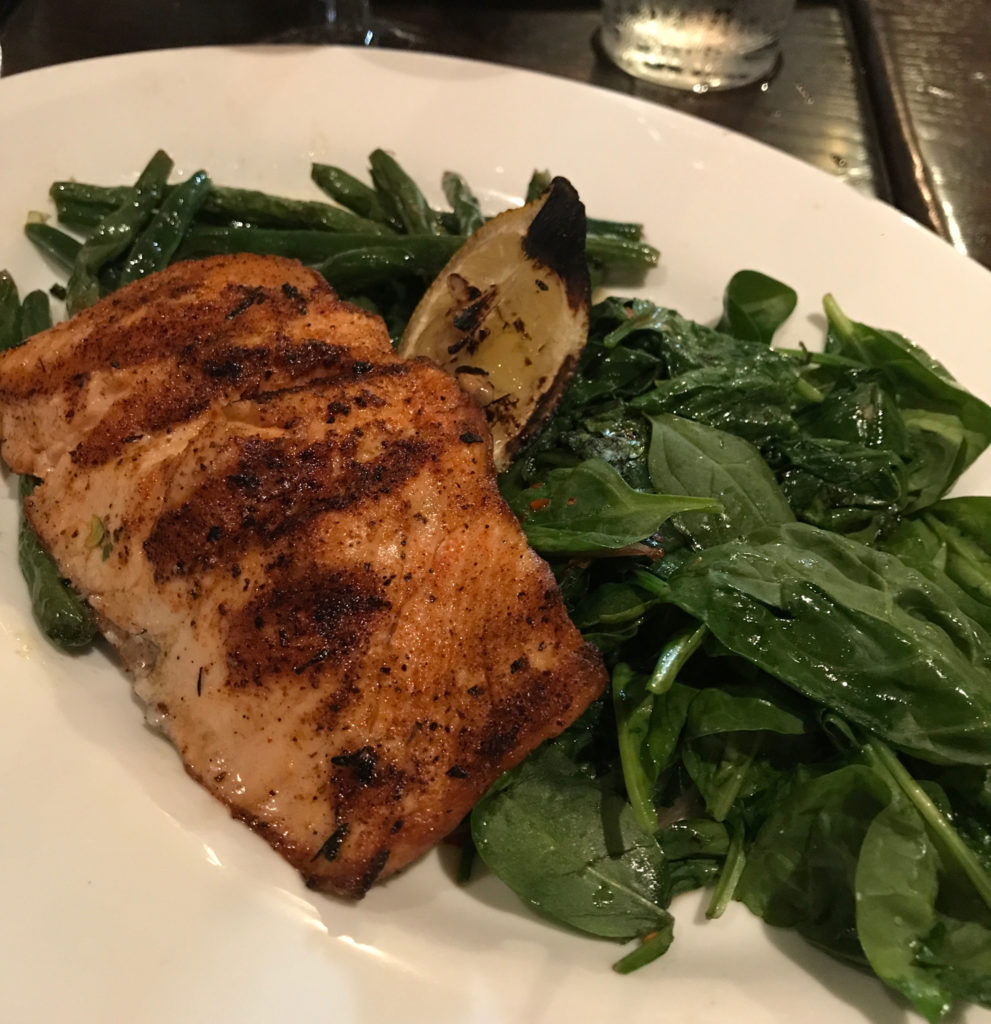 Love me a Salmon Salad, dressing on the side and no croutons is the way I like to order it. You do you.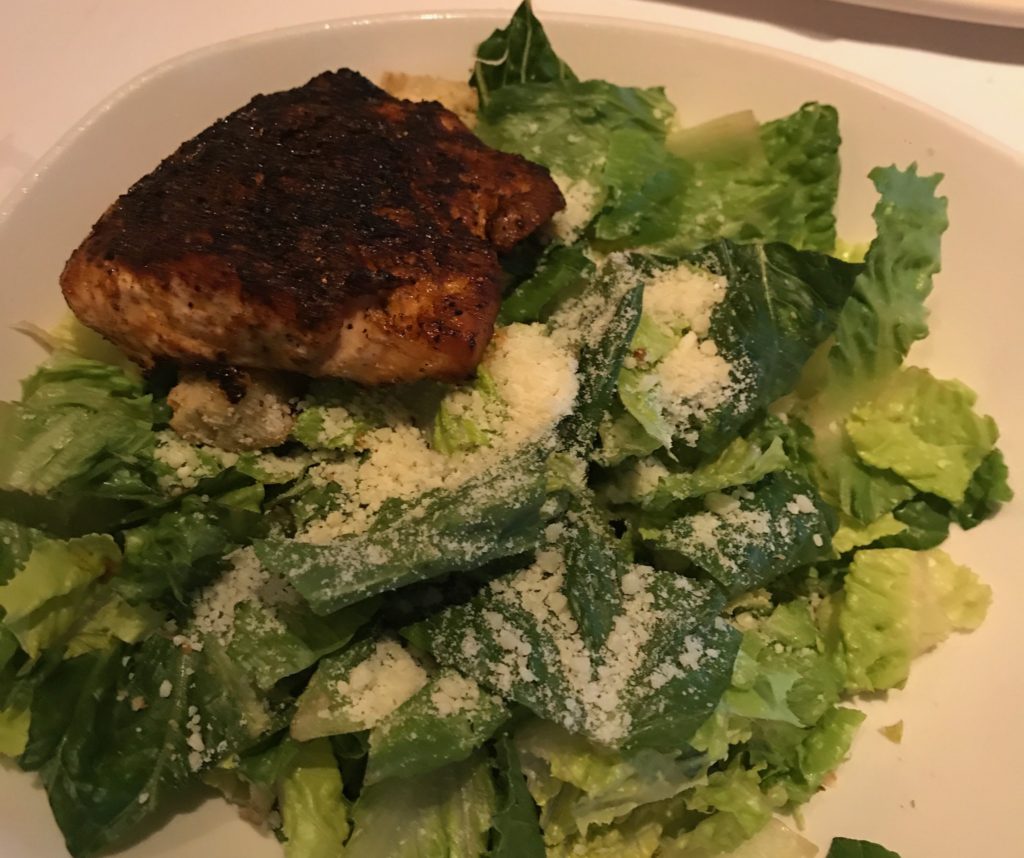 Easy meal here. Caulirice topped with seasoned shredded chicken, cheese, smashed avocado and a few sweet tomatoes. It's nice to look at too!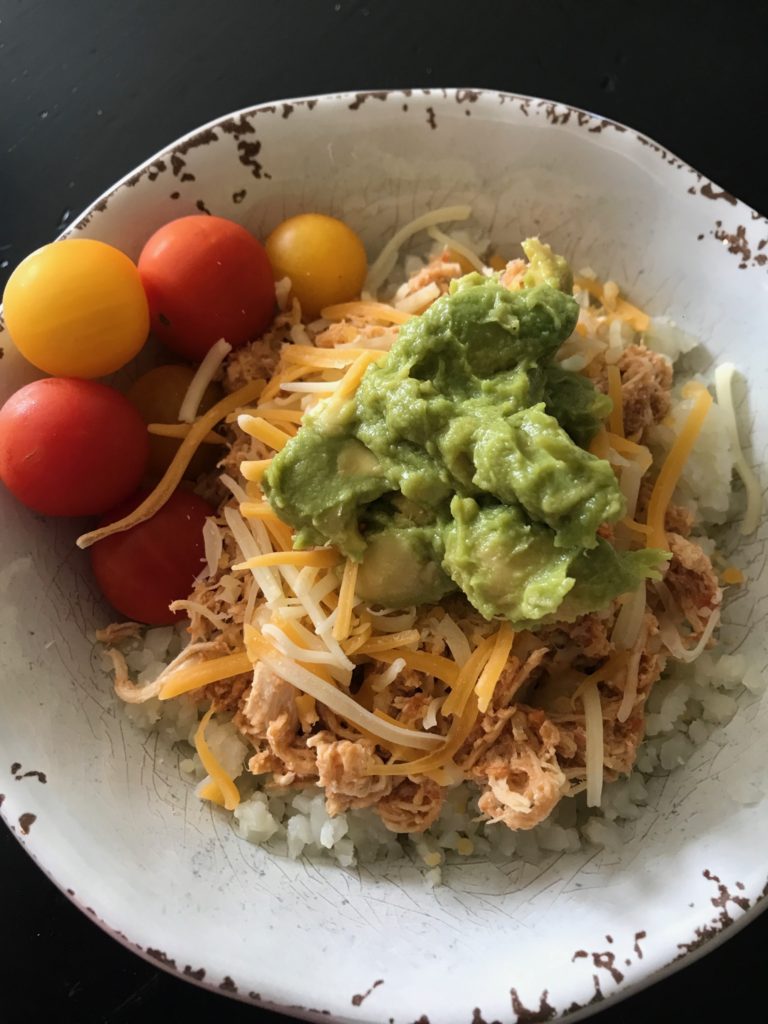 Missing my breakfast photos as I have been less creative in the kitchen.
Veggies, Chicken Sausage all topped with Eggs and a nice little Avocado Rose. Happy Face here.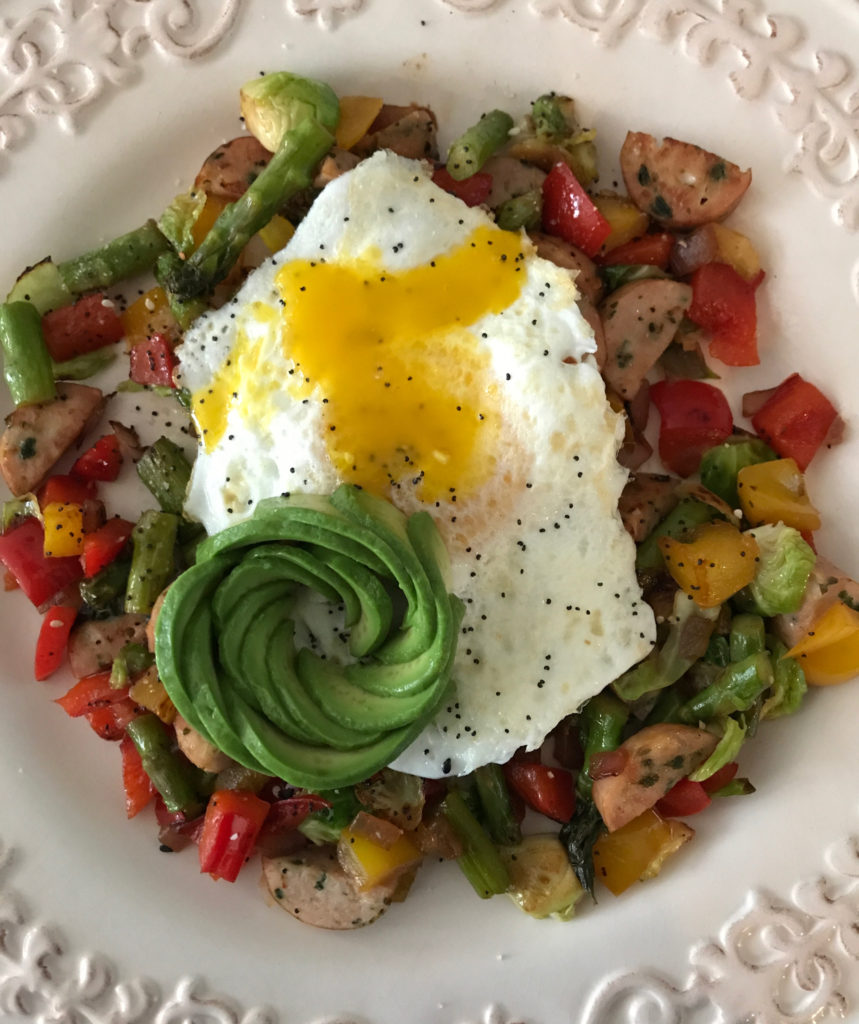 Have you tried the Chocolate Hummus from Aldi? I thought it sounded so gross but I love it!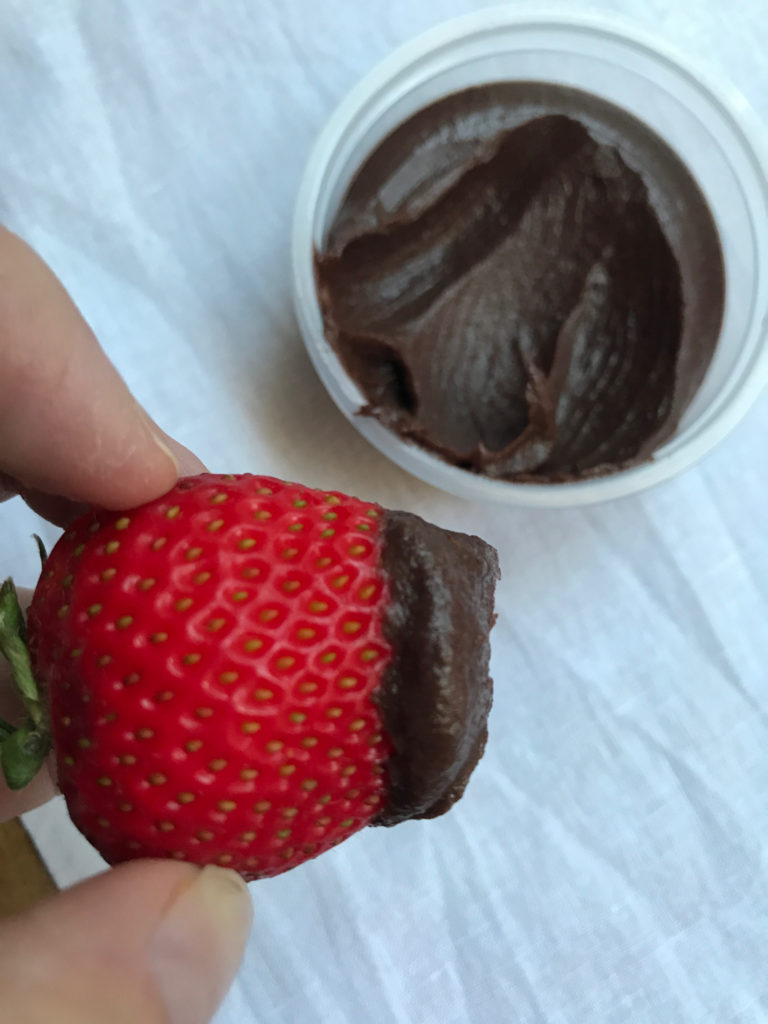 Easy meal that I had this week.
Cook veggies as directed. Microwave in bag for 5 minutes.
Scramble 1 egg in a skillet. Add 1/2 the cooked veggies to the skillet with a little coconut aminos (you could use soy sauce here as well) and a little salt and pepper.
Only THREE ingredients and easy and ZERO SmartPoints!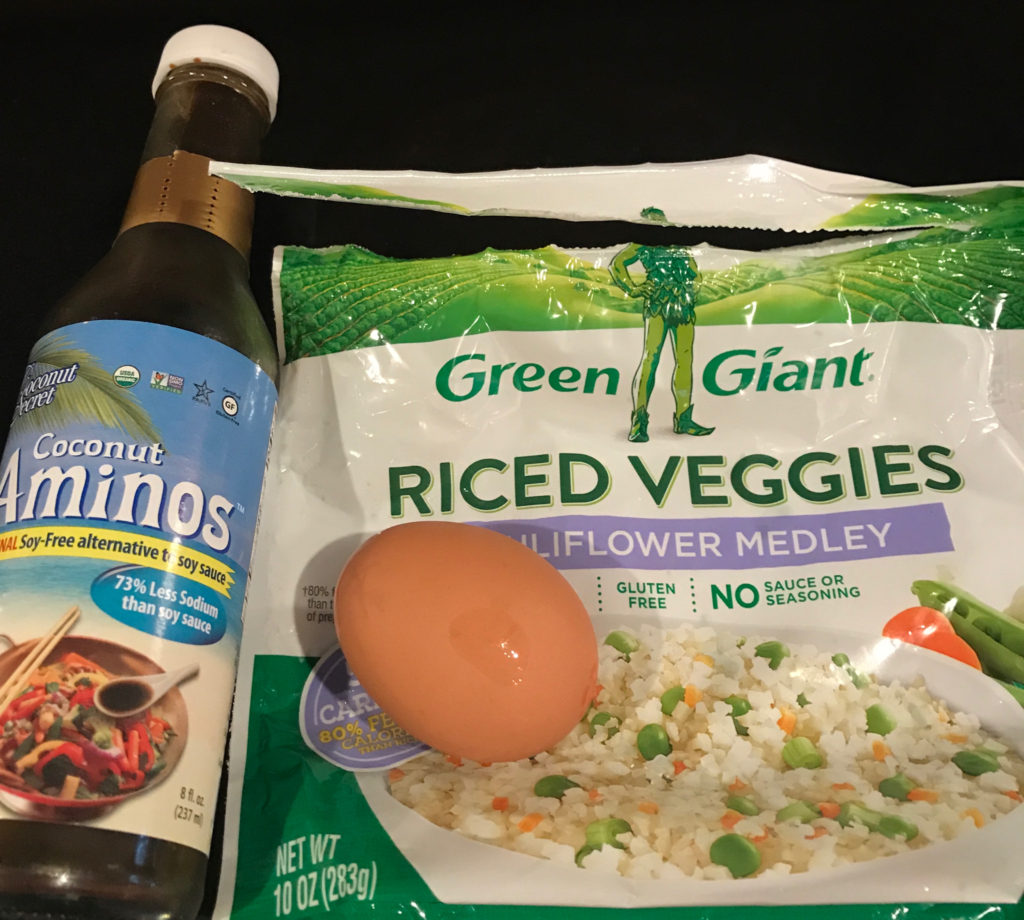 Enjoy!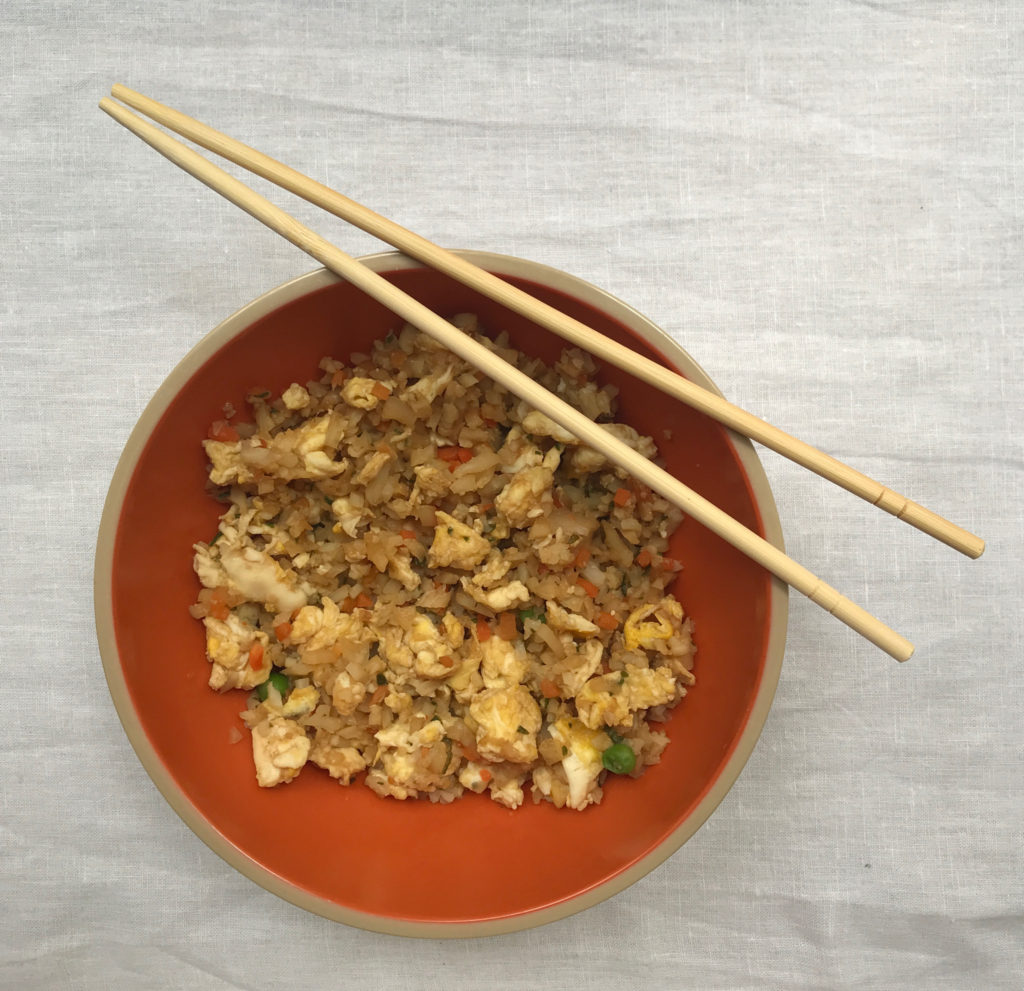 I hope you are all taking time to enjoy yourself, enjoy your life, enjoy your family and friends.
WW continues to teach me how to do all of those things and for that I am so appreciative.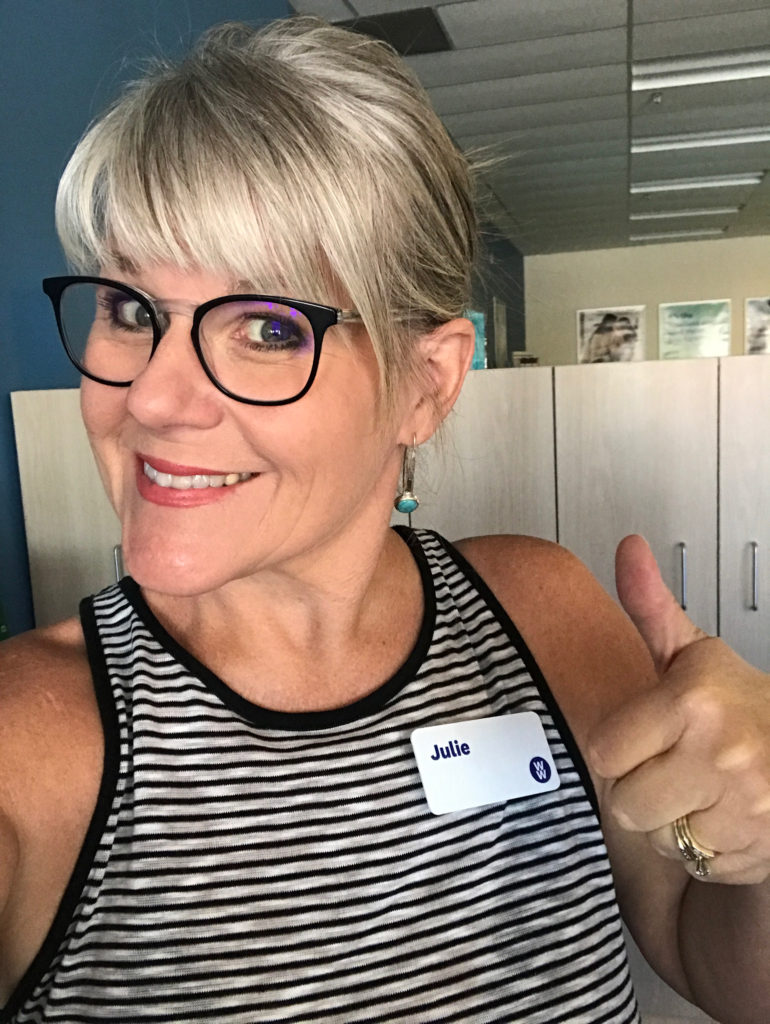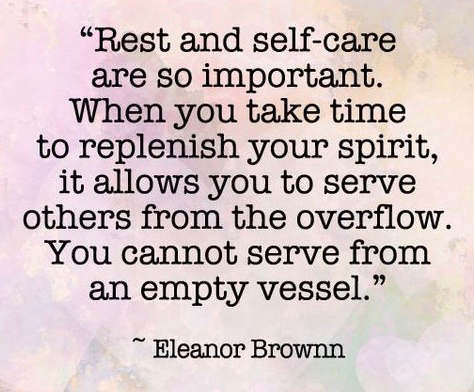 "love the life you live, live the life you love"