Well that was just as fun as I was expecting it to be with a few little surprises thrown in.
Friday started off rough, but in the end everything was wonderful!
My dad was so happy that the weather was going to be nice and he could pull his 1967 travel trailer with his 1967 Pickup. Four blocks from home, the old truck died.
He was eventually able to get it started and we headed back to his house to get the modern day truck.
We had a few other rough spells getting to the campsite and setting up camp, but by late afternoon we were set up and I was ready to meet the others in our group and share Effie with my new friends. Luckily, this first trip was less than 30 miles away and the weather was absolutely perfect.
What a great group of people! I felt very welcomed and it was so much fun seeing inside everyones vintage campers and inviting them over to see mine.
We spent the evening together Friday sharing appetizers and playing Jenga in a large grassy area of the campsite. It was a rather small campsite so everyone was fairly close to each other, but I still hit 10,000 steps before the end of the day! We all had breakfast together Saturday morning in the same area. These are some experienced campers! Several of them brought amazing Crockpot Breakfast Casseroles while I showed up with a large platter of berries. I'm learning. However, they all loved that I brought fruit, so I'd likely do that again.
Saturday night we all had dinner together and more games. Such a friendly group!
One of my favorite parts of the weekend was waking up on Saturday morning to make my first pot of coffee. I woke up at 5:30 and couldn't stand it any longer, so I got up. I'm certain that was the best cup of coffee that I've ever had. 
I also met an unexpected friend over the weekend.
One of the things I had thought about before even going was the people that I would meet over the weekend. 
Two campsites down from me was an enormous old white bus. While I was setting up my camp there was a lady walking by me and we waved at each other and started up a conversation. I asked if she was the bus owner. She was. She looked about my age and I was really interested to hear her story. I love a good story. She was in month two of living in her bus full time. She pulled a car behind it for getting around town. She has a job that allows her to work remote and she said that she has always been the one in the family seeking adventure. We really hit it off and assured one another that we would get together later. I really wanted to see inside of her bus and learn more about her.
Saturday night after dinner with my group I headed back to my site so I could just sit and look at Effie. I think I'm in love with her. lol 
I started my first campfire and just sat. It was a perfect Saturday night and it was just as I dreamed that it would be. 
Pretty soon my new friend showed up. We had a great chat, she invited me over to see the bus, and then we came back to my campsite and she got a tour of Effie. I really enjoyed my evening.
Sunday morning I had coffee at my place, then walked to my dads and stepmoms campsite to drink their coffee. The weather was absolutely perfect!  A nice morning breeze with sunshine. Other campers in our group stopped by to visit.
Eventually I headed back to Effie to cook my first meal in her. Dad said he'd be more than happy to come eat my food. Ha! I fixed breakfast while dad sat at my table and chatted with me. I was so enjoying this time with my dad. Christy, his wife actually fell on Friday while we were setting up their canopy. She was trooper all weekend. She fell hard and landed on her wrist and I know she wasn't feeling great by Sunday morning. Swollen and sore. She wasn't really feeling in the breakfast mood on Sunday.
While dad and I were having breakfast, one of the campers in our group came by to say hi and I invited her in. I was having so much fun sitting at the table and having company! I was giddy and it was ridiculous. I offered my guest some breakfast since I had plenty. She accepted my offer and that made me even happier! I think I was playing house!
Moments later, my bus friend came by. My dad was like, come on in! We're having a party! I offered her coffee in one of my vintage cups. She said she didn't really want any coffee but that she did want to drink out of my cute cups. SHE'S MY BEST FRIEND!  She totally got me! She had coffee.
The four of us had the best conversation. This was my favorite part of the weekend. Sitting around my little dinette area that I had built. Conversation with my dad and two wonderful people that I had only know for hours. At the end of this conversation, my new bus friend shared with us that she lost her dad within the last year and that they were very close. She said that my relationship with my dad reminded her of her and her dad and she thanked me for sharing my dad with her that morning. Now I was handing out tissues to everyone. 
Before she left she asked my dad if she could give him a hug. They hugged forever and she said…"You give hugs just like my dad did. I feel like he is here with us."
I'm not crying, YOU'RE crying!
I love people.
Yes. I have her contact info.
We were packed up and ready to go by noon. I followed dad to where we would exit the highway and go in opposite directions home. As we exited the highway, he yelled to me out of his open window and over two open lanes, "Nice trailer!! Maybe we could take a trip together sometime"
Classic dad. Always with a joke.
Here are a few pics from the weekend.
I have a custom made awning ordered, but in the meantime, Dad let me borrow a spare canopy. I was happy to have this as the noon sun was HOT!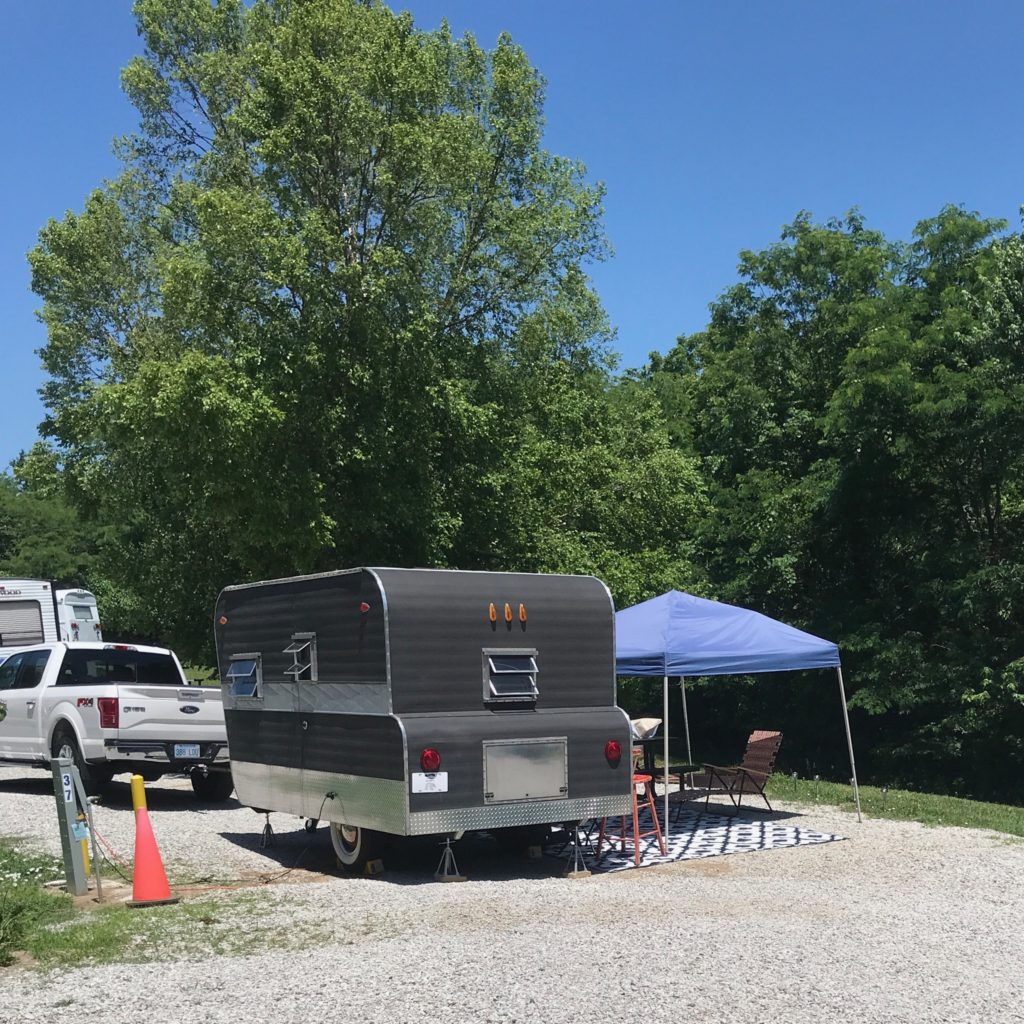 My appetizer contribution for Friday night.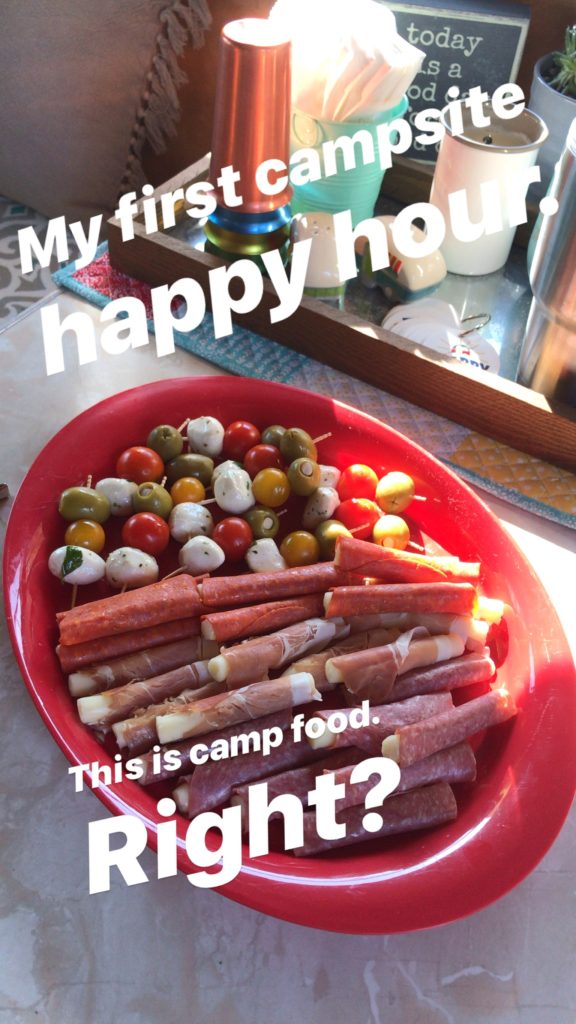 My daughter in law gave me this journal about three years ago and the only entry in it before this weekend was the fact that she gave it to me. It is perfect to keep in Effie and journal every trip!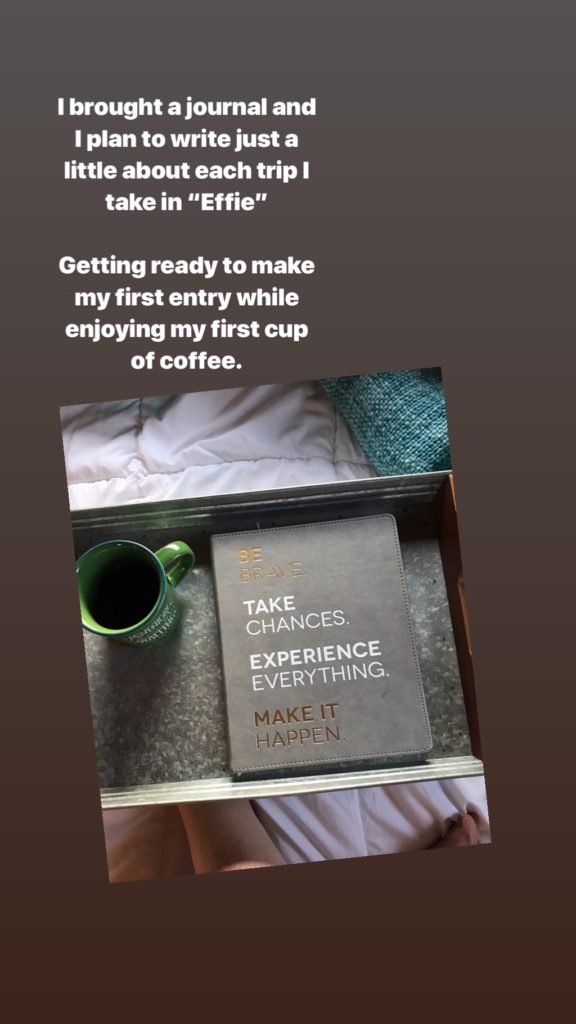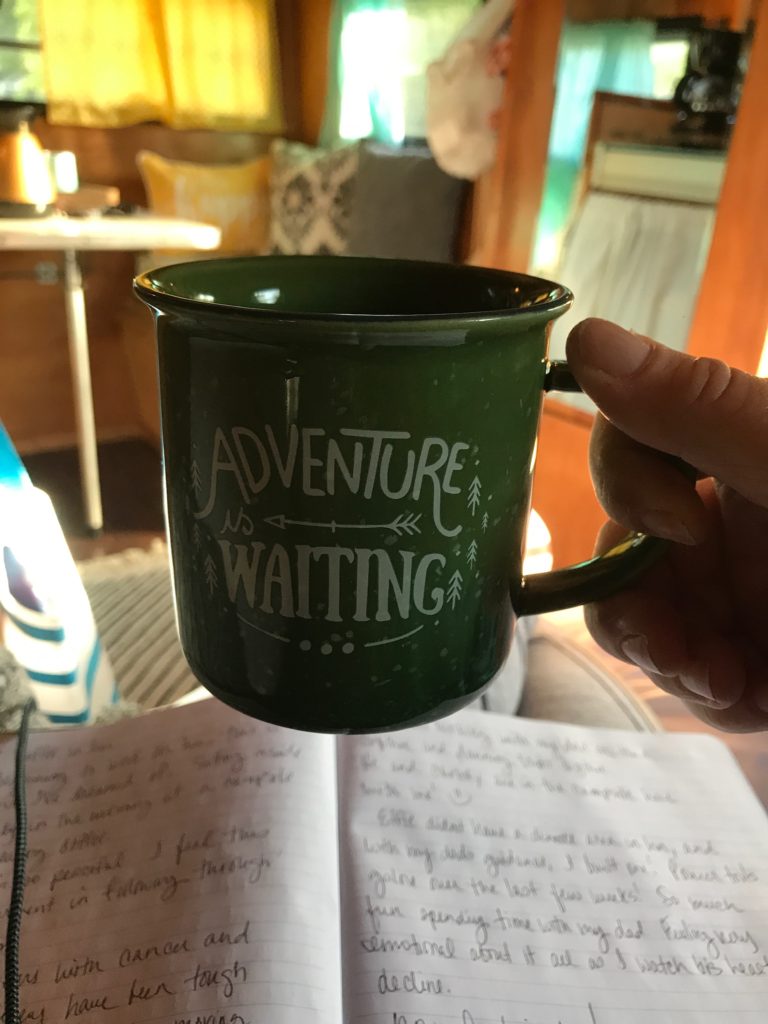 Getting my Berry Platter ready to go meet the others for breakfast.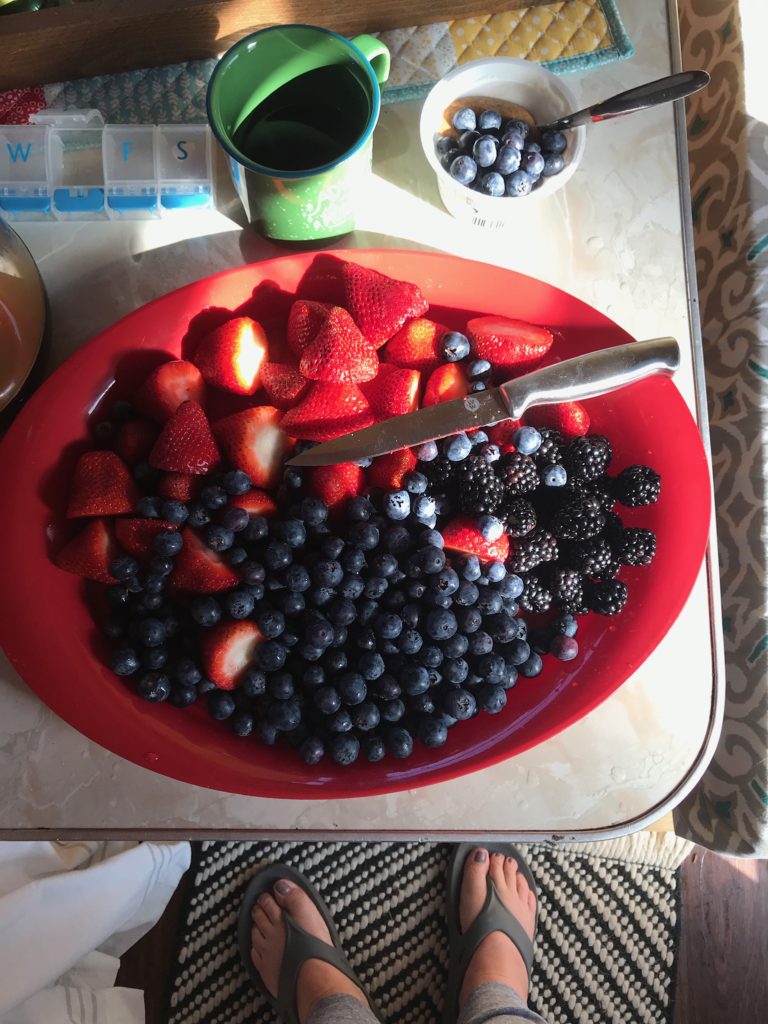 They even made pancakes outside on the griddle! I skipped those and went with the eggs, but I was super impressed with the variety of foods!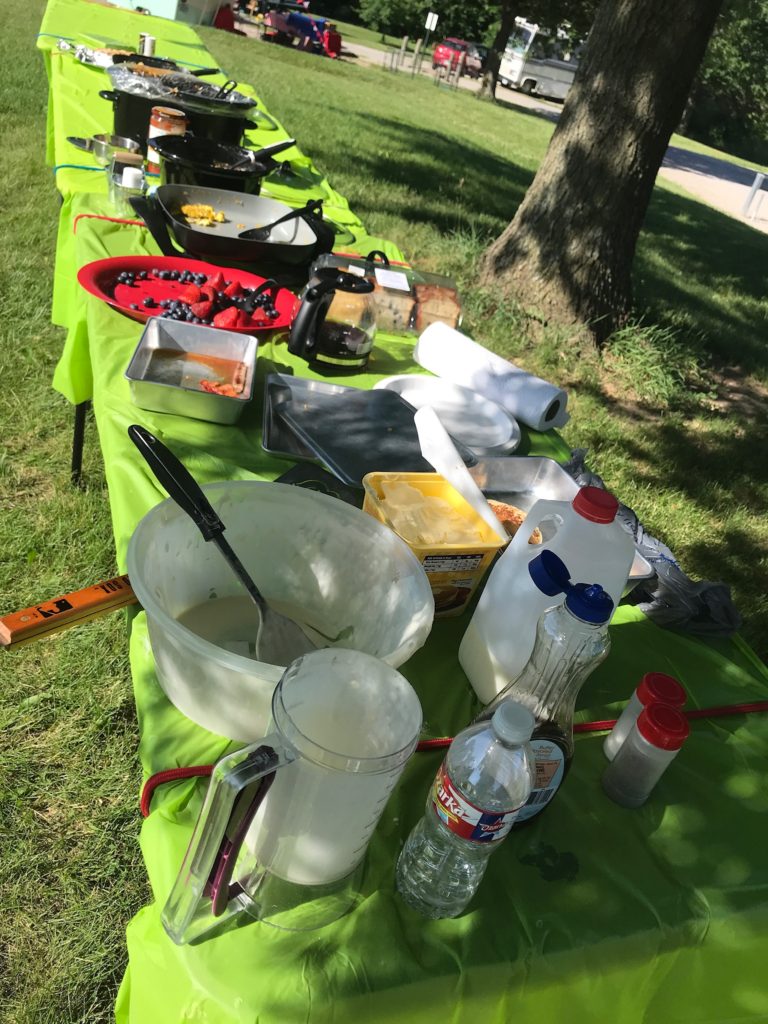 I did snap a few pictures of the other trailers. Sooooo cute!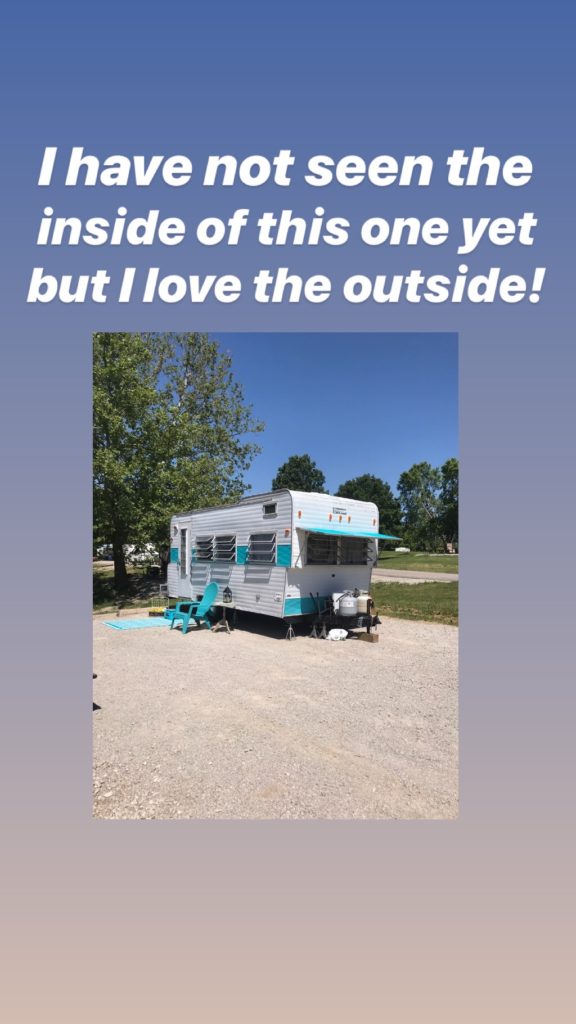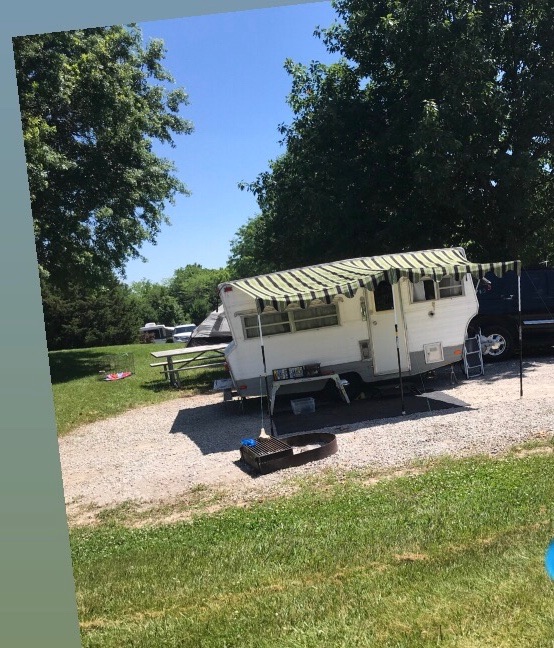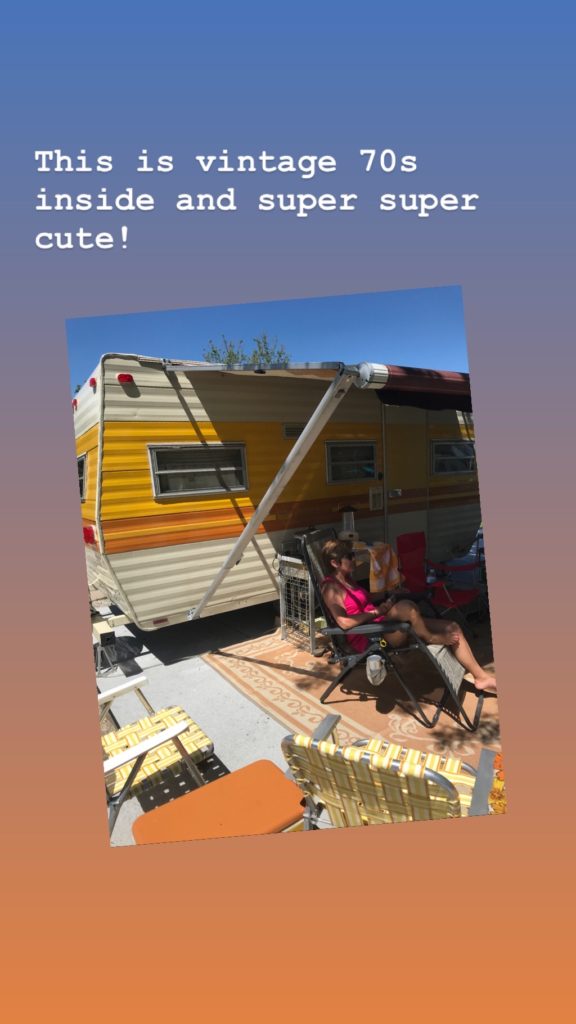 Not vintage but with our group and OH SO cute! There is a full shower in here!!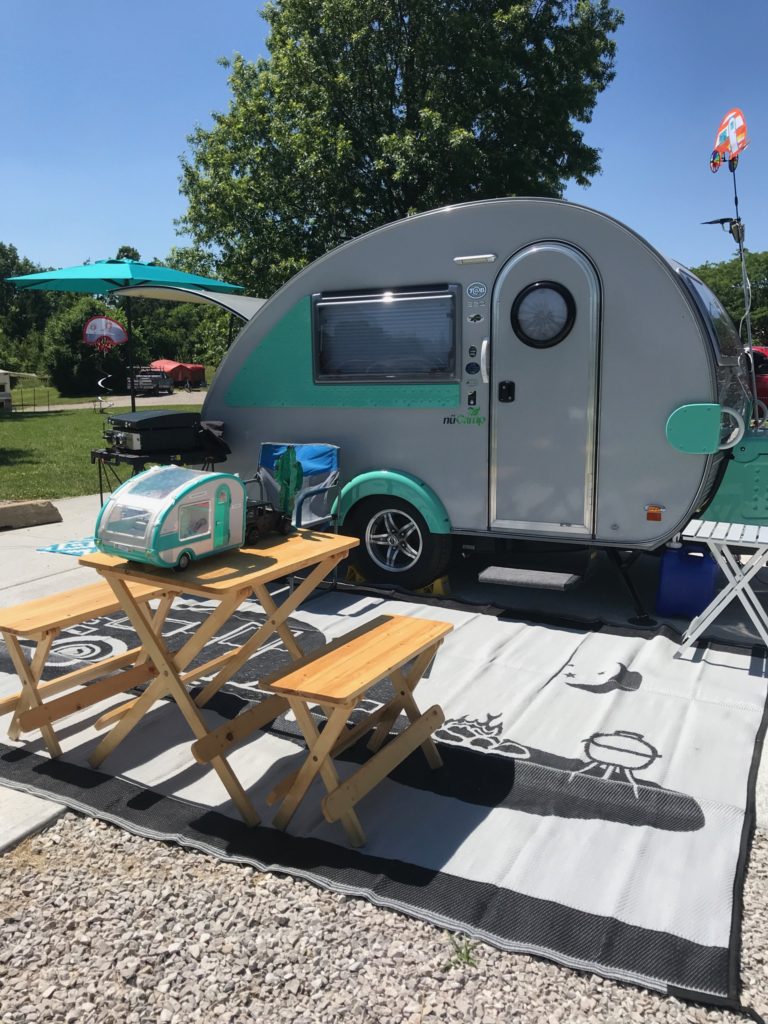 I kept my food fairly simple with healthy choices. Lunch on Saturday afternoon while Dad and Christy hit a few flea markets close by. I didn't want to leave Effie!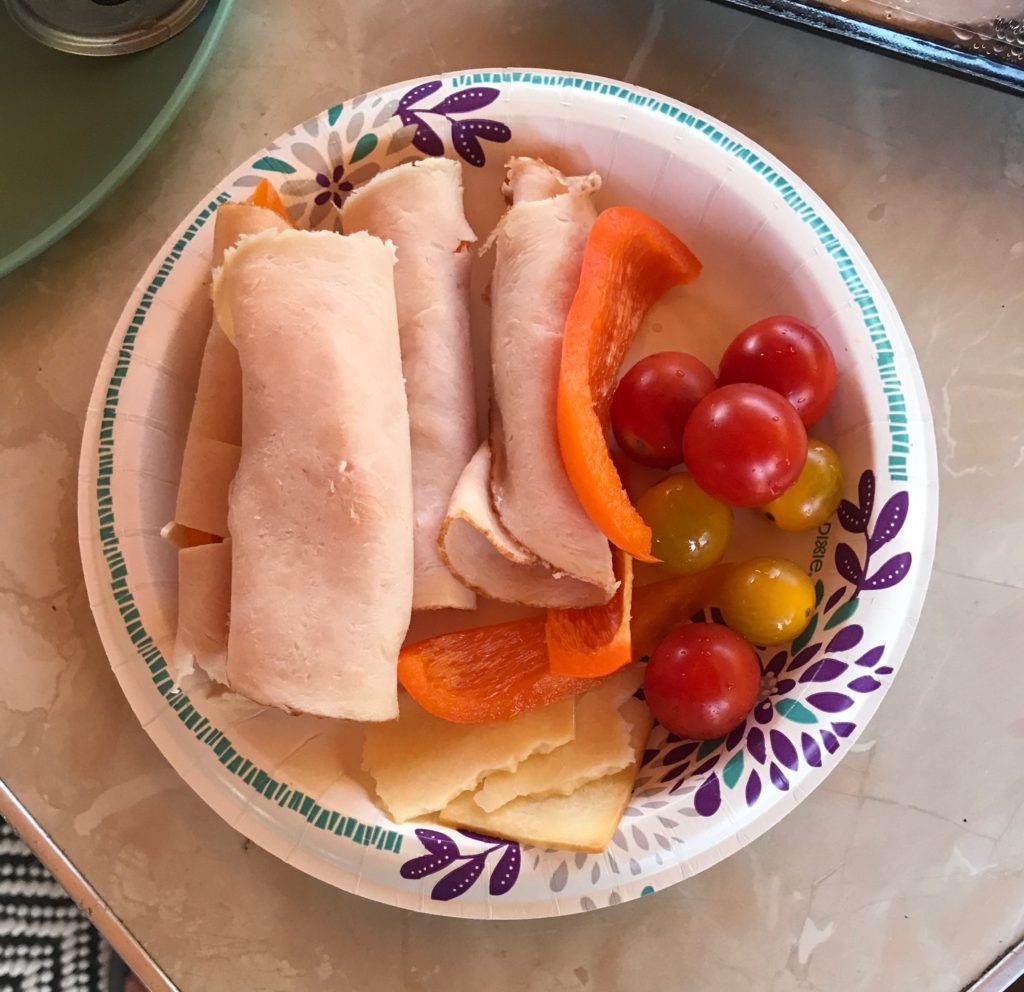 This is Gary. He lives two doors up from me in our neighborhood and he is maybe just as excited for me and my new toy as my dad is! He came out to the campsite to visit. I was so surprised to see him and so happy he was so interested! I was able to introduce him to a few of the others as well.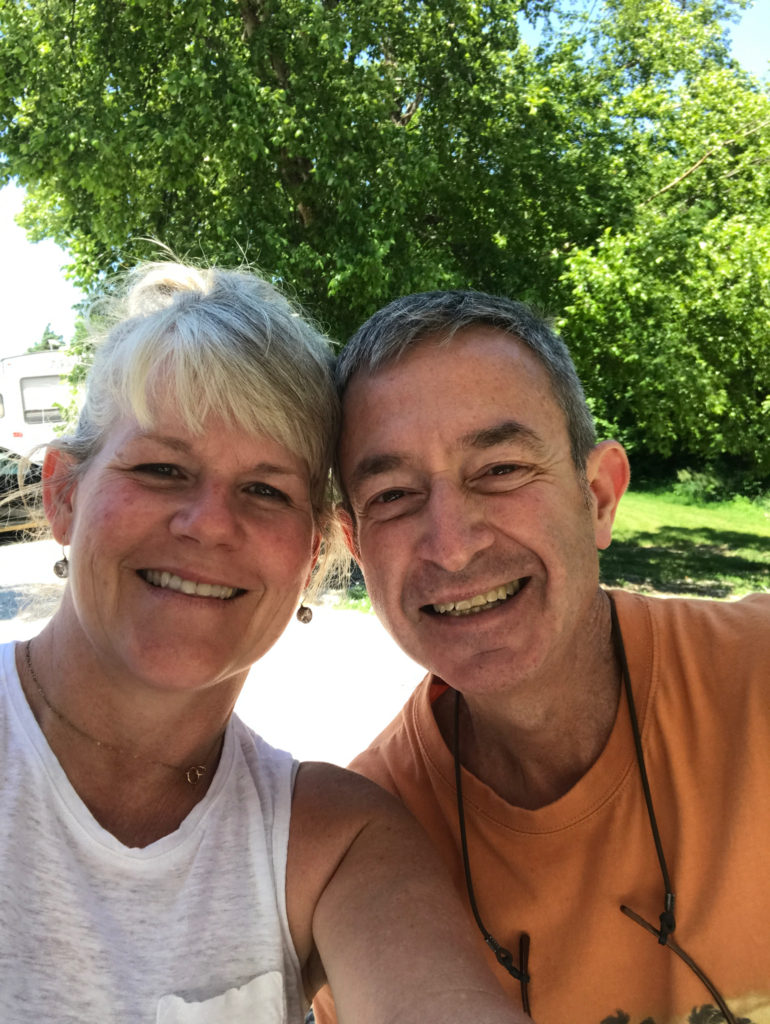 This is the daughter of a mother/daughter duo that own a tiny 10′ trailer that I got to see inside of and forgot to take a picture of. It was sooo cute!
Her and her mom hosted this event. Sloppy Joes on the griddle made by one the campers in our group for dinner on Saturday. I took a container of Potato Salad. I didn't put a lot of effort into food. I think I was more focused on…."Do I have everything I need?"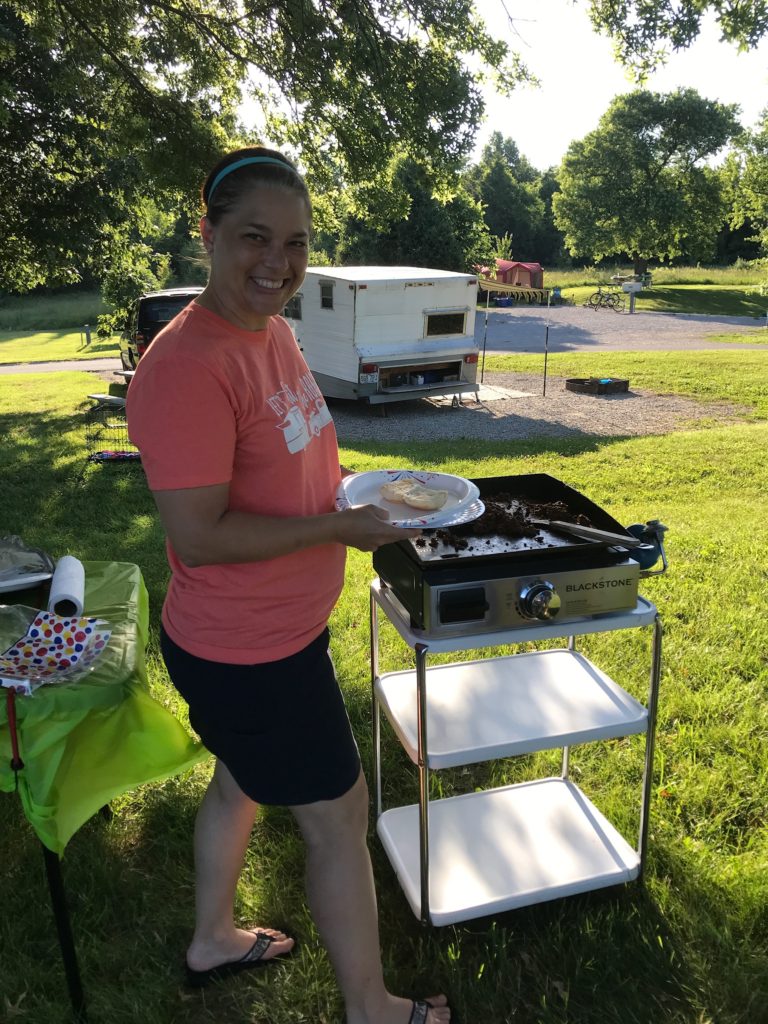 So many nice and interesting people!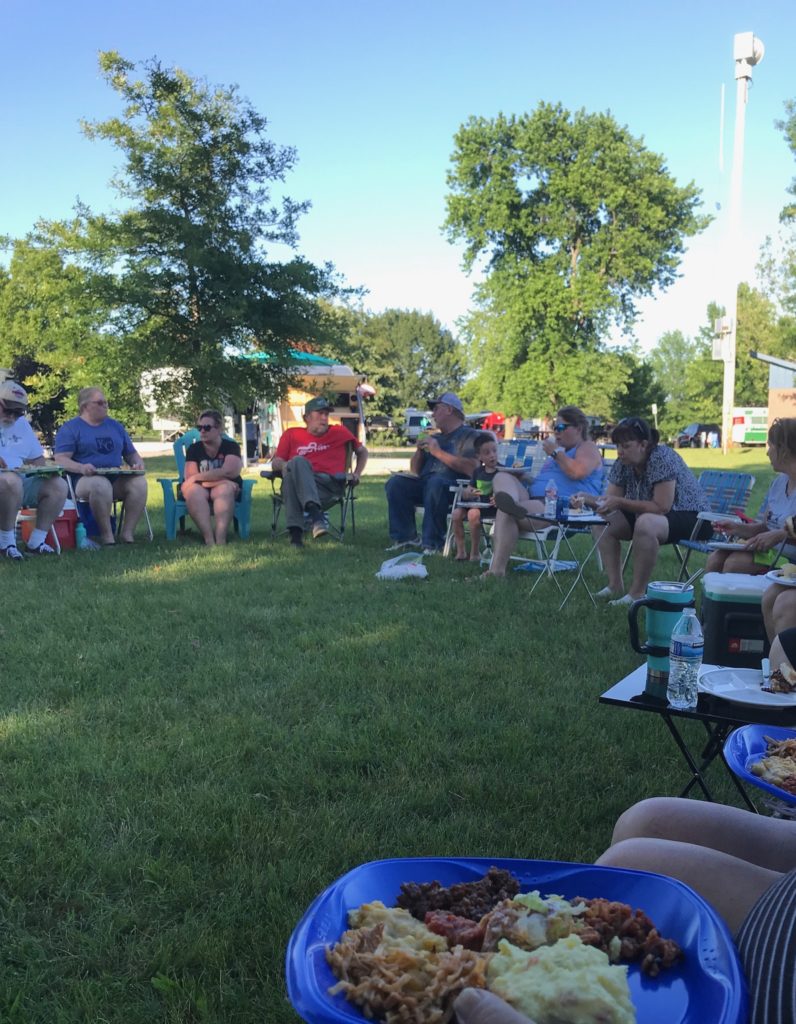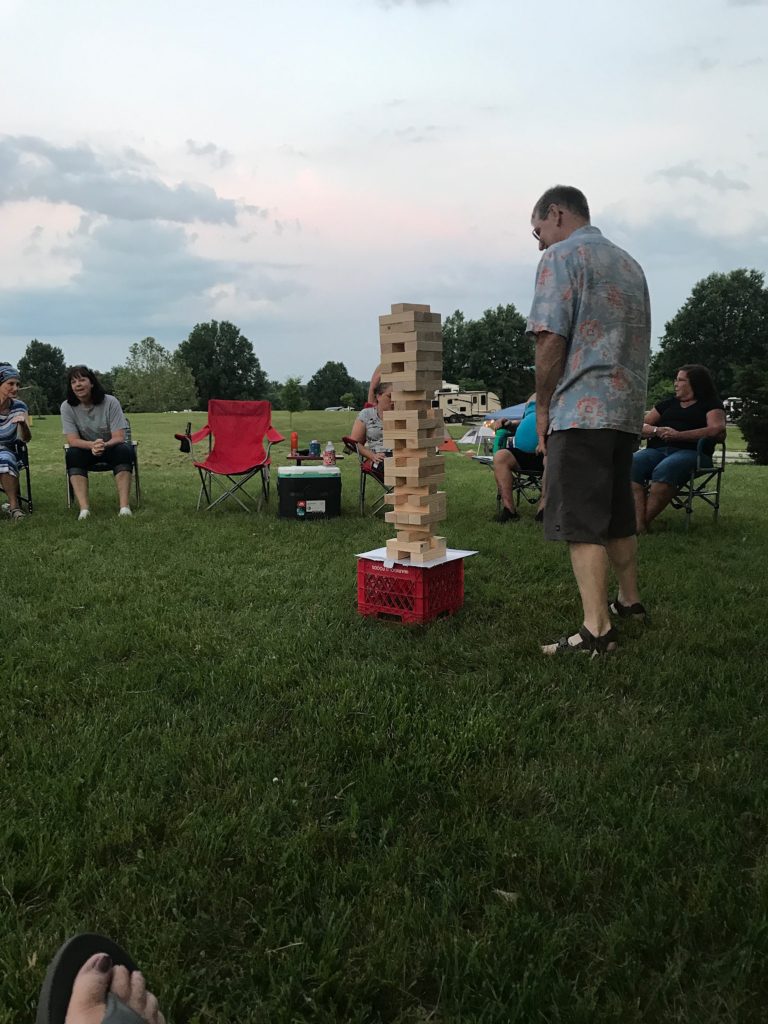 Saturday night, me back at my place.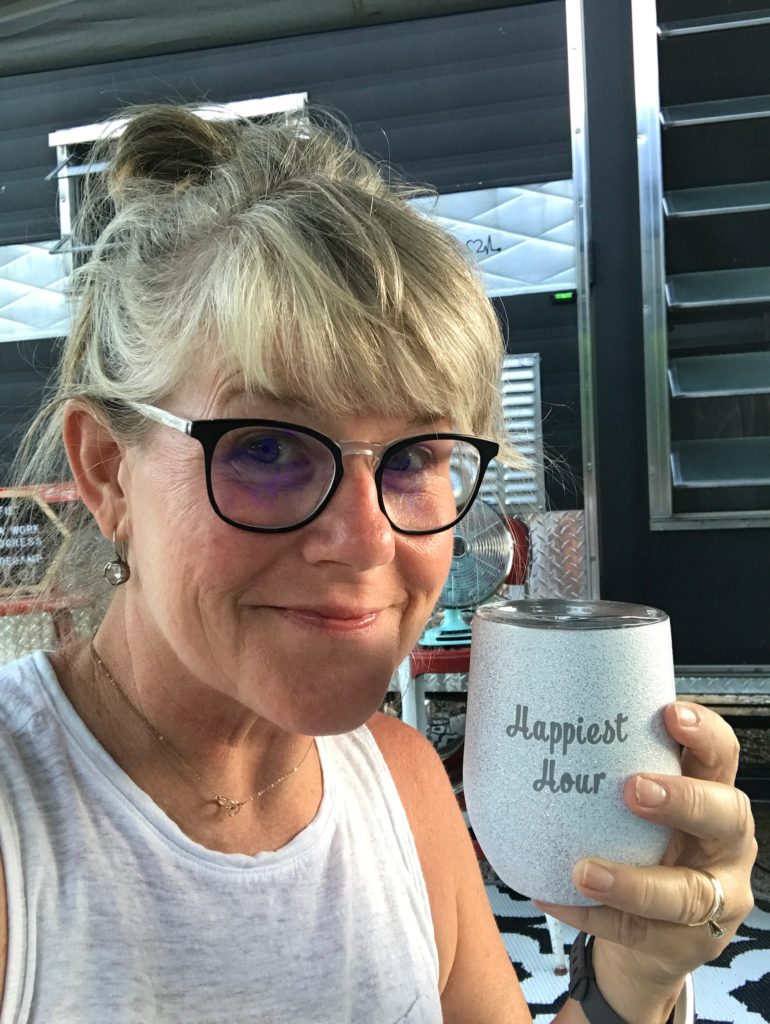 Sunday morning Coffee.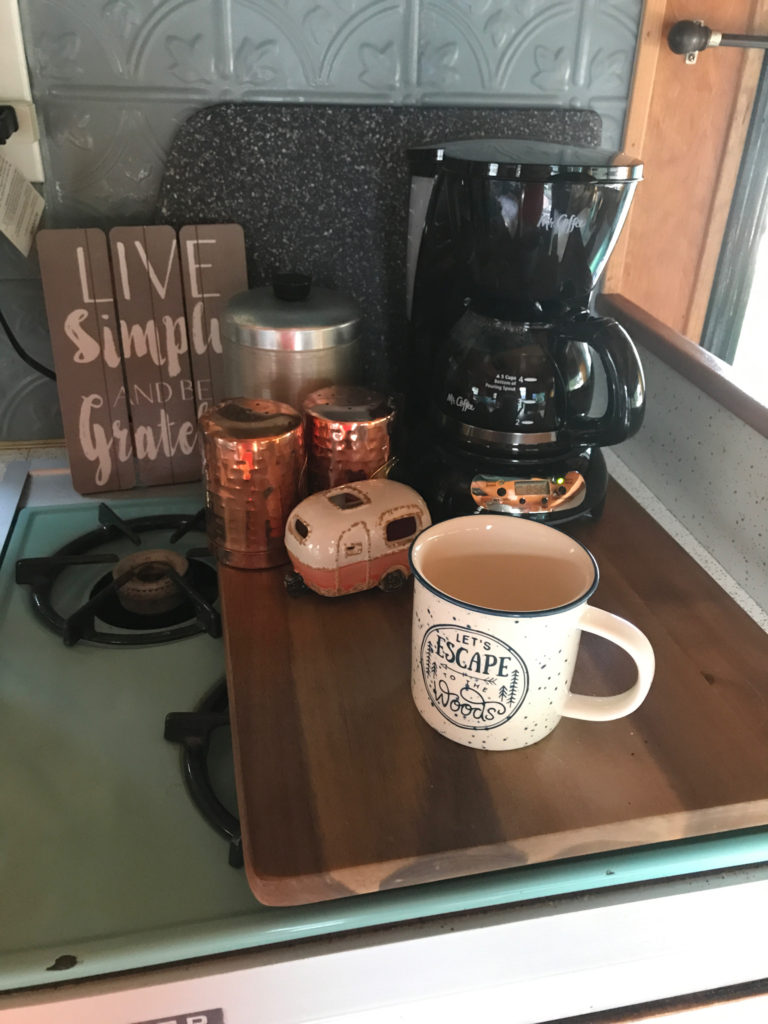 Dad visiting me.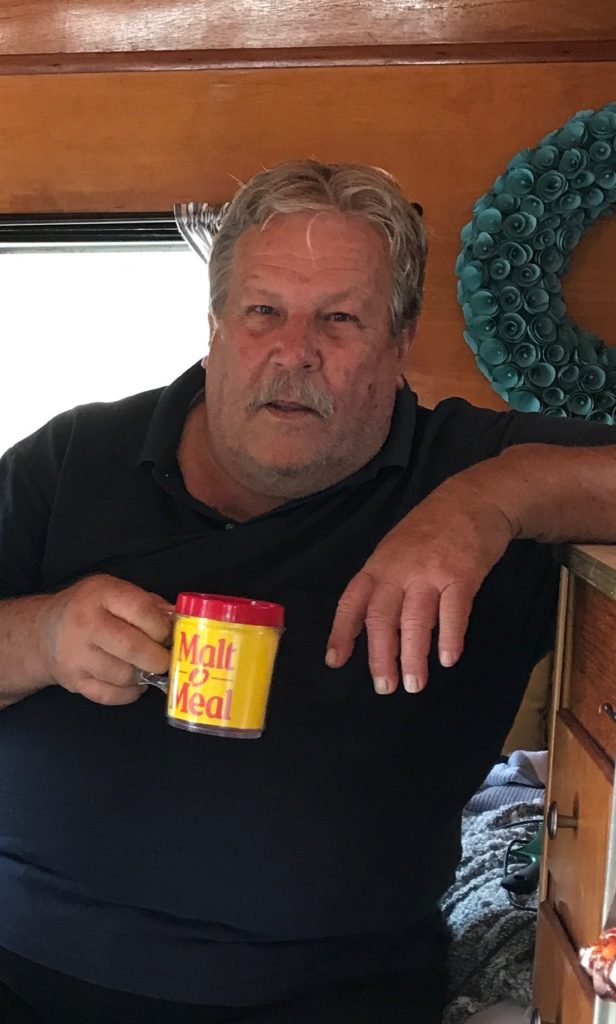 I can think of a million things that I can make in this little 8″ electric skillet!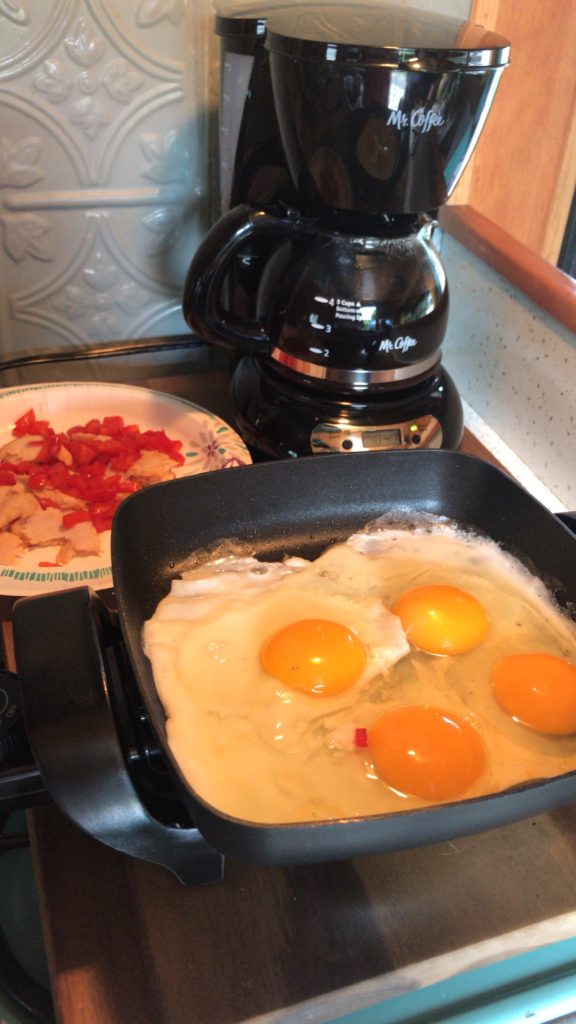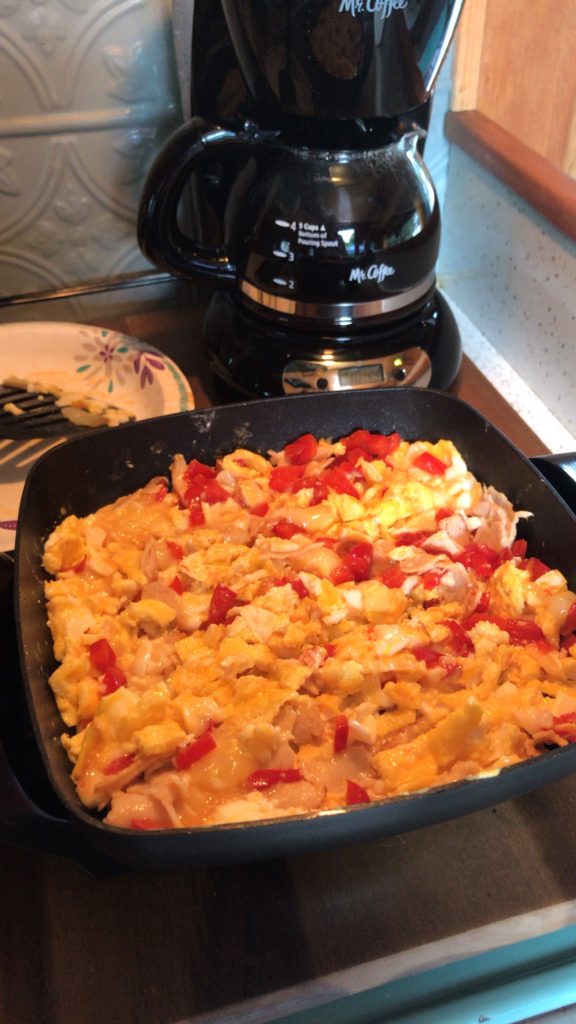 Happy Place……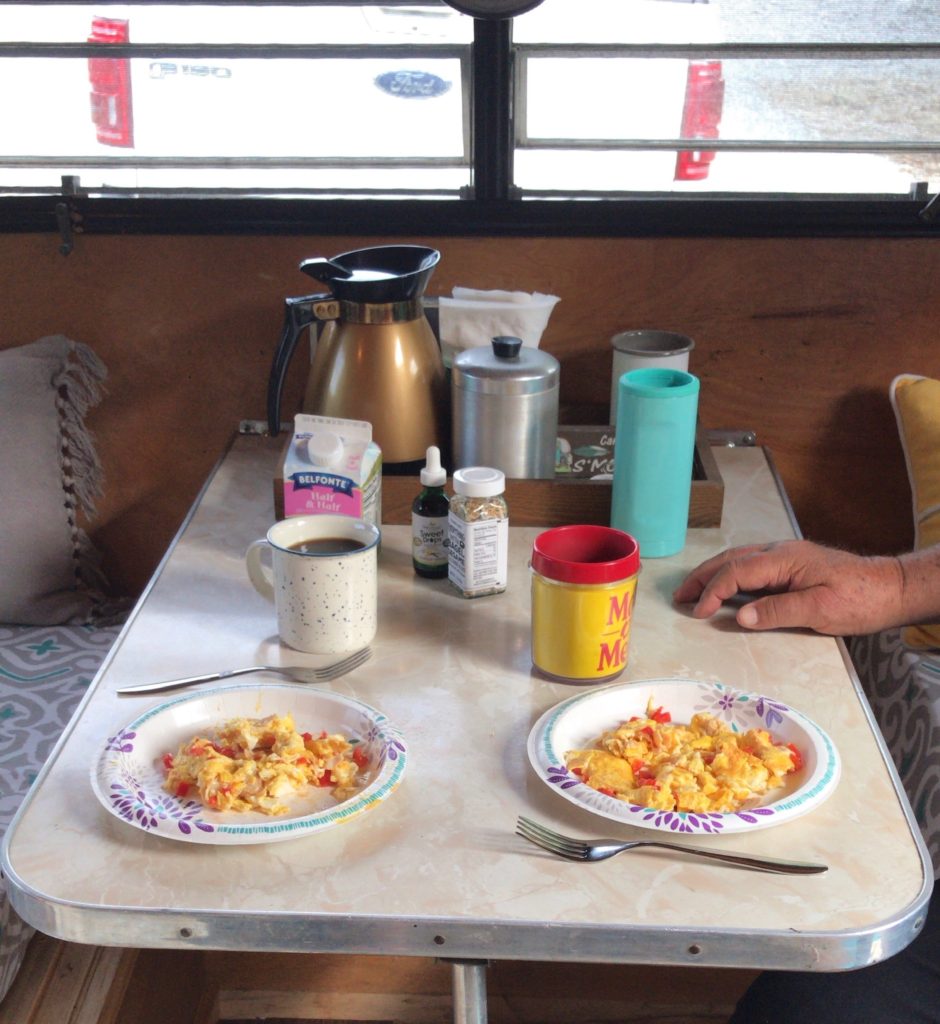 I forgot to mention that my new friend was almost run over by her car just a few days before we arrived! She is okay, but showing off her scratches and bruises here while enjoying coffee out of my little cups.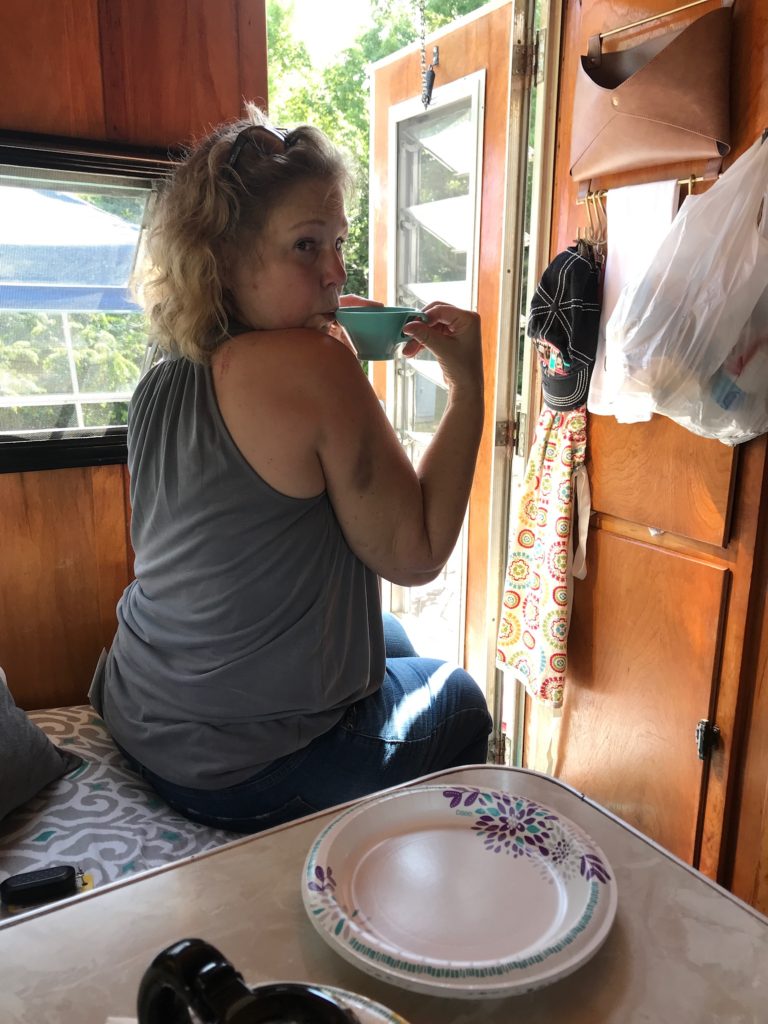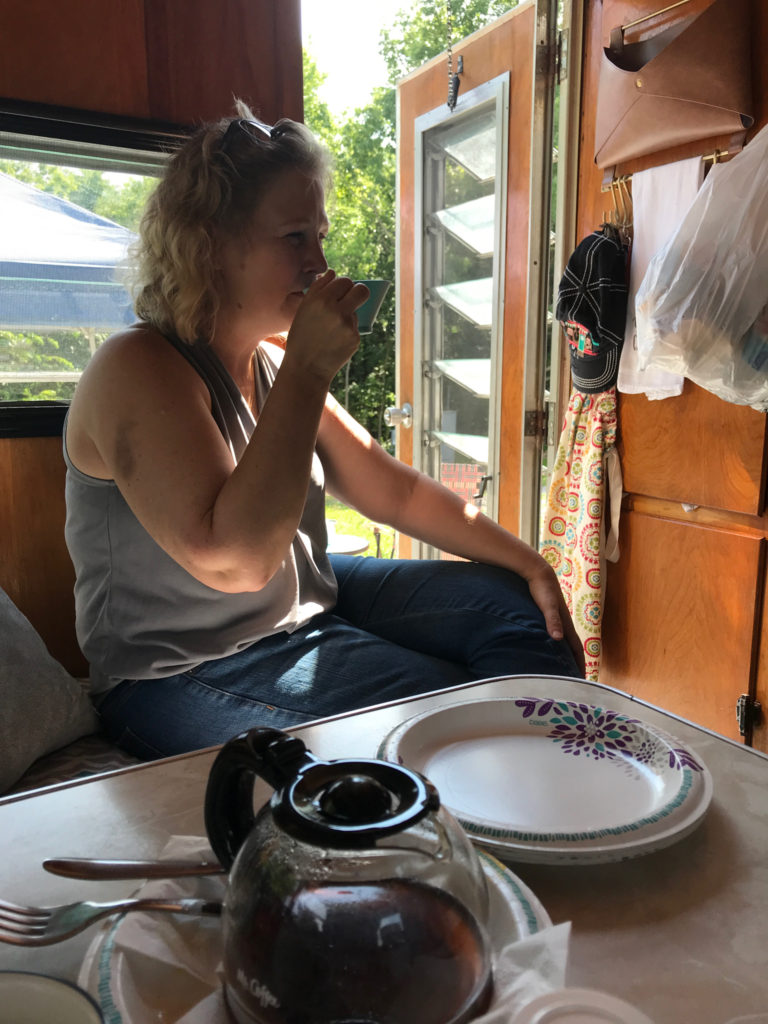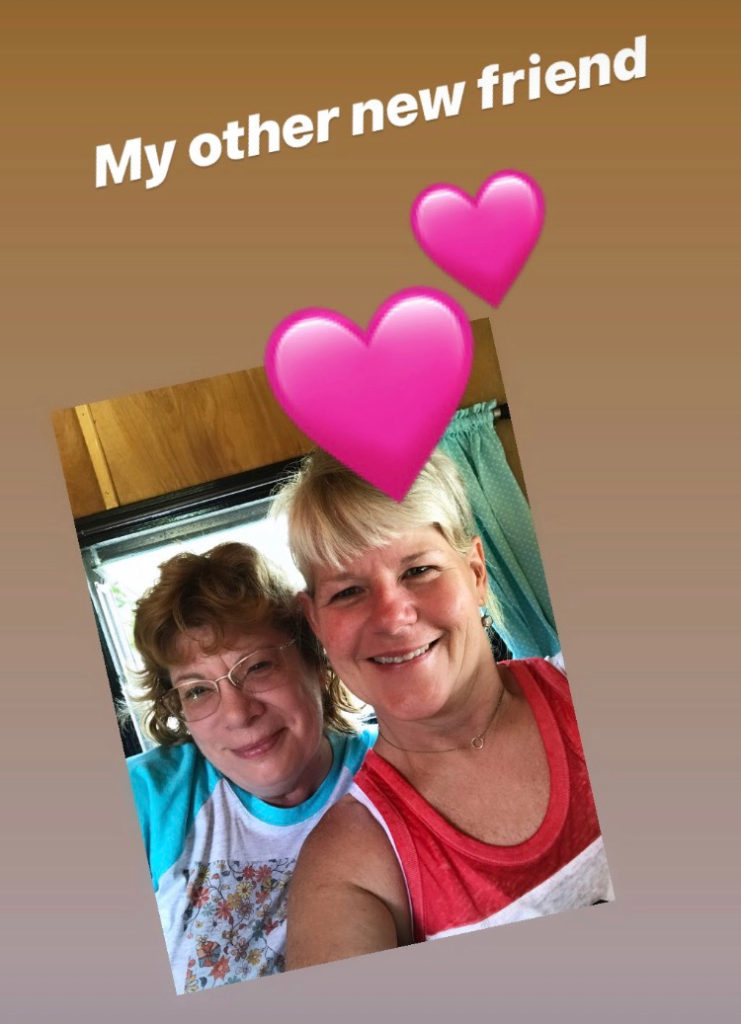 I am who I am because of this man. Thanks for always supporting me and believing in me and for your sense of humor which I believe I have inherited. 
I LOVE YOU DAD!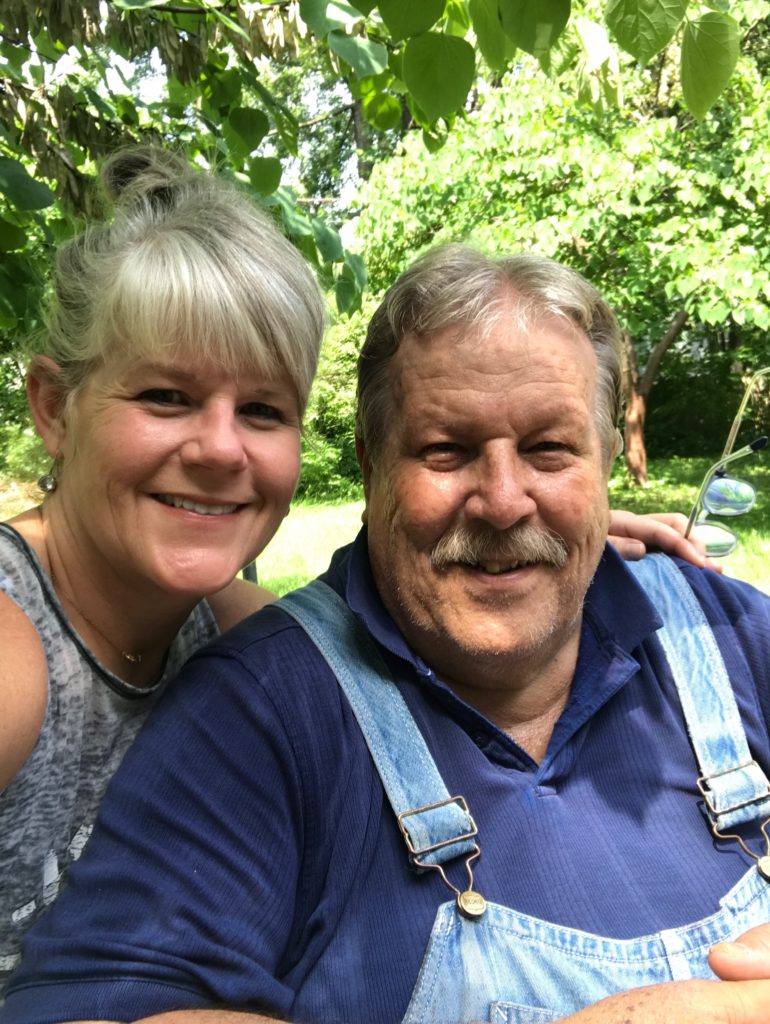 "love the life you live, live the life you love"