I am happy to report that life is pretty awesome right now.
I've determined that I need to "not commit" to when I will be able to post a blog. When it can happen, it will happen.
I am going back to where I was at the beginning of this blog in 2011. This is my journal. I come here when I need to write. If sharing my day to day life, hobbies, experiences, struggles and challenges, successes, can help someone, then I am extremely grateful for that.
There are many of you that have followed me for a very long time and I think about you when I am not blogging. I feel connected and obligated to many of you. I feel guilty for not blogging because I feel as though I have been a support source for you as I blog through my own experiences.
I am a people pleaser. However, as I go through life and figure out what it is that I need for myself to be happy and healthy, I have learned to prioritize, and for me that means fitting in a blog post when I have the time to put my heart into it. The only blog post that matter must have my full attention and all of the emotions.
That all being said, Hi!
So many great things are happening right now and 2019 is going to be one to remember for sure. 
I'm just going to highlight a few things, or else this would be a novel and I'd still be writing into July and August….and the fall and winter and into 2020.
Work
I can not possibly love my job as a WW Coach any more than I do. Each week I am having conversations with members where I get to know them on a personal level and we have such great conversations. I feel like a therapist and I feel like I am in therapy. I truly could not be happier. I feel extremely fortunate to have this job. 
WW Ambassador
As a WW Ambassador, we are given all sorts of great opportunities. WW sends us products to try, we get a sneak peek at what's coming up and we are given the opportunity to host parties.
WW is currently featuring many of the Ambassadors on their stories in a series of #whatieatinaday. They send readers over to the Ambassadors page to watch their story. They featured me last week and it was kind of a fun thing to get to participate in!
Seeing this on the WW page was a nice reminder that even though I'm above my lowest weight, I'm much healthier than I was in this before picture.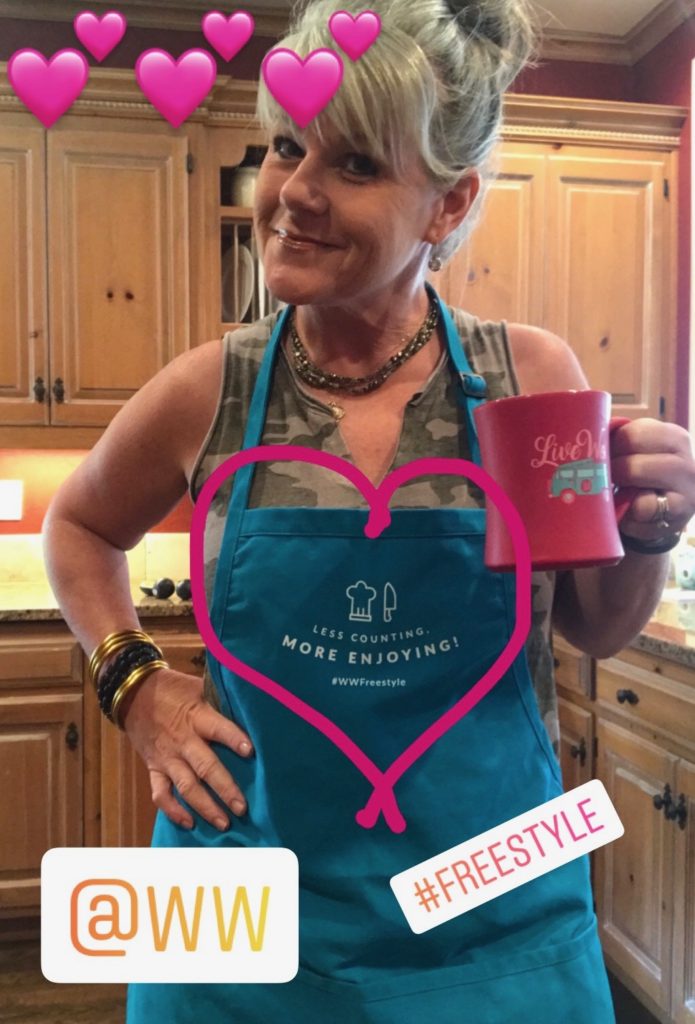 This year, the WW Ambassadors were offered a Spring Brunch Party Box. I decided to make this one a Breasties Brunch, and I invited a six Breast Cancer Survivors over so we could talk healthy eating and boobs. Can you believe that I know SIX women (I actually know more than that!) that have been diagnosed with Breast Cancer within the last two years? We are all at different stages of breast reconstruction. I thought it might be nice to get together and share our stories. Some of these ladies had met each other, or already knew each other, and a few had not. They are all lovely strong ladies and I knew it would be a great group together.
I loved this day and the conversation around the table was even better than I was expecting it to be. I think we all learned a few things and it was a great opportunity for each of us to share our story with someone who really understood. It was a perfect morning of coffee, mimosas and food.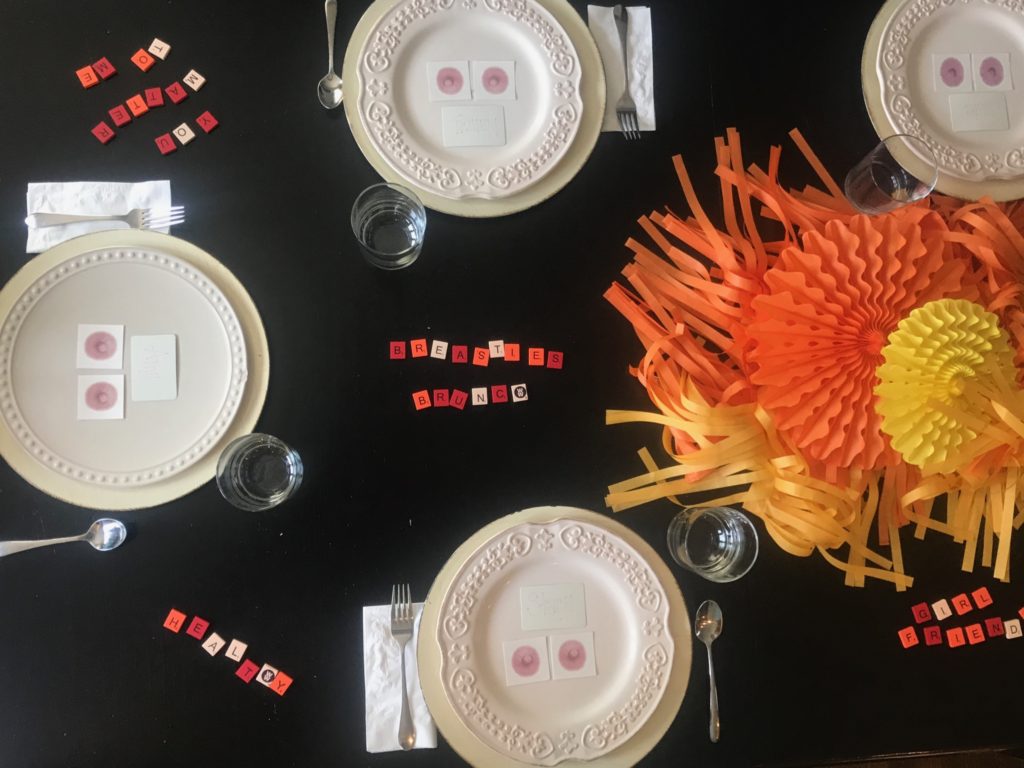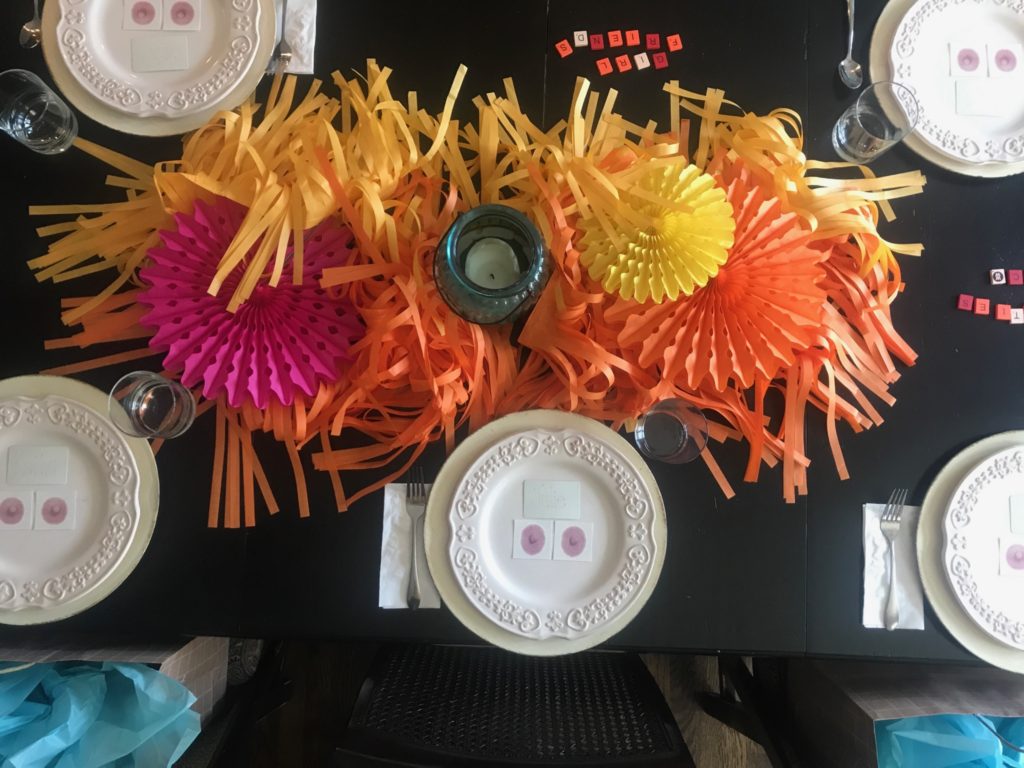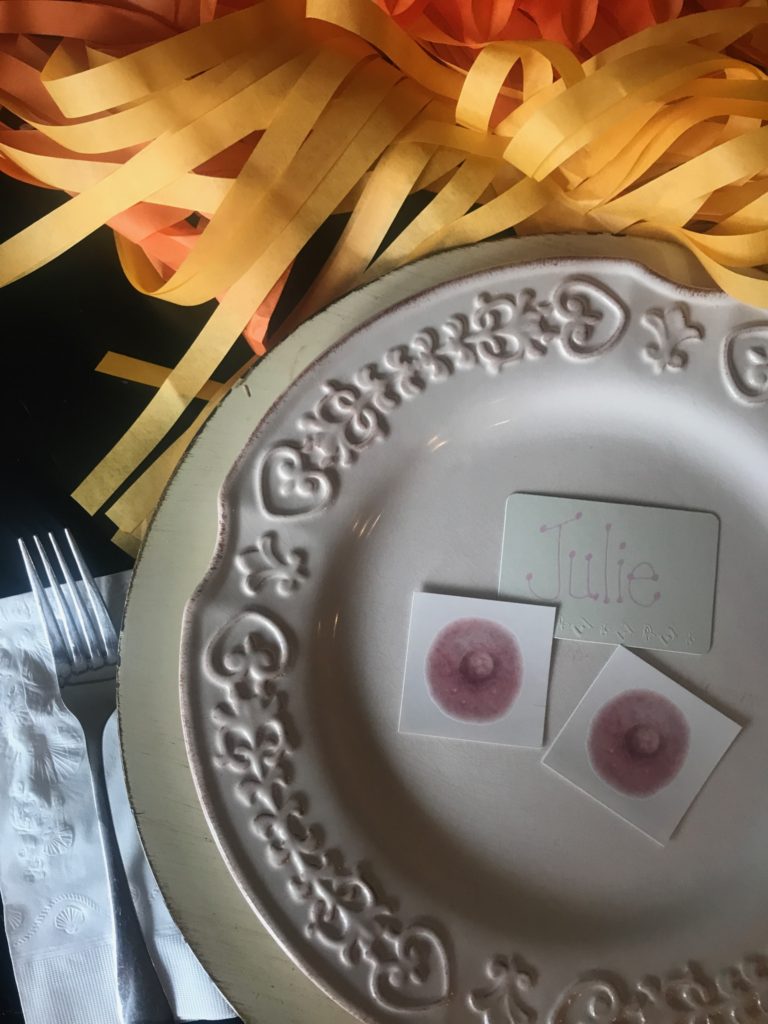 Nipple Tattoos are the final phase of breast reconstruction, so typically you go a pretty long time with no nipples. I had no chemo or radiation and I'm still two years out with no nipples, so for some it is soooo much longer.
I found these amazing Temporary Tattoos and I have shared them with several friends of mine going through breast reconstruction after cancer. I thought it would be nice to share them with the ladies at brunch, so I plopped them right on the their plates with their place card!
Please give this info to a friend that you think might be interested. They really are great during that time while waiting for the final phases of reconstruction.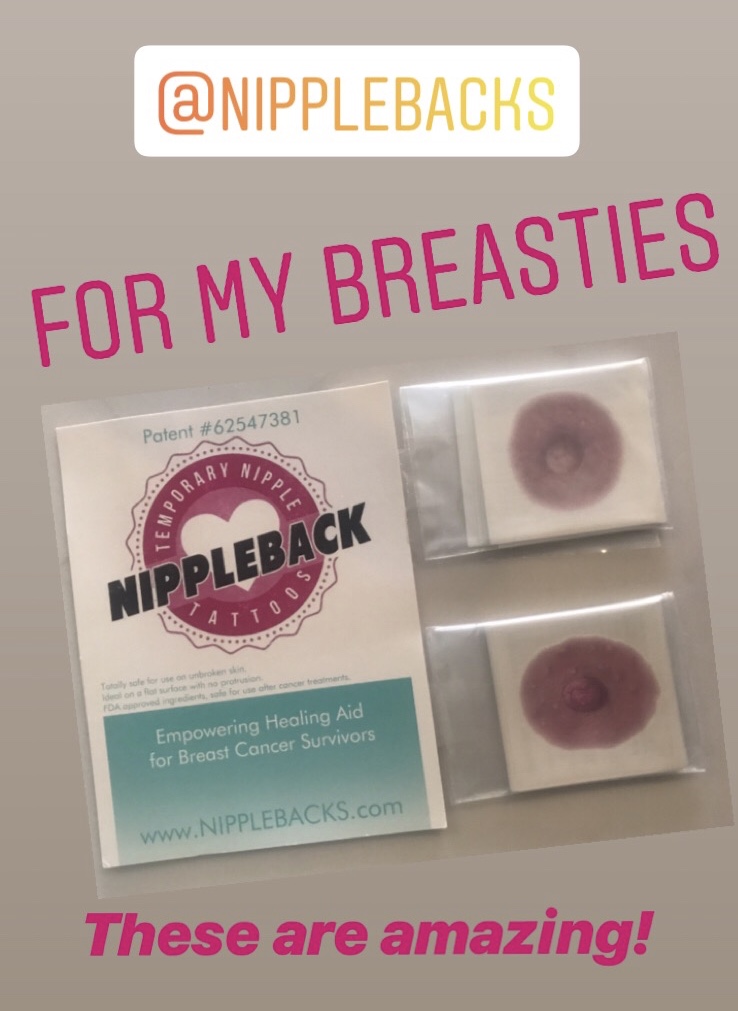 Mimos Bar with Orange Juice, 5 calorie Cranberry Juice and 5 calorie Grapefruit Juice with the new Cense Sparkling Wine.
You can find the wine on Censewines.com. Only 3 Smartpoints per serving.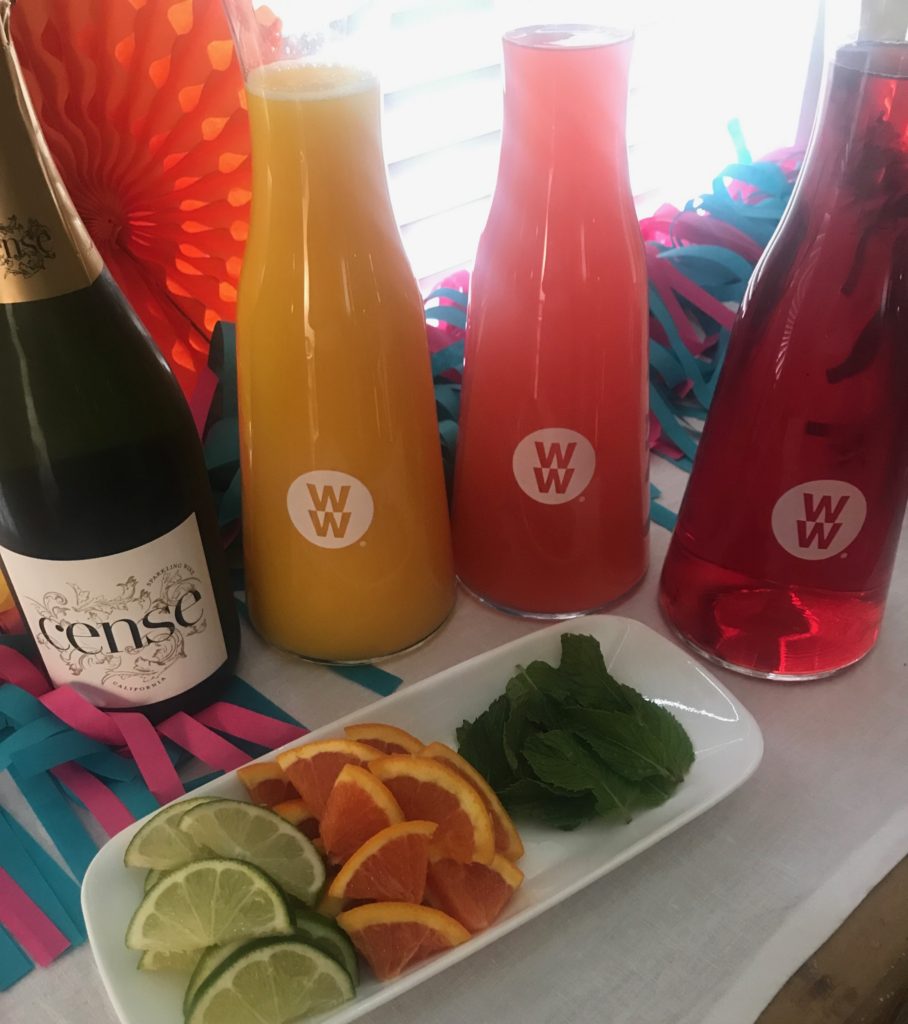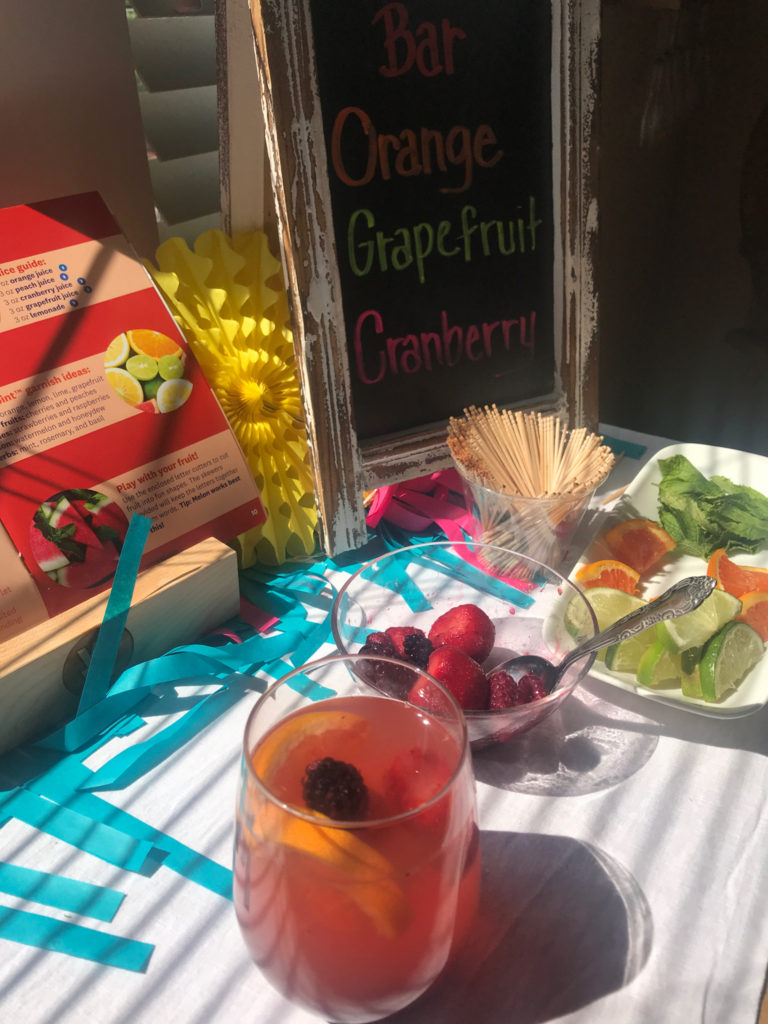 I kept the menu simple so I could enjoy the conversation.
Egg Casserole, Blueberry Cobbler, Yogurt Parfaits, a coffee bar and Mimosas.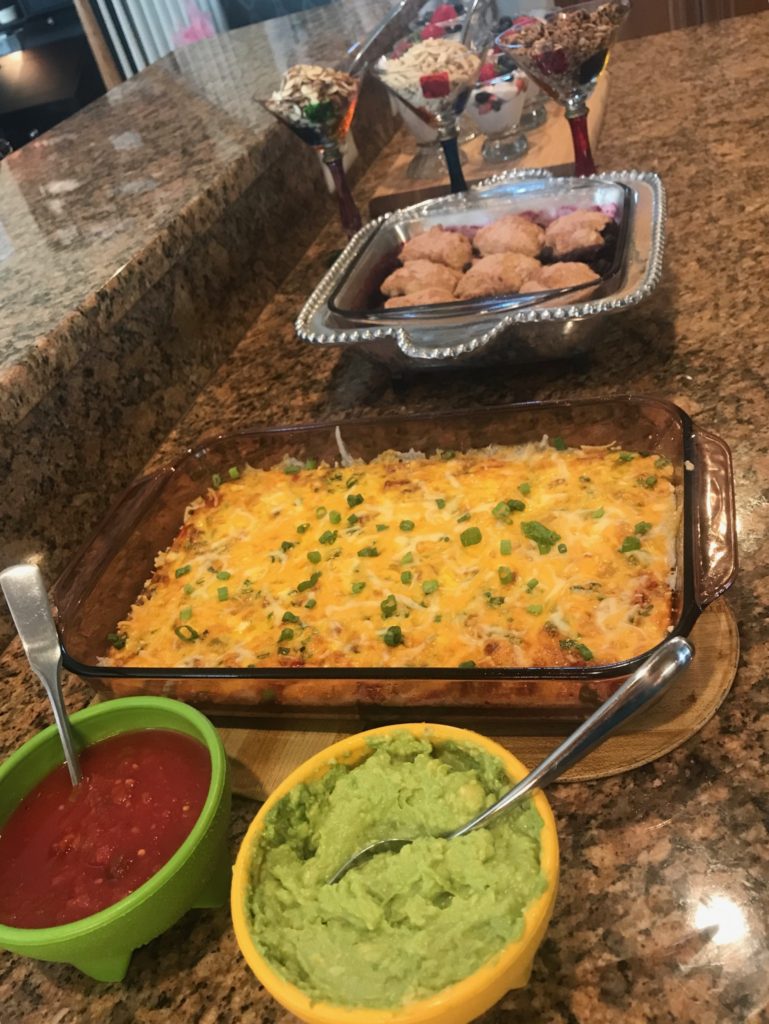 I hadn't made this in forever and it was just as good as I remember.
Blueberry Cobbler – 3 SP perserving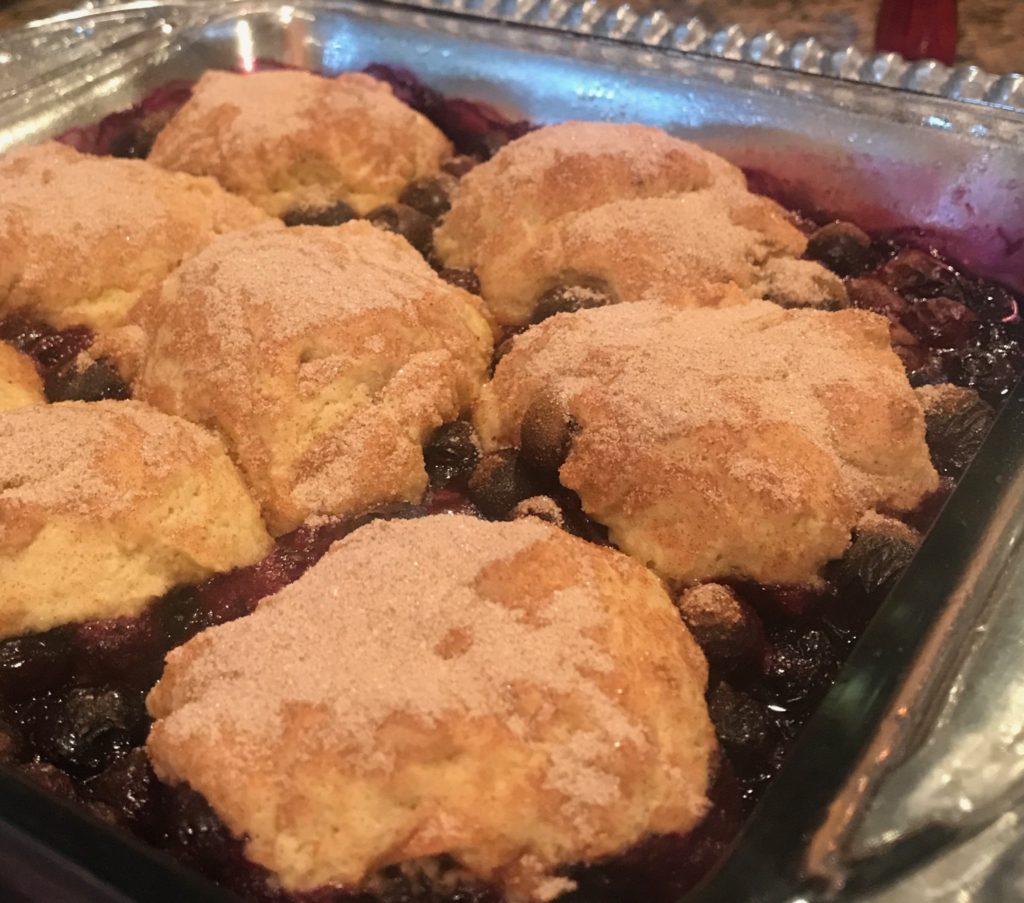 Wonderful day. Beautiful ladies.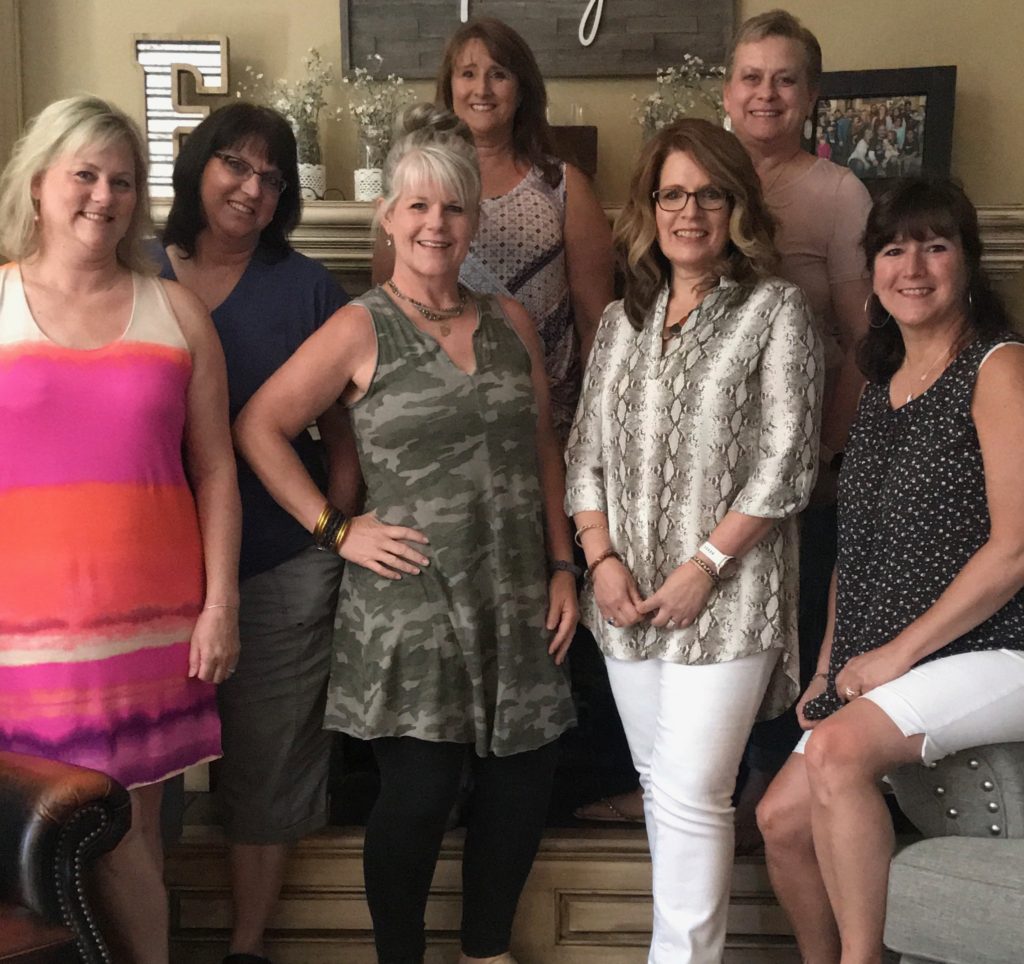 Eats and Activity
I've spent so much time working on my new little travel trailer that I've spent little time in the kitchen. I've been eating salad bars from the grocery store, grabbing food to go (usually some type of salad ) snacking on Zero SmartPoint Turkey and pickles, eggs, nuts and berries. I think my adrenaline rush has affected my appetite. I don't remember the last time that I actually felt hungry. I'm getting in right around 10,000 steps just working on my new toy! I'm exhausted and excited all at the same time! 
"Effie"
I have wanted a vintage trailer since the summer of 2016 (really maybe before that) when I went to Branson for a Vintage Trailer Rally. Now, I have one. My dad and I have been working on "Effie" together for the last few weeks preparing for our first camping weekend. We are leaving tomorrow!
I'm having a hard time sleeping at night because I'm so frickin excited!! My dad also has a vintage trailer and we will be camping together. I followed him around as a kid watching him work on projects around the house. I was always eager to help and interested in what he was working on. He was always building something. I remember the excitement when he would let me jump in and hammer in a few nails.
Years later and we're working together. Making new memories and bringing up so many memories for me as a kid.
My dad has taught me a lot over the last few weeks. I was pretty adamant that I wanted to do this project on my own, but with his guidance. He has taught me to use a few different saws and drills. I've changed out the existing light fixtures and replaced them with new ones. We've had a great time coming up with ideas and watching them come together.
I still have several small projects, but she is ready for her first outing and I am beyond excited!
I will be camping with my dad and stepmom but I wanted my mom to be able to have some fun with this too so I asked her if she would make me some simple curtains. She was so happy to have a part in this little project and I think the curtains make the whole camper cozy and super cute!
"Effie" is sitting over at my dads house. Thank goodness he has room to keep her!
She needs an outside paint job. I'm thinking about tackling that this Fall. Maybe I'm crazy. Maybe.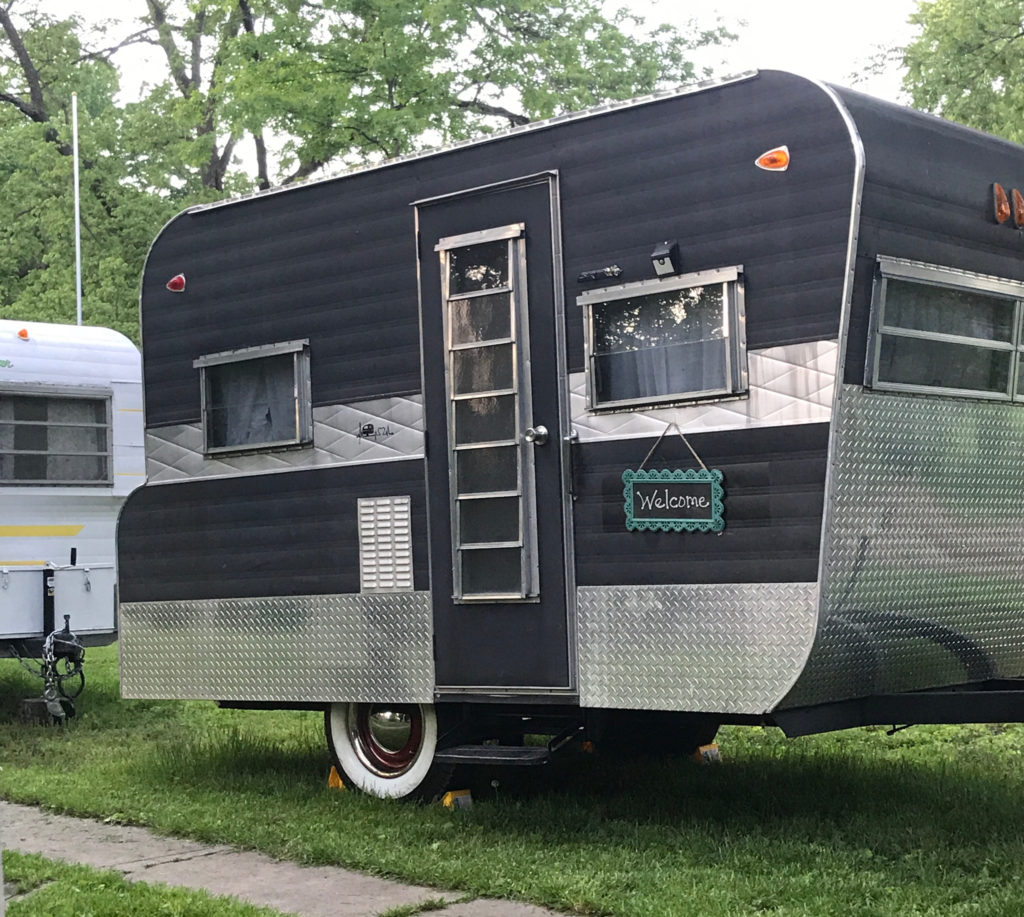 There was no dinette area in her when I bought her. There was a table with a table cloth that made it look pretty. My dad assured me that we could build one. I believed him. He's my dad.
We emptied her out to check out her bones.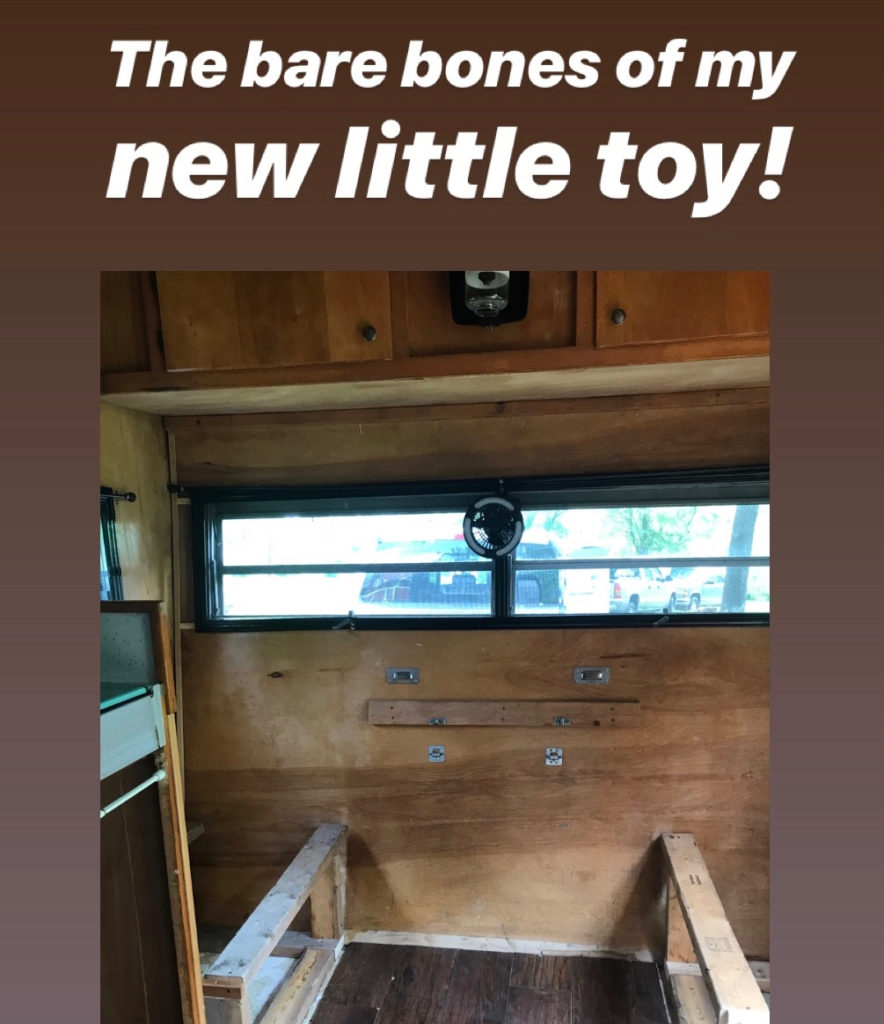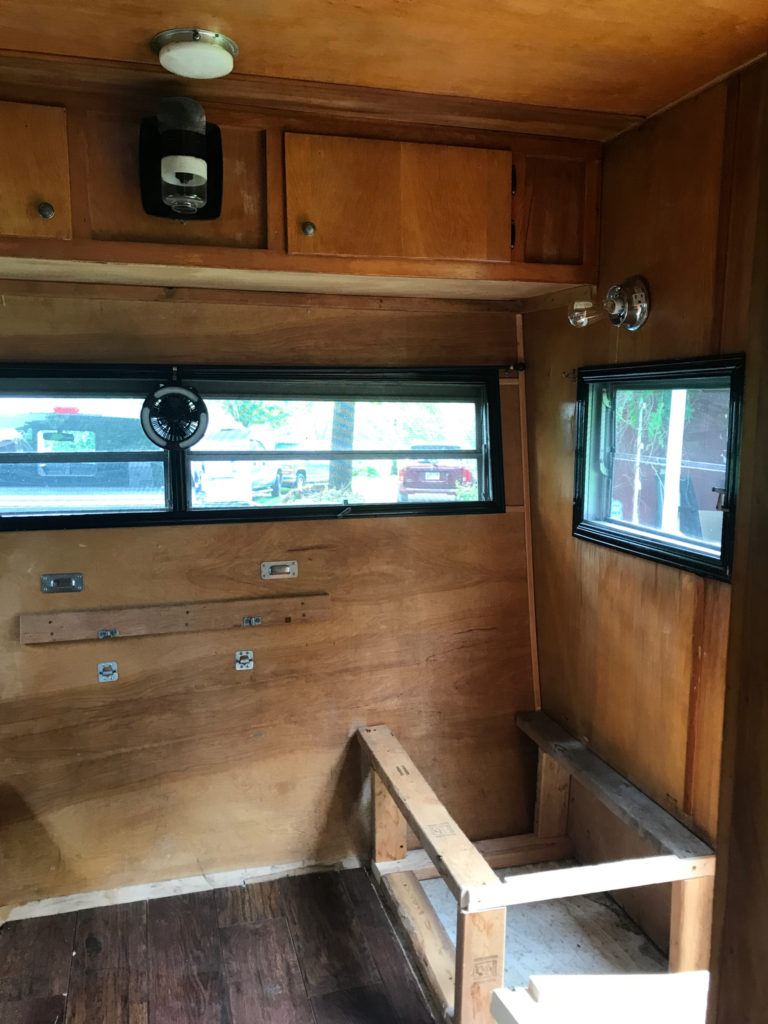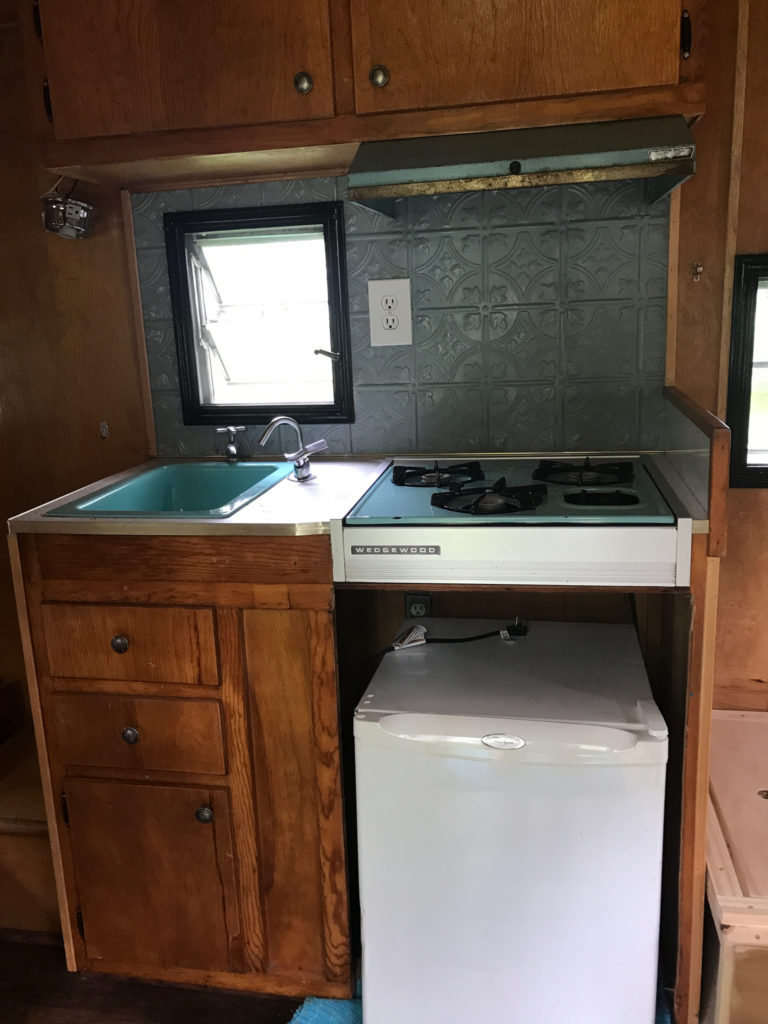 We discovered that I have trunk access from inside the trailer. Nice for rainy nights if I need something!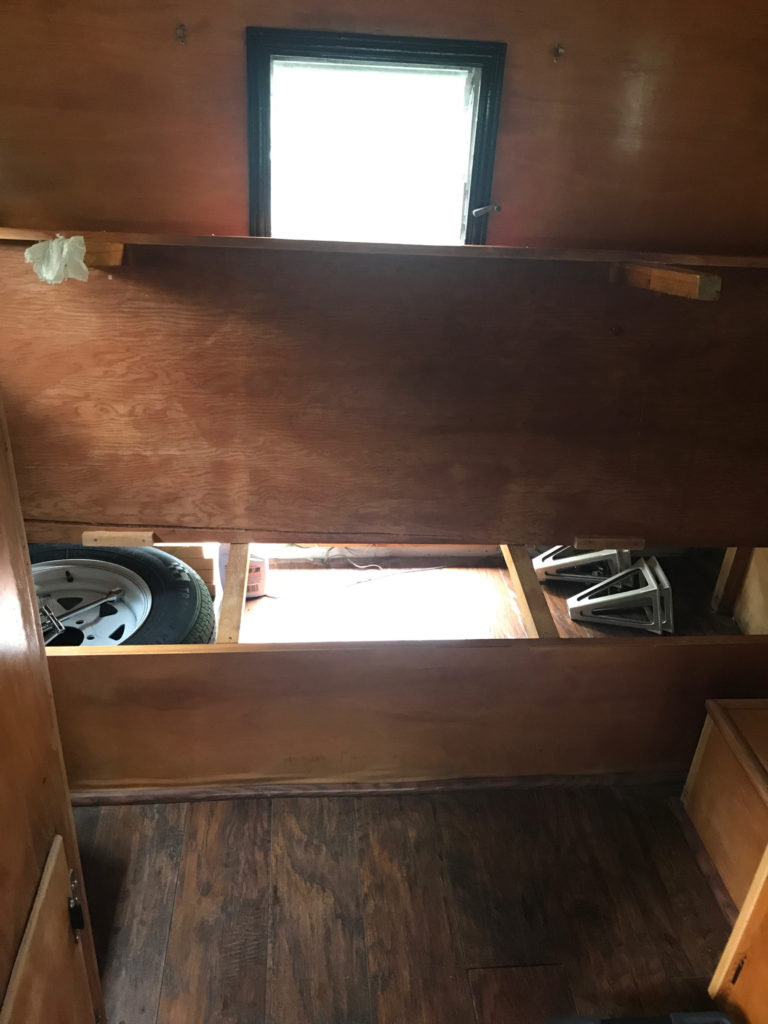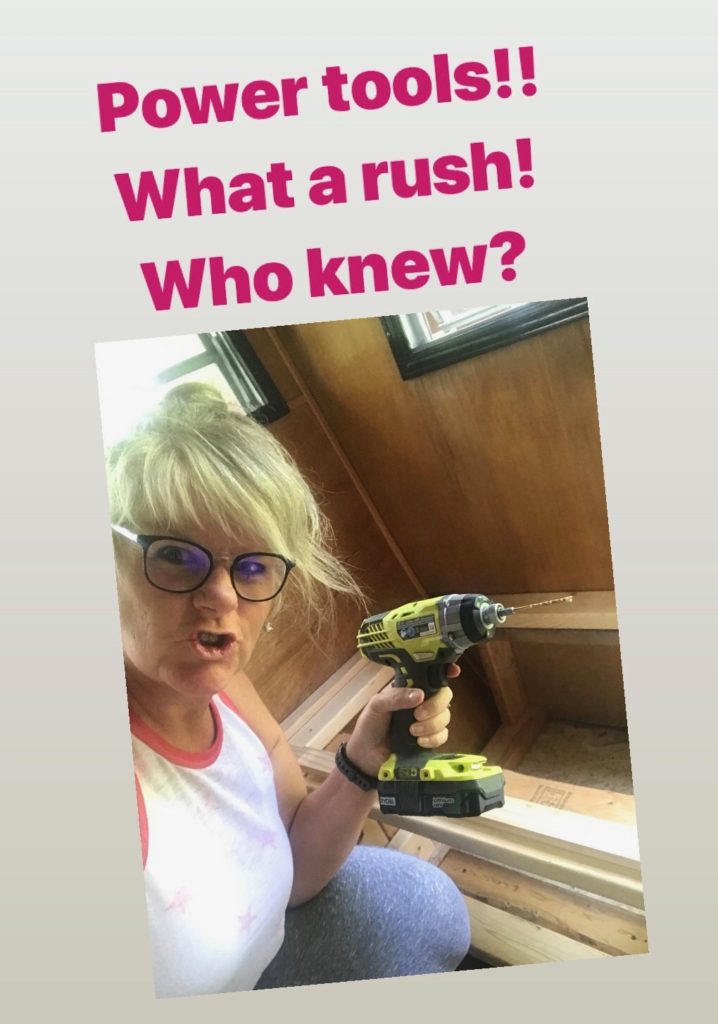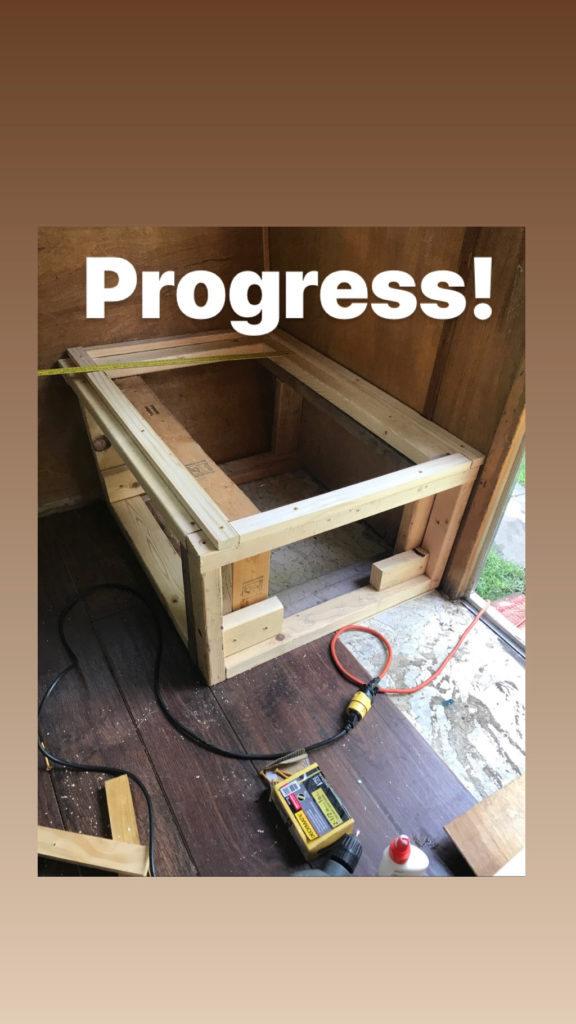 I cut all of the wood. I've learned I love a power saw!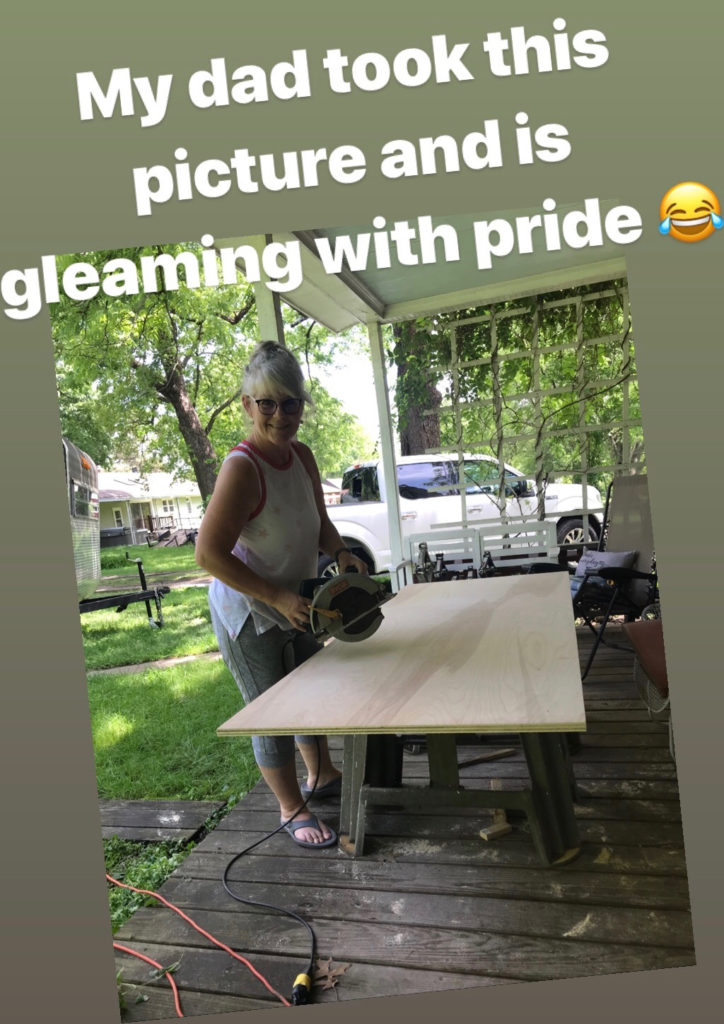 I changed out all of the light fixtures!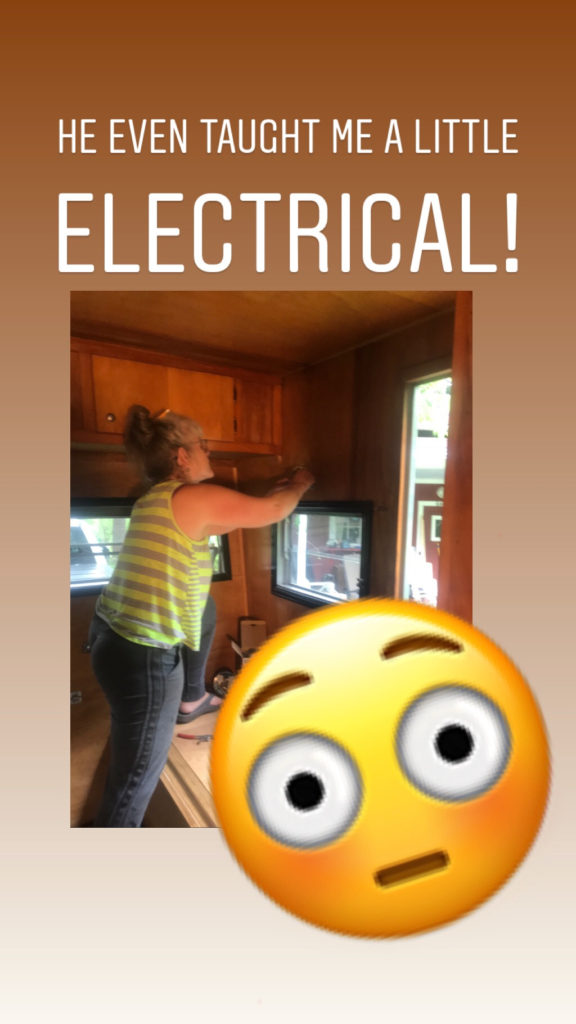 Come on in!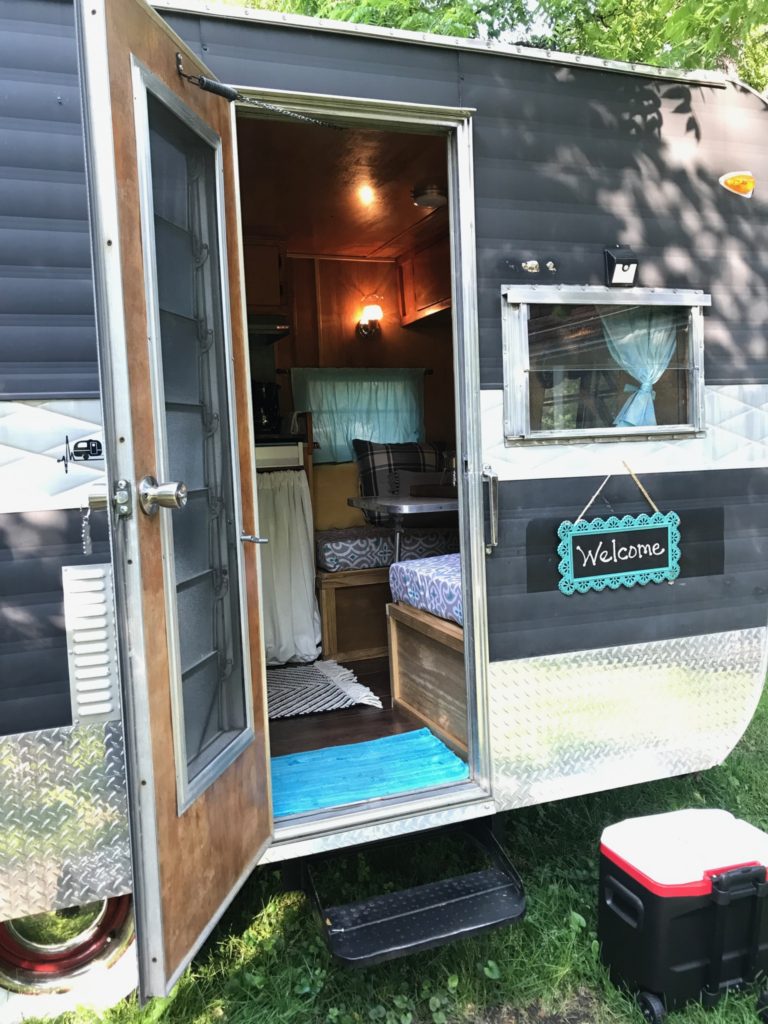 I made the seat cushions (not very well I might add) and I'm using pillows for the back cushions for now.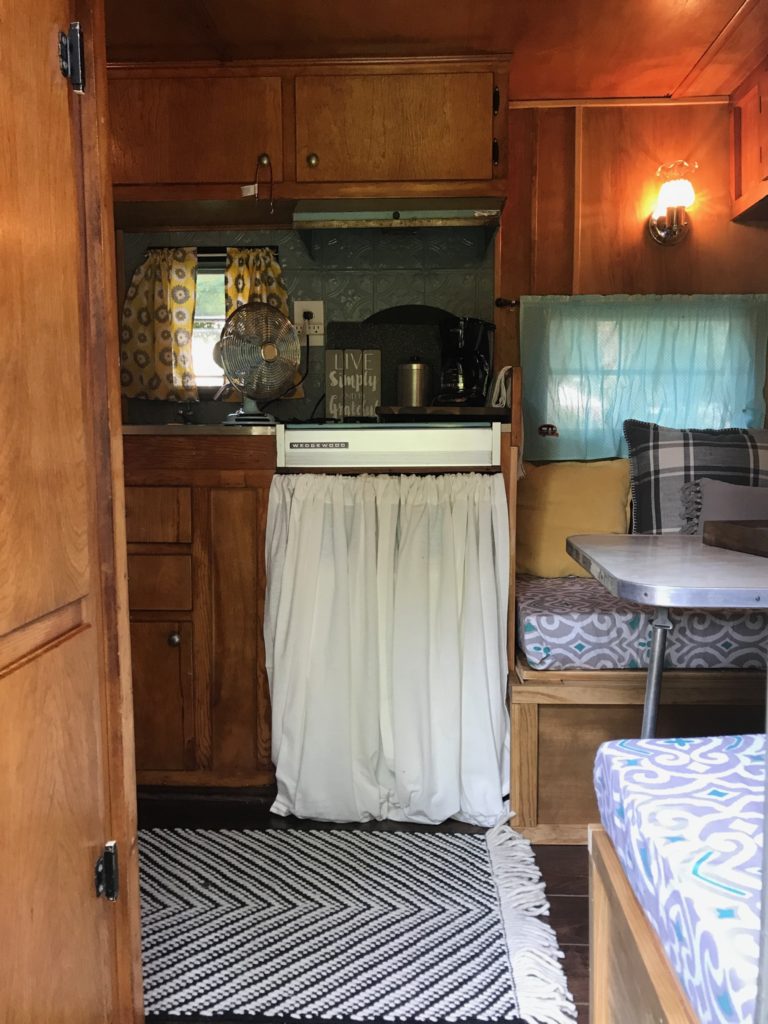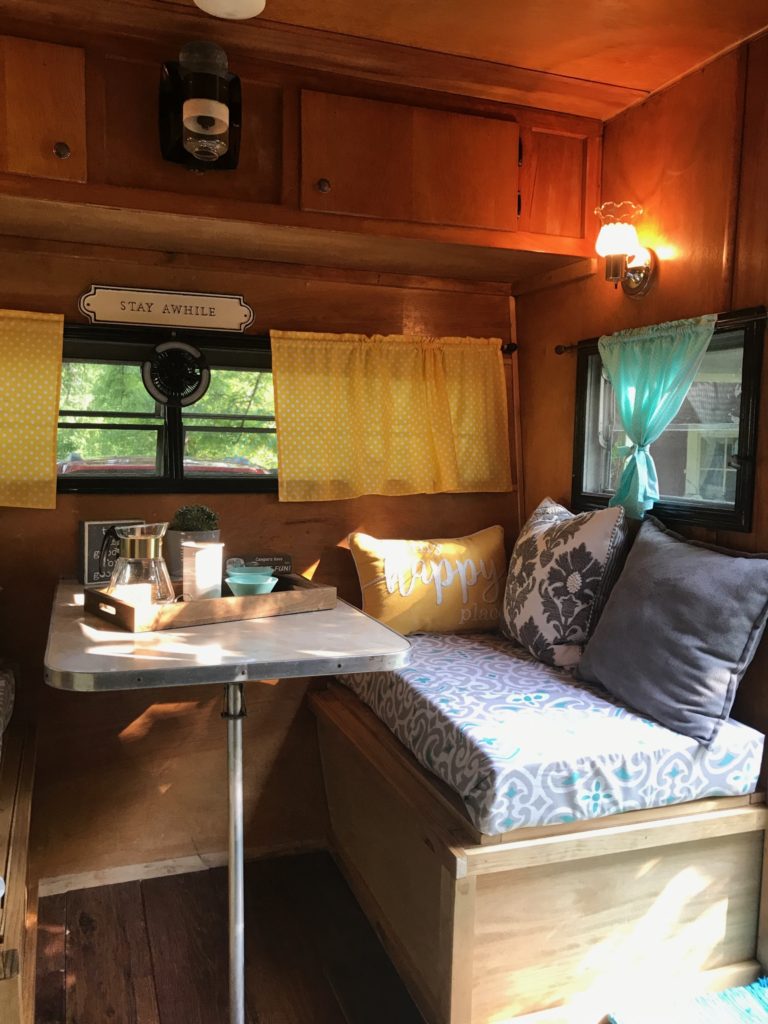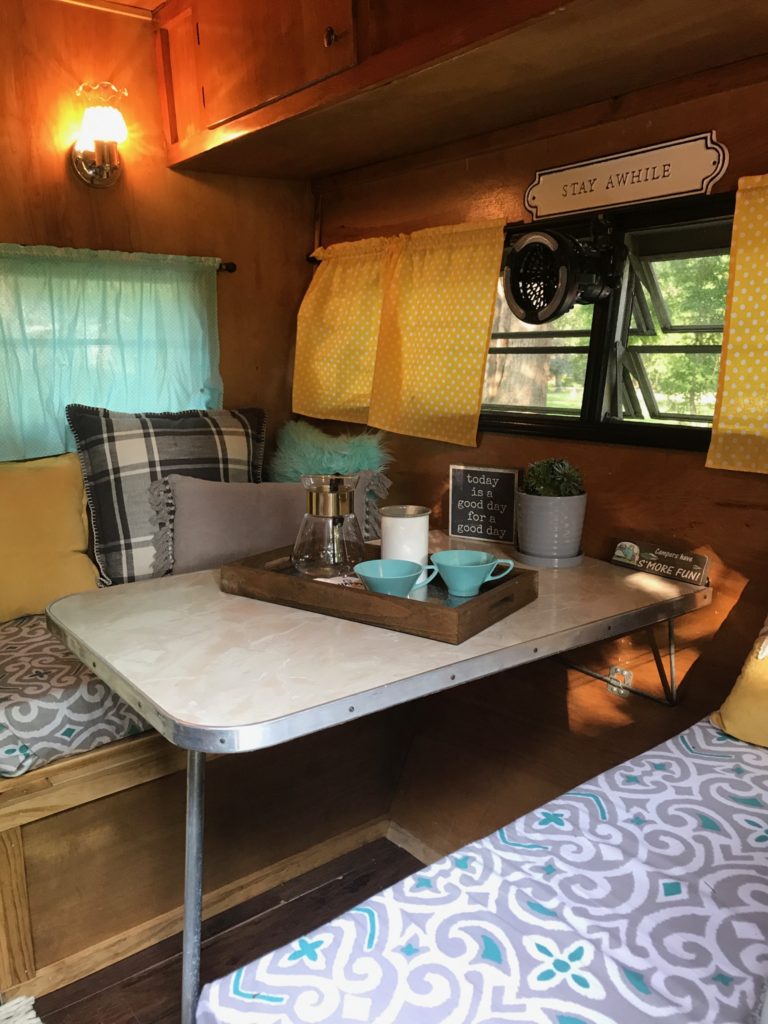 This area makes into a bed. I can't wait to take the grandkids with me after I get a little experience.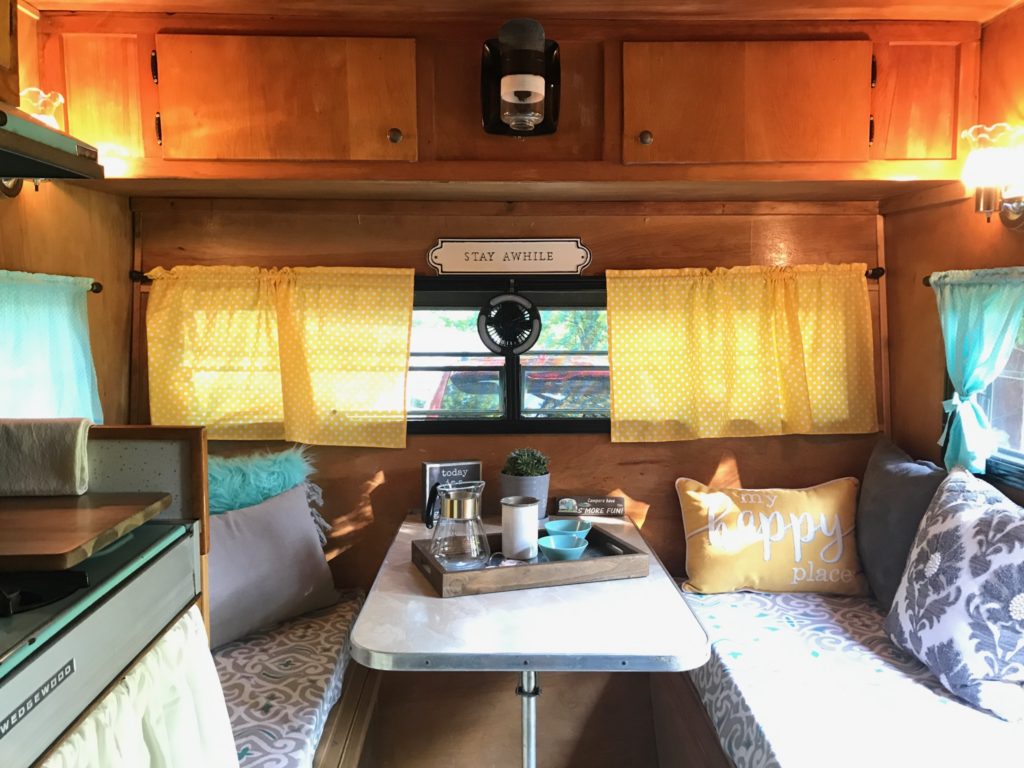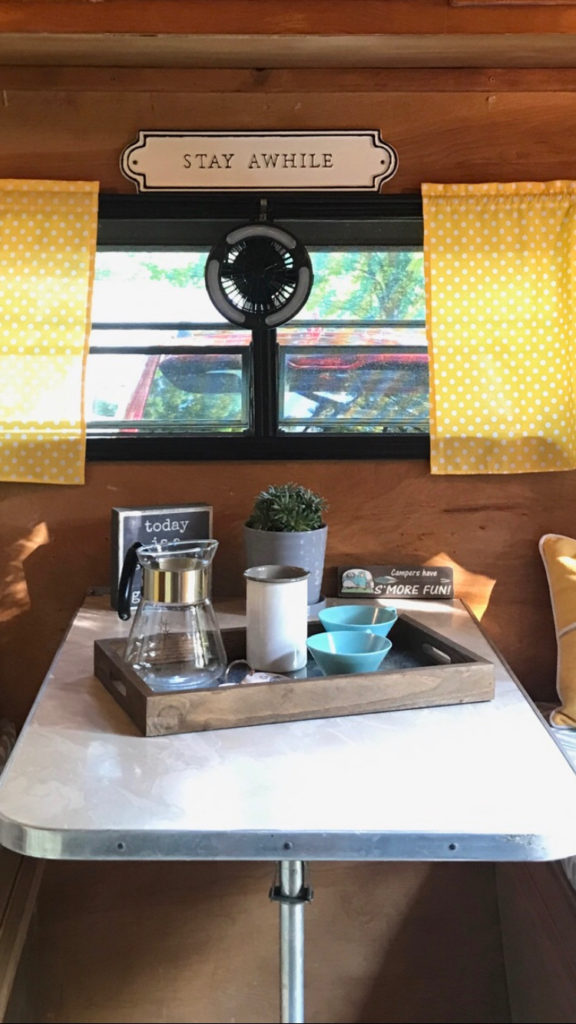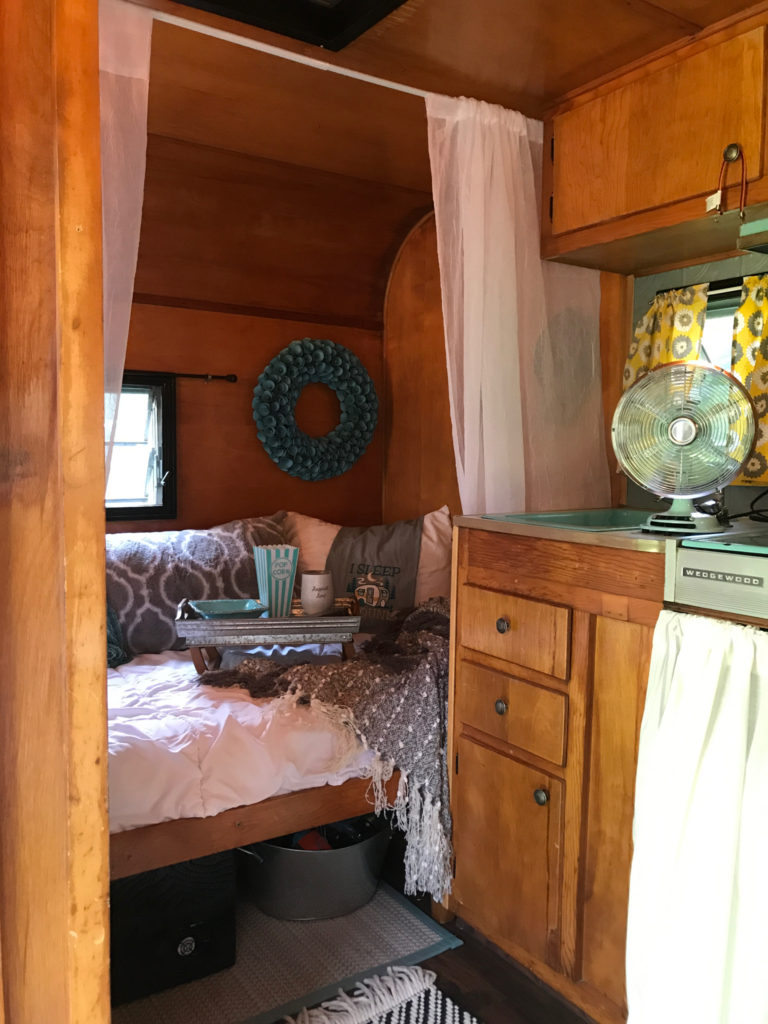 My Bedroom/Couch area. Can't wait to snuggle up in there with a journal and a good book.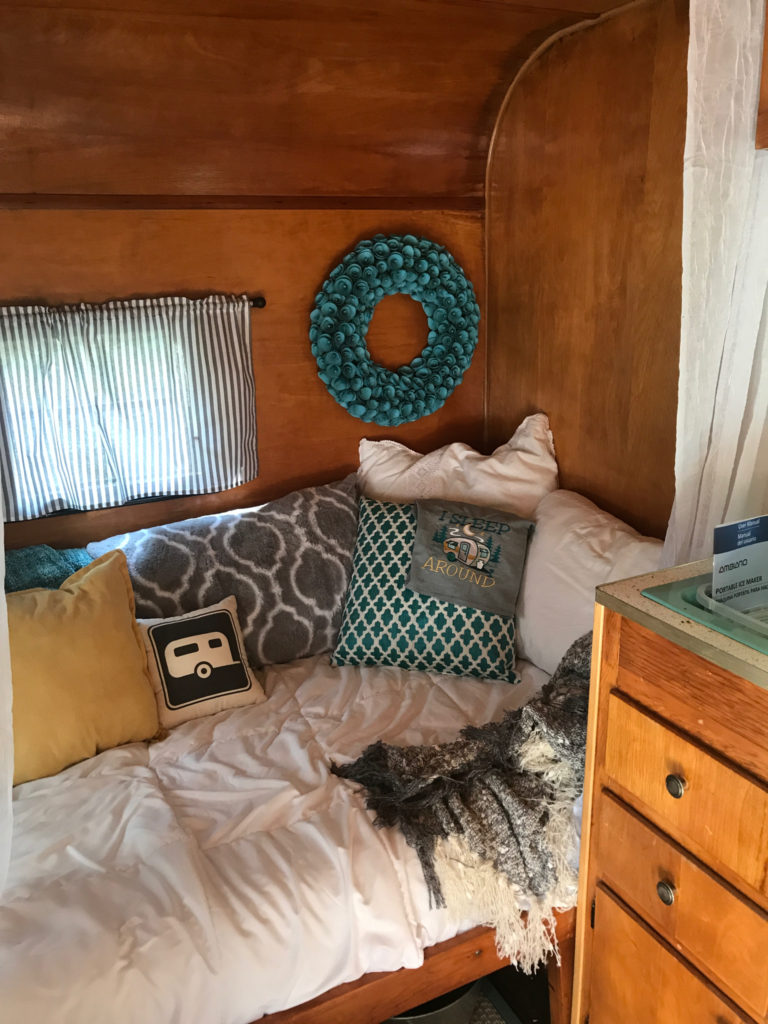 I did not want a travel trailer with a lot of maintenance, so while this little cutie does have electricity (I can hardly wait for that first morning making coffee in my little kitchen!) it has no bathroom. I do have a portable potty. (It's basically a 5 gallon bucket with a plastic toilet seat! lol) That should come in handy camping by myself at 2:00 am, because that's totally going to happen.
Oh, and no A/C. So while it feels all cute and fun, this girl is gonna be hot!
It's been fun sharing with you!
I've got to get some sleep. I feel like tomorrow is Christmas and I'm a kid again!
I love this!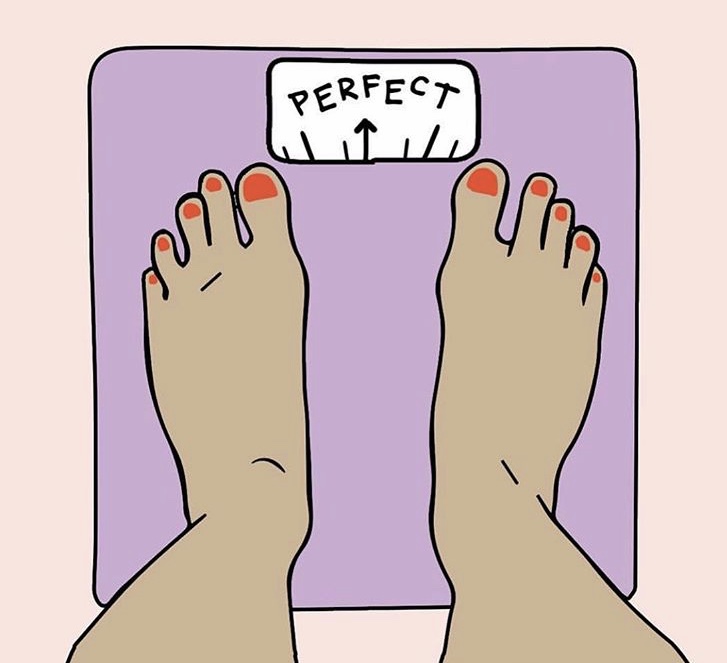 "love the life you live, live the life you love"