(I am healing really well and am pleased with my recent phase of breast reconstruction. I am happy to say that I have zero regrets!)
I knew that 2019 would bring a fabulous wedding (pictures are coming…..soon!) and I truly hoped that it would bring a Vintage Camper too. Goals set. Goals met!
I've watched my dad enjoy his vintage camper since 2016 and joining him seemed like a great way to spend time together. We spent a lot of time on projects together when I was a kid. I would have much rather have been outside building something than inside cooking. Funny, now I love to cook!
I always enjoyed listening to my dad tell stories and watch his creativity over the years. He was always building something when I was a kid and he has continued to do that his entire life.
Finding a vintage trailer so I could camp alongside my pops was something that was really important to me. I also look forward to seeking out campsites with friends, with grandkids or on my own and meeting other vintage camper owners and campers in general. I've been following several campers on Instagram and it seems to be a great community of people enjoying the outdoors and sharing similar interest. I have a lot to learn about camping, but I'm eager to get out there. It's nice to have my pops along side me to show me all the trailer do's and do not's while also looking forward to spending time together at the campsite.
I officially signed up to join Sister's on the Fly! This will be a great way to meet other women campers enjoying the great outdoors! I currently have no plans to fish, but you don't have to have an interest in Fly Fishing to be a member. News to me!
On Saturday, my dad and I went to pick up my trailer at the trailer store. I was having it all checked out for safety. Turns out it was not ready after all. Today, I was able to pick it up! Today was my first trip alone hooking up the jack, then unhooking at my dads house after backing in to my parking spot at his house. SUCCESS!
I played in her all afternoon. I took window measurements for curtains, I took measurements for the new dinette area that my dad will guide me through building, and I made list upon list of what I'd like to do and what I think I will need for my first camping trip next month.
My color scheme and ideas I'm playing with. Thanks for my cute camper pillow Steph!
I had fun playing today. Not much to do in this end of the trailer but make it cozy for sleeping and maybe a snack.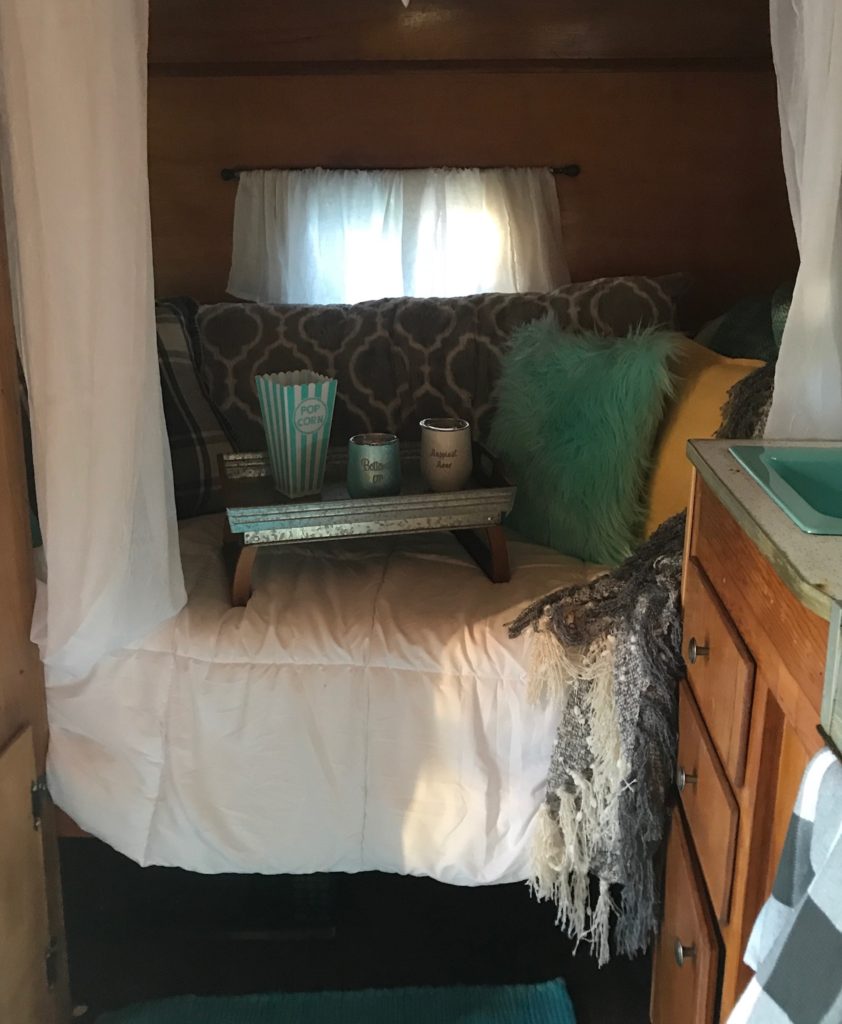 My dad had a pretty specific spot he'd like for me to park the trailer in for the summer. I backed her in there all by myself. No one around. I think it's a big deal. lol
Trailer goals.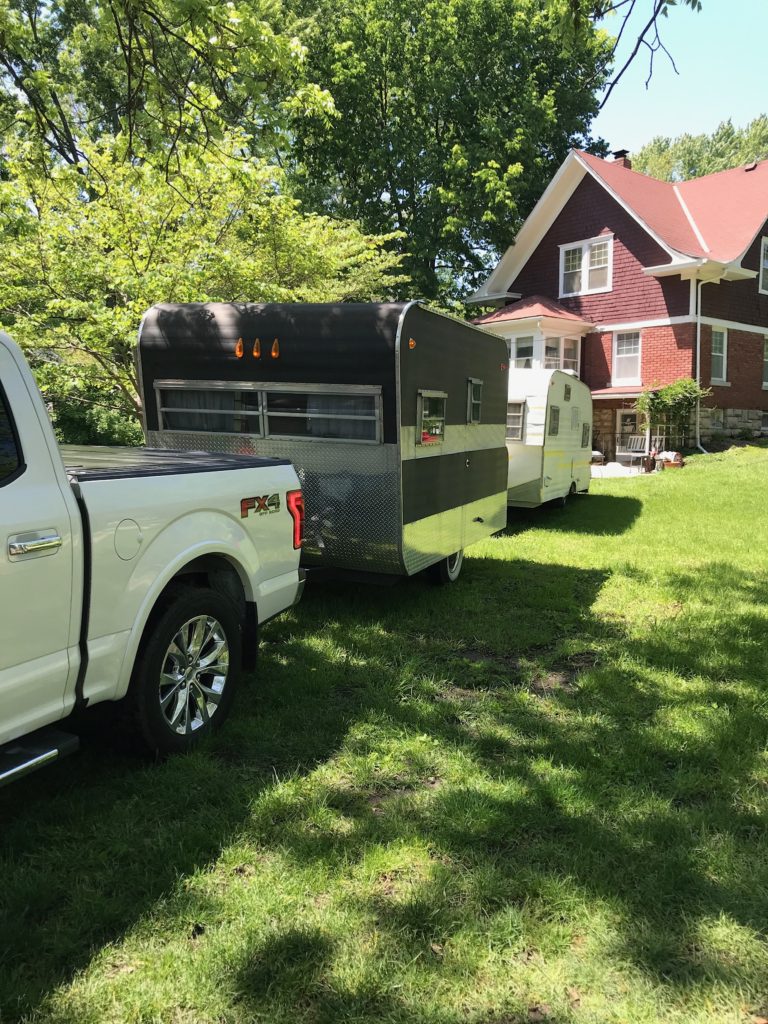 This is not 100% complete. Still needs handle hardware, but this happened Friday night at almost midnight! This booger is heavy! Mike and I carried it out of the garage, in the front door and up the stairs which has a 45 degree turn midway. This was NO easy task, but we did it! I originally blogged about wanting a Barn Door in the master over 3 years ago. Goals met!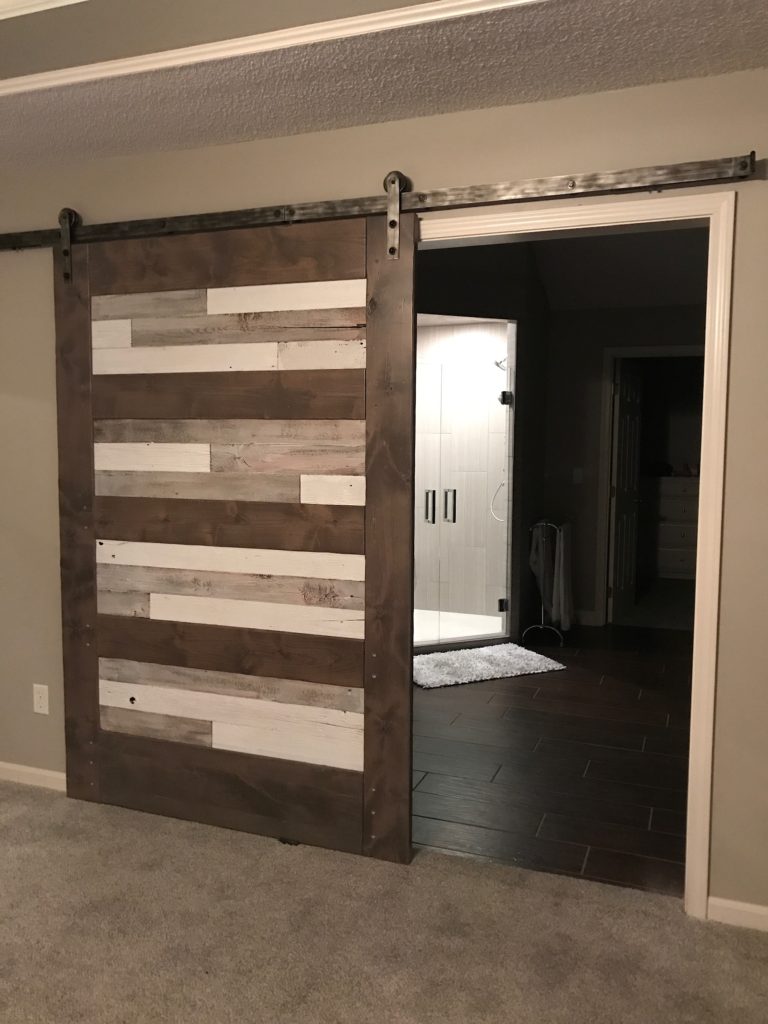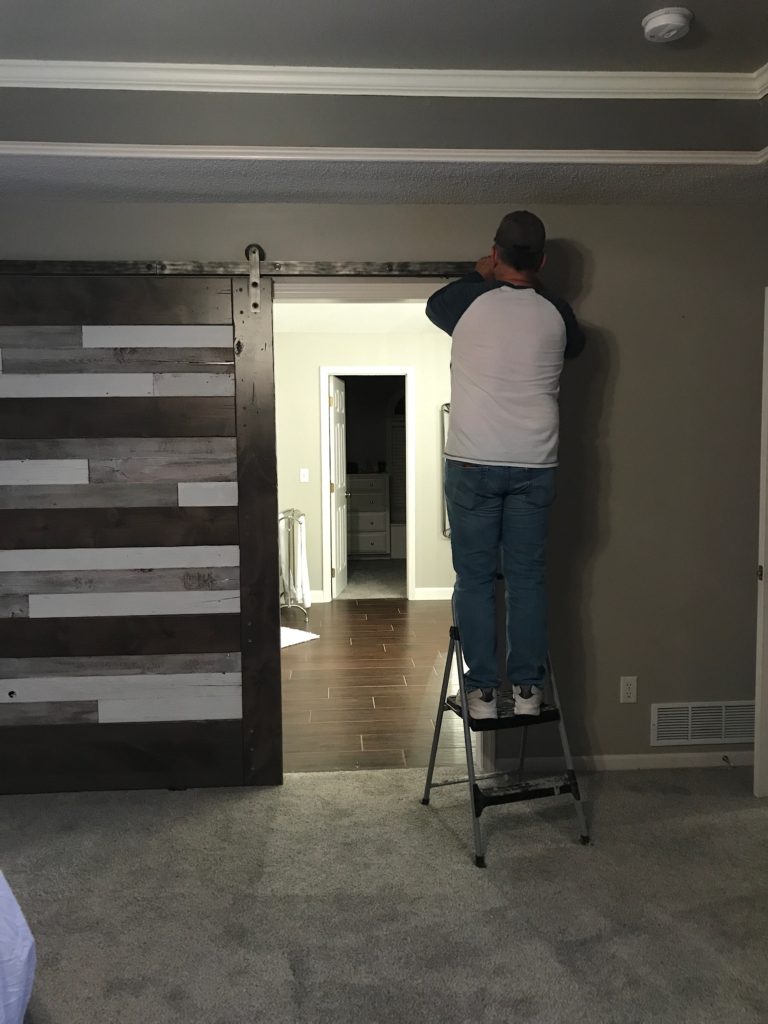 Mike built the door and the headboard and bed frame after completing the master bath remodel. I love it all!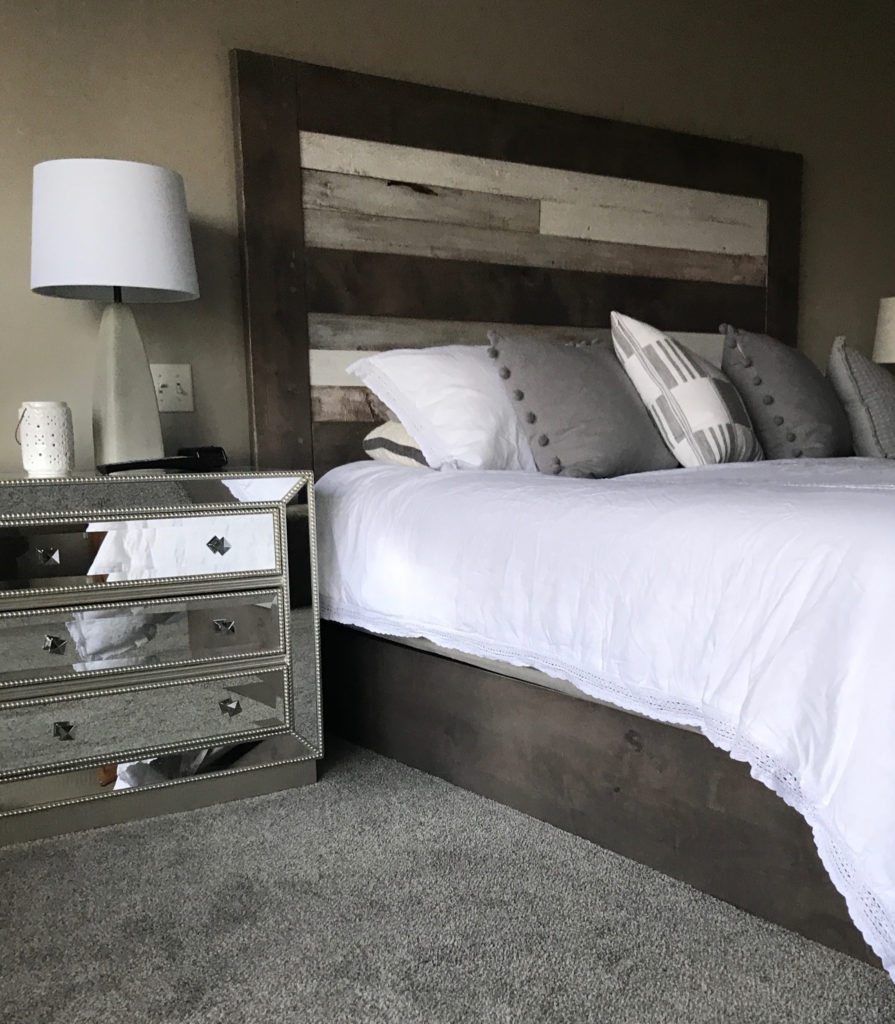 More goals. Time to get back to regular blogging and planning activity challenges for myself.
I've been getting in some good walks and I'm ready to make that happen regularly. My current goal is to walk 5 days a week and do Yoga 2 times a week. I haven't had a regular routine for sometime, so this feels good to me for now.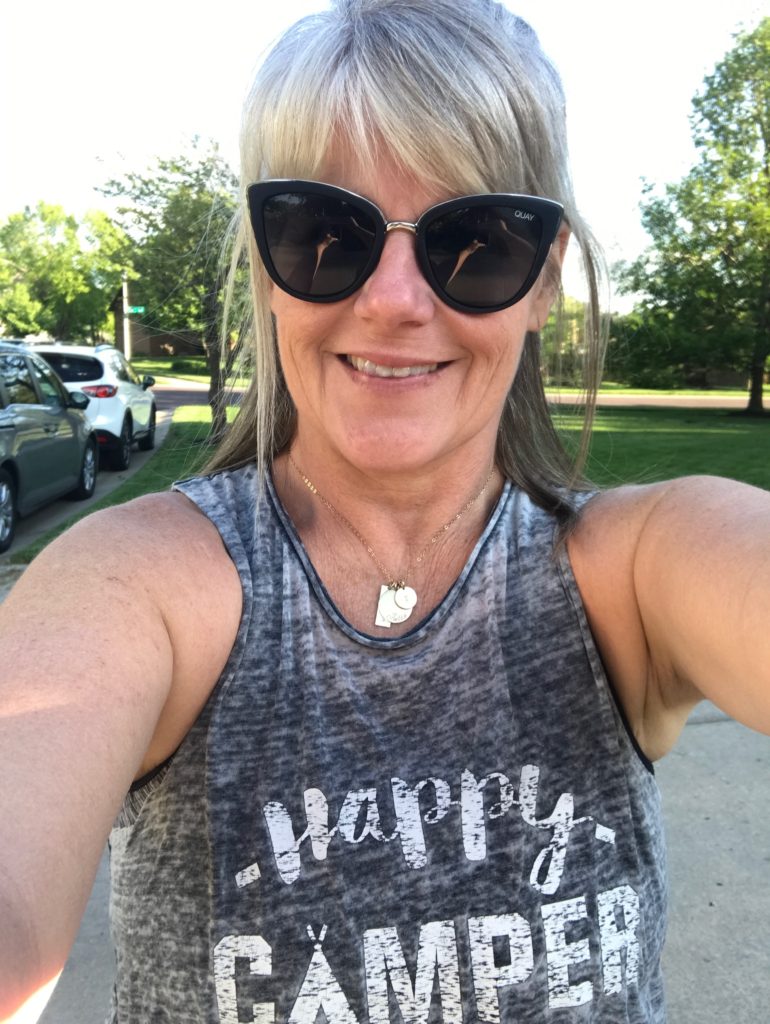 Monday I hit 10,000 steps. Barely, but I got em in! Felt good to simply put my Fitbit back on!
Do you have a daily step goal?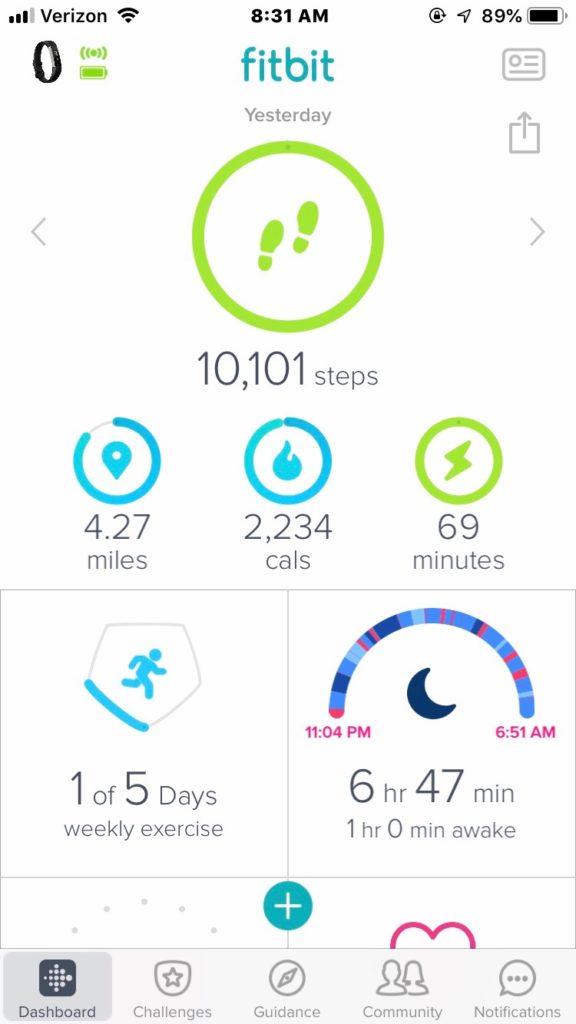 WW has been really spoiling the Ambassadors these last few weeks. I'm excited to share what they have been sending us in some upcoming post!
One recent fun gift was this adorable water bottle. We all received personalized bottles. Having a new water bottle was just what I needed to get me back to my 80-100 oz of water daily.
What tricks do you use for getting in your water?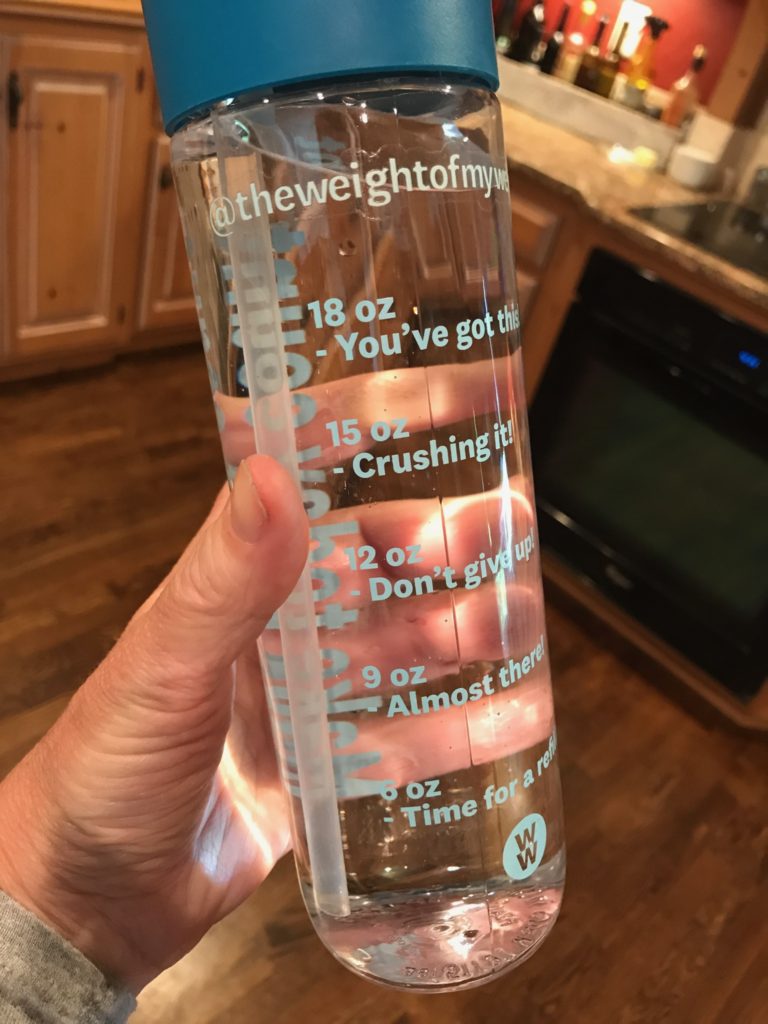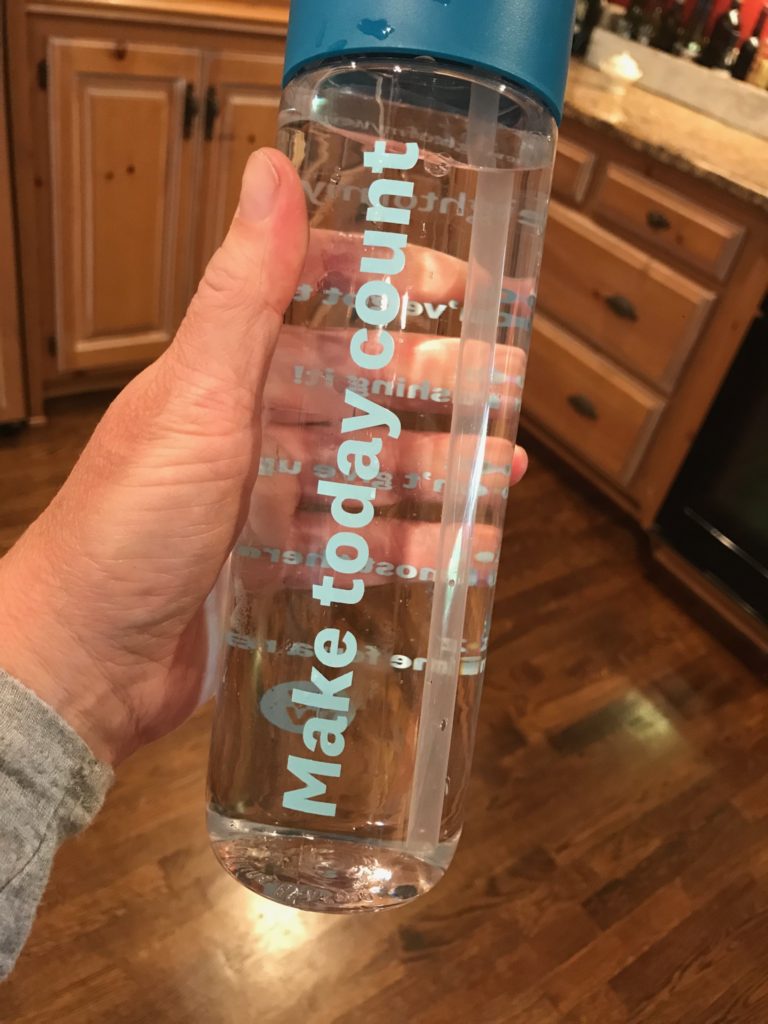 Favorite new snack for 4 SmartPoints and 15g of Protein.
I'm really liking the Vanilla!
Yogurt – 2 SmartPoints – 12 g protein
1/2 T Almond Butter – 1 SmartPoints – 1 1/2 g protein
7g Slivered Almonds -1 SmartPoint – 1 1/2 g protein
Blackberries – 0 SP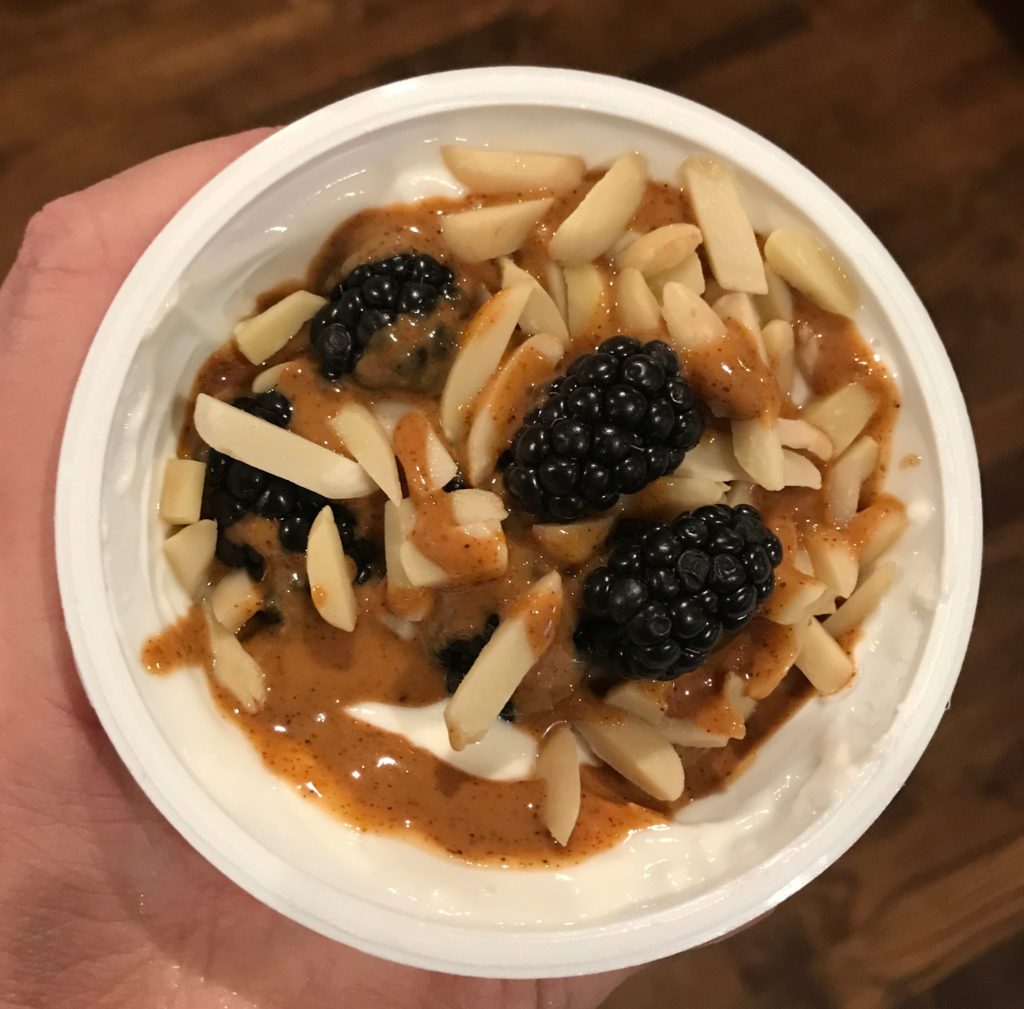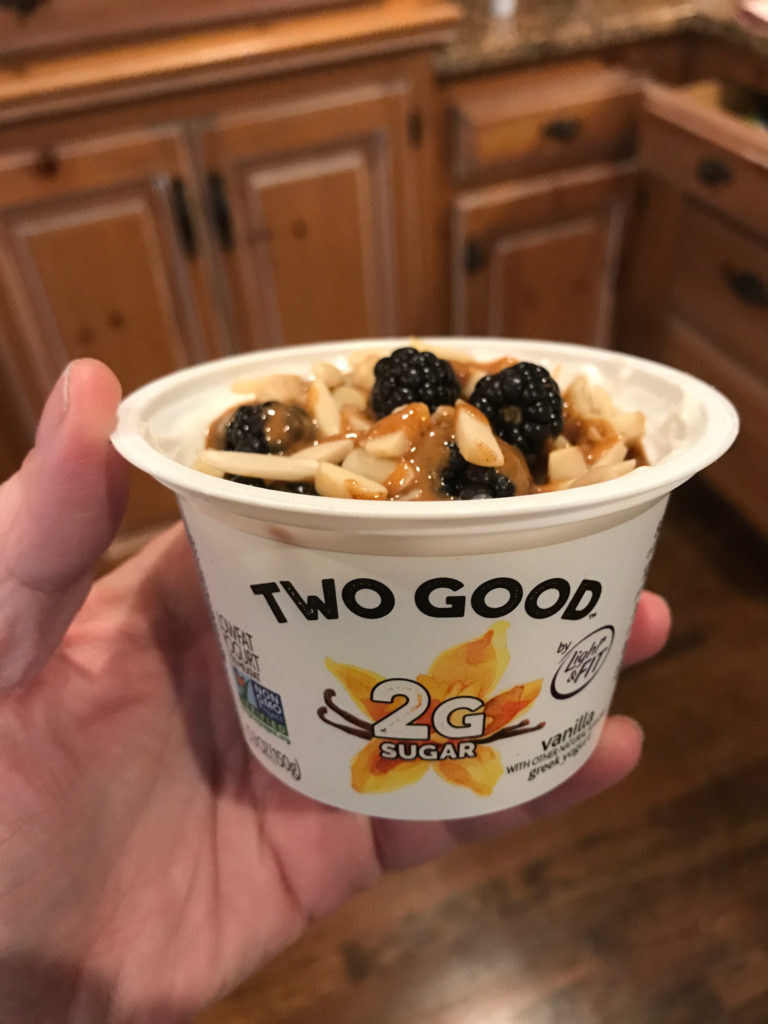 Also great on top of your favorite pancakes!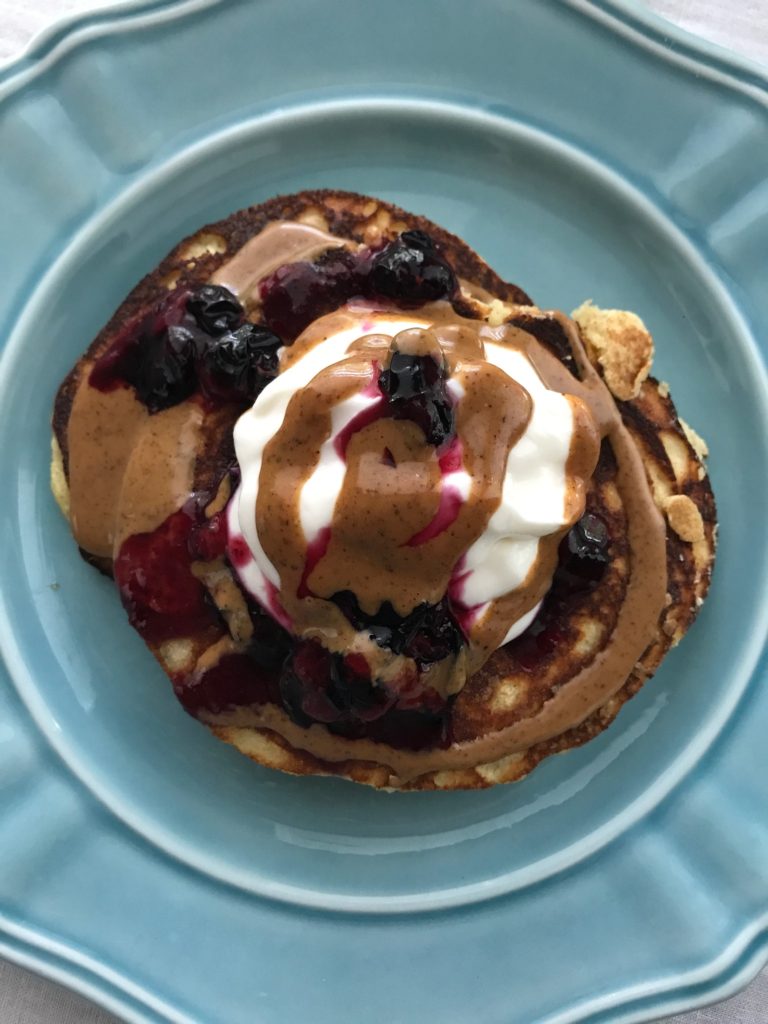 How about this 1 SmartPoint Snack?
Dill pickle wrapped in Cream Cheese and Turkey sprinkled with EBTB Seasoning.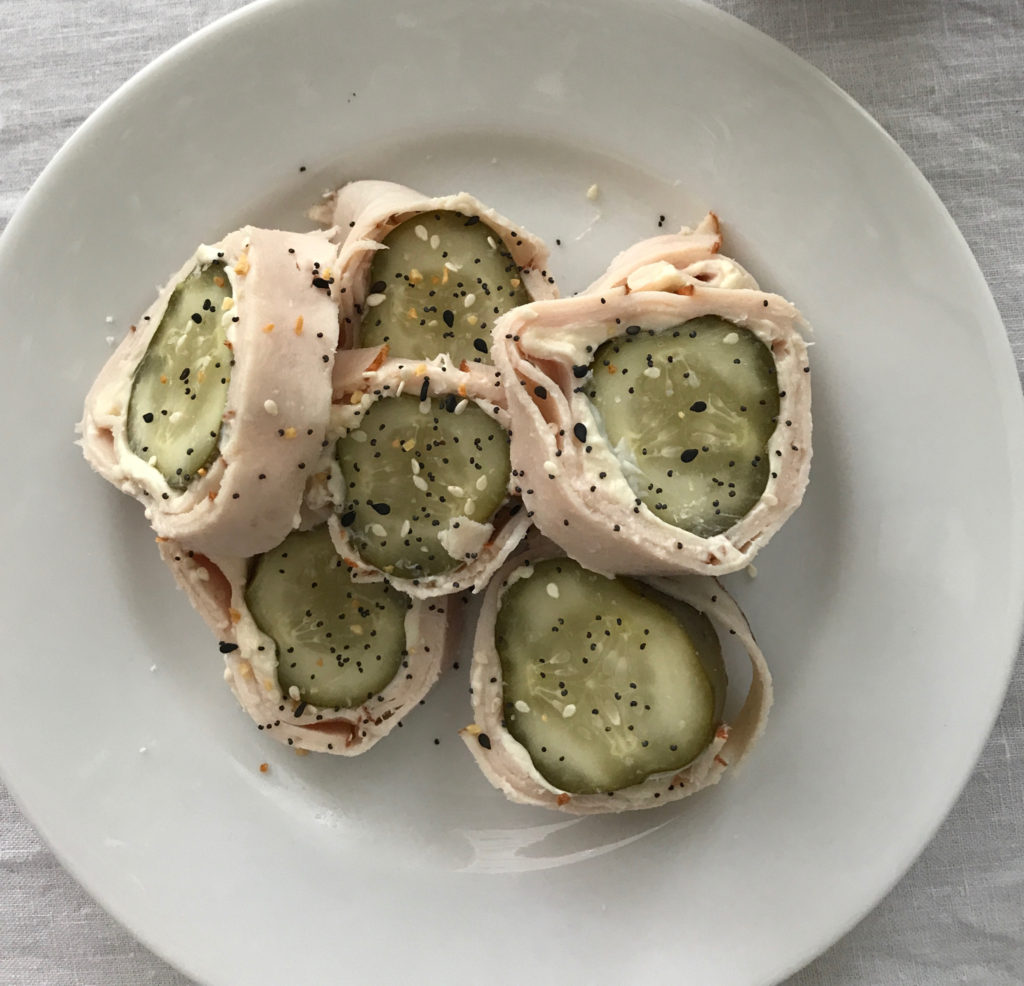 I hope that you all have had an awesome day! Believe in yourself!
Believe you can, and you will.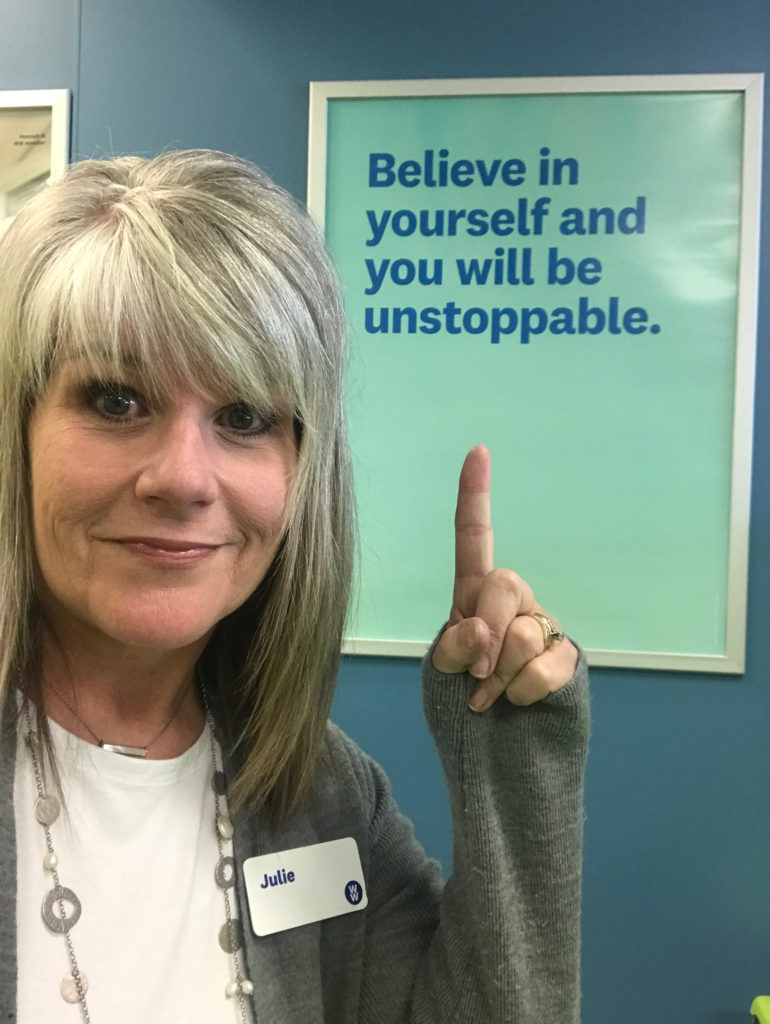 "love the life you live, live the life you love"