We returned from a fun, beautiful and adventurous nine day vacation in Cancun to ice and temperatures in the teens in Kansas City. What the heck??
Welcome Home. You have re-entered reality!
After many many difficult months, 2 years in a row of canceled vacations, five surgeries and recoveries over a 15 month period and just a lot of life obstacles, Mike and I were so happy to be able to go on this vacation. I was so happy to feel physically well enough to do whatever we wanted while we were gone.
Oh my gosh, I have SO much to say in this post before I share our trip with you.
Let me share this first. I've only shared this with Mike, my daughter Tess and a few others, so forgive me if you are reading this here and I did not share it with you in person. I was trying really hard to pretend like it wasn't happening. Everything is fine, so no worries, but I did have a scare.
On Christmas Day, I found a lump. In my left breast. The cancer breast. So many things went through my mind. Why now? How can I help my daughter wedding plan without her knowing the cancer is back? How will I keep this to myself so my family can just move forward and enjoy life? After doing so many things to prevent a reoccurance, having a Double Mastectomy, a complete hysterectomy, taking the prescribed meds that lower the risk of reoccurrence, taking really good care of my body, after doing all that I can to prevent the cancer from coming back, and now it might be??? Does this mean chemo this time? How will I hide it if I have to do chemo? Okay, I can tell my daughter but assure her that her wedding will go on as planned and this is just a little bump in the road, again. Shit. Does this mean the cancer has spread? I'm not telling anybody anything until I know for sure that there is something to tell. I laid in bed every night feeling this lump and praying. Praying hard that it wasn't cancer. Praying hard that if it was, that it was only this lump, and it could be removed.
I didn't even tell Mike. I just couldn't have anyone filled with worry after the last year and a half.
I had an appointment already scheduled for January 14th. For the first two years, post cancer, you go in to see the breast surgeon, the oncologist and the lymphedema specialist every three months. Reoccurrence is most common in the first two years. Every three months you are reminded that you might not be out of the woods just yet. I hate going through the door each time I have an appointment. Now I was petrified.
After keeping this to myself for about a week and a half, I finally had to talk about it, so I told Mike. He thought I should call and get in before the 14th so that we could find out what the lump meant, and go on our vacation as planned. So, I called. They made an appointment to see me immediately and scheduled an ultrasound. The ultrasound would confirm if we needed to do a biopsy.
I met with the doctor and she agreed that we should move forward with the ultrasound. After doing the ultrasound, I waited for the tech to come back in the room for what seemed like an entire day. They had Mike waiting in the lobby. My mind went back to the first ultrasound when the tech came in accompanied with a radiologist to tell me that they were recommending a biopsy. My heart was racing. My mind was so full of so many thoughts. Too many loved ones lost too soon recently. I was scared.
The tech finally came in the room and told me that I had a cyst. Just a cyst. They saw absolutely no reason at all to do a biopsy. I was like…are you 100% certain?? She guaranteed me that if they had any concerns at all that they would do a biopsy. She said that it was a cyst that seemed to have developed after my mastectomy.
WHEW!
2019 is simply going to bring nothing but good news and I am going to 
KICK
IT'S
ASS
Would you like to hear some more good news? Okay!
Just before leaving for our trip, I found out that I get another WW meeting in one of our stores. Yay! That's 5 meetings a week I get to lead.
I am also working on two new At Work meetings. Those are in the works and may happen soon. As excited as I am about filling up my schedule, I was secretly hoping these would hold off until after my daughters wedding in March, but it's all good. I'll make it work and I'm super excited about having the opportunity to meet more WW members!!
Okay, vacation. Ahhhhh. Vacation. Such a nice word, isn't it?
Such a great trip with this group! We have another couple that traveled from Georgia and arrived before we did, but this is the group that traveled together from KC. If you've never been to the Cancun Airport, there is a bar immediately outside of the door where you can grab a drink before you hop on your shuttle and let the party begin!
I love this picture. The beginning of a great vacation with lots of laughs and great memories.
We were SO ready for some fun!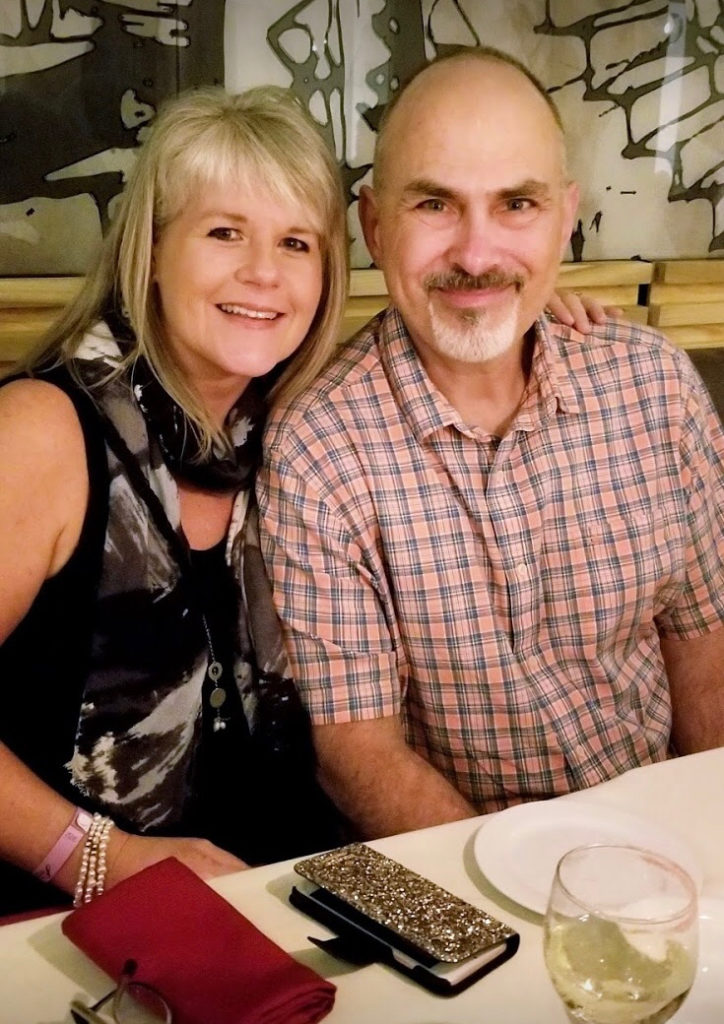 We stayed at The Fiesta Americana Condesa All Inclusive in Cancun. The resort had great reviews and as far as I'm concerned, it met its expectations. Very clean, such a friendly staff, good food with a lot of variety, very reasonably priced and so many pretty views.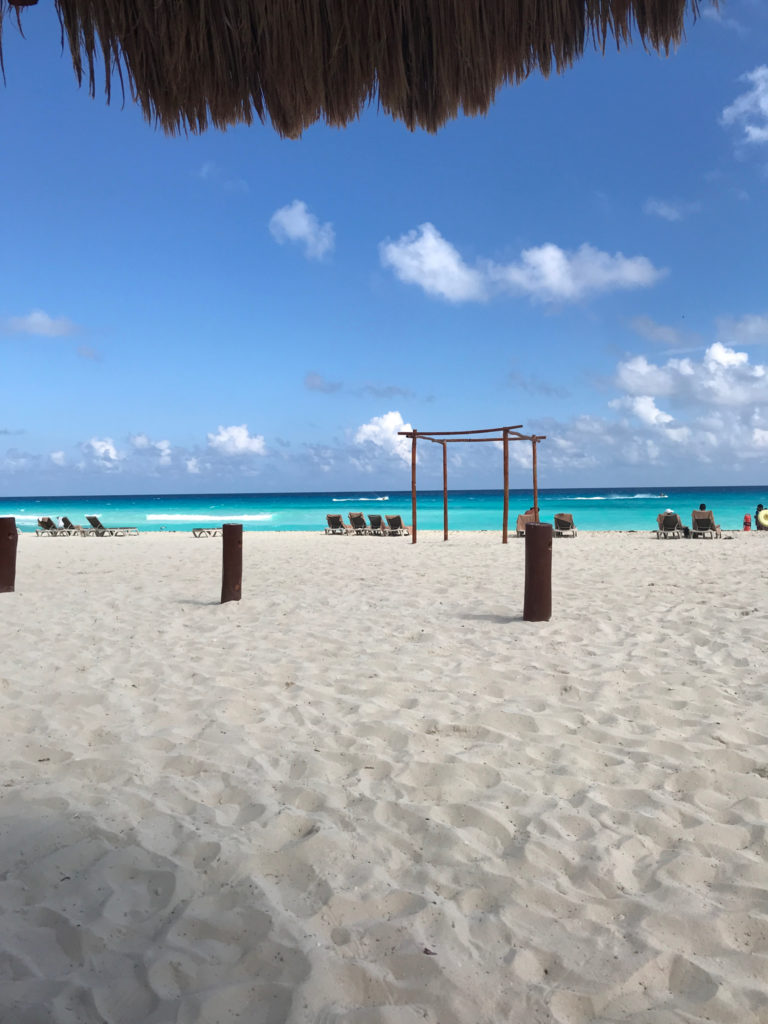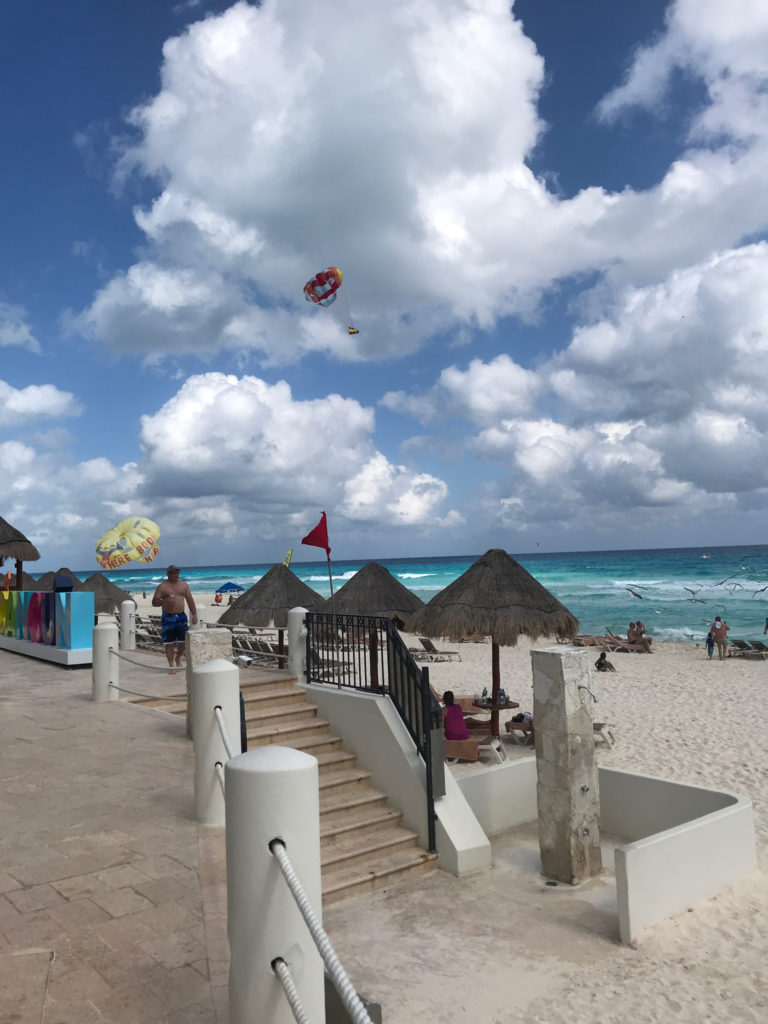 Nothing better than watching the sunrise with a cup of coffee on the beach. That's a good morning.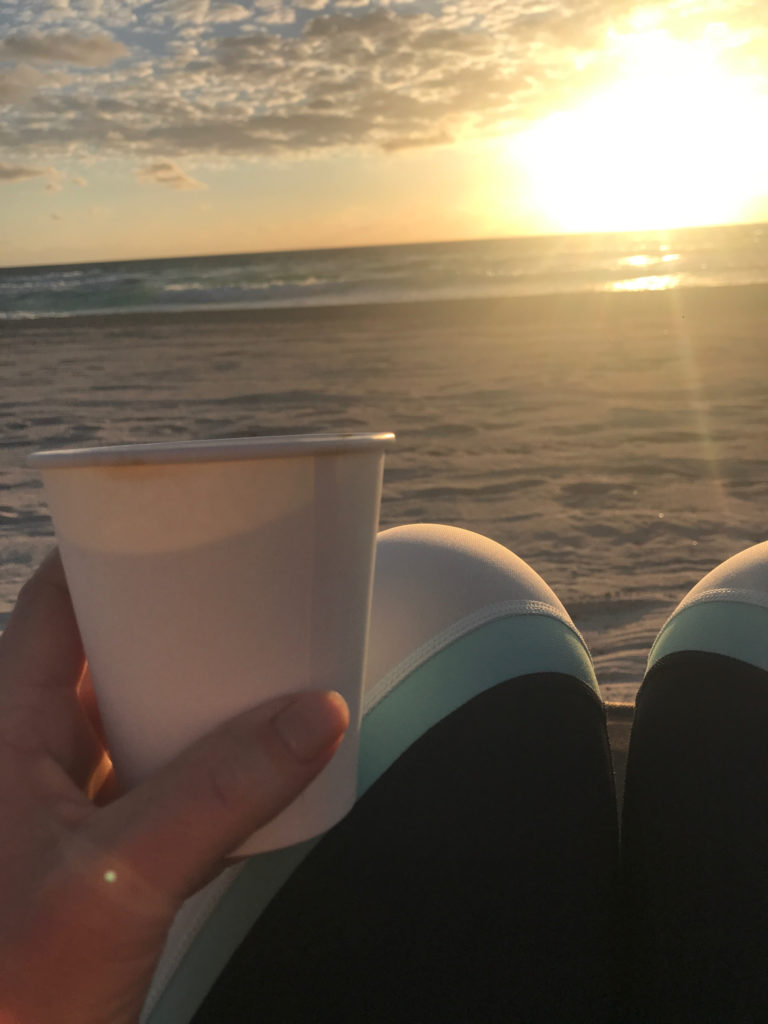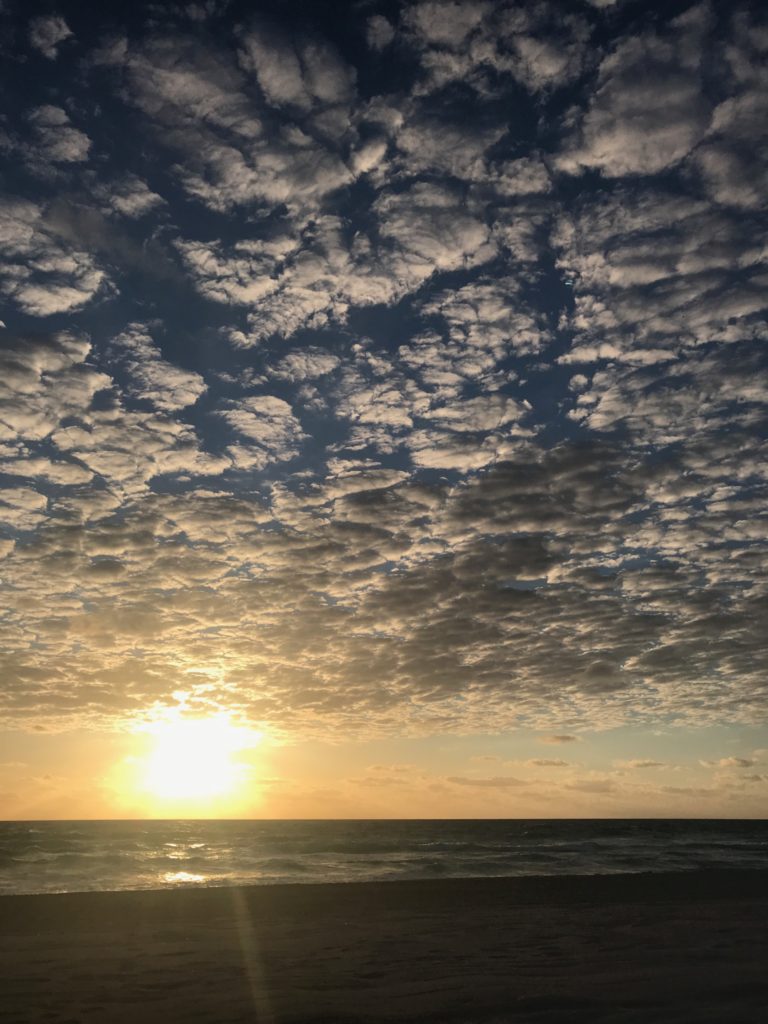 If I didn't make it to the beach for the sunrise, we had a great view from our room.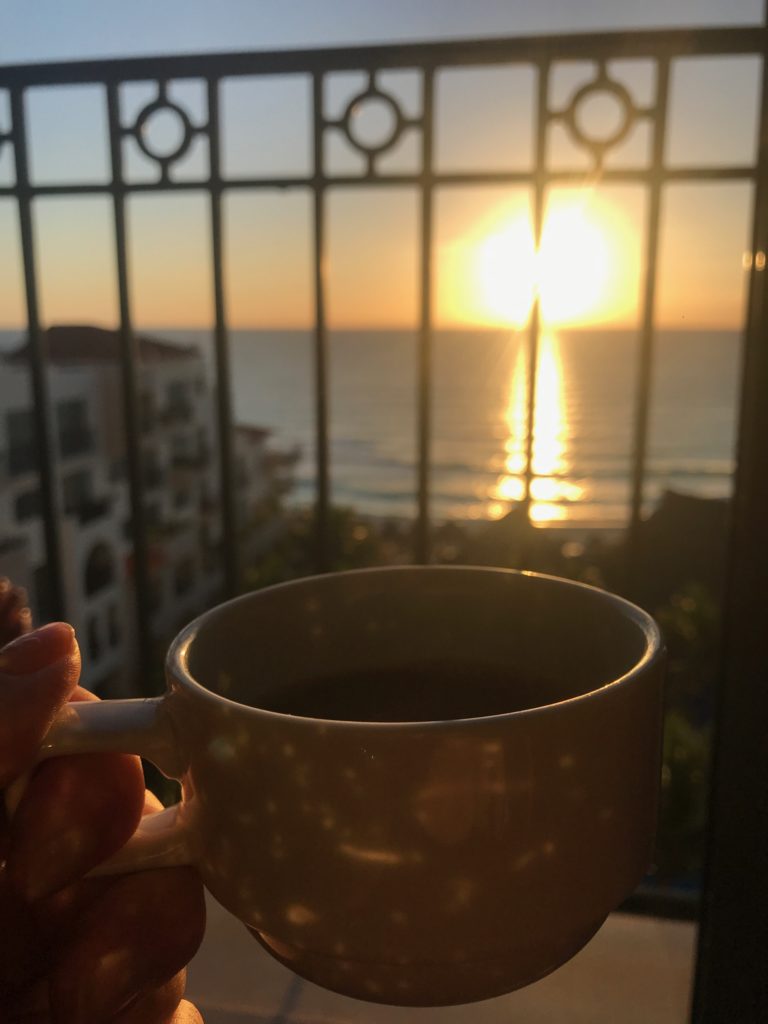 I watched the sunrise every morning. Some mornings, I drifted off back to sleep.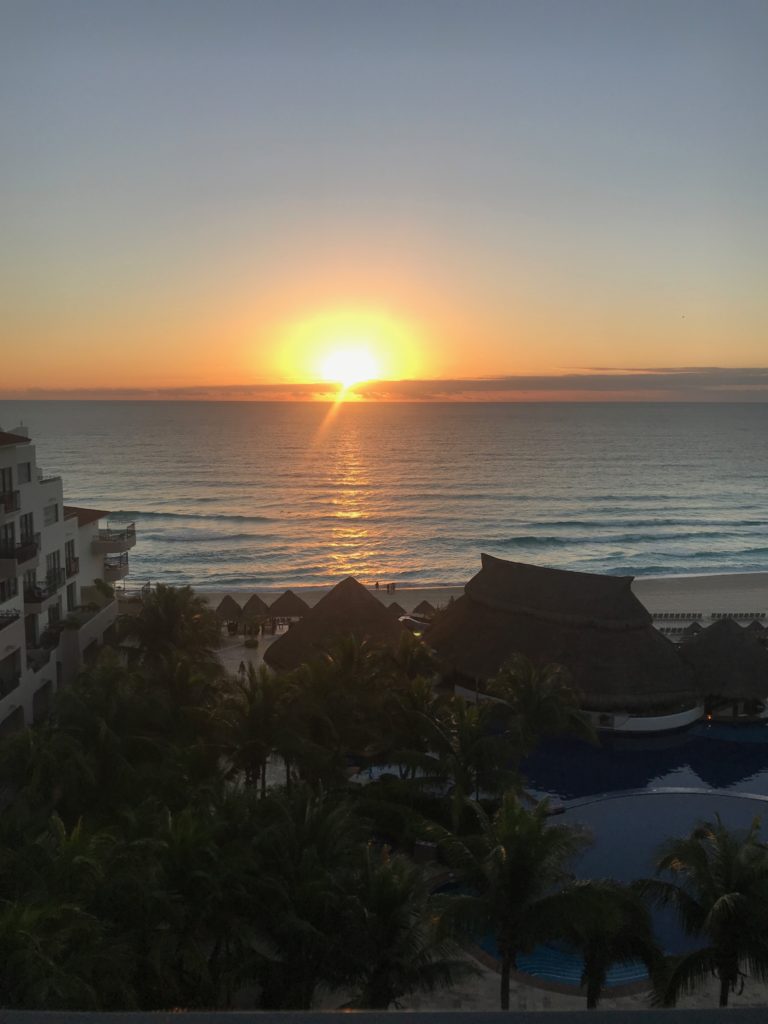 The pool area was beautiful. Don't wanna get out of the pool to get a drink? Just swim over to the swim up bar.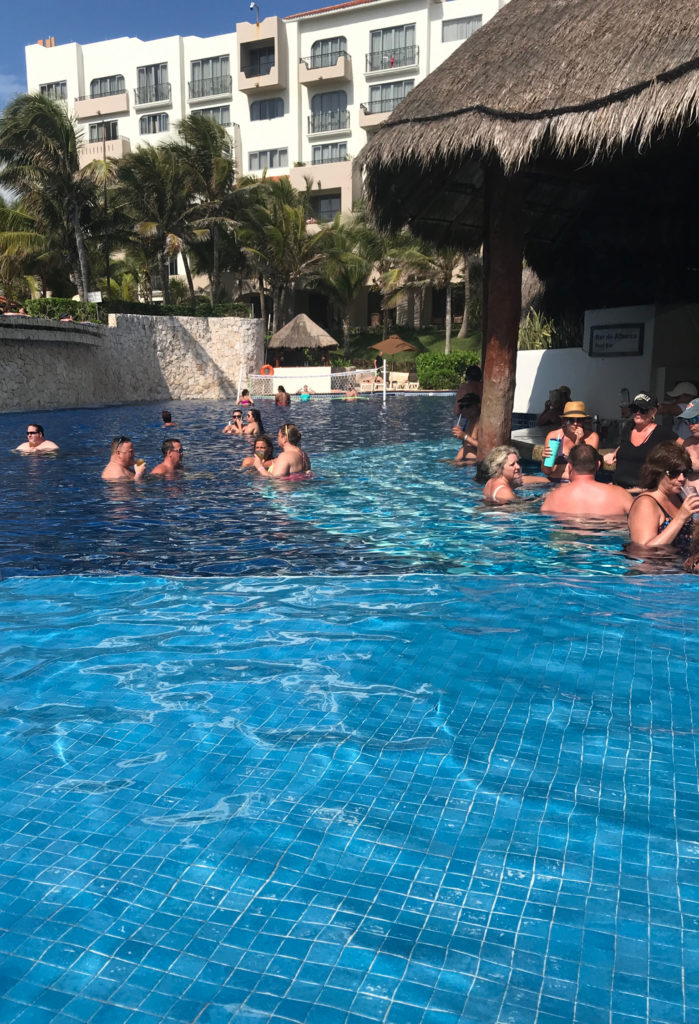 This was such a fun place to hang out. We all did Water Aerobics here one day. Great way to get a few good laughs and a little exercise.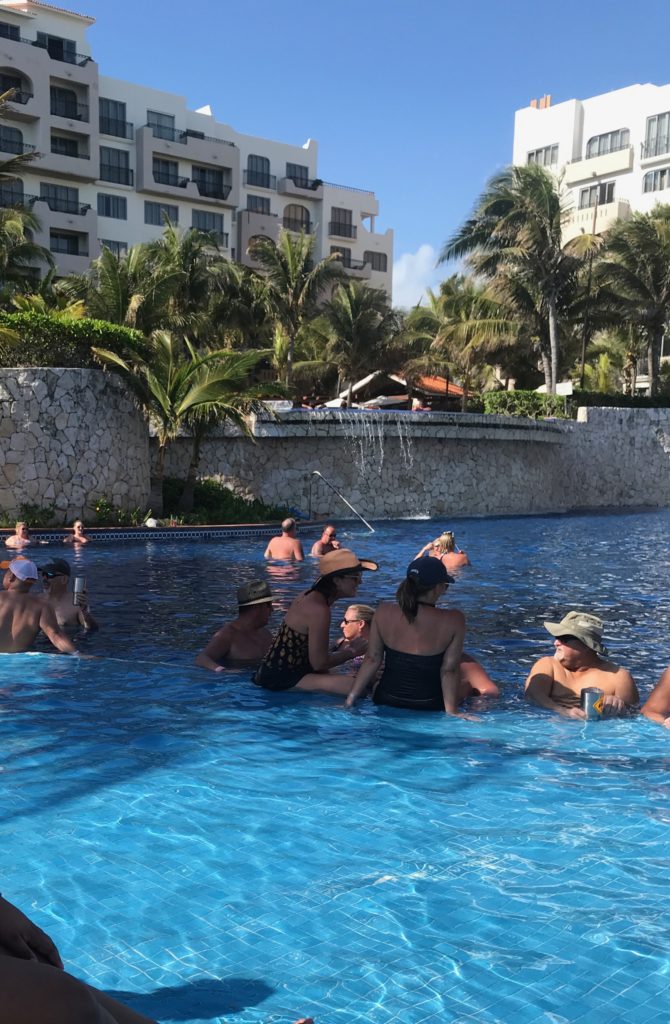 I love a morning walk on the beach.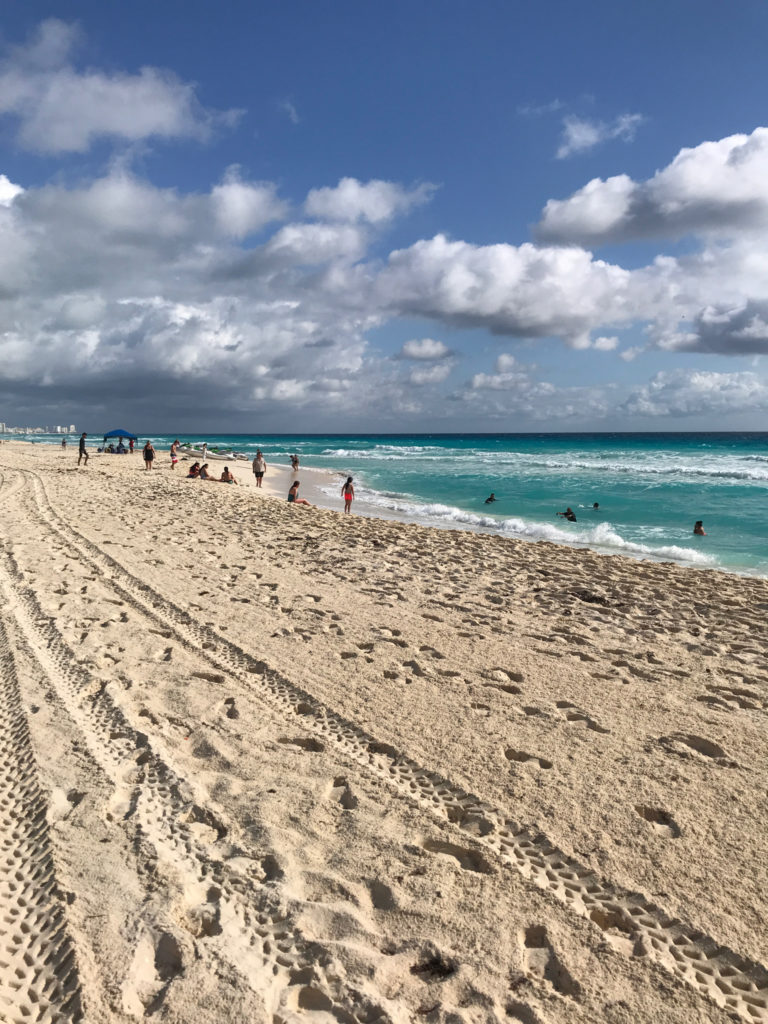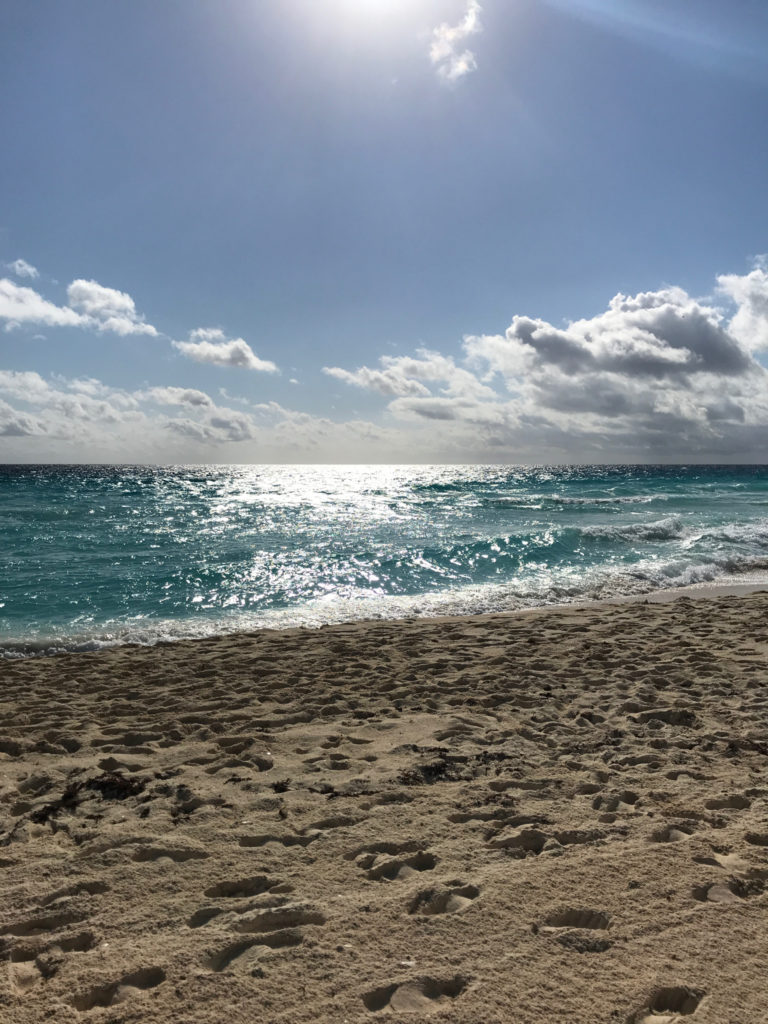 I could sit here all day.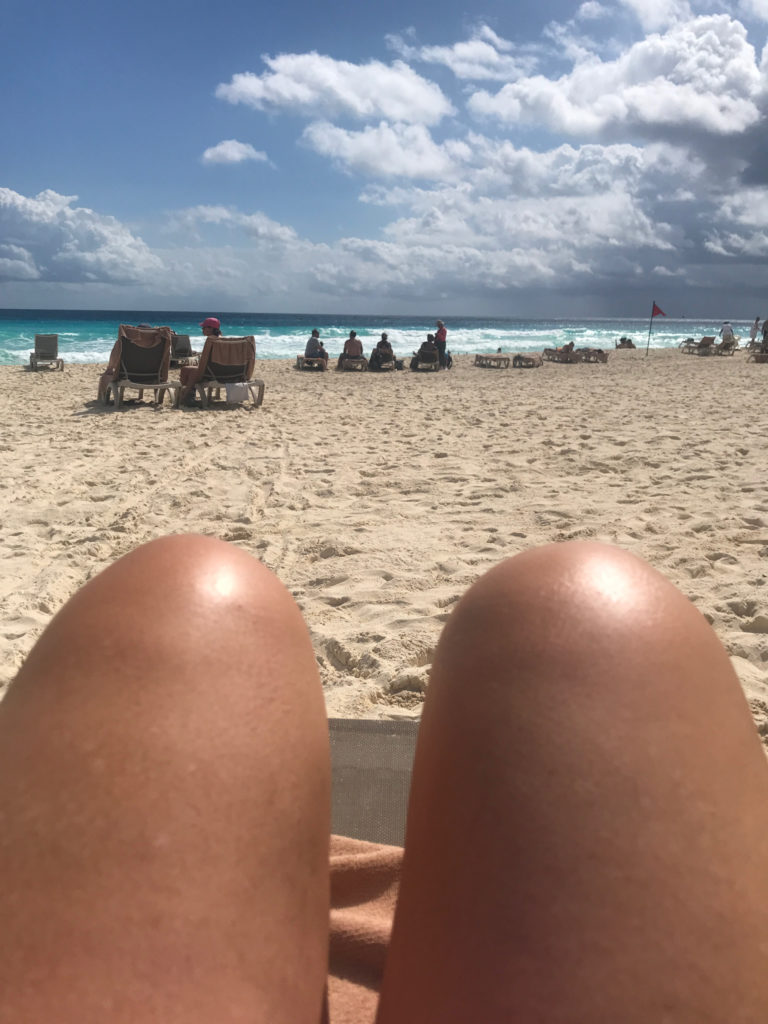 We had several options for food on the resort. One of my favorite spots was this little Fish Taco place. The food was great and why wouldn't you want to eat lunch while enjoying this view?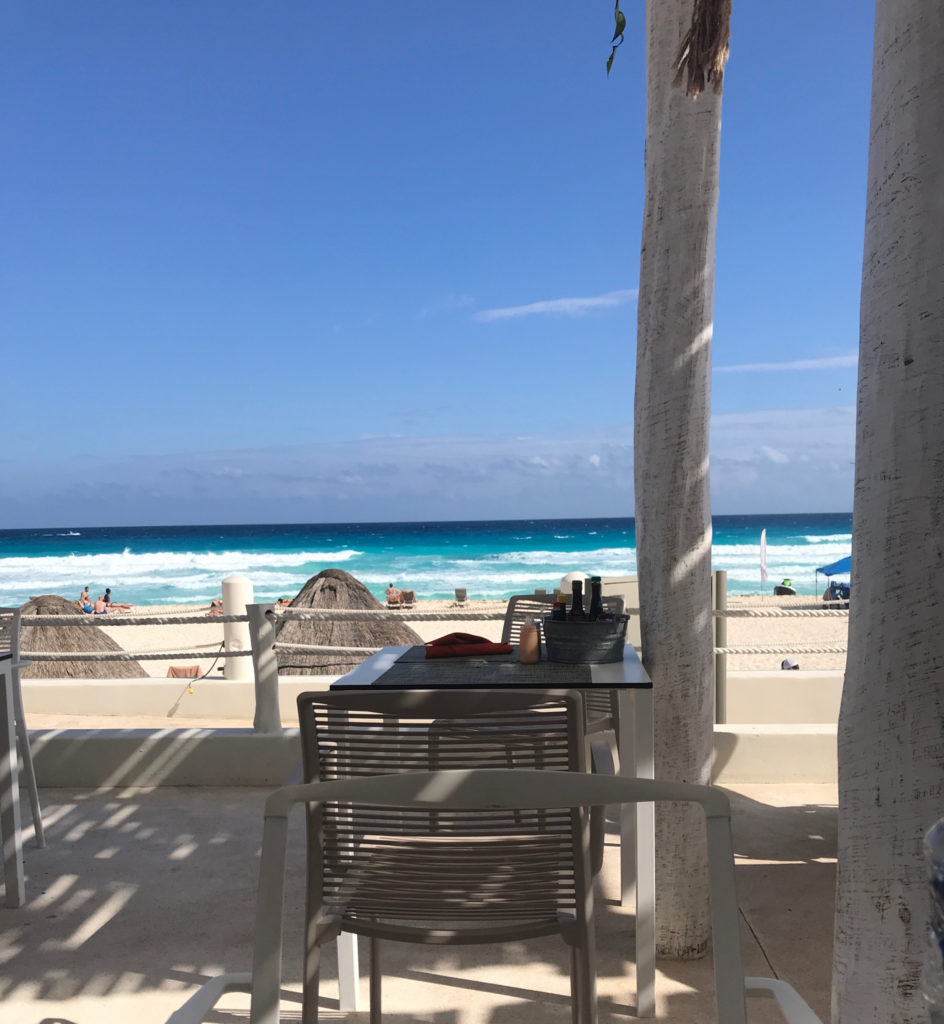 This was a pretty good view too! It was good to see him so relaxed.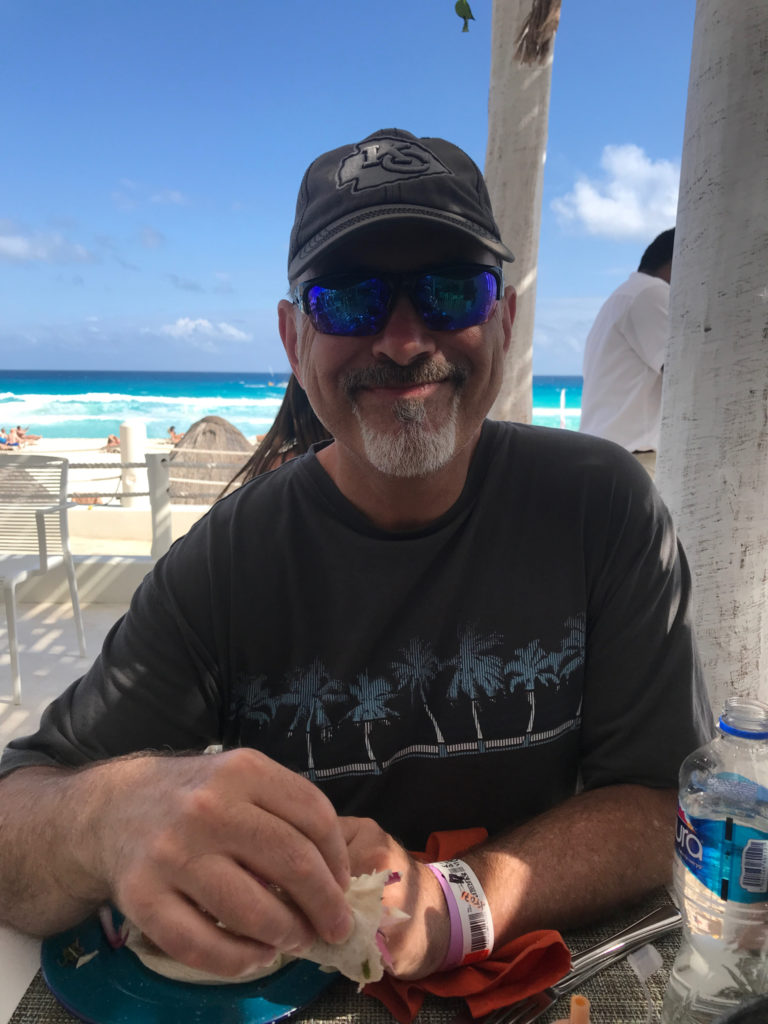 We all ate here more than once!
Boy table.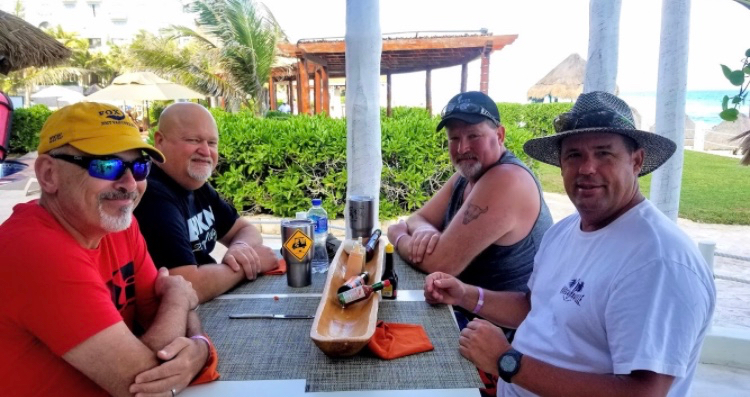 Girl table.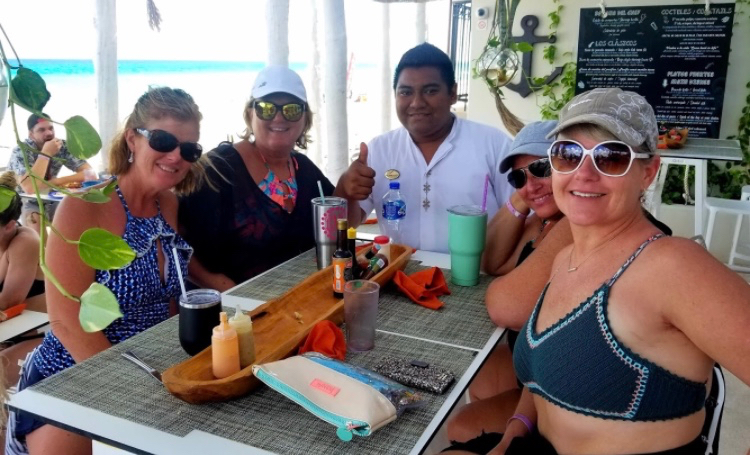 This was another favorite morning spot of mine. Coffee just outside one of the restaurants overlooking the ocean.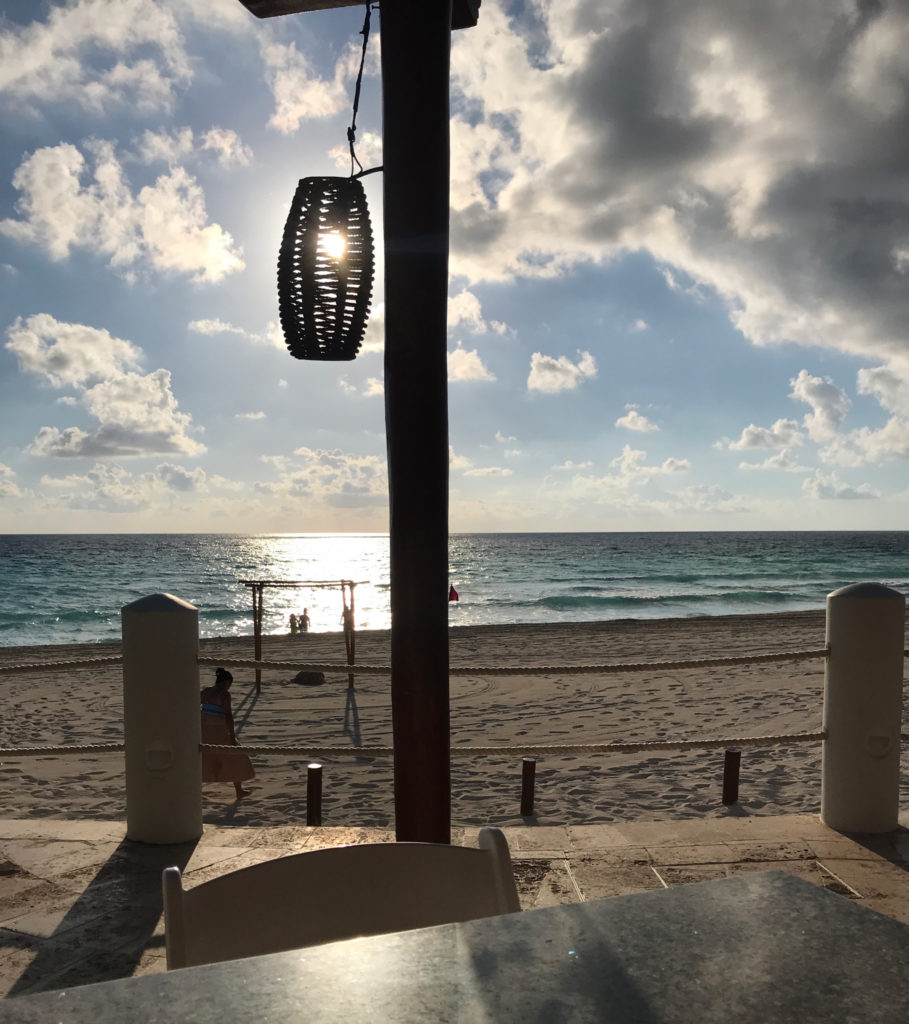 They had Yoga! A few of us did Yoga two mornings.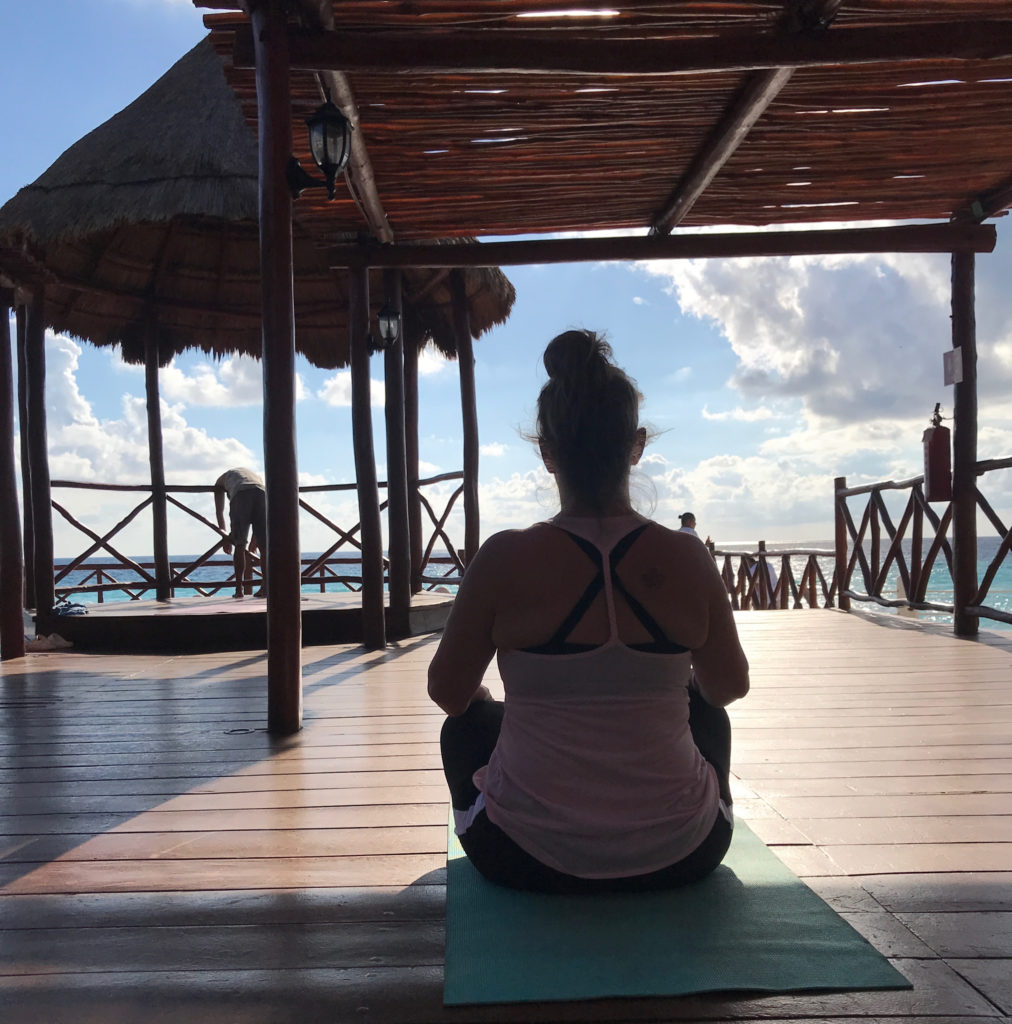 This was the view while laying on my back, listening to only the waves. Namaste. It was perfect.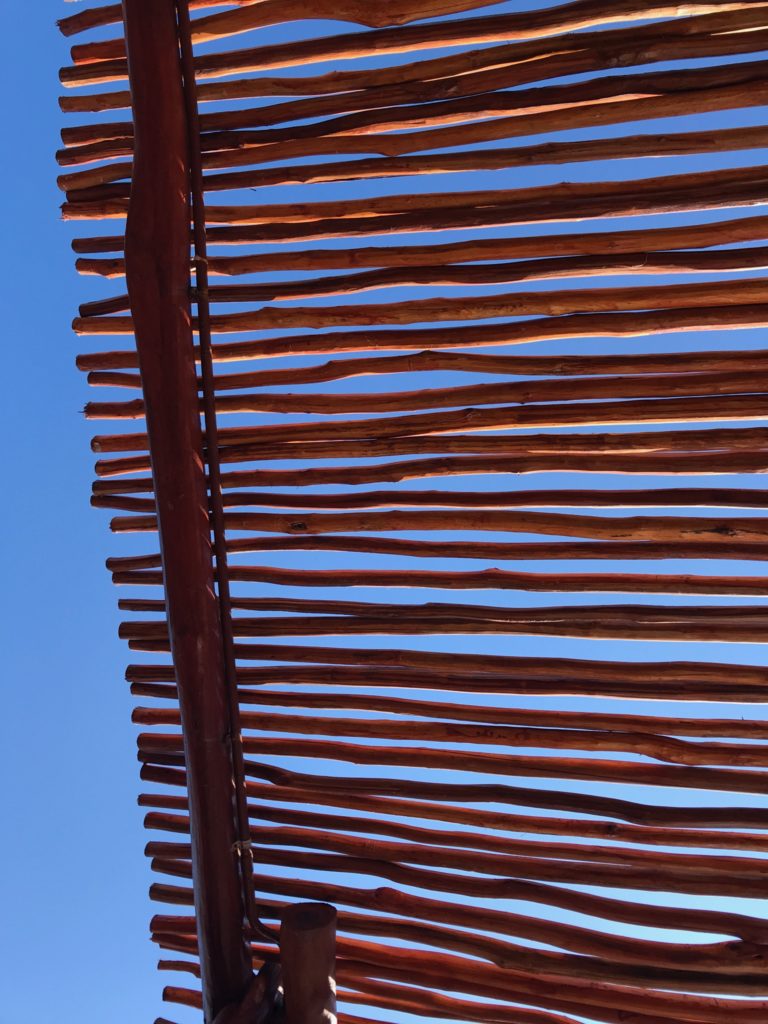 They had a cute little sushi bar that came in handy when we needed a snack before dinner!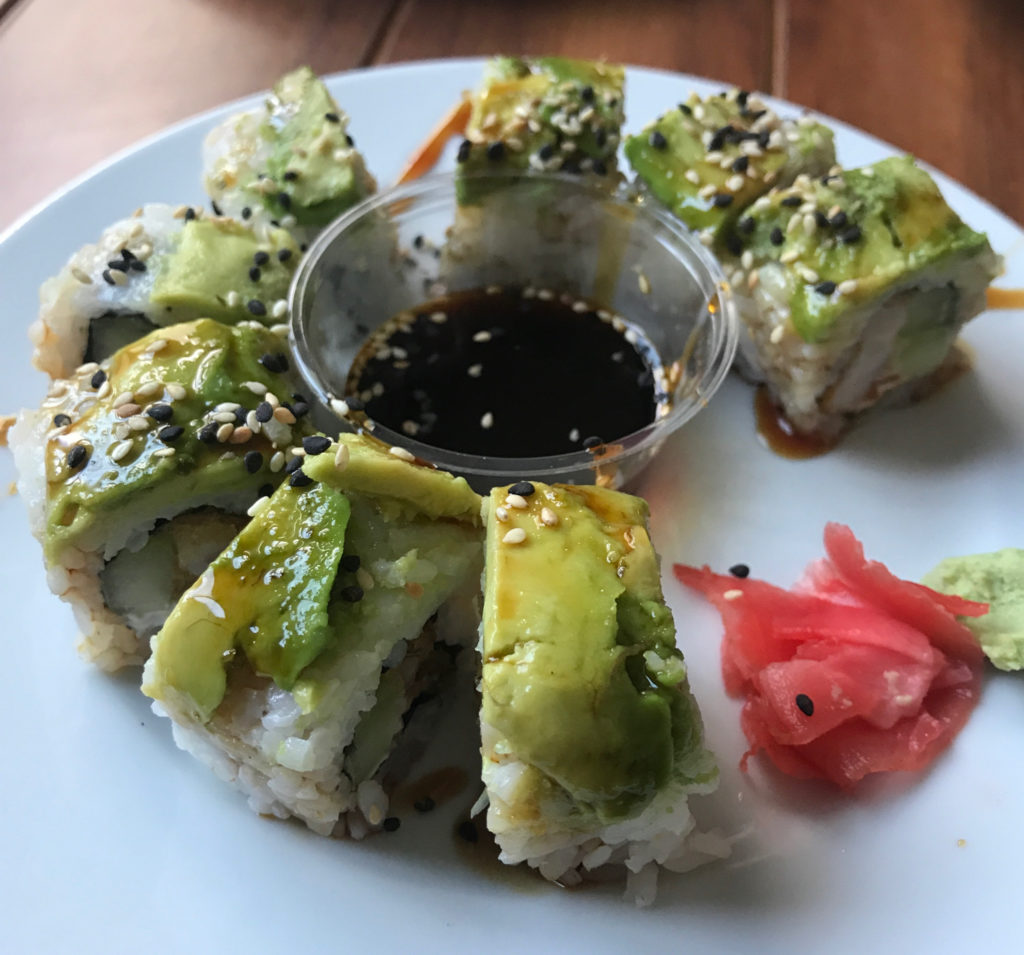 I didn't take many food pictures, but along with the fish and shrimp taco's, I ate more shrimp, had Cod twice, Salmon one night and enjoyed more than my share of Chips and Guac. I could live on that stuff.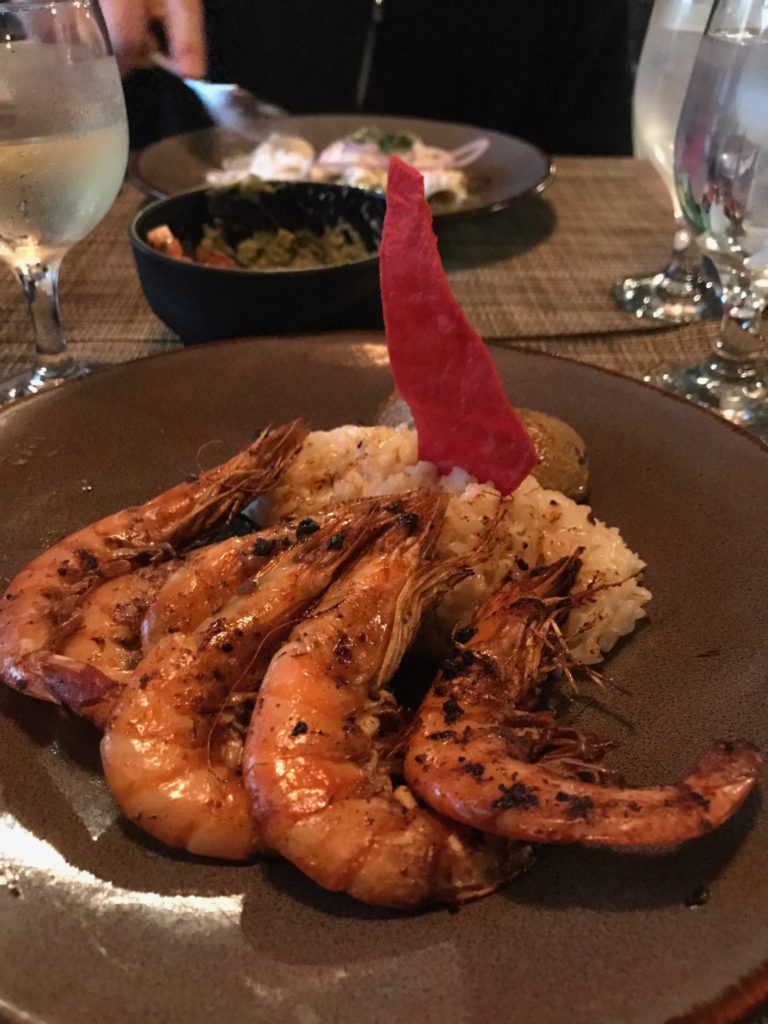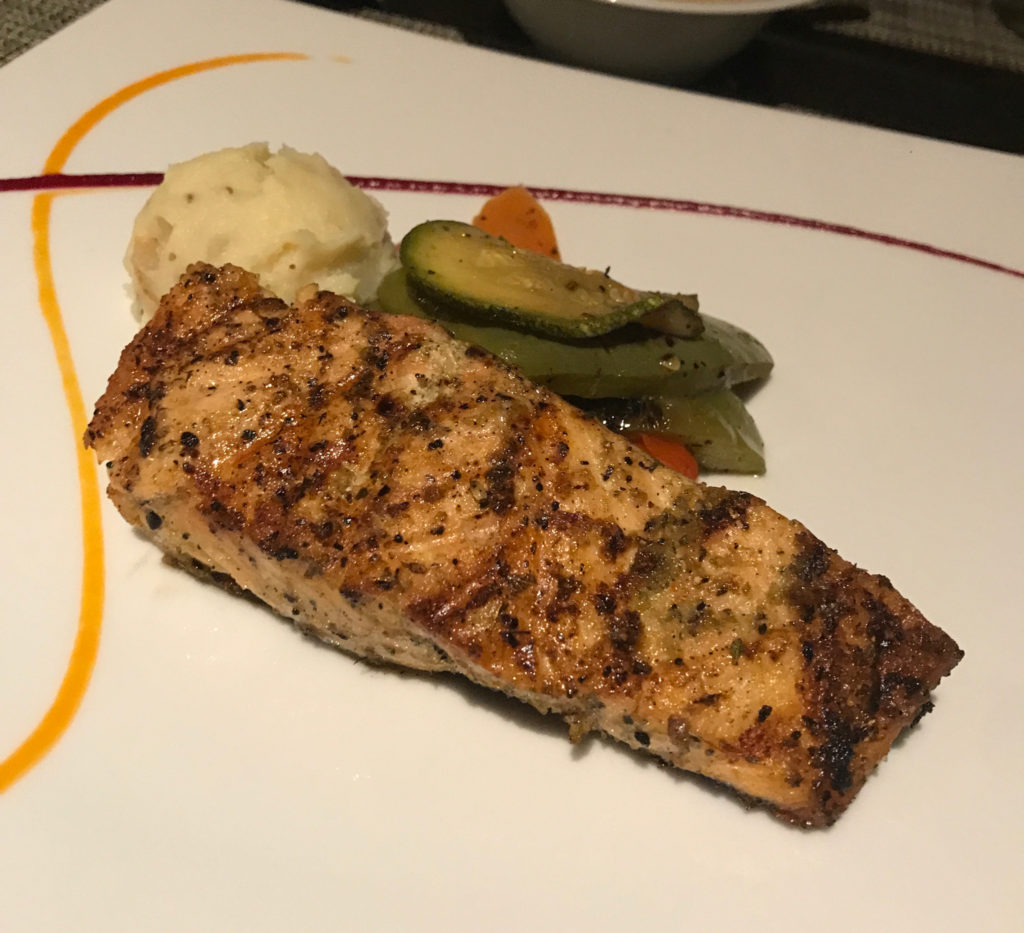 Breakfast almost every morning…..accompanied with eggs on some mornings.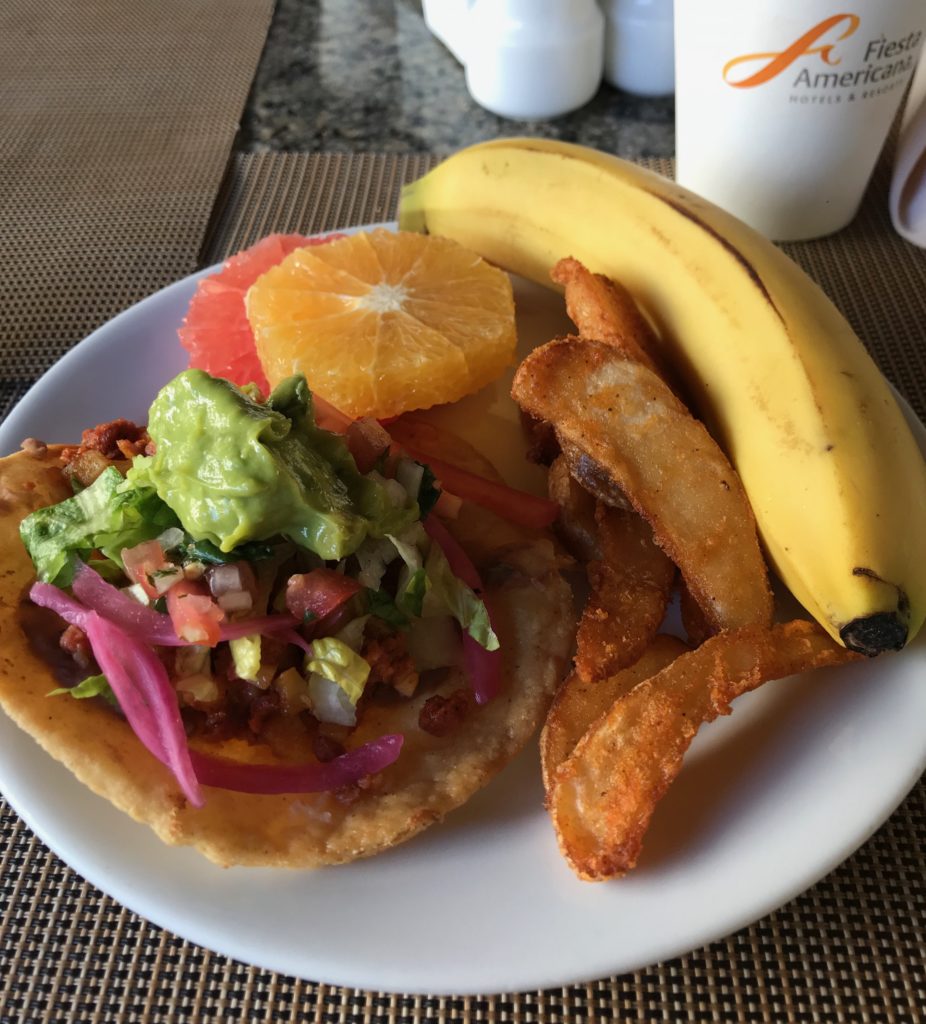 In Mexico, they claim that Crickets are their Viagra. lol. I did not have any, but some of my friends did!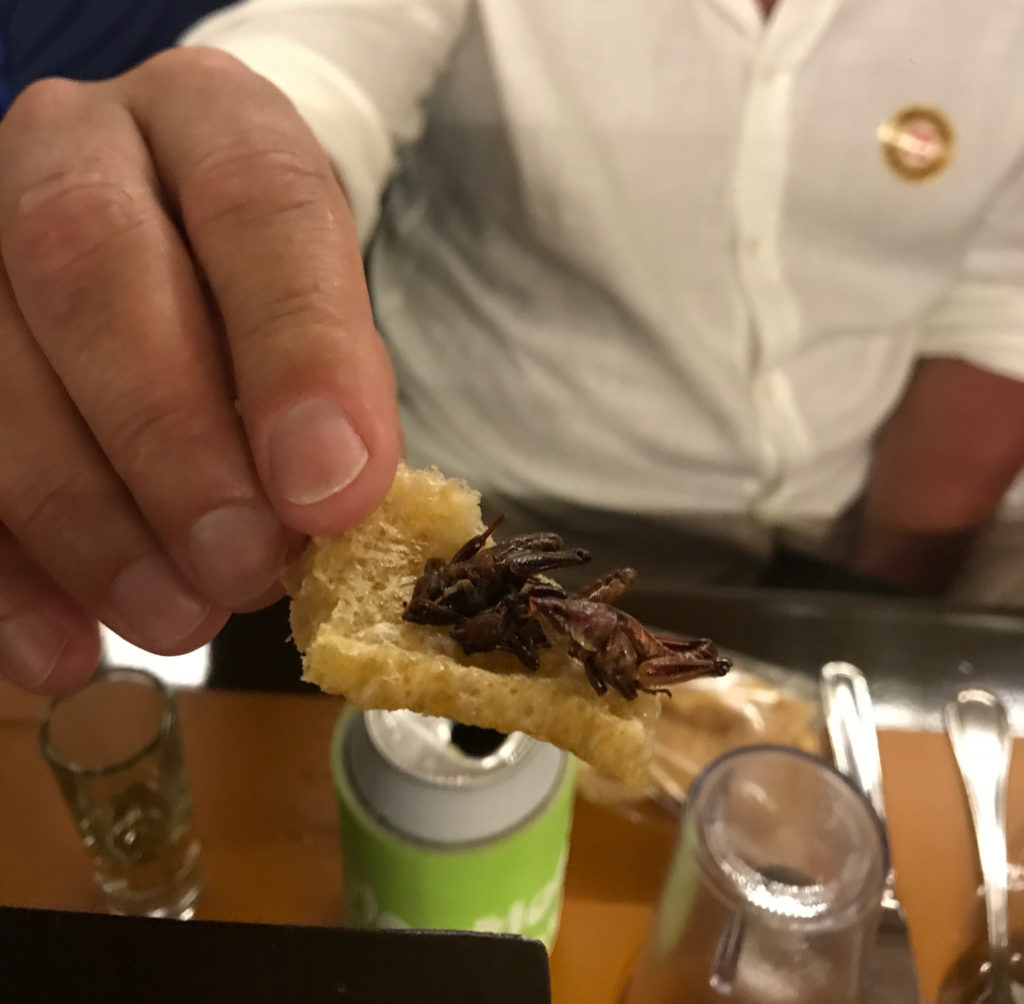 We all decided to venture out a couple of days. We took the Ferry over to Isla Mujeres. Such a beautiful island!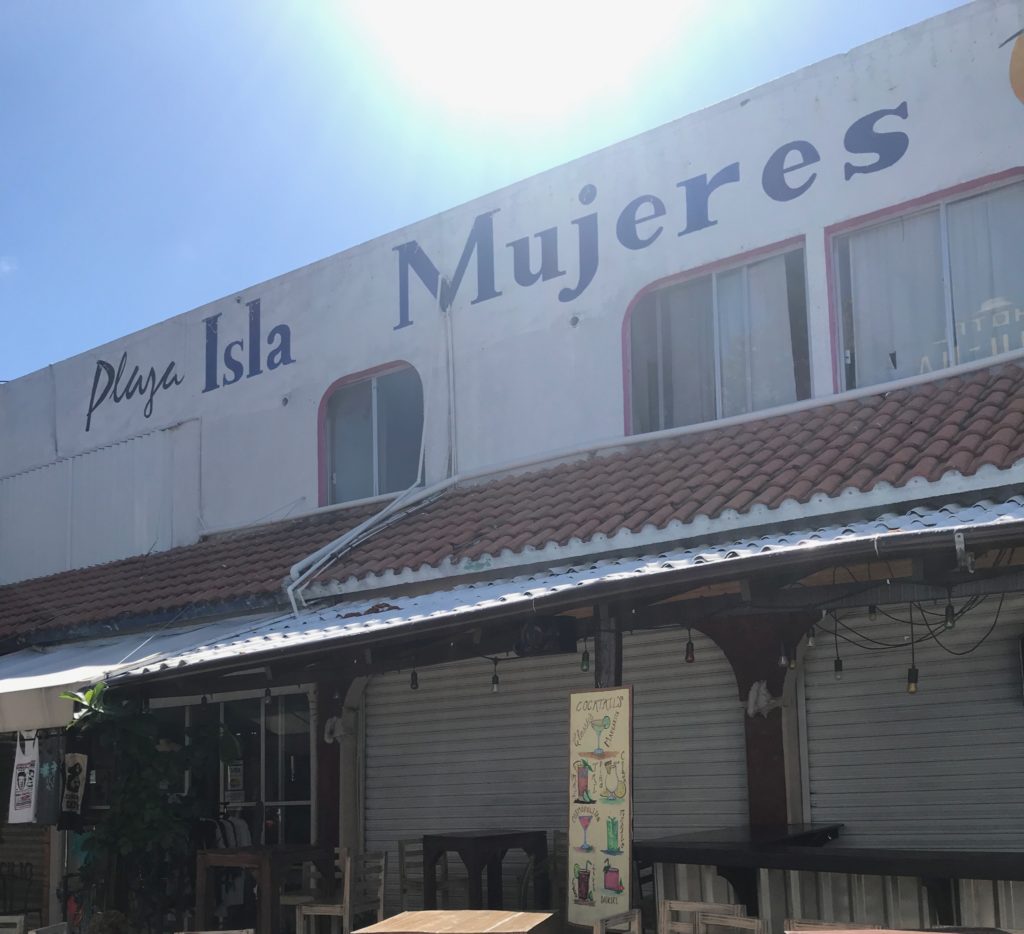 Tiny cars, scooters and golf carts are used for transportation on the island.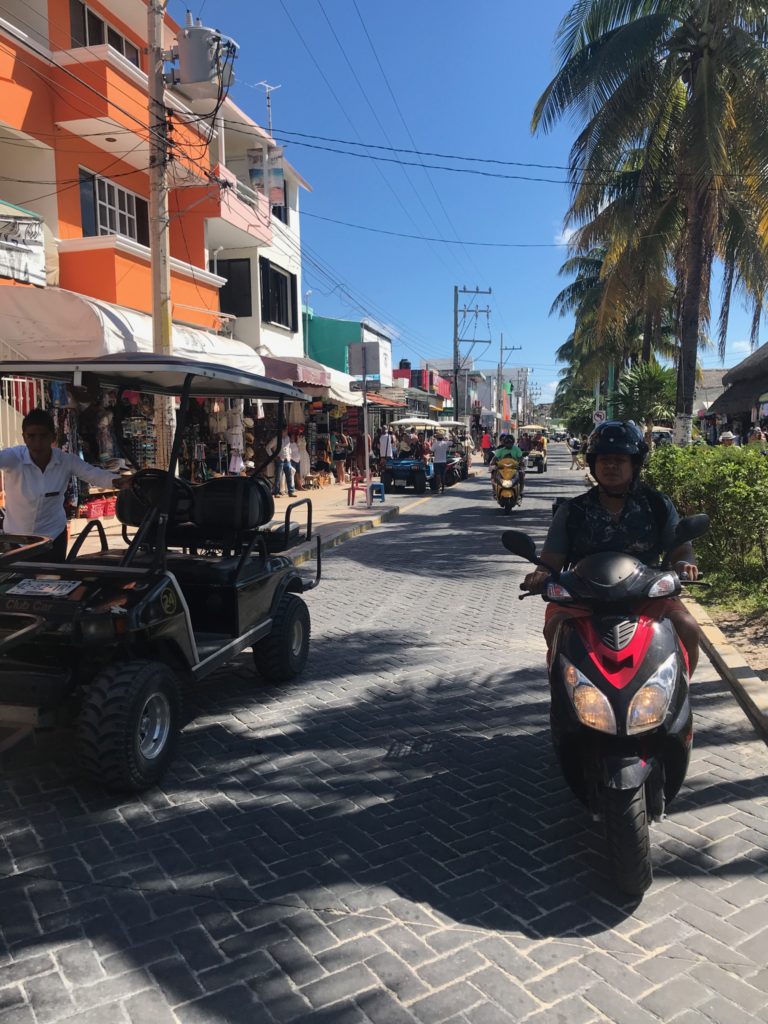 So many little shops.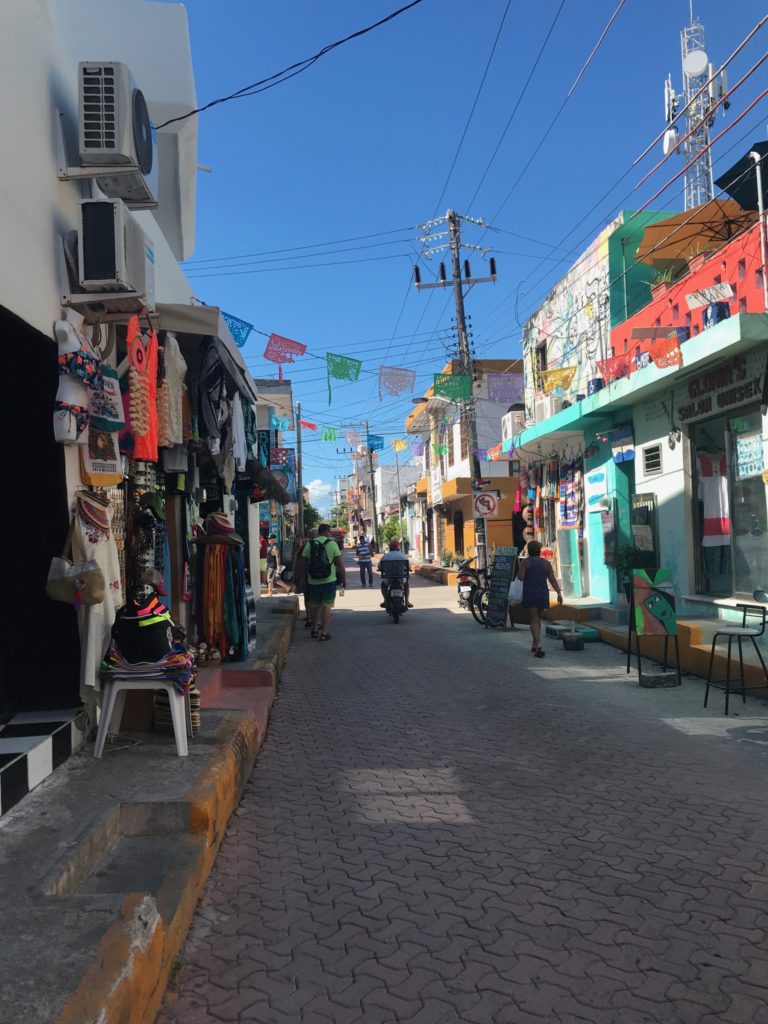 We rented a few golf carts and Mike and I hopped on the back of one.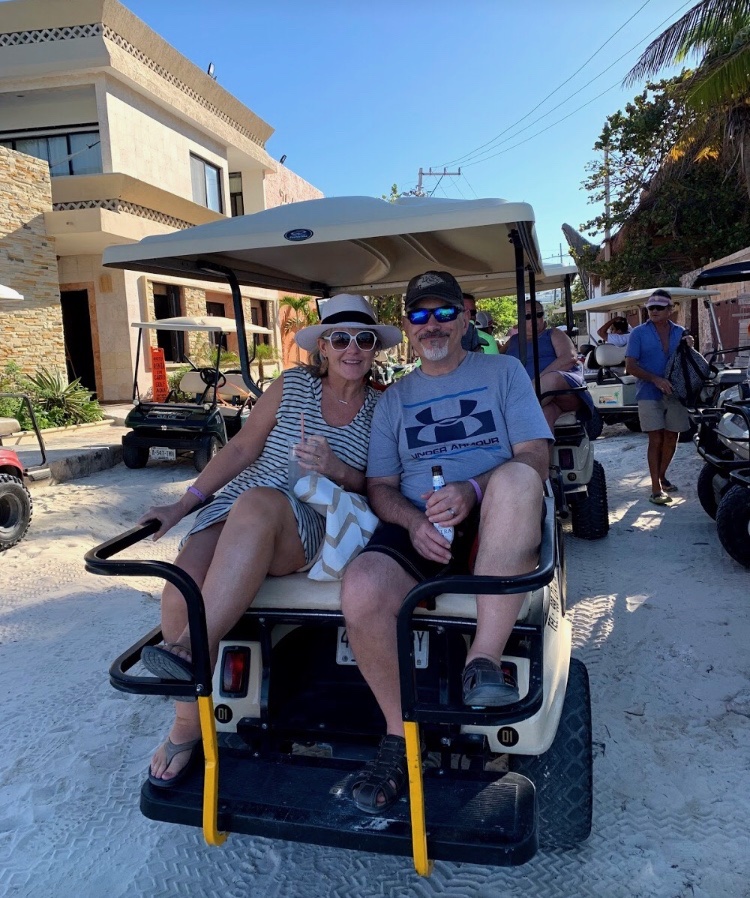 Lots of shopping….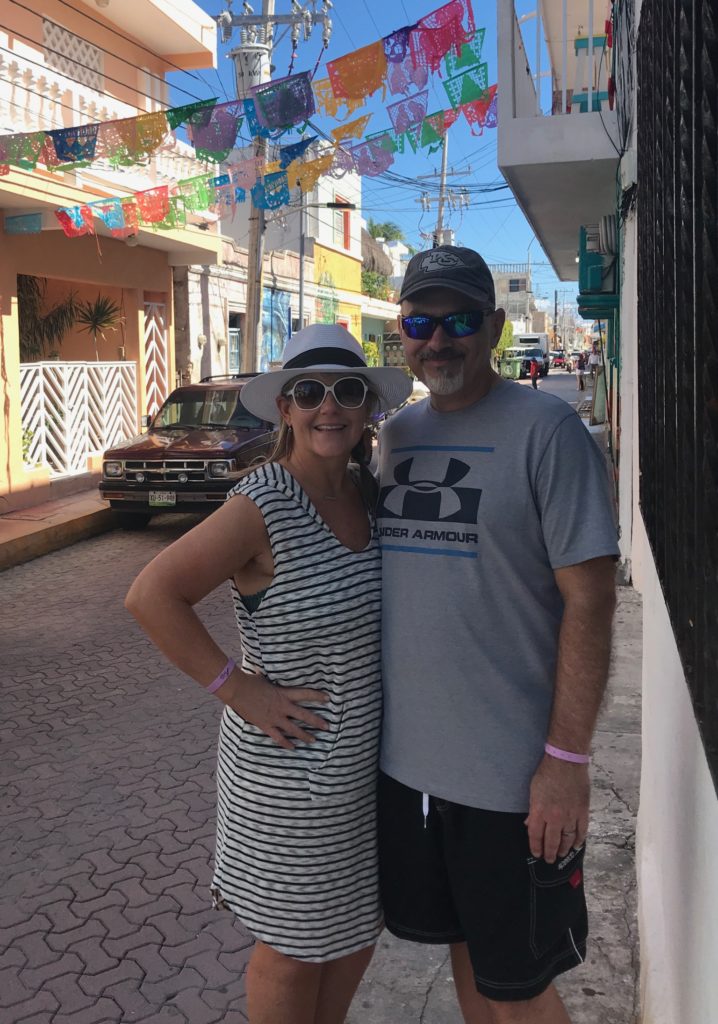 We discovered some beautiful views.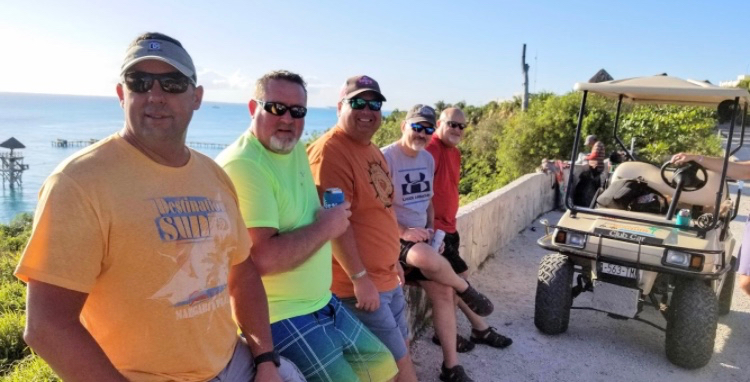 This is my friend Sidney, also known as my food truck boss, if you were reading back then. She gets credit for planning the trip and taking most of the photos in this post. If it's a really pretty and clear picture, then she likely took it. Thanks Sid!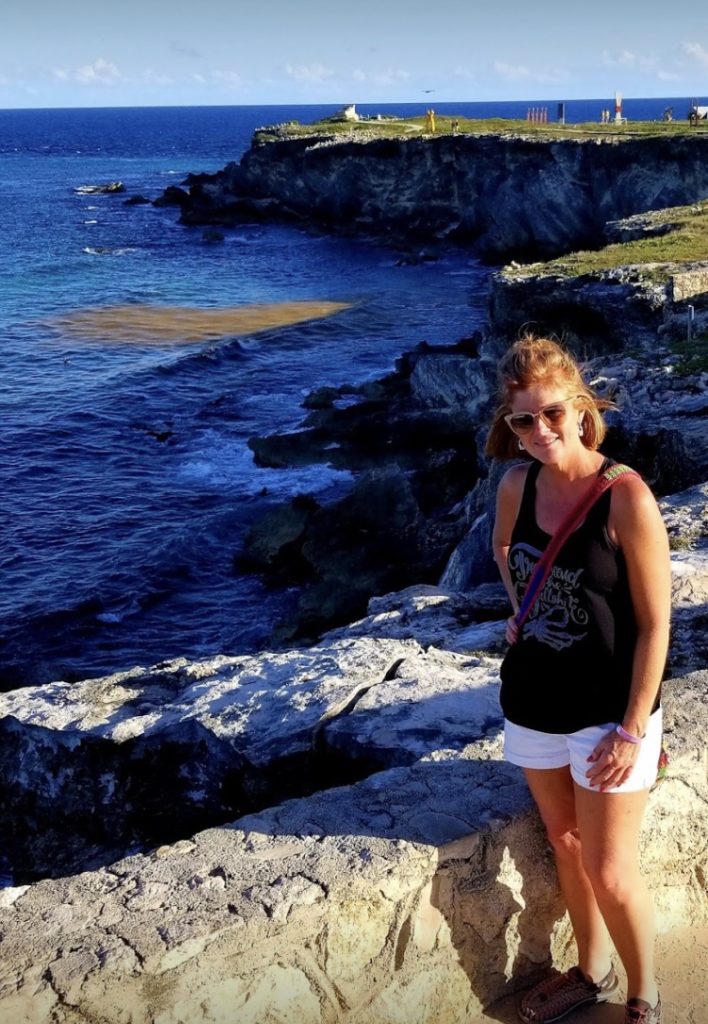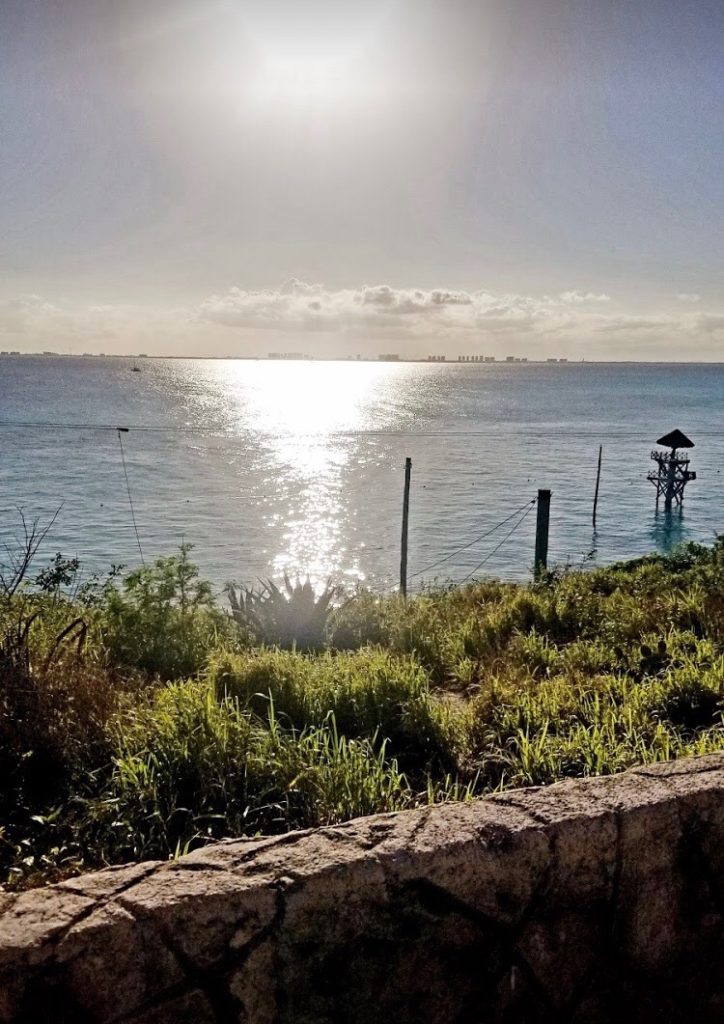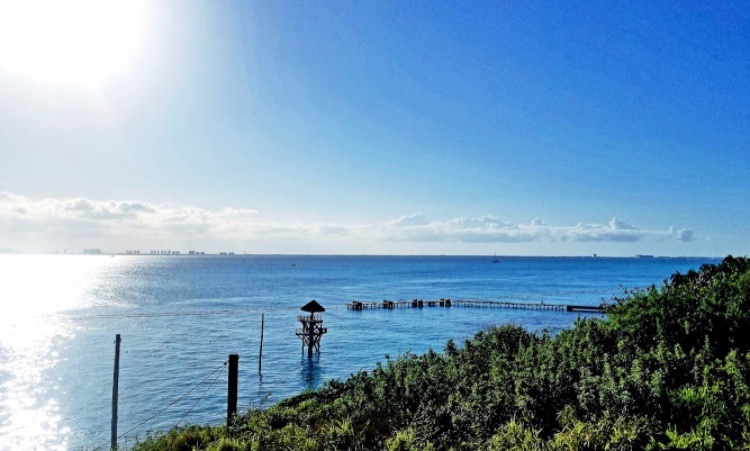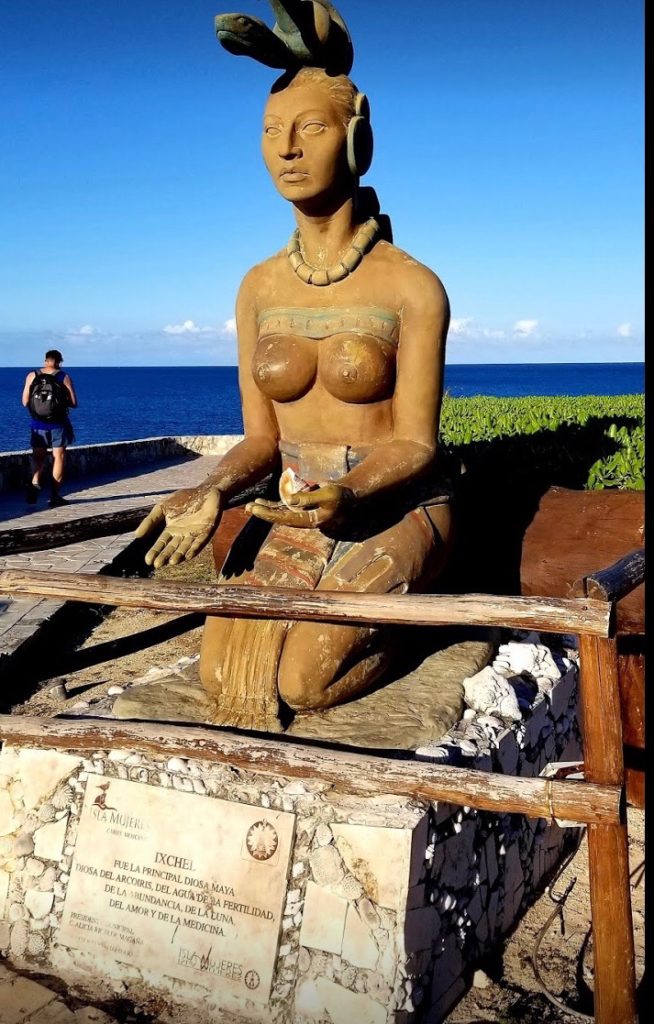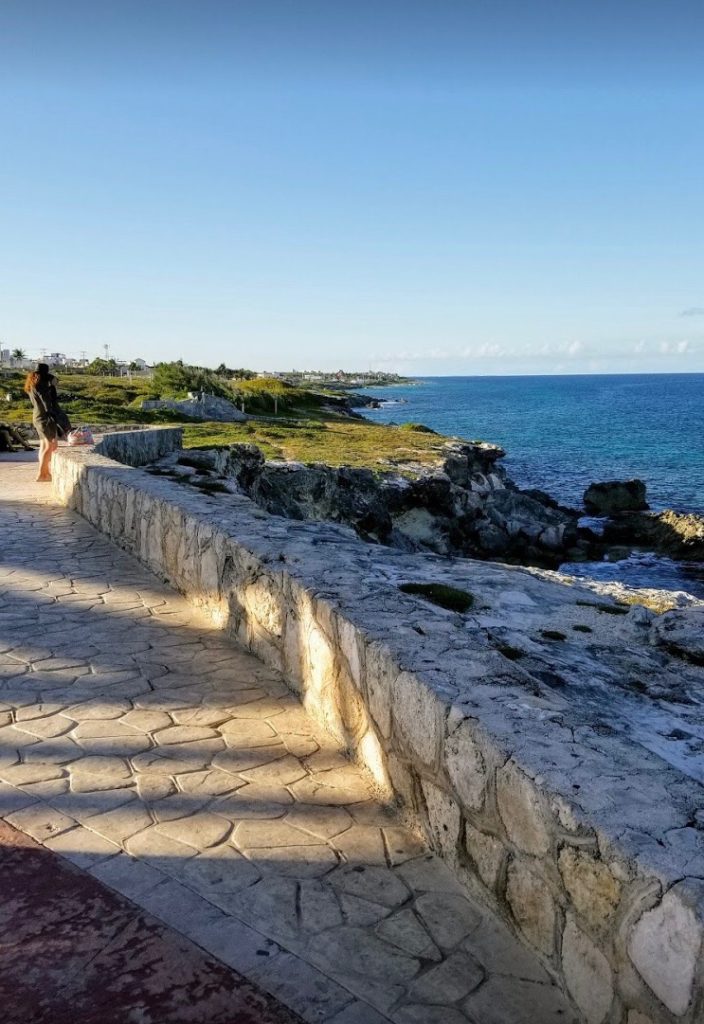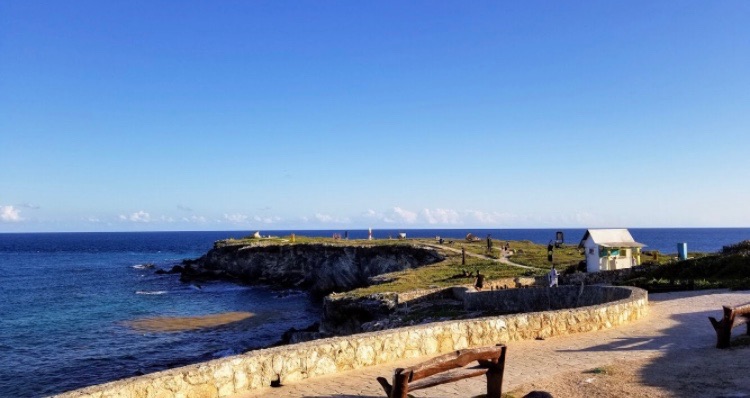 We found a cute spot for lunch with a great view!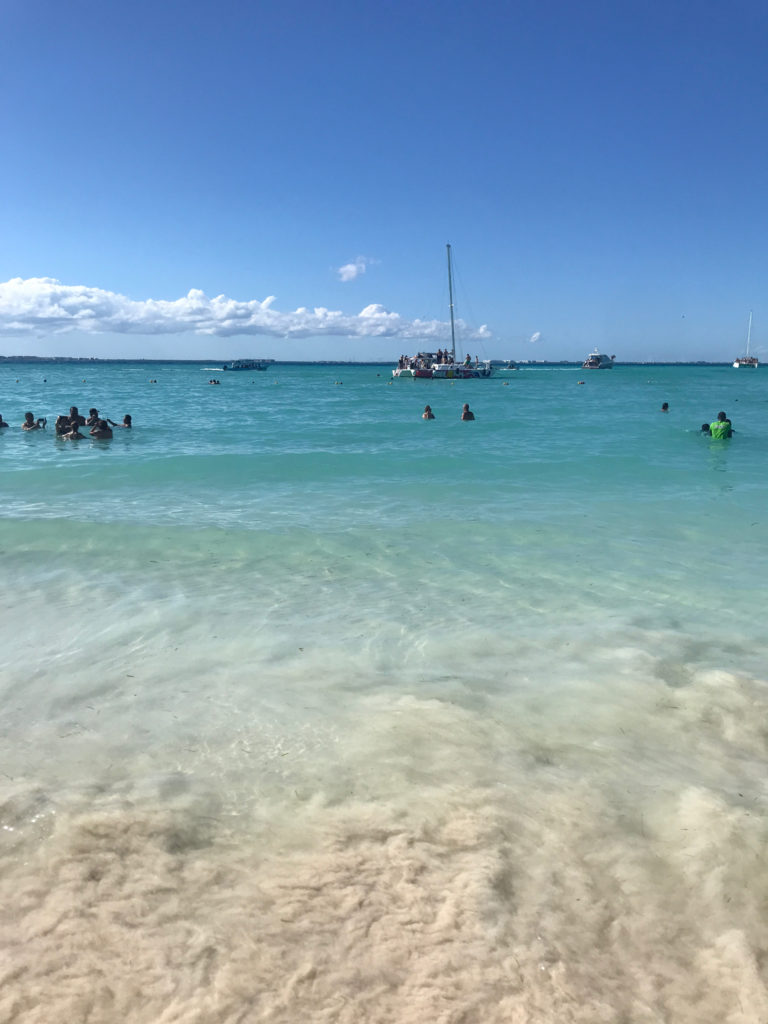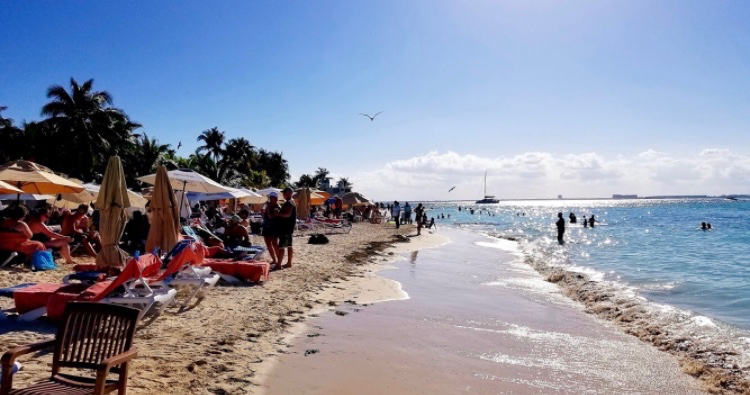 Um, can we go back please? I'm very happy here.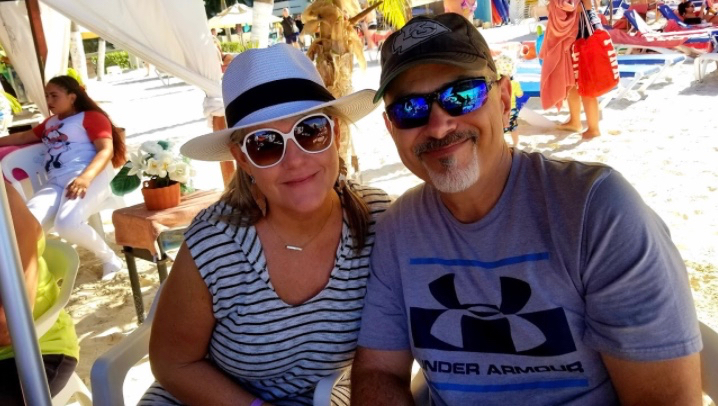 We also ventured out one day to Xplor. This was a Zipline and Water Park with many adventures through the caves. None of us took the chance of getting wet phones or losing phones, so I've borrowed these pictures from the Xplor Instagram page.
We were able to  Zipline, ATV through the caves, raft (more like a canoe or kayak) through the caves, walk through the caves, swim through the caves, have lunch and relax in a hammock while our suits dried off.
A Zipline adventure has been on my "bucket list" for a while, and I was so stinking excited to feel physically good enough to participate in everything that the group wanted to do!
We zipped from tower to tower. They went higher and higher. I think we did 8 lines total? It was a tad scary, but the views were incredible.
I can't believe we did this!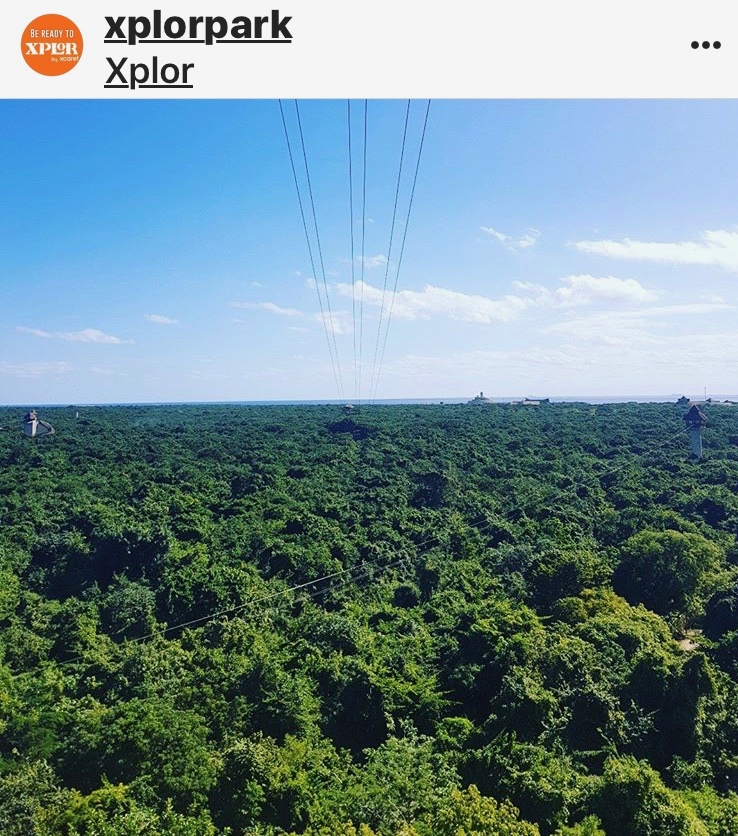 You Zipline to each tower, then climb up that tower, higher and higher!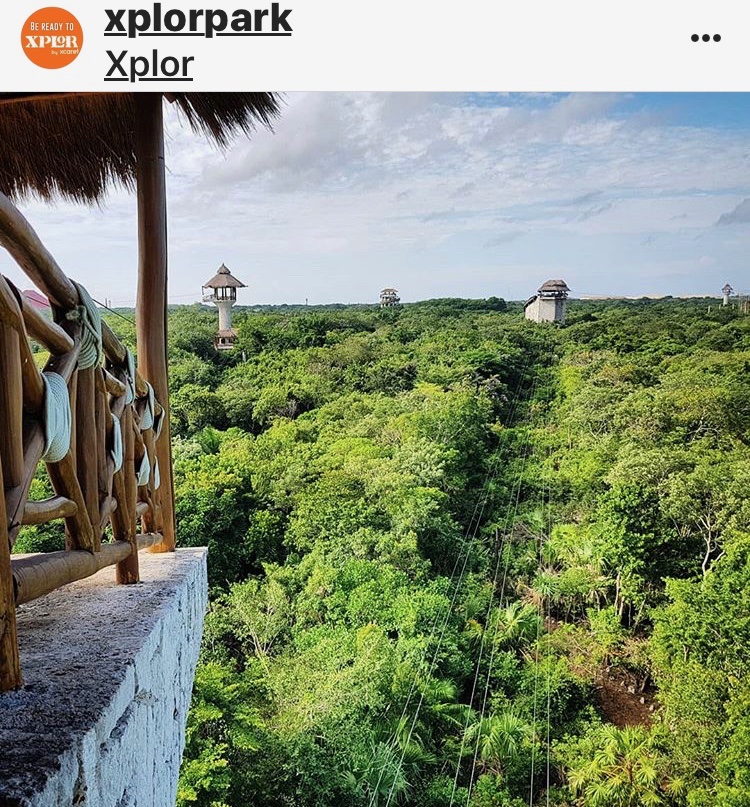 We swam through caves. The water was cold that day! We had our choice once in the cave to go right and take the 10 minute swim or go left and take the 30 minute swim. I chose the 10 minute swim. The photo below is where our swim ended and it really was beautiful. I will say…thank goodness for life jackets and helmets! Caves can be a little rough on the body!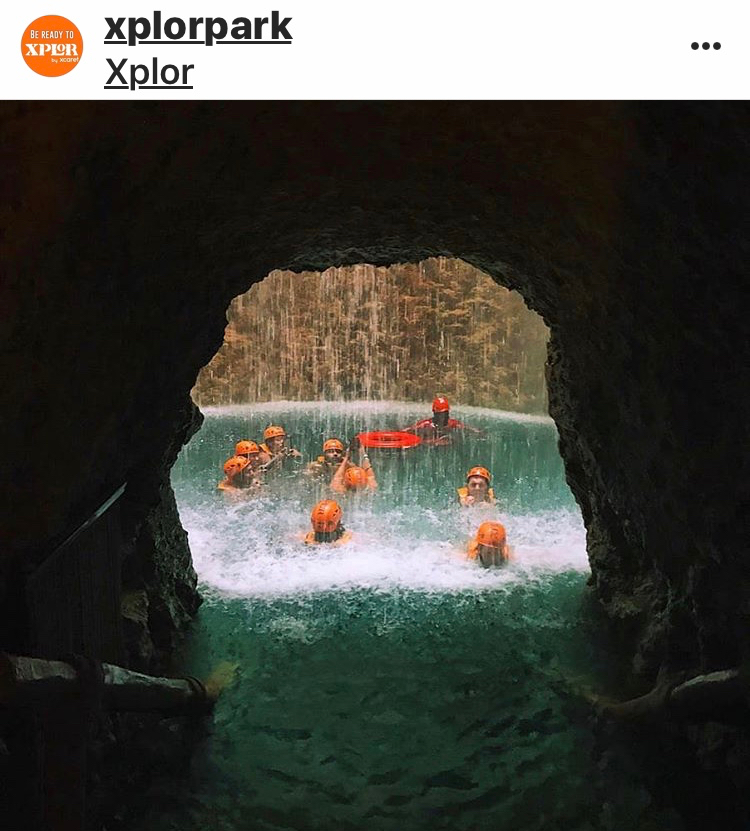 This was a fun little adventure. Mike drove on one trail and I drove us on the other trail. Dark caves, caves with lights, driving through cold waterfalls….lots of fun!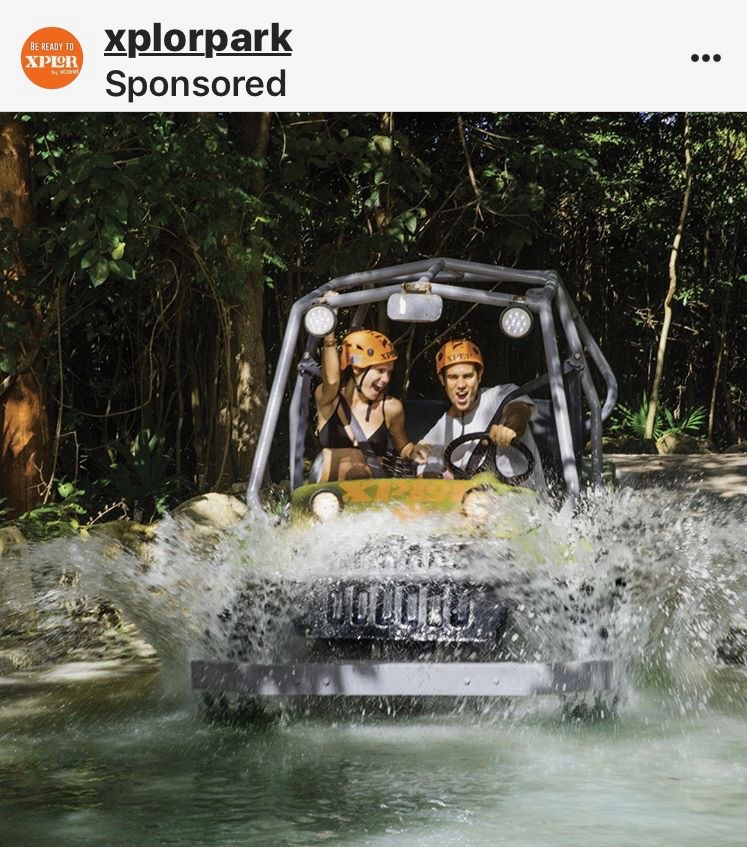 We spent the entire day there and it was a great adventure day! A little scary at times, but fun!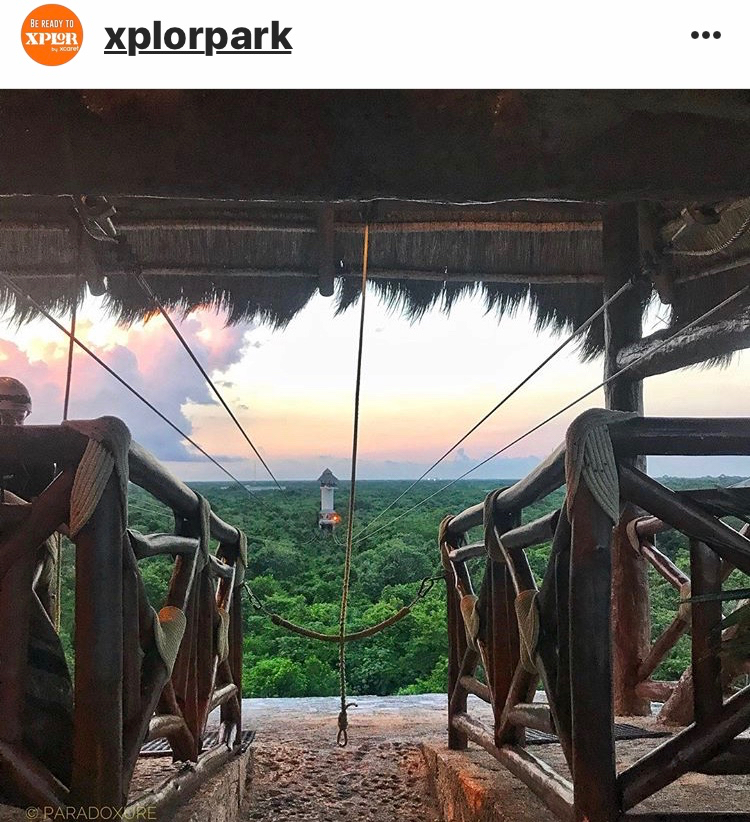 We had plenty of entertainment while at the resort too. Have you ever played the Saran Wrap game?? Oh my gosh, so fun. Two friends packed everything needed to play and assembled this huge saran wrap ball one night. So many giggles.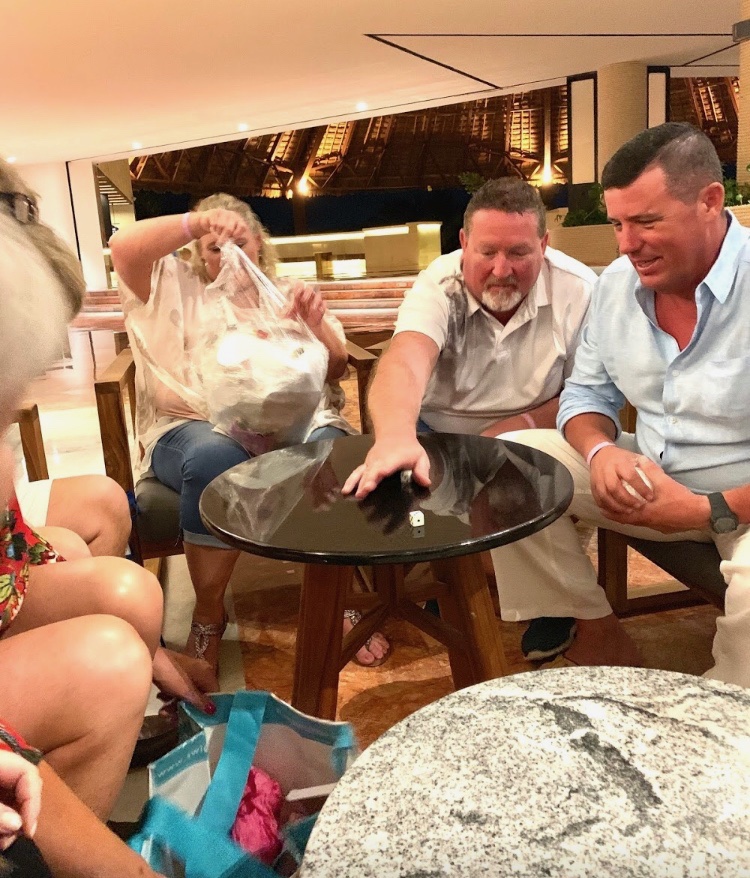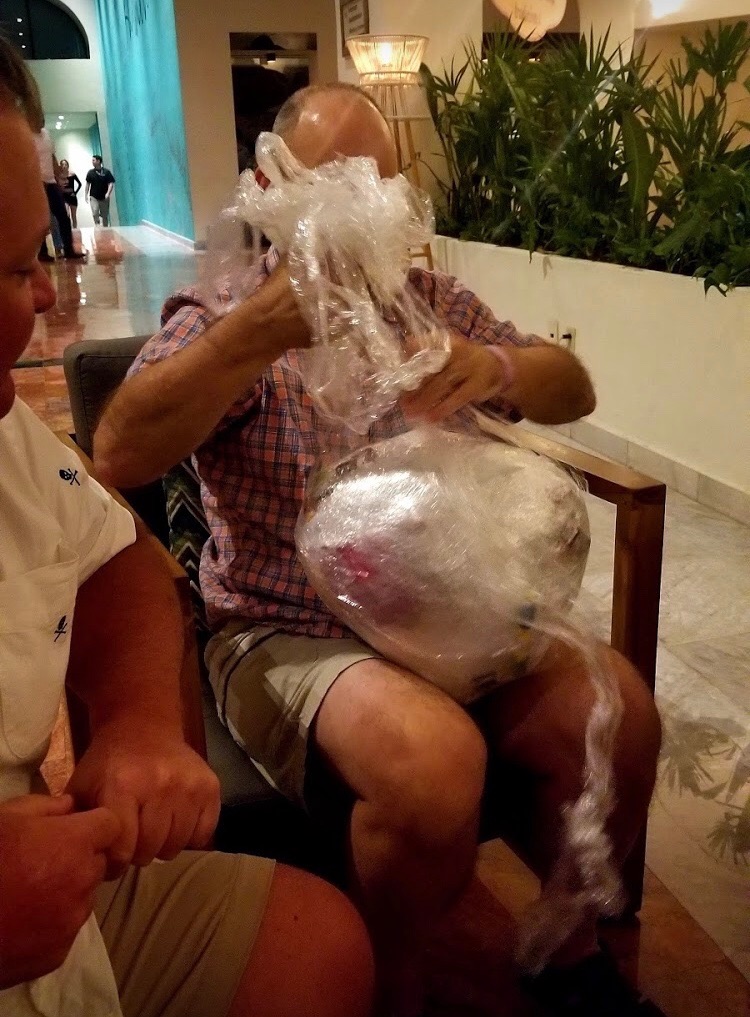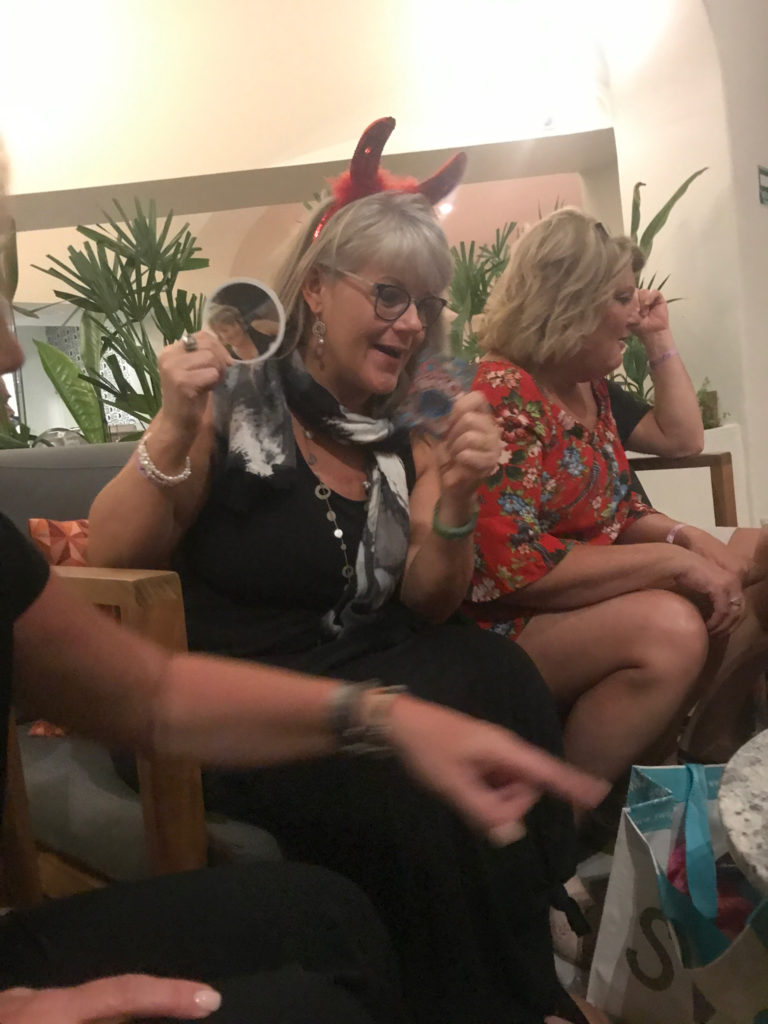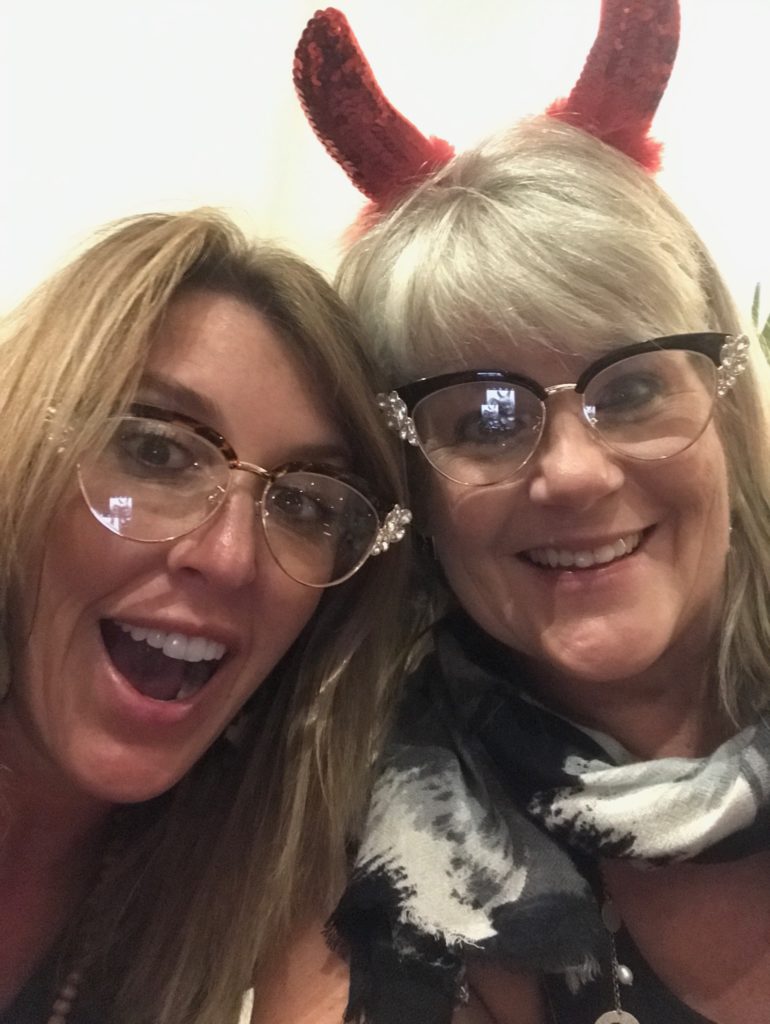 I visited the spa at the resort one afternoon to simply enjoy the sauna, steam room and hot tub. Along with that, came a mini facial. So relaxing.
I came home with only 3 extra pounds. That is the least amount of weight I have ever gained while on vacation! And this was a nine day trip! I drank a TON of water. I drank very little beer. I discovered that I actually like Vodka Soda's with a Lime and a splash of Cranberry Juice. Who knew??
I have a lot of scars, and I am still getting used to this new torso of mine, but I decided to take advantage of the reconstructed breast and the flat tummy and buy some new suits. I think you all know by now that I appreciate my legs very much for what they can do for me, but I still don't like the way they look. I'm not being hard on myself at all, I'm just being honest. It was fun however to focus on the parts of my body that I felt good about.
I asked a complete stranger to take my picture because each time Mike and I were by this sign, I either didn't have my phone or I kept forgetting to have our picture taken!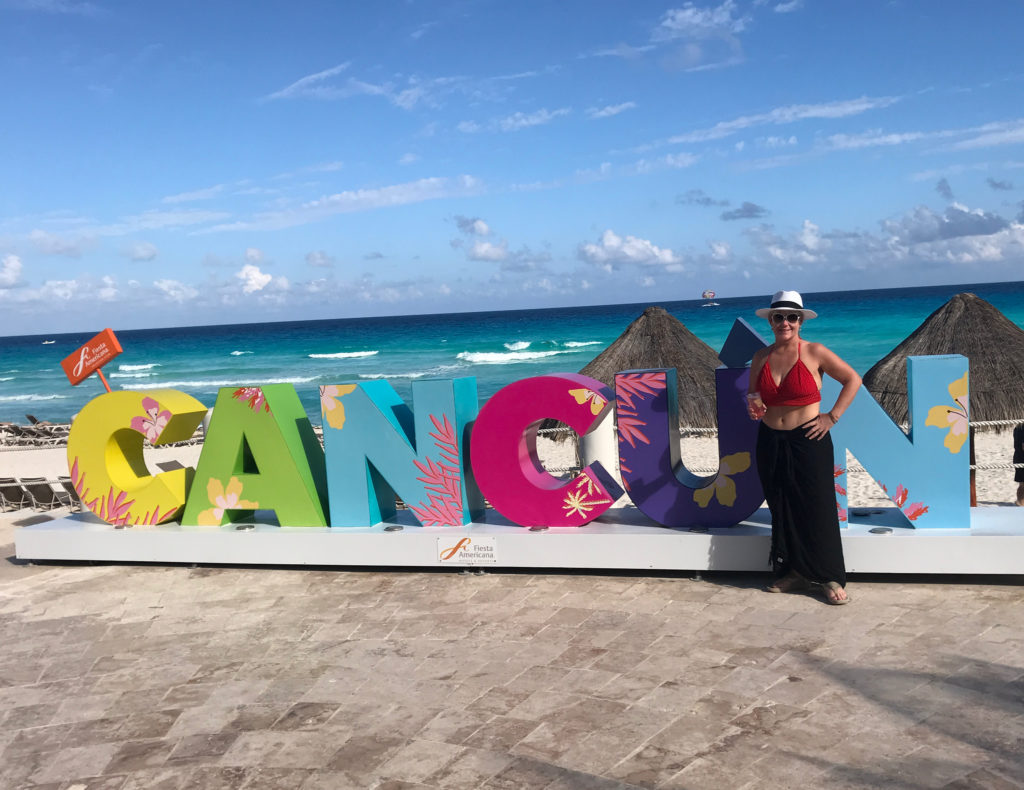 We had a lot of yummy food, and although some dinners I ate more than I should have, I felt like I handled the food buffets really well. There was a great little coffee bar that Mike and I would visit each morning and get a latte. They also had a cute Ice Cream shop at the resort where we stopped a couple of nights for ice cream and one night for a Nutella Crepe. Dang it that was tasty!
I would say we got in a little bit of everything! I am so happy we had the opportunity to go on this trip.
2019 started of great!
I hope you all are having a wonderful 2019! 
Thank you so much for your continued support and following along.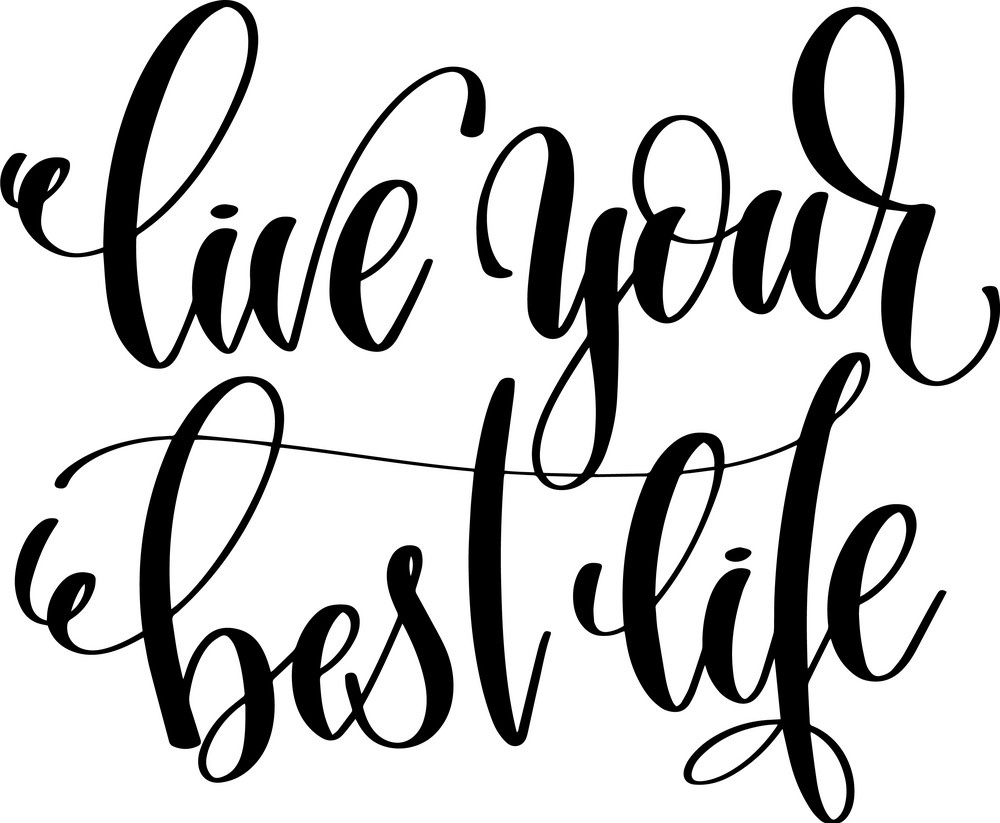 "love the life you live, live the life you love"