I wrote a really long and boring post detailing my 2018 Year in Review. I spent a gazillion hours writing it. After reading through it, I realized it was just for me.
You're welcome.
I'll hang on to it for myself (It was actually quite therapeutic for me to see how far I've come in a year!) and I'll share with you why I chose the title that I did for this blog post, some of what I've been cooking in the kitchen, a few things I've had to eat out and I'll share a link to the Free 30 Day Yoga Challenge that I'm doing.
I chose the word Gratitude for the year. I didn't even know I was going to chose a word, but that word had been with me in a powerful way since early November, and keeping it with me in a very mindful way, seemed like the thing to do for 2019.
Mindful. Another word for 2019.
Being mindful brings awareness. Being aware also means being present. In the moment. I'm doing all of that a lot lately.
Some of this comes due to my reflecting phase I seem to go into this time of the year. Some of this I am certain is related to my cancer diagnosis.
I want to slow down a bit and enjoy life more.
After cancer, some things that mattered before don't matter so much now. Other things that didn't seem to matter much, seem to matter more. 
It's all about perspective and it's very individual.
I have learned that for me to be truly happy, I have to learn to put myself first. It's difficult to learn how to do that without feeling selfish. I think it's a fine line. 
Learning to say "no" takes practice. If it means finding more balance for myself, then it is easier to say no.
These are a few of the ways that I am trying to live more mindfully and be present.
Mindfully Eating
I am mindfully eating in a way that I have never eaten before. Every bite? No. But I'm working on it.
I am deliberately putting thought into the combinations of flavor and textures and smells. I am eating each bite slower. I'm taking time in between bites. It's making such a difference in how I view food. I've tried to eat more mindfully before, but I've never done it in this manner before. I'm liking it!
Mindfully Sleeping
I am mindfully going to bed. How dumb does that sound? For most of my life, I have just "gone to bed". No real routine. Maybe I fall asleep on the couch, then crawl to bed hours later. Maybe I wash my face and brush my teeth. Maybe I don't. Truth. We climb in bed, turn on the TV, We have been married for 20 years and I have never really liked going to bed with the TV on. Choose your battles. Mike could sleep all night with the TV on. Me? Not so much.
I've started snoring in the last several months. Mike is very sweet and says that it doesn't bother him, but if it happens to wake him up and he can't go back to sleep, he goes to the couch so he can escape my snoring. There, he turns on the TV and sleeps the rest of the night.
Occasionally he will wake me and tell me to roll over. Well, then I can't go back to sleep.
Guess what?
We're sleeping in separate bedrooms. No joke. Yes, at first it was very weird. It was my idea and Mike hated it. I mean absolutely hated it!
Here's the deal.
I suggested that I take advantage of one of our spare rooms since I've never really liked going to bed with the TV on anyhow. I can peacefully snore the night away in a quiet dark room and he can dose off in bed (not the couch!) and have the TV on as long as his little heart desires.
We both then get a good nights sleep.
Now I rarely let myself fall asleep on the couch. I take a good amount of time getting ready for bed. The room is cold, completely dark and the blankets are soft and cozy. The bedding is sprayed with Lavender. I like my essential oil diffuser going and if I seem to be laying awake for longer than I'd like, I turn on meditation music at a low volume.
That's some mindful sleeping!
We are both now sleeping like babies!!
I'm not sleeping in a different room every night, but if I'm really wanting/needing a good nights sleep, or I know he is, this works for us.
Mindfully Moving
I'm so happy to be walking daily on the treadmill and practicing Yoga at home. Both of these things feel so good.
My knee still has a sharp pain if I work it too much (doc says it's just part of the healing process). Walking over 3 mph, that sharp pain kicks in. So, I'm not walking super fast, but I am able to walk at an incline, so I'm doing short intervals with increasing the incline vs increasing my speed to get my heart rate up. Baby steps.
I'm doing Dedicate 30 Days of Yoga with Adrienne on Youtube. I love this girl! I really do. She has a sense of humor. She has an amazing way of describing each move and how it benefits your body. She reminds you that Yoga is a practice. The more you practice, the stronger and more flexible you will be. 
You can start your 30 days whenever you'd like!
I am modifying very little. With the knee surgery in July and then the wrist surgery just this last November, I wasn't sure of what to expect with planks and downward dogs, but I'm doing them!
Never done Yoga before? Check out her 20 minute Yoga for Beginners.
Mindfully Living
I feel like I am living mindfully and I feel really good.
Are you living mindfully/
What are you doing?
A lot of cooking going on here lately.
Favorite Breakfast
Any veggies and Eggs.
This one is Broccoli (I just sautéed it with the other veggies) Mushrooms, Red Onions all topped with Eggs.
Asparagus, Yellow Bell Pepper, Sweet Potato and Eggs topped with Smashed Avocado and Everything But the Bagel Seasoning.
Sweet Potatoes, Orange Bell Peppers, Bacon and Scrambled Eggs.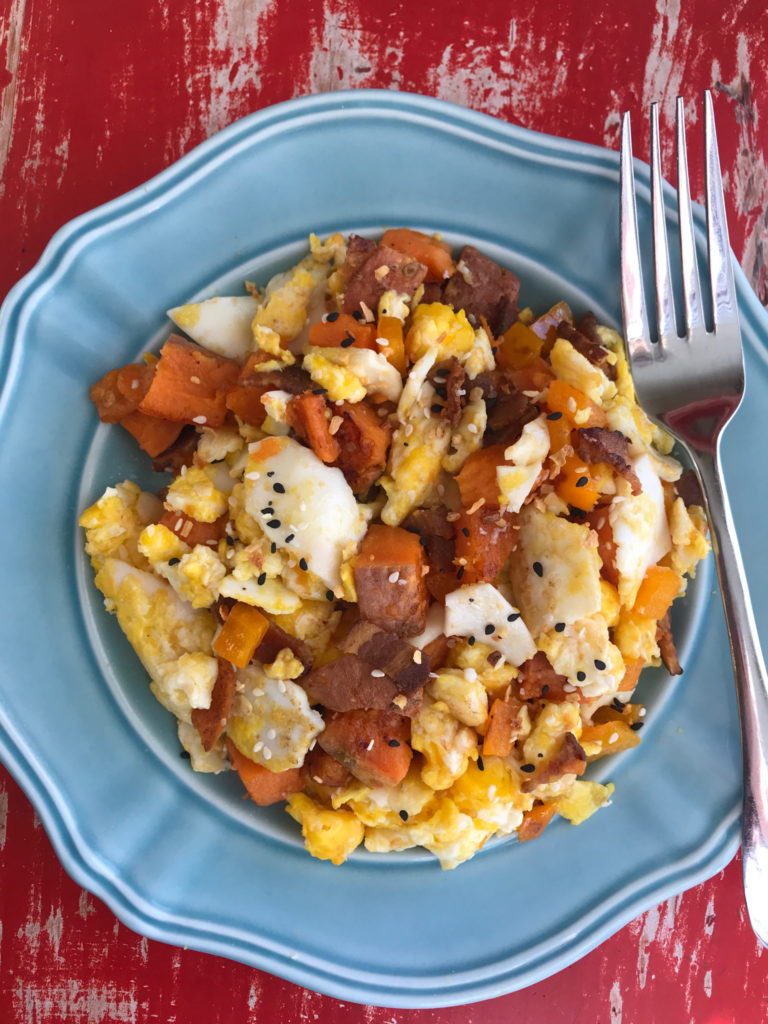 Breakfast at First Watch with Mom.
Potatoes, Poached Eggs and Smashed Avocado. LOVE. THIS. BREAKFAST.
I split the potatoes in half and the avocado mash in half first thing.
Eating mindfully has really helped me be able to enjoy half of the food on my plate when large servings are in front of me. No guilt in not eating everything on my plate.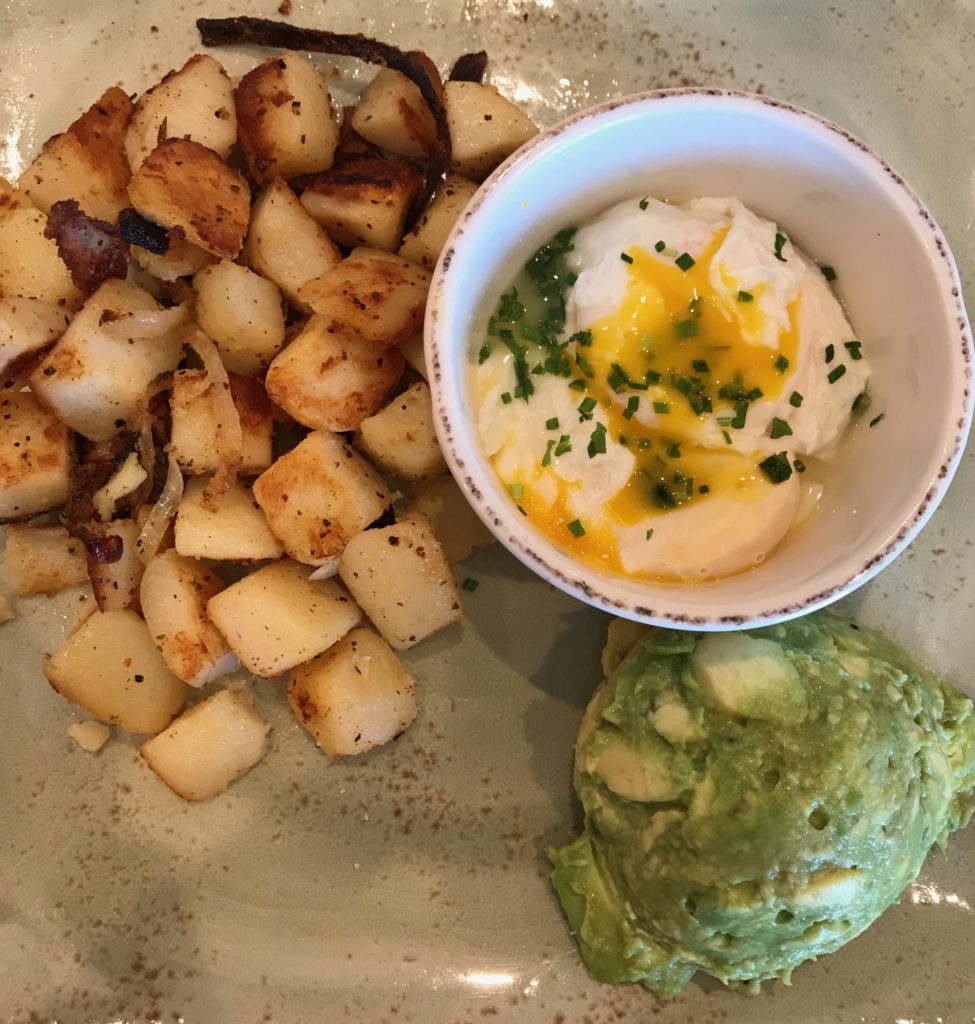 I head into the grocery store sometimes and just grab chicken breast without even thinking. Um, mindless behavior? Sure.
2019? More fish and seafood.
Shrimp Scampi over Spaghetti Squash
This was very simple. I did buy fresh wild shrimp for this dish. It was on sale at Whole Foods and I couldn't pass it up.
I googled several different recipes for Shrimp Scampi. It's pretty simple really. This is not the recipe I used, but I just now googled it and this one came up.
You really can't mess up Shrimp Scampi.
I used Chicken Broth and no wine just to keep the SmartPoints low, then topped it with just a tad of fresh Parmesan Cheese. My Spaghetti Squash was already cooked so dinner came together quick!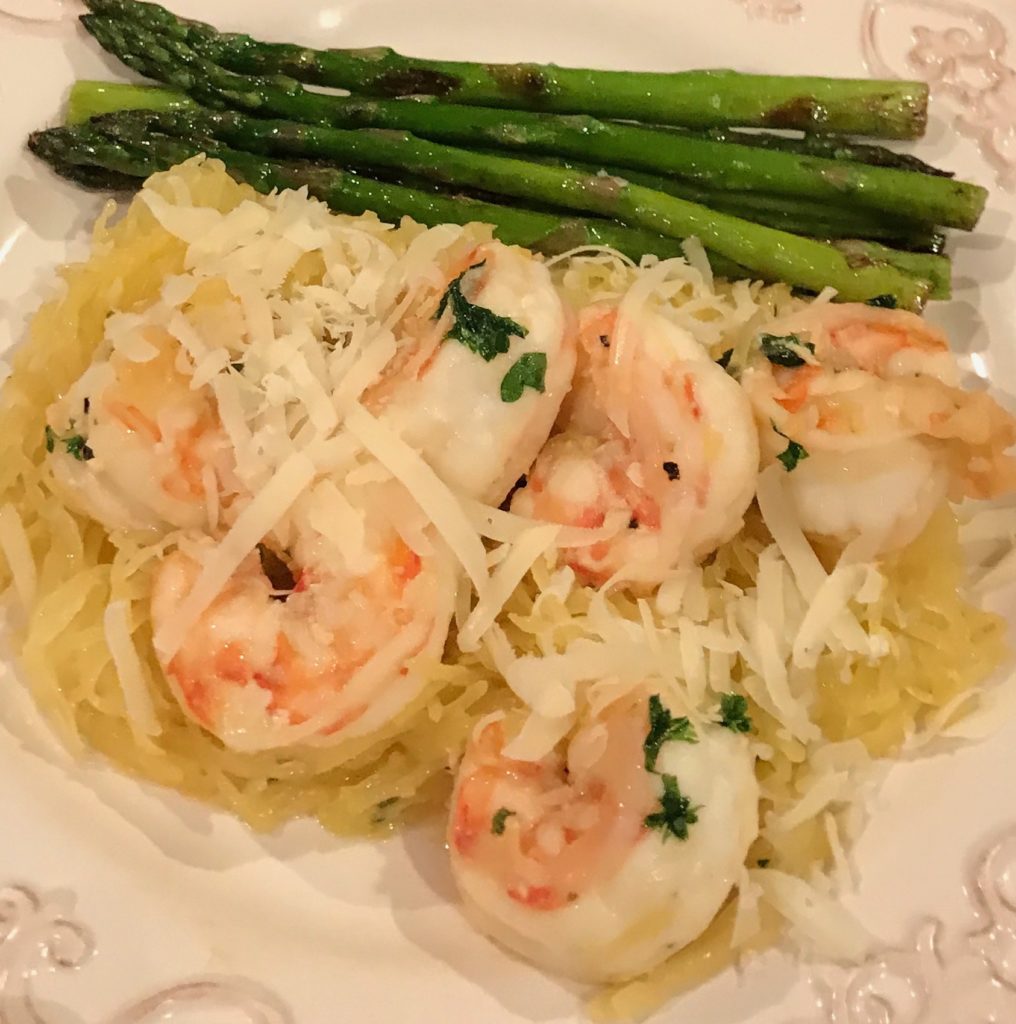 I made some very simple Salmon Cakes. I topped them with a little bit of Mayo mixed with Franks hot Sauce.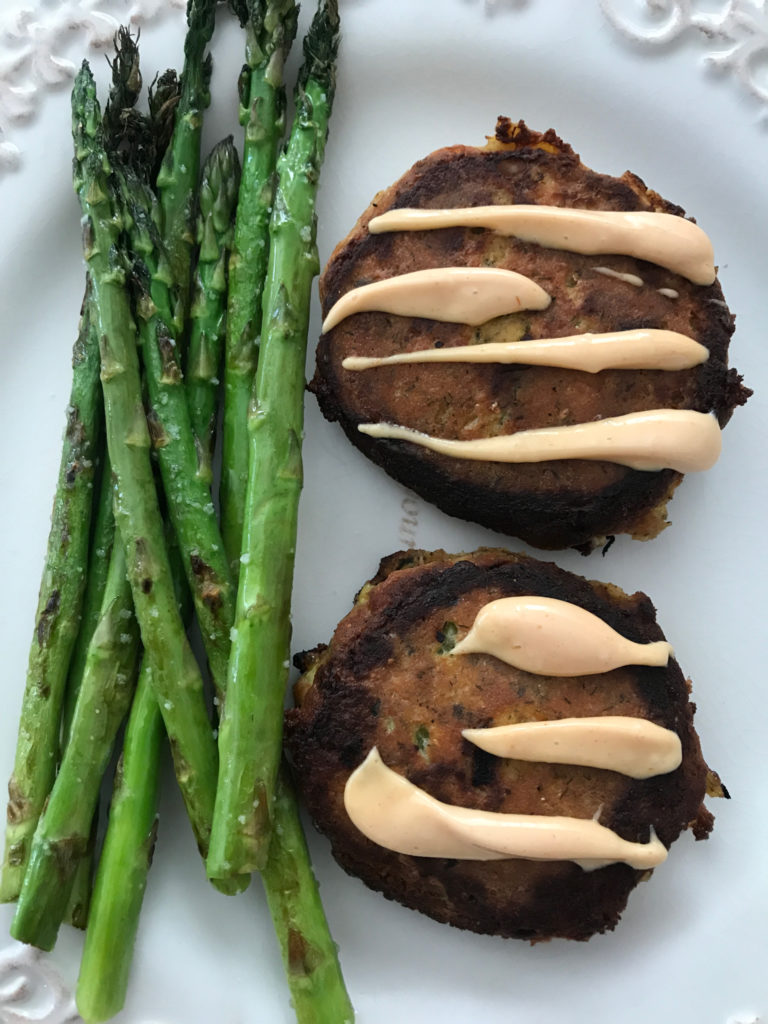 Are you a WW member using the App? If so, don't forget about all of the wonderful (and easy) recipes WW has in the database on your app.
Browse to the bottom of your tracking screen (your My Day) and click on recipes. Then at the top of that screen, type in the search bar any food you'd like. Need a new green bean recipe? Type in green beans. Need a new way to eat apples? Type in apples.
I typed in Mahi Mahi and decided on this recipe, although several did come up.
This was so good and so easy.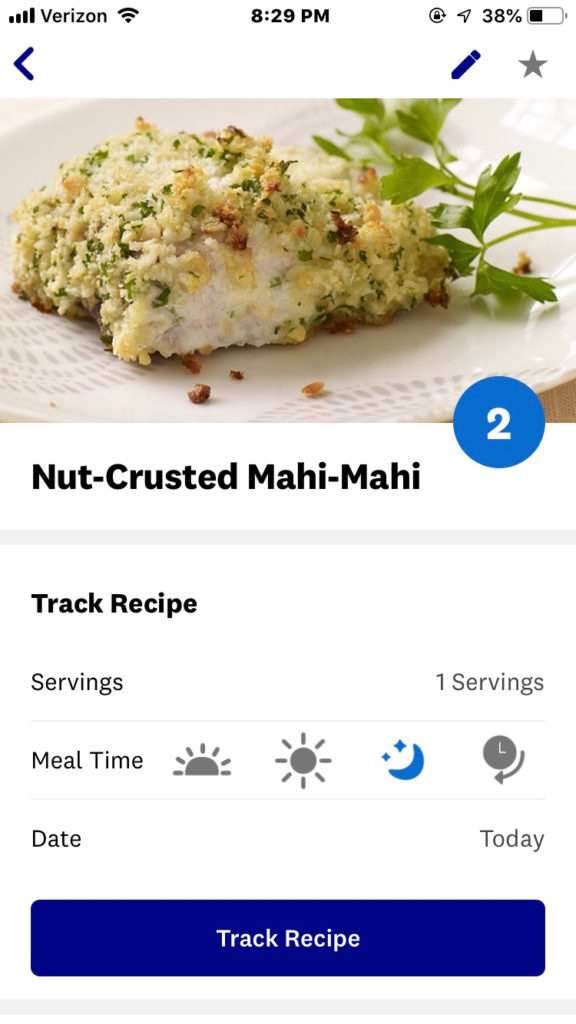 Mine isn't very pretty or appetizing looking, but this is one I will make again for sure. Caulirice with Laughing Cow Cheese Wedges mixed in on the side.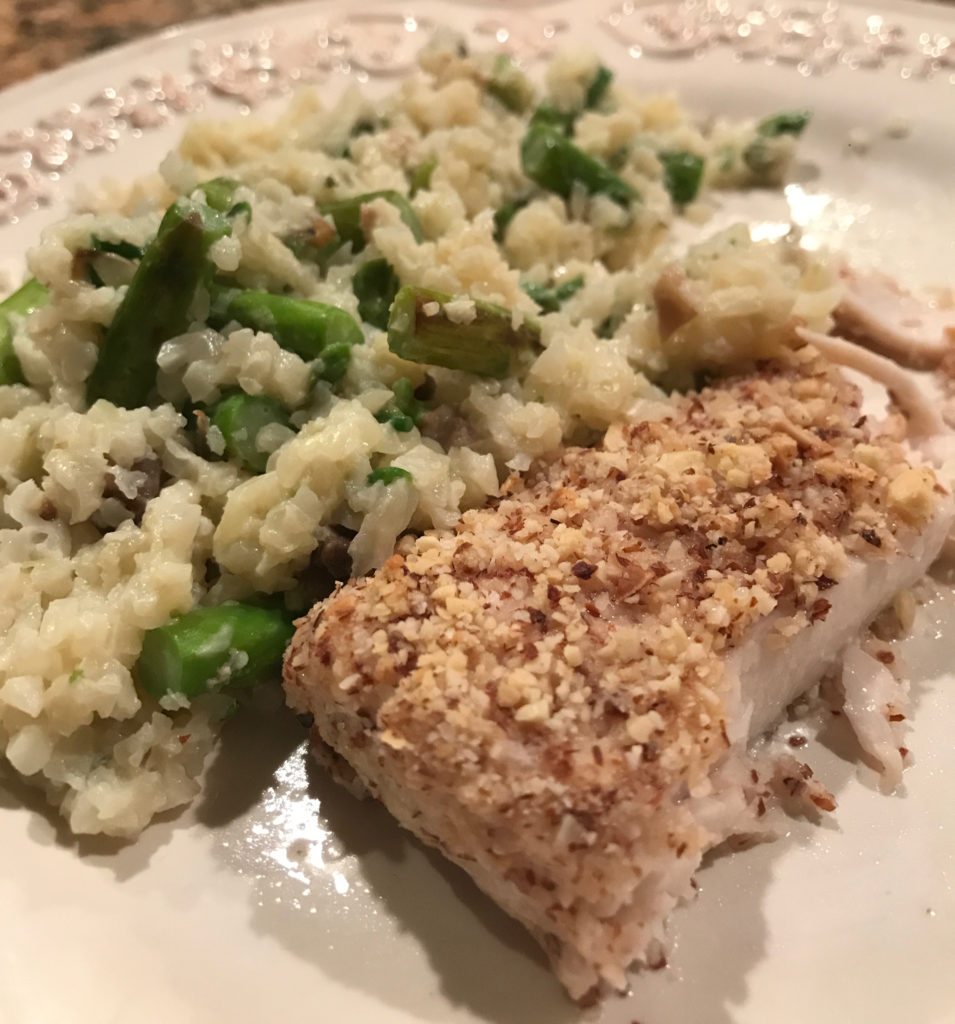 My daughter Tess introduced me to Bailey over at Whole Kitchen Sink. Like, via her website, not in real life. Although, she seems very sweet and I'd like to meet her. She has lost over 120 pounds! Impressive!
I made her Swedish Meatballs. I did not follow the recipe instructions exactly. Her recipe cooks all of the ingredients in the crockpot at once. I cooked the meat separate, then added the sauce after draining the cooked fat from the crockpot.
I made one batch with Ground Turkey instead of the Beef and Pork that the recipe called for to keep the Smartpoints lower and I made another batch with the beef and pork. I actually liked the taste of the Turkey batch better. Personal preference.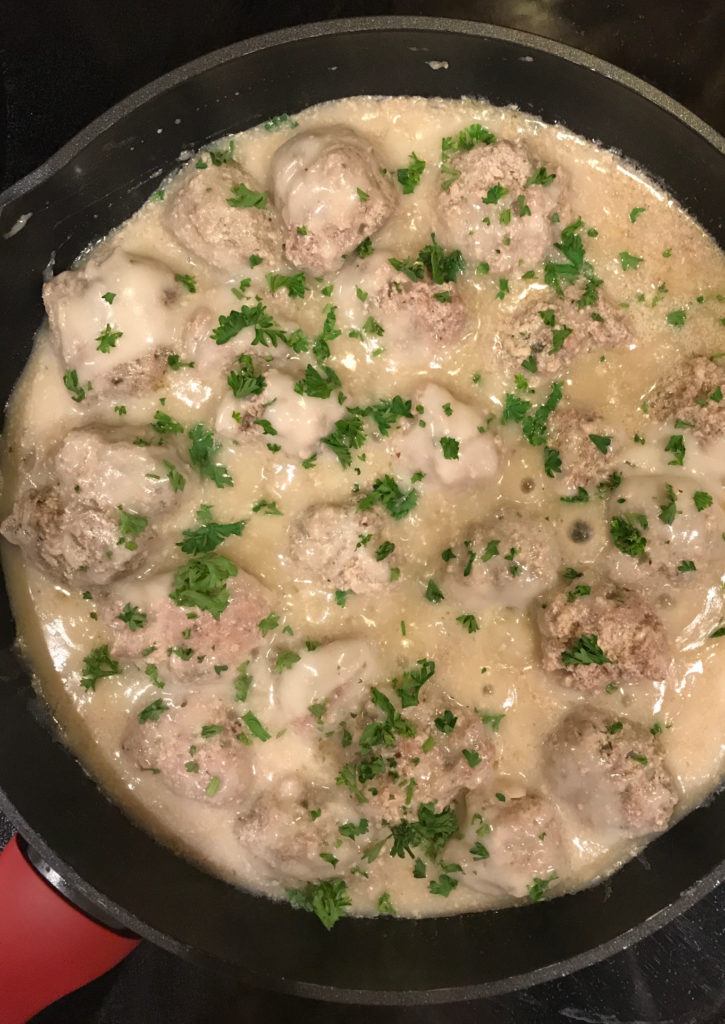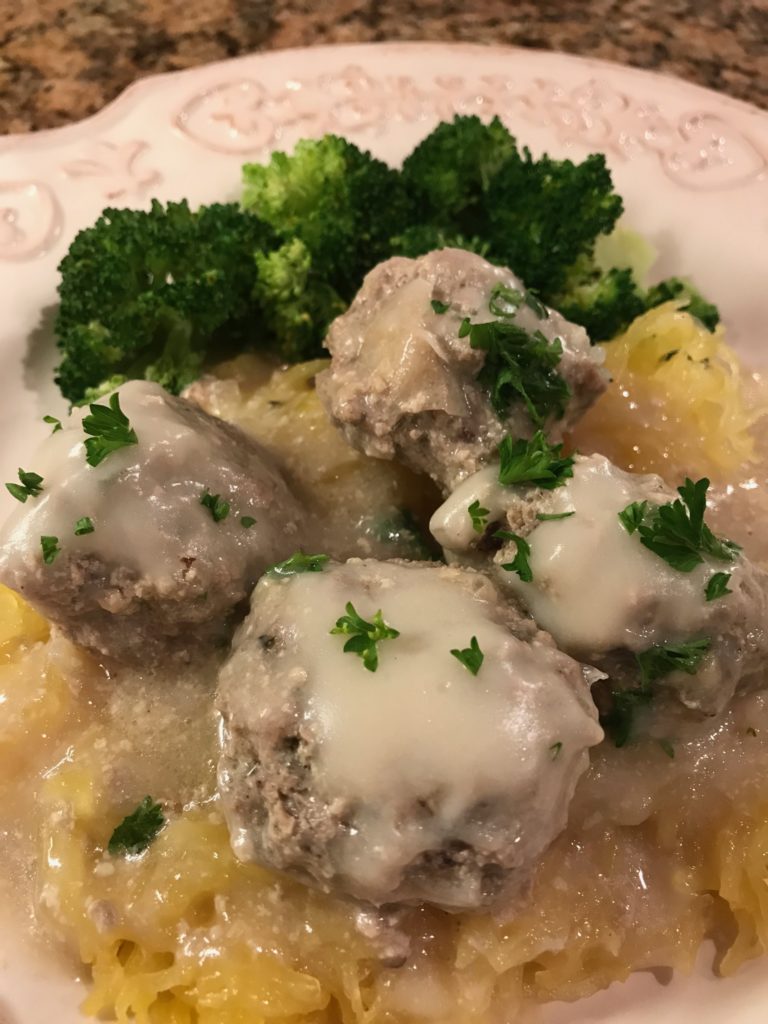 Another recipe from Bailey at Whole Kitchen Sink, Creamy Chicken and Veggies (I used some cooked chicken that I had in the freezer)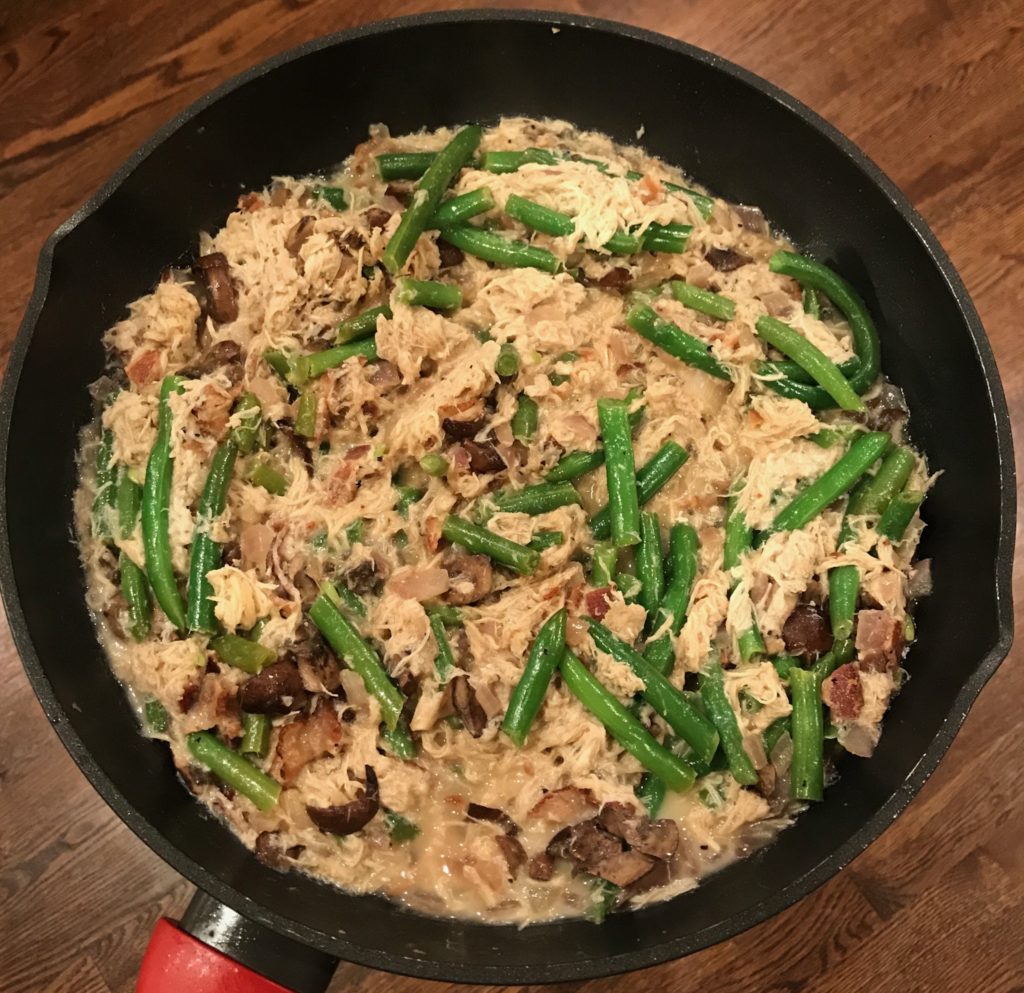 Speaking of Tess, she was in town for just a day visit on Saturday! She came in to have her sister do a practice run on her hair for wedding day. Anne is an amazing stylist! Tess works for Southwest and has the opportunity to jump on plane and fly home for free. Nice, huh? It was a perfect day!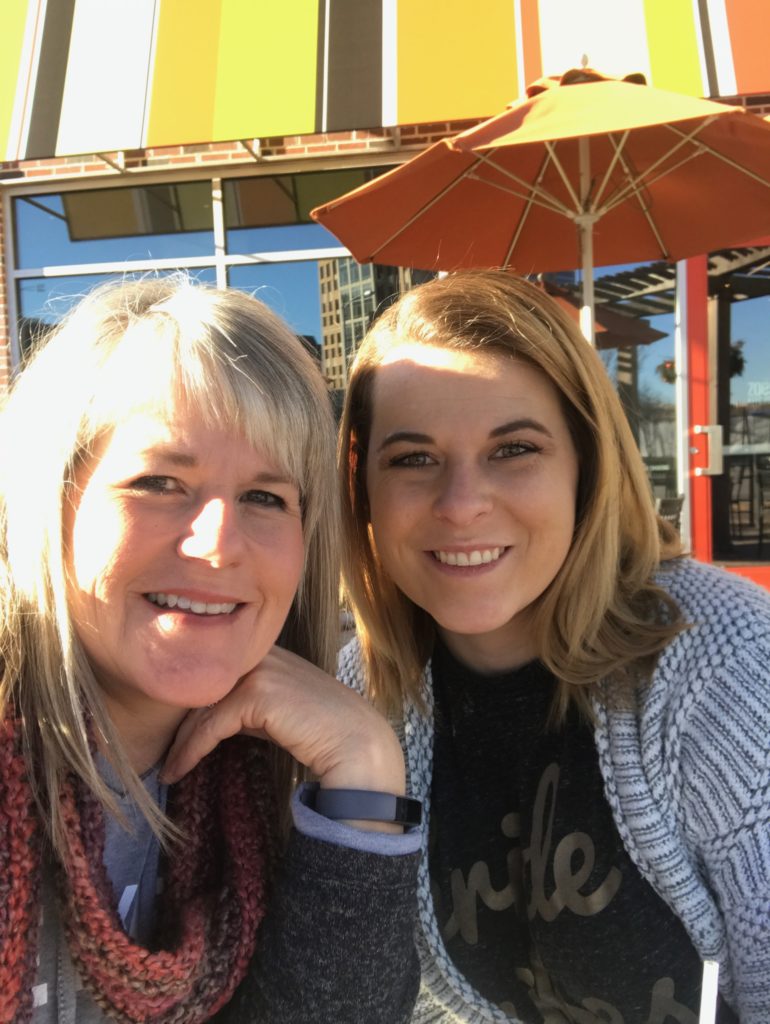 It was so nice that we were able to sit outside and eat lunch! We went to Zoe's Kitchen. Do you have one where you live? They have so many healthy options!
I chose the Mediterranean Chicken (2 SP) with Roasted Veggies (2 SP) and Grilled Potato Salad (7 SP) as my two sides.
This meal – 11 Smartpoints.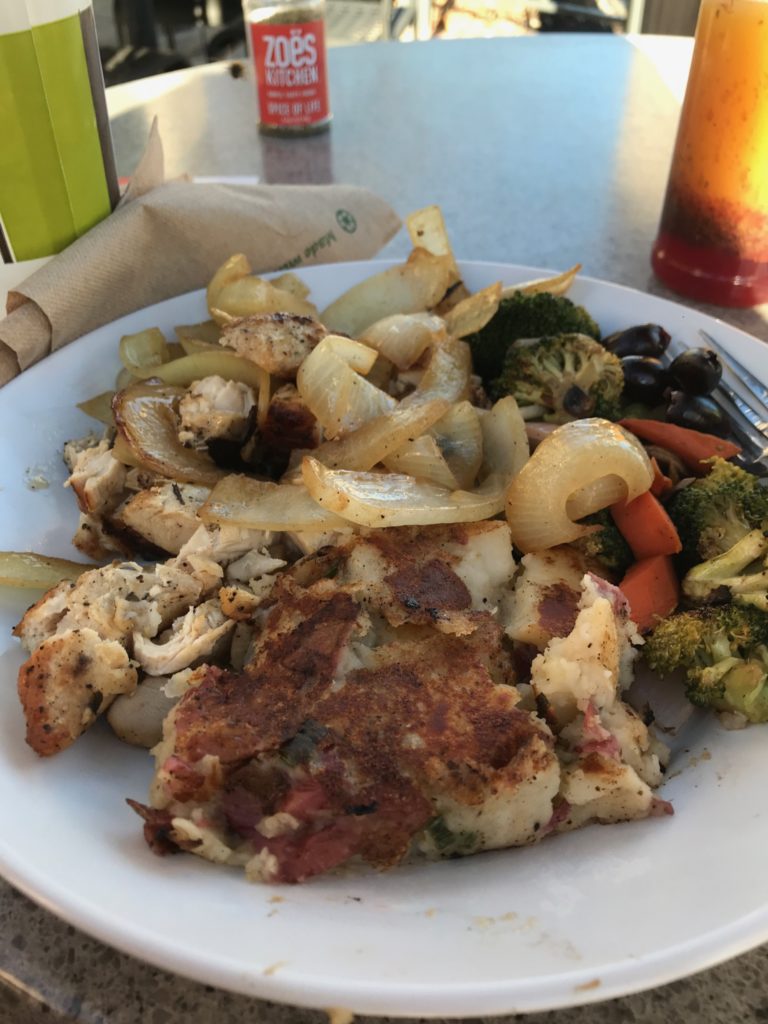 I've incorporated a Fourth Meal.
I did this a few years ago and I forgot how well this works for me.
I typically eat lunch at noon and dinner around 7:00, maybe later. I discovered that if I eat a small meal between 3:00 and 4:00, I don't have the desire to snack mindlessly. I'm satisfied and snacking isn't always lingering in the back of my mind.
This particular day I had Grilled Chicken dipped in Mustard with an Opal Apple. 
Have you tried the Opal Apples? They have a little extra flavor that I can't quite describe, but I love these things!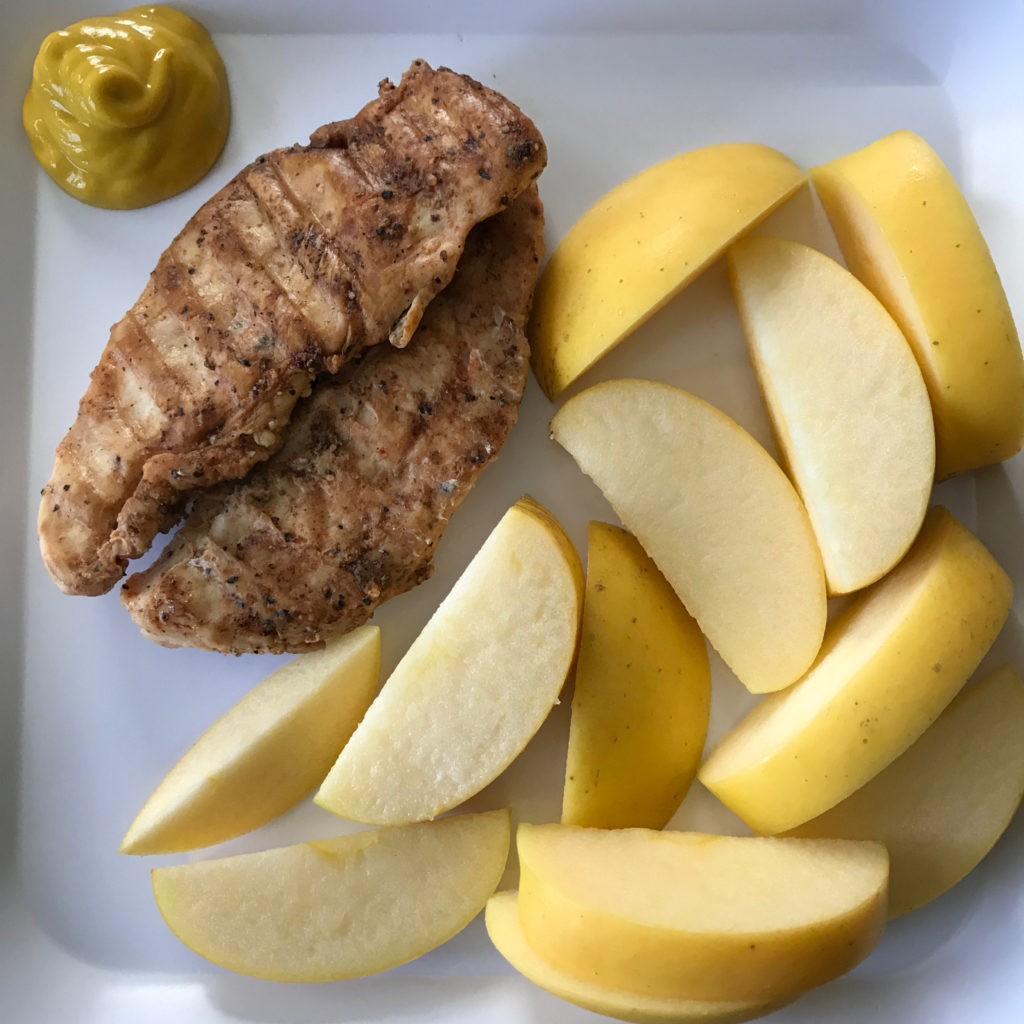 Want a Sweet Treat? Share this with a friend, or enjoy it by yourself. You do you. I promise that if you mindfully eat this, it is truly decadent. Of course, you have to like dates.
Two Dates, split and pit removed  (40 g = 6 SP)
1 tsp Almond Butter, divided = 1 SP
1/4 tsp Raw Honey, divided = 0 SP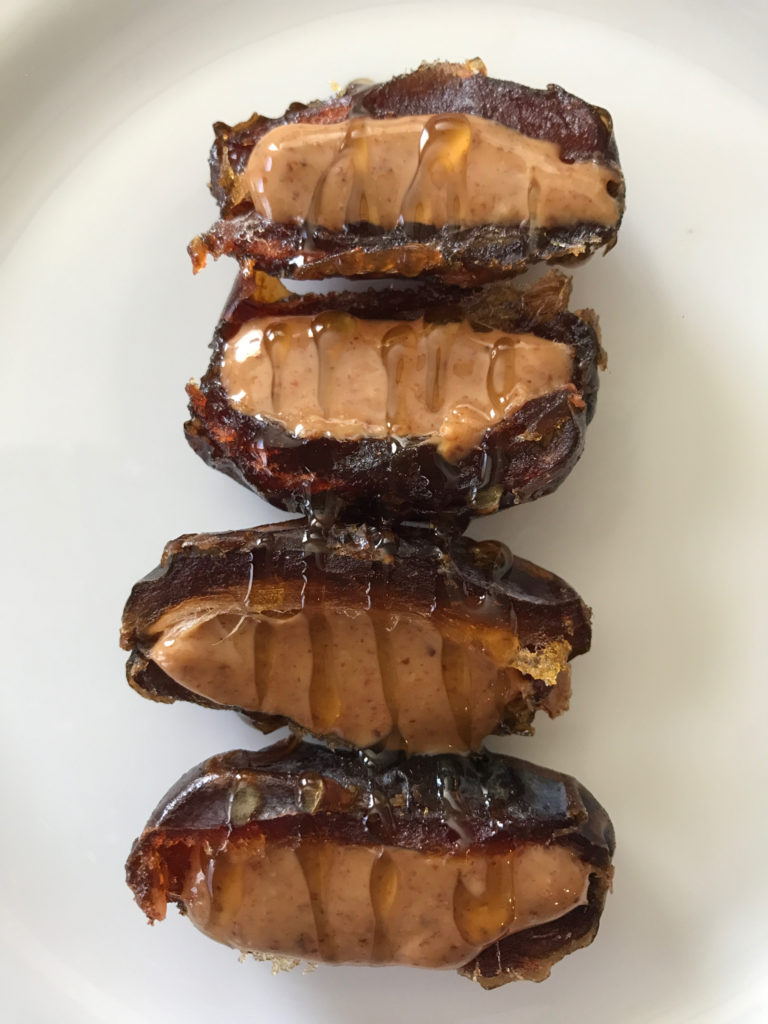 My 2019 is looking pretty damn good right now. I hope that yours is too!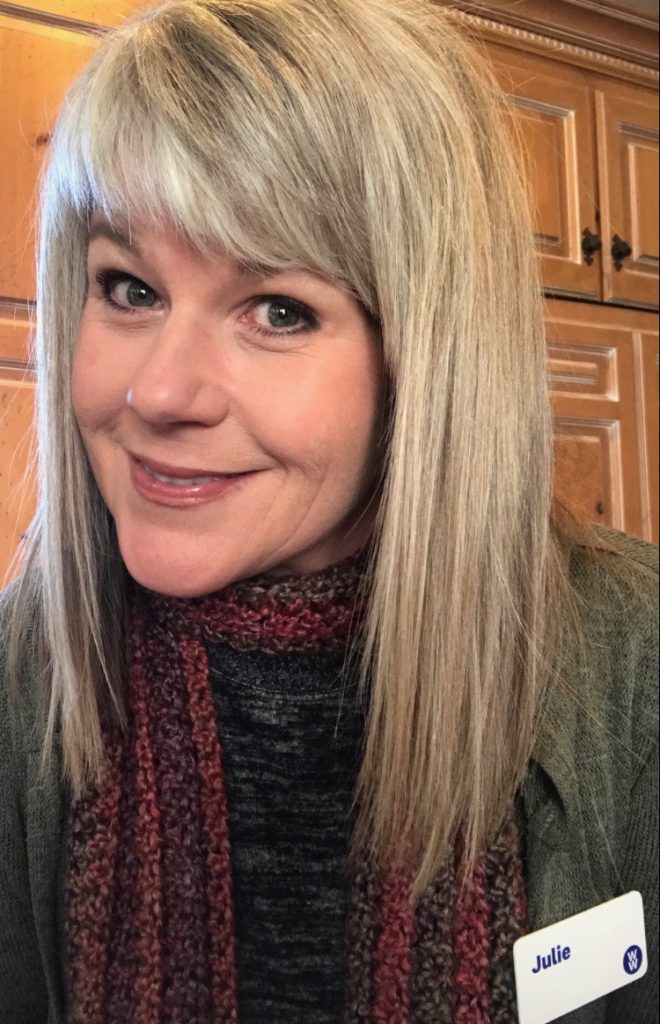 Buddha. He said some good stuff.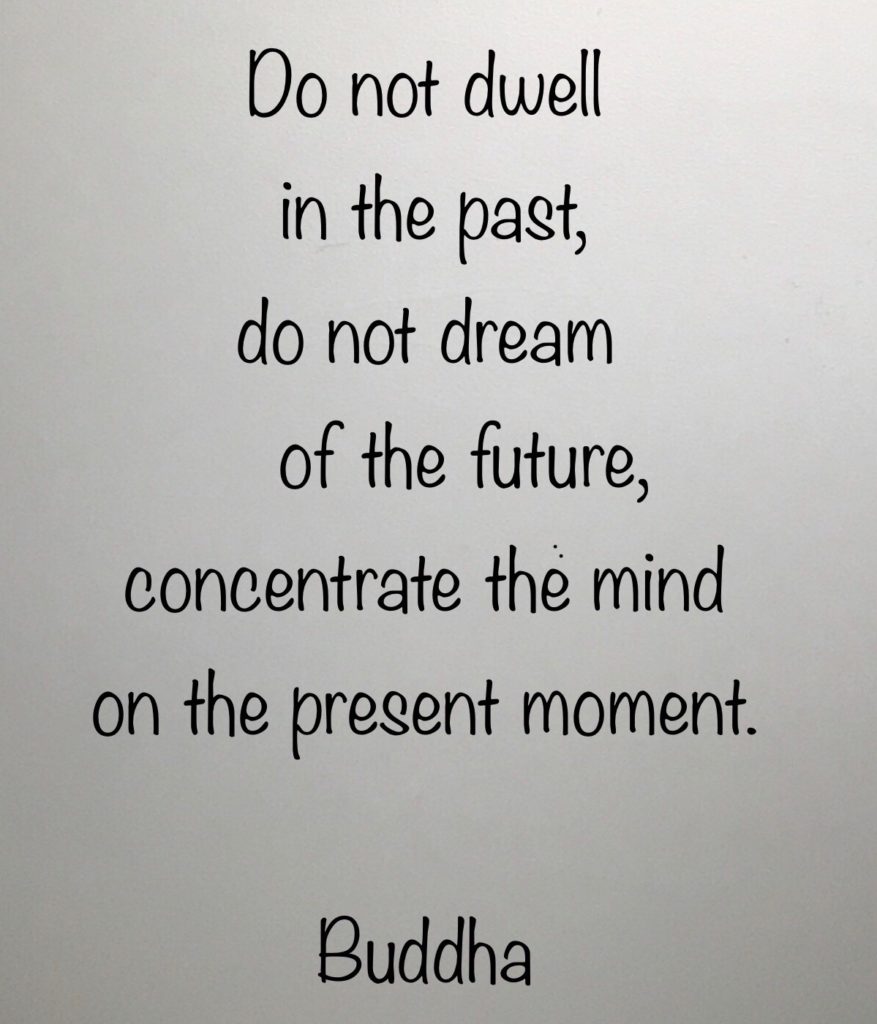 "love the life you live, live the life you love"