Happy Tuesday.
I hope you're week is off to a great start.
I switched things up today. For years I have gone to a Friday meeting. Those are now called workshops. Since I now work at a Friday workshop I'm having a hard time finding a workshop of my own to attend as a member. I've played with a few different days and times and trying to find the best one that works into my schedule. There is actually a Workshop close to my house that is held at a church on Tuesday mornings. Today I made it official and changed my weigh in day on my app to Tuesdays and decided that is going to be my new regular Workshop. If you are a WW member then you understand how changing your weigh in day can affect your thought process for the week. It sounds silly to some, but watching those points and what they do during the week becomes a huge part of your journey. I'm ready for a change and looking forward to connecting with some new members. I will always miss my Friday peeps though.
Along with officially moving my Workshop day to Tuesday, I started doing "stories" on Instagram. I've been thinking of a way that I could still share what I'm eating, how I work activity into my day, and share my struggles and successes with others without devoting so much time to the blog. It has always been about a two hour commitment. If I skip a day or two or more, it takes forever for me to get my next post up. The reality is that my schedule is simply different now and I don't have the time to dedicate to writing a blog post each day like I did before. I keep trying and it just isn't working.
I still need to do something though for accountability, and I liked knowing that I was helping others find different foods to try or recipes to make, or just to share in hopes of making a connection.
So, I'm going to try this story thing for a bit and see how it works out. I will still blog like I have been doing lately, but not daily for sure.
The Instagram Stories are kind of fun, but I have a lot to learn. I'm just playing with them a little bit and trying to figure out all of the different things you can do.
If you are unfamiliar with Instargream, you do need to download the app and create an account to use it. I have several people that I follow for recipes, inspiration and motivation, and some just because they make me happy or make me laugh.
I made mistakes yesterday in some of the videos that I posted, but I had fun doing it and I'm looking forward to trying something new.
Before I went to the Workshop today, I got my activity in for the day. If you are a WW member then you likely know that WW introduced a new feature in the app this week. If you do not have it in your app yet, you should see it by the end of the week. I had to uninstall the WW app, then reinstall it for me to see the updated app. A co-worker of mine did that too and still didn't see the update. She turned her phone off, then back on and tada! The update appeared.
On your My Day page, you will see Get Active with WW x Aaptiv.
Also, having a hard time winding down at the end of day? I'm loving our partnership with Headspace. I've listened to the 10 minute End of the Day audio several nights over this last week when I go to bed. I never make it to the end before I'm fast asleep. Try it!
WW has partnered with Aaptiv. It's nine great audio workouts for WW members. This morning I did the high-intensity walking workout. I did it on my treadmill. If the weather is cold outside and you do not have a treadmill, this is also an audio that you could do walking in place. It was a great little 22 minute walk. There is upbeat music playing in the background and the audio talks you through breathing, good posture, ask you to remember your "why" and changes up the speed throughout the workout. I think this is a great addition to all of the awesome tools that WW has to offer. I have a much better workout when I'm mindfully moving my body.
If you're on Instagram, I'm also The Weight of my Weight over there. Come watch me and laugh at me. It'll be fun!
It would be impossible to post everything I eat if I'm not posting daily, so I'll post what I had that day in hopes that you find something you might like to try!
Breakfast – 6 SP
I made Turkey Taco Meat Monday night and added diced cooked white sweet potato to it. It was SO good!
Leftover Taco meat in an Omelet topped with Avocado and Berries on the side.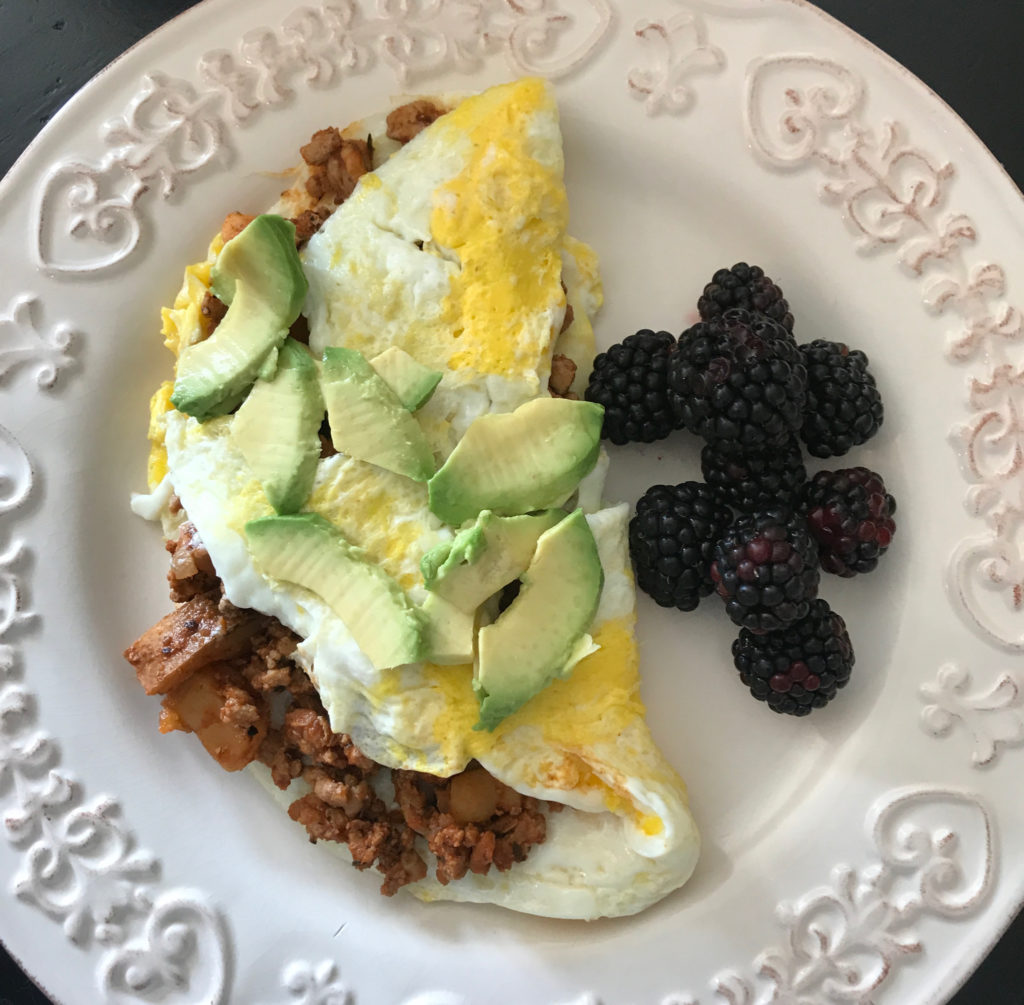 Lunch – 8 SP
IHOP with my mom today. Egg White Veggie Omelet. 8 Smartpoints in the WW App.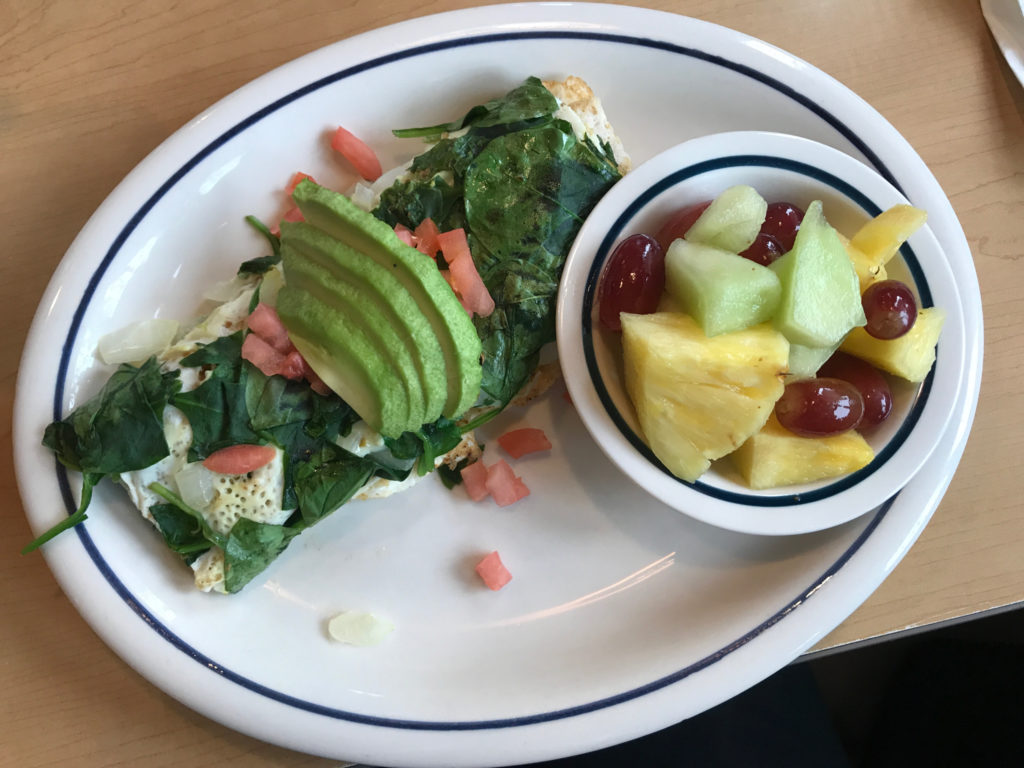 Dinner – 6 SP
This was a Trader Joe's dinner.
These Roasted Potatoes are great! 3 Smartpoints per serving and easy to make. The serving size was small, so I had two servings.
You just dump everything in that package into a skillet and cook until crisp. That's it! Tess introduced me to these when she was here over Thanksgiving.
I diced up the cooked chicken and tossed it in the skillet to heat it up. I sautéed the broccoli in a skillet while the potatoes cooked then combined it all in the same skillet.
Dinner took about 20 minutes.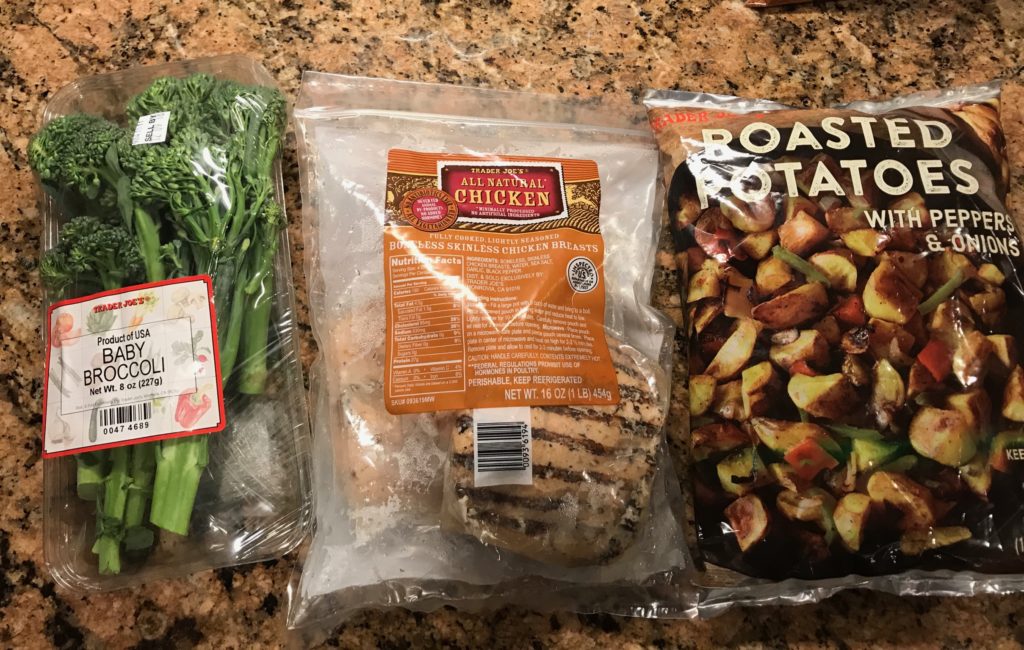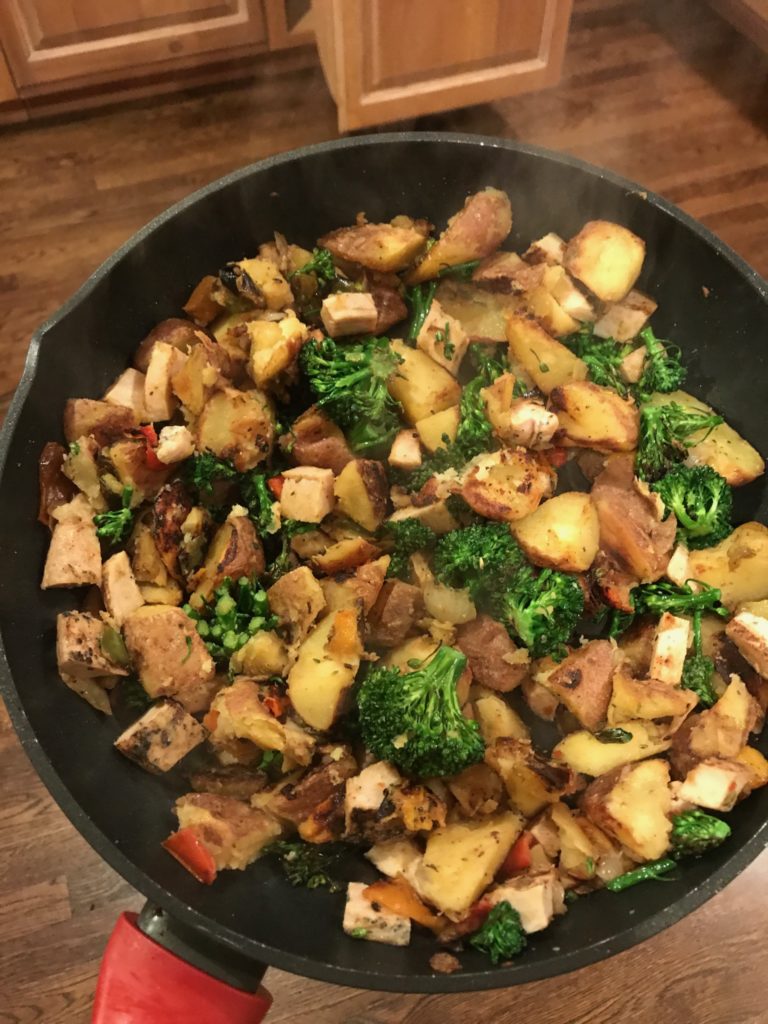 Me the last few days……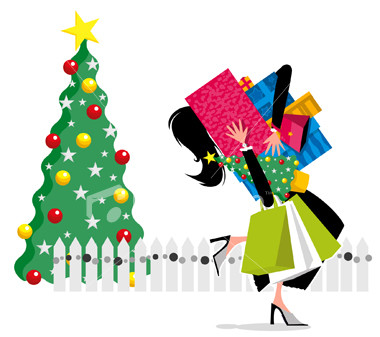 "love the life you live, live the life you love"