I headed out the door on Monday in the snow to go to a WW meeting, (dang it! Workshop), then to the grocery store since we literally had no food. I decided it was nastier outside than I realized, so I skipped the Workshop and went right to the grocery store. I can't believe it has snowed here twice now! Pretty, but a tad too soon.
I did however go to a workshop first thing Tuesday morning. Such a great topic this week discussing Mindful Eating. I feel like I might be starting to establish some sort of a schedule for myself. My Monday and Tuesday options both have great Wellness Coaches and the Workshops are always lively. I do however miss my Friday group. Hi ladies if any of you are reading! I miss your faces, your hugs, your laughs and your stories.
It was a nice two days at home cooking. I tried lots of new foods, I drank lots of water, I did Yoga and on Tuesday and Wednesday, I got over 10,000 steps. That hasn't happened in a while. I walked 2 miles on Tuesday and on Wednesday and that's the first time I've done that since knee surgery and felt that good afterwards.
At some point on Saturday, I became very aware that my knees felt pretty good. On Sunday and each day since, coming down the stairs first thing in the morning wasn't dreadful. I'm really trying to eat as clean as possible, so either that is working, avoiding sugar and dairy is improving how my joints feel, or I'm feeling the effects of the gel shots in the left knee and the right knee is beginning to heal post surgery. Either way, I feel really good and that makes me happy. My hips were really feeling tight too and they feel much better. Guys, I feel kinda normal! Whoop Whoop!!
My arm, wrist, thumb also feels great after Fridays surgery. That had become really painful and post surgery just feels a little sore. I still have Trigger Thumb in the left hand, so I'm not sure how long it is supposed to take for the cortisone shot to kick in, but it hasn't yet. 
That's okay though. I am sleeping well, I have more energy (I also started taking my estrogen blocker before bed instead of in the morning. Apparently it can make you feel lethargic, and I hadn't read that until recently.) I'm excited to be cooking and life is just looking up! Yay life!
I was not super accurate in tracking points these last few days, but I have been very focused on good clean choices and limiting processed foods, so I don't have points on everything I ate.
I altered every recipe that I made, so I'm listing the Smartpoints for those recipes as I made them, not as the Smartpoints would be if the recipe was made as originally written.
Kapeesh?
My goal here is to share the great tasting recipes that I have tried with just a few simple substitutions to lower the SmartPoints Value.
I hope my substitutions aren't too confusing, but I found some yummy stuff and want to share!
Monday
Breakfast
Black Coffee – I thought I was going to weigh in and I never eat before a weigh in. Do you?
Lunch
Salad Bar
Mixed Greens, Cucumber, Carrots, Bell Peppers, Red Onion, Egg, Chicken, Vinegar and Oil
Dinner 
These two things don't go together at all, but I was playing in the kitchen and these are the recipes I tried out on Monday.
Mike and I both really liked this Paleo White Chicken Chili a lot! I'm learning to like Coconut Milk in certain recipes. 
I lightened up the original recipe by using Light Coconut Milk and I made this come together a little quicker by using Rotisserie Chicken Breast.
Topped with Green Onion, Avocado and Roasted Plantains.
I will make this again for sure.
Recipe makes 4 Servings
5 Smartpoints per serving if using Chicken Breast and Light Coconut Milk. Toppings are additional Smartpoints.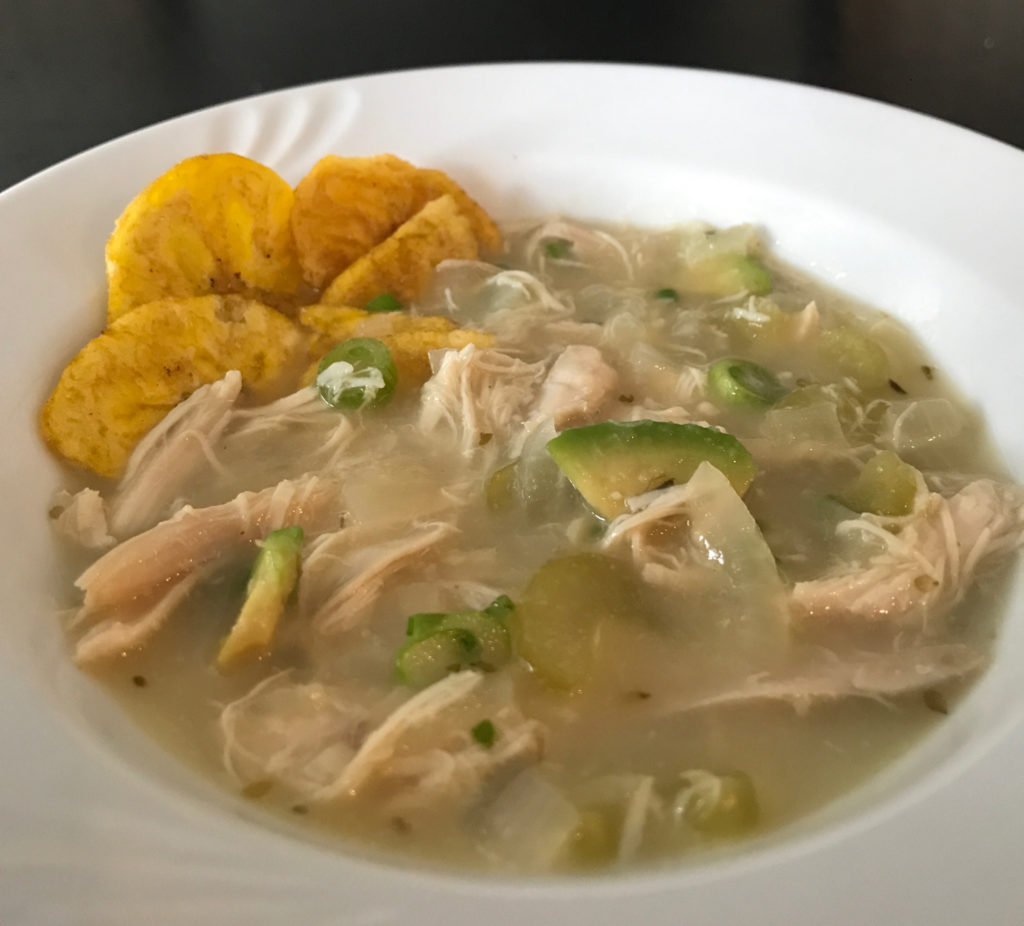 This Stuffed  Acorn Squash was a great savory dish, but I think I'd like an Acorn Squash recipe a little more on the sweet side. If you like savory, give this a try!
I only bought 2 squash, but followed the rest of the recipe for 6 servings, then crammed it all into 4 servings. I used 2 T. Olive oil instead of the recommended 3 T of Ghee in the recipe.
Shown below….4 Servings with 6 servings of stuffing!
1 serving = 9 Smartpoints with the changes mentioned above.
Mike loved this, so I may have to make it again at his request.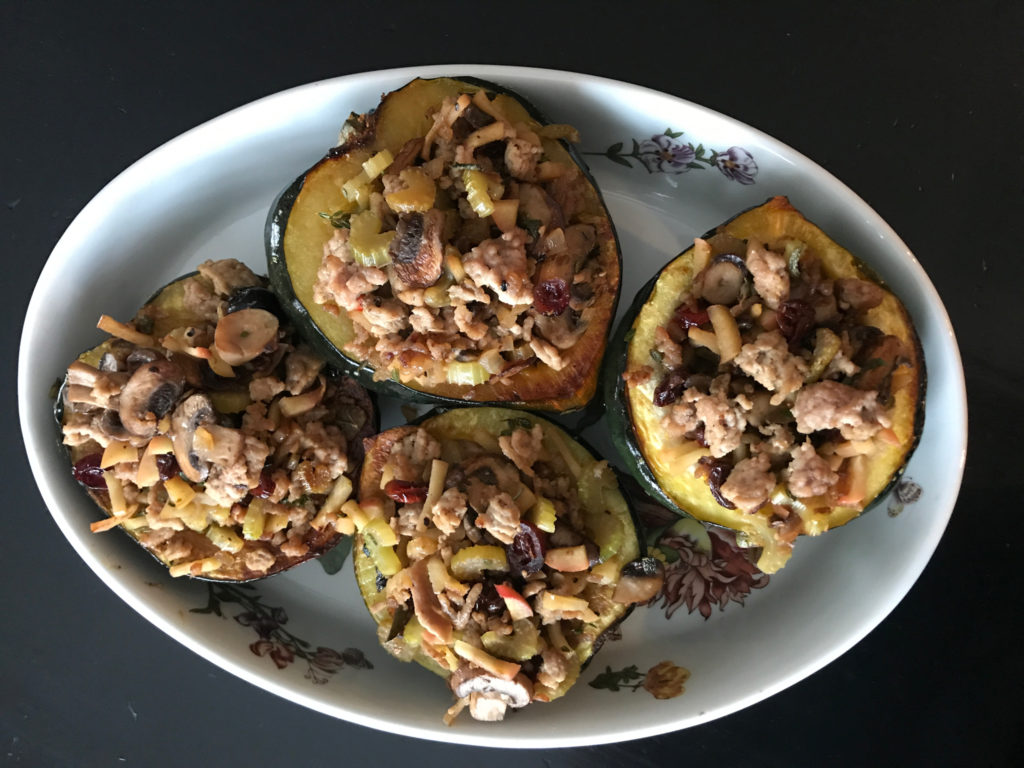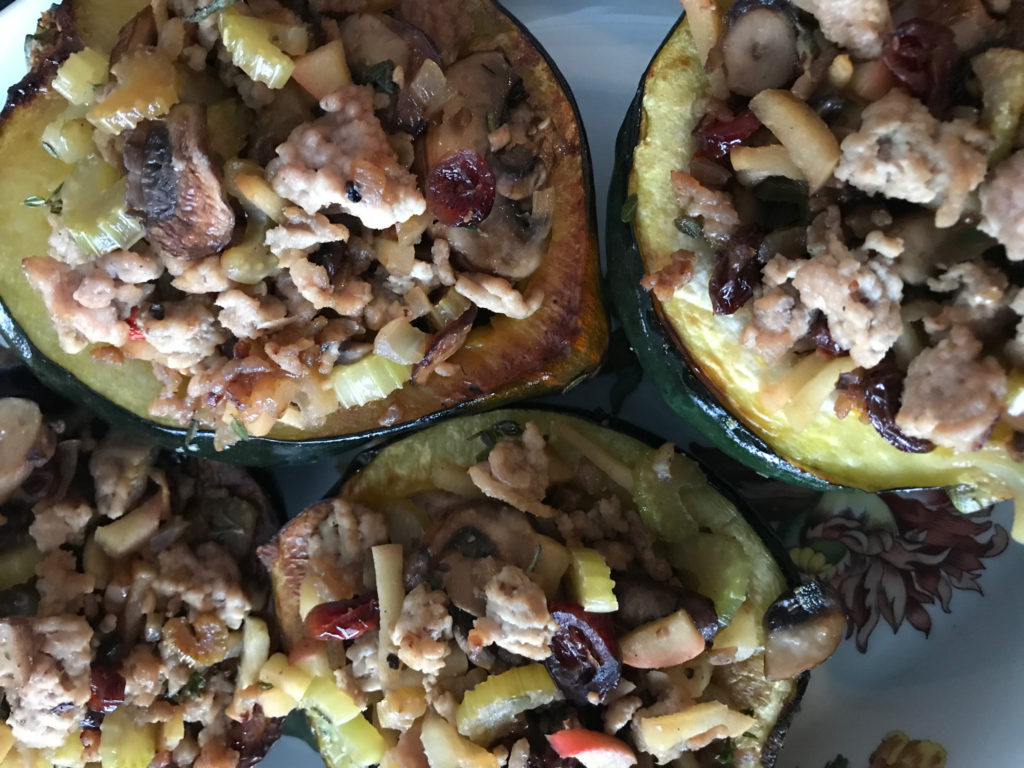 Tuesday
Breakfast
Fruit taste SO good when you are not eating processed sugar!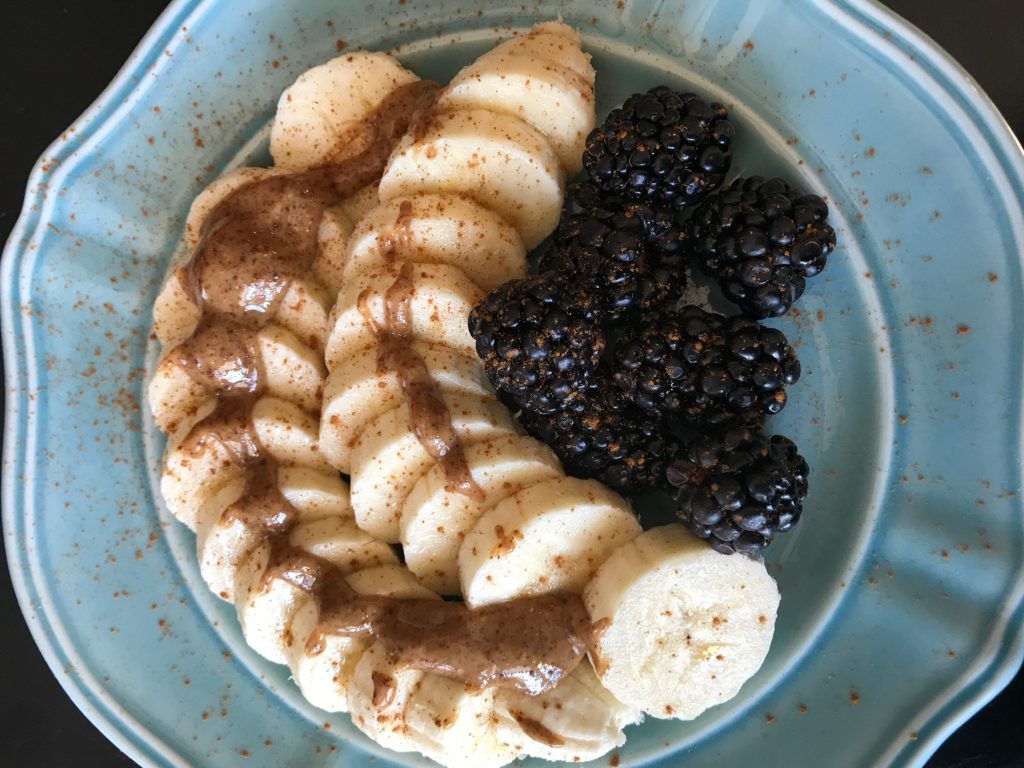 Lunch
Have you seen this in the freezer section? This is not a paid post for Green Giant, but dang it I wish that it was. They have come out with so many great frozen options! I bought this at Walmart. I am told that Trader Joe's has a similar one.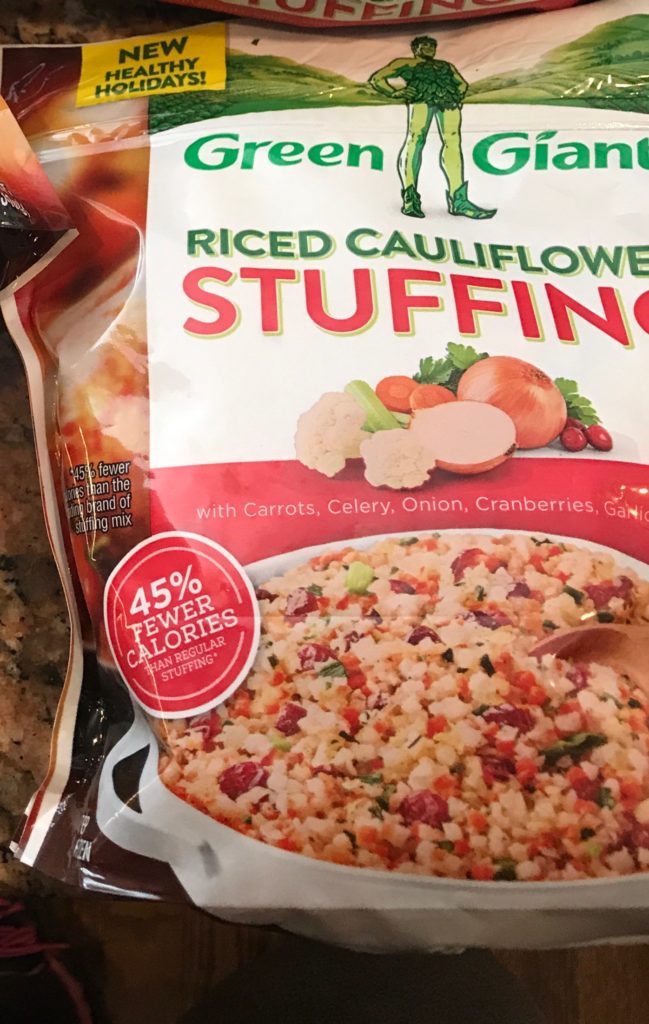 I added a few toasted Walnuts to the top for a simple lunch. Yummmm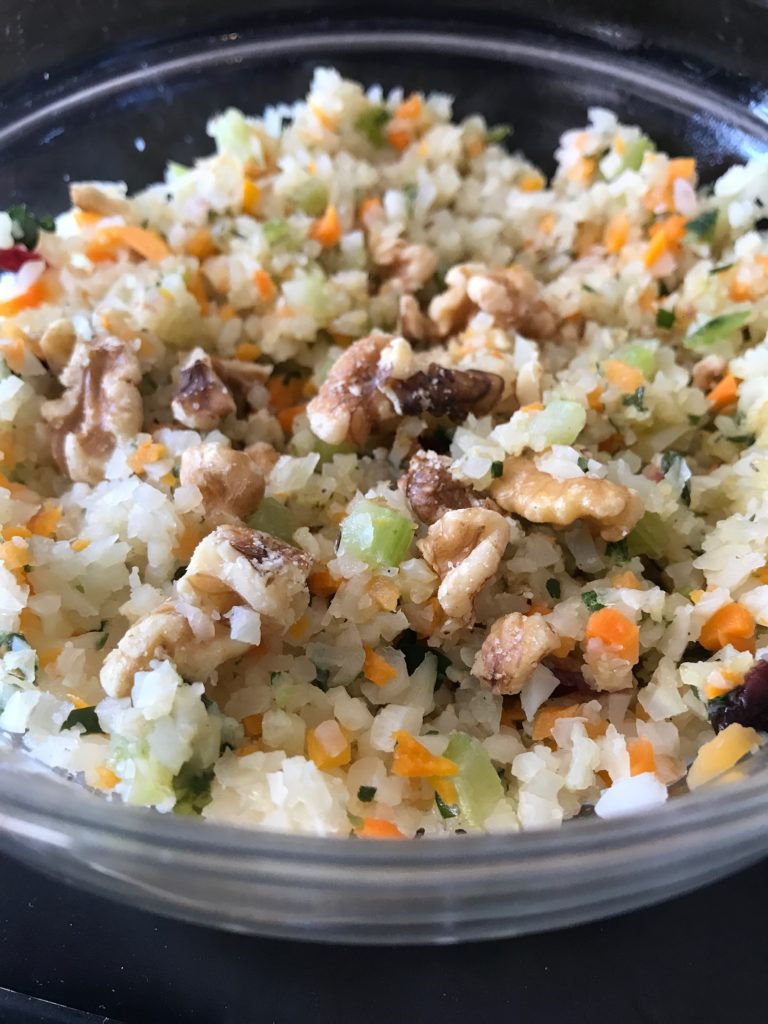 Dinner
This Shepherds Pie was restaurant quality. Not even kidding. Perfectly seasoned. I used 93% Ground Turkey in place of the recommended ground beef and topped this with Whipped Cauliflower in place of the potatoes to keep this lower in SmartPoints.
Recipe makes 8 Servings
Filling made with 93% Turkey = 3 Smartpoits per serving
Topping if using Skinnytaste Whipped Cauliflower = 1 Smartpoint per serving
Truly delish!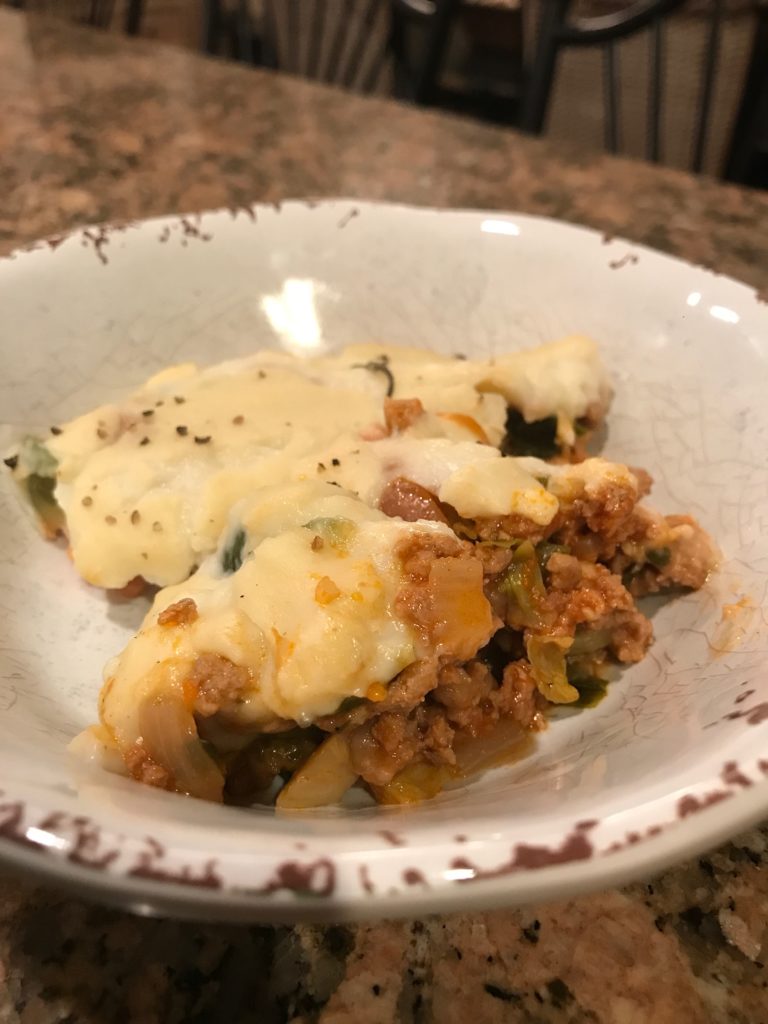 Cooking with fresh herbs makes me feel fancy!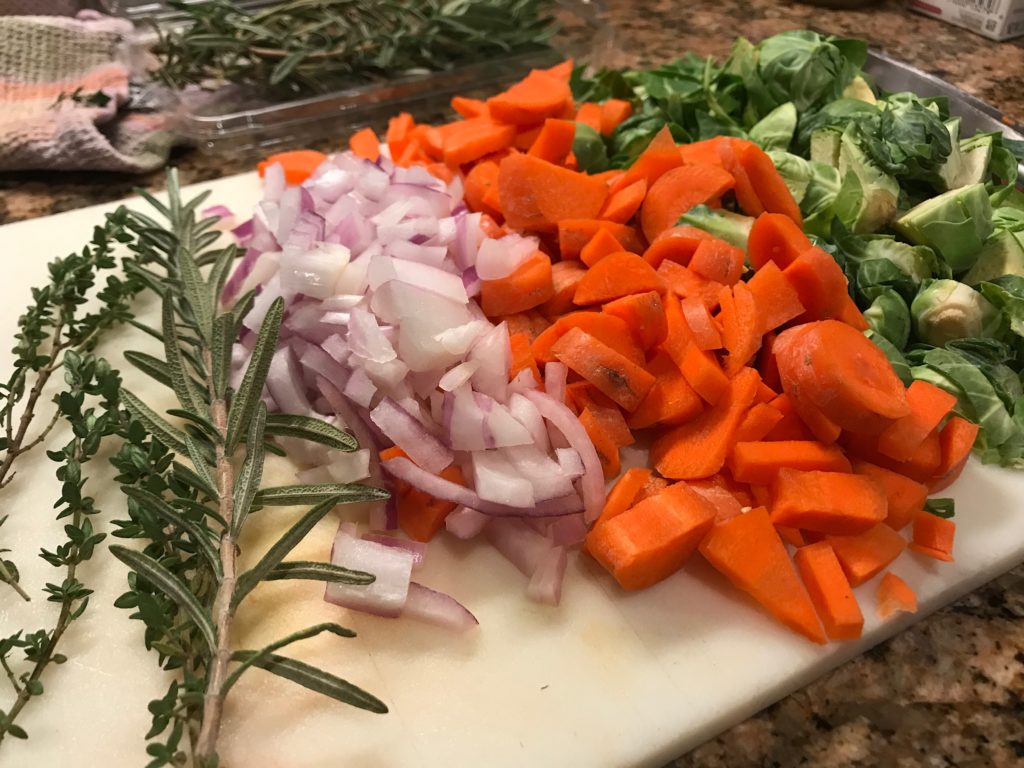 I've never used Brussels Sprouts in Shepherds Pie before, but they were so good!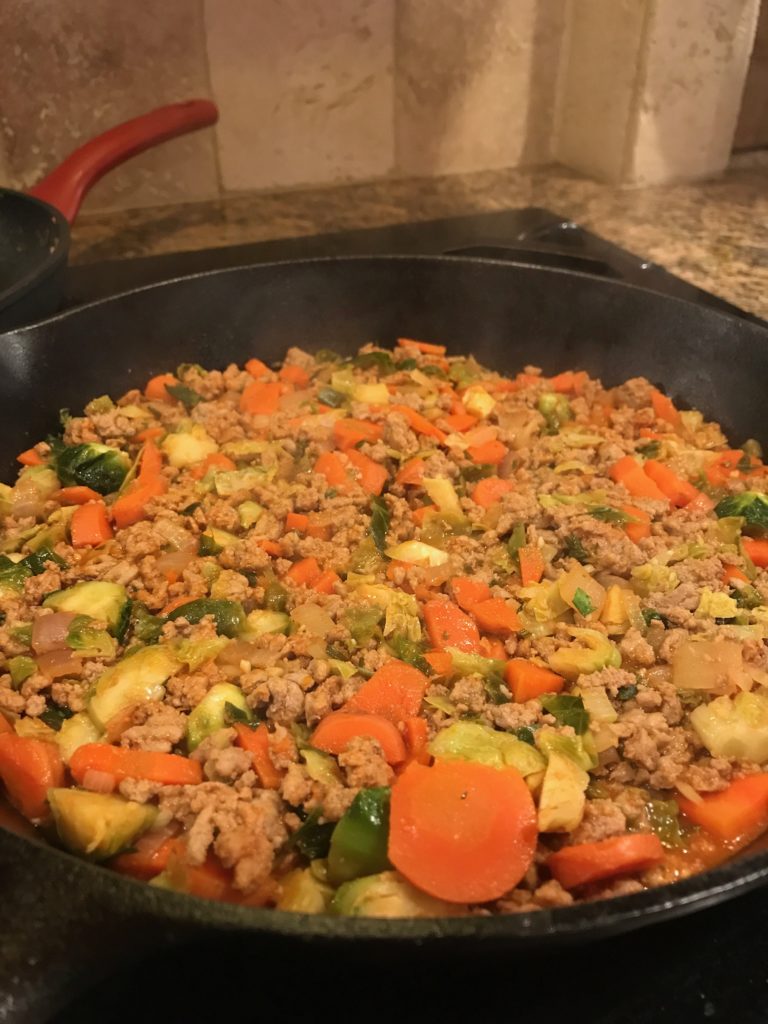 Just a nice layer of simple Whipped Cauliflower.
I cook fresh caulirice in a pot on the stove until very tender, (or microwave frozen caulirice, then add to a pot on the stove to whip) then add salt and pepper and use an emersion blender. A few wedges of Laughing Cow Cheese makes a great addition for a little extra flavor and creaminess.
If you really do better with a professional recipe, then check out the Skinnytaste recipe for Whipped Cauliflower and top it with that!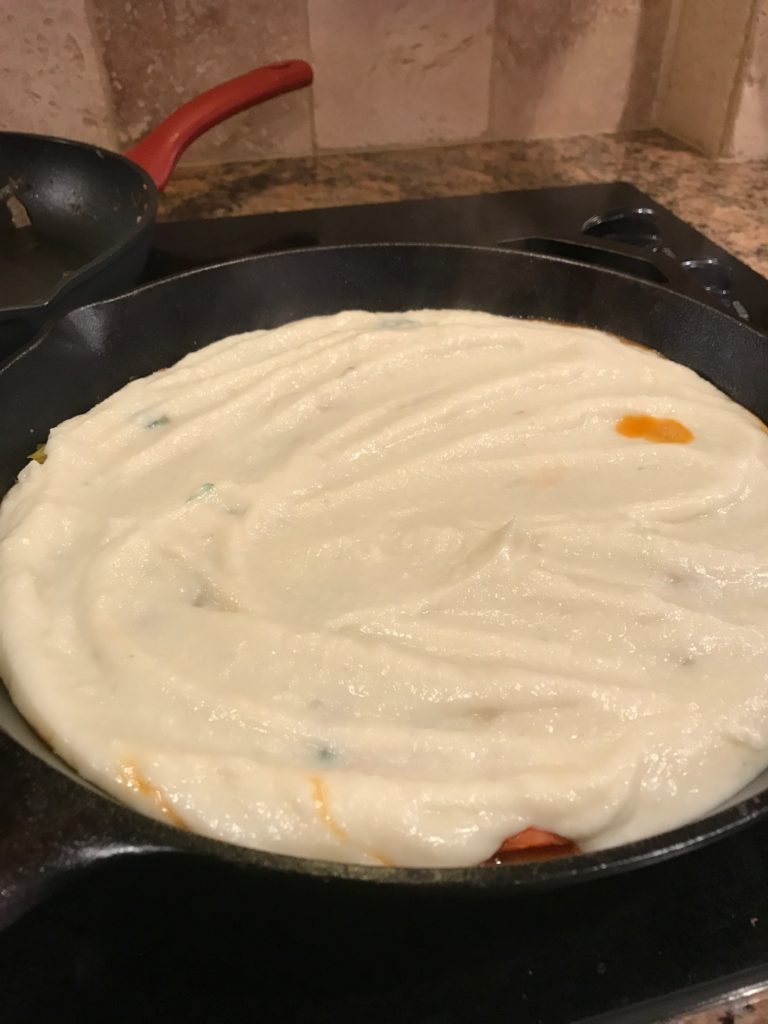 Isn't it pretty?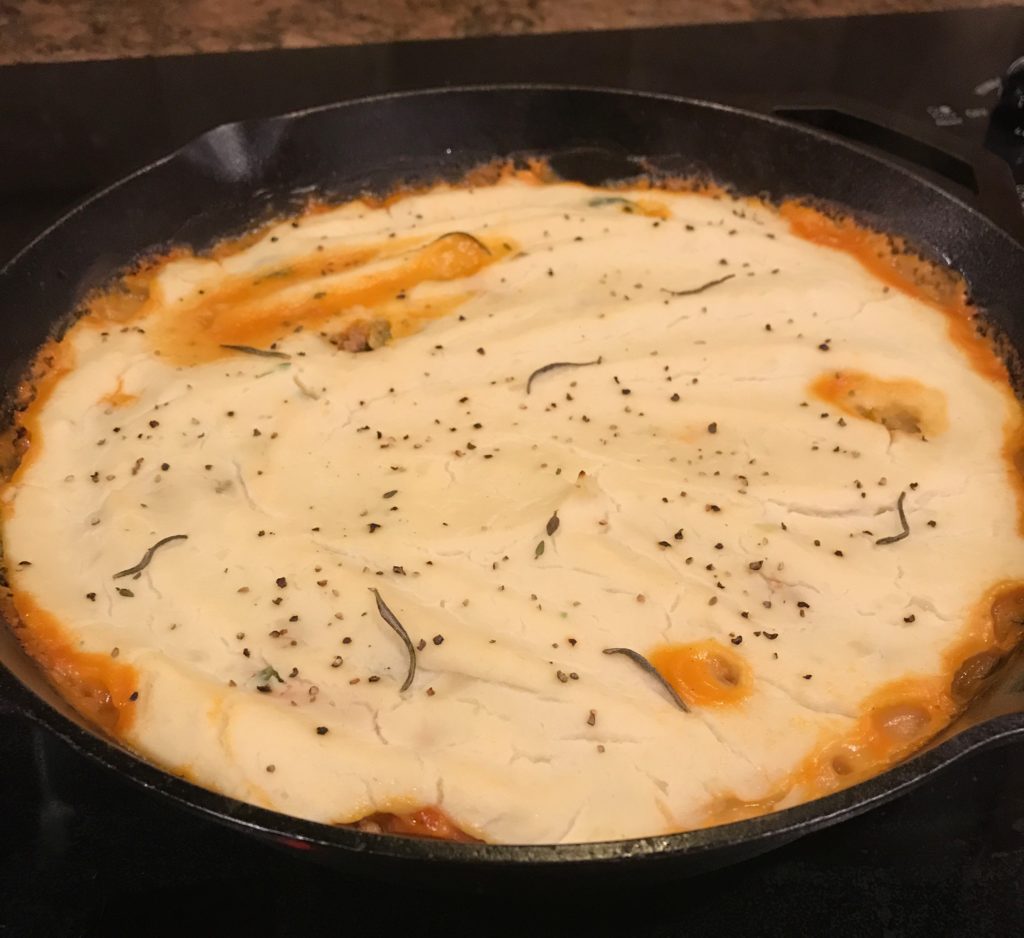 Now THAT was a tasty Shepherd's Pie!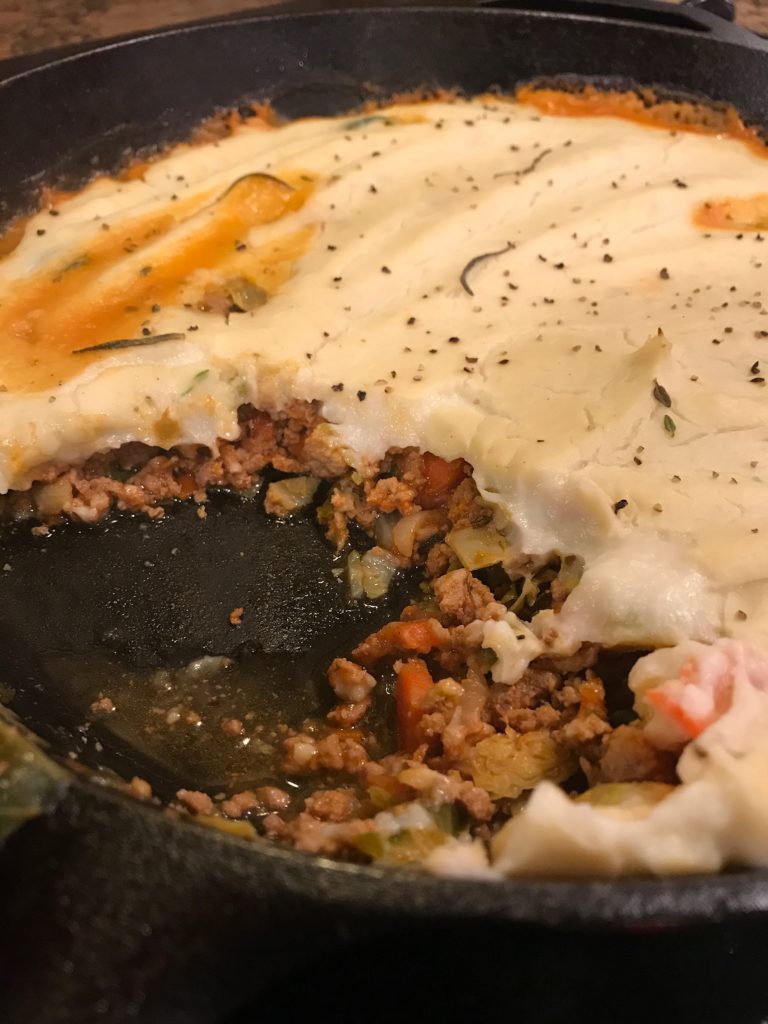 Wednesday
Breakfast
These are not low in Smartpoints, but I do love them for their simple ingredients. It gives me the sweet that I am looking for without the processed sugar.
This package contains 5 pops.
1 package = 9 Smartpoints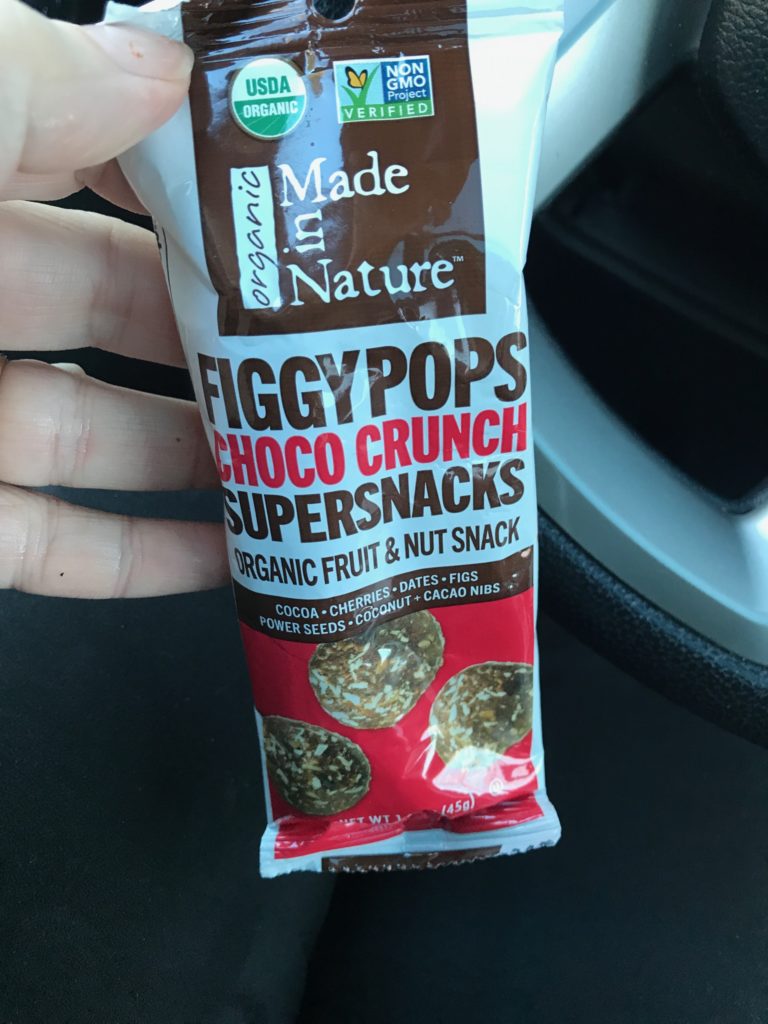 So good with my coffee or tea.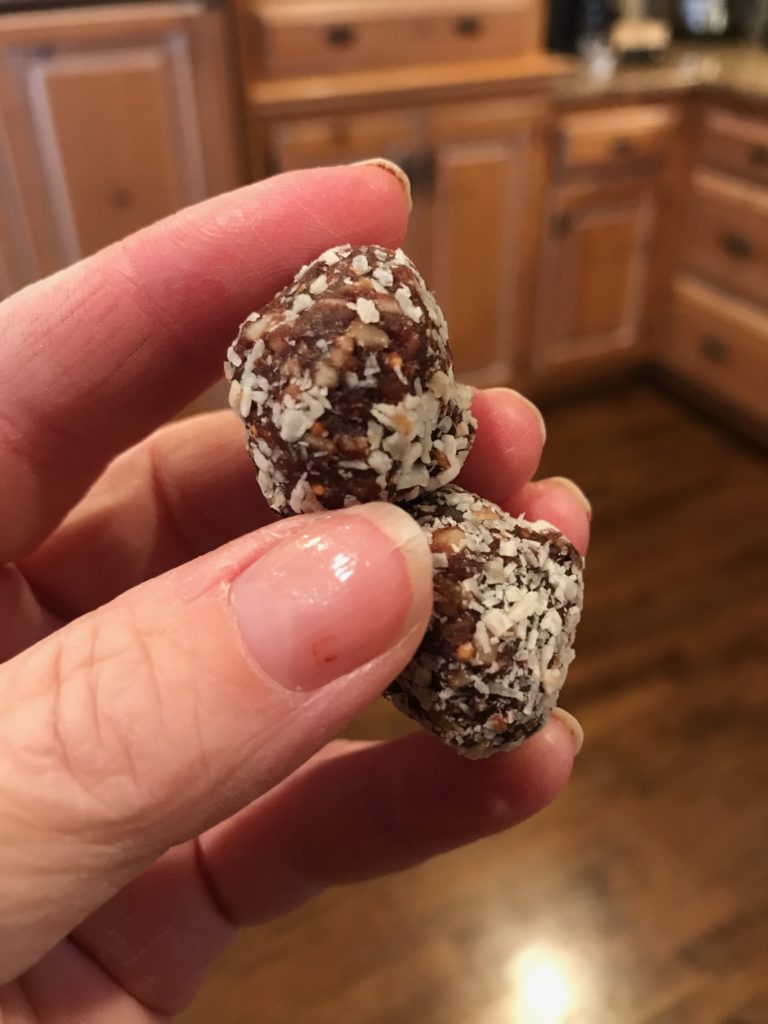 Lunch
That Green Giant Riced Cauliflower Stuffing Mix? I added pecans and Roasted Butternut Squash to it for lunch and it screamed Fall. 
This will taste great with some leftover Turkey Breast the day after Thanksgiving!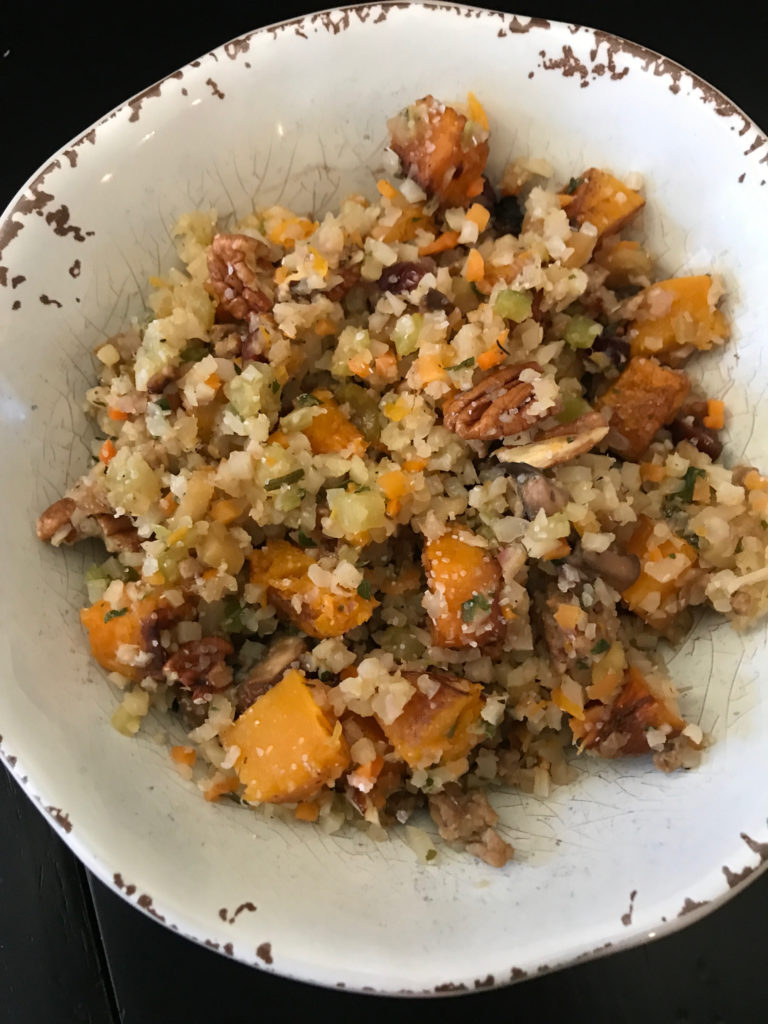 Dinner
Shepherds Pie. Not as pretty day two, but it may have even tasted better, if that is at all possible.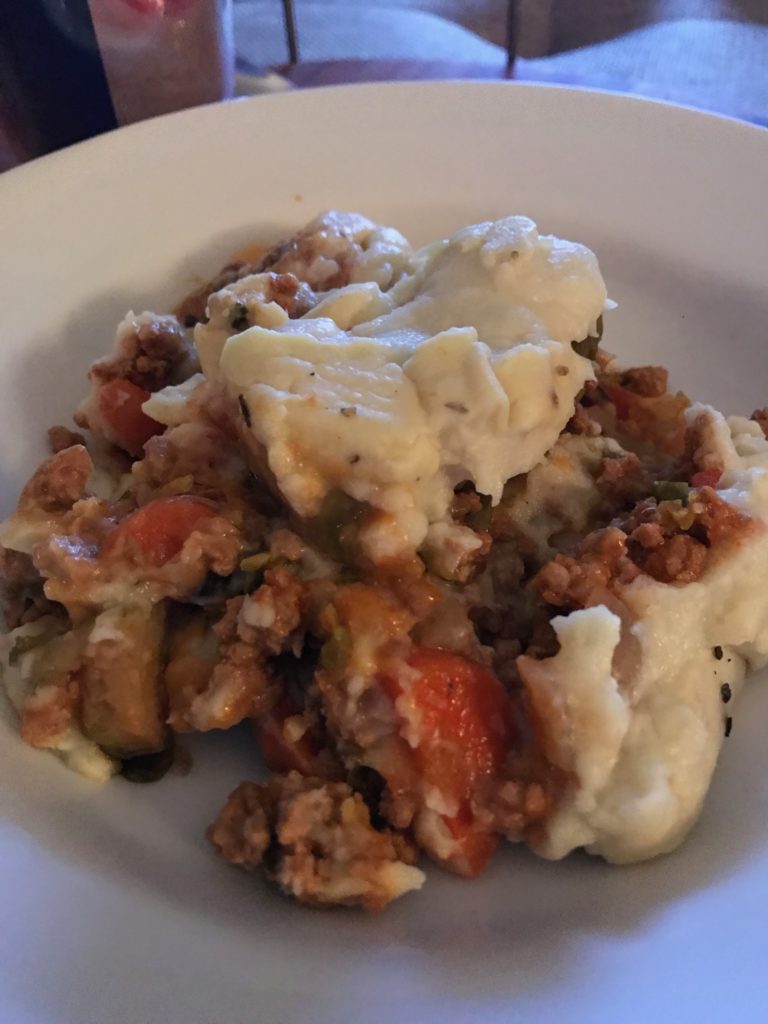 I had un-pictured snacks and wine at bookclub last night, but I think I did a good job of not going overboard. I also drank water while there, then drank a huge glass of water when I got home. Then I pee'd all through the night. Got in some extra steps I suppose. lol
Okay, I hope if you are looking for some comfort foods, at least one of these sounded like something you might try. I love finding yummy recipes and then seeing if I can make them just a little bit more Smartpoint Friendly without taking away from all of the great flavor.
Have a great rest of the week!
I feel like a million damn bucks.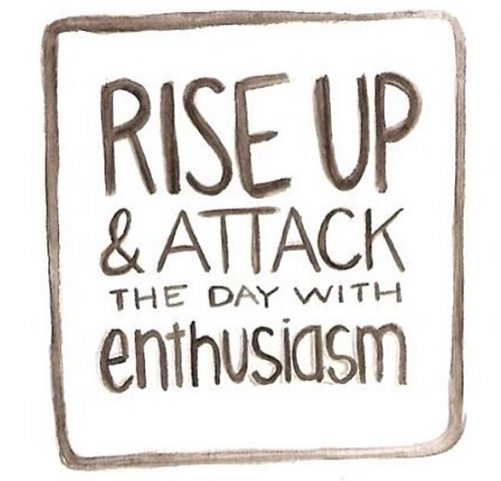 "love the life you live, live the life you love"