I haven't been here in two weeks!
I have most of the day to myself today, so on my agenda first thing is getting in a blog post.
This post is one of those that is all over the place and I likely have a lot of run on sentences and I repeat things. Forgive me. Think of this as though you are reading my diary. Basically, you are.
First of all, life is good.
The leaves are turning and it's been nice and cool outside and I am loving it. Coffee on the deck with a blanket in the cool morning air with all of the beautiful colors? I'm all in! Or am I Fall in? Ha!
Walking makes me happy. Walking in this makes me even happier.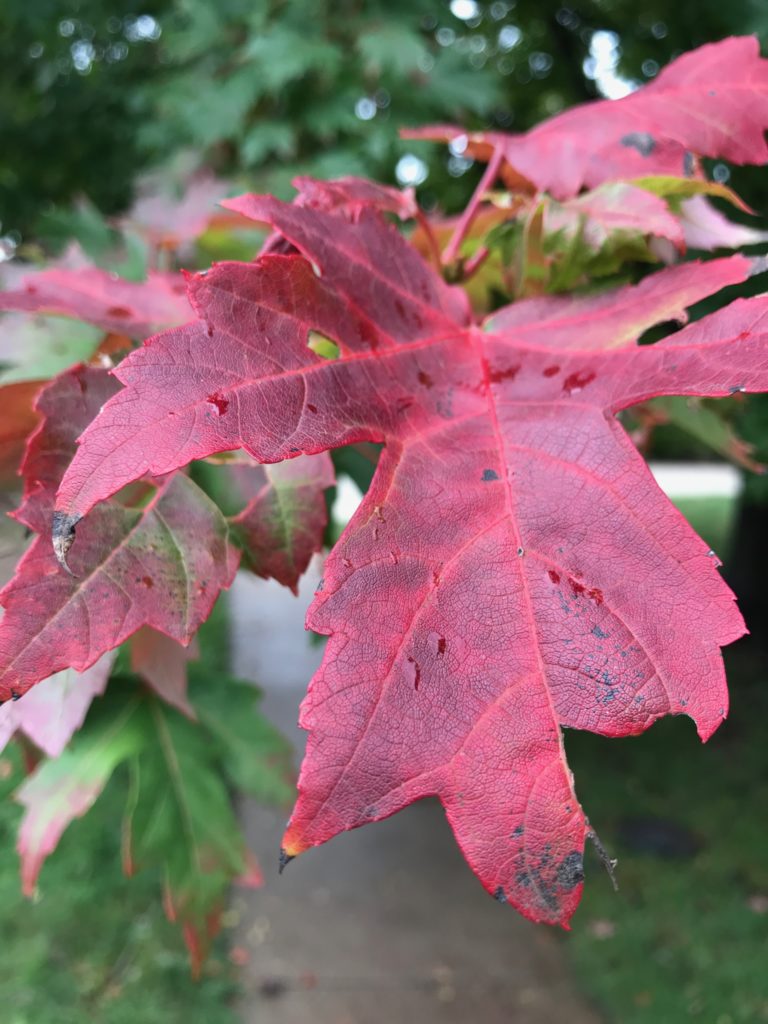 Breakfast with mom.
Pumpkin everything also makes me happy, but mostly any way I can have a Pumpkin Spiced Coffee.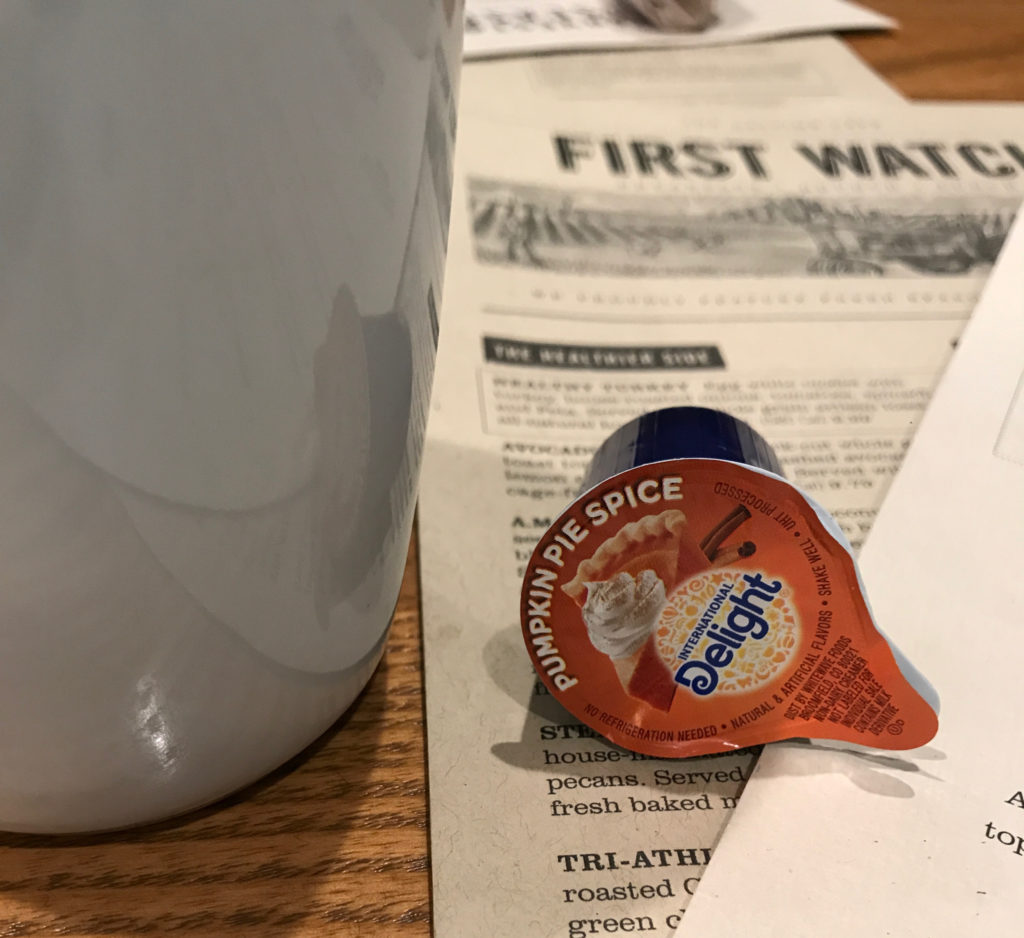 Love all of the CalifiaFarms products! (This is not a paid post.)
You can have up to 5 T. of this for 1 Smartpoint. It actually has Pumpkin Puree listed in the ingredients.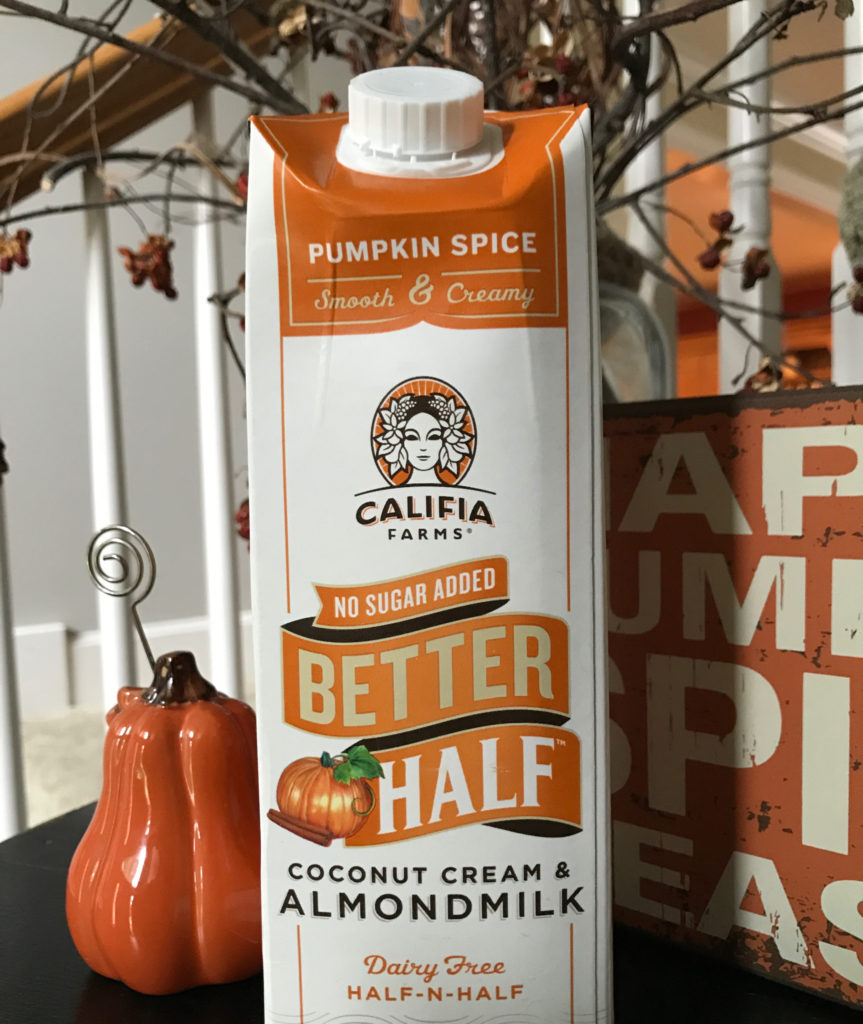 Life is also very busy.
Lot's of work responsibilities the last two weeks with the new WW rebranding and adjusting to my new schedule. I absolutlely love it.
Upstairs now has all new carpet as of Thursday and that Master Bedroom/Bathroom project is damn near complete! The upstairs feels like a new house.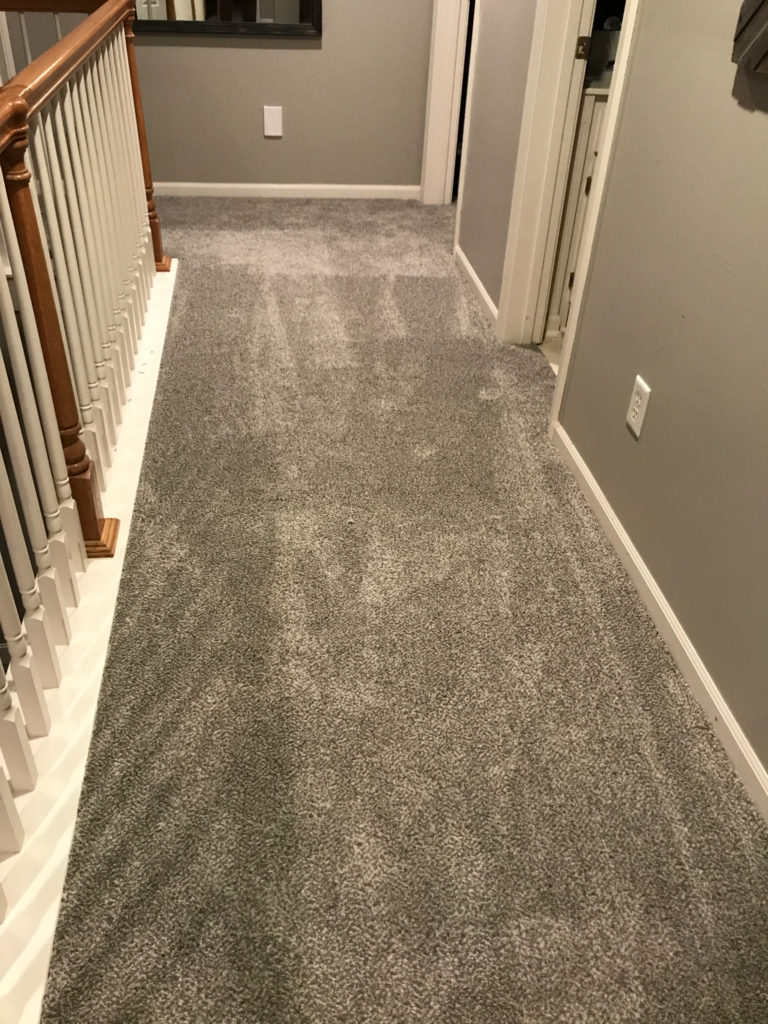 Sneak peek. Terrible pictures.
Master Tub Before.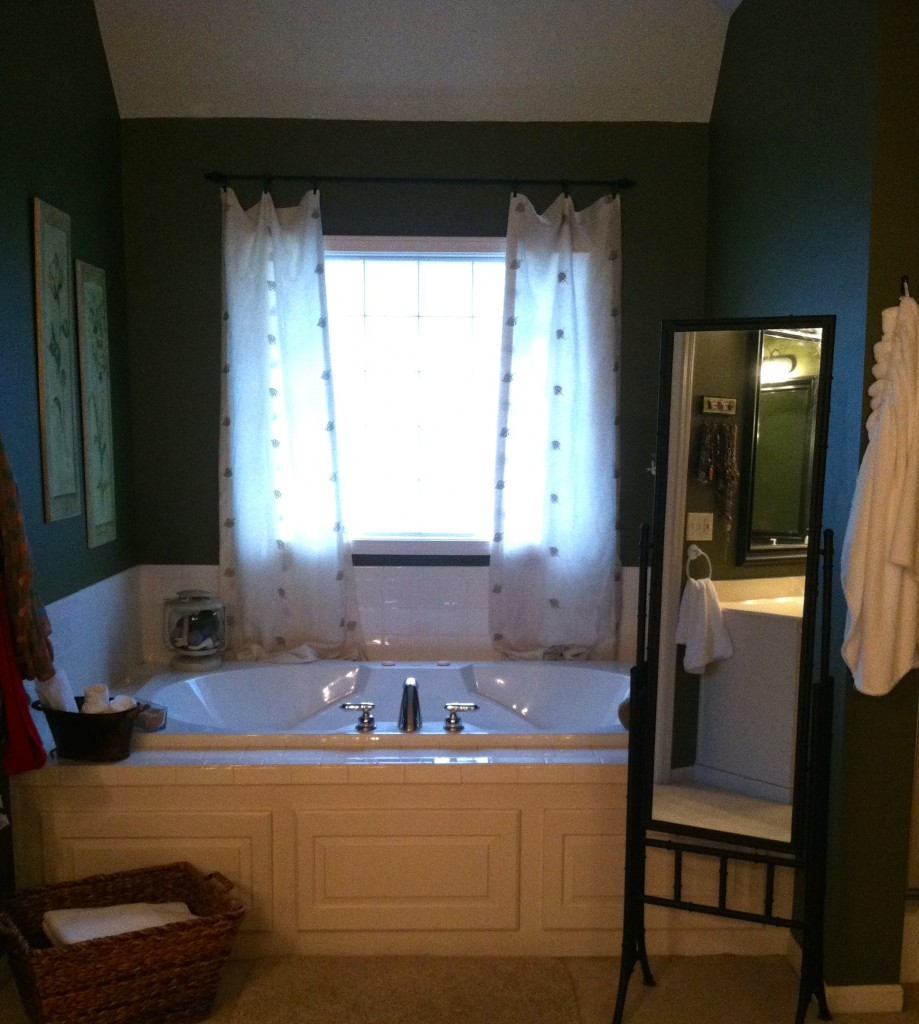 During.
I'm not a good visual person. I had no idea where he was going with this.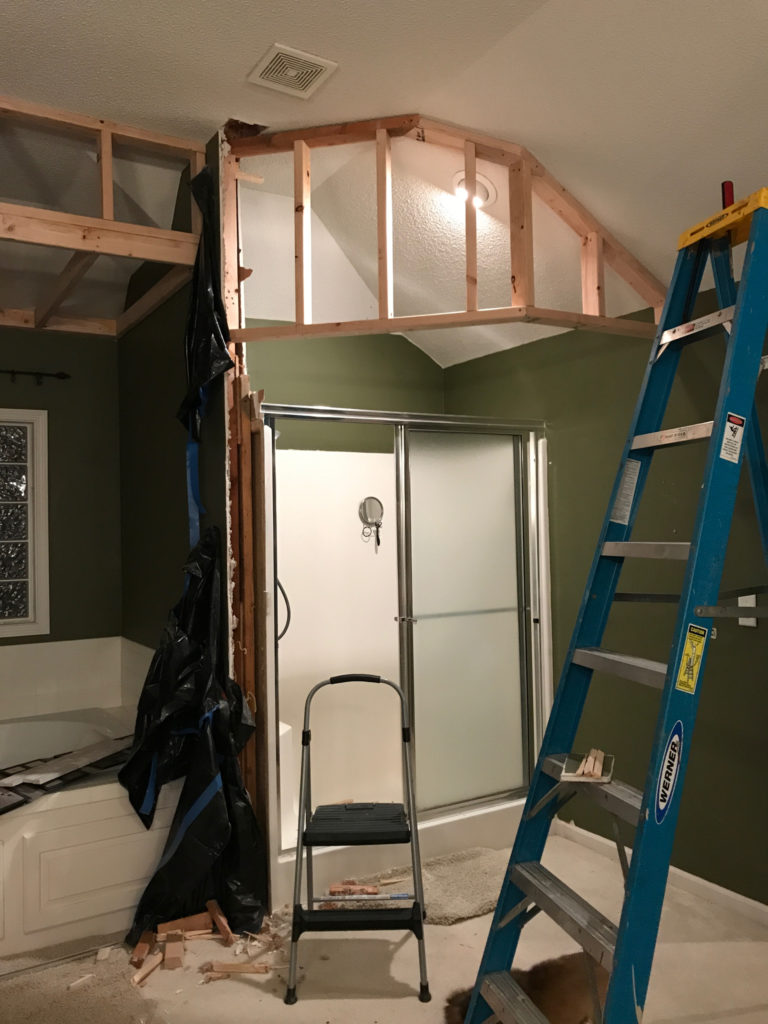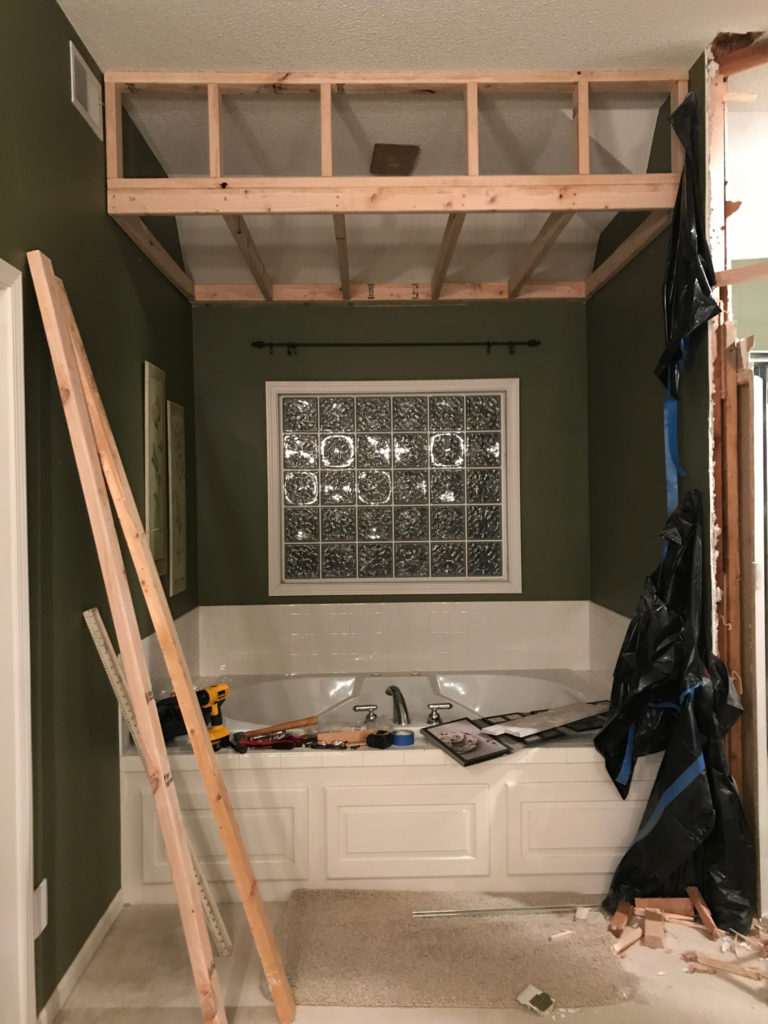 I love it! He's so creative.
We are waiting on our new shower door, but at least we can use the shower. I'll post pics of it after we have the door.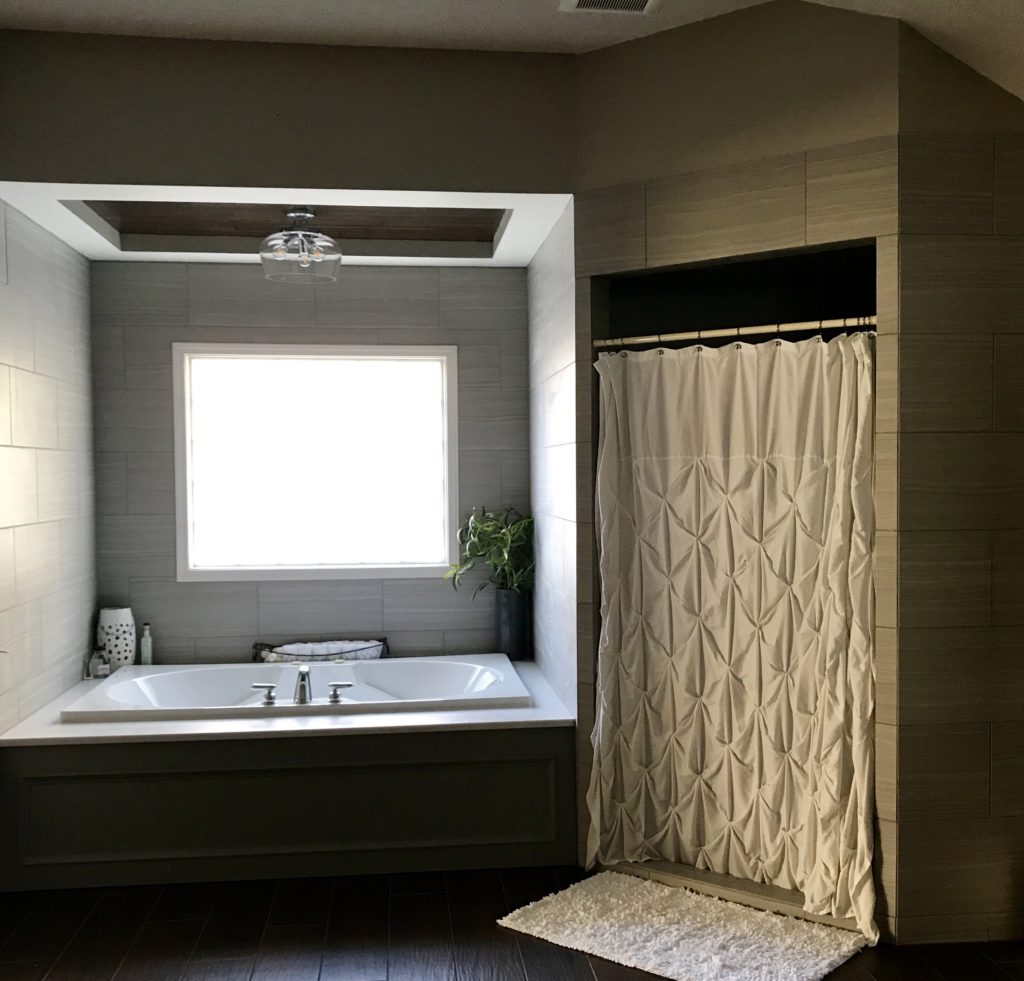 I love how he mounted the new light fixtures to tie in with the ceiling and the new floor.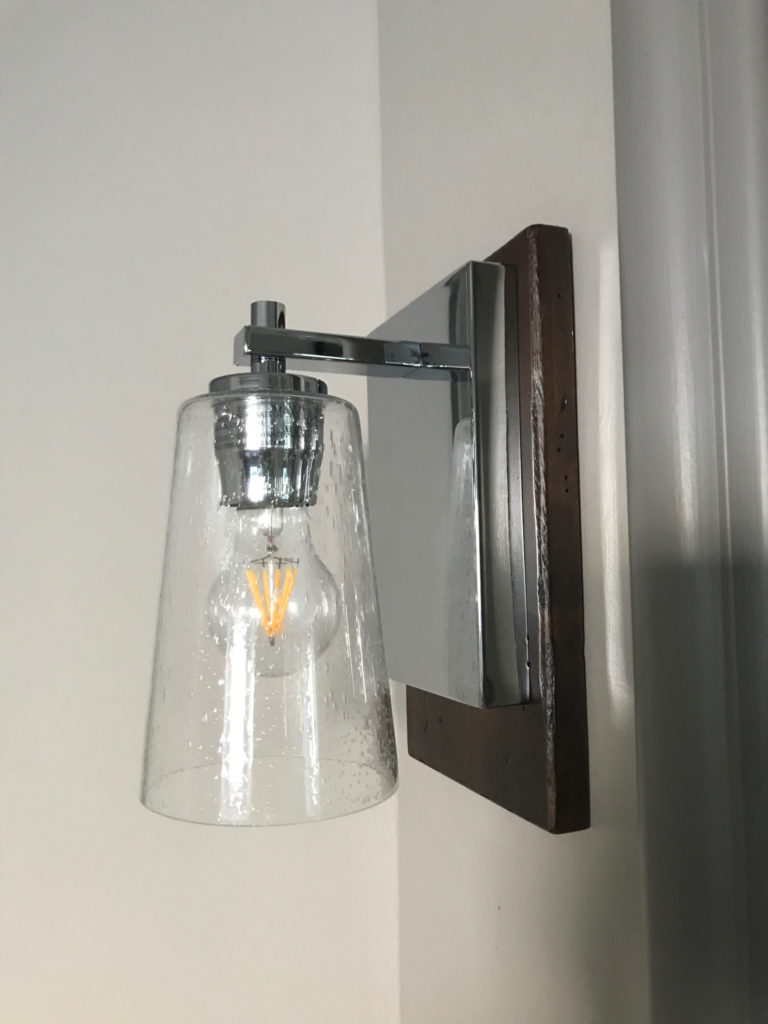 Better pic's to come.
I seem to spend two to three days a week either going to Physical Therapy or doctor's appointments. TRUTH!
Checking my muscle strength at PT.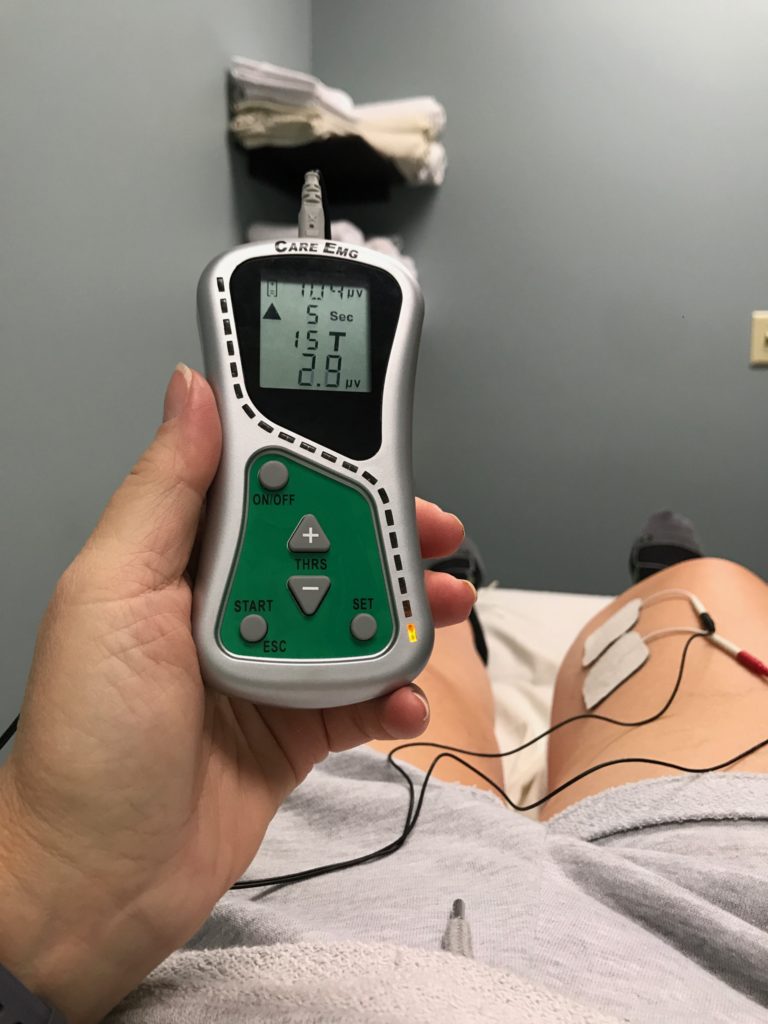 Waiting to see the Oncologist.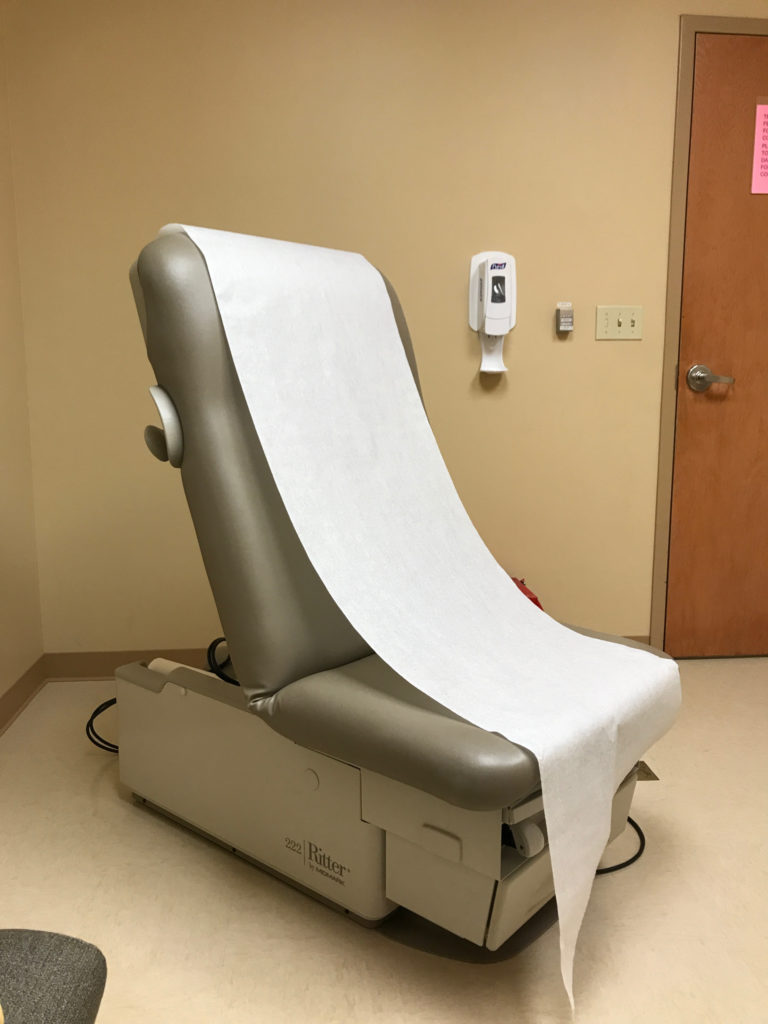 Waiting the see the Vascular surgeon while the tech's review the ultra sound of my aneurism.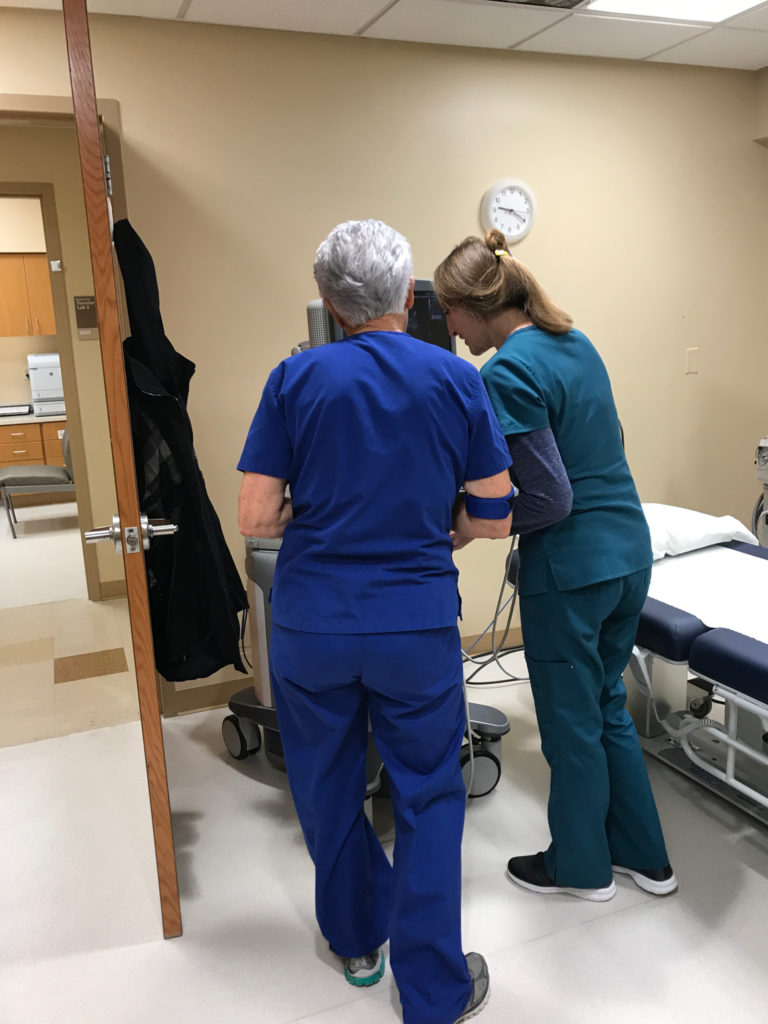 I took an overnight trip with my dad and his sister to tour the small towns where they grew up.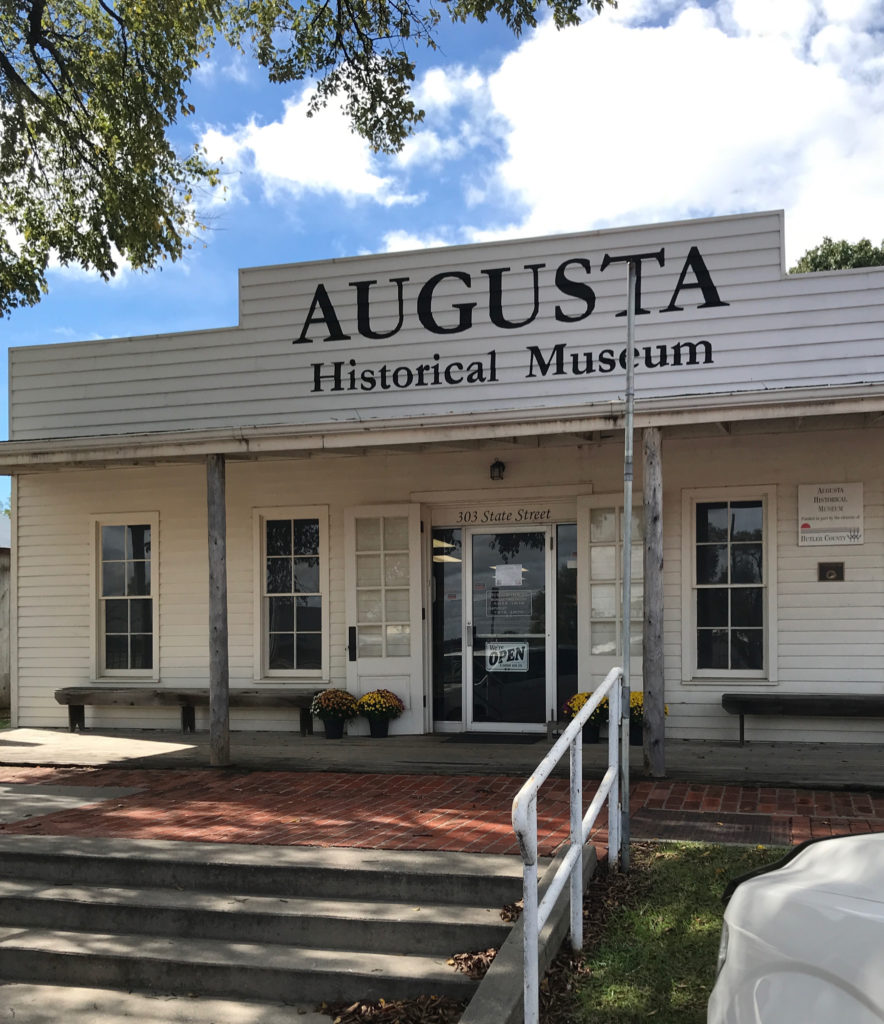 An old church they remember attending.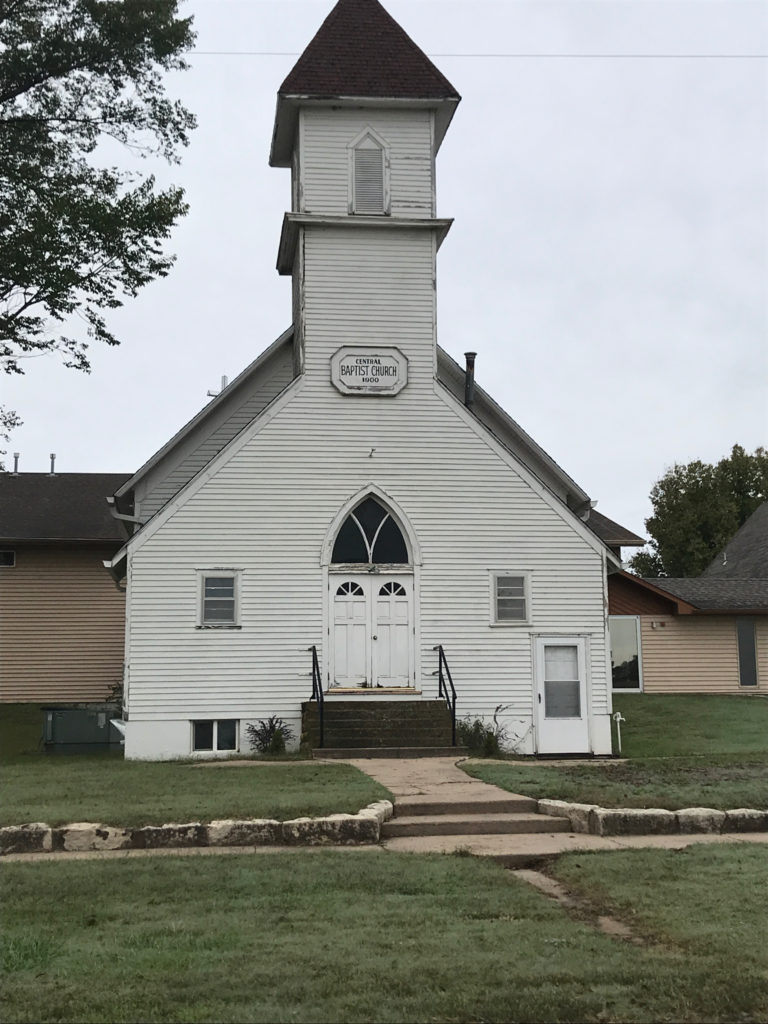 We actually found (well, I drove, they found….lol) the property of some of the houses that they lived in growing up. They were old farm houses that were no longer standing, but my Aunt was adventurous and walked the property, locating parts of the foundation. They had some great stories to share that I hadn't heard, and other than my dad snoring all night while sharing a room with him, we had a great weekend and beautiful weather!
An old picture of the property while standing on the property based on the old circle drive that my dad spotted.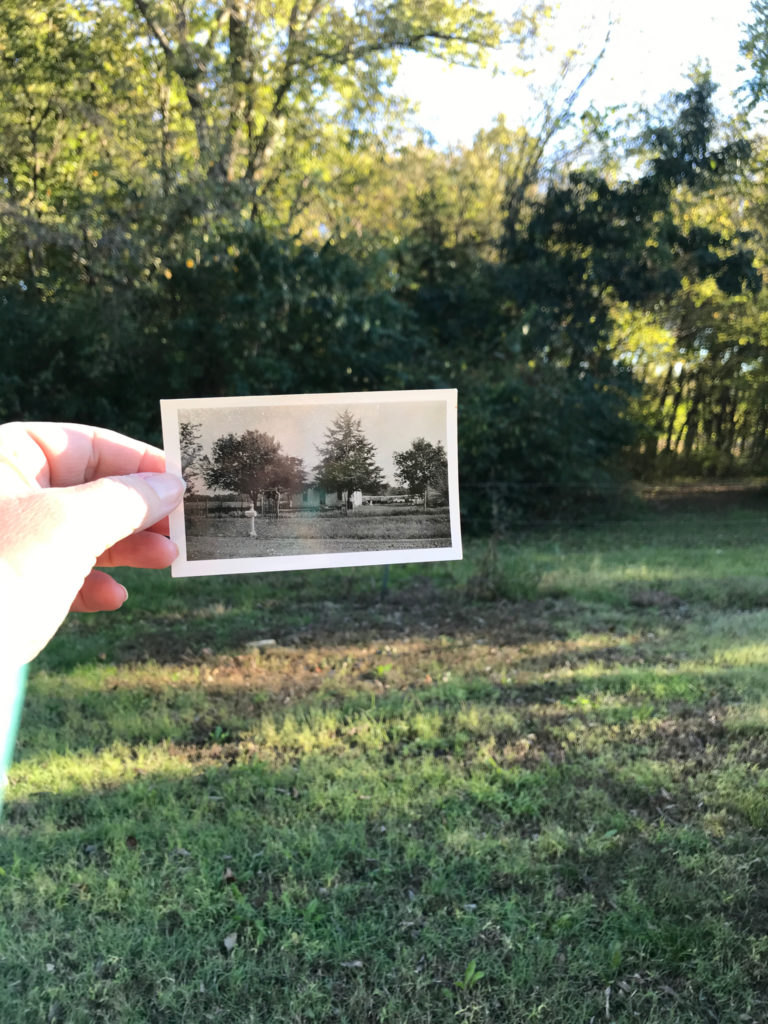 My dad and Aunt were the youngest of four. The older two have passed away. Love this old picture of the four of them!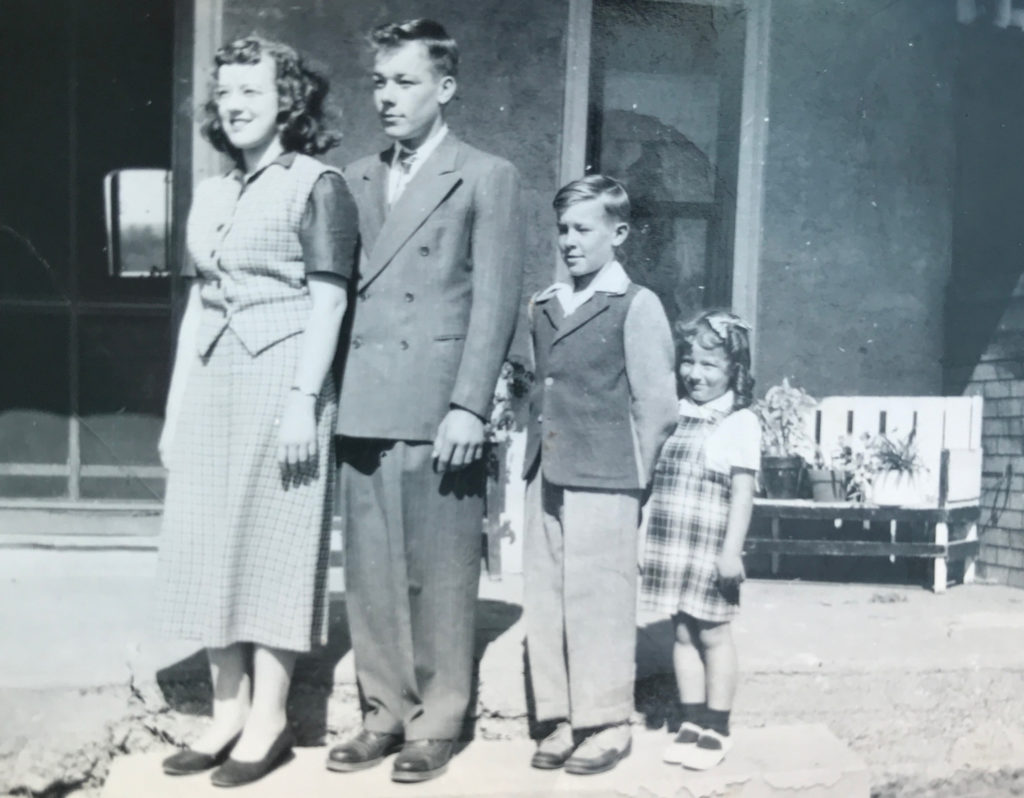 Mike and I went to Fleetwood Mac with our friends Ashli and Ryan. Is Mike the cutest? I think so. (Stevie Nicks kicks ass at 70 years of age!)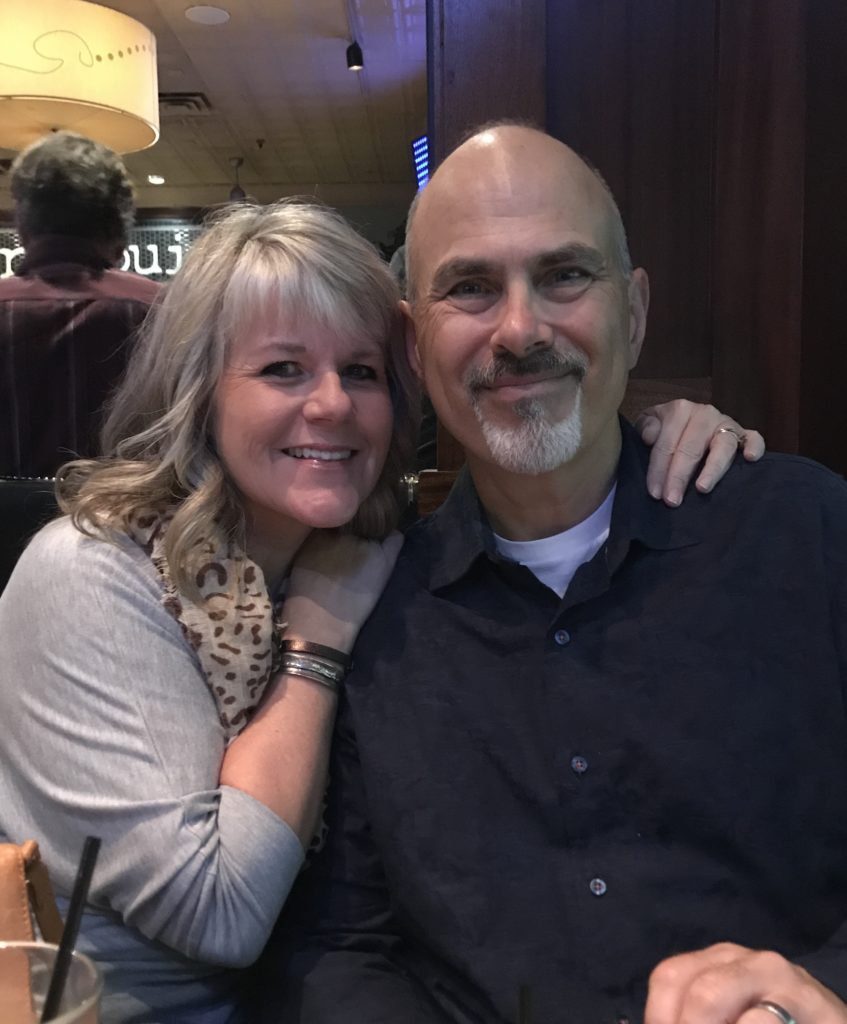 I am so loving my job. Receiving a regular paycheck doesn't suck either. It is so nice to get paid to do something you truly love. With the new app update a couple of weeks ago and the WW re-branding, there have been several emails to read, training videos to watch and employee conference calls to participate in. Between that and working at the studios, (formally called stores), I'm keeping myself super busy with work!
Mike has really been working his tail off to complete our master bath and bedroom remodel. With that project comes new carpet upstairs. He has spent this last week tearing up all of the carpet upstairs in the bedrooms and closets, the hallway and the stairs. He also screwed down every floor board and meticulously cleaned every corner of every room! We now have a garage full of items to be donated. Upstairs feels like a new house! That was just as much work as moving!
This I am certain was a much bigger task than he expected it to be, but it is really all coming together. There are still things to do. but for the most part, the project is done.
We are waiting on a shower door, so we have a shower curtain hanging in there for now. We have yet to pick out towel bars and accessories to finish things off and we don't want to hang anything on any of the walls until we know for sure what we want. Mike wants to build a headboard for the bed and a barn door for in between our bedroom and bathroom. I love those ideas but I am in no hurry to see those projects done. I think he's looking forward to a break!
I'll work on getting some before and after pics posted here soon.
I was finally able to take my first bath in over a year! After having surgery last August, I wasn't allowed to soak in the tub for weeks. One surgery after another kept interfering with my bathtub time. Then the construction began and I couldn't use the tub. I love relaxing and soaking in a tub! I've missed that and it's so nice to have it back!
I was feeling extremely frustrated with my recovery time post knee surgery.  I had no idea that I would be so uncomfortable for so many weeks after surgery. I feel so limited as to what I can do physically.
I marched into my orthopedic surgeons office (let me add here that I really like this guy and he spends so much time explaining things, has a great bedside manner and a great personality as well) two weeks ago and expressed my frustration with the time in which it is taking me to recover from this surgery. He looked me right in the eye and said….
"Yes, we repaired the torn meniscus, but for the Micro-fracture surgery, I basically poked holes in your femur with an ice pick. I fractured your femur. It's going to take time to heal and you are on schedule as to where you should be at this point. You need to be patient."
I guess it was what I needed to hear. I've been in a much better mood since. I honestly forget that I had that second procedure done since it wasn't part of the plan
I found a yoga video on YouTube (Yoga with Adrienne Yoga for Sensitive Knees) that has been a great help for me when doing physical therapy at home. I'm one of those people that prefers to be told exactly what to do when exercising. My folder full of exercises from physical therapy was beginning to overwhelm me. I'm still going to physical therapy twice a week through the end of this month and the yoga video has been a game changer in my recovery. The entire Yoga workout is all about building strength around the knee, just what I need to be doing, along with stretching.
My insurance finally approved the gel shot for my other knee and I have now had two out of three of those. I will get shot number three tomorrow. So far, I can't tell any difference. I'm hoping that will kick in soon though so I can continue to move forward.
The first week of August I twisted my hand in a weird way while reaching into the backseat to get something and I felt something snap. 🙄 I tried to ignore it and assumed over the next couple of weeks it would feel better. It did not. One more reason I have not been blogging. Typing doesn't feel great. (I'm doing this blog post this morning mostly using the voice command feature.) I went to the doctor and she determined that I have tendinitis. After sleeping in two different braces, it has now progressed and feels worse. I have an appointment with a hand specialist next week.
I was feeling convinced that a lot of the issues that I am having are related to the estrogen blocker that I took for a period of time. I am now on a different estrogen blocker. I had my regularly scheduled appointment with my oncologist last week and she tells me that what I am experiencing has nothing to do with the estrogen blocker. I'm skeptical though.
It's one more thing that's causing me not to physically be able to do everything I want to do. It's affecting my sleep and It's just one more appointment to add to the list of ongoing appointments.
The appointment with the Vascular Surgeon a week ago was a sixth month check up to look at my Pelvic Aneurysm.  The aneurysm was discovered in my CT that was done for my breast reconstruction surgery in December of 2017. Now he wants me to have a CT with Dye to see a more precise location of the aneurysm. That is scheduled next week. Knowing more details about the aneurysm will determine what steps to take in moving forward. All good info to have, just more appointments.
My body is kinda pissing me off.
I think because the knee stuff happened in the middle of all of the cancer stuff, I feel like I just can't seem to move on. Constantly having doctor appointments makes its hard to put it all behind me as well. I guess the reality is, it's not behind me yet. There are more appointments to schedule to finalize my reconstruction, but that has all been put on hold due to the other appointments. I just need to stay focused on what is important. Today. Today is what is important. Doing the necessary things to feel as good as I can today.
I am staying focused on eating foods that make my body feel good, I'm staying as active as my body will allow and I'm staying engaged with family and friends.
It truly is all about balance.
As much as I love to come here and blog for my accountability, I've been using a different accountability tool that works a bit better with my new schedule.
Work. Being around the members and being inside of a WW studio four to five times a week has been a great tool for me when it comes to accountability. The members are inspiring and I am loving being surrounded by like minded people.
I have been tracking but lacking in picture taking since I'm blogging less.
I did however make my Steak Soup last weekend and it tasted so good!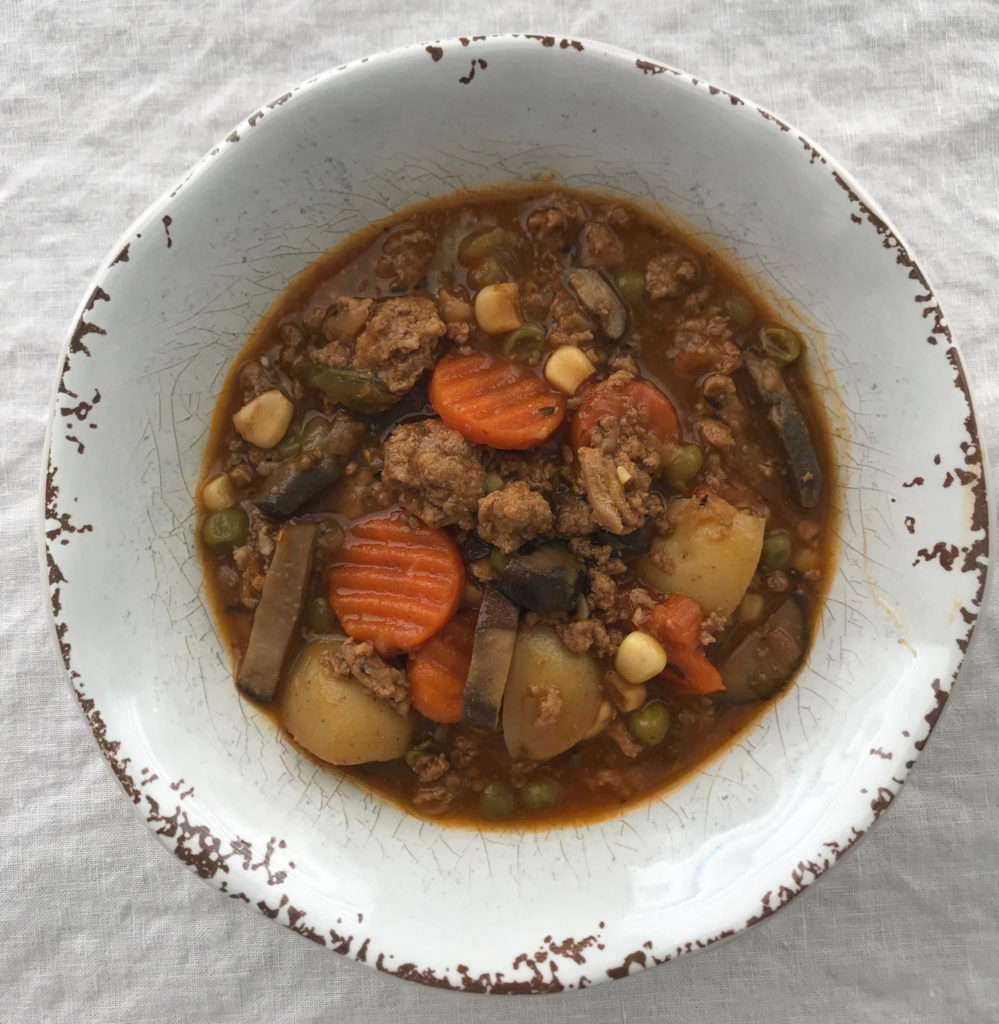 My Turkey Sweet Potato Chili remains a favorite! I served it over Butternut Squash Noodles for even more texture.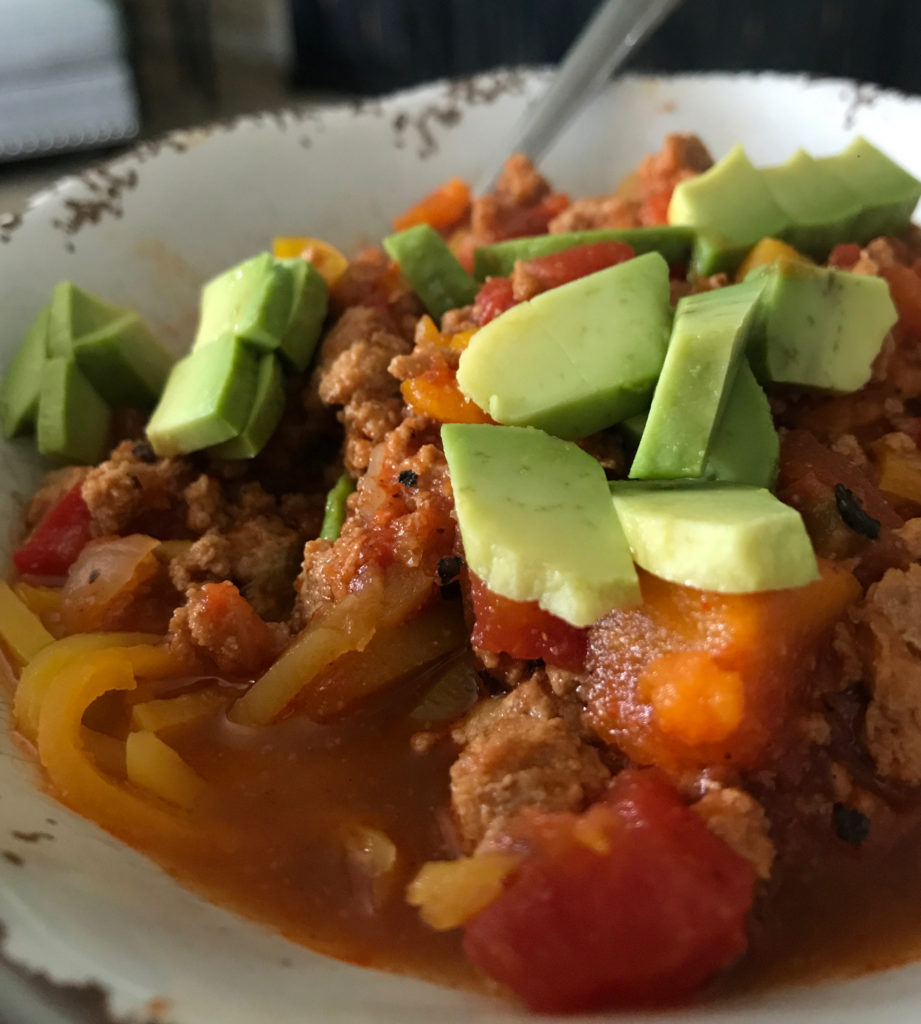 I love a good sir fry and this PaleoNewbie recipe is my favorite homemade stir fry sauce. Served over Fried Caulirice to keep it low in SmartPoints.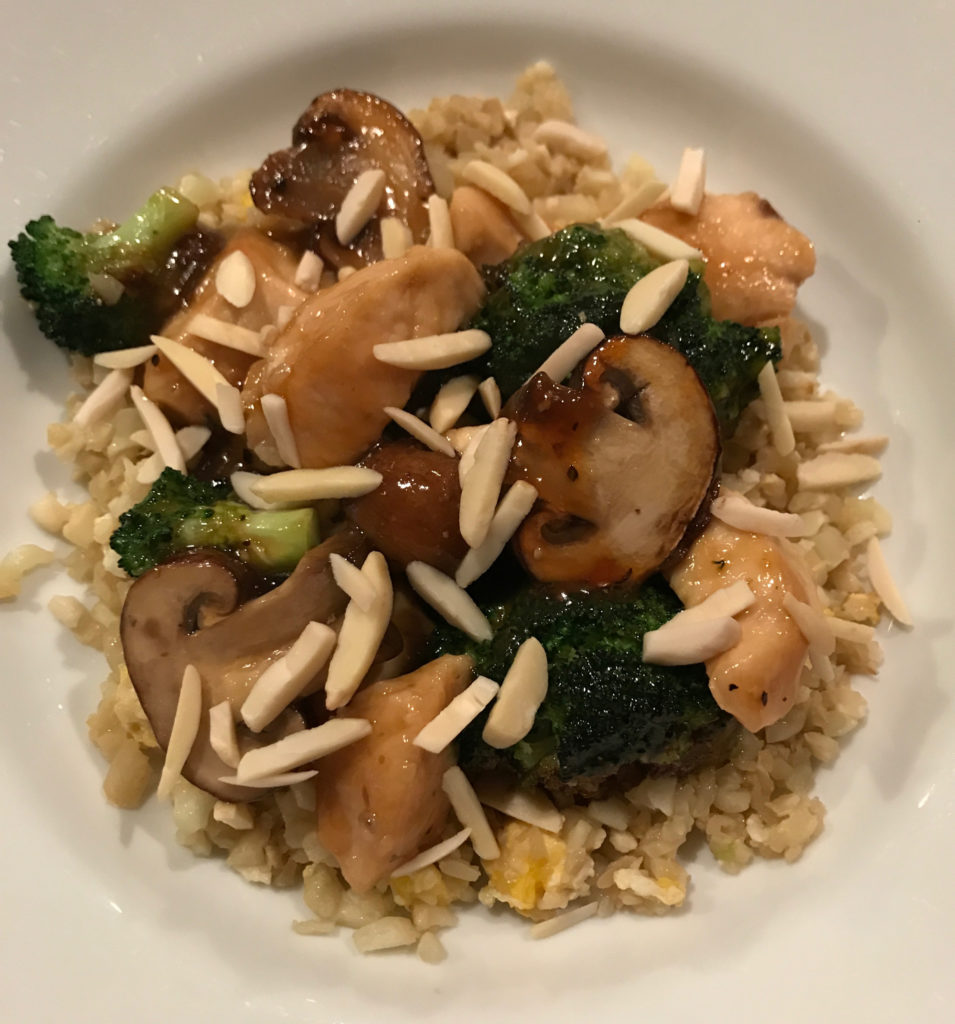 These Baked Almond Chicken Fingers are super easy and we both love them dipped in Honey Mustard or as leftovers mixed in a big salad.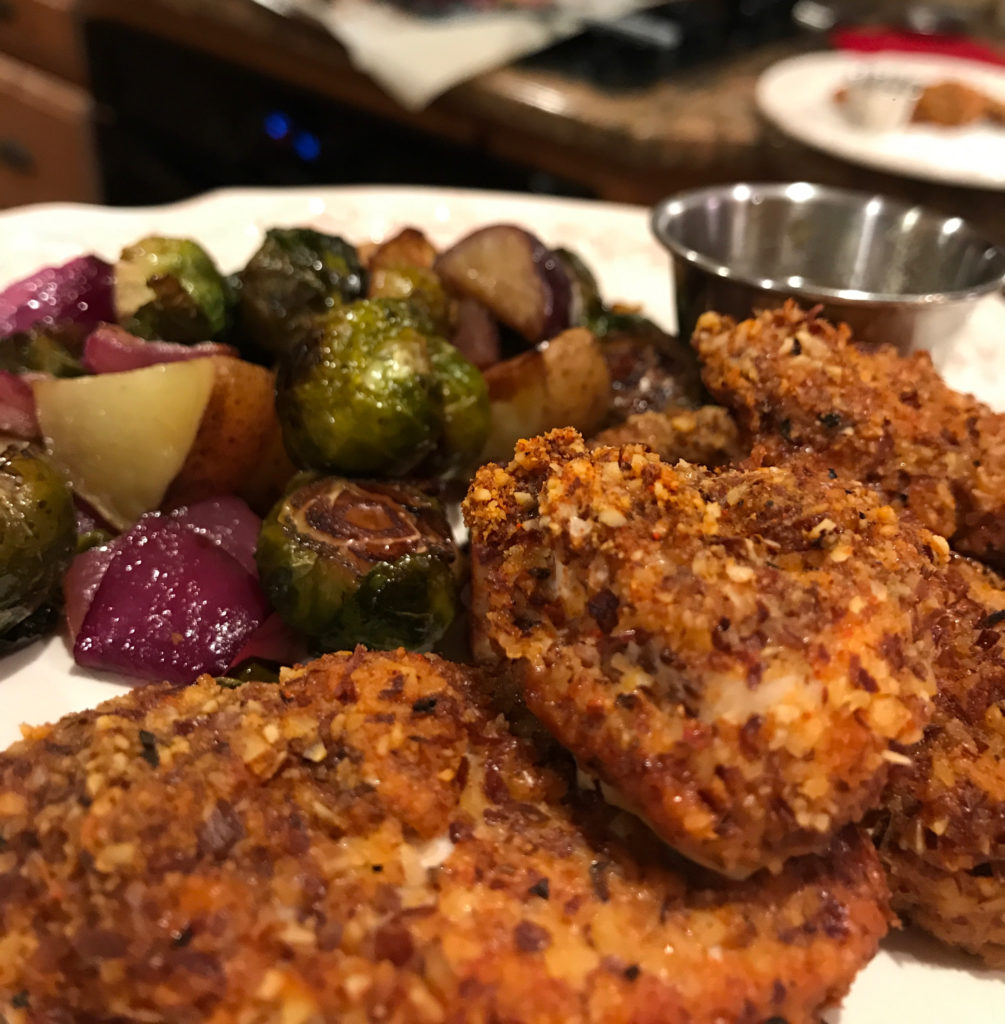 Tess and Manuel and Manuel's parents will be here this weekend for a couples shower. I am so looking forward to having a houseful. It was my hope to have our bedroom and bathroom done so we could comfortably have Manuel and his family stay with us and not be tripping over each other sharing bathrooms. I will be so happy to have them all here this weekend!
That about updates all aspects of my life right now. If you're still reading this, then thanks and sorry for all the babble!
I hope that you are all Healthy and Happy and that life is full.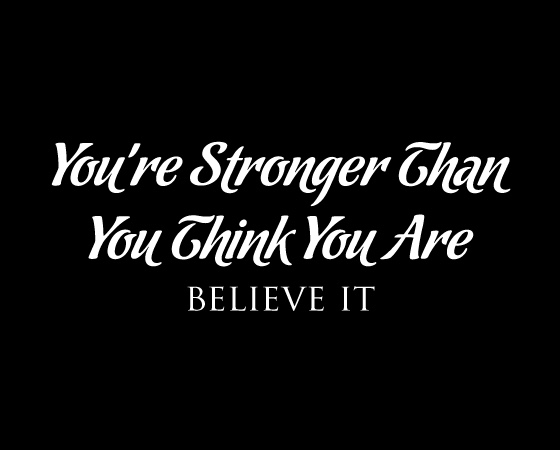 "love the life you live, live the life you love"