With the exception of some leafy greens here and there, I haven't been doing a great job of getting in my green veggies. I bought Zucchini, Broccoli and Brussels Sprouts on my last trip to the store and I really wanted to eat them vs. throwing them out.
Yesterday, when I wasn't sitting on my butt, I decided to eat my green veggies.
This was a quick, easy and really tasty lunch.
Frozen Bag of Caulirice
Laughing Cow Cheese Wedges (You choose how many based on how creamy you like it and many SmartPoints you would like to use)
Fresh steamed Broccoli (I have a really old magnificent microwave steamer!)
I microwaved a package of frozen Caulirice, then I added that to a pan on the stove top on low heat and added in Laughing Cow Cheese Wedges and stirred those until they melted. Then I added fresh steamed broccoli to that. Yum!
The Caulirice and cheese before adding in the broccoli reminded me of Cheese Grits! If that's your thing, then just do that!
Baked Almond Chicken Fingers over creamy Caulirice and with Broccoli.
For dinner, I slow cooked diced Bacon and Brussels Sprouts (halved) in the cast iron skillet. I've done Brussels Sprouts a couple of times in the skillet now and surprisingly, the they cook really well in the skillet. I worried that they might be too hard, but cooking them slow seemed to work.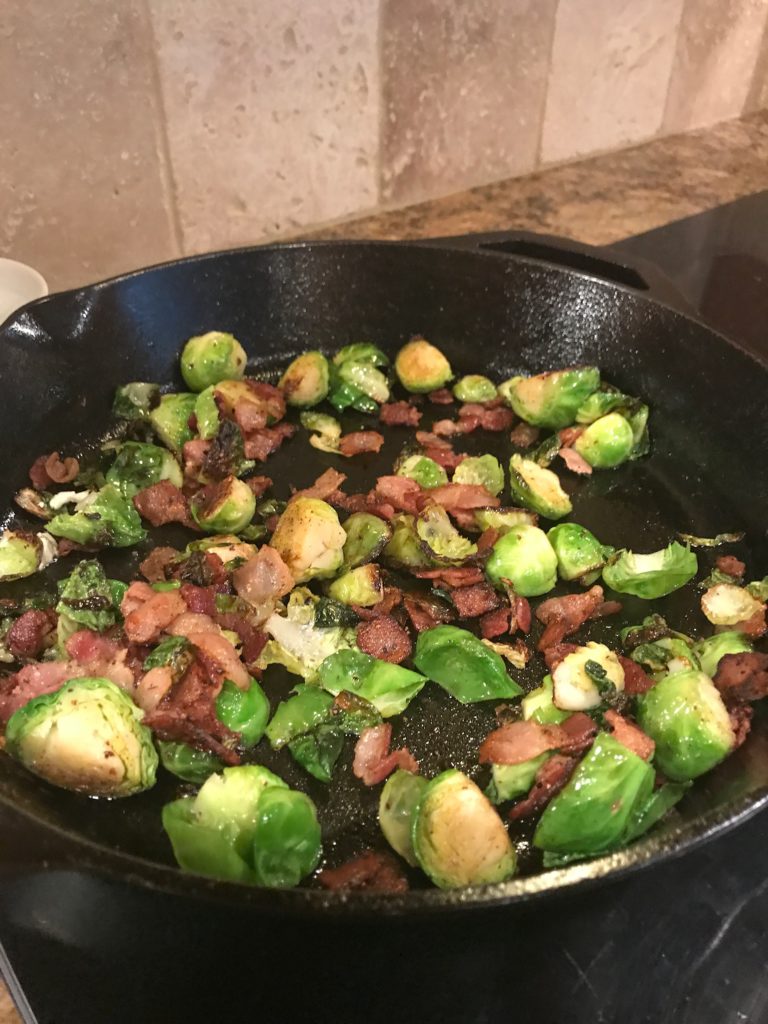 Scallops are maybe one of the easiest things in the world to make. (Seafood is Zero Smartpoints!!)
I bought a package of frozen scallops at Trader Joe's. I followed the directions on the back of the package.
Thaw
Heat 2 T. Butter in Skillet, season Scallops with Sea Salt and Garlic Powder
Cook Scallops for 3 minutes, then turn over and cook another 3 minutes.
Zero Smartpoints options allow you points for bacon and butter!!
I topped the Brussels Sprouts with Feta.
Dinner was a hit.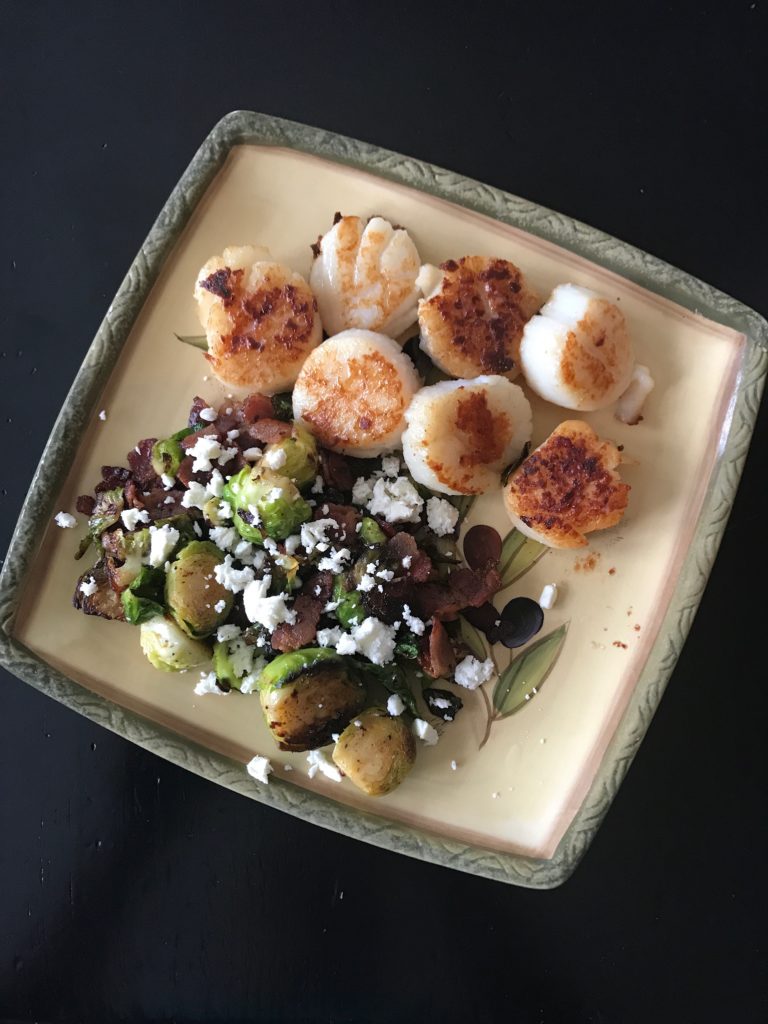 Look what's happening upstairs….
Sinks and countertops….GONE! Nasty carpet. GONE!!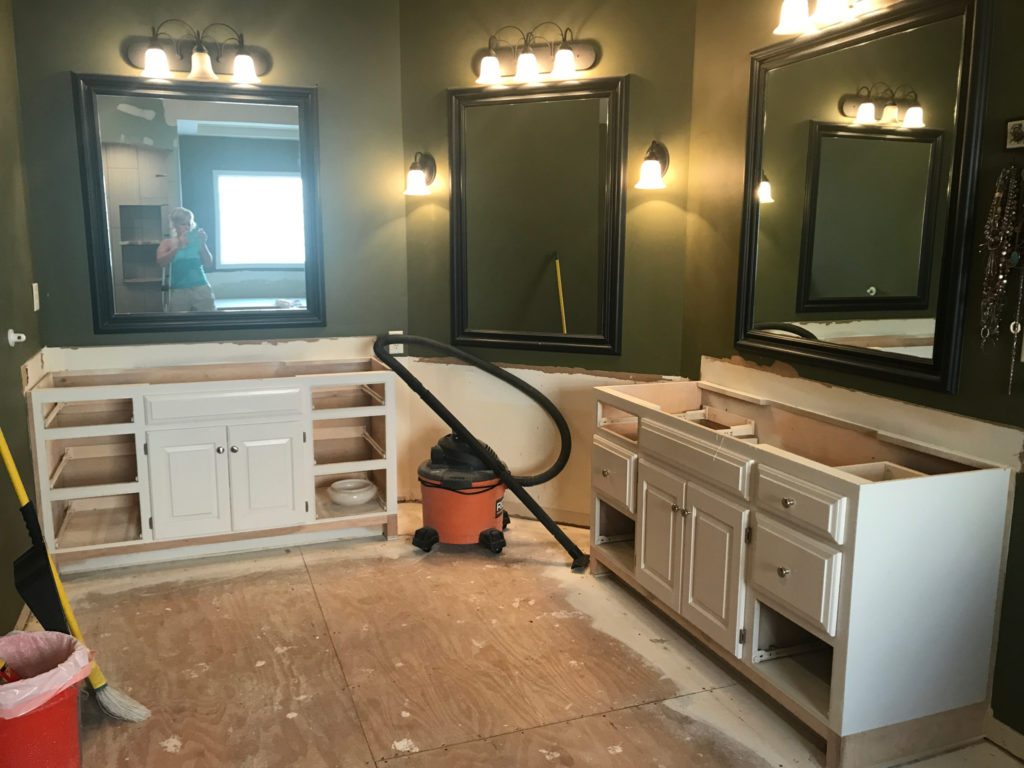 Mike lowered the ceiling above the tub and shower and tiled the shower.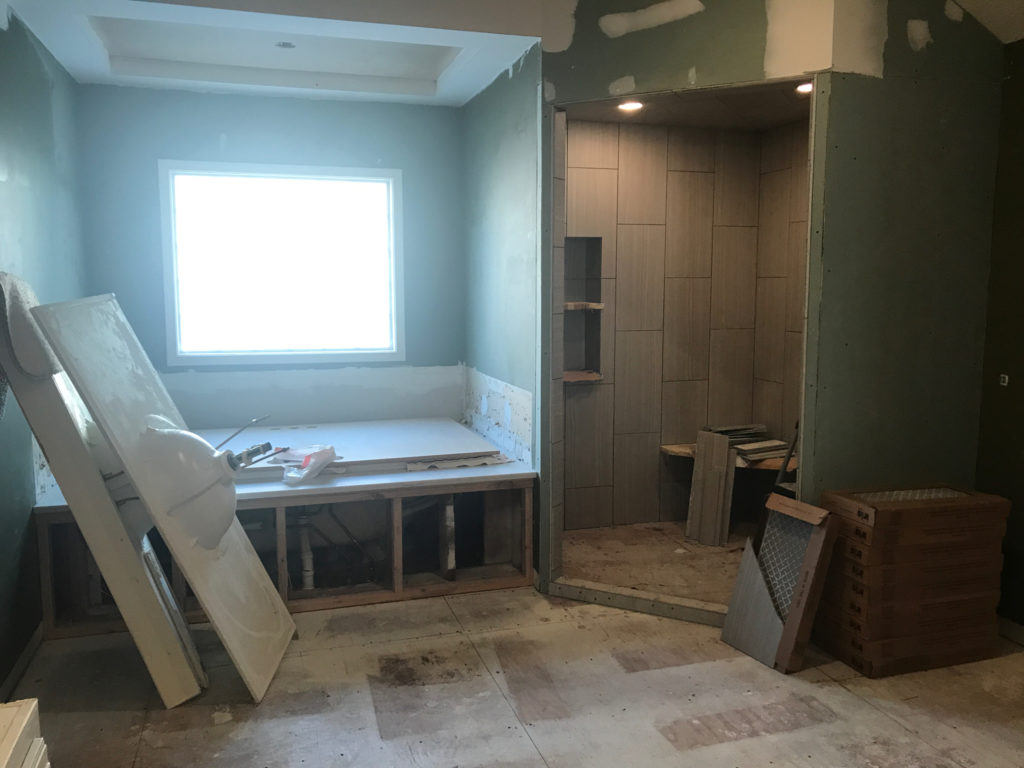 I'm super excited for this ginormous shower! I might do my YOGA in there!!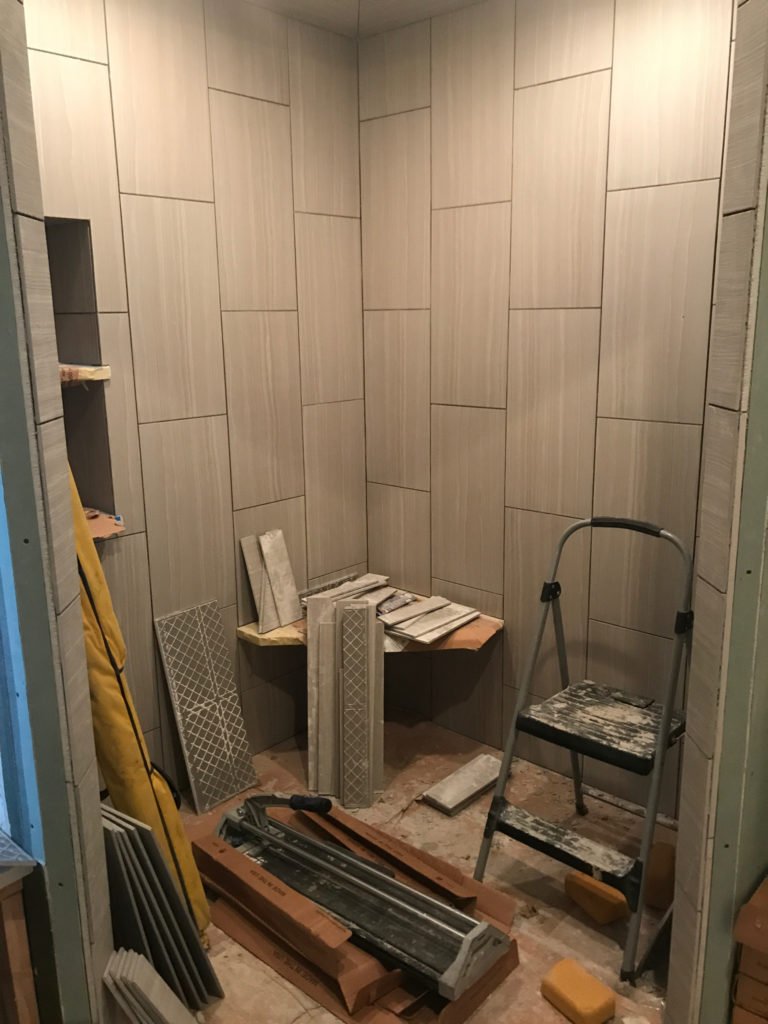 The tile guy completed the tile around the window yesterday.
Looking good Joe!
Joe, the tile guy. We bonded over a cup of coffee this morning.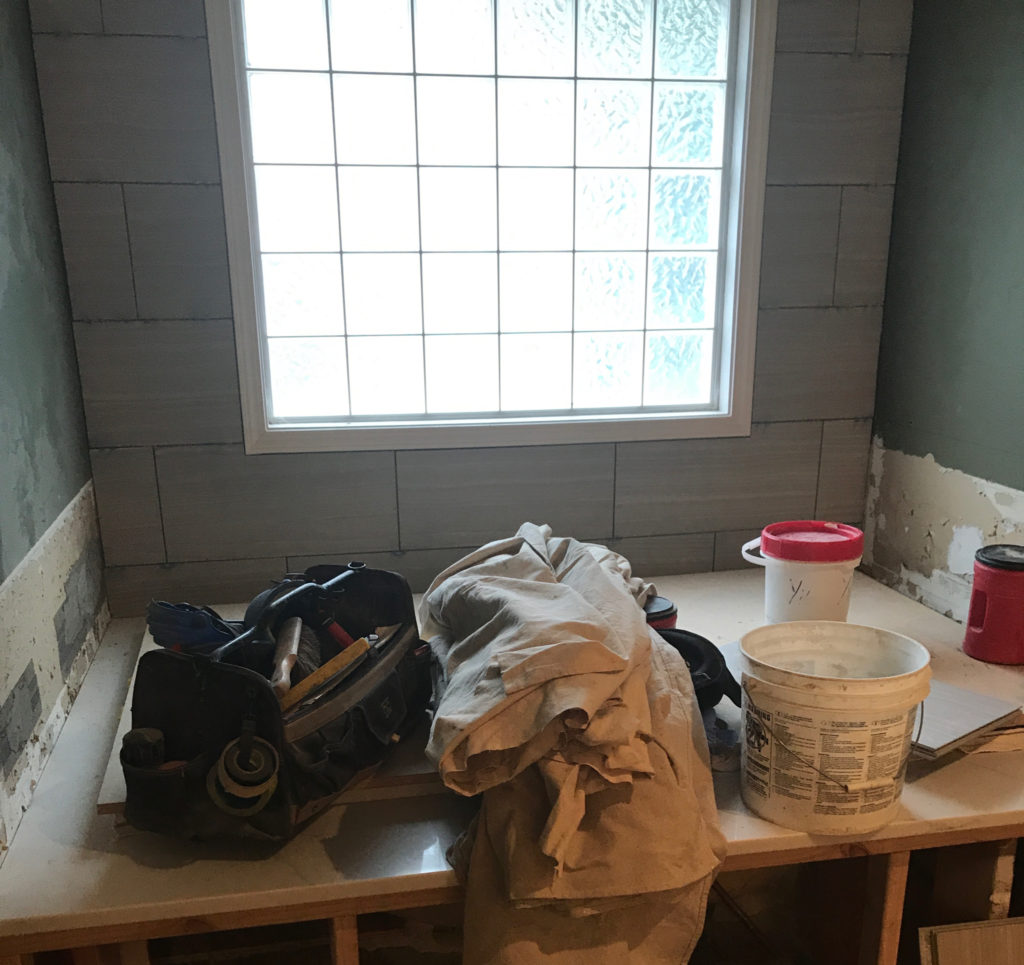 He is working on completing this green wall today.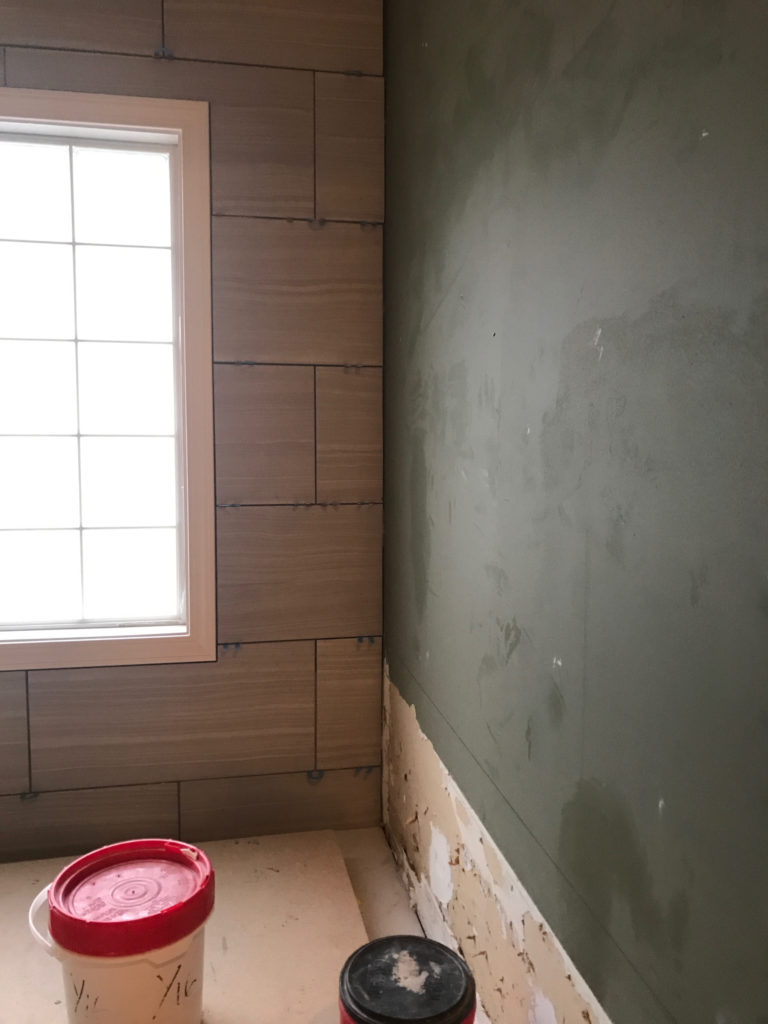 I gotta go. I'm pretty sure Joe needs me to check his work, or maybe he'd like another cup of coffee.
Happy Tuesday!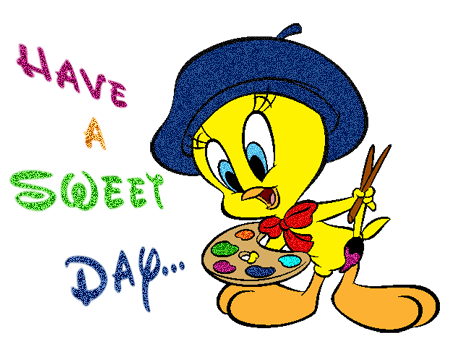 "love the life you live, live the life you love"