I spent most of Saturday on my butt and the majority of Sunday on my feet.
Saturday I decided that the knees needed a rest. Before that meniscus "snap", I had a cortisone shot in each knee. Well, it seems as though that shot is wearing off of my "good" bad knee, the non surgery knee. Standing doesn't feel good right now unless I put just a slight bend in my knee, so that's a bummer and tiring. My post op appointment for surgery is this Thursday, so I plan to ask lots of questions about the future of both knees. I do NOT want to have another surgery right now, and since the cartlridge damage in the surgery knee did not show up on the MRI and was a surprise when they got in there, I'm wondering if surgery will be recommended for the other knee or if maybe some shots could get me through the next few months.
Another surgery really is the last thing that I want right now. Then again I think, well I could just get it over with so I could for real move freaking forward. We'll see what the doc says.
In the meantime, I'm trying to stay off my feet when I know that I can while still working and having a social life.
I'm surprisingly sleeping really good right now (thank you Advil PM) and that can make a huge difference in my mood and frustration, so that's a good thing.
While on my butt over the last several days, I've been movie watching. I watched two great movies Saturday (An Education and The Guernsey Literary and Potato Peel Pie Society) while Mike was busy working on the master bath. Pictures to come soon of the remodel in progress.
Below is a list of movies I've watched recently on Netflix and recommend if you're in a movie mood.
Into the Wild – 2007
Directed by Sean Penn. Based on a true story. Christopher McCandless graduates high school and against his parents wishes, gives away his savings and all of his possessions to set out on a journey alone to the Alaskan wilderness.
I usually like any movie that Sean Penn is involved with, so I picked this simply because I saw that he had directed it. This is also a book if you're looking for a good read instead of a move. I loved loved this story.
An Education – 2009
Jenny is a 16 year old with strict parents and living a fairly sheltered life. She is a very good student and hopes to attend Oxford. An older unexpectedly enters her life and introduces her to the arts culture that she has been craving.
This was a great chick flick. I loved Jenny. She is a sweet and extremely mature 16 year old. Her physical appearance reminded me of Audrey Hepburn.
The Guernsey Literary and Potato Peel Pie Society – 2018
"A jewel….Poignant and keenly observed, Guernsey is a small masterpiece (1946 – London) about love, war, and the immeasurable sustenance to be found in good books and good friends" People Magazine
I loved everything about this. This was my absolute favorite of the movies that I've listed.
Like Father – 2018
On the lighter side, this Drama/Comedy is the story of a workaholic who is left at the altar and ends up taking her estranged father on her honeymoon cruise.
Good movie to watch when you're in the mood for something light and cute.
Sunday….
Birthday Party!!
Kingston is ONE! One year ago, Kingston dramatically entered the world in the car on the way to the hospital. That's right. He was born in the car. By the time they arrived at the hospital, Kingston was half way out and a nurse ran out to the car and helped finish the delivery in the car.
One year later we have a very healthy and happy stripper!
His mom found this outfit and just couldn't resist. We of course, could not resist giving her a hard time about it.
(Photo cred to our son Jake for all of his awesome pics.)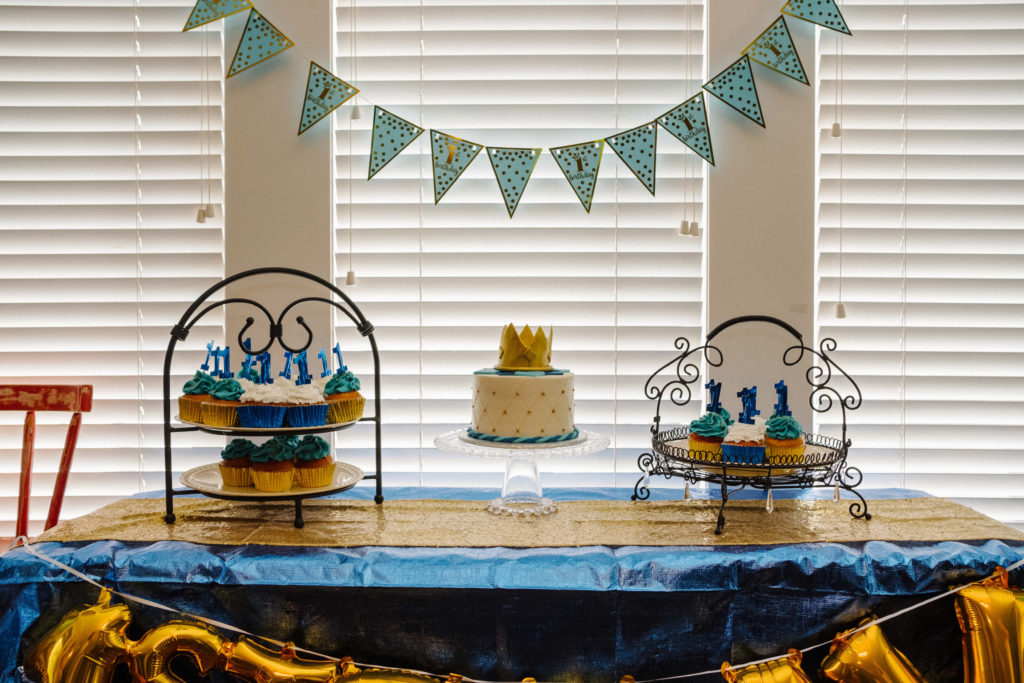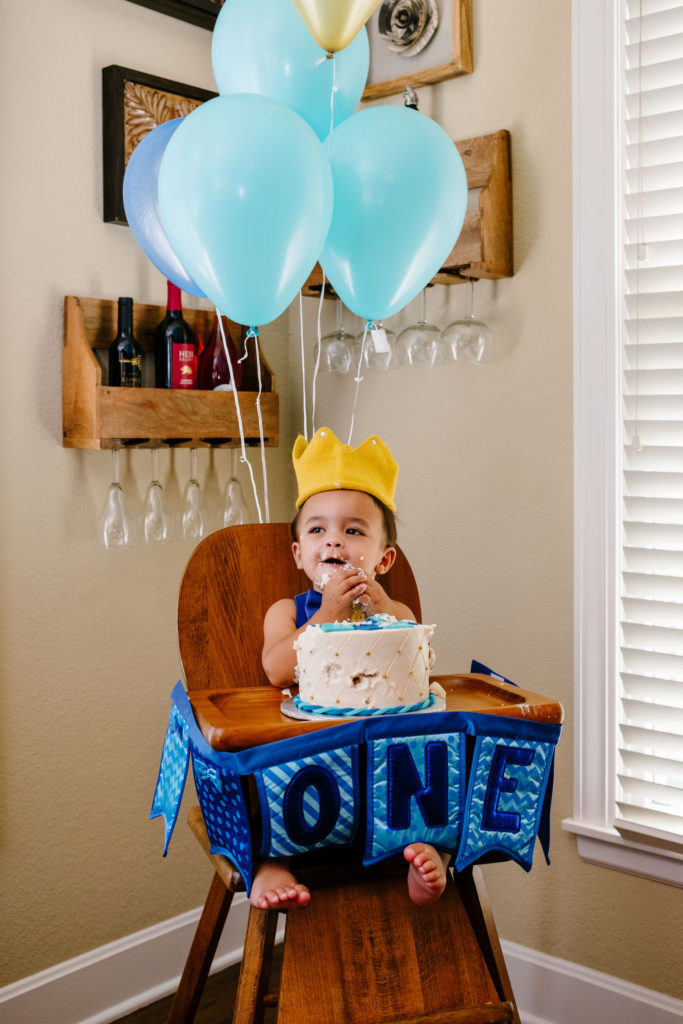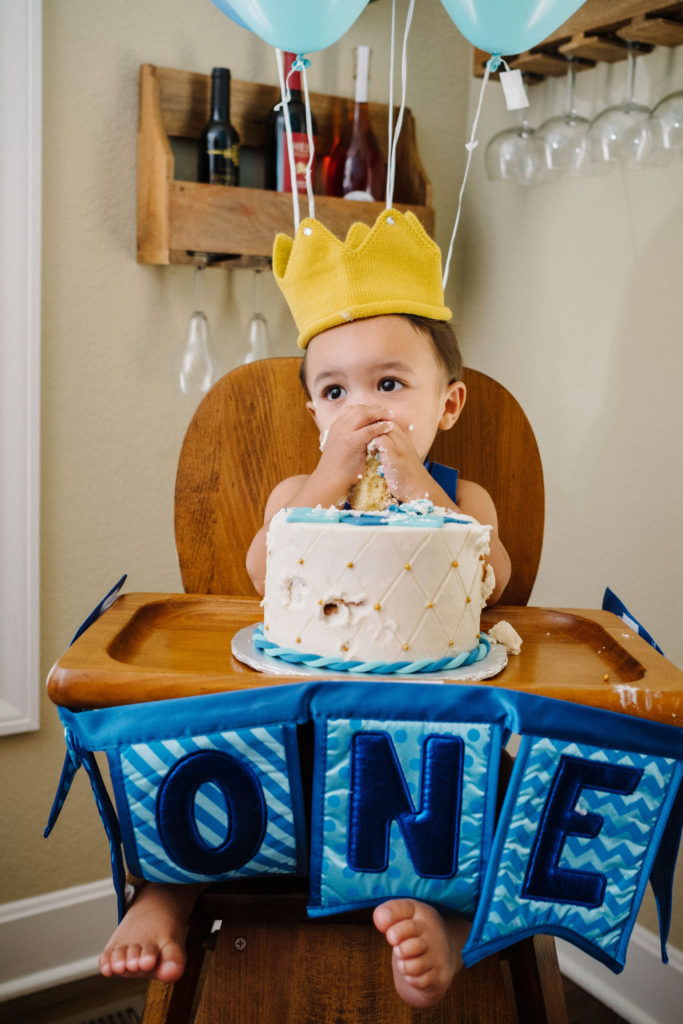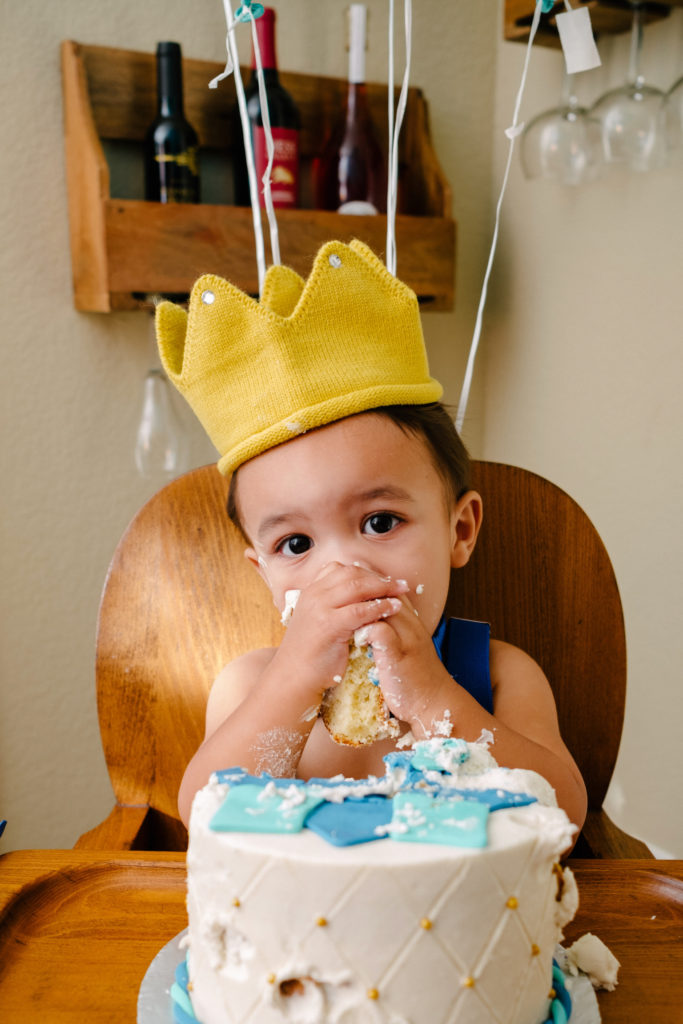 Wrenley is the oldest of the three one year olds. We bought her a Radio Flyer Wagon for her first birthday, then I thought it would be fun to buy all three babies a different style of wagon for their first birthdays. I asked them to bring the wagons over so we could capture this moment.
I LOVE THIS PICTURE!!!
A Stripper, a Princess and a Philosopher.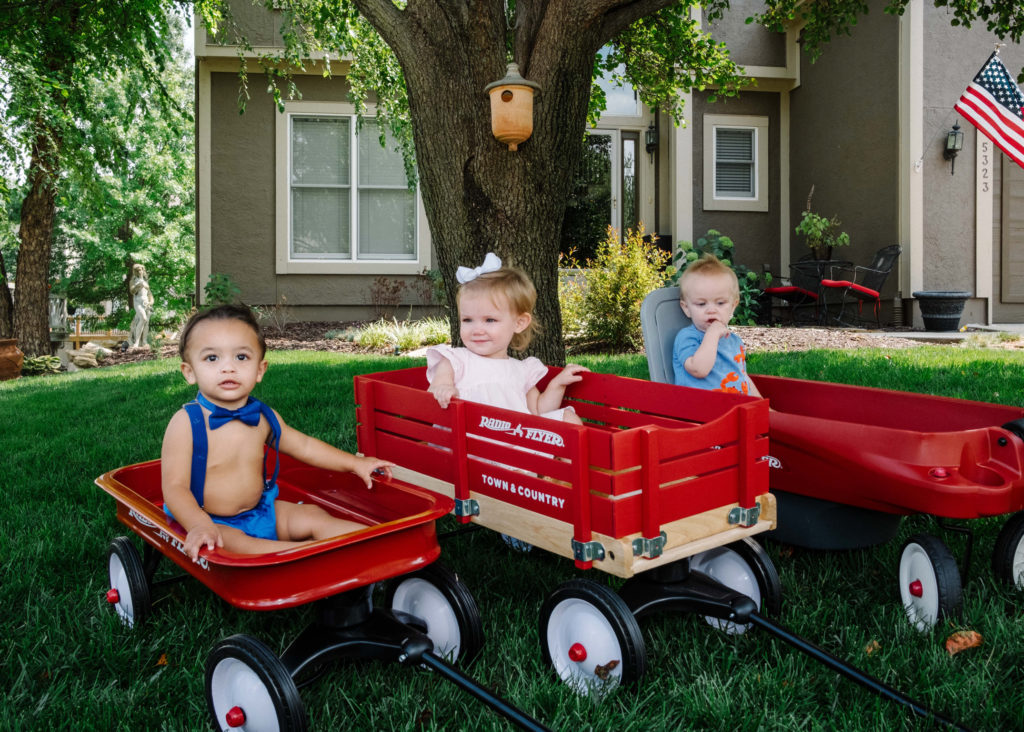 The house was pretty full of crackers and dips and sugary cupcakes. I didn't have one cracker or touch the cupcakes. I knew one cracker would lead to 20 or so and one cupcake could lead to 2 or 3., so I skipped them.
Mike and I have been working our way through the Chicken Fingers, Cauilrice, Pork Sausage, Baked Almond Chicken Fingers and Turkey Taco Meat that I cooked up a few days ago.
I was getting tired of sending Mike out to get dinner and that was also getting a little pricey. None of this prep took very long at all.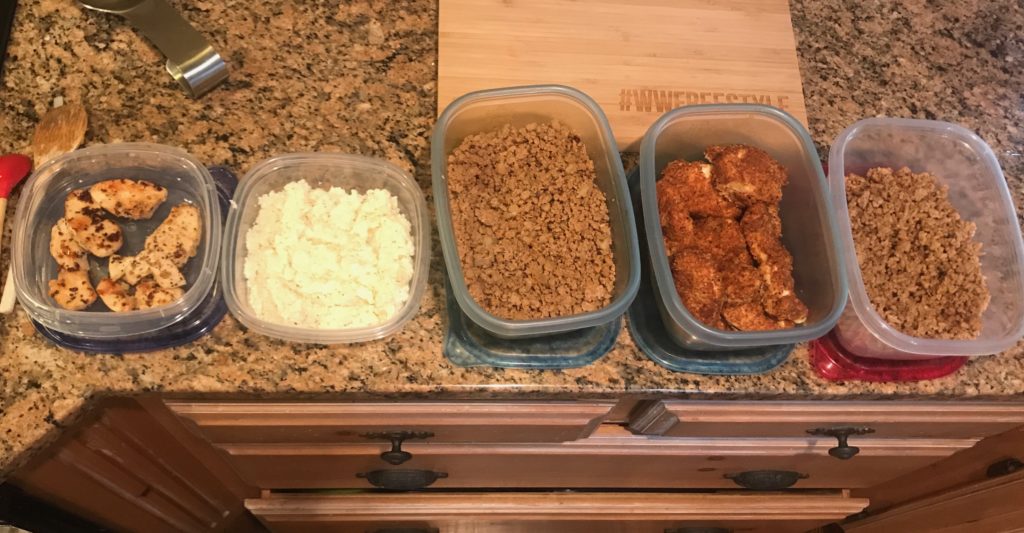 The Chicken Fingers have been a great little Zero SmartPoints snack with protein to keep me satisfied.
We've had Breakfast Bowls each morning with the Pork Sausage, Eggs, lots of diced veggies, and of course topped with Smashed Avocado and Everything But the Bagel Seasoning from Trader Joe's.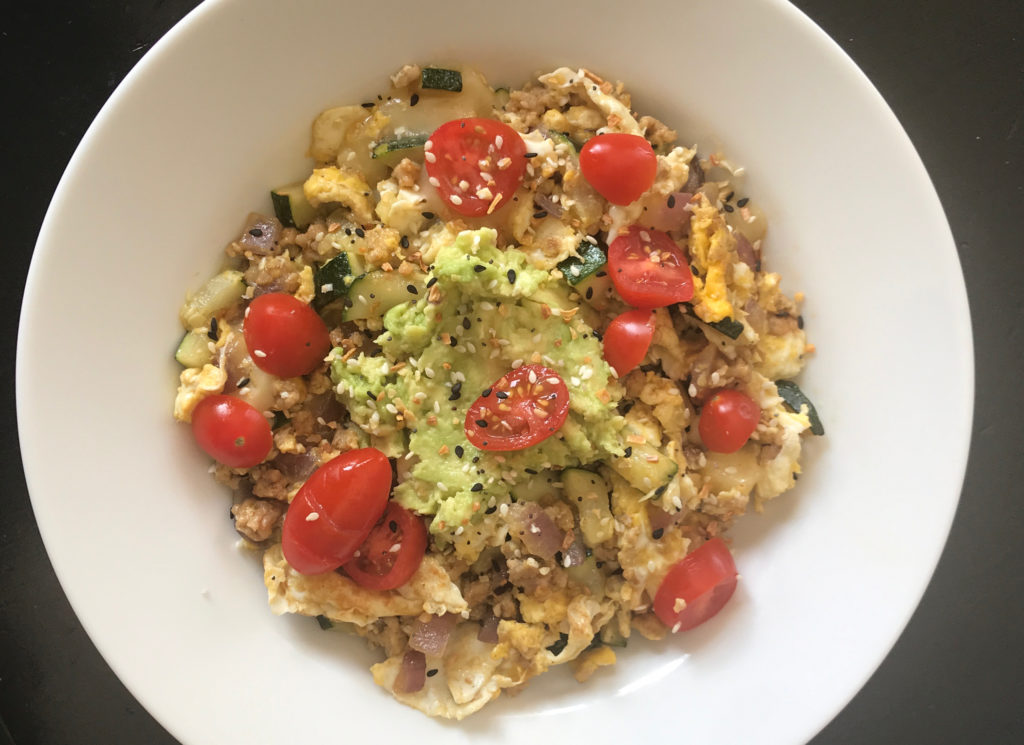 Taco Bowls with the Caulirice and Turkey Taco Meat.
I've got a thing right now for these little Cherry tomatoes, and I'm only buying a few groceries at a time, so a lot of our meals look the same. 🙂
I'm hoping to switch up the menu a bit this week.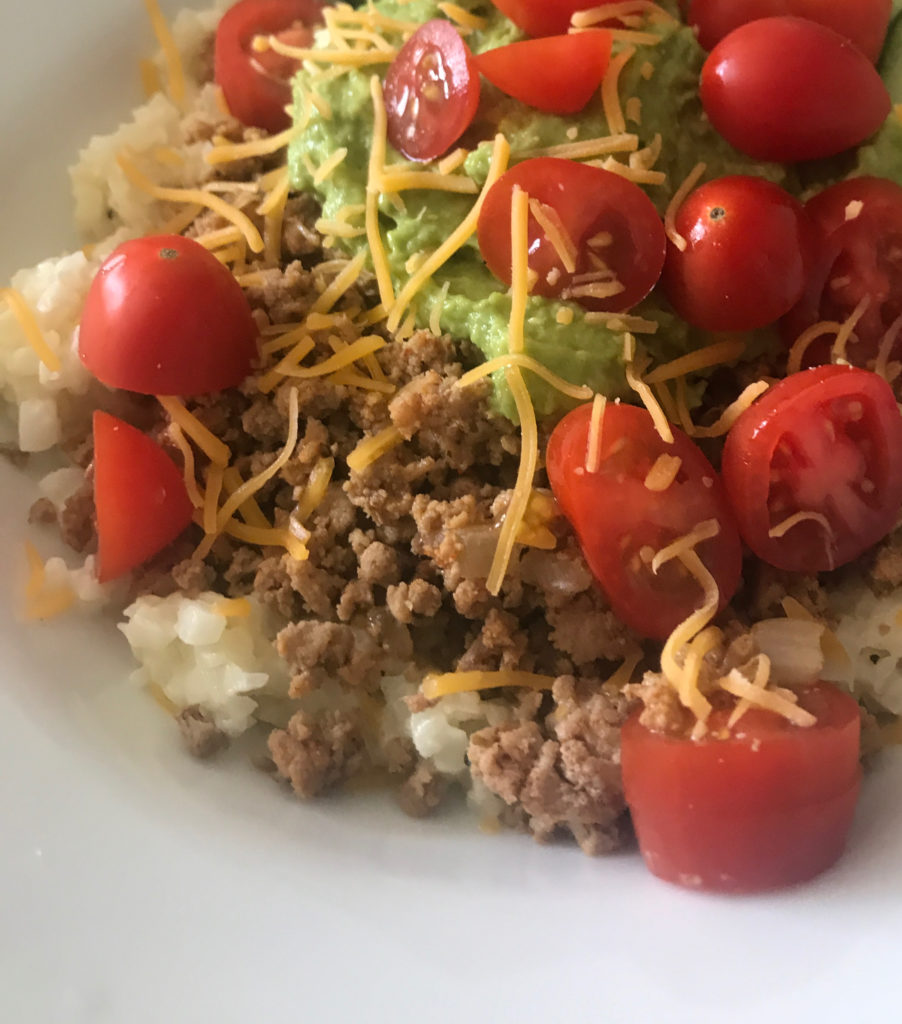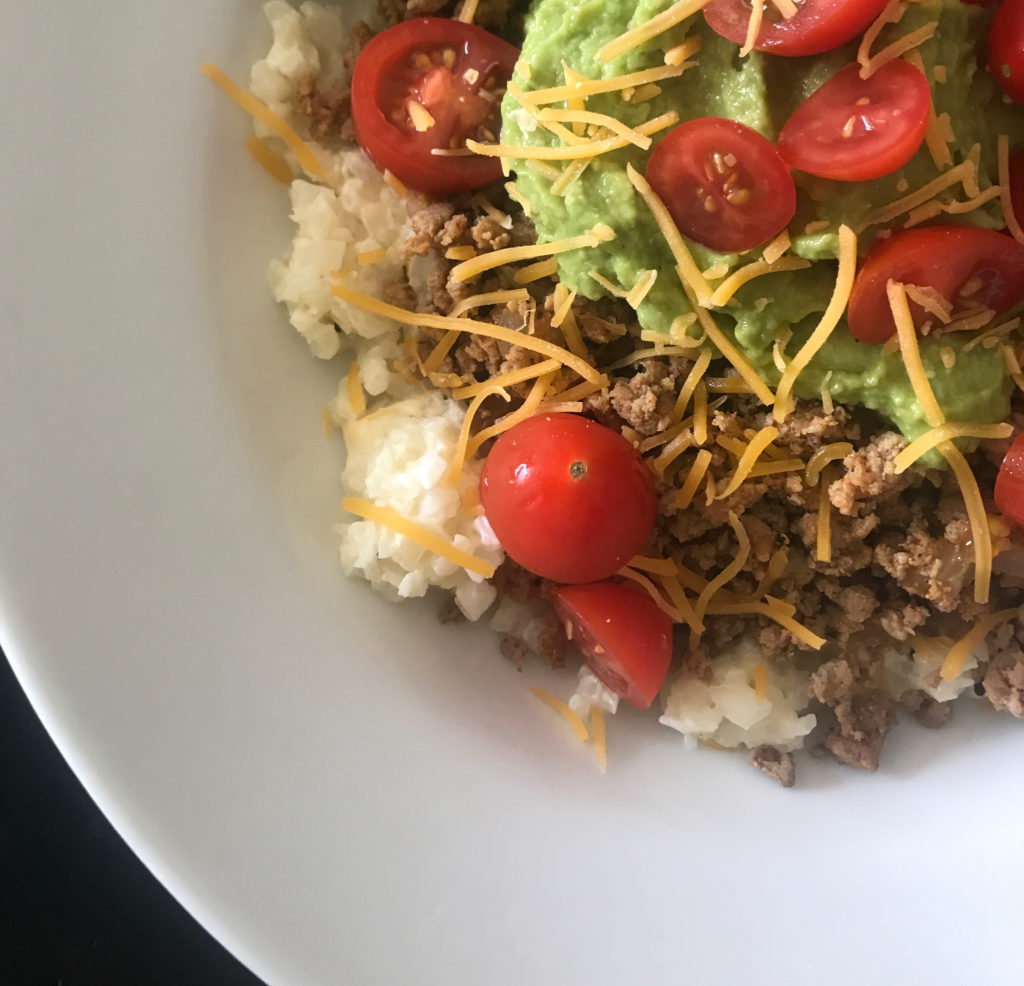 Simple Caesar Salad with the Baked Almond Chicken Fingers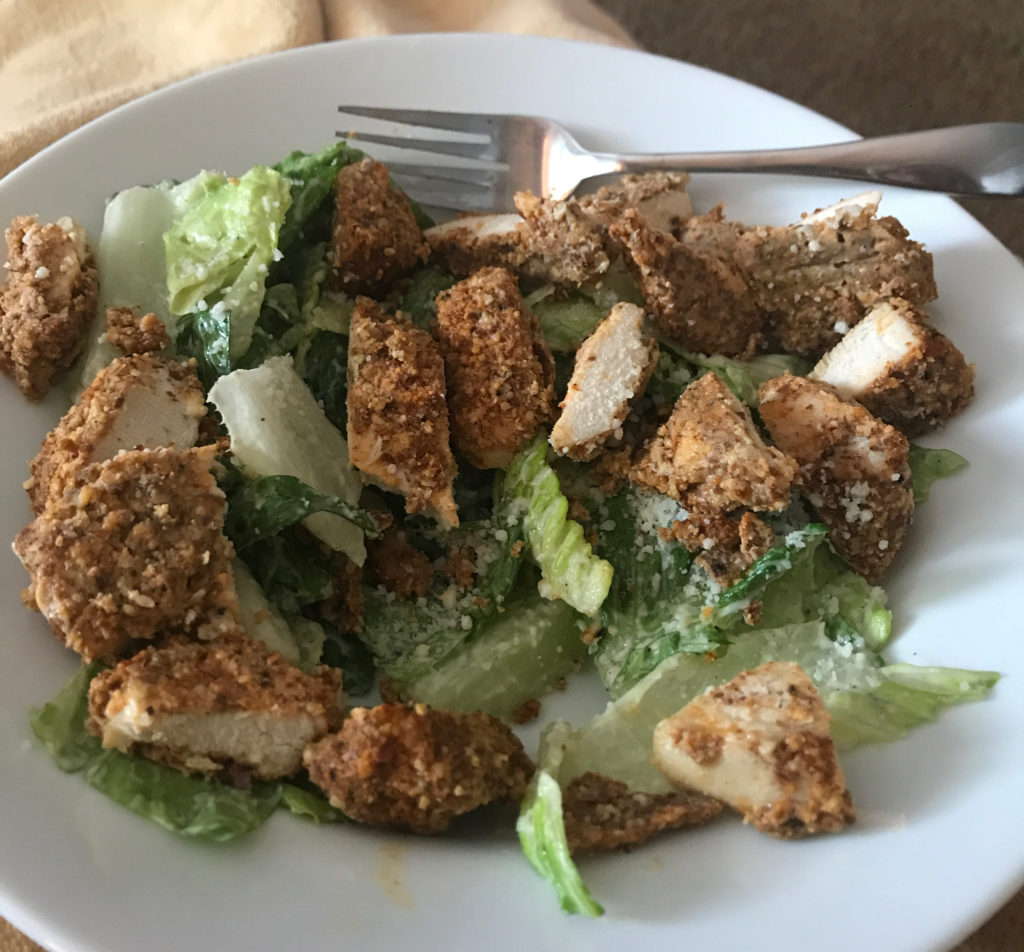 Are you meal prepping?
What's your favorite "Quick Go To Meal" right now?
Have a great week!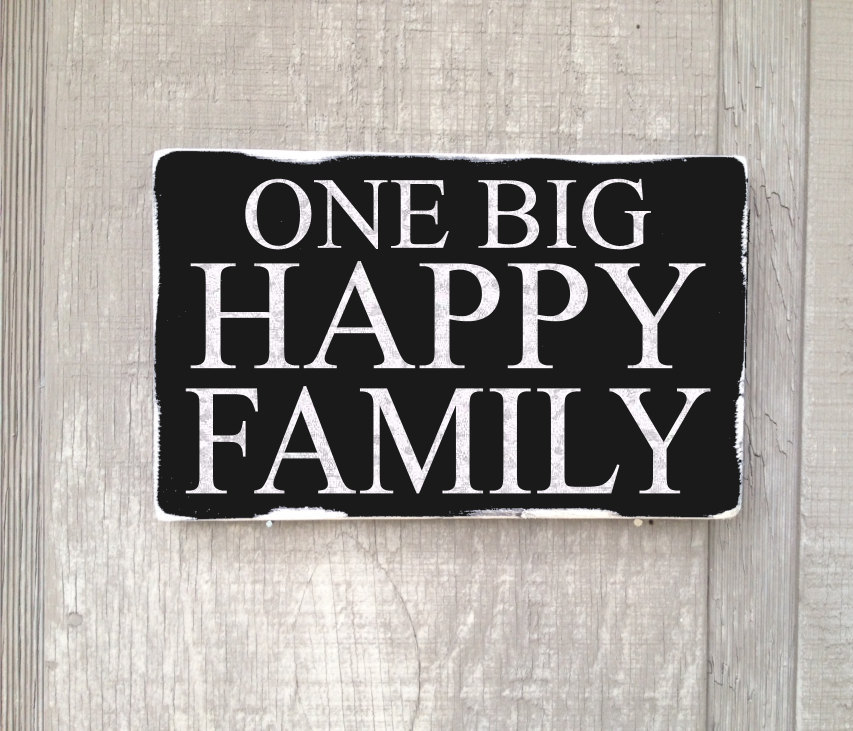 "love the life you live, live the life you love"